Fredericksburg VA KOA Named KOA Campground of the Year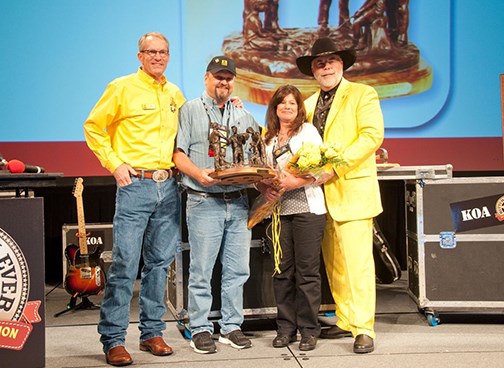 The Fredericksburg/Washington D.C. South, Virginia KOA was named the winner of the 2014 KOA Campground of the Year Award recently during Kampgrounds of America's International Convention in Austin, Texas.
The campground, owned and operated by Susan and Ron Hart, has been part of the 486-campground KOA system since 1976, when Susan's father purchased and developed the property.
"The Harts are true believers in the KOA brand," said KOA President Pat Hittmeier. "They have always done a wonderful job of using the tools we offer to better develop their campground for their campers. It's a wonderful place, and absolutely deserving of being our 2014 KOA Franchisee of the Year."
The quiet campground, nestled in the Virginia countryside, is surrounded by four historic Civil War battlefields. Kings Dominion Amusement Park is also close by, as is George Washington's boyhood home.
Susan and Ron met on the campground as teenagers, when Ron came to work for Susan's father. Although the two owned and operated a local tour business for several years, they jumped at the chance to purchase the park from Susan's parents when they retired in 2000.
"The campground was our parent's baby, and we feel so fortunate to have been given this blessing," Susan said. "KOA has always been there for us over the years, and it's so special to be honored as the KOA Campground of the Year from among the hundreds of deserving franchisees."
For more information, visit the Fredericksburg/Washington D.C. South page at KOA.com.