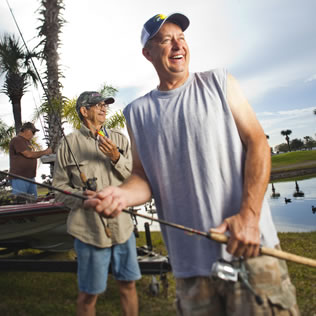 How long is an extended stay camping trip? That's up to you! Some campers spend a few weeks. Others stay all winter. Still others travel around the country indefinitely in an RV as modern day nomads. Whatever your style, an extended stay camping trip could be just what you need.
Camping sites for extended stays are available in a range of styles to meet your camping needs. Whether you're looking for long-term tent camping or RV camping, KOA has you covered. KOA offers long-term RV parking on our clean, level sites. Choose a pull-through site for easy setup, or opt for a back-in site if you prefer. Each site features 30-amp and 50-amp service to match your RV power system.
Full hookups make it easier to stay long-term, with a direct connection to sewer, water and electricity. Your RV will feel just like home. Many RV sites include patios for enjoying the outdoors.
If you're looking for reliability, friendly faces and quality amenities, KOA has you covered. KOA is an experience! It's about making memories, connecting with friends and family and exploring nature. And since our campers are our focus, we've made some additional changes over the years as well.
Recreation programs, fishing holes, organized events, laundry facilities and on-site convenience stores are just a few of the added benefits of our sites. We provide whatever you need to make your extended stay comfortable. You get the value of camping without sacrificing basic comforts and luxuries.
KOA is a community. You'll feel the difference as soon as you pull up. You can see it in the friendly smiles behind the yellow shirts. You notice it in the helping hand you get from our experienced staff. When you stay a little longer than normal, you will get to know your fellow snowbirds and extended-stay campers. KOA becomes your temporary neighborhood while you're away from home.
If you are looking to plan a stay longer than 28 days, call your local KOA for booking.