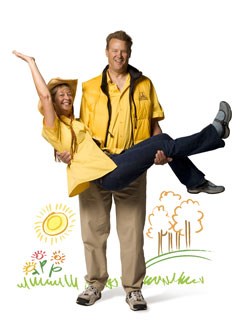 2012 KOA Campground of the Year
Durango, Colorado KOA
Picking just one KOA as "Campground of the Year" is a tall order. There are many deserving KOA owners around North America who do a wonderful job taking care of you during your family's camping trips. We know – because we ask you hundreds of thousands of times each year.
So, based on your recommendations, we're thrilled to bestow the honor on Carol and Jay Coates, owners of the Durango, Colorado KOA.
Jay and Carol have dedicated their lives to providing top-notch hospitality. They both enjoyed careers in the restaurant industry before they purchased the Durango KOA in 1992. They put those early careers to good use. Just wait until you try Jay's special pizzas, or those mouth-watering pies straight from Carol's kitchen.
Imagine sharing the breathtaking panoramic vistas of the San Juan Mountains as you relax with family and friends at this beautiful spot.
While there are plenty of things to do around the campground (don't miss the Durango & Silverton Narrow Gauge Railroad and rafting down the Animas River), it's the care and attention you receive at the Durango KOA that will keep you coming back. After cheering your favorite at a Rubber Ducky Race down the campground's creek, you can visit an ice cream social before settling in for a free nightly outdoor movie. True railroad buffs will love spending a night or two in Jay's unique depot cabin.
There are all sorts of reasons to visit the Durango KOA. But, you already knew that.
2012 KOA Rising Star
Montpelier Creek, Idaho KOA
Every year, we add dozens of wonderful new locations to the KOA system in North America. So, you can imagine it's no small thing to stand out as the best among our newest owners. Kathy and Stuart Marshall were campers long before they purchased this ideallic little campground in the southeast corner of Idaho.
They left careers in Boulder, Colorado to pursue their campground dream, and for the past five years have poured their hearts into making Montpelier Creek KOA one of our best.
The Rising Star award goes to a KOA owner who has been with KOA five years or less. It's our way of saying "you're doing everything right." Most of the Marshall's campers agree with us. That's why they consistently rank at the top of our camper service evaluations.
On your way to, or through, Idaho, do yourself a favor and plan to stay a few days with the Marshalls at Montpelier Creek. Then, you'll understand just what their campers have been telling us.