2018 Award Winning KOA Campgrounds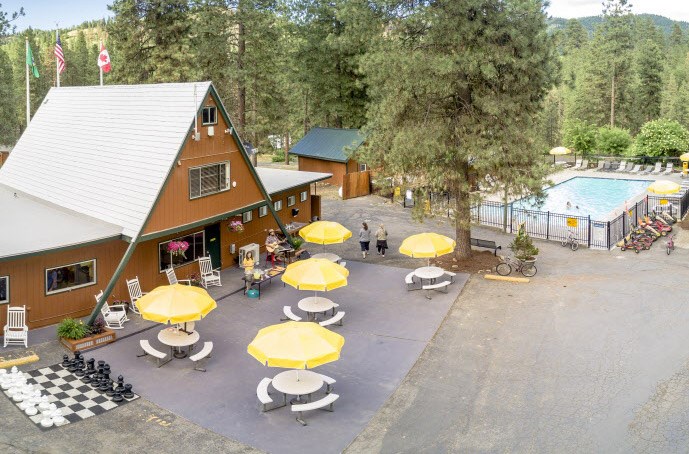 Announcing the KOA President's and Founder's award winners for the 2018 season.
Each year Kampgrounds of America gathers guest surveys from more than a quarter million of our campers following their campground stays. That important guest feedback, paired with results of an annual inspection process, qualifies the over 500 KOA campgrounds across the US and Canada for a set of awards – the Founder's Award and the President's Award.
The KOA President's Award
The KOA President's Award is proudly presented to KOA campgrounds that excel in providing great camping facilities and consistently high levels of guest service. Chosen by KOA's camping guests through satisfaction surveys and KOA's own stringent quality inspection, recipients of the President's Award are dedicated to providing great KOA camping.
The KOA Founder's Award
Dave Drum, founder of Kampgrounds of America, was an extraordinary visionary and dreamer. The recipients of KOA's premiere achievement, the KOA Founder's Award, share Dave's dream of providing the highest quality camping facilities while exceeding KOA guests' expectations. As leaders in outdoor hospitality, KOA Founder's Award recipients embody Dave's vision of a KOA Nation providing excellence for generations of campers.
Recognizing KOA campgrounds for quality and excellence, this year KOA is pleased to award 248 of our locations with awards for the upcoming year. Campgrounds that qualify for our Founder's Award also receive the President's Award for their outstanding service an commitment to our campers.
Pick your state or province to see the 2018 season Founder's and President's Award winners in your area!
---
---
Alabama
Founder's Award
Decatur / Wheeler Lake KOA
Ozark / Fort Rucker KOA Journey
President's Award
Gulf Shores / Pensacola West KOA

Alaska
Founder's Award
---
Arizona
Founder's Award
Gila Bend KOA Journey
Kingman KOA Journey
Picacho / Tucson NW KOA
Salome KOA
Tucson / Lazydays KOA
President's Award
Grand Canyon / Williams KOA Journey
Holbrook / Petrified Forest KOA Journey
Mesa / Apache Junction KOA Journey
Williams / Exit 167 / Circle Pines KOA Holiday
---
Arkansas
Founder's Award
Eureka Springs KOA
Hot Springs National Park KOA
President's Award
Little Rock North / Jct I-40 KOA Journey
Memphis KOA Journey
---
California
Founder's Award
Coleville / Walker KOA
Crescent City / Redwoods KOA Holiday
Manchester Beach / Mendocino Coast KOA
Mt. Lassen / Shingletown KOA Holiday
Oroville / Feather Falls Casino KOA
Placerville KOA
San Diego Metro KOA
Santa Cruz / Monterey Bay KOA Holiday
Santa Margarita KOA
President's Award
Banning Stagecoach KOA
Benbow KOA
Needles KOA
Palm Springs / Joshua Tree KOA
San Francisco North / Petaluma KOA
Santa Cruz North / Costanoa KOA
Trinity Lake KOA
Ventura Ranch KOA Holiday
---
Colorado
Founder's Award
Buena Vista KOA
Carbondale / Crystal River KOA Holiday
Cortez / Mesa Verde KOA
Cripple Creek KOA
Denver West / Central City KOA Holiday
Durango KOA Holiday
Grand Junction KOA Holiday
Gunnison KOA
Ouray KOA
Pueblo South / Colorado City KOA Holiday
Silt / Colorado River KOA
President's Award
Alamosa KOA
Colorado Springs KOA Holiday
Cotopaxi / Arkansas River KOA
Craig KOA Journey
Denver East / Strasburg KOA Holiday
Estes Park KOA
Fort Collins / Lakeside KOA Holiday
Limon KOA Journey
Montrose / Black Canyon Nat'l Park KOA
Pueblo KOA Journey
Steamboat Springs KOA
---
Connecticut
President's Award
---
Florida
Founder's Award
Fort McCoy / Lake Oklawaha KOA
Milton / Gulf Pines KOA Holiday
Okeechobee KOA Resort
Orlando / Kissimmee KOA Holiday
Orlando NW / Orange Blossom KOA
Orlando SE / Lake Whippoorwill KOA Holiday
Orlando Southwest KOA Holiday
St Petersburg / Madeira Beach KOA Holiday
Starke / Gainesville NE KOA
West Palm Beach / Lion Country Safari KOA
President's Award
Naples / Marco Island KOA Holiday
St Augustine Beach KOA Holiday
Sugarloaf Key / Key West KOA Holiday
Titusville / Kennedy Space Center KOA
---
Georgia
Founder's Award
Americus KOA
Jacksonville North / St. Marys KOA Holiday
Lookout Mountain / Chattanooga West KOA
Savannah South KOA

President's Award
Cartersville / Cassville-White KOA Journey
Tifton KOA
---
Idaho
Founder's Award
President's Award
Boise / Meridian KOA Journey
Craters of the Moon / Arco KOA
Lava Hot Springs / City Center KOA
Montpelier Creek KOA Journey
Pocatello KOA Journey
---
Illinois
Founder's Award
Casey KOA
Chicago Northwest KOA
LaSalle / Peru KOA Journey
Lena KOA
President's Award
Benton KOA Journey
Kankakee South KOA
Rock Island / Quad Cities KOA
Springfield KOA
---
Indiana
Founder's Award
Indianapolis KOA Holiday
Richmond KOA
South Bend / Elkhart North KOA
Terre Haute KOA Journey
President's Award
Bluffton / Fort Wayne South KOA
Brown County / Nashville KOA
Elkhart Co / Middlebury KOA Holiday
---
Iowa
Founder's Award
Des Moines West KOA Holiday
Onawa / Blue Lake KOA
Waterloo / Lost Island Waterpark KOA Resort
President's Award
---
Kansas
Founder's Award
Goodland KOA Journey
Salina KOA
Topeka / Capital City KOA Journey
WaKeeney KOA Journey
Wellington KOA Holiday
---
Kentucky
Founder's Award
President's Award
Ashland / Huntington West KOA
Bowling Green KOA Holiday
Kentucky Lakes / Prizer Point KOA
Louisville South KOA Holiday
Paducah / I-24 / Kentucky Lake KOA
Russell Springs KOA Journey
---
Louisiana
Founder's Award
Baton Rouge KOA Holiday
Lafayette KOA
New Orleans West KOA
Shreveport / Bossier City KOA
---
Maine
Founder's Award
Bangor / Holden KOA Journey
Bar Harbor / Oceanside KOA
Bucksport / Fort Knox KOA
Freeport / Durham KOA
Naples KOA
Saco / Old Orchard Beach KOA Holiday
Skowhegan / Kennebec Valley KOA
President's Award
Augusta / Gardiner KOA Journey
Bar Harbor / Woodlands KOA
---
Maryland
President's Award
Hagerstown / Antietam Battlefield KOA
Washington DC / Capitol KOA Holiday
---
Massachusetts
President's Award
---
Michigan
Founder's Award
Coloma / St Joseph KOA
Covert / South Haven KOA Holiday
Emmett KOA Holiday
Gaylord KOA Holiday
Ludington East / Pere Marquette River KOA
Mackinaw City / Mackinac Island KOA
Oscoda / Tawas KOA Holiday
Petoskey KOA Holiday
Port Huron KOA Resort
Traverse City KOA Holiday
President's Award
Allendale / W Grand Rapids KOA
Higgins Lake / Roscommon KOA
Monroe County / Toledo North KOA Holiday
Muskegon KOA

---
Minnesota
Founder's Award
Bemidji KOA Journey
Jackson KOA Journey
President's Award
Albert Lea / Austin KOA Holiday
Cloquet / Duluth KOA Journey
Minneapolis Northwest KOA Journey
Minneapolis Southwest KOA Holiday
---
Mississippi
President's Award
Meridian East / Toomsuba KOA Journey
Starkville KOA Holiday
---
Missouri
Founder's Award
Branson KOA Holiday
Joplin KOA Journey
Kansas City East / Oak Grove KOA Holiday
Springfield / Route 66 KOA Holiday
St. Louis West / Historic Route 66 KOA
Stanton / Meramec KOA Journey
---
Montana
Founder's Award
Billings KOA Holiday
Livingston / Paradise Valley KOA Holiday
Missoula KOA Holiday
Polson / Flathead Lake KOA Holiday
West Glacier KOA Holiday
President's Award
Dillon KOA
Great Falls KOA
Hardin KOA
Miles City KOA Journey
Red Lodge KOA Journey
St. Mary / East Glacier KOA Holiday
Whitefish / Kalispell North KOA Holiday
Yellowstone Park / Mountainside KOA Journey
Yellowstone Park / West Gate KOA
---
Nebraska
Founder's Award
President's Award
West Omaha / NE Lincoln KOA Holiday
---
Nevada
Founder's Award
President's Award
Las Vegas KOA Journey at Sam's Town
Winnemucca / I-80 KOA Journey
---
New Hampshire
Founder's Award
Chocorua KOA Holiday
Lincoln / Woodstock KOA Holiday
Littleton / Franconia Notch KOA
Strafford / Lake Winnipesaukee South KOA
Twin Mountain / Mt. Washington KOA Holiday
---
New Mexico
Founder's Award
Alamogordo / White Sands KOA
Albuquerque KOA Journey
Albuquerque North / Bernalillo KOA
Carlsbad KOA Holiday
Grants / Cibola Sands KOA Journey
Las Cruces KOA Journey
Santa Fe KOA Journey
Silver City KOA Holiday
President's Award
Raton KOA Journey
Tucumcari KOA Journey
---
New York
Founder's Award
Canandaigua / Rochester KOA Holiday
Chautauqua Lake KOA Holiday
Cooperstown KOA
Copake KOA Holiday
Herkimer Diamond KOA Resort
Houghton / Letchworth KOA
Lake Placid / Whiteface Mtn KOA Holiday
Medina / Wildwood Lake KOA Holiday
Niagara Falls / Grand Island KOA Holiday
President's Award
Deerpark / New York City NW KOA
Natural Bridge / Watertown KOA
New York City N / Newburgh KOA
Saugerties / Woodstock KOA Journey
1000 Islands / Association Island KOA
Unadilla / I-88 / Oneonta KOA
Watkins Glen / Corning KOA Resort
Westfield / Lake Erie KOA
---
North Carolina
Founder's Award
Asheville East KOA
Boone KOA
Cape Hatteras KOA Resort
Murphy / Peace Valley KOA
New Bern KOA Holiday
Wilmington KOA Holiday
President's Award
Asheville West KOA
Cherokee / Great Smokies KOA
Greensboro KOA Journey
Lumberton / I-95 KOA
---
North Dakota
Founder's Award
---
Ohio
Founder's Award
Buckeye Lake / Columbus East KOA Holiday
Coshocton KOA
Dayton KOA Resort
Homerville KOA
Lebanon / Cincinnati NE KOA Holiday
Logan / Hocking Hills KOA Holiday
Salem / Lisbon KOA Holiday
Shelby / Mansfield KOA Resort
Streetsboro / Cleveland SE KOA
Sunbury / Columbus North KOA
Thompson / Grand River Valley KOA Holiday
Wapakoneta KOA Holiday
President's Award
Andover / Pymatuning Lake KOA
Butler / Mohican KOA
Canton / East Sparta KOA Holiday
Sandusky / Bayshore KOA
Toledo East / Stony Ridge KOA Journey
---
Oklahoma
Founder's Award
Checotah / Lake Eufaula West KOA Holiday
Durant / Choctaw Casino KOA
Oklahoma City East KOA Holiday
Sallisaw / Fort Smith West KOA Holiday
President's Award
Elk City / Clinton KOA
Tulsa NE / Will Rogers Downs KOA Journey
---
Oregon
Founder's Award
President's Award
Astoria / Warrenton / Seaside KOA Resort
Bandon / Port Orford KOA Journey
Oregon Dunes KOA Holiday
Medford / Gold Hill KOA Journey
Pendleton KOA Journey
Waldport / Newport KOA
---
Pennsylvania
Founder's Award
Bellefonte / State College KOA Holiday
Delaware Water Gap / Pocono Mountain KOA Holiday
Elizabethtown / Hershey KOA Holiday
Erie KOA Holiday
Gettysburg / Battlefield KOA Holiday
Jonestown / Hershey NE KOA Journey
Meadville KOA
Mercer / Grove City KOA
Philadelphia / West Chester KOA Holiday
Uniontown KOA Holiday
Williamsport South / Nittany Mountain KOA Holiday
President's Award
Allentown KOA
Honesdale / Poconos KOA Holiday
Lancaster / New Holland KOA
---
South Carolina
Founder's Award
Anderson / Lake Hartwell KOA Holiday
Mount Pleasant / Charleston KOA Holiday
Myrtle Beach KOA
Point South / Yemassee KOA Journey
Spartanburg NE / Gaffney KOA Holiday
Travelers Rest / N Greenville KOA Holiday
---
South Dakota
Founder's Award
Badlands / White River KOA Holiday
Belvidere East / Exit 170 KOA Journey
Custer / Mt Rushmore / Black Hills KOA Holiday
Hot Springs / Black Hills KOA
Mitchell KOA
Mount Rushmore KOA Resort at Palmer Gulch
Sioux City North KOA Holiday
Spearfish / Black Hills KOA Holiday
Yankton / Missouri River KOA
President's Award
Deadwood / Black Hills KOA
Kennebec KOA Journey
Rapid City / Black Hills KOA
Sioux Falls KOA Journey
---
Tennessee
Founder's Award
Bristol / Kingsport KOA Holiday
Crossville I-40 KOA
Gatlinburg East / Smoky Mountain KOA Holiday
Manchester KOA Holiday
Nashville KOA
Paris Landing / Kentucky Lake KOA
Pigeon Forge / Gatlinburg KOA Holiday
Sweetwater / I-75 / Exit 62 KOA Holiday
Townsend / Great Smokies KOA Holiday
President's Award
Buffalo / I-40 / Exit 143 KOA Journey
Chattanooga North / Cleveland KOA
Clinton / Knoxville North KOA Journey
Nashville East / Lebanon KOA Journey
Nashville North KOA
---
Texas
Founder's Award
Amarillo KOA
Bastrop / SE Austin / Colorado River KOA
Brookeland / Lake Sam Rayburn KOA
Dallas / Arlington KOA Holiday
Fredericksburg, Texas KOA
Kerrville KOA
Lake Conroe / Houston North KOA Holiday
Lake Livingston / Onalaska KOA Holiday
Leander / NW Austin KOA
Mount Pleasant KOA
Rusk KOA
San Angelo KOA
San Antonio KOA Holiday
South Padre Island KOA Holiday
Victoria / Coleto Creek Lake KOA
President's Award
Abilene KOA Journey
Burkburnett / Wichita Falls KOA Journey
Lubbock KOA Journey
Lufkin KOA
Sanger / Denton North KOA Journey
---
Utah
Founder's Award
Bear Lake / Garden City KOA Holiday
Beaver KOA Journey
Cannonville / Bryce Valley KOA Holiday
Fillmore KOA Journey
Flaming Gorge / Manila KOA Journey
Panguitch KOA
Richfield KOA
Vernal / Dinosaurland KOA
President's Award
Bear Lake / Trail Side KOA Journey
Cedar City KOA
Salt Lake City KOA
---
Vermont
Founder's Award
Brattleboro North KOA Journey
Quechee / Pine Valley KOA Holiday
---
Virginia
Founder's Award
Fancy Gap / Blue Ridge Parkway KOA Journey
Fredericksburg / Washington DC S KOA Holiday
Harrisonburg / Shenandoah Valley KOA Holiday
Luray KOA Holiday
Lynchburg NW / Blue Ridge Parkway KOA
Natural Bridge / Lexington KOA Holiday
Richmond North / Kings Dominion KOA
Williamsburg / Busch Gardens Area KOA
Wytheville KOA Holiday
President's Award
Charlottesville KOA
Chincoteague Island KOA
Virginia Beach KOA Holiday
---
Washington
Founder's Award
Bay Center / Willapa Bay KOA Journey
Dayton / Pomeroy / Blue Mountains KOA
Lynden / Bellingham KOA
Newport / Little Diamond Lake KOA
Winthrop / N Cascades National Park KOA
President's Award
Burlington / Anacortes KOA Holiday
Concrete / Grandy Creek KOA
Ellensburg KOA Journey
Leavenworth / Pine Village KOA
Olympic Peninsula / Port Angeles KOA
Spokane KOA Journey
---
West Virginia
Founder's Award
Huntington / Fox Fire KOA Holiday
President's Award
---
Wisconsin
Founder's Award
Hixton / Alma Center KOA
Madison KOA
Milton / Madison SE KOA
Oakdale KOA Journey
Wisconsin Dells KOA
President's Award
---
Wyoming
Founder's Award
Buffalo KOA Journey
Cheyenne KOA Journey
Devils Tower / Black Hills KOA
Douglas KOA Journey
Dubois / Wind River KOA Holiday
Greybull KOA Holiday
President's Award
Cody KOA Holiday
Jackson Hole / Snake River KOA
Lyman KOA Journey
---
Alberta
Founder's Award
---
British Columbia
President's Award
Clearwater / Wells Gray KOA Journey
Sicamous KOA
---
Newfoundland
Founder's Award
---
Nova Scotia
President's Award
North Sydney / Cabot Trail KOA
---
Ontario
Founder's Award
Barrie KOA Holiday
Brighton / 401 KOA Holiday
Cardinal / Ottawa South KOA Holiday
Niagara Falls KOA Holiday
Owen Sound KOA
Parry Sound KOA
Sault Ste. Marie KOA Holiday
Sturgeon Falls KOA Holiday
1000 Islands / Ivy Lea KOA
1000 Islands / Kingston KOA Holiday
1000 Islands / Mallorytown KOA Holiday
Thunder Bay KOA Holiday
Toronto North / Cookstown KOA Holiday
President's Award
---
Prince Edward Island
Founder's Award
Cavendish KOA Holiday
Cornwall / Charlottetown KOA
---
Quebec
President's Award
Bas Saint-Laurent KOA Holiday
Granby / Bromont KOA Holiday
Montreal South KOA
Montreal West KOA
Quebec City KOA Holiday
---