11 National Park Trails You'll Want to Hike This Year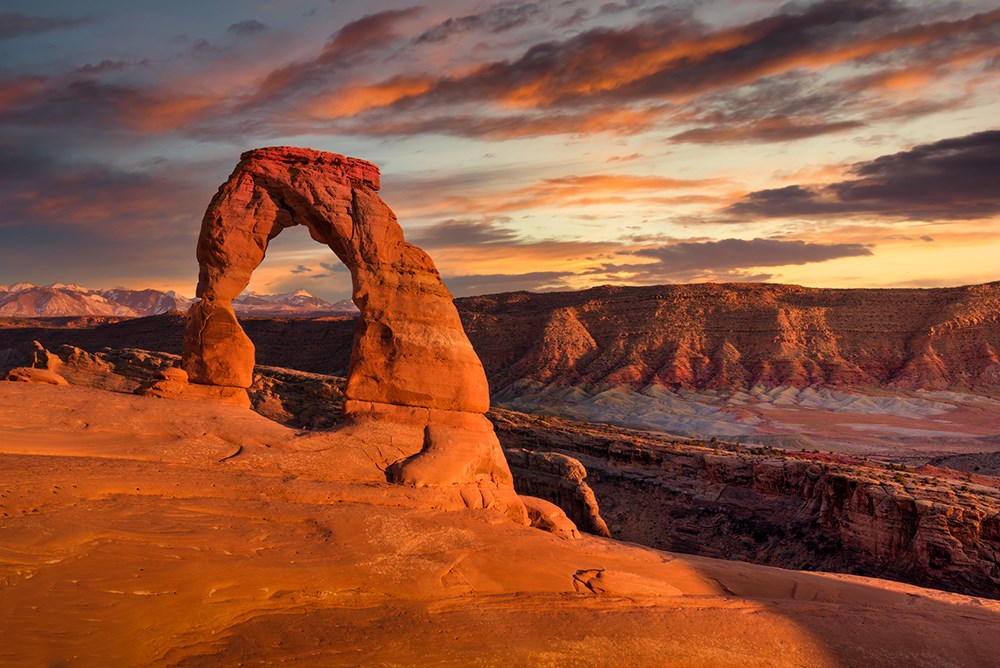 From temperate rainforests and colorful badlands to cavernous canyons and craggy coasts, the National Park Service boasts incredible diversity when it comes to hiking trails. Whether you're looking for an intense mountain ascent or an easy forest stroll, bucket list-worthy hikes come in all shapes, sizes, styles, and lengths. Here are 11 national park trails that belong on your must-hike itinerary.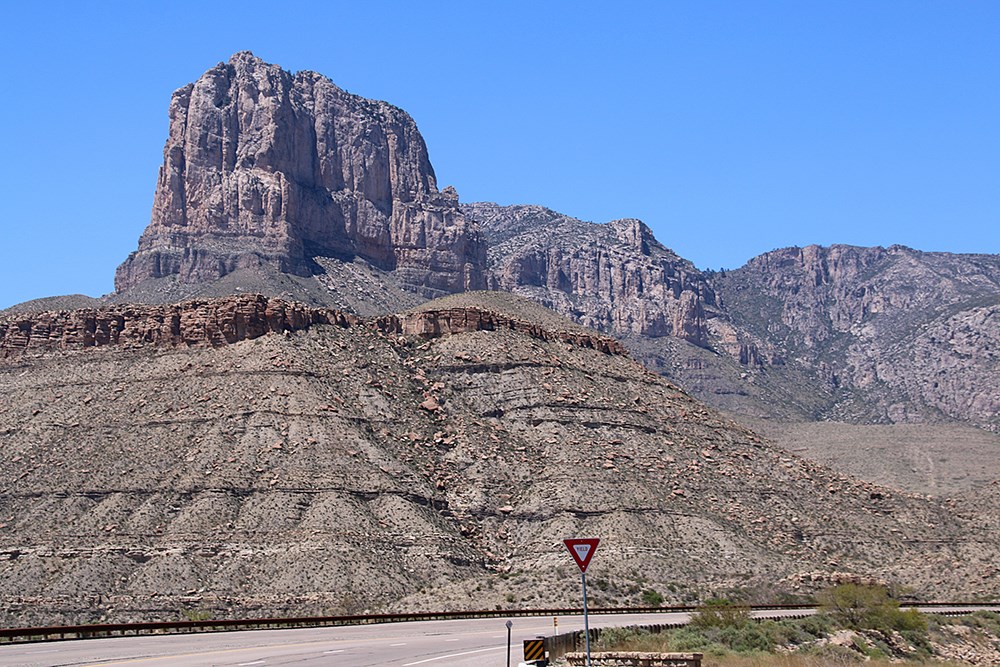 1. Guadalupe Peak, Guadalupe Mountains National Park
One of the most underrated hikes in one of the nation's most underrated national parks, Guadalupe Peak deserves a top spot on any hiker's bucket list. As the tallest peak in Texas at 8,749 feet, Guadalupe Peak is a tough lung-burner of a hike, with more than its fair share of switchbacks, but all that hustle is rewarded with sweeping views of Chihuahuan desert, lush forest, and dunes. The trail kicks off by the Pine Springs Campground with a two-mile series of switchbacks and serious elevation gain. If you can overcome this part, the remaining two miles to the peak will be a breeze, especially since the views are distractingly beautiful and expansive. Along the way, you'll ascend above nearby El Capitan before the final scramble to the peak. It's about 3,000 feet of elevation gain in total, with plenty of open and direct sunlight, so it's certainly not easy. All that being said, it's an epic experience in a quiet, under-the-radar park that feels wholly unique amongst America's diverse national parks.
Nearby KOAs:
Carlsbad KOA Holiday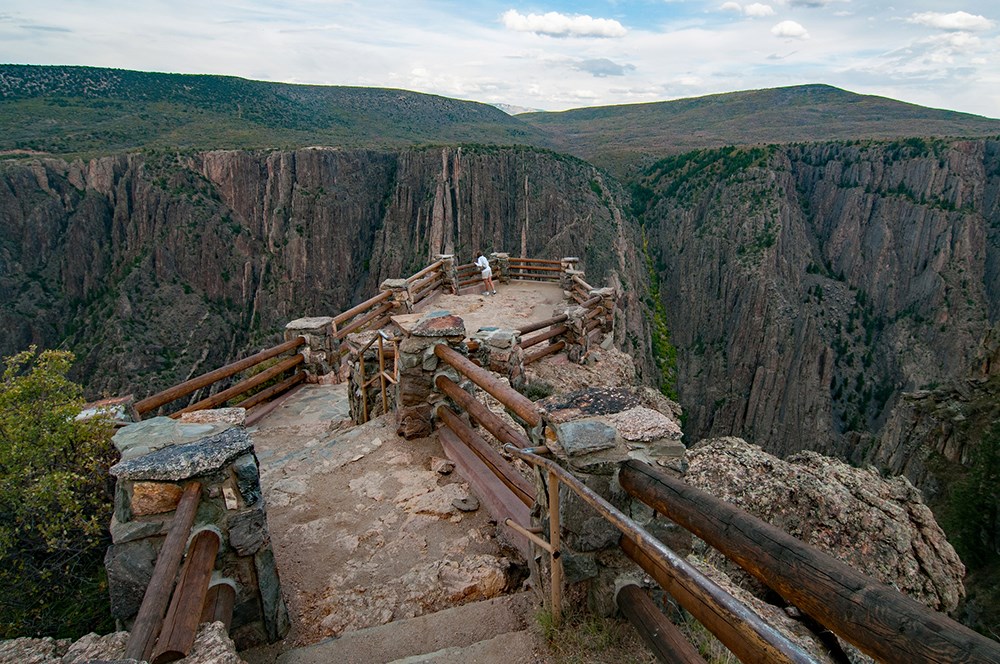 2. Oak Flat Loop, Black Canyon of the Gunnison National Park
Black Canyon of the Gunnison National Park offers one of the most scenic drives in the entire National Park Service, as the road along the South Rim affords a series of views into this staggering Colorado canyon. But for those who really want to experience the full force of this mind-bogglingly narrow and deep canyon, the Oat Flat Loop trail offers the perfect alternative for hikers. Aside from hikers who dare to trek all the way to the canyon floor, this is the only designated trail in the park that dips below the canyon rim, and the views don't disappoint. It's a two-mile loop that starts behind the visitor center and weaves along the South Rim before criss-crossing below the rim via a series of moderate switchbacks. Pleasantly shaded by dense Douglas firs and Aspen trees, the trail offers unparalleled canyon views, along with the opportunity for wildlife-viewing, including the occasional black bear.
Nearby KOAs:
Montrose / Black Canyon Nat'l Park KOA Journey
Ouray KOA Holiday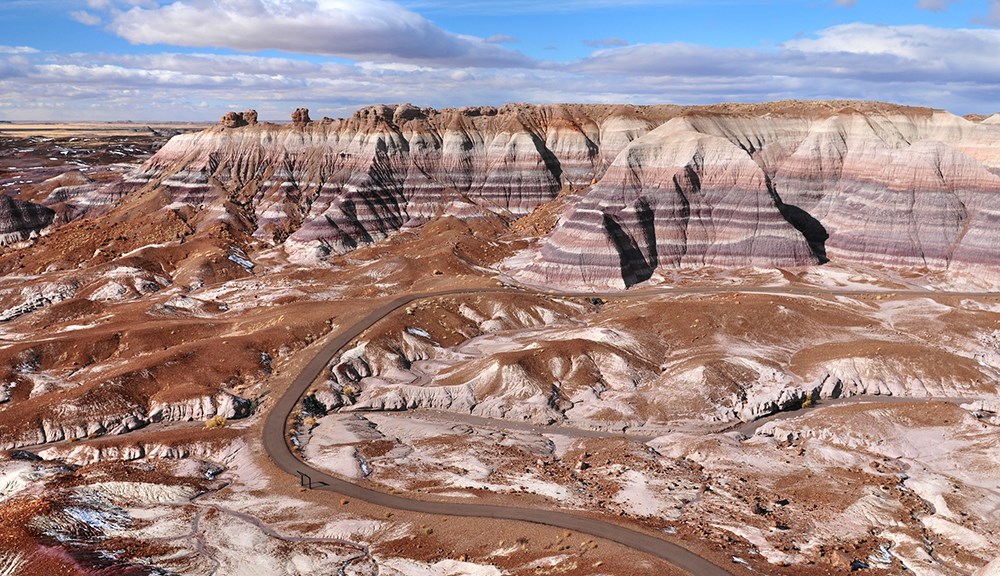 3. Blue Mesa Loop, Petrified Forest National Park
For a trail that's only one mile total, the Blue Mesa loop in Arizona's Petrified Forest National Park is absolutely filled with immense and impressive scenery. Home to two of the park's signature sights, colorful badlands and gigantic petrified logs, it's an easy and accessible way to experience the overwhelming beauty of this underrated park. It starts off along a paved trail atop the mesa, before zig-zagging down into a canyon of blue- and purple-hued badlands. It loops through a sea of kaleidoscopic petrified wood, whose twinkling blues and purples make them look like bejeweled boulders. This trail is also dog-friendly, and a safe and fun way to explore with four-legged friends.
Nearby KOAs:
Holbrook / Petrified Forest KOA Journey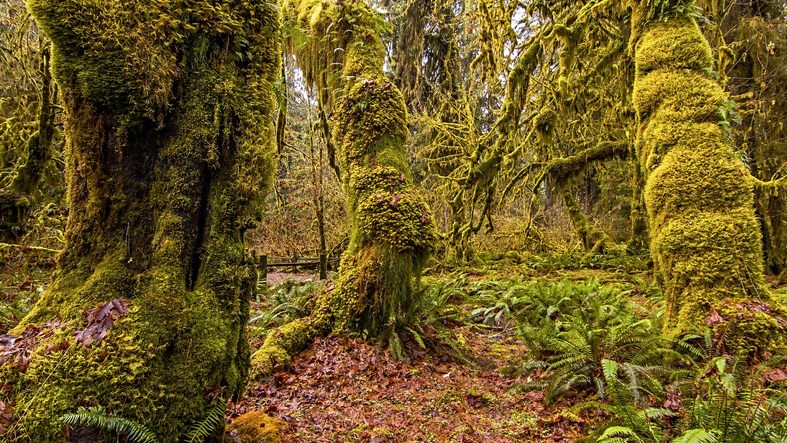 4. Hall of Mosses, Olympic National Park
Hiking into the Hoh Rainforest at Olympic National Park feels like disappearing from real life and into a fictional fairy tale where everything is draped in lush greenery, set to a soundtrack of chirping birds and gentle raindrops. This section of the other-worldly Olympic Peninsula is home to one of the only remaining temperate rainforests on the continent, where snowmelt and glacial runoff, along with 140 inches of annual precipitation, enliven a sea of coniferous and deciduous vegetation as far as the eye can see. Unsurprisingly, the Hoh is one of the most sought-after sections of this multifaceted parks, and one easy way to fully experience its awe is on the Hall of Mosses Trail. Slightly under one mile round trip, it's a gentle loop trail that weaves through old-growth forest blanketed in soft moss. On your drive towards the trail head, be sure and keep your eyes peeled for herds of elk, which love to graze along the Hoh River.
Nearby KOAs:
Olympic Peninsula / Port Angeles KOA Journey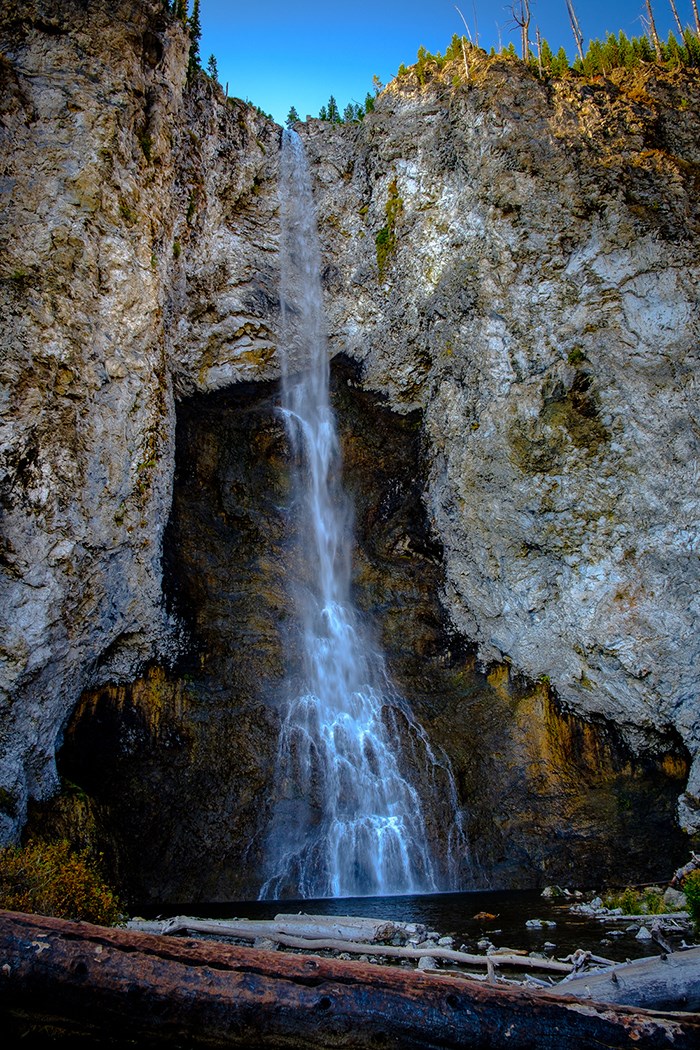 5. Fairy Falls, Yellowstone National Park
There aren't many national parks that boast the amount of famous sights and trails that Yellowstone does. From Old Faithful and Mammoth Hot Springs to the Grand Canyon of the Yellowstone and the technicolored Grand Prismatic Spring, there are no shortage of marvels at America's first national park. With so many trails and sections to choose from, one that really packs it in with views and geography is the Fairy Falls trail. Located near Grand Prismatic Spring, it's a relatively easy 5.4-mile loop that strolls through serene pine forests before emerging at the base of the 200-foot waterfall, cascading like a misty ribbon off a soaring cliffside. It's a perfect place to park for a snack and a photo op, before continuing on through wide-open prairie, where bison herds commonly dot the landscape. On the return leg, you'll hike along a river, with more wildlife-spotting opportunities, before circling back towards the Grand Prismatic Spring overlook, which is the perfect way to punctuate such an epic trail.
Nearby KOAs:
Yellowstone Park / West Gate KOA
Yellowstone Park / Mountainside KOA Journey
6. Castle Trail, Badlands National Park
The Notch Trail tends to get a lot of attention when it comes to the relatively few designated hiking trails in this South Dakota park, but the nearby Castle Trail is a sleeper hit. Departing across the road from the same trailhead as the Notch Trail, Window Trail, and Door Trail, the Castle reigns as the park's longest trail, clocking in at about 10 miles round trip. Don't let the distance intimidate you, though, because it's mostly flat, and you won't be bored with the constantly changing scenery, breathtakingly surreal landscape, and glimpses of wildlife—bighorn sheep are frequent passersby around here. Along the way to the turnaround point at Fossil Exhibit Trail, you'll dip in and out of small canyons and crevices, while casually strolling by walls of gnarly badlands formations, and stunning prairie overlooks. Altogether, it's overloaded with the most essential views and experiences that make Badlands National Park the awe-inspiring gem that it is.
Nearby KOAs:
Badlands / White River KOA Holiday
Belvidere East / Exit 170 KOA Journey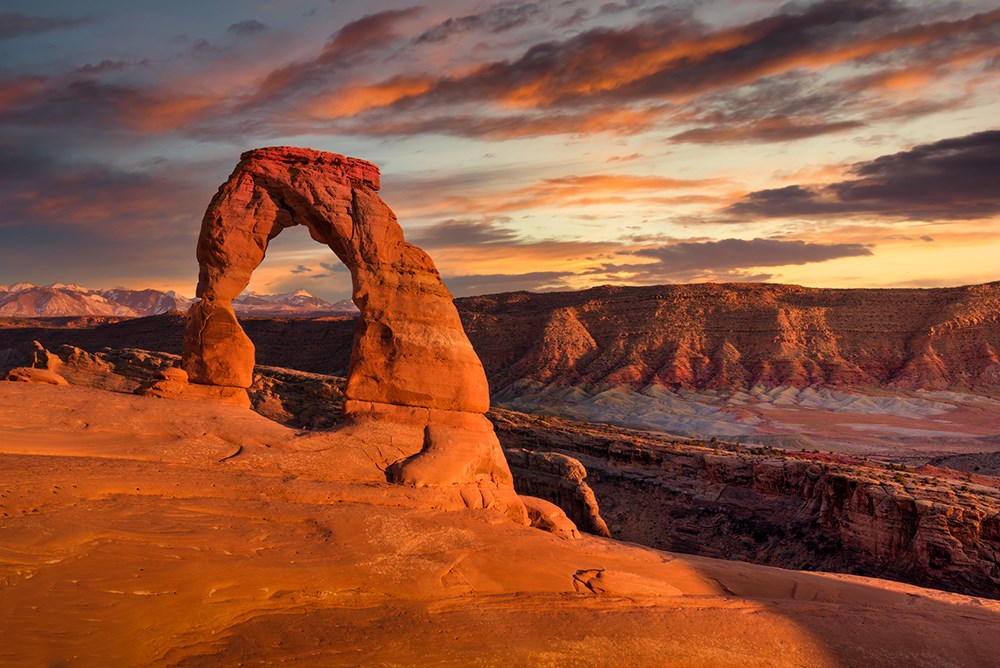 7. Delicate Arch, Arches National Park
As evidenced by the symbol on the state license plate, Delicate Arch is to Utah as the Grand Canyon is to Arizona. It's an iconic miracle of nature on full display in Arches National Park, where the Delicate Arch caps off a 3-mile roundtrip trek to one of the most striking vistas in the country. If you've got time for one hike in this southeastern Utah park, make it this one. While mildly strenuous, due largely to the sun exposure and steady incline, it's well worth the effort. After scaling expanses of open slickrock and a rock ledge overlooking the high desert, it all culminates with an eye-popping view of the arch itself, which appears to frame the snow-capped La Sal Mountains in the background. Remember to bring plenty of water and sunscreen for this one, and take time to unwind and drink in the views once you reach the top.
Nearby KOAs:
Moab KOA Holiday
Green River KOA Journey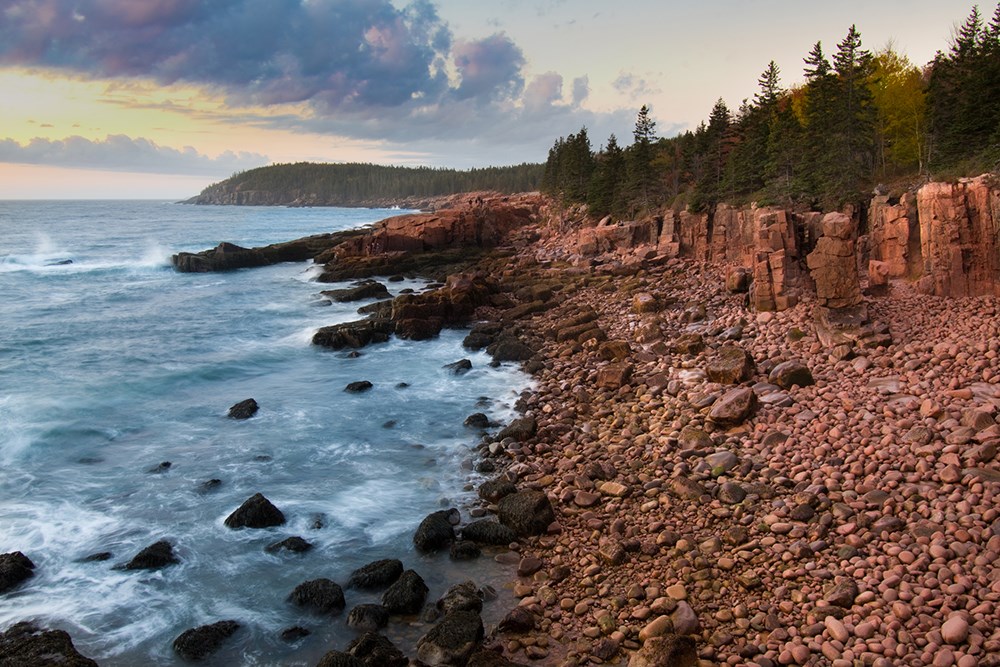 8. Ocean Path, Acadia National Park
Craggy coast line, thunderous waves, and bright blue oceanic vistas are some of the most quintessential aspects of Acadia National Park, all of which are on full display on the Ocean Path Trail. Within a relatively short distance, this 2.2-mile out-and-back route departs from the Sand Beach area (a pebble-clad beach well worth exploring on its own) and meanders along some of the most iconic Maine cliffs. While fairly easy and straightforward, it packs a wallop with impressive sights and sounds, including Thunder Hole, a section of oceanfront famed for the roaring crash of the waves, and it's also a dog-friendly option that provides some fun exercise for pets who enjoy scampering along granite boulders.
Nearby KOAs:
Bar Harbor / Oceanside KOA Holiday
Bucksport / Fort Knox KOA Holiday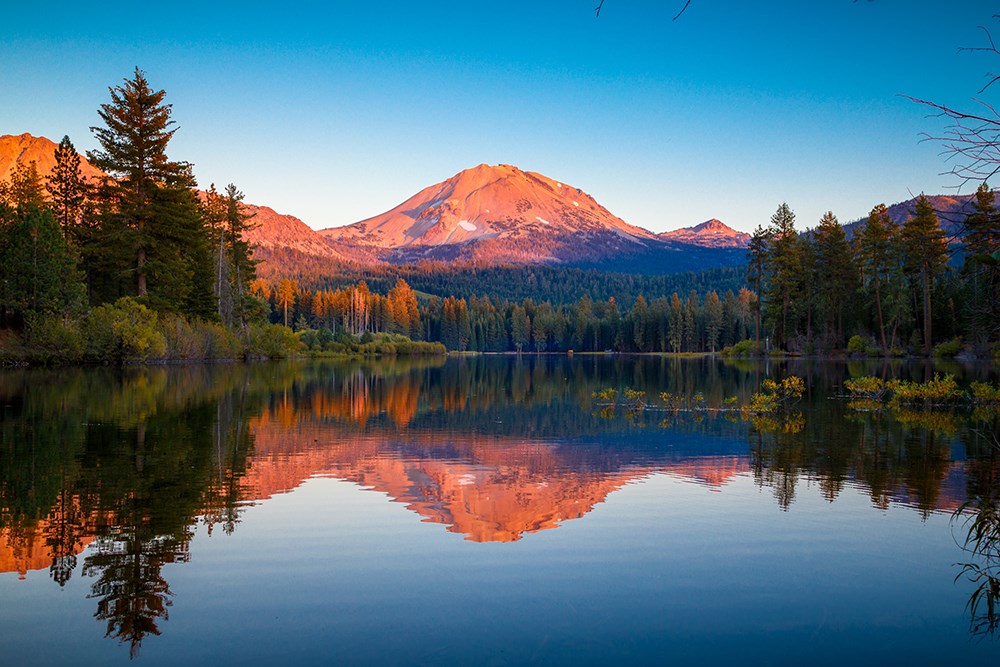 9. Manzanita Lake, Lassen Volcanic National Park
While much of the attention at this serene California park is drawn to its namesake Lassen Peak, a worthwhile trek for ardent day-hikers, there's a more leisurely and accessible option that affords some of the most striking vistas in the park. Manzanita Lake is a tranquil, shimmering oasis in the northwestern portion of Lassen Volcanic, offering a peaceful 1.8-mile loop trail around pristine, bright-blue water. From certain vantage points, the views of Lassen Peak are incomparable, and the jaunt through dense forest feels downright rejuvenating for the soul.
Nearby KOAs:
Mt. Lassen / Shingletown KOA Holiday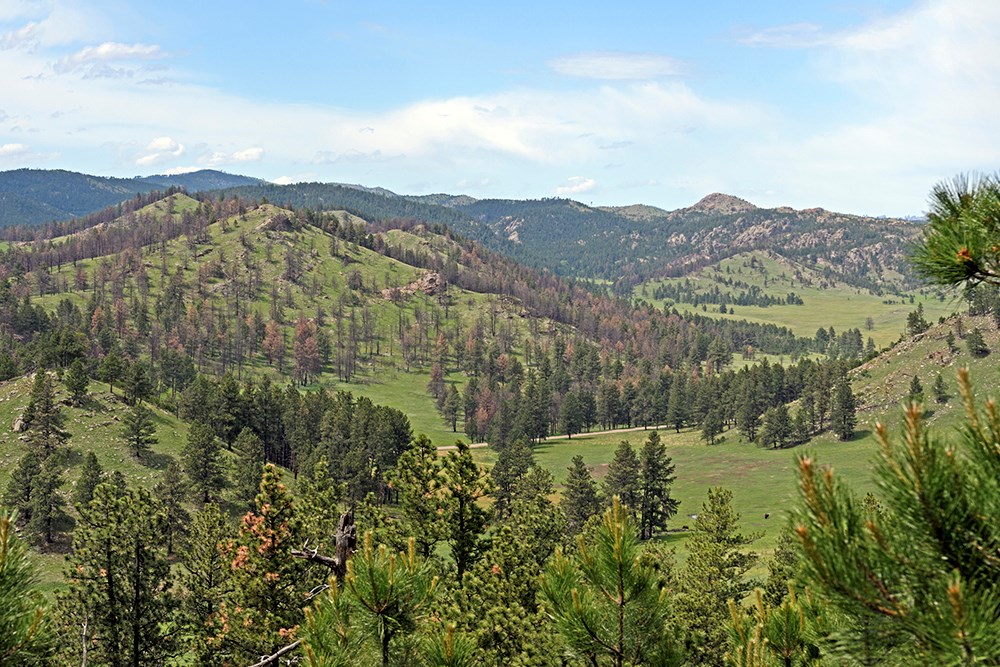 10. Highland Creek, Wind Cave National Park
Don't be fooled by the name of this South Dakota park, there's plenty of things to do here on the surface, too! In fact, there are many miles of hiking trails that traverse vast and diverse landscapes, all bustling—or in the case of the prairie dogs, chirping—with wildlife. Highland Creek is the longest designated trail in the park, and it's also the most multifaceted, as it crosses through ponderosa pine forests, riparian woodlands, babbling creeks, and mixed-grass prairies, where bison can frequently be seen grazing. It's 8.6 miles as a loop, and moderately strenuous, especially during the parts that necessitate hoofing it through thick tallgrass, but the peacefulness and wide-open panoramas are well worth it.
Nearby KOAs:
Hot Springs SD / Black Hills KOA Holiday
Custer / Mount Rushmore / Black Hills KOA Holiday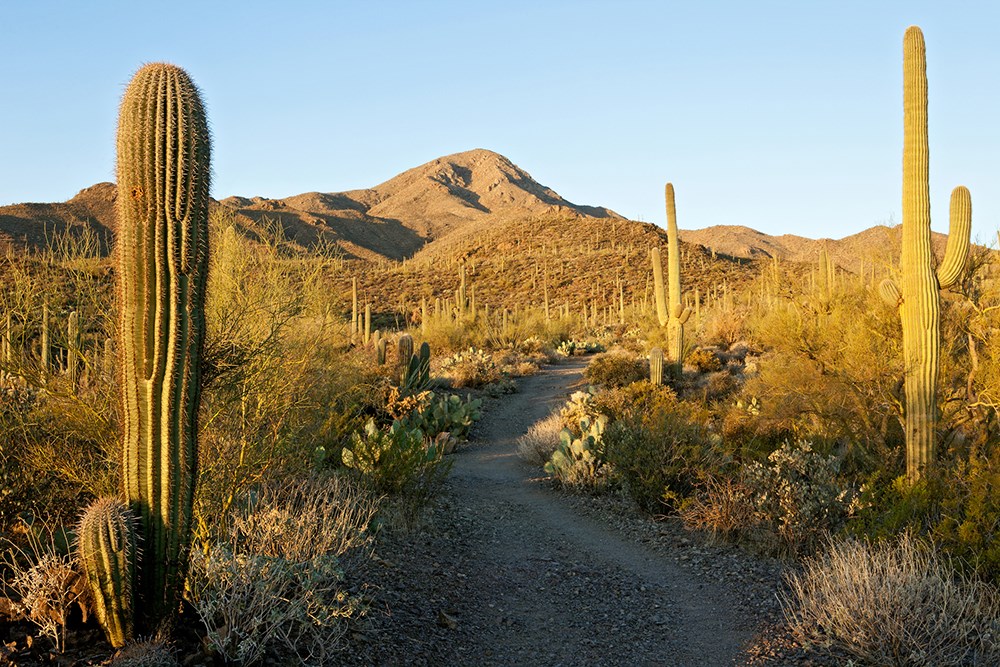 11. Wasson Peak, Saguaro National Park
Split into two different districts, the western portion of Arizona's Saguaro National Park is the less visited—and more underrated—of the two. Out here, looming over the city of Tucson, views don't come much better than those from the top of Wasson Peak, the highest point in the west district at 4,687 feet. From up here, gazing down over a sea of towering cacti and the city in the distance, it feels like floating amongst the clouds, and the Sendero-Esperanza Trail to get here is loaded with plenty of all-natural eye candy en route. Just about 4 miles round trip, there are tough sections with steep switchbacks, but the sweeping overlooks and saguaro-filled terrain are perfectly pleasant distractions.
Nearby KOAs:
Tucson / Lazydays KOA Resort
---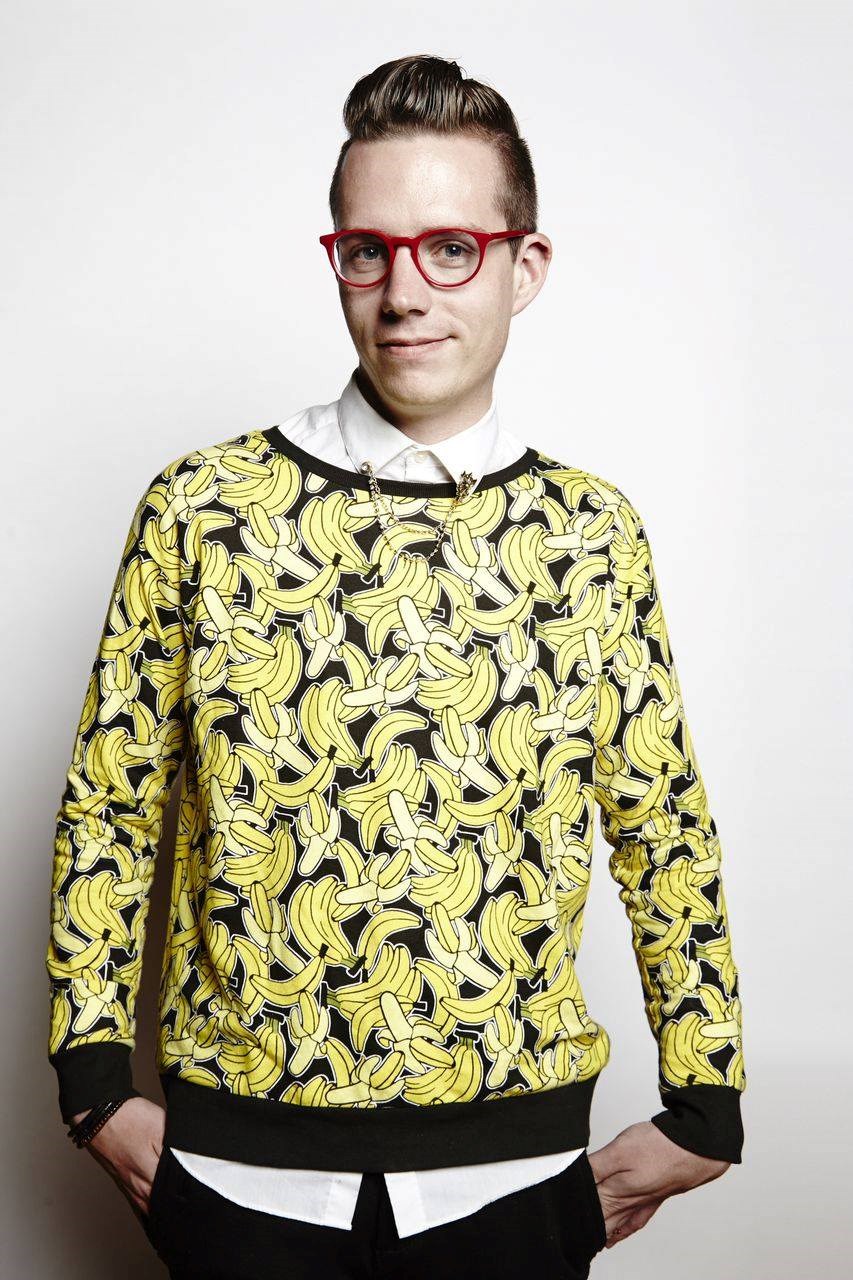 Born and raised in New Hampshire, Matt Kirouac grew up with a love for camping and the outdoors. Though he's lived in Chicago since 2006, he's always on the lookout for new adventures. He writes about travel and food for outlets like TripExpert, Money Inc, Upventur, DiningOut, Food Fanatics magazine, Plate Magazine and Zagat, and he currently serves as Chicago editor for What Should We Do?! He's the author of The Hunt Guides: Chicago (2016) and Unique Eats & Eateries of Chicago (2017).
---