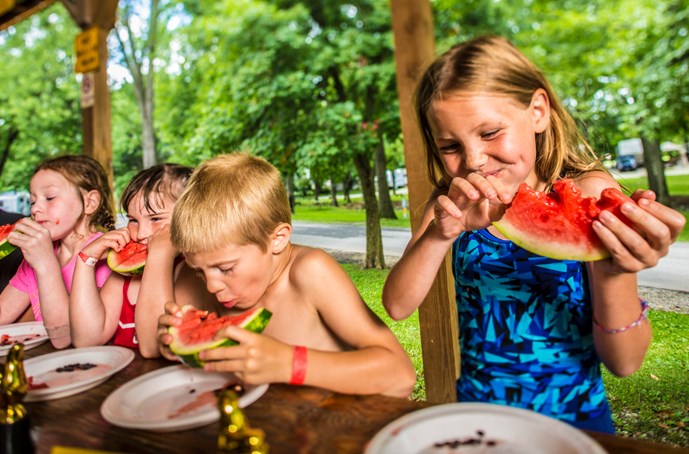 Across North America KOA campgrounds are gearing up for another fun summer of camping. In addition to the usual camping fun, campgrounds are filling their calendars with a wide variety of events and weekend celebrations. From concerts to mystery weekends to fundraisers to wine tastings – this list has something for everyone!
In addition to the many campground events below, don't miss KOA Care Camps Big Weekend. This weekend in May helps raise funds to send kids with cancer to medically-supervised camps all across North America. Stay at a participating campground Friday night and you'll get Saturday for just $20 – all of which supports this great cause.
Pick a your state or province to start exploring some of the events happening at KOA Journey®, KOA Holiday® and KOA Resort® campgrounds this summer. Your favorite KOA not on the list? Remember that events are always being added – visit campground websites for the most up-to-date information.
---
Arizona
Father's Day Weekend – June 16
---
Arkansas
Kids' Craft Day – May 11
Adult Craft Day – May 25
Kids' Craft Day – May 25
Candy Bar Bingo – Saturdays, June 1 – September 14
Kids' Craft Day – June 8
Tye Dye T-Shirt Day – June 22
Tye Dye T-Shirt Day – July 6
Adult Craft Day – July 20
Kids' Craft Day – July 20
Tye Dye T-Shirt Day – August 17
Adult Craft Day – August 31
Kids' Craft Day – August 31
---
California
Los Angeles / Pomona / Fairplex KOA
Cinco De Mayo – May 5
Kaboom! Jr-All American Block Party – July 4
Machester Beach / Mendocino Coast KOA Holiday
Memoral Day Weekend & Chili Cookoff – May 24 – 27
Father's Day Weekend – June 14 – 16
4th of July Weekend – July 4 – 7
Labor Day – August 30 – September 2
Mt. Lassen / Shingeltown KOA Holiday
Care Camp Carnival – May 10 – 12
Friday Night at the Movies – Fridays, May 24 – September 6
Ice Cream Social – Saturdays, May 25 – September 7
Father's Day Rocket Launch – June 15
San Francisco North / Petaluma KOA
Pirate's Week – May 17 – 19
Memorial Week – May 24 – 28
80's Weekend – May 31 – June 2
School's Out – June 3 – 9
Father's Day Fun – June 14 – 16
Nascar Weekend – June 28 – 30
July 4th Celebration – Jul 4 – 7
Western Week – July 8 – 14
Safari Week – Jully 22 – 28
Disney Fun Week – July 29 – August 4
Polynesian Week – August 5 – 11
Super Hero Week – August 19 – 25
Santa Cruz / Monterey Bay KOA Holiday
Fun Train Rides – Daily, June 1 – September 1
---
Colorado
ETA Aquarius Meteor Shower – May 4 – 5
Cinco De Mayo & Frida Kahlo Weekend – May 4 – 5
Mother's Day Weekend – May 10 – 12
Memorial Day Weekend – May 24 – 27
School's Out Celebration – June 7 – 8
Independence Day Celebration – July 4 – 7
Labor Day Weekend – August 30 – September 2
Movie Nights – Nightly, May 24 – September 2
Scavenger Hunts and Activities – Saturdays, May 25 – September 1
---
Connecticut
Memorial Day Weekend – May 25 – 28
Father's Day Weekend – June 14 – 15
Kick Off to Summer – June 21 – 23
Harry Potter Wizard Week – July 12 – 21
Christmas in July – July 26 – 28
Dr. Seuss Weekend – August 9 – 11
---
Florida
Bingo – May 3
Mother's Day Card Making – May 10
Mimosas with Mom – May 12
Movie Night – May 15
Fort Meyers / Pine Island KOA Holiday
Memorial Day – May 25 – 26
Father's Day Weekend – Jun 15 – 16
Care Camps Big Weekend & Mother's Day – May 10 – 12
Make Your Own Fun Weekend – May 17 – 19
Memorial Day Weekend – May 24 – 27
Dancing Through the Decades – May 31 – June 2
Fiesta Time – June 7 – 9
Father's Day Weekend – June 14 – 16
Wet & Wild Water Weekend – June 21 – 23
Let's Glow Crazy – June 28 – 30
Fourth of July Weekend – July 5 – 7
Weird Science Weekend – July 12 – 14
St. Petersburg / Madeira Beach KOA Holiday
Care Camp Weekend Breakfast, Lunch & Ice Cream Social – May 11
Summer Fun Begins – May 18 – 19
Memorial Weekend – May 25 – 26
Father's Day Weekend – June 15 – 16
Red, White & Blue 4th of July Celebration – July 6 – 7
Beach Party – July 13
Pirate Invasion – July 20
Country Western Saturday – August 3
Labor Day Weekend – August 31 – September 1
Georgia
Jacskonville North / St. Marys KOA Holiday
Memorial Weekend Activities – May 25
Fourth of July Week Activities – June 29 – July 7
Labor Day Carnival – September 7
---
Illinois
Memorial Day Activities – May 25 – 27
Father's Day Weekend – June 14 – 16
Datys Out with Thomas – July 13 – 21
Labor Day Weekend – August 30 – September 2
Derby Weekend – May 3 – 5
Mother's Day Weekend – May 10 – 12
NASCAR Weekend – May 17 – 19
Memorial Day Weekend – May 24 – 27
marshmallow & S'mores Weekend – May 31 – June 2
End of School Fling – June 7 – 9
Father's Day Weekend – June 14 – 16
Hawaiian Luau – June 21 – 23
Music, Music, Music – June 28 – 30
July 4th Weekend – July 3 – 7
Waterworks Weekend – July 19 – 21
Christmas in July – July 26 – 28
Annual Corn Boil – August 2 – 4
Chocolate Weekend – August 9 – 11
Western Weekend & Chili Cook-Off – August 16 – 18
Camp, Relax, Repeat Weekend – August 23 – 25
Labor Day Weekend – August 30 – September 2
Rock Island / Quad Citites KOA
Vintage Trailer Rally – May 3 – 5
Movie Nights – Weekends, May 10 – September 7
Hayrack Ride – Weekly, May 25 – September 7
Summer Kick Off Bash – May 25
Father's Day Weekend – June 14 – 15
4th of July Bash – June 29
Labor Day Weekend Bash – August 31
---
Indiana
Angola / Hogback Lake KOA Holiday
Cinco De Mayo – May 3 – 5
Mother's Day Weekend – May 10 – 12
Casino Care Camps Weekend – May 17 – 19
Memorial Day Weekend – May 24 – 25
Family Fun Weekend – May 31 – June 2
Summer Kick Off Weekend – June 7 – 9
Father's Day Weekend – June 14 – 16
Water Wars Weekend – June 21 – 23
Beach party Weekend – June 28 – 30
Fourth of July Celebrations – July 5 – 7
Christmas in July – July 19 – 21
Lake Adventures Weekend – July 26 – 28
Hawaiian Luau Hog Roast – August 2 – 4
Water Wars Weekend – August 9 – 11
Battle of the Decades – 80s vs 90s – August 16 – 18
Grandparetn's Weekend & Car Show – August 23 – 25
labor Day Weekend – August 30 – September 1
Cinco De Mayo Weekend – May 3 – 5
Mother's Day Weekend – May 10 – 12
Prom Weekend – May 17 – 19
Friday Movie Night – Weekly, May 24 – August 30
Memorial Day Weekend – May 24 – 27
Super Hero Weekend – May 31 – June 2
Human Game Piece Weekend – June 7 – 9
Father's Day Weekend – June 14 – 16
Wild West Weekend – June 21 – 23
Happy Birthday Camp Family Weekend – June 28 – 30
Indpendence Day Weekend – July 4 – 7
School of Rock Weekend – July 12 – 14
Battle of the Bands & DJ – July 13
Christmas in July – July 19 – 21
New Year's Eve Weekend – July 26 – 28
Carnival Weekend – August 2 – 4
Civil War – August 16 – 18
Mardis Gras Labor Day Weekend – August 30 – September 2
Elkhart Co. / Middlebury KOA Holiday
Celebrate Independence Day – June 30
Indiana Beach / Monticello KOA
Memorial Day Weekend – May 24 – 27
Camping Weekend – May 31 – June 2
Grandparents' Weekend – June 7 – 9
Father's Day Weekend & Car Show – June 14 – 16
Summe rFun Weekend – June 21 -23
Chocolate Lover's Weekend – June 28 – 30
Declaration Celebration – July 3 – 7
Water Warriors Weekend – July 12 – 14
Mardi Gras Weekend – July 19 – 21
Christmas in July – July 26 -28
Hawaiian Luau Weekend- August 2 – 4
Super Heroes Weekend – August 9 – 11
Western Weekend – August 16 – 18
Labor Day Weekend – August 30 – September 2
Kamp with the K9s – June 8
Fourth of July Fireworks – July 6
Memorial Weekend – May 24 – 27
4th of July Celebration – July 4 – 7
Christmas in July – July 20
Chicken BBQ – August 17
Labor Day Weekend – August 30 – September 2
---
Iowa
Celebrate Freedom-Memorial Day Weekend – May 24 – 26
Eww Gross! Icky Sticky Weekend – May 31 – June 1
Jurassic World Weekend – June 7 – 8
Father's Day Super Heroes Weekend – June 14 – 15
Chocolate Lovers Weekend – June 28 – 29
Happy Birthday USA Carnival – July 4 – 6
Aloha Beach Party Weekend – July 12 – 13
Candy Land Weekend – July 19 – 20
Christmas in July – July 26 – 27
Mad Scientist Weekend – August 2 – 3
S'more Fun Weekend – August 9 – 10
Shirver Me Timbers – August 16 – 17
Ice Cream Lovers Weekend – August 23 – 24
Blast From the Past Retro – August 30 – September 1
Waterloo / Lost Island Waterpark KOA Resort
Mardi Gras Weekend – May 3 – 5
Mothers Day and Care Camp Weekend – May 10 – 12
Memorial Day Weekend – May 24 – 27
Fathers Day Weekend – June 14 – 16
Luau Weekend – June 21 – 23
4th of July Weekend – July 5 – 7
Wet N Wild Weekend – July 19 – 21
Death by Chocolate Weekend – August 2 – 4
Olympic Games Weekend – August 6 – 18
Labor Day Weekend – August 30 – September 2
---
Kansas
Kids Camp Free – May 4 – 5
NASCAR Weekend – May 9 – 10
Memorial Red White and Blue Weekend – May 24 – 26
Father's Day Weekend – June 14 – 15
4th of July – July 5 – 6
Labor Day – August 30 – September 1
12th Annual Lavendar Festival – June 15
---
Kentucky
Cinco De Mayo – May 4
Water Gun Wars – June 29
Labor Day Bash – August 30 – September 2
Corbin / Laurel Lake KOA Journey
Memorial Weekend Summer Kick Off – May 24 – 26
Fourth of July – July 4 – 7
Labor Day Weekend – August 30 – 2
Firework Show – July 5 – 6
Kentucky Lakes / Prizer Point KOA
Mother's Day Arts & Crafts – May 11 – 12
Prize Point Care Camp Color Run – May 18 -10
Candy Bar Bingo – June 1 – 2
Candy Bar Bingo & 50/50 Draw – June 8 – 9
Father's Day Extravaganza – June 15 – 16
Derby Weekend – May 3 – 4
Memorial Day – May 24 – 26
I love Camping Weekend – May 31 – June 1
Summer Fun Weekend – June 7 – 8
Father's Day Weekend – June 14 – 15
Beach Party Weekend – June 21 – 22
Dinosaur Weekend – June 28 – 29
July 4th – July 4 – 6
Water Wars Weekend – July 19 – 20
Fun & Games Weekend – July 26 – 27
Hot Rods Weekend – August 2 – 3
Science Fun Weekend – August 9 – 10
Kindness Rocks Weekend – August 16 – 17
Summer Fun Weekend II – August 23 – 24
Labor Day Weekend – August 31 – September 1
Memorial Day Weekend – May 24 – 27
Games Weekend – May 31  – June 2
Father's Day at Renfro Valley – 14 – 16
Science Weekend – June 28 – 30
4th of July! – July 4 – 7
Wet & Wild Weekend – July 19 – 21
Harry Potter Weekend – August 2 – 4
Magic Weekend – August 16 – 18
Labor Day Weekend – August 30 – September 2
Annual Lake Cumberland Bluegrass Festival – August 16 – 18
---
Maine
Augusta / Gardiner KOA Journey
Memorial Day Weekend – May 24
July 4th Fireworks – July 4
4th of July Celebration –  July 3 – 7
Peace, Love & Camping – July 19 – 21
Christmas in June – June 21 – 31
4th of July Celebration – July 3 – 7
Lobster Weekend – July 12 – 14
Pizza Weekend – July 26 – 28
Barbecue Weekend – August 2 – 4
Lobster Weekend – August 9 – 11
Easter Weekend – August 16 – 18
Pizza Weekend – August 23 – 25
Thank You Weekend – August 30 – September 2
Cinco De Mayo Weekend – May 3 – 5
The "Newlywed Game" Weekend – May 17 – 19
Memorial Day 'Hero's' Weekend – May 24 – 27
"It's In the Cards" Games Weekend – May 31 – June 2
All in the Family-Family Feud Weekend – June 7 – 8
Father's Day Weekend Pancake Breakfast – June 14 – 16
"Mad Science" Weekend – June 21 – 23
"Medieval" Weekend – June 28 – 30
"Old Fashioned 4th of July" Weekend – July 4 – 7
"Where the Wild Things Are" Weekend – July 12 -14
"Splash & Dash" Weekend – July 19 – 21
Christmas in July – July 26 – 28
Viva Las Vegas Casion Weekend – August 2 – 4
Hawaiian Luau Weekend – August 9 – 11
Lobster Weekend – August 16 – 18
Western Weekend – August 23 – 25
Labor Day Larger than Life Games Weekend – August 30 – September 2
Mother's Day Weekend – May 10 – 12
Carnival Weekend – May 17 – 19
Memorial Day Weekend – May 24 – 27
Couples Get Away Weekend – May 31 – June 2
Waterslide Weekend – June 7 – 9
Father's Day Weekend – June 14 – 16
Fishing Derby Week – June 16 – 22
Superhero Week – June 23 – 29
Celebrate America Week – June 30 – July 7
Tournament Week – July 7 – 13
Pirate Week – July 14 – 20
Christmas Week – July 21 – 27
Wild West Week – July 28 – August 3
Wacky Water Week – August 4 – 10
Screaming Falls Halloween Week – August 11 – 17
Power Up for School – August 18 – 24
Labor Day Weekend – August 30 – September 2
Skowhegan / Kennebec Valley KOA
Memorial Day Weekend – May 24 – 27
Father's Day Weekend – June 14 – 16
4th of July – July 4 – 7
Super Soaker Weekend – July 12 – 14
Christmas in July – July 19 – 21
KOA Care Camps Craft Fair – July 20
Tactical Nerf Wars – July 26 – 28
Ner Wars! Adults vs Kids – August 23 – 25
Labor Day Weekend – August 30 – September 2
---
Maryland
Hagerstown / Antietam Battlefield KOA Holiday
Mother's Day Weekend – May 10 – 12
Soak of Be Soaked – Saturdays, May 17 – August 31
Memorial Day Weekend – May 24 – 26
Color My Canvas – Select dates, May 25 – October 19
Men & Machine – The Two Man Five-Piece Band – Select dates, May 26 – September 14
Magic with Mr. Dean – Thursdays, June 6 – October 25
Father's Day Weekend – June 14 – 16
Summer is Here – June 21 – 23
Fourth of July Celebration – July 4 – 7
Christmas in July – July 26 – 28
Labor Day Weekend – August 30 – September 2
Washington DC / Capitol KOA Holiday
Memorial Day Celebration/Rolling Thunder Weekend – May 24 – 27
Ice Cream Social – Saturdays, June 1 – August 31
July 4th Weekend – June 28 – July 7
Christmas in July – July 20 – 22
Labor Day Weekend – August 30 – September 2
---
Maryland
Memorial Day Weekend – May 24 – 26
Warped Pours: Home Brew Festival – June 1
Under the Sea – June 7 – 8
Father's Day – Superhero Weekend – June 14 – 15
Disney Weekend – June 21 – 22
Pet Weekend – June 28 – 29
4th of July – July 5 – 7
KOA Karnival – July 12 – 13
KOA's Got Talent – July 19 – 20
Water Wars – July 25 – 27
Country/Western Weekend – August 2 – 3
Space Weekend – August 9 – 10
Labor Day "Let's Glow Crazy!" – August 30 – September 1
---
Michigan
Coloma / St. Joseph KOA Holiday
Memorial Day Weekend – May 24 – 27
Outdoor Family Movie Night – Weekends, May 25 – August 31
Super Heros Weekend – June 14 – 16
Fourth of July Celebration – July 3 – 6
Christmas in July – July 19 -21
Wild Wacky Water Weekend – August 9 – 11
Dog Days of Summer – August 23 – 25
Labor Day Weekend – Sugust 30 – September 2
Covert / South Haven KOA Holiday
Mother's Day Weekend – May 10 – 12
Father's Day Weekend – June 14 – 16
Carnival Weekend – June 28 – 30
July 4th Weekend – July 2 – 7
Wet N Wild Weekend – July 19 – 21
Fear Factor Weekend – August 2 – 4
Blueberry Festival – August 8 – 11
Labor Day Weekend – August 30 – September 2
Armed Forces Weekend & Victoria Holiday – May 17 – 20
Red, White & Blue – May 24 – 27
Rather's Day Weekend – June 14 – 16
Carnival Weekend – June 21 – 23
Red/White Canada Day – June 28 – July 1
4th of July Celebration – July 3 – 7
Beach Party Weekend – July 12 – 14
Hawaiian Weekend – July 19 – 21
Christmas in July – July 26 – 28
Summer Fun Weekend – August 2 – 4
Western Weekend – August 9 – 11
50's Weekend – August 16 – 18
Redneck Hillbilly Weekend – August 23 – 25
Memorial Day Weekend – May 24 – 27
Independence Week – June 30 – July 7
Labor Day Weekend – August 30 – September 2
Ludington East / Pere Marquette River KOA
Mom is My Favorite Camper – May 10
Shakedown-Trip – May 17
Summer Events – Weekends, May 25 – September 10
Spring Fling – May 31
Night Time Pool Party – Various Dates, June 7 – September 7
Father's Day Putt-Putt Around the Park – June 14
Slip-N-Slide – Various Dates, June 22 –
Chocolate Lovers Unite – June 29
4th of July: America the Beautiful – July 4
Ice Scream You Scream! – July 12
Putt-Putt ARound the Park & Cornhole Tourment – Monthly, July 12 – October 13
Christmas in July – July 26
Chocolate Lovers Unite – August 3
Labor Day Weekend – August 30
Monroe Co. / Toledo North KOA Holiday
Fishing Tournament Weekend – May 17 – 19
Memorial Day Weekend – May 24 – 27
Boy & Girl Scout Weekend – May 31 – June 2
Wrestling Weekend I – June 7 – 9
Superheroes & Father's Day Weekend – June 14 – 16
Safari Weekend – June 21 – 23
Red, White & Boom! Weekend – June 28 – July 1
Wet And Wild Weekend – July 5 – 7
Wild West Weekend – July 12 – 14
Christmas in July Weekend – July 19 – 21
Pirate & Mermaid Weekend – July 26 – 28
Sand Castle Weekend – August 2 – 4
Firefighter Weekend – August 9 – 11
Fairy Tale Fantasy Weekend – August 16 – 18
Outer Space Weekend – August 23 – 25
Labor Day Weekend – August 30 – September 2
Fourth of July – June 28 – July 6
Jungle Safari & Victoria Day – May 17 – 19
Honor Our Heroes (Memorial Day) – May 24 – 27
Disney Weekend – May 31 – June 2
Wild West Weekend – June 7 – 9
Sports Madness Weekend – June 14 – 16
Dawn of the Decades Weekend – June 21 – 23
Red, White & Blue Weekend I – June 28 – 30
Red, White & Blue Weekend II – July 5 – 7
Carnival – July 12 – 14
Christmas in July Weekend – July 19 – 21
Fiesta – July 26 – 28
Hawaiian Luau – August 2 – 4
Jurassic World Weekend – August 9 – 11
Pajama Party Weekend – August 16 – 18
End of Summer Bash Weekend – August 23 – 25
Kick-Off-To-Football – August 30 – September 2
Mother's Day Weekend – May 10 – 12
Father's Day Weekend – June 14 – 16
---
Missouri
Kansas City East / Oak Grove KOA Holiday
Memorial Day Weekend – May 24 – 26
Father's Day Weekend – June 14 – 15
July 4th – June 28 – July 6
Labor Day – August 30 – September 1
---
Montana
Magician/Comedy Show – Sundays, June 2 – September 8
Wild Birds of Pray Presentation – Wednesdays, June 5 – September 4
Craft Night – Fridays, June 7 – September 6
Worship Service – Sundays, June 9 – September 1
Fly Fishing Casting Clinic – Mondays, June 10 – September 2
Glacier Park Clinic – Tuesdays, June 11 – September 10
Rafting Clinic – Thursdays, June 13 – September 5
Annual Woodcarvers Rendezvous – August 14
---
New Hampshire
Lincoln / Woodstock KOA Holiday
Open House – June 1
Father's Day Weekend – June 16
Woodstock Festival – August 17
Strafford / Lake Winnipesaukee South KOA Holiday
Tie-Dye Extravaganza – May 18
Memorial Day Weekend – May 24 – 27
Make a Stuffed Animal – June 1
Cardboard Boat Regatta – June 8
Father's Day Fishing Derby – June 15
Foam Party – June 22
Christmas Weekend – June 28 – 30
Fourth of July Week – July 4 – 6
Bounce Around – July 13
Wet and Wild Wagon Ride – July 10
Steve Corning: Extraordinary Variety Artist – July 27
Comedy Night – August 3
Jason Tardy: High Energy Juggling Show – August 10
Strafford KOA Grand Prix – August 17
Halloween in August – August 23 – 25
Bryson Lang: The Cure for the Common Show – August 31
Glow Stick Parade – September 1
Twin Mountain / Mt. Washington KOA Holiday
Welcome Back Weekend- May 10 – 12
Fireside Chat with Brad & Bex – Saturdays, May 11 – October 12
Ice Cream Social – Saturdays, May 11 – October 12
Pancake Breakfast – Sundays, May 12 – October 13
Memorial Day Weekend – May 24 – 27
Musician Jeremy Dean, Saturdays, June 1 – October 12
Father's Day – June 14 – 16
July 4th Week – July 1 – 7
Labor Day Weekend – August 30 – September 2
---
New Mexico
Alamogordo / White Sand KOA Journey
Independence Day Fireworks Extravaganza – July 4
New Mexico style Chili Cook Off – August 31 – September 1
Fourth of July Celebration – July 4
---
New York
Bring the Whole Family Camping – May 3 – 5
Starting New Family Traditions – May 10 – 12
Having Family Fun – May 17 – 18
Exploring Family Adventures – may 24 – 27
Enjoying Family Campfires – June 1
Enjoying Family Hiking – June 15
Enjoying Family Games – June 15
Enjoying Family Quiet Time – June 22
Enjoying a Family Special Activity – June 29
Let Freedom Ring – July 6
Honor the American Heroes – July 13
America is Bursting with Price – July 20
Proud to Be an American – July 27
Marshmallow In or Out – August 3
Marshmallow Hunt – August 10
Marshmallow Art – August 17
Stick to It – August 31
Mother's Day Weekend – May 11
Memorial Day Weekend – May 25 – 26
Father's Day Weekend – June 15
Nature Weekend – June 29
Fourth of July Weekend – July 4 – 6
Candy Weekend – July 13
Wine and Paint Weekend – July 20
Pet Weekend – July 27
Summer Time Fun – August 3
Olympics Weekend – August 10
Country Western Weekend – August 17
Summertime – August 24
Labor Day Weekend – August 31 – September 1
Lake Placid / Whiteface Mtn. KOA Holiday
Victoria Day Weekend – May 19
Meet & Greet the US Bobsled Team – June 15 – 16
Medina / Wildwood Lake KOA Holiday
Clean Up Weekend – May 3 -5
Mother's Day – May 10 – 12
Family Fun Weekend – May 17 – 19
Memorial Day Weekend – may 24 – 27
Poker Run Weekend – May 31 – June 2
Marshmallow Weekend – June 7 – 9
Antique Tractor & Father's Day Weekend – June 14 – 16
Country Western Weekend – June 21 – 23
Chocolate Weekend – June 28 – 30
4th of July Weekend – July 4 – 7
First Responders Appreciation Weekend – July 12 – 14
RV Show Weekend – July 19 – 21
Christmas in July Weekend – July 26 – 28
Irish Weekend – August 2 – 4
Pirate Weekend – August 9 – 11
Pet Weekend – August 16 – 18
Easter Weekend – August 23 – 25
Labor Day Weekend – August 30 – September 2
New York City North / Newburgh KOA Holiday
Conco De Mayo Weekend – May 3 – 5
Mother's Day Weekend – May 10 – 12
Sports Weekend – May 17 – 19
Memorial Day Weekend – May 24 – 27
Kids Rock Weekend – May 31 – June 2
Game Show Weekend – June 7 – 9
Father's Day Weekend – June 14 – 16
Magic Weekend – June 21 – 23
Pirate Weekend – June 28 – 30
Fourth of July Weekend – July 5 – 7
In Memory of Elvis Weekend – July 12 – 14
Christmas in July Weekend – July 19 – 21
Carnival Weekend – July 26 – 28
Hawaiian Weekend – August 2 – 4
Country Western Weekend – August 9 – 11
Military and First Responder Weekend – August 16 – 18
Renaissance Weekend – August 23 – 25
Labor Day Weekend – August 30 – September 2
Niagara Falls / Grand Island KOA Holiday
Potluck and Music with Broken Road Duo – May 11
Ice Cream Social – Fridays, June 14 – August 30
Pancake Breakfast – Saturdays, June 15 – August 31
Tie Die – Saturdays, June 15 – August 31
Movie Night – Saturdays, June 15 – August 31
Bingo – Weekly, June 19 – August 28
Arts and Crafts with Miss Jean – June 19
Colortime or Ceramic Craft – Weekly, June 20 – August 29
Games – June 20
S'mores at the Campfire – June 29
4th of July Site Decorating Contest – July 4
Christmas in August – August 2 – 3
Labor Day Sunday Concert – September 1
Niagara Falls North / Lewistown KOA Journey
Soldiers Throughout the Ages – May 25 – 26
Saugerties / Woodstock KOA Journey
Mother's Day Weekend Craft – May 11
Memorial Day Craft – May 25
Memorial Day Carnival – May 26
Father's Day Craft – June 15
Tie Dye Craft – July 6
Flashlight Candy Hunt – July 20
Flashlight Candy Hunt – August 24
Labor Day Weekend Craft – August 31
---
North Carolina
Cherokee / Great Smokies KOA Holiday
Memorial Day Weekend- May 25 – 27
Country Western Weekend – June 7 – 9
School's Out Summer Carnival – June 14 – 16
Fourth of July Weekends – June 28 – July 7
Christmas in July – July 19 – 21
Big Foot Weekend – August 2 – 4
August Fishing Tournament – August 10
Labor Day/Glow Weekend – August 31 – September 2
Murphy / Peace Valley KOA Holiday
Acoustic Measures Concert – May 17 – 18
Acoustic Measures Concert – August 23 – 24
Memorial Day – May 24 – 26
Father's Day Weekend – June 14 – 15
4th of July Celebration – July 3 – 7
Labor Day Weekend – August 30 – September 2
Mother's Day Celebration – May 10 – 12
Memorial Day Celebration – May 24 – 26
Popsicles and Ice Cream Socials – Fridays, May 24 – August 30
Father's Day Weekend – June 14 – 16
Independence Day Celebration – July 5 – 7
Labor Day – August 30 – September 2
---
Ohio
Buckeye Lake / Columbus East KOA Holiday
Gardening Weekend – May 3 – 4
Safari Weekend – May 17 – 18
Memorial Day Weekend – May 24 – 26
Pirate Weekend – May 31 – June 1
50s Weekend – June 7 – 8
Father's day Weekend – June 14 – 15
Western Weekend – June 21 – 22
Hawaiian Weekend – June 28 – 29
Celebrate the 4th – July 4 – 6
Celebrating 50 Years – July 12 – 13
Family Olympic Weekend – July 19 – 20
Super Soaker Weekend – July 26 – 27
Chocolate Lovers Weekend – August 2 – 3
Mopar Weekend – August 8 – 11
Carnival Weekend – August 16 – 17
Farm Weekend – August 23 – 24
Labor Day Weekend – August 30 – September 2
Cinco De Mayo – May 3 – 5
Mother's Day – May 10 – 12
Get Back to Nature – May 17 – 19
Memorial Day Weekend – May 24 – 27
Crazy Races Weekend – May 31 – June 2
School's Out Weekend – June 7 – 9
Father's Day Weekend – June 14 – 16
Splash Into Summer – June 21 – 23
Mystery Weekend – June 28 – 30
Happy Birthday America – July 4 – 7
Wet, Wild & Wacky Weekend – July 12 – 14
Super Hero Weekend – July 19 – 21
Christmas in July – July 26 – 28
Gamer's Weekend – August 2 – 4
Zoom Weekend – August 9 – 11
Butler Mohican's Beach Party – August 16 – 18
Pirates Weekend Aarggghhh – August 23 – 25
Labor Day Weekend – August 30 – September 2
Canton / East Sparta KOA Holiday
UR Berry Special – May 17 – 19
Memorial Day Weekend – May 24 – 27
School's Out Weekend – May 31 – June 2
Pool & Foam Slip 'N Slide – June 7 – 9
Father's Day Weekend – June 14 – 16
Western Days Roundup – June 21 – 23
Wet 'N Wild Weekend – June 28 – 30
Namaste – India – May 3 – 4
Land of the Rising Sun – Japan – May 10 – 11
A Coutnry with 7,641 Islands – Philippines – May 17 – 18
Memorial Day Weekend – May 24 – 26
Buon Appetito! – Italy – May 31 – June 1
Glow with Us in the City of Lights – Paris – June 7 – 8
Vatertag! – Germany – June 14 – 15
We'll Have a Jolly Good Time in Jolly Old England – June 21 – 22
Green Luck – Ireland – June 28 – 29
4th of July Weekend – July 5 – 7
La Posadas – Mexico – July 12 – 13
Land of Wood and Water – Jamaica – July 19 – 20
Carnival in the Caribbean – Cuba – July 26 – 27
The Gift of the Nile – Egypt – August 2 – 3
Welcome to the Jungle – Madagascar – August 9 – 10
Choshocton Sunflower Festival – Agust 16 – 18
Mediterranean Beauty – Morocco – August 23 – 24
Labor Day Weekend – August 30 – September 1
Cinco De Mayo Celebration – May 4
Mother's Day Weekend – May 11
Meet and Greet Weekend – May 18 – 19
Memorial Day Weekend – May 24 – 27
Super Hero and Princess Weekend – May 31 – June 2
Carnival Weekend – June 7 – 9
Father's Day Weekend – June 14 – 16
Dinosaur Weekend – June 21 – 23
4th of July Weekend #1 – June 28 – July 1
4th of July Weekend #2 – July 5 – 8
Luau Weekend – July 12 – 14
Christmas in July – July 19 – 21
New Year Celebration – July 26 – 28
Pirates Weekend – August 2 – 4
Western Weekend – August 9 – 11
Jungle Weekend – August 16 – 18
Bake, Yard and Craft Sale – August 23 – 25
Live Band & Magic Show – August 30 – September 2
Salem / Lisbon Ohio KOA Holiday
Gold Cart Obstacle Challenge – May 11 – 12
Memorial Day – May 24 – 27
Summer Kick Off – Kids Hiking Adventure – June 7 – 9
Father's Day Celebration & Annual Fishing Contest – June 14 – 16
Red, White & Blue Celebration – June 28 – July 7
Wet Pirate Wagon Ride – July 13
Eagles Picnic – July 20
KOA Birthday Celebration – July 27
Pool Party & Casino Night – August 3
Annual Chili Cook Off and Brownie Bake Off – September 14 – 15
Sandusky / Bayshore KOA Holiday
May the Fourth be With You – May 3 – 4
Mother's Day Weekend &  Fairy Tale Weekend – May 10 – 11
Memorial Day Weekend – May 24
Ocean Awareness Weekend – June 7 – 9
Fathers Day/Super Hero Weekend – June 14 – 15
Wizarding Weekend – June 21 – 23
Luau Weekend – June 28 – 30
4th of July – July 4 – 8
Wet & Wild Weekend – July 12 – 14
Groovy Weekend – July 19 – 21
Pirate Weekend – 26 – 28
80's Weekend – August 2 – 4
Chocolate Madness Weekend – August 9 – 11
Paint & Color Weekend – August 16 – 18
Celtic Weekend – August 23 – 25
Labor Day – August 29 – September 2
Pajama Party Weekend – May 1 – 6
Mother's Day Weekend – May 7 – 13
All Things Messy Weekend – May 13 – 20
Summer Fun Kickoff Weekend – May 20 – 28
Death By Chocolate Weekend & BBQ Contest – May 27 – June 3
All Star Super Soaker Weekend – June 3 – 10
Fun with Dad Weekend – June 10 – 17
Candy Lovers Weekend – June 21 – July 1
Spirit of America Weekend – July 1 – 8
Christmas in July – July 8 – 15
Off to the Races Weekend – July 15 – 22
Ice Cream Lovers Weekend – July 22 – 29
Shiver Me Timbers-Pirates Weekend – July 29 – August 5
Marshmallows Gone Wild Weekend – August 5 – 12
Jurrasic KOA Weekend – August 12 – 19
Too Cool for School Weekend – August 19 – 26
S'mores Fun & Labor Day Weekend – August 26 – Sptember 2
Streestboro / Cleveland SE KOA
Mother's Day Weekend – May 10 – 12
Happy Weekend Camper – May 17 – 19
Memorial Day Weekend – May 17 – 19
Family Game Weekend May 31 – Jun 2
Pool Games – June 7 – 9
Father's Day – June 14 – 16
Carnival Weekend – June 21 – 23
Weekend Fun – June 28 – 30
Fourth of July Weekend – July 5 – 7
Christmas in July-Luau – July 12 – 14
Pool Games – July 19 – 21
Weekend Fun – July 26 – 28
Weekend Fun – August 23 – 25
Labor Day Weekend – August 30 – September 2
Thompson / Grand River KOA Holiday
Massages (In a Teepee) – Select Dates, May 1 – October 31
Memorial Day Weekend – May 24 – 27
Pirate Weekend – Cardboard Boat Races – June 22
4th of July Celebration Weekend – July 4 – 7
Wine and Cheese Social – July 13
2nd Annual Music Festival – July 20
Christmas in July – July 26 – 28
Fishing Tournament – August 10
Wine and Cheese Social – August 17
Golf Cart Poker Run – August 24
Toledo East / STony Ridge KOA Journey
Memorial Day Weekend – May 23 – 27
Hay Wagon Rides – Weekends, May 25 – September 1
Independence Day – July 2 – 7
Labor Day Weekend – August 29 – September 3
Super Soaker Hay Ride – May 25
Lularoe Party – May 25
Pampered Chef Party – may 26
Super Soaker Hay Ride – June 15
Super Soaker Hay Ride – July 6
Thirty One Party – July 6
50th Anniversary of the Moon Landing – July 17 – 21
Super Soaker Hay Ride – August 31
---
Oklahoma
Tulsa NE / Will Rogers Downs KOA Journey
Lawn Mower Races – Every Third Saturday, May 16 – November 17
Horse Racing – March 25 – Nov 9
---
Oregon
Astoria / Warrenton / Seaside KOA Resort
Cinco De Mayo Fiesta – May 3 – 5
Mom's Weekend – May 10 – 12
7th Annual "KOA's Got Talent" Show – May 17 – 19
Cowboy Country Memorial Weekend – May 24 – 26
Bluegrass & BBQ – May 31 – June 2
KOA Goonies Weekend – June 7 – 9
World's Greatest Dad – June 14 – 16
Pampered Pups Party – June 21 – 23
Under the Sea – June 28 – 30
Americana Party! Let Freedom Ring! – July 2 – 4
Getting Groovy in the 70s! – July 5 – 7
Night Owl Pajama Party – July 12 – 13
KOA's 2nd Annual Amazing Race! – July 19 – 20
Wet & Wild – July 26 – 27
Hawaiian Luau Party – August 2 – 3
Heroes Weekend – August 9 – 10
Pirates Booty – August 16 – 17
KOA Carnival – August 23 – 24
---
Pennsylvania
Bellefonte / State Collete KOA Holiday
Mother's Day Weekend – May 10 – 12
Memorial Day Weekend – May 24 – 27
Hayrides – Fridays & Saturdays, May 24 – August 30
Summer  Friday Nights Under the Lights – Fridays, May 24 – August 30
Bubbles! – Saturdays, May 25 – August 31
Late Night Treasure Hunte – Saturdays, May 25 – August 31
Let's Make Something – Saturdays, May 25 – August 31
Ice Cream Socials – Saturdays, May 25 – August 31
Tie-Dye – Saturdays, May 25 – August 31
Free Pancakes – Sundays, May 26 – September 1
Delaware Water Gap / Pocono Mountain KOA Holiday
The Sawptician – Chainsaw Wood Carving Demonstration – May 18
Long Time Coming…the Band – May 25
Wine Tasting – May 25
Crum Circle with KEn – May 26
DJ Krazy Ken – June 15
Wine Tasting – June 29
Long Time Coming…the Band – June 29
Long Time Coming…the Band – July 5
DJ Krazy Ken – July 6
DJ Krazy Ken – July 13
Up Close with Wildlife – July 20
DJ Krazy Ken – July 27
DJ Krazy Ken – August 3
Get Wild About Animals – August 10
Long Time Coming…the Band – August 17
Wine Tasting – August 17
DJ KRazy Ken – Augsut 24
Get Wild About Animals – August 30
DJ Krazy Ken – August 31
Elizabethtown / Hershey KOA Holiday
Mother's Day Weekend – May 10 – 12
Memorial Day Weekend – May 24 – 27
Father's Day Weekend – June 14 – 16
Fourth of July Celebration – July  3- 7
Pirate's Adventure Weekend – July 12 – 14
Christmas in July – July 26 – 28
Chocolate Extravaganza Weekend – August 9 – 11
Labor Day Weekend – August 30 – September 2
Mother's Day Weekend – May 10 – 12
Canadian Victoria Day – May 17 – 20
Memorial Day Weekend – May 24 – 27
Fun with Rocks & Dino Bones – May 30 – June 2
Jungle Terry Returns – June 7 – 9
Father's Day Weekend – June 14 – 16
Pirate's Treasure Hunt – June 21 – 23
Luau Dinner Party – June 28 – 30
4th of July Weekend – Jul 3 – 7
Crazy Chocolate Weekend – July 12 – 14
Wet & Wild Weekend & Roar on the Shore Festival – July 19 – 21
Discover Presue Isle Days – July 26 – 28
Fiesta Fun & Erie Blues & Jazz Fest – August 2 – 4
Hunt 4 School Treaure & End of Season Store Sale – August 16 – 18
Fun with Rocks & Dino Bones – August 23 – 25
Wet & Wild Labor Day Weekend – August 30 – September 2
Gettysburg / Battlefield KOA Holiday
Ghost Stories Weekend – May 3 – 5
Memorial Day Weekend – May 24 – 27
Story Teller – May 31 – June 2
Father's Day & Chocolate Weekend – June 14 – 16
Live Animal Weekend – June 21 – 23
Civivl War Songs & Magic Weekend – June 28 – 30
July 4th Celebration & Reenactment – July  3 – 7
Storey Teller – July 26 – 28
S'mores Weekend – August 9 – 11
Bluegrass Festival Weekend – August 15 – 18
Musical Fun Weekend – August 23 – 25
Labor Day Weekend – August 30 – September 2
Honesdale / Poconos KOA Holiday
Cinco De Mayo Weekend – May 3 – 5
Mother's Day Weekend – May 10 – 12
Spring Yard Wale Weekend – May 17 – 19
Memorial Day Weekend – May 24 – 27
Welcome Summer – May 31 – June 2
All Ball Weekend – June 7 – 9
Father's Day Weekend – June 14 – 16
Happy Birthday Weekend – June 21 – 23
Bingo Bonanza – June 28 – 30
4th of July – July 4- 7
Pet Weekend – July 12 – 14
Small Golf Tournament – July 26- 28
Corn Roast – August 23 – 25
Labor Day & Tricky Tray – August 30 – September 2
Jonestown / Hershey NE KOA Journey
June Cruise Night – June 8
Mother's Day Weekend – May 10 – 12
Memorial Day Weekend – May 24 – 27
Father's Day Weekend – June 14 – 16
Fiesta – June 28 – 30
4th of July Weekend – July 4 – 7
Hawaiian Luau – July 12 – 14
Christmas in July – July 19 – 21
Pirates – July 26 – 28
Chocolate Weekend – August 2 – 4
Super Soaker/Get Wet Weekend – August 9 – 11
End of Summer/Back to School – Augsut 16 – 18
End of Summer/Back to School – August 23 – 25
Labor Day Weekend – August 30 – September 2
Welcome Back to Meadville KOA Discount Weekend – May 4 – 5
Ladies Shopping & Spaghetti Dinner  – May 18 – 19
Memorail Day Weekend – May 25 – 27
Our Annual Car Show & Vintage RV Rally – June 1 – 2
S'more Fun Weekend – June 8 – 9
Father's Day Weekend – June 15 – 16
Bingo, Bingo, Wekend – June 22 – 23
Death by Chocolate Weekend – June 29 – 30
Independence Day Weekend – July 4 – 7
Artsy Doodles Weekend – July 13 – 14
Just Campin' Weekend – July 20 – 21
Wet-N-Wacky Weekend – July 27 – 28
Wish Upon a Butterfly Weekend – August 3 – 4
Duct Tape & Cardboard Boat Regatta Weekend – August 10 – 11
Country & Western (Gold Rush) Weekend – Augsut 17 – 18
Jungle Terry's Show & Back to School Blast Off – August 24 – 25
Labor Day Weekend – August 31 – September 2
Mercer / Grove City KOA Holiday
Vistoria Day Weekend – May 17 – 20
Illusionist Cliff Hopkinds – May 25
Essential Oils Calss – May 25
Balloon Artist – May 26
Twisted Trivia – June 15
Ventriloquest – June 22
Krazy Kitchen Kemistry – June 29
Juggler Geoff – July 6
Arsty Doodle – July 13
Chainsaw Carving Demo – July 20
Magician Dan – July 27
The Bubble Lady – August 3
Cap'n Kida Pirate Show – August 10
Ice Man Reptiles – August 17
Twisted Trivia – August 24
Jungle Tetty & Friends – August 31
Balloon Artist – September 1
Philadelphia / West Chester KOA Holiday
28th Anniversary Celebration – May 3 – 4
Baloon Twisting – May 17 – 18
Memorial Day Weekend – May 24 – 27
Arts & Crafts Extravaganza – May 31 – June 1
Campfire & S'more Cones – Hune 7 – 9
Father's Day Weekend – June 14 – 15
Elmwood Park Zoo – June 21 – 23
Game Day June 28 – 30
Fourth of July – July 4 – 6
Campfire & S'more Cones – July 12 – 14
Outerspace – July 26 – 28
Waterplay Weekend – August 9 – 11
Elmwood Park Zoo – August 16 – 18
Meet & Greet Weekend – May 3 – 5
Mother's Day Weekend – May 10 – 12
Pirate Weekend – Ahoy Matey – May 17 – 19
Memorial Day Weekend – May 24 – 27
 Witches & Wizards Weekend – May 31 – June 2
Chocolat Fantasy Weekend – June 7 – 9
Happy Father's Day Weekend – June 14 – 16
Mardi Gras Weekend – June 21 – 23
Luau Weekend – July 28 – 30
Happy Birthday USA – July 4 – 7
Ther Great Grape Escape! – July 12 – 14
Safari Weekend – July 19 – 21
Christmas in July – July 26 – 28
Imagination Weekend – August 2 – 4
Carnival Weekend – August 9 – 11
Hillbilly Redneck Weekend – August 16 – 18
License to Chill Weekend – August 23 – 25
Labor Day Weekend – August 30 – September 2
Williamsport South / Nittany Mtn. KOA Holiday
Cinco De Mayo Fiesta Weekend – May 3 – 5
Mother's Day Weekend – May 10 – 12
S'more Fun Weekend – May 17 – 19
Memorial Day Weekend – May 24 – 27
Mardi Gras Weekend – May 31 – June 2
Summer Fun Weekend – June 7 – 9
Father's Day Weekend & RV Show – June 14 – 16
Kid's Extreme Weekend – June 21 – 23
Unicorn Party – June 28 – 30
4th of July Celebration – July  4 – 6
Sawmill Festival #1 – July 12 – 14
Sawmill Festival #2 – July 19 – 21
Hawaiian Luau Party – July 26 – 28
Wacky Water Weekend – August 2 – 4
Family Olympics Weekend – August 9 – 11
Super Summer Carnival Weekend – August16 – 18
LLWS Championship Weekend – August 23 – 24
Labor Day Weekend – August 30 – September 2
---
South Carolina
Outdoor Movie Night – Saturdays, May 25 – September 7
Memorial Day Weekend – May 24 – 26
Camp Unite – May 29 – June 5
Happy Father's Day – June 14 – 16
Pirate's Weekend – June 21 – 23
July 4th Week – July 1 – 7
Cowboy Weekend – July 16 – 18
Back to School Bash – Augsut 30 – September 1
---
South Dakota
Mount Rushmore KOA Resort at Palmer Gulch
Mt Rushmore Rodeo at Palmer Gulch – June 8
Mt Rushmore Rodeo at Palmer Gulch – June 22
Mt Rushmore Rodeo at Palmer Gulch – August 8
Mt Rushmore Rodeo at Palmer Gulch – August 17
Mt Rushmore Rodeo at Palmer Gulch – September 1
Mother's Day – May 10 – 11
Memorial Day Weekend – May 24 – 27
Chococlate Lover's Weekend – May 31 – June 2
Survivor Weekend – June 7 – 9
Father's Day Weekend – June 14 – 15
Mardi Gras Weekend – June 21 – 22
4th of July Celebration – July 4 – 6
Camp Spirit Weekend – July 12 – 13
Christmas in July – 19 – 21
Harry Potter Weekend – July 26 – 27
Princess & Pirate Weekend – August 2 – 4
Beach Party Weekend – August 16 – 17
Kids Rule Weekend – August 23 – 24
Labor Day Weekend – August 30 – September 2
---
Tennessee
Chattanooga North / Cleveland KOA
Memorial Day Weekend – May 25 – 26
Rocks for a Cause – June 1
Father's Day Weekend – June 15
Fireflies & Fairytales – June 29
4th of July Weekend – July 6 – 7
Water Wats Weekend – July 20
 Memorial Day Weekend – May 24 – 27
July 4th – July 4 – 8
Paris Landing / Kentucky Lake KOA
May the 4th Be With You Weekend – May 3 – 5
Memorial Day – Kickoff to Summer – May 24 – 26
4th of July Celebration – July 4 – 6
Pigeon Forge / Gatlinburg KOA Holiday
Sweetwater / I-75 / Exit 62 KOA
Memorial Day Weekend – May 24 – 27
4th of July – June 28 – July 7
Christmas in July – July 26 – 28
Back to School Blast – August 2 – 4
Labor Day Weekend – August 30 – September 2
---
Texas
Brookeland / Lake Sam Houston KOA
Memorial Weekend Camper Crawfish Boil – May 25
---
Utah
Bear Lake / Marina Side KOA Holiday
Mother's Day – May 10 – 12
Memorial Day Weekend – May 24 – 27
Celebrating Bear Lake Weekend – May 31 – June 2
Pirate Weekend – June 7 – 9
Father's Day Weekend – June 14 – 16
Storybook Character Heroes & Villans Weekend – June 21 – 23
Tropical Weekend – June 28 – 30
Fourth of July/Patriotic Weekend – July 5 – 7
Christmas in July – July 12 – 14
34th of July/Pioneer Weekend – July 19 – 21
Carnival Weekend – July 26 – 28
Raspberry Days Weekend – August 1 – 4
Princess & Super Heroes – August 9 – 11
Mermadi & Pirate Weekend – August 16 – 18
Halloween Weekend – August 23 – 25
Labor Day Weekend – August 30 – September 2
Brigham City / Perry South KOA Journey
Ice Cream Social – Nightly, May 12 – September 30
---
Vermont
Memorial Day Weekend – May 24 – 27
Fourth of July Weekend – July 1 – 7
Labor Day Weekend – August 30 – September 2
Memorial Day Weekend – May 24 – 27
Fourth of July Celebration – July 1 – 7
Christmas in July – July 19 – 20
Halloween in August – August2 – 3
One S'More Weekend – August 16 – 17
Labor Day Weekend – August 30 – September 2
Quechee / Pine Valley KOA Holiday
Vermont Institute of Natural Science Events – Select Dates, June 29 – August 31
---
Virginia
Cape Charles / Chesapeake Bay KOA Resort
Kick Off to Camping Weekend – May 3 – 5
Mother's Day Weekend – May 10 – 12
Concert Series Weekend – May 17 – 19
Memorial Day Weekend – May 24 – 26
VIP Weekend – May 31 – June 2
Concert Series Weekend – June 14
Team Extreme Weekend – June 21 – 23
Pirates on the Bay – June 28 – 30
Fourth of July Weekend – July 5 – 7
Into the Wild – July 12
Concert Series Weekend – July 19 – 21
Beach Party Weekend – July 26 – 28
Explore the Shore – August 2 – 4
Fishing Tournament Weekend – August 9 -11
Concert Series Weekend – August 17
Pet Weekend – August 23 – 25
Labor Day Weekend – August 30 – September 2
Memorial Day Weekend – May 24 – 26
Chincoteague Island KOA Resort
Cinco De Mayo – May 3 – 5
Mother's Day Weekend – May 10 – 12
Guns vs Hoses (First Responders Benefit Weekend) – May 17 – 19
Memorial Day Celebration – May 24 – 26
Food Truck Rally Weekend – May 31 – June 2
Star Wars Weekend – June 7 – 9
Father's Day Celebration – June 14 – 16
Lassic Camper & Car Show Weekend – June 21 -23
Water Olympics Weekend – June 28 – 30
4th of July – July 4 – 7
Christmas in July – July 12 – 14
Pirate Palooze – July 19 – 21
Crab Fest & Music Festival – August 2 – 4
Disney Weekend – August 9 – 11
Wet & Wild Weekend – August 16 – 18
Disco Dance Party – August 23 – 25
Margaritaville Labor Day Celebration – August 30 – September 2
Fancy Gap / Blue Ridge Parkway KOA Journey
Memorial Day – Let The Summer Begin! – May 24 – 27
Finger Lickin' Friday – Fridays, May 24 – August 30
Fancy Hay Rides on Fancy Gap Mountain – Saturdays, May 25 – August 24
Saturday with Floats and Sundae's – Saturdays, May 25 – August 24
Pancake Breakfast for Care Camps – Saturdasy, May 25 – September 2
3rd Annual Father's Day Fishing Tournament -Jjune 14 – 16
Indpendence Day Celebration – June 28 – July 7
Harrisonburg / Shenandoah Valley KOA Holiday
Mother's Day – May 11 – 12
Movies Under the Stars – Saturdays, May 11 – November 30
Kick Off to Summer Celebration – May 24 – 27
BBQ Competition – May 26
Father's Day – June 15 – 16
Fourth of July – July 7 – 9
Educational Labor Day – August 31
Digs Volleyball Tournament – May 17 – 19
Hats Off to Dads – June 14 – 16
Williamsburg / Busch Gardens Area KOA
Craft Weekend – May 3 – 5
Mother's Day – May 10 – 12
Military Weekend – May 17 – 19
Memorial Weekend – May 23 – 27
Pet Weekend – May 31 – June 2
Get Outdoors Weekend – June 7 – 9
Father's Day Kids Camp Free – June 14 – 16
Frozen Weekend – June 21 – 23
Fantastic Fourth of July Week! – July 1 – 8
Revolutionary Weekend – July 6 – 8
Ice Cream Weekend – July 12 – 14
Christmas in July – July 19 – 21
Princess Weekend – July 26 – 28
Tax Free Weekend – August 2 -4
Farm Weekend – August 9 – 11
Camper Appreciation Weekend – August 23 – 25
Labor Day Weekend – August 30 – September 2
---
Washington
Bay Center / Willapa Bay KOA Journey
Memorial Day Weekend – May 24 – 26
Halloween Weekend – May 31 – June 1
Wild Water Weekend – June 7 – 8
Clam Chowder Cookoff/Father's Day Weekend – June 14 – 15
Mad Scientist Weekend – June 21 – 22
Pirate & Princess Weekend – June 28 – 29
Celebrate the USA – July 4th Weekend – July 5 – 6
Big Foot Weekend – July 12 – 13
Shark Weekend – July 19 – 20
Christmas in July – July 26 – 27
Luau Weekend – August 2 – 3
Minion Weekend- August 9 – 10
Wild Water Weekend – August – 16 – 17
Chocolate Lover's Weekend – August 23 – 24
Labor Day Weekend – Country Fair – August 30 – September 1
Boyer Park & Marina / Snake River KOA
Snake River Festival – June 8
Concrete / Grandy Creek KOA Holiday
Mother's Day Breakfast – May 11 – 12
Victoria Day Celebration – May 18 – 19
Memorial Day Celebration – May 25 – 26
National Trails Day and Club Blazer Weekend – June 1
Weird Whacky Weekend – June 8 – 9
Father's Day – June 15 – 16
Bigfoot is Among us! – June 22 – 23
Rock n Roll Celebration – June 29 – 30
Fourth of July Weekend – July 5 – 7
Pirates & Princesses – July 13 – 14
Dog Days of Summer – July 20 – 21
Let the Games Begin – July 27 – 28
Western Days! – August 3 – 4
Hawaiian Weekend – August 10 – 11
Blackberry Festival – August 17 – 18
Carnival Weekend – August 24 – 25
Celebrate with Chocolate – August 30 – September 2
Longview North / Mount St Helens KOA
Kids to Park Day – May 18
Father's Day Weekend Kids Camp Free – June 14
Great American Backyard Campout – June 25
Happy Independence Day – June 30
National S'mores Day! – August 10
Mother's Day Weekend – May 10
Victoria Day Weekend – May 17 – 20
Memorial Day Weekend – May 24
Father's Day Weekend – June 14 – 16
Canada Day Weekend – June 28
July 4th Weekend – July 4 – 7
Wine Lovers Weekend – July 26 – 28
B.C. Day Weekend – August 2 – 5
Mardi Gras Weekend – August 9 – 11
KOA Birthday Weekend – August 23 – 25
Labor Day Weekend – August 30 – September 2
Newport / Little Diamond Lake KOA
Amazing Mom's Weekend – May 10 – 12
Annual Fishing Derby Weekend – May 17 – 19
Memorial Day/Member Appreciation Weekend – May 24 -27
National Trails Day – May 31 – June 2
Great Outdoors – June 7 – 9
Dad's Rock Weekend – June 14 – 16
Wild West Weekend – June 21 – 23
Banana Mania – June 28 – 29
Salute to America – July 4
Game on Weekend – July 12 – 14
Hot Diggity Dogy – July 19 – 21
May the Forst Be with You – July 26 – 28
4th Annual Family Challenge Games – August 32 – 4
Shooting Stars – August 16 – 18
Beach Bum Days – August 23 – 25
American Workers Holiday – August 30 – September 2
---
West Virginia
Harpers Ferry / Civil War Battlefields KOA
Cinco De Mayo – May 3 – 5
Mother's Day – May 10 – 12
Wine & Cheese Weekend – May 17 – 19
Memorial Day Weekend – May 24 – 27
Old Time Carnival – May 31 – June 2
Down on the Farm Weekend – June 7 – 9
Superheroes & Father's Day Weekend – June 154 – 16
School's Out Weekend – June 21 – 23
Pirates and Mermaids – June 28 – 30
Red, White & Blue Celebration – July 4 – 7
Chocolate Madness Weekend – July 12 – 14
Wild, Wacky Water Weekend – July 19 – 20
Watermelon Weekend – August 2 – 4
Birthday Weekend – August 16 – 18
Colorful Creations Weekend – August 23 – 25
Labor Day Weekend – August 30 – September 2
---
Wisconsin
KOA Opening Day – May 3
Mother's Day Weekend – May 10
All Things Disney/Memorial Day Weekend – May 24
Artistic Jamboree – May 31
Country Carnival Weekend – June 7
Chocolate/Father's Day Weekend – June 14
Under the Sea Weekend – June 21
Camo Collision – June 28
Pioneer Days/Fourth of July Weekend – July 5
Sports Fan Mania & Fourth of July – June 29
Wild, Wild West Weekend – July 6
Christmas in July Weekend – July 12
The Jurassic Age – July 19
Pirate Weekend – July 26
Candy Land – August 2
Galactic Invasions – August 9
Around the World & Camper Appreciation Weekend – August 16
Super Hero Weekend – August 23
Halloween & Labor Day Weekend – August 30
Take it Easy Band – May 3 – 5
Pinkhouses – May 10 – 12
Armed Forces Weekend – May 17 – 19
Tony Rocker & the Comeback Special Band – May 17 – 19
Memorial Day Weekend – May 24 – 27
Pool Pary – Carnival Days – May 31 – June 2
Pirate/Princess Weekend – Jun 7 – 9
Father's Day Weekend – June 14 – 16
Candyland Weekend – June 21 – 23
Fiesta Weekend – June 28 – 30
4th of July Weekend – July 4 – 7
Corn Roast I – July 12 – 14
Christmas in July – July 19 – 21
Corn Roat II – July 26 – 28
Craft Weekend & Rummage Sale – August 2 – 4
Disney Themed Weekend – August 9 – 11
26th Anniversay Party – August 16 – 18
"Death by Chocolate" Weekend – August 23 – 25
Labor Day Weekend – August 01 – September 2
Father's Day Weekend – June 14 – 16
---
Wyoming
Pancake Breakfast – Daily, May 25 – September 5
Ice Cream Social – Saturdays, May 25 – September 2
Dubois / Wind River KOA Holiday
Packin' The Mail: Live Music – Weekly, June 13 – August 22
---
CANADA
British Columbia

Mother's Day Weekend – May 10 – 12
May Long Weekend – May 17 – 20
Canada Day July Long Weekend – June 28 – July 1
Jurassic Weekend – August 2 – 5
---
New Brunswick
Bingo Lovers Weekend – May 11
Pirates Weekend – May 24 – 26
Fun in the Sun – May 31 – June 2
Bike Rodeo Weekend – June 7 – 9
Campers Meet and Greet Weekend – June 15 – 16
Easter Weekend – June 21 – 23
Canada Day Weekend – June 28 – 30
Laser Tag 7 S'mores Weekend – July 5 – 7
Wet N Wild Weekend – July 12 – 14
A Colorful Weekend – July 19 – 21
Christmas in July & 80s Daance – July 26 – 28
Family Fun Weekend – August 2 – 4
Glow Weekend – August 16 – 18
Halloween Weekend – August 23 – 25
Country Living Day s- August 30  – September 1
---
Newfoundland & Labrador
Come, Enjoy Yourselves in 2018! Victoria Day Weekend – May 17 – 20
Dads of Steel & Camp for Cancer – June 14 – 16
Enjoy the Holidaze! – June 24 – 30
Happy Canada Day – June 30 – July 1
"Long May Your Big Jib Draw" – July 2 – 7
Welcome to the Wild, Wild, West – July 8 – 14
"Aloha" From Grose Morne KOA – July 15 – 21
Cruisin Throuhg the Decades – July 22 – 28
Sea's The Day – July 29 – August 4
Hooray for Hollywood – August5 – 11
Space Week – August 19 – 25
Last Blast of Summer – August 26 – 30
Annual Labor Day Celebrations – August 30 – September 2
---
Ontario
Free Bee Wekend – May 3 – 4
Victoria Day Weekend – May 17 – 19
Groovy Baby Weekend – May 24 – 25
Wild West Hoopla Weekend – May 31 – June 1
Sugar Rush Weekend – June 7 – 8
Stache Bash – Fathers Day Weekend – June 14 -15
Red Green Weekend – June 21 -22
Elation Nation Week – June 28 – July 4
Carnival Country Week – July 5 – 11
Miami Nice Week – July 12 – 18
Surf's Up Week – July 19 – 25
A Pirates Life Week – July 26 – August 1
Holidaze Week – August 2 – 8
Boots N BBQ Week – August 9 – 15
Jurassic Hunt Week – August 16 – 22
2 Cool 4 School Week – August 23 – 20
Labour Day Weekend – August 30 – September 2
1000 Islands / Kingston KOA Holiday
Mother's Day Weekend – May 10 – 12
Victoria Day Long Weekend the Un-Birthday Weekend – May 17 – 20
Ice Cream Social – Saturdays, May 18 – August 31
Pancake Breakfast – Sundays, May 19 – September 2
Father's Day Weekend & Pig Roast – June 14 – 16
Silly Sports Weekend – June 21 – 23
Canad Day Weekend – June 18 – July 1
Mystery Weekend – July 5 – 7
Easter Weekend – July 12 – 14
Pirate Weekend – July 19 – 21
Minute to Win it Weekend – July 26 – 28
Carnival Weekend – August 2 – 5
Mad Scientist Weekend – August 9 – 11
Water Party Weekend – August 16 – 18
Chili Weekend – August 23 – 25
Aurvivor Weekend – August 30 – September 2
Home Sweet Home – Opening Weekend – May 3 – 5
Mother's Day – May 10 – 12
Eat.Sleep.Camp.Repeat – May Long Weekend – May 17 – 20
Wild, Wild West Weekend – May 24 – 26
A Pirates Life for Me Weekend – May 31 – June 2
Keep On Truckin' Weekend – June 7 – 9
Superdad – Father's Day Weekend – June 14 – 16
Mad Scientist Weekend – June 21 – 23
Canada D'Eh Long Weekend – June 28 – July 4
Under the Sea – Wet & Wild Water Weekend – July 5 – 11
Through the Decades: Totally 80s Weekend – July 12 – 18
Holiday Mashup Weekend – July 19 – 25
Wilderness Rush Weekend – July 26 – August 1
Celebrate the Campfire – August Long Weekend – August 2 – 8
Totally Tiki Beach Party Weekend – August 9 – 15
6th Annual KOA Karnival Weekend – August 16 – 22
Kolours of KOA Weekend – Agust 23 – 29
Last Blast Hot Diggity Dog Corn Roast – August 30 – September 2
S"May the Fourth" Be with You – Chili Cookoff Weekend – May 3 – 5
Mother's Day Weekend – May 10 – 12
Pirates & Princesses – Victoria Day Long Weekend – May 17 – 20
Beer/Cider Tasting Weekend – May 24 – 26
Minute to Win it Weekend – May 31 – June 2
Beach Weekend – June 7 – 9
Father's Day Weekend – June 14 – 16
Flashback to Music Weekend – June 21 – 23
Canada Day/Fourth of July – June 28 – July 4
Summer Olympics – July 5 – 11
Sweet Treat – July 12 – 18
Christmas in July – July 19 – 25
Wet & Wild – July 26 – August 1
Splash of Colour & Civic Long Weekend – August 2 – 8
Superhero/Villain- August 9 – 15
Kid at Heart – August 16 – 19
Corn Roast – August 23 – 25
Labour Day Hi Lo Weekend – august 30 – September 2
Cardinal / Ottawa South KOA Holiday
Welcome Back Weekend – May 3 – 4
Mother's Day Weekend – May 10 – 11
Victoria Day Long Weekend – May 17 – 18
Easter Weekend – May 24 – 25
Mad Science Weekend – May 31 – June 1
Mardi Gras – June 7 – 8
Father's Day Weekend – June 14 – 15
Super Heros Weekend – June 21 – 22
Canada Day/Fireworks/Care Camps Auction – June 28 – 30
Wet & Wacky Weekend – July 5 – 7
Pirates Weekend – July 12 – 14
Water Wars Weekend – July 19 – 21
Wild West Weekend – July 26 – 27
Civic Holiday Weekend – August 2 – 4
Carnival Weekend – August 9 – 10
Tropical – August 16 – 17
Hillbilly Weekend – August 23 – 24
Labour Day Fireworks – August 30 – September 1
Mother's Day Weekend – May 10 – 12
Father's Day Weekend – June 14 – 16
Canada Day Long Weekend – June 28 – 30
Foam Parties Are So Much Fun! – Select Dates, July 1 – September 1
Christmas in July – July 5
Pirates and Mermaids Weekend – July 19 – 21
Rock & Roll Weekend – July 26 – 28
Pajama Party Weekend & Civic Holiday – August 2 – 4
Halloween Weekend & Labour Day – August 30 – September 1
Mother's Day Weekend – May 10 – 12
Pool's Open May Long Weekend – May 17 – 20
Father's Day & Do it for Dad Ride of Hope Weekend – June 15
Canada D'Eh Weekend – June 28 – July 1
Hey…Water You up to This Weekend? Try and Stay Dry – July 5 – 7
Whatta "Crock-A-Chili" Weekend – July 12 – 14
Willy Wonka Weekend – July 19 – 21
Christmas in July! – July 26 – 28
6th Annual KOA Karnival Weekend – August 2 – 5
Wet & Wild Weekend Round 2 – August 9 – 11
Murder Mystery Weekend – August 16 – 18
Welcome to the Jungle Weekend – August 23 – 25
Creepin' it Real Weekend – August 30 – September 2
CKC Canine Good Neighbour Test – July 12
CPE Agility Trial – July 13 – 14
Caro Rally Obedience Dog Trial – July 27 – 28
CKC Canine Good Neighbour Test – August 8
ACC Ability Trial – August 9 – 11
May Long Weekend – Karaoke & Crafts – May 18 – 19
Roadhouse Live Music & Wing Ding Weekend – Jun 22
H20 Water Sports Weekend – July 6
River tours, Crafts, Movie Night & Karaoke – July 13 – 14
Outer Space Weekend – July 20 – 21
Pirates Weekend – July 27 – 28
Relax & Rejuvenate – August 3 – 4
Karaoke & Chile Bingo – Agust 10 – 11
Casino Night – August 17
Crafts – Agusut 24 – 25
Almost Midnight Madness Store Sale – August 31 – September 11
Victoria Day Spring Fling – May 17 – 20
Father's Day Weekend – June 14 – 16
Canada Day Weekend – June 28 – July 1
Annual Horeshoe Tournament – July 6
Easter Egg Hunt – July 13
Adult Shuffleboard Tournament – July 20
Evening Talent Show – July 27
Christmas in July – August 2 – 5
Mini Golf Tournament – August 10
Wet & Wild Weekend – August 16 – 18
Annual Driving Range Challenge – August 24
Halloween Weekend – August 30 – September 2
Toronto North / Cookstown KOA Holiday
Mother's Day Weekend – May 10 – 12
A Medieval Long Weekend – May 17 – 20
Artist Weekend – May 31 – June 2
Superhero Weekend – June 7 – 9
Father's Day Fun Weekend – June 14 – 16
School is Out for Summer – June 21 – 23
Ohhhhhhhh Canada Long Weekend – June 18 – July 1
Christmas in July – July 5 – 7
Music Mania – July 12 – 14
Animal Weekend – Zoo Tek Show – July 19 – 21
Wet & Wild Water Weekend – July 26 – 28
KOA Karnival Weekend – August 2 – 5
Celebrate Summer/Mardi Gras Night – August 9 – 11
Nature Weekend – August 16 – 18
Family Fun Weekend – August 30 – September 2
Victoria Day Weekend – May 17 – 20
Father's Day Celebration – June 14 – 16
Canada Day Weekend – June 28 – July 1
Get Back to Nature Weekend – July 5 – 7
Mystical Magical Weekend – July 12 – 14
Christmas in July Weekend – July 19 – 21
Fantasy Weekend – July 26 -28
KOA Carnival Weekend – August 2 – 5
Mardi Gras Weekend – August 9 – 11
Splashtastic Tiki Beach Party Weekend – August 16 – 18
Jurassic Park Weekend –  August 23 – 25
Halloween Spooktacular Weekend – August 30 – September 2
---
Quebec
Heated Pool, Splashpad Open! – June 8 – September 15
St-Jean Fireworks Big Party – June 22
Animation for Kids-Adults – Select Dates, June 22 – September 2
Trois-Pistoles En Chansons Part 1 – July 5 – 7
Trois-Pistoles En Chansons Part 2 – July 12 – 14
Camper's Christmas – July 27
Beach Party Pomerleau – August 3
Spit-Roasted Por & Beef Dinner Party – August 10
Halloween – August 17
Country Music Weekend & Weekend Country – August 01 – September 2
---