Fall Events and Themed Weekends at KOA Campgrounds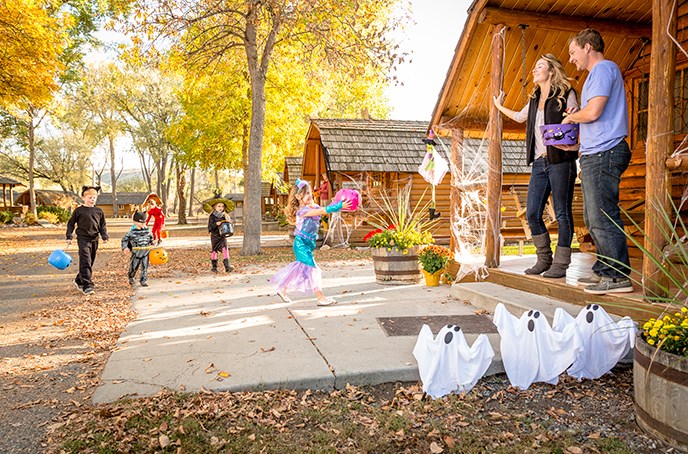 Check out what's happening at KOA campgrounds this fall and winter.
While days may soon be getting shorter and nights cooler, that doesn't mean the end of camping fun. KOA campgrounds all across the United States and Canada have a calendars full of events planned to make the most of this season's holidays, scenery and fun. And remember, new events are being added all the time – pick your favorite KOA Journey®, KOA Holiday® or KOA Resort® and see what they have planned!
In addition to the many campground events below, don't miss our KOA Rewards Appreciation Weekend. Designed exclusively for KOA Rewards members, stay as a paying guest on Friday, September 10 at any participating KOA campground and get Saturday, September 11 for FREE. It's a way to say thanks for your loyalty and trusting your camping memories to us. Not a part of KOA Rewards? Sign up today and get your free night!
Pick your state or province, find your campground and get planning with our fall and winter events! Don't see your state or favorite KOA here? Events are always being added so be sure to give your campground of choice a call or visit their website to see what might be coming up.
KOA campgrounds are committed to following all COVID-19 mandates and encourage campers to be mindful of social distancing. Please be advised the events may be changed or cancelled to ensure the safety of our camping guests and campground staff. Be sure to check the website of your favorite campground for the most up to date information.
---
Arizona
Fall Festival – October 9
Halloween Weekend I – October 22 – 23
Halloween Weekend II – October 29 – 30
Chili Cook0Off – November 13
Williams / Exit 167 / Circle Pines KOA Holiday
Autumn Weekend I – October 8 – 10
Autumn Weekend II – October 15 – 17
Fall Festival Weekend I – October 22 – 24
Fall Festival Weekend II – October 29 – 31
---
Arkansas
Annual Halloween Extravaganza – October 22 – 24
---
California
Lake Isabella / Kern River KOA
Ice Cream Social – Fridays, through September 30
Pancake Breakfast – Sundays, throught September 26
Mount Lassen / Shingletown KOA Holiday
Fall Festival – Octover 15 – 17
Palm Springs / Joshua Tree KOA
Halloween Weekend 1 – October 22 – 24
Halloween Weekend 2 – October 29 – 31
Fall Fest Weekend 1 – October 1 – 3
Fall Fest Weekend 2 – October 8 – 10
Fall Fest Weekend 3 – October 15 – 17
Fall Fest Weekend 4 – October 22 – 24
Fall Fest Weekend 5 – October 29 – 31
Breakfast with Santa Weekend I – December 10 – 12
Breakfast with Santa Weekend II – December 17 – 19
Santa Cruz / Monterey Bay KOA Holiday
Rodeo Round Up – September 17 – 19
Unicorns and Dragons – Septermber 24 – 26
5 Weekends of Halloween Fun – Weekends – October 1 – 31
Halloween Weekend 1- October 1 – 3
Halloween Weekend 2 – October 8 – 10
Halloween Weekend 3 – October 15 – 17
Halloween Weekend 4 – October 22 – 24
Halloween Weekend5 – October 29 – 31
Light up the Park: Annual Holiday Lights Ceremony – November 26
Holidays in the Park – November 27 – January 2
Snow Days – December 11
Breakfast with Santa – December 11
Winter Wonderland Weekend 2 – December 17 – 19
Breakfast with Santa – December 18
Snow Days – December 18
Snow Days – December 28 – January 2
---
Colorado
End of Year Bash – September 17 – 19
Fall Country Carnival Weekend – September 24 – 26
Halloween Spooktacular – October 1 – 3
Halloween Spooktacular- October 8 – 11
Halloween Spooktacular – October 15 – 17
Halloween Spooktacular – October 22 – 24
Halloween Spooktacular – October 29 – 31
Veteran's Weekend – November 5 – 7
Camps-giving – November 25
Holly Jolly Christmas – December 3 – 5
Jingle All The Way – December 10 – 12
It's Beginning to Look a lot Like Christmas – December 17 – 19
Christmas is Here – December 23 – 26
Fort Collins / Lakeside KOA Holiday
Blues, Brews & BBQ – September 17 – 19
Tailgate Party Weekend – September 24 – 25
I Love my Pet Weekend – October 1 – 3
Hallowen at Lakeside Part I – October 23 – 24
Hallowen at Lakeside Part II – October 29 – 31
Annual Campsgiving Dinner – November 25 – 29
Annual Winter Wonderland – December 23 – 26
---
Florida
Bradenton / Hunsader Farms KOA
30th Annual Pumpkin Festival – October 15 – 17
2021 Country Christmas – December 10 – 12
Deland / St. Johns River KOA Journey
Monday Night Trivia with Dominic – Every Monday
Music with Gary Phillip – Every Tuesday
Karaoke with Lonewolf – Ever Wednesday
Bingo with Farmer Bill & Maddie – Every Thursday
Live Music – Every Weekend
Community Fire Pit Night – Every Thursday
Free Pancake Breakfast – Saturdays, December 18 – March 19
---
Georgia
Blue Ridge / Toccoa River KOA Holiday
Food Truck Friday with Mountain Tapas – September 17
Live Music with Trevor – September 17
Sweet Treat Saturday – September 18
Food Truck Friday with Der Wurst Meister – September 24
Live Music with Trevor – September 24
Live Music with Trevor – October 1
Live Music with Trevor – October 8
2nd Annual BRTR KOA Halloween Spooktacular – October 16 – 17
Live Music with Trevor – October 22
Food Truck Friday with Der Wurst Meister – October 29
Live Music with Trevor- October 29
---
Illinois
Fall Fest – September 25 – 26
Fall Fest – October 2 – 3
Fall Fest – October 9 – 10
GCAA Boo Bash/Costume Contest – October 31
Hunter's Family Fun – November 5 – 7
Small Business Saturday/Parade – 27
Customer Appreciation – September 17 – 19
Wine & Cheese Weekend – September 24 – 26
Halloween Celebration 1 – October 1 – 3
Halloween Celebration 2 – Columbus Day Weekend – October 8 – 11
Halloween Celebration 3 – October 15 – 17
October Spooks & Spirits – October 22 – 24
Last Weekend of the Season – October 29 – 31
Kids Halloween Weekend – October 9
---
Indiana
Angola / Hogback Lake KOA Holiday
Fall Festival – September 17 – 19
Fall Festival – September 24 – 26
Halloween Weekends: A Spooktacular Event – Weekends, October 1 – 17
Oktoberfest – October 22 – 24
Wine Social – October 19 – 31
Halloween Weekend I – October 1 – 3
Halloween Weekend II – October 8 – 10
Halloween Weekend III – October 15 – 17
Indiana Beach / Monticello KOA Holiday
Haunted Trail – October 1 – 3
Halloween Weekend – October 8 – 10
Fall Festival Weekends – Weekends, October 15 – 23
Halloween Weekend #1 – October 1 – 3
Halloween Weekend #2 – October 8 – 10
Halloween Weekend #3 – October 15 – 17
---
Iowa
Waterloo / Lost Island Waterpark KOA Resort
Halloween Weekend – October 1 – 3
---
Kansas
Annual Halloween Extravaganza – October 22 – 24
---
Kentucky
Ashland / Huntington West KOA Holiday
Birthday Weekend – September 18
Halloween Weekend 1 – October 15 – 16
Halloween Weekend 2 – October 22 – 23
1st Annual Renfro Valley KOA Cruise – September 18
Heroes Weekend – September 24 – 26
Renfro Valley KOA Spooktacular II – October 15 – 17
Renfro Valley KOA Spooktacular III – October 22 – 24
Renfro Valley KOA Spooktacular IV – October 29 – 31
---
Louisiana
Halloween – October 29 – 31
Gumbo Cook-Off – November 11 – 14
---
Maine
Friday Evening Crafts with Brenda – Fridays through September 17
Saturday Afternoon Crafts – Saturdays through September 18
Saturday Firetruck Rides – Saturdays through September 18
Saturday Pancake Breakfast – Saturdays through September 18
Bingo – Tuesdays and Saturdays through September 18
Bar Harbor / Oceanside KOA Holiday
Themed Weekends – Weekends through October 11
Bucksport / Fort Knox KOA Holiday
Halloween Weekend – September 17 – 19
September Sewing Retreat – September 23- 26
Houlton / Canadian Border KOA Journey
Halloween Weekend – September 24 – 26
Thanksgiving Weekend – October 8 – 10
Lebanon KOA Holiday on Salmon Falls River
School at Camp Week – September 13 – 17
Lobster Bake Weekend – September 17 – 18
Hobby House Weekend – September 24 – 26
A weekend to Dismember – October 8 – 11
Easter Weekend – September 17 – 19
KOA's Kinda Sorta Scary Early Halloween Weekend – September 24  – 26
Camper Community Weekend – October 1 – 3
Columbus Day Weekend – October 8 – 11
---
Maryland
Hagerstown / Antietam Battlefield KOA Holiday
Magic with Mr. Dean – Fridays through November 11
---
Massachusetts
Columbus Day Weekend – October 8 – 11
"Wicked Halloween" Weekend #1 – October 15 – 17
"Wicked Halloween" Weekend #2 – October 22 – 24
"Wicked Halloween" Weekend #3 – October 29 – 31
---
Michigan
Coloma / St. Joseph KOA Holiday
Halloween Harvest Weekend #1 – October 1 – 2
Halloween Harvest Weekend #2 – October 8 – 9
Halloween Harvest Weekend #3 – October 15 – 16
Covert / South Haven KOA Holiday
Halloween Fun Festival for the Littles – September 17 – 18
Halloween Fun Festival for the Littles II – September 24 – 26
Halloween Fun Festival III – October 1 – 3
Halloween Fun Festival IV – October 8 – 10
Detroit / Ann Arbor KOA Holiday
Game Night Weekend – September 17 – 19
Pirate and Princess Weekend – September 24 – 26
Halloween – Weekends, October 1 – 31
Halloween 1 – September 24 – 26
Halloween2 – October 1 – 3
Halloween 3 – October 8 – 10
Halloween 4 – October 15 – 17
Halloween 5/Closing Weekend – October 22 – 24
Ludington East / Pere Marquette River KOA Holiday
Trick~Or~Treat – October 1 – 2
Trick~Or~Treat – October 8 – 9
Monroe Co. / Toledo North KOA Holiday
Halloween Weekend #1- September 17 – 19
Halloween Weekend #2 – September 24 – 26
Halloween Weekend #3 – October 1 – 3
Halloween Weekend #4 – October 8 – 10
Halloween Weekend #5 – October 15 – 17
Halloween Weekend #6 – October 22 – 24
Halloween Weekend #7 – October 29 – 31
Halloween Weekend – September 24 – 26
Closing Weekend – October 7 – 14
Halloweekend 2 – September 24 – 26
Halloweekend 3 – October 1 – 3
Halloweekend 4 – October 3 – 10
Halloweekend 5 – October 15 – 17
Halloweekend 6 – October 22 – 24
Halloweekend 7 – October 29 – 31
Halloween Weekend #1 – September 24 – 26
Halloween Weekend #2 – October 1 – 3
Last Chance to Relax Weekend – October 8 – 10
---
Minnesota
Halloween Party – September 25
End of Season Party – October 9
---
Missouri
Kansas City East / Oak Grove KOA Holiday
Summer Weekend Activities – Through October 31
Halloween Month – October 8 – 16
St. Louis West / Historic Route 66 KOA Holiday
Fall Festival Weekend II – October 8 – 10
Fall Festival Weekend III – October 15 – 17
Fall Festival Weekend IV – October 22- 24
Fall Festival Weekend V – October 29 – 31
---
Townsend / Canyon Ferry Lake KOA Journey
KOActober Fest!! – October 2
---
Nebraska
West Omaha / NE Lincoln KOA Holiday
Shriner Spaghetti Feed – September 19
Fall Spooktacular – October 2 – 3
---
New Hampshire
Littleton / Franconia Notch KOA Holiday
Columbus Day Weekend – October 8 – 11
Strafford / Lake Winnipesaukee South KOA Holiday
Grand Prix Weekend – September 17 – 19
Strafford KOA Fall Rally – September 23 0 26
Puppy Palooza – September 24 – 26
Fall Fest Weekend – October 1 – 3
Lake Wicked – October 8 – 11
Twin Mountain / Mt. Washington KOA Holiday
Columbus Day Weekend – October 8 – 11
---
New York
Deerpark / New York City NW KOA Holiday
Columbus Day Weekend – October 8 – 11
Halloween Weekend – October 29 – 31
Girl Scout Jamboree – September 24 – 26
Fall Harvest Festival – October 7 – 10
Scouts BSA Jamboree – October 22 – 24
Fall Festival Weekend – September 25
Halloween Weekend (1st) – October 2
Halloween Weekend (2nd) – October 9 – 10
Lake Placid / Whiteface Mountain KOA Holiday
Columbus Day/Halloween Weekend dinner – October 8 – 12
Medina / Wildwood Lake KOA Holiday
Mardi Gras Weekend – September 17 – 19
Halloween Weekend – September 24 – 26
Halloween II Weekend – October 1 – 3
Columbus Day Weekend – October 8 – 11
New York City North / Newburgh KOA Holiday
Chili Cook-Off Weekend – September 24 – 26
Halloween Weekends – Weekends, October 1 – 31
Niagara Falls / Grand Island KOA Holiday
Halloween Weekend – October 8 – 10
---
North Carolina
Spooky Days Ahead, Halloween 2021 – October 22 – 31
Cherokee / Great Smokies KOA Holiday
Haunted Halloween Weekends – Weekends, September 24 – October 31
Annual Fishing Tournament – October 9
Christmas in Cherokee – Weekends, December 1 – 31
Halloween Spooktacular – October 29 – 30
Thanksgiving Day Celebration – November 25
Outer Bankcs West / Currituck Sound KOA Holiday
Fishng Weekend – September 17 – 19
Kick Off to Fall Weekend – September 24 – 26
Wine Down Weekend – Otober 1 – 3
Halloween Weekend – October 15 – 17
Halloween Weekend – October 22 – 24
Halloween Weekend – October 29 – 31
RV Rally and Seafood Festival – November 5 – 7
Holiday Market Weekend – November 19 – 21
Thank You Weekend – November 19 – 21
Thanksgiving Weekend – Nobember 25 – 28
---
Ohio
Andover / Pymatuning Lake KOA Holiday
Craft Fair Weekend – September 17 – 19
Garage Sale Weekend – Garage Sale Weekend – September 24 – 26
Tailgate Chili Cook-Off – October 1 – 3
Halloween Weekend – October 8 – 10
Halloween Weekend Pt. 2 – October 15 – 17
Buckeye Lake / Columbus East KOA Holiday
S'mores Weekend – September 17 – 19
Our Hero's Weekend – September 24 – 26
Scarecrows and More Weekend – October 1 – 3
Halloween Weekend #1 Fa-boo-ulous Fun – October 8 – 10
Halloween Weekend #2 Monsster Mash – October 15 – 17
Halloween Weekend #3 Spooktacular Fun – October 22 -24
Haloween Weekend #4 Halloween Fun – October 29 – 31
Wild, Wild West Weekend – September 17 – 19
Prairie Peddler Weekend – October 1 – 3
Haunted Halloween Weekend 1 – October 8 – 10
Haunted Halloween Weekend 2 – October 15 – 17
Can You Survive the Butler Mochican Massacre – October 22 – 24
Canton / East Sparta KOA Holiday
Halloween Campout – October 1 – 2
Glow in the Dark Weekend – September 18
Camper's Halloween – September 25
Camper's Halloween – October 2
Beer Maze – September 17 – 8
Wine Your Way Out – September 24 – 26
Halloween Weekend 1 – October 1 – 2
Giant Corn Maze Adventure – October 2 – 3
Fall Festival at Coshocton KOA – October 2 – 3
Halloween Weekend 2 – October 8 – 9
Halloween Weekend 3 – October 15 – 16
Halloween & Corn Maze Weekend 4 – October 22 – 23
Halloween Weekend 5 – October 29 – 30
Sports Weekend – September 17 – 19
Pumpkin Patch Weekend – September 24 – 26
Halloween Weekend 1 – October 1 – 3
Halloween Weekend 2 – October 8 – 10
Halloween Weekend 3 – October15 – 17
Halloween Weekend 4 – October 22 – 24
Halloween Weekend 5 – October29 – 31
Fall Fest Weekend – September 17 – 18
Halloween Weekend #1 – September 24 – 25
Halloween Weekend #2 – October 1 – 2
Halloween Weekend #3 – October 8 – 9
Bonefire Weekend – October 15 – 16
Logan / Hocking Hills KOA Holiday
Annual Chili Cook-Off – October 23
Mt. Gilead / Mid-Ohio KOA Holiday
Halloween Weekend – Octoer 22 – 24
Sandusky / Bayshore KOA Holiday
Frightober Weekends – September 24 – 26
Frightober Weekends – October 1 – 3
Frightober Weekends – October 8 – 10
Frightober Weekends – October 15 – 17
Frightober Weekends – October 22 – 24
Frightober Weekends – October 29 – 31
Tailgate Party – OSU vs Oregon Weekend – September 8 – 14
Fall Festival Weekend – September 15 – 21
Ghostly Greeting Weekend – September 22 – 28
Fright Gest Weekend – September 29 – October 5
Halloweekend – October 6 – 12
That's a Wrap Weekend – October 13 – 18
Streetsboro / Cleveland SE KOA Holiday
Seasonal Chili Cook-Off – September 25
Streetsboro's Spooky & Spectacular Halloween Weekends – October 9
Streetsboro's Spooky & Spectacular Halloween Weekends – October 16
Streetsboro's Spooky & Spectacular Halloween Weekends – October 23
Annual Seasonal Potluck – October 30
Sunbury / Columbus North KOA Holiday
Fall Fun 1 – October 2
Fall Fun 1 – October 9
Fall Fun 1 – October 23
Last Weekend Open – October 30
Thompson / Grand River Valley KOA Holiday
Survivor Weekend – September 18
Halloween Weekend #1 – September 25
Halloween Weekend #2 – October 2
---
Oregon
Astoria / Warrenton / Seaside KOA Resort
National Beach Cleanup Day – September 17 – 19
Autumnal Equinox – September 24 – 26
Get Your Craft On – October 1 – 3
Spooktacular Movie Weekend – October 8 – 10
Halloween Festivities – October 15 – 17
Halloween Festivities – October 22 – 24
Halloween Festivities – October 29 – 31
New Year's Party – December 31
Ice Cream Social – Saturdays through September 30
BBQ – Saturdays through September 30
---
Pennsylvania
Delaware Water Gap / Pocono Mountain KOA Holiday
Haunted Halloween – September 25
Elizabethtown / Hershey KOA Holiday
Chocolate Extravaganza Weekend – October 8 – 10
Spooktacular Weekend – October 15 – 17
Spooktacular Weekend 2 – October 22 – 24
Trick-or-Treat & Halloween Party – September 25
Trick-or-Treat & Halloween Party – October 2
Trick-or-Treat & Halloween Party – October9
Gettysburg / Battlefield KOA Holiday
Halloween Weekend – October 22 – 24
Halloween Weekend 2 – October 29 – 31
Honesdale / Poconos KOA Holiday
Happy Birthday Weekend – September 17 – 19
Fall Fun Weekend – September 24 – 26
Halloween I –  October 1 – 3
Halloween II – Columbus Day – October 8 – 11
Closing Weekend – Bring on the Soup – October 15 – 17
Madison / Pittsburgh S.E. KOA Journey
Halloween Fun with the Kiddos  – October 8 – 10
Apple Butter and Food Truck – September 18
Pig Roast – September 25
Tough Mudder – October 2 – 3
Cutie Pie Cup Cakes Truck – October 2
Dad Bodz Burgers and More Food Truck – October 9
Halloween Weekend 1 – October 9
Firehouse Subs Food Truck – October 16
Halloween Weekend 2 – October 16
Halloween Weekend 3 – October 23
Philadelphia / West Chester KOA Holiday
Happy Halloween 1 – October 15 – 17
Happy Halloween 2 – October 22 – 24
Happy Halloween 3 – October 29 – 31
Raystown Lake /  Saxton KOA Holiday
Halloween Weekend 1 – October 8 – 10
Halloween Weekend 2 – October 15 – 17
Halloween Weekend 3 – October 22 – 24
Halloween Weekend 4 – October 29 – 31
Wild, Wild Western Weekend – September 17 – 19
Fall Fun Weekend – September 24 – 26
Ghoul's Night Out – October 1 – 3
Monster Mah Up – October 8 – 10
Ghostly Gathering – October 15 – 17
Not All Who Wander Are Lost – October 22 – 24
Tail Gate Super Party Weekend – October 29 – 31
Williamsport South / Nittany Mtn. KOA Holiday
Apple Celebration Weekend – September 17 – 19
Fall Camper Appreciation Party – September 24 – 26
Halloween Party Weekend  – October 1 – 3
Halloween Party Weekend  – October 8 – 11
Halloween Party Weekend  – October 15 – 17
Halloween Party Weekend  – October 22 – 24
---
South Carolina
Spartanburg NE / Gaffney KOA Holiday
Halloween FUN – October 29 – 31
---
South Dakota
Not so Spooky Halloween at the Sioux City North KOA – October 1 – 3
Spooktacular Halloween Weekend – October 8 – 10
---
Tennnessee
Carnival Weekend – September 24
Columbus Day Weekend – October 8 – 9
Halloween Weekend – October 15 – 17
Halloween Weekend – October 22 – 23
Halloween Weekend – October 29 – 31
Fall Fest Weekend – October 29 – 31
Sweetwater / I-75 / Exit 62 KOA Holiday
Halloweekend – October  1 – 3
Halloweekend – October 8 – 10
Rat Terrier Jamboree – October 14 – 17
---
Texas
Halloween Weekend – October 29 – 31
Live Music: Tone Salinas – October 30
Live Music: Joey Tenuto – November 6
Live Music: Dennis Davis – December 18
Lake Conroe / Houston North KOA Holiday
Halloween Weekend – October 29 – 31
Lake Livingston / Onalaska KOA Holiday
New Years Eve Party – December 31
Leander / NW Austin KOA Holiday
Annual Thanksgiving Potluck – November 25
Port Lavaca / Matagorda Bay KOA
Kids Craft – September 18
Movie Night Under The Stars – September 18
S'more Fun! – September 24
BINGO – September 24
Hayride – October 2
Movie Night Under The Stars – October 2
S'more Fun! – October 8
Movie Night Under The Stars – October 15
Fall Festival – October 16
Hayride – October 23
Movie Night Under The Stars – October 23
Halloween Bash & Live Music with DJ Blake – October 30
Hayride – October 31
BINGO – November 5
S'more Fun! – November 5
Kids Craft – November 6
Movie Night Under The Stars – November 6
Movie Night Under The Stars – November 12
Harvest Festival & Live Band – November 13
Hayride & Hot Cocoa Social – November 13
Kids Craft – November 24
Thanksgiving Dinner and Hayride – November 25
Kids Craft – November 26
Outdoor Movie – November 27
Christmas Tree Decorating and Letters to Santa – December 3
Winter Wonderland – December 4
Hot Cocoa and Craft Social – December 10
BINGO – December 11
Movie Night Under The Stars – December 11
Kids Craft – December 17
Movie Night and Hot Cocoa – December 18
Make Cookies For Santa – December 24
Christmas Short Films and Hot Cocoa – December 25
San Antonio / Alamo KOA Holiday
Thanksgiving Feast – November 25
Christmas Celebration – December 24
New Years Eve – December 31
---
Utah
Brigham City / Perry South KOA Journey
Ice Cream Social – Thursday, Friday & Saturday, through September 18
---
Vermont
Haunted Halloween Weekend – October 15 – 17
---
Virginia
Cape Charles / Chesapeake Bay KOA Resort
Summer Concert Series Weekend – September 17 – 19
Craft Beer Weekend – September 24 – 26
Kick Off to Fall Weekend – October 1 – 3
Halloween Weekend – October 8 – 10
Halloween Weekend – October 15 – 17
Halloween Weekend – October 22 – 24
Halloween Weekend – October 29 – 31
Veterans Weekend – November 5 – 7
Campfire Cook Off Weekend – November 12 – 14
Holiday Market Weekend – November 19 – 21
Thanksgiving Weekend – November 25 – 28
Chincoteague Island KOA Resort
NFL & College Football Spirit – September 17 – 19
6th Annual Cork & Craft Festival – September 24 – 26
Think Pink Weekend & 2nd Annual Jeep Jam – October 1 – 3
Halloween Weekend I – Little Island of Horror – October 15 – 17
Harvest Festival & KOA Oyster Roast – October 22 – 24
Halloween Weekend II – Little Island of Horror – October 29 – 31
Fall Festival – November 5 – 7
Holiday Market – November 12 – 14
All Things Fall! – November 19 – 21
'Til Next Time – November 26 – 28
Fancy Gap / Blueridge Parkway KOA Journey
Fancy Fall Festival – October 15 – 31
Fredericksburg / Washington DC South KOA Holiday
Halloween Weekend – October 26
Harrisonburg / Shenandoah Valley KOA Holiday
Pirates Voyage Weekend – October 9
Pirates Voyage Weekend – October 16
Pirates Voyage Weekend – October 23
Lynchburg / Blue Ridge Parkway KOA
Halloween Spooktacular 1 – October 11 – 12
Halloween Spooktacular 2 – October 18 – 19
Halloween Spooktacular 3 – October 25 – 26
Fall Festival 2021 – October 1 – 3
October Bands & BBQ – Nover 22 – 24
Halloween Festival 2021 – october 29 – 31
Lights of Christmas at Virginia Beach KOA – November 11 – 31
Williamsburg / Busch Gardens Area KOA
Harvest Fun Weekend – September 17 – 19
Halloween Weekend I – September 24 – 26
Halloween Weekend II – October 1 – 3
Columbus Day Weekend/Halloween Weekend III – October 8 – 11
Halloween Weekend IV – October 15 – 17
Halloween Weekend V – October 22 – 24
Halloween Weekend VI – October 29 – 31
Veteran's Day – November 5 – 7
Thanksgiving Weekend – November 24 – 28
Christmas Weekend – December 10 – 12
---
Washington
Concrete / Grandy Creek KOA Holiday
No Contact Costume/Site Decorating Contest – October 23 – 24
No Contact Costume/Site Decorating Contest – October30 – 31
---
West Virginia
Harpers Ferry / Civil War Battlefields KOA
HF KOA Reward Appreciation Weekend – September 17 – 18
Harvest Weekend – September 24 – 25
Halloweekends – October 1 – 2
Huntington / Fox Fire KOA Holiday
Halloween Spooktacular – October 15 – 16
Halloween Spooktacular – October 22 – 23
Halloween Weekend – October 29 – 31
---
Wisconsin
Journey to Asia Weekend – September 24 – 25
Oktoberfest with The Cougars – October 2
Halloween Weekend with Bazooka Joe – October 15
Chequamegon Fat Tire Festival – September 18
Conclusion of Camping Season – October 4
Halloween I – September 17 – 19
Halloween II – September 24 – 26
Halloween III – October 1 – 3
Halloween IV – October 8 – 11
Halloween V – October15 – 17
Halloween VI – October 22 – 24
---
CANADA
Newfoundland & Labrador
Gros Morne / Norris Point KOA Holiday
Early Thanksgiving and Halloween – September 17 – 19
---
Ontario
1000 Islands / Ivy Lea KOA Holiday
A Kinight's Tale – September 17 – 18
Harvest Weekend – September 24 – 25
Sinfully Chocolate Weekend – October 1 – 2
Fallfest Weekend – October 8 – 10
1000 Islands / Kingston KOA Holiday
Thanksgiving Weekend – October 8 – 10
Frightfully Good Hallo-Weekend – September 17 – 19
Fangtastic Fun Halloween Weekend – September 24 – 26
#SquadGhouls – Happy Haunting – October 1 – 3
Thanks-for-Gathering Long Weekend – October 8 – 11
An Escape Worth Falling For – October 15 – 17
Wine Tasting Weekend – September 17 – 19
Applefest/Amazing Race Weekend – September 24 – 26
1st Halloween Weekend – October 1 – 3
Thanksgiving/2nd Halloween Weekend – October 8 – 11
Closing Weekend – October 15 – 17
Cardinal / Ottawa South KOA Holiday
Oh So Sweet – September 17 – 18
Halloween – September 24 – 25
Halloween 2 – October 1 – 2
Thanksgiving/Halloween Weekend – October 8 – 11
Thanksgiving Long Weekend – October 8 – 10
CPE Agility Trial – September 17 – 19
Karaoke – September 17
Annual Pig Roast – September 18
Potluck Dinner – September 18
---