Fall Events and Themed Weekends at KOA Campgrounds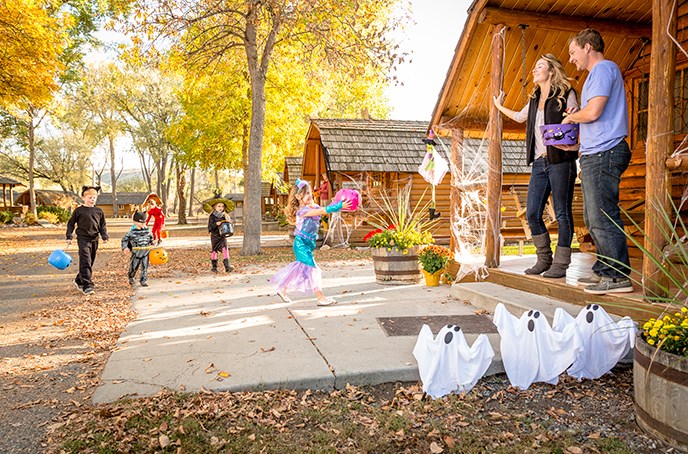 Check out what's happening at KOA campgrounds this fall and winter.
While days may soon be getting shorter and nights cooler, that doesn't mean the end of camping fun. KOA campgrounds all across the United States and Canada have a calendars full of events planned to make the most of this season's holidays, scenery and fun. And remember, new events are being added all the time – pick your favorite KOA Journey®, KOA Holiday® or KOA Resort® and see what they have planned!
In addition to the many campground events below, don't miss our VKR Appreciation Weekend. Designed exclusively for Value Kard Rewards members, stay as a paying guest on Friday, September 13 at any participating KOA campground and get Saturday, September 14 for FREE. It's a way to say thanks for your loyalty and trusting your camping memories to us. Not a member? Sign up today and get your free night!
Pick your state or province, find your campground and get planning with our fall and winter events!
---
Arizona
Fall Festival – October 11 – 13
Halloween Weekend – October 25 – 27
Chili Cook0Off – November 9
---
Arkansas
Candy Bar Bingo – Saturdays, through September 14
September Kid Craft Day – September 21
---
California
Actong / Los Angeles North KOA
Halloween Fest – October 25 – 26
Thanksgiving Feast – November 28 – December 1
Manchester Beach / Mendocino Coast KOA Journey
11th Annual Bocce Tournament – October 11
Thanksgiving Week – November 24 – 30
New Year's Eve – December 31
Santa Cruz / Monterey Bay KOA Holiday
Halloween Weekends – Weekends, October 5 – 26
---
Colorado
Annual Pig Roast Weekend – September 6 – 7
Cotopaxi KOA & Loma Linda Motel Customer Appreciation – October 4 – 5
Draconid Meteor Shower – October 4 – 5
---
Connecticut
Halloween & Columbus Day Weekend – October 11 – 13
---
Florida
Thanksgiving Dinner – November 28
Holiday Party – December 29
Naples / Marco Island KOA Holiday
Halloween Spooktacular – October 26
Oktoberfest 2019 – October 18 – 20
Halloween Spooktacular – October 25 – 27
---
Georgia
Jacksonville North / St. Marys KOA Holiday
Halloween Express – October 19 – 25
Halloween Weekend Activities – October 26
Thanksgiving Weekend Activities – November 28
Santa Express – November 30 – December 21
Christmas Dinner – December 25
Lookout Mountain / Chattanooga Wes KOA Holiday
Halloween Spooktacular – Weekends, October 4 – 27
---
Illinois
1st Fall Fest Weekend – September 27 – 29
2nd Fall Fest Weekend – October 4 – 5
Last Fall Fest/Closing Weekend – October 11 – 14
Customer Appreciation – September 13 – 15
Wine & Cheese Weekend – September 20 – 22
Halloween Celebration 1 – September 27 – 29
Halloween Celebration 2 – October 4 – 6
Halloween Celebration 3 – Columbus Day Weekend – October 11  14
October Spooks & Spirits – October 18 – 20
Last Weekend of the Season – October 25 – 27
Annual Kids Halloween Weekend – October 12
---
Indiana
Angola / Hogback Lake KOA Holiday
Baking/Decorating Contest & Wine, Canvas Bob Ross – September 6 – 8
Chili Cook Off – September 20 – 22
Fall Festival/Carnival – September 27 – 29
Halloween Weekend – October 4 – 6
Halloween Weekend 2 – October 11 – 13
Wine Social – October 18 – 20
Closing Weekend – October 25 – 27
Halloween Weekend – October 18 – 20
Indiana Beach / Monticello KOA
Haunted Trail – October 5
Halloween Fun – October 12
Fall Festival – October 12
Halloween Weekends – Weekends, October 5 – 12
---
Iowa
Annual Chili Cook-Off & Tailgate – September 13 – 14
Spooktacular Halloween Weekend – September 27 – 28
Spooktacular Halloween Weekend – October 4 – 5
Spooktacular Halloween Weekend – October 11 – 12
Waterloo / Lost Island Waterpark KOA Resort
Blast from the Past – September 27 – 29
Halloween Weekend – October 4 – 6
---
Kansas
Candy Bar Bingo – Saturdays through September 14
September Kids' Craft Day – September 21
Halloween Extravaganze – October 25 – 27
---
Kentucky
Ashland / Huntington West KOA Holiday
Candy Bar Bingo – September 7
Birthday Weekend – September 20 – 22
Annual KOA Staff Chili Cook-Off – October 5
Pie Iron Cooking Challenge – October 12
Halloween Weekend – October 25 – 27
Corbin / Laurel Lake KOA Journey
October's Month of Halloween – October 4 – 27
Halloween Weekend 1 – October 18 – 19
Halloween Weekend 2 – October 25 – 27
Campground Cook Off – September 13 – 15
Hallow-SCREAM!! – October 10 – 13
Hallow-SCREAM!! – October 18 – 20
Hallow-SCREAM!! – October 25 – 27
---
Maine
Halloween Weekend – September 20 – 22
"The Price is Right" Weekend – September 6 – 8
Valentine's Weekend – September 13 – 15
Halloween Weekend – Haunted Forest Walk – September 20 – 22
Thanksgiving Weekend – September 27 – 29
Brew Fest Weekend – October 4 – 6
Columbus Day Weekend – October 11 – 13
Closing Weekend – October 11 – 13
Car Show Weekend – September 6 – 8
Fall Waterslide & Friendsgiving Weekend – September 13 – 15
Lobster Bake Weekend – September 27 – 29
Think Pink – October 4 – 6
Screaming Falls Halloween Weekend – October 11 – 14
Skowhegan / Kennebec Valley KOA
Halloween Weekend – October 11 – 14
---
Maryland
Hagerstown / Antietam Battlefield KOA Holiday
Paint Party – Weekly through October 19
Men and Machine – the Two Man Five Piece Band – September 14
Magic with Mr. Dean – Fridays through October 25
Halloween Themed Weekends – September 21 – October 26
Party Time! – September 28 – October 26
Closing Day – December 1
Washington DC / Capitol KOA Holiday
September S'Mores – Saturdays, September 7 – 28
Halloween – October 18 – 20
Halloween – October 25 – 27
---
Massachusetts
Columbus Day Weekend – October 11 – 14
"Wicked Halloween" Weekend #1 – October 18 – 20
"Wicked Halloween" Weekend #2 – October 25 – 27
---
Michigan
Coloma / St. Joseph KOA Holiday
Halloween Harvest Chili Cook-Off Weekend – October 11 – 13
Covert / South Haven KOA Holiday
Halloween Fun Festival – October 4 – 6
Halloween Fun Festival – October 11 – 13
Chili Cook Off/Last Weekend to Camp – October 18 – 20
Emmett KOA Appreciation/Annual Chili Cookoff – September 6 – 8
Halloween 1 – September 20 – 22
Halloween 2 – September 27 – 29
Halloween 3 – October 4 – 6
Halloween 4 – October 11 – 13
Halloween 5 – October 18 – 20
Ludington East / Pere Marquette River KOA
Putt-Putt Around the Park and Cornhole Tournament – September 6 – 8
Night Time Pool Party – September 7
Chocolate Lovers Unite – September 21
Monroe Co. / Toledo North KOA Holiday
Wrestling Weekend – September 6 – 8
Halloween Weekends – Weekends, September 13 – 27
Halloween Weekend – September 27 – 2*
Closing Weekend – October 11 – 31
Reservation Madness Weekend – September 6 – 8
Harry Potter Weekend – September 13 – 15
Halloween Weekend 1 – September 20 – 22
Halloween Weekend 2 – September 27 – 29
Halloween Weekend 3 – October 4 – 6
Halloween Weekend 4 – October 11 – 13
Halloween Weekend 5 – October 18 – 20
Halloween Weekend 6 – October 25 – 27
---
Missouri
Annual Vintage Camper Event – September 5 – 8

Kansas City East / Oak Grove KOA Holiday
Pirate Day – September 20 – 21
Halloween Weekend Festivities in October – October 4 – 26
---
New Hampshire
Lincoln / Woodstock KOA Holiday
Halloween Weekend & Columbus Day Weekend – October 11 – 14
End of Camping Season – October 20
Strafford / Lake Winnipesaukee South KOA Holiday
Make a Stuffed Animal – September 7
Lake Wicked: Halloween Weekend – September 20 – 22
Lake Wicked: Halloween Weekend – September 27 – 29
Lake Wicked: Halloween Weekend – October 4 – 6
Lake Wicked: Halloween Weekend – October 11 – 14
Twin Mountain / Mt. Washington KOA Holiday
Ice Cream Social – Saturdays through October 12
Fireside Chat with Brad & Bex – Saturdays through October 12
Weekend Entertainment – Saturdays through October 12
Pancake Breakfast – Sundays throught October 13
Columbus Day Weekend – October 11 – 14
---
New York
1000 Islands / Association Island KOA
Canadian Thanksgiving – October 14
Girl Scout Geology Weekend – September 20 – 22
Boy Scout Geology Merit Weekend – October 18 – 20
Halloween Weekend – October 12 – 13
Lake Placid / Whiteface Mountain KOA Holiday
Halloween Weekend & Canadian Thanksgiving – October 11 – 14
Medina / Wildwood Lake KOA Holiday
BOGO Camping Weekend/Sports Weekend – September 6 – 8
Halloween Weekend – September 20- 22
Halloween Weekend 2 – September 27 – 29
Fall Fun Weekend – October 4 – 6
Columbus Day Weekend – October 11 – 14
New York City North / Newburgh KOA
Back to School Weekend – September 6 – 8
Lumberjack Weekend – September 13 – 15
Camper Appreciation Weekend – September 20 – 22
Chili Cook-Off Weekend – September 27 – 29
Halloween Weekend – October 4 – 6
Columbus Day Weekend – October 11 – 14
Halloween Weekend – October 18 – 20
Halloween Weekend – October 25 – 27
Niagara Falls / Grand Island KOA Holiday
Ice Cream Social – September 13 & 14
Bingo – September 14
Fall Welcome – September 21
Halloween Fun – October 11 – 12
---
North Carolina
Halloween Weekend #1 – October 18 – 20
Halloween Weekend #2 – October 25 – 27
Halloween Weekends – Weekends, October 19 – November 3
Cherokee / Great Smokies KOA Holiday
Haunted Halloween Weekends – Weekends, October 11 – 27
October Fishing Tournament – October 12
Thanksgiving – November 28
Halloween Spooktacular – October 25 – 26
Thanksgiving Day Celebration – November 28
---
Ohio
Tailgate Chili Cook-Off – October 4 – 6
Halloween Weekend – October 11 – 13
Halloween Weekend Pt. 2 – October 18 – 20
Buckeye Lake / Columbus East KOA Holiday
Tailgate Party/Football Weekend – September 6 – 7
Renaissance Weekend – September 20 – 21
Mystery Weekend – September 27 – 28
Spook-tacular Weekend – October 4 – 5
Monster Ball Weekend #1 – October 11 – 12
Monster Ball Weekend # 2 – October 18 – 29
Monster Ball Weekend #3 – October 25 – 26
Last Weekend of Camping – November 1 – 2
Wild, Wild West Weekend – September 6 -8
Get Back to Nature – September 20 – 22
Fall Foliage – October 5 – 7
Haunted Halloween Weekend 1 – October 11 – 13
Haunted Halloween Weekend 2 – October 18 – 20
Canton / East Sparta KOA Holiday
Halloween Campout – October 4 – 6
From the Outback to the Great Barrier Reef – Australia – September 6 – 7
Wine Tout and Tasting Weekend – September 6 – 7
Land of Kiwis – New Zealand – September 13 – 14
Beer Maze! – September 21
Giant Corn Maze Adventure – September 28 – 30
Let's Get Spooky! Halloween Weekend 1 – October 4 – 5
Fall is in the Air! Halloween Weekend 2 – October 11 – 12
Haunted Halloween Weekend 3 – October 18 – 19
Last BIG Weekend! Halloween Weekend 4 – October 25 – 26
Grandparents Weekend – September 7
Halloween I – Spetember 27 – 28
Halloween II – October 4 – 5
Thanksgiving Potluck Weekend – October 12
Closing Weekend – October 18 – 20
Halloween Weekend #1 – September 6 – 8
Halloween Weekend #2 – September 13 – 15
Chili & Soup Potluck – September 21 – 22
Pig Roast & Glow in the Dark Hayride – September 28 – 29
Glow-In-The-Dark Party – October 4 – 6
Farewell Bonefire – October 12 – 13
---
Oregon
Astoria / Warrenton / Seaside KOA Resort
National Grandparent's Day – September 6 – 7
Fall Equinox Weekend – September 20 – 21
Getting Crafty – September 27 – 28
KOA's 2nd Annual Chili Cook-Off – October 4 – 5
Halloween Fall Festivities – October 11 – 12
Halloween Fall Festivities – October 18 – 19
Halloween Fall Festivities – October 25 – 26
KOA's 8th Annual Giving Thanks Meal – November 30
Bandon / Port Orford KOA Journey
Movies Under the Stars – Fridays and Saturdays through September 22
Ice Cream Socials – Fridays and Saturdays through September 28
---
Pennsylvania
Delaware Water Gap / Pocono Mountain KOA Holiday
Columbus Weekend Potluck Pig Roast – October 12
Wine and Cheese Tasting – October 12
Elizabethtown / Hershey KOA Holiday
Spooktacular Weekend – October 18 – 20
Spooktacular Weekend 2 – October 25 – 27
Air Rocket Weekend – September 6 – 8
Customer Appreciation Weekend – September 13 – 15
Trick-or-Treat & Halloween Party – September 20 – 22
Trick-or-Treat & Halloween Party – October 4 – 6
Canadian Thanksgiving – Our Last Weekend – October 11 – 14
Gettysburg / Battlefield KOA Holiday
Wine Tasting – September 20 – 22
Folk Music Weekend – September 28 – 30
Halloween Weekend – October 18 – 20
Halloween Weekend 2 – October 25 – 27
Honesdale / Poconos KOA Holiday
Fall Yard Sale – September 6 – 8
Harvest/Pumpkin Patch I – September 20 -22
Harvest/Pumpkin Patch II – September 27 – 29
Halloween I/Pumpkin Patch III – October 4 – 6
Halloween II/Pumpkin Patch IV- October 11 – 14
Closing Weekend & Seasonal Thanksgiving – October 128 – 20
Jonestown / Hershey NE KOA Journey
September Cruise Night – September 21
Halloween Fun with the Kiddos  – October 19
Bingo, Bingo Weekend – September 7 – 8
Bingo Weekend – September 14 – 15
Pumpkinfest Weekend – September 21 – 22
Halloween Weekend – September 28 -29
Applefest & Columbus Weekend – October 5 – 6
Customer Appreciation & Bring a Friend BOGO – October 12 – 13
Camp Sew & Quilt – September 5 – 8
Last Weekend to Swim – September 7 – 8
Halloween Weekend – September 27 – 28
Halloween Weekend 2 – October 4 – 5
Halloween Weekend 3 – October 11 – 12
Philadelphia / West Chester KOA Holiday
Wine Tasting – September 6 – 8
Pumpkin Harvest Weekend – September 27 – 28
Apple Harvest Weekend – September 27 – 28
Columbus Day Weekend – October 4 – 5
Happy Halloween 1 – October 11 – 12
Happy Halloween 2 – October 18 – 19
Happy Halloween 3 – October 25 – 27
Western Weekend & Chili Cookoff – September 6 – 8
Pets Rule Weekend & Hero's Weekend – September 13 – 15
Oktoberfest Weekend – September 20 – 22
Fall Fun Weekend – September 27 – 29
Jack 'O Lantern Jamboree – October 4 – 6
Spooktacular Fun Weekend – October 11 – 13
One Last Creepy Bash! – October 18 -20
Williamsport South / Nittany Mtn. KOA Holiday
Chili Cook-Off Weekend & Care Camps Fundraiser – September 6 – 8
Apple Celebration Weekend – September 13 – 15
Camper Appreciation Party – September 27 – 29
Tailgate Party Weekend – October 4 – 6
Halloween Kick-Off & Fall Festivities Weekend – October 11 – 14
Halloween Party Weekend 1 – October 18 -20
Halloween Party Weekend 2 – October 25 – 27
---
South Carolina
Halloweekends!! – October 11 – 31
Point South / I-95 / Yemassee KOA Holiday
Community Fires – Every Friday and Saturday
Fall Harvest ~ Fill the Sack – October 25 – 26
Spartanburg NE / Gaffney KOA Holiday
Halloween FUN – November 2
---
South Dakota
Mount Rushmore KOA Resort at Palmer Gulch
2018 Polkapalooza Polka Fest – September 6 – 7
American Heros Weekend – September 6 – 7
Halloween – October 11 – 13
---
Tennnessee
Halloween Weekend – October 25 – 26
Halloween Weekend – November 1 – 2
Chattanooga North / Cleveland KOA
Annual Chili Cook-Off –  October 26
Pigeon Forge / Gatlinburg KOA Holiday
Halloween Spooktacular – October 25 -November 11
Sweetwater / I-75 / Exit 62 KOA Holiday
Halloweekend – October 4 – 6
Halloweekend – October 11 – 13
Townsend / Great Smokies KOA Holiday
Halloween Hayrides – October 1 – 31
---
Texas
Dallas / Arlington KOA Holiday
Community Campfires – Fridays
Saturday Night Campfire Stories – Saturdays
Halloween Weekend – October 11 – 13
Scarecrow Halloween – October 25 – 27
Lake Conroe / Houston North KOA Holiday
Family Halloween Party – October 26
Port Lavaca / Matagorda Bay KOA
Limbo Dance – September 7
Thanksgiving Feast – November 28
Christmas Lunch – December 25
San Antonio / Alamo KOA Holiday
Halloween Festival – October 26 – 27
Thanksgiving Feast – November 28
Christmas Celebration – December 24
South Padre Island KOA Holiday
Thanksgiving Feast – November 28
Christmas Feast – December 25
---
Utah
Brigham City / Perry South KOA Journey
Ice Cream Social – Thursday, Friday & Saturday, through September 29
---
Vermont
Fall Vintage Camper Rally – September 26 – 29
Halloween Weekend – October 18 – 20
Quechee / Pine Valley KOA Holiday
Haunted Howling Halloween – October 11 – 13
---
Virginia
Cape Charles / Chesapeake Bay KOA Resort
Grandparent's Weekend – Septemmber 6 – 8
Pride Weekend – September 13 – 15
Concert Series September – September 20 -22
Craft Beer Festival – September 27 – 29
Brew N Que – October 4 – 6
Cape Fear: Haunted Hotel and Campground – October 11 – 13
Cape Fear: Haunted Hotel and Campground – October 18 – 20
Cape Fear: Haunted Hotel and Campground – October 25 – 27
Chincoteague Island KOA Resort
VKR Potluck Celebration – September 13 – 15
NFL & College Football Spirit – September 20 – 22
Chincoteague High School Alumni Weekend – September 27 – 29
Little Island of Horrors – October 4 – 6
Little Island of Horrors – October 11 – 13
Little Island of Horrors – October 25 – 27
Fancy Gap / Blueridge Parkway KOA Journey
Fancy Pumpkin Decorating – October 11 – 28
Fancy Fall Fun Weekends – Octover 11 – 28
Fredericksburg / Washington DC South KOA Holiday
Halloween Weekend – October 26
Harpers Ferry / Civil War Battlefields KOA Holiday
Pets Weekend – September 6 – 7
Fall Harvest – September 20 – 22
Halloween Spooktacular – September 27 – 28
Halloween Spooktacular – October 4 – 5
Halloween Spooktacular – October 11 – 12
Halloween Spooktacular – October 18 – 19
Halloween Spooktacular – October 25 – 26
Harrisonburg / Shenandoah Valley KOA Holiday
Halloween 2019 – October 18 – 27
Lynchburg / Blue Ridge Parkway KOA
Halloween Spooktacular 1 – October 11 – 12
Halloween Spooktacular 2 – October 18 – 19
Halloween Spooktacular 3 – October 25 – 26
Natural Bridge / Lexington KOA Holiday
Halloween Weekend – October 5 – 26
Halloween/Fall Family Festival Weekend #1 – October 4 – 6
Halloween/Fall Family Festival Weekend #2 – October 18 – 20
Halloween Bands & BBQ – October 25 – 27
Williamsburg / Busch Gardens Area KOA
Harvest Fun Weekend – September 27 – 29
Halloween Weekend 1 – October 4 – 6
Halloween Weekend 2/Columbus Day Weekend – October 11 – 14
Halloween Weekend 3 – October 18 – 20
Halloween Weekend 4 – October 25 – 27
Veteran's Day – November 8 – 10
Thanksgiving Weekend – November 28 – December 1
Christmas Weekend – December 13 – 15
---
Washington
Grandparents Weekend – September 7
Celebrate Fall Camping! – September 14 – October 12
Goblins & Ghouls – October 18 – 20
Goblins & Ghouls – October 25 – 27
---
West Virginia
Harpers Ferry / Civil War Battlefields KOA
Pets Weekend – September 6 – 7
Fall Harvest – September 20 – 22
Halloween Spooktacular – Weekends, September 27 – October 26
---
Wisconsin
Chequamegon Fat Tire Festival – September 13
Conclusion of Camping Season – October 7
Adult Halloween Weekend I – September 6 – 8
Adult Halloween Weekend II – September 13 – 15
Halloween 1 – September 20 – 22
Halloween 2 – September 27 – 29
Halloween 3 – October 4 – 6
Halloween 4 – October 11 – 13
Halloween 5 – October 18 – 20
---
CANADA
Newfoundland & Labrador
Gros Morne / Norris Point KOA Holiday
Early Thanksgiving and Halloween – September 20 – 22
---
Ontario
A Kinight's Tale – September 6 – 9
Harvest Weekend – September 20 – 21
Dog Weekend – September 27 – 28
Sinfully Chocolate Weekend – October 4 – 5
Fallfest Weekend – October 10 – 14
1000 Islands / Kingston KOA Holiday
Sweet Treats Weekend – September 13 – 15
Halloween Weekend – September 20 – 22
Thanksgiving Weekend – October 11 – 14
Fall in Love with S'MORES – September 6 – 8
Zoo Tek Wildly Exciting Animal Show Week – September 20 – 22
Fangtastic Fun Halloween Weekend – September 27 – 29
#SquadGhouls – Happy Haunting – October 4 – 6
Thanks-for-Gathering Long Weekend – October 11 – 14
Wine Tasting Weekend – September 6 – 8
Amazing Race Weekend – September 20 – 22
Applefest Weekent – September 28 – 30
Oktoberfest – September 27 – 29
1st Halloween Weekend – October 4 – 6
Thanksgiving Weekend/2nd Halloween – October 11 – 14
Cardinal / Ottawa South KOA Holiday
Chocolate Lovers Weekend – September 6 – 7
Kozy's Birthday Weekend – September 13 – 14
Halloween – September 20 – 21
Halloween 2 – September 27 – 29
Halloween 3 – October 4 – 5
Thanksgiving/Halloween Weekend 4 – October 11 – 13
Thanksgiving Long Weekend – October 11 – 13
ATV Fun Fall Ride – October 4 – 6
Ice Cream Socials – Through, September 12
CPE Agility Trial – September 14 – 15
Annual Pig Roast – September 7 – 8
Potluck Dinner – September 14
Toronto North / Cookstown KOA Holiday
Space Weekend – September 6 – 8
Haunted Halloween Weekend – 9 – 27
Thanksgiving Weekend – October 10 – 11
---
Quebec
Fall Dinner, Music & Dance/Souper D'Automne Et Danse – September 14
Suffleboard Tournament/Tournoi Shuffleboard (galets) – September 21
---