VKR Appreciation Weekend
Free Camping Weekend in appreciation of our VKR members!
When: September 18-19, 2015
What: Value Kard Rewards members stay as a paying guest on Friday, September 18 at any participating KOA campground and get Saturday, September 19 for FREE.*
Why: VKR Appreciation Weekend is designed exclusively for Value Kard Rewards members to say thanks for your loyalty and for trusting your camping memories to us. On this late-summer weekend, we gather to celebrate friends, family and fun in the great outdoors we all adore.
*At participating campgrounds. Promotion terms and conditions will apply.
Participating Campgrounds
Participating Campgrounds in Canada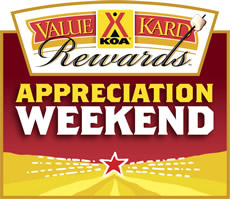 Download Now
Download our brochure to learn more about Value Kard Rewards
Special thanks to our VKR Appreciation Weekend Sponsors!