Free Camping Weekend in appreciation of our VKR members!
We've got a special weekend offer just for Value Kard Rewards members! Stay Friday, September 18, 2015 and get Saturday, September 19, 2015 free at participating KOA locations. Just a small token of our appreciation to you, our amazing campers, for sharing your adventures with us!
When: September 18-19, 2015
What: Value Kard Rewards members stay as a paying guest on Friday, September 18 at any participating KOA campground and get Saturday, September 19 for FREE.*
Why: VKR Appreciation Weekend is designed exclusively for Value Kard Rewards members to say thanks for your loyalty and for trusting your camping memories to us. On this late-summer weekend, we gather to celebrate friends, family and fun in the great outdoors we all adore.
*At participating campgrounds. Promotion terms and conditions will apply.
Participating Campgrounds
Participating Campgrounds in Canada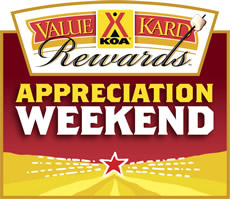 Purchase a VKR Membership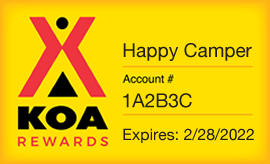 Get a free night of camping now, plus more great benefits.
Buy Now
Special thanks to our VKR Appreciation Weekend Sponsors!