7 Big Fall Festivals & Events Not to Miss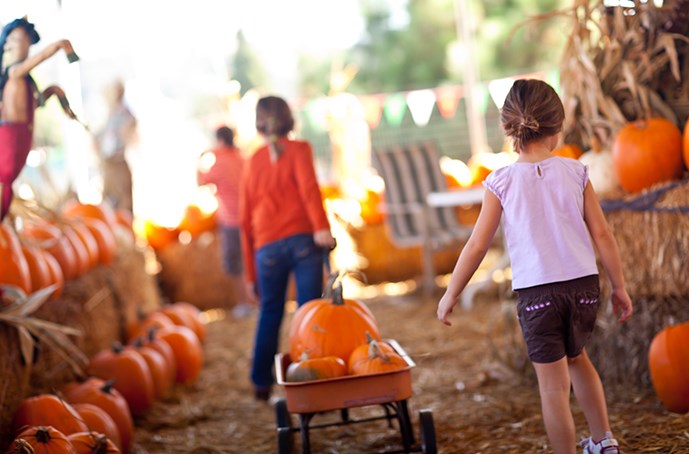 Sheep, scares, pumpkins, apples and more – these fall festivals are worth traveling for.
While it can sometimes seem that summer gets all the glory and is the season full of fun, we're here to tell you that fall is just as awesome.
The weather is cooler, the leaves are changing, and life overall is full of color.
Fall isn't just about Halloween (though we certainly love the holiday) — there are many other events and festivals happening during this lovely season that you will definitely want to experience. From harvest festivals, to spooky nights, fiestas and so much more, fall is likely to become your favorite season after reading this.
Follow along with us as we share the awesome events happening this fall, and the nearby KOAs that serve as the perfect home base for your fall celebrations.
---

ALBUQUERQUE INTERNATIONAL BALLOON FESTIVAL
October 7-15, 2017
Albuquerque, NM
This nine-day event brings hot air balloon enthusiasts from all over the world to the deserts of Albuquerque, New Mexico to experience the magic of these giant and colorful contraptions. While there are a number of hot air balloon festivals, this one in Albuquerque is the world's largest.
The Albuquerque International Balloon Festival has been held for over 40 years, and has built itself up into quite the experience. What began as just a 13-balloon festival, is now a festival of nearly 600 balloons.
One events of the festival, the Balloon Feista, is the most photographed event on earth. Wow. Take a moment to let that soak in.
Balloon enthusiast or not, we think this is a festival you should definitely attend. For more information on the Albuquerque International Balloon Festival, please visit here.
KOAs nearby:
Albuquerque North / Bernalillo KOA
---

KINGS DOMINION HALLOWEEN HAUNT
Dates vary September 23 – October 29 — see website for more info
Doswell, VA
"WARNING! This event is too intense for young children. Parental discretion is advised." When that serves as the welcome to a theme park, we find ourselves very much interested.
Who doesn't love being scared silly? Especially during the Halloween season.
Well, you can ensure you'll get your fill of screams and nightmare-inducing visions when you visit Kings Dominion's Halloween Haunt. With 8 mazes, 5 scare zones, and terrifying shows, this theme park transforms into the land of horrors come the end of September.
Every night at 7 p.m. during the Haunt, over 400 monsters come out of their cages and roam the park, lurking behind every corner and in every shadow, just waiting to scare. In addition to these scares, you'll be able to ride more than 20 of the theme park's rides, as darkness falls. And don't worry, if you're not up for big scares (or have younger kids), the Great Pumpkin Fest presents a less scary and more family fun daytime option.
If this festival of fear sounds like your idea of fun, you better jump on getting your tickets soon. You can do so by visiting the park's website here.
KOAs nearby:
Richmond North / Kings Dominion KOA
---

NATIONAL APPLE HARVEST FESTIVAL
October 7-8 & 14-15, 2017
Arendtsville, PA
In the heart of Pennsylvania Apple country, people from the major cities all over including Washington D.C., Baltimore, Harrisburg, and more, travel to partake in the festivities that celebrate all things apple.
With arts and crafts to buy, demonstrations to watch and learn, contests to win, food stands to indulge in, and entertainment to enjoy, the National Apple Harvest Festival is sure to be an event you'll make an annual tradition. Events include apple-bobbing, fresh-pressed cider drinking, square dancing, Native American dancers, live music, and of course more apples to munch on than you thought possible.
If you're a lover of apples and want to see apples celebrated as they should be, then visit the National Apple Harvest Festival website here to purchase your tickets and plan your trip.
KOAs nearby:
Gettysburg / Battlefield KOA Holiday
---

ACADIA NIGHT SKY FESTIVAL
September 21-24, 2017
Acadia National Park
 Most festivals take place during the day, and possibly extend into the night. They are full of lights, sounds, and excitement.
This festival, however, is centered around a more zen experience — one that occurs in the quiet of the night, in a gorgeous location. If you enjoy stargazing even the slightest, you are going to love the Acadia Night Sky Festival.
In its ninth year, this festival will take place (again) in Acadia National Park, one of the few places left in the East where bright stars are visible to the naked eye. Free from city life and the pollution it causes, the stars here are incredible. And the Milky Way in the park is quite a sight too, as it shines in the "largest expanse of naturally dark sky east of the Mississippi."
With well-known speakers, workshops, and interactive experiences, this festival is for astronomy enthusiasts, as well as people who just enjoy the stars.
For more information on this festival, visit their website here.
KOAs nearby:
---

WARRENS CRANBERRY FESTIVAL
September 22-24, 2017
Warrens, Wisconsin
Cranberries are one of those fruits that you just don't think of much.
Have you ever stopped to think about where they may come from?
We are guessing probably no, and if we're right, you'll be surprised to hear that there are a lot of people who are massive fans of cranberries and travel every year to this festival in Warrens, Wisconsin to celebrate this little red fruit.
Warrens Cranberry Festival is the world's largest cranberry fest, and brings 100,000 travelers from all over the world to experience a variety of fun cranberry-related events. From tours of the cranberry marshes, to cranberry contests, a cranberry parade, and obviously tons of cranberry treats, this festival is a lot more fun than one can expect from such a tiny little fruit.
To see the lineup of events and learn more about the festival, visit their website here.
KOAs nearby:
---

TRAILING OF THE SHEEP FESTIVAL
October 4-8, 2017
Ketchum, Sun Valley, and Hailey, ID
For these few days in October, the Idaho towns of Sun Valley, Ketchum, and Hailey see its streets filled with our favorite little fluffy farm animals — sheep!
The towns decided to turn the relocation of livestock that occurs every year into a festival.
Though the towns filled with sheep obviously are the center of attention, they are not all that is going on during this time. The festival has grown to include a number of concerts, workshops, cooking classes, fabulous food, presentations, and other animals as well.
Plus, they'll be tons of vendors selling incredible goods made from the fur of these lovely sheep, so you'll be able to stock up on plenty of festive pieces.
To learn more about the Trailing of the Sheep Festival, visit their website here.
KOAs nearby:
Craters of the Moon / Arco KOA Journey
---

CIRCLEVILLE PUMPKIN SHOW
October 18-21, 2017
Circleville, OH
You have not truly seen pumpkins until you've been to the Circleville Pumpkin Show. Boasting over 10,000 pounds of pumpkins, squash and more, this festival in the streets of Circleville, Ohio will surely put you in the Halloween spirit.
Every year, over 400,000 people come out for this event to roam around its more than 300 food, games, and goods booths. There are also amusement rides, many of which are pumpkin themed, of course.
And what would a pumpkin show be without a pumpkin parade?
The Circleville Pumpkin Show parade includes over 40 floats and 50 bands — all decorated to the nines in celebration of our favorite fall vegetable. During this festival over 23,000 pumpkin pies are sold, as well as thousands of other delicious pumpkin treats.
Step aside Pumpkin Spice Latte — you are way out of your league here in Circleville.
For a schedule of the Circleville Pumpkin Show events, click here.
KOAs nearby:
Logan / Hocking Hills KOA Holiday
---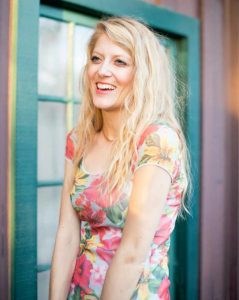 Leslie, a.k.a. Copy Girl, is a copywriter who gets butterflies from telling stories through words.
Her voice comes from a place filled with passion, dreams, and lots of sugar. "Cake over steak" is her go-to motto.
With over 10 years of experience in crafting words, and years of embarking on travels that have taken this Montana girl to some incredible places, Leslie love the adventures of both body and mind her writing takes her on.
Everywhere she goes, she takes this advice with her:
"Hold on to your divine blush, your innate rosy magic, or end up brown." – Tom Robbins, Jitterbug Perfume
To see what Leslie's up to in the writing world, visit her website here.
---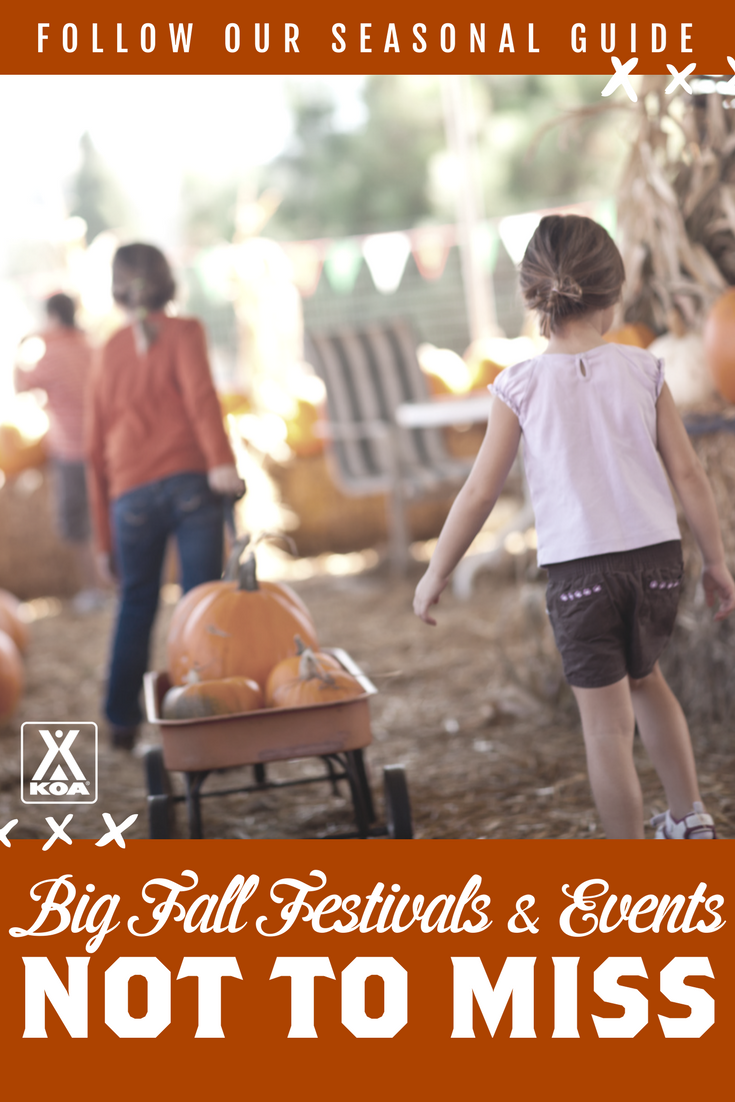 Save