If you're looking to get out and explore the beautiful places and space of America, then look no further than this list of scenic drives in every state. No matter where you travel you'll want to consult this list first!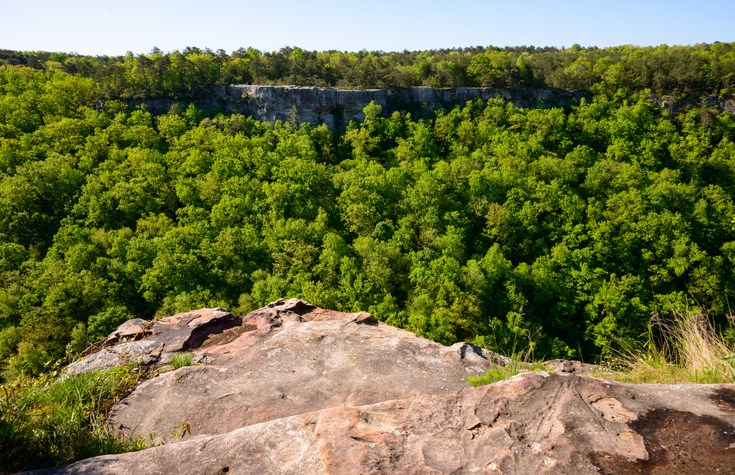 1. ALABAMA
Appalachian Highlands Scenic Byway
These 80 miles of road stretch across the northeastern part of the state and runs through Cleburne, Calhoun, Cherokee, and DeKalb counties. But that's the least exciting part of the drive. What you'll really love is your chance to see nature at its finest in the form of Talladega National Forest and Little River Canyon National Reserve.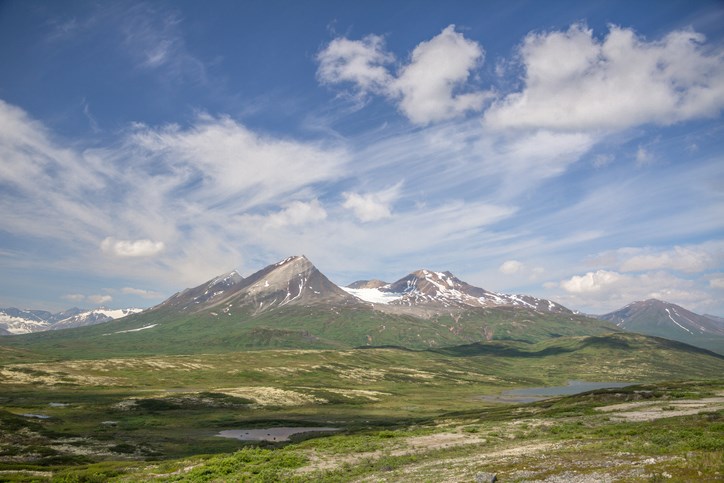 2. ALASKA
Haines Highway
This drive didn't make the list because the views of the road or the mountains along it are stunning. Rather, Haines Highway is the most scenic drive in Alaska thanks to all the wildlife you'll spot along the way. In fact, it is nicknamed the Valley of the Eagles because it has the largest gathering of bald eagles in the whole world.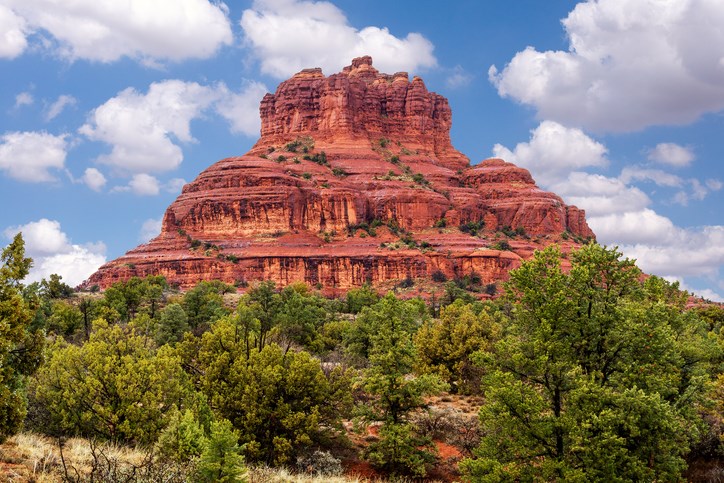 3. ARIZONA
Highway 179
Though Route 66 is one of the most iconic drives in the country, when it comes to scenic, Highway 179 takes the cake. This road takes you through Sedona which is one of the most stunning places in existence. It is a desert landscape full of stunning rock formations and Native American cliff dwellings. And if you're into vortexes, there are two major ones along this road — Bell Rock and Cathedral Rock.
KOAs nearby:
Flagstaff KOA Holiday
Williams / Exit 167 / Circle Pines KOA Holiday
Grand Canyon / Williams KOA Journey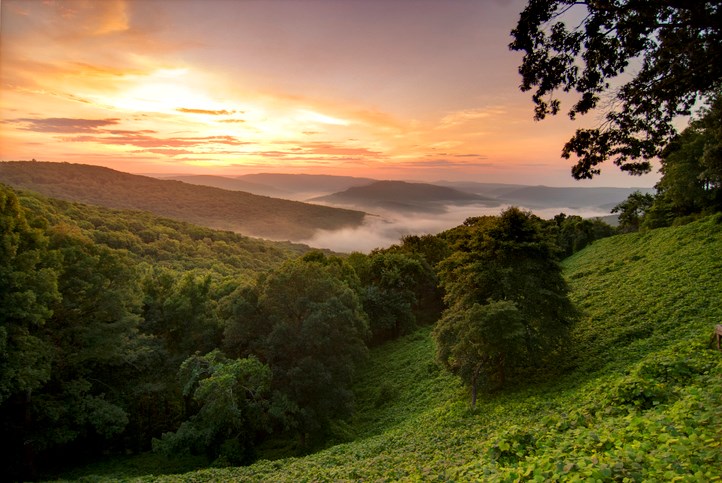 4. ARKANSAS
The Pig Trail Scenic Byway
No matter what time of the year you take this road, it will wow you with its beauty. In the spring you'll see the wildflowers at their best and brightest. And in the fall you'll see the foliage that no picture can do justice to. All of this and much more set to the backdrop of the famous Ozark Mountains.
KOAs nearby:
Sallisaw / Fort Smith West KOA Holiday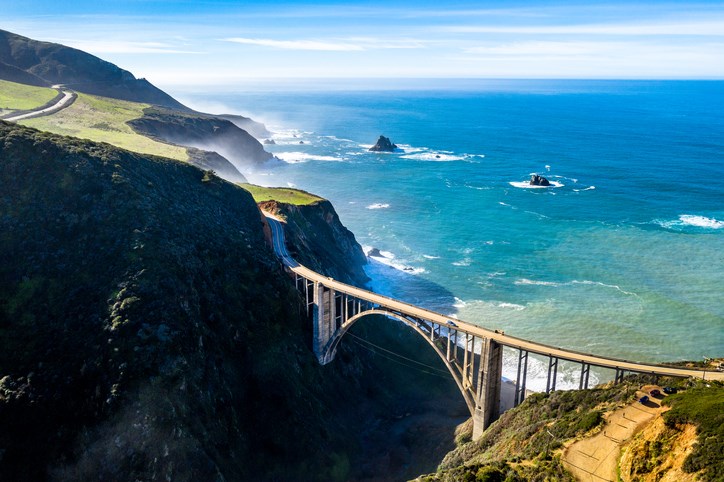 5. CALIFORNIA
Pacific Coast Highway
The PCH is one of the most iconic and picturesque roads in the United States. It follows the California coastline, passing through famous places such as Santa Monica, Malibu, Big Sur and many more. The Pacific Coast Highway is mile after mile of stunning oceanside scenery that includes highlights such as Northern California's Bixby Bridge, the Golden Gate Bridge, and the redwood giants.
KOAs nearby:
Santa Cruz / Monterey Bay KOA Holiday
Moss Landing KOA Express
Salinas / Monterey KOA
Avila / Pismo Beach KOA
Santa Margarita KOA
Ventura Ranch KOA Holiay
Acton / Los Angeles North KOA Holiday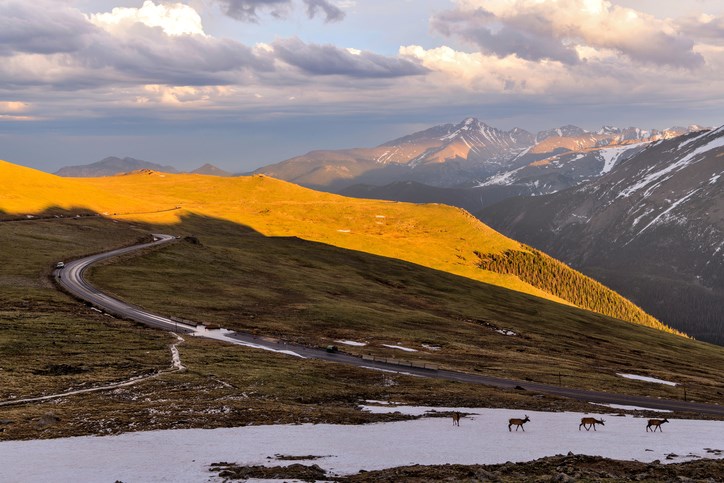 6. COLORADO
Trail Ridge Road
This road connects Estes Park, from the eastside to the westside. It was designed for the views, so it's no surprise that everywhere you look on this drive, no matter where you're sitting in the car, you'll have a view that's worth a photo. Trail Ridge Road will take you through glaciers, forests, lava cliffs, snowy mountains, and even some wildlife, too.
KOAs nearby:
Estes Park KOA Holiday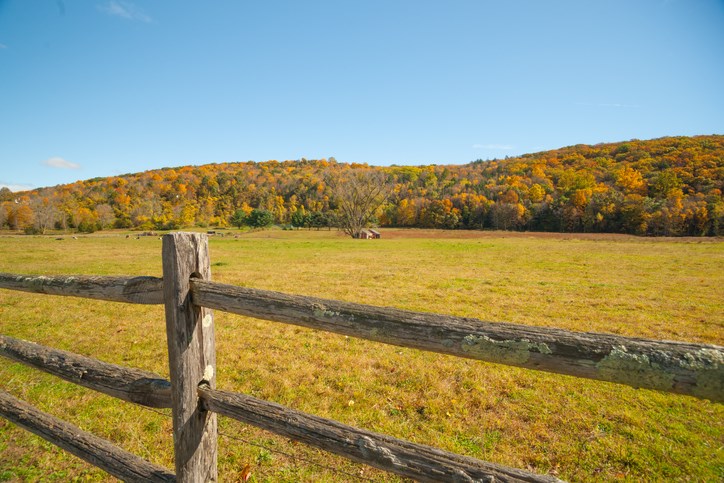 7. CONNECTICUT
State Route 197
Start this route at a small town named Union and drive it all the way to the Massachusetts border. Nicknamed "The Quiet Corner," this place will make you go quiet as you stare out the window in amazement at the beauty. You'll have a chance to visit Bigelow Hollow State Park and Nipmuck State Forest, which will give you ample space for all the outdoor activities.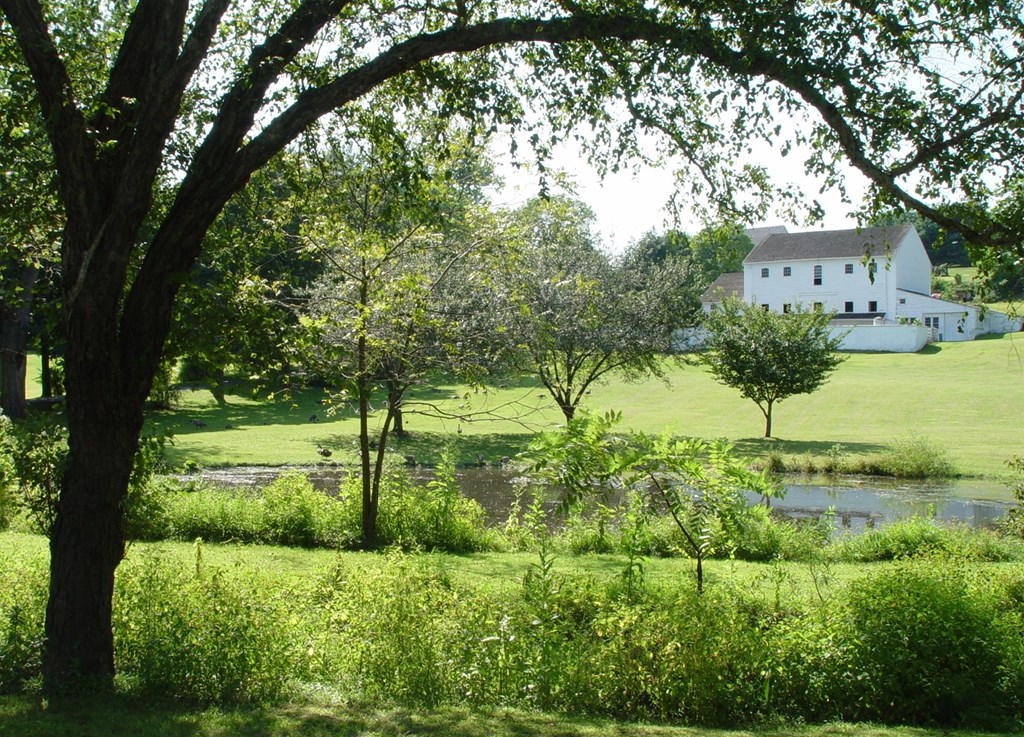 8. DELAWARE
Brandywine Valley Scenic Byway
This piece of Route 52 and Route 100 that stretches just over 12 miles packs a lot of beauty into short distance. Take a trip through the state's past as you pass through the historic rural countryside where the 1777 Battle of Brandywine happened. Now there sit stunning mansions as well as classic bridges, museums, and more.
KOAs nearby:
Philadelphia South / Clarksboro KOA Holiday
Philadelphia / West Chester KOA Holiday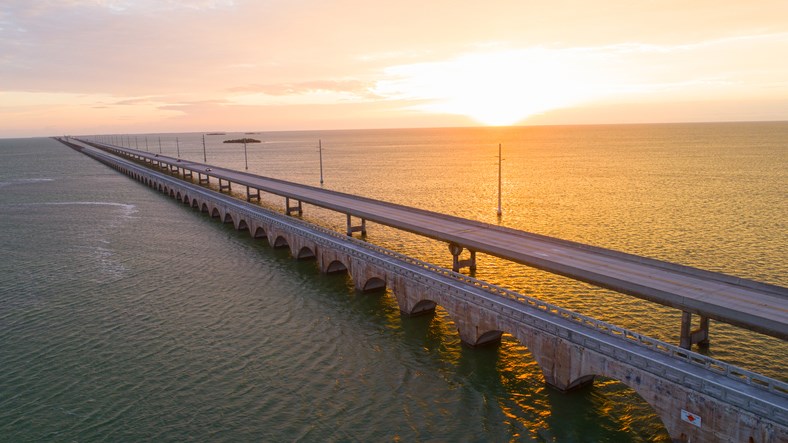 9. FLORIDA
Seven Mile Bridge
How does it sound to drive down on a highway that's completely surrounded by the ocean? Head down to the Florida Keys to experience this seven miles of heaven. It is the longest bridge in the Florida Keys and one of the longest in the entire world. The Seven Mile Bridge is technically two bridges — one for cars and one for cyclists and pedestrains to enjoy. The vibrant views here take you to the southernmost part of the continental United States.
KOAs nearby: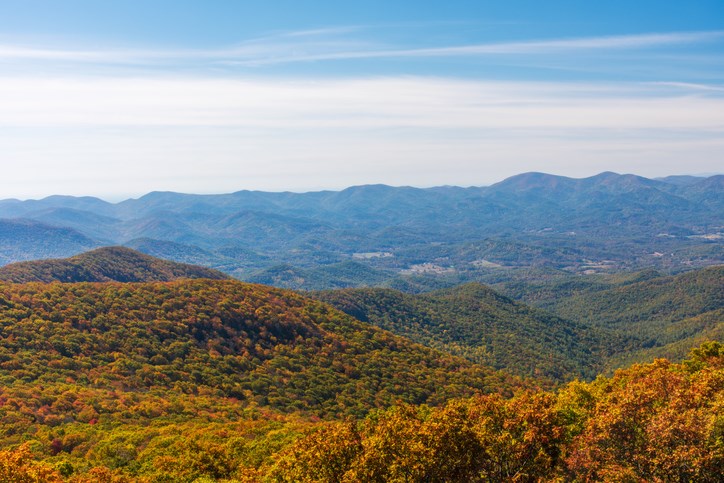 Sugarloaf Key / Key West KOA Holiday
10. GEORGIA
Cohutta-Chattahoochee Scenic Byway
Take a drive through the Chattahoochee National Forest with views of the Cohutta Mountains on this 54-mile long drive. It starts at Prater's Mill and ends in Murray County. In the fall, the foliage cannot be beat as you wind your way through the history and culture of this region.
KOAs nearby:
Blue Ridge / Toccoa River KOA Holiday
Lookout Mountain / Chattanooga West KOA Holiday
Chattanooga North / Cleveland KOA Journey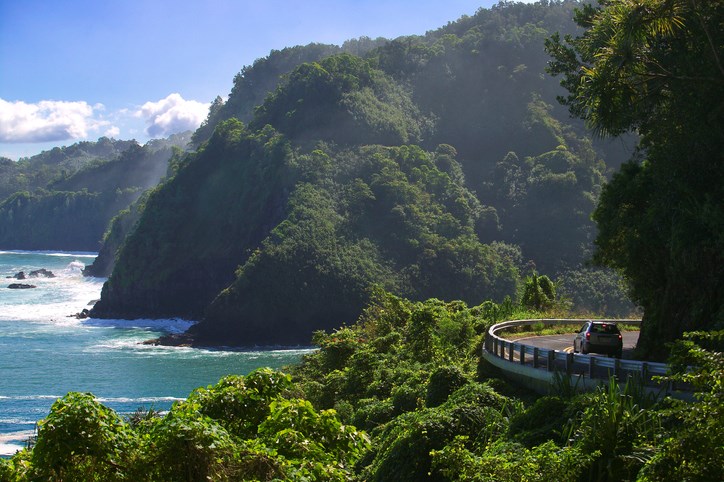 11. HAWAII
Hana Highway
If you're looking for a winding road through some magical terrain, then this drive is for you. With 620 twists and turns that take you over 59 bridges, you better buckle in and be ready for a wild ride. Also be ready for the drive to take you a few hours, even though it's only 52 miles long. You'll stop multiple times along the way to check out all the scenic views that include things such as waterfalls that you can hop into and take a swim in.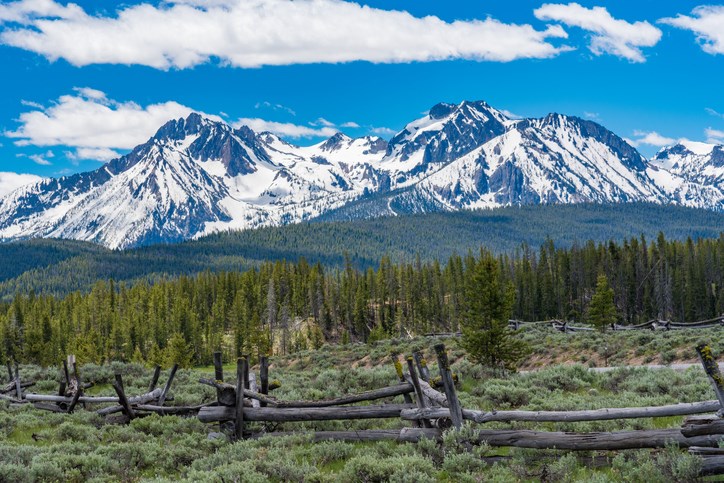 12. IDAHO
Sawtooth Scenic Byway
Take this 116-mile drive through the rich forests and agricultural land of Idaho. Throw in some towering mountains and rolling rivers and you've got beautiful scenery that will let you see that Idaho has much more than potatoes. This road leads you to Sun Valley, a spot known for it's beautiful resorts and snowy mountains where you can partake in some great skiing during the winter.
KOAs nearby:
Twin Falls / Jerome KOA Holiday
Craters of the Moon / Arco KOA Journey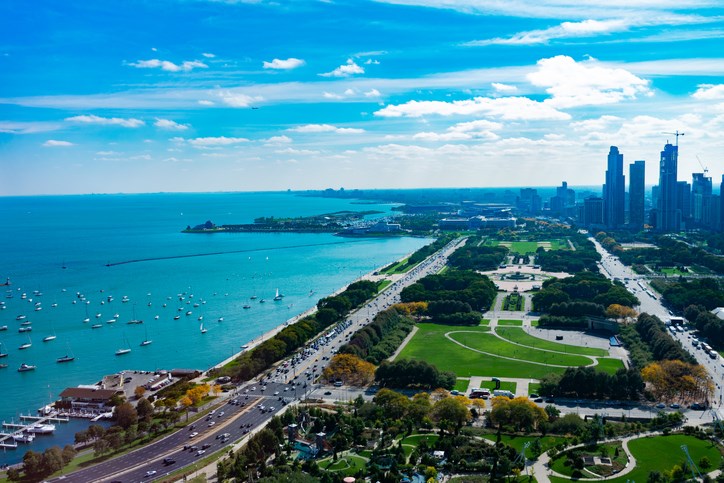 13. ILLINOIS
Lake Shore Drive
Some people call this drive the most beautiful stretch of urban parkway in the country. And they may be right. Lake Shore Drive is 15 miles long and most of it has beaches and Lake Michigan on the east and skyscrapers on the west. It is a nice surprise for those who expect Chicago to only be a concrete jungle, yet see a different side of its beauty.
KOAs nearby:
Chicago Northwest KOA Holiday
Kankakee South KOA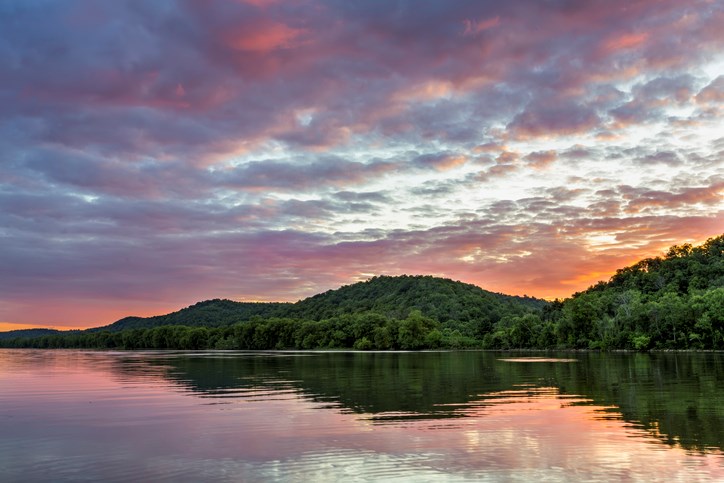 14. INDIANA
Ohio River Scenic Byway
Spanning nearly 1,000 miles, a large portion of this drive will take you through the charming small towns of southern Indiana including Vevay, Madison, and Newburg. Here you can explore antique stores, bed and breakfasts, and tasty restaurants, some of which have stunning views of the lake. Continue on the road to see where pioneers explored hundreds of years ago, and take a journey through the birthplaces of three U.S. Presidents.
KOAs nearby:
Louisville South KOA Holiday
Kentucky Lakes / Prizer Point KOA
Paducah / I-24 / Kentucky Lake KOA Journey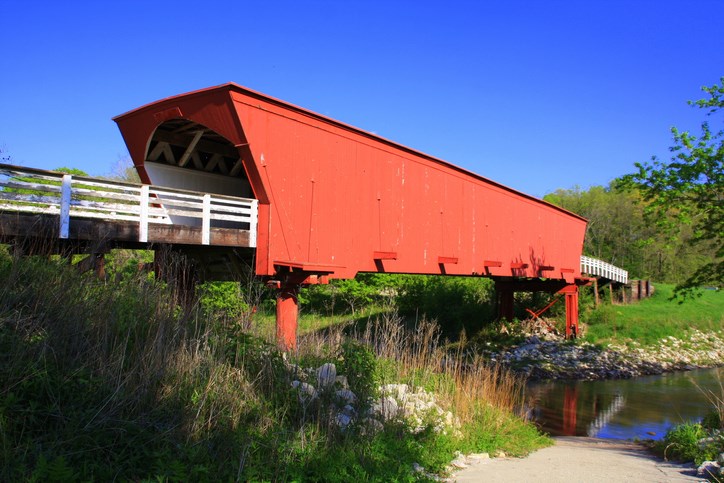 15. IOWA
Covered Bridges Scenic Byway
Head to Madison County for a unique experience through covered bridges. These structures are loved and celebrated, and have been restored over the years to keep them in their prime. See all kinds of these bridges along the 82-mile-long byway, and much more as you venture through natural reserves.
KOAs nearby:
Des Moines West KOA Holiday
Newton / Des Moines East KOA Journey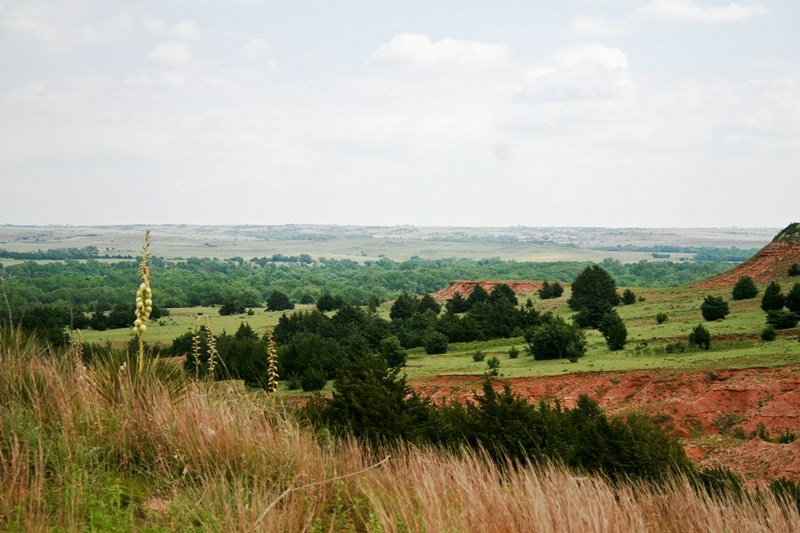 16. KANSAS
Gypsum Hills Scenic Byway
Most of Kansas is exactly how you think — flatlands and plains. That's why we love the Gypsum Hills Scenic Byway. It takes a detour from the expected terrain of Kansas and takes you to a part of the state (towards the Oklahoma border) that looks straight out of Arizona. Here you'll find mesas, red dirt, and more that will wow you given the location.
KOAs nearby:
Wellington KOA Holiday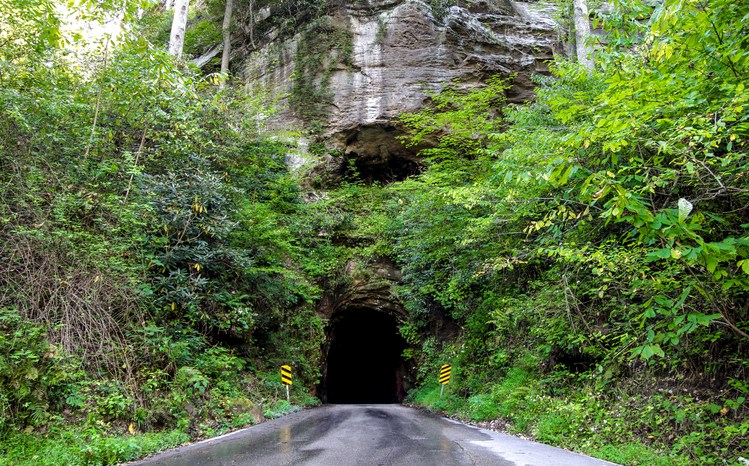 17. KENTUCKY
Route 77
If you're in search of a mysterious, eerie drive, then Route 77 is right up your alley. Rock formations along the way tower over you and the Red River that follows alongside you makes for a beautiful addition. Make your way to the Nada Tunnel. It is only 90 feet long, but those 90 feet will have you feeling creepy while going through this one-way tunnel. It is completely black in there, and it is rumored that a ghost of a construction worker haunts the tunnel.
KOAs nearby:
Renfro Valley KOA Holiday
Corbin / Laurel Lake KOA Journey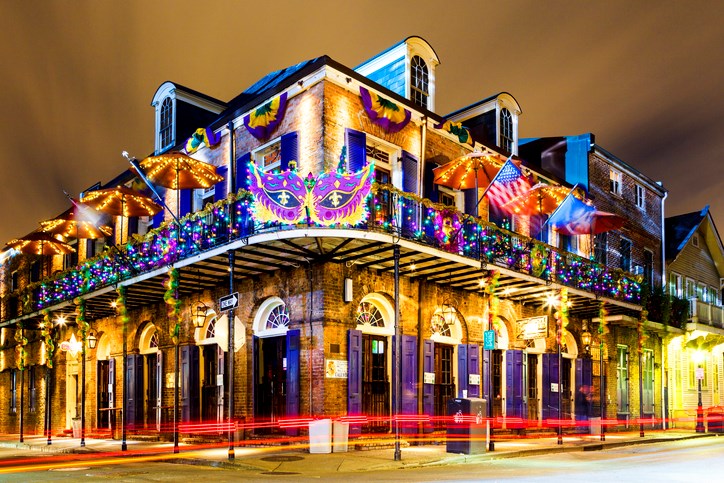 18. LOUISIANA
Bourbon Street
Though a bit different from the other drives on this list, Bourbon Street is a sight to see, and one you won't want to miss. This street is home to Mardi Gras and all sorts of bars, restaurants, and activity that never seems to stop. You'll likely be fine driving on this street during the day without concern, but as the day gets later, watch out for partiers wandering out into the streets at night. All the colors and life on this street will make quite a memory.
KOAs nearby:
New Orleans KOA Holiday
Baton Rouge KOA Holiday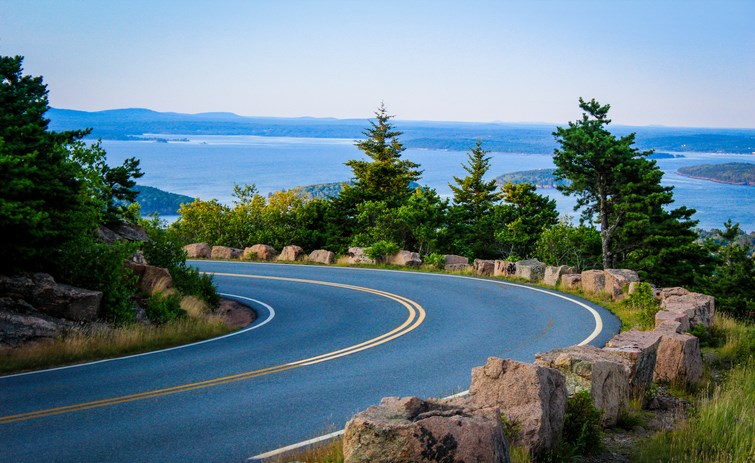 19. MAINE
Park Loop Road | Acadia National Park
If Acadia National Park wasn't beautiful enough already, how about we add in this 27-miles of road that takes you through some natural beauty sure to leave you speechless. In this autumn, your idea of fall foliage will be completely redefined, and throughout the year you can experience fogs so thick that visibility is severely limited.
KOAs nearby:
Bar Harbor / Oceanside KOA Holiday
Bucksport / Fort Knox KOA Holiday
Bangor / Holden KOA Holiday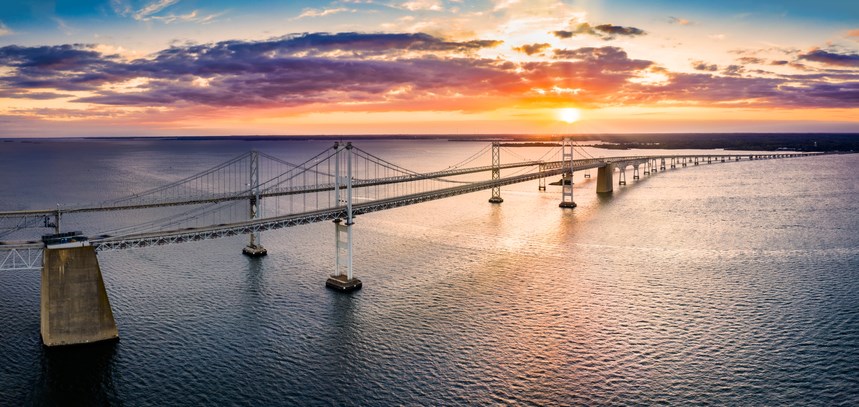 20. MARYLAND
Chesapeake County Scenic Byway
This 419-mile long byway takes you through a lot of history here in Maryland and also through some farmland where all sorts of things are produced. Since the road is so long, divide it up and explore the different parts on different days. No matter what part you choose, you'll see some eastern beauty. Think stunning boatyards, farms, and waterfront views to wow.
KOAs nearby:
Washington DC / Capitol KOA Holiday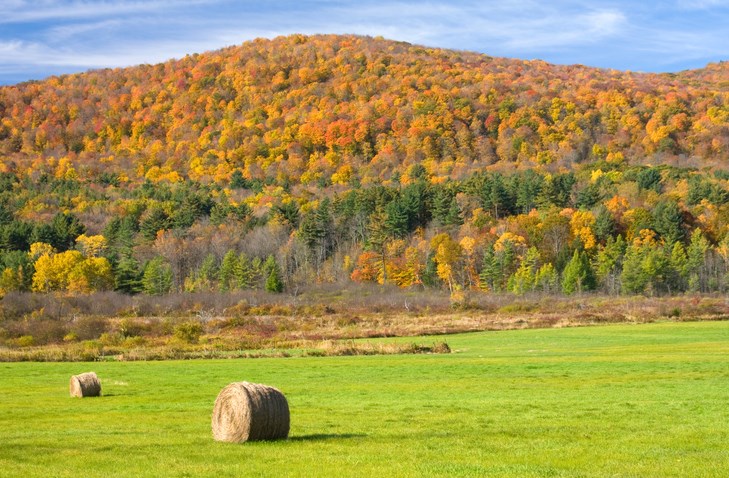 21. MASSACHUSETTS
Jacob's Ladder Trail Scenic Byway
Take a trip down history lane on this scenic byway. The trail originally opened back in 1910 and serves as a path to cross the Berkshire mountains with stunning views the whole way. Enjoy the 33-mile long drive that has rollings hills, rivers, and thick forests to keep you company.
KOAs nearby:
Northampton / Springfield KOA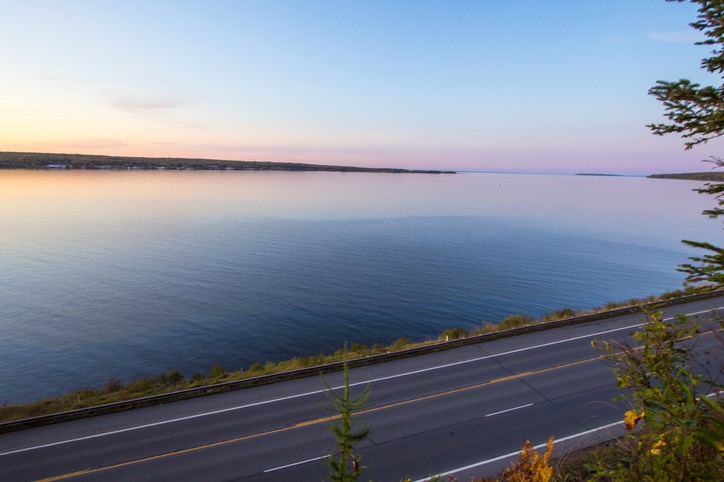 22. MICHIGAN
Red Arrow Highway
Feel like you're driving along the beach when you take the highway in Michigan. It takes you from New Buffalo up north along the shores of Lake Michigan. On the way you'll take in views of the lake's beautiful beaches, villages, vineyards, and orchards, too. The lakefront towns you'll pass through are worth a stop to snap some photos.
KOAs nearby:
Coloma / St. Joseph KOA Holiday
Covert / South Haven KOA Holiday
Allendale / West Grand Rapids KOA Holiday
Muskegon KOA
Ludington East / Pere Marquette River KOA Holiday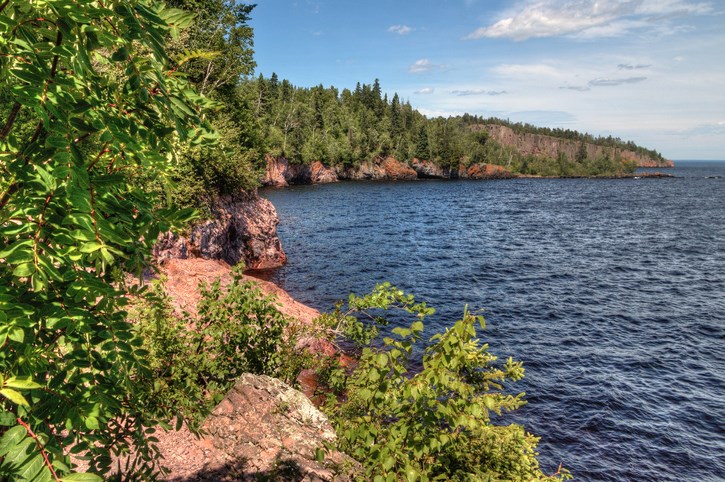 23. MINNESOTA
Highway 61
Prepare to get cold as you explore northern Minnesota on this drive. But we promise it wil be worth it. Highway 61 will take you through many of Minnesota's best sights including the iconic Split Rock Lighthouse and water galore. Along this road you'll enjoy waterfalls and views of Lake Superior that will have you in awe. One of our favorite stops is Lusten, a Swedish-inspired town that seems out of place, but is lovely.
KOAs nearby:
Cloquet / Duluth KOA Journey
Thunder Bay KOA Holiday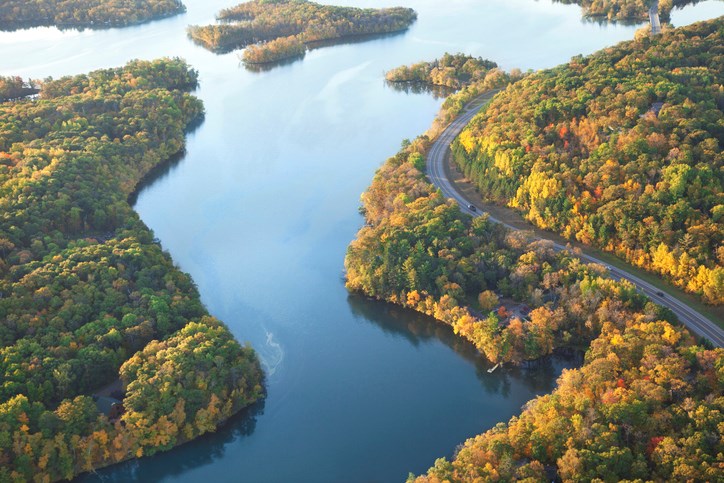 24. MISSISSIPPI
Great River Road National Scenic Byway
Though this road traverses through more than just Mississippi (we are talking Minnesota, Wisconsin, Arkansas, Illinois, Kentucky, Tennessee, Missouri, Louisiana and Iowa, too), what you experience on the Mississippi portion is worth a gander. Travel along the Mississippi River and enjoy access to river towns that are full of charm, as well as some history.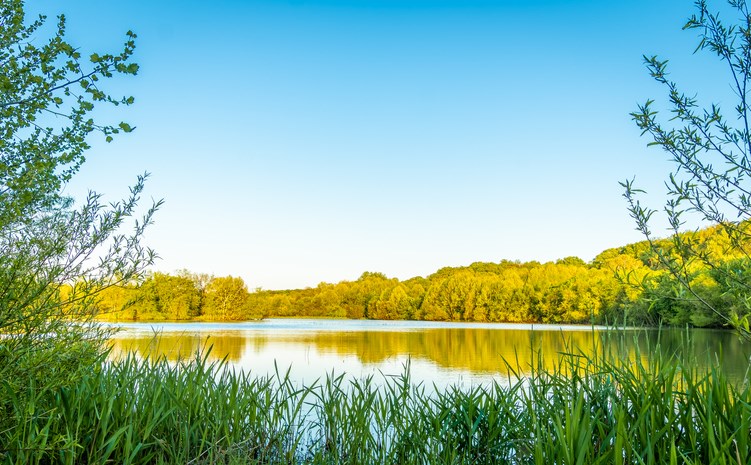 25. MISSOURI
Blue Buck Knob National Forest Scenic Byway
The name is a mouthful, and this drive is full of more than just letters. This 24-mile long stretch takes you through mysterious wooded land complimented by beautiful, bright streams. There are some great hikes along the way, included the Noblett Lake hike. Or you can enjoy the wonderful Mark Twain National Forest from the comfort of your car.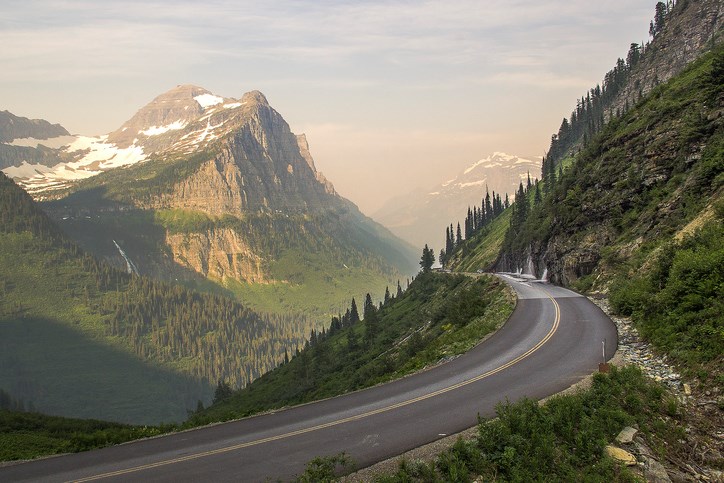 26. MONTANA
Going to the Sun Road
This road is one of the most scenic roads in America. The Going to the Sun road takes you through the epic Glacier National Park's lakes, glaciers, forests, and mountains. You've never seen anything like this before, and you'll be stopping at every chance to snap photos. Though the road isn't long, expect it to take at least 3-4 hours to experience all it has to offer. Because of the high snow fall here, the road is only open a few months a year, making it that much more worth seeing when you can.
KOAs nearby:
Whitefish / Kalispell North KOA Holiday
West Glacier KOA Resort
St. Mary / East Glacier KOA Holiday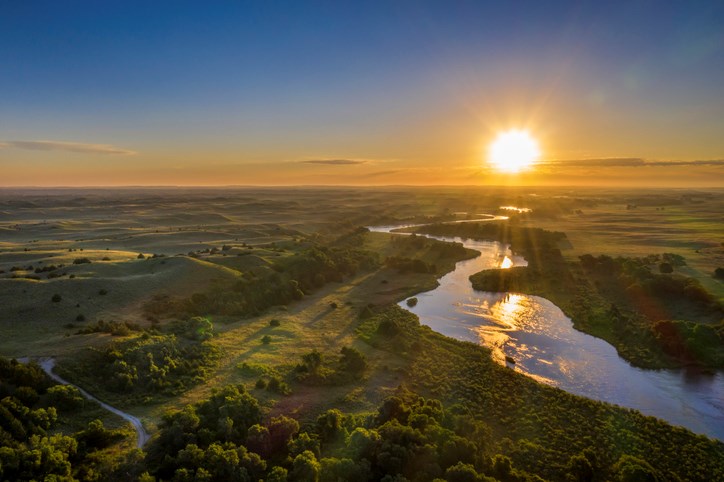 27. NEBRASKA
U.S. Route 83
You may think driving through 222 miles of Nebraska plains sounds, well, plain, but trust us — it is not. The colors you'll see along the way will make you fall in love with this charming part of the country. You'll even spot some homes designed by Frank Lloyd Wright along the way, as well as dunes and much more.
KOAs nearby:
West Omaha / NE Lincoln KOA Holiday
Grand Island KOA Journey
Ogallala KOA Journey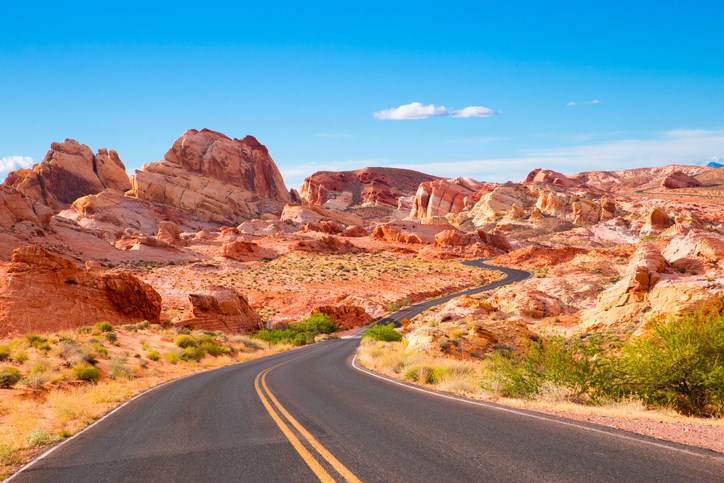 28. NEVADA
Valley of Fire Highway
You'll think you've landed on Mars when you head down the Valley of Fire Highway. The red rock formations are other-wordly, and were formed millions of years ago. Take in all the reds, oranges, and pinks you'll see in this rocks and in the sky too, if you catch it at sunrise or sunset. Mouse's Tank Road is a piece of the highway that has some fun offerings such as hiking and petroglyphs.
KOAs nearby:
Las Vegas KOA Journey at Sam's Town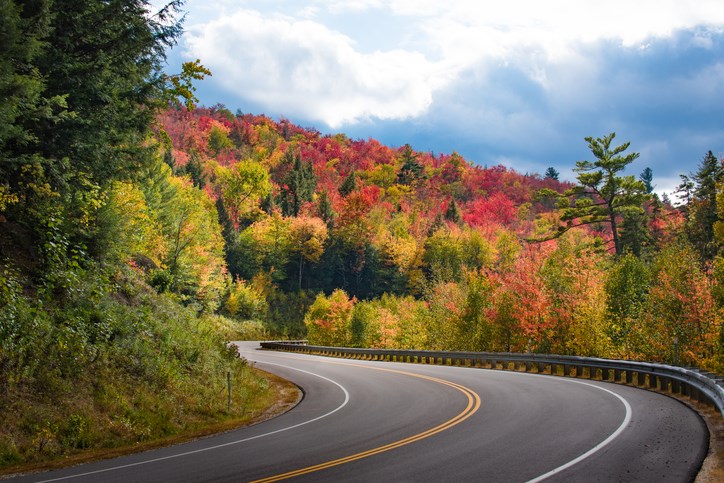 29. NEW HAMPSHIRE
Kancamagus Highway
Not only does this drive have a fun name, it also has lots of fun things to see. Travel through the White Mountains of New Hampshire and right by Mount Kancamagus. On the way, you'll have the chance to stop at all sorts of scenic overlooks and get mountain view after mountain view.
KOAs nearby:
Littleton / Franconia Notch KOA Holiday
Twin Mountain / Mt. Washington KOA Holiday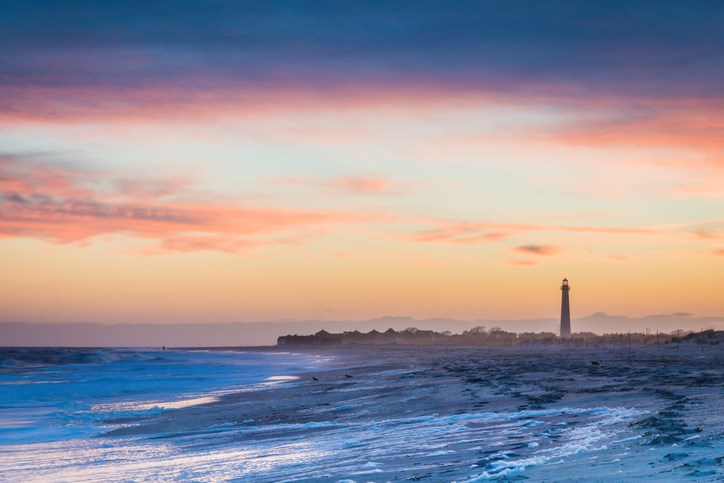 30. NEW JERSEY
Ocean Drive
See the beautiful coast of New Jersey on this road that takes you on a 49-mile long journey. You'll pass through all sorts of beach towns along the way, each offering their own charm to beachgoers and tourists. Start in Ocean City and work your way up to Strathmere, or the other way down. No matter what way you're traveling, you'll love the views.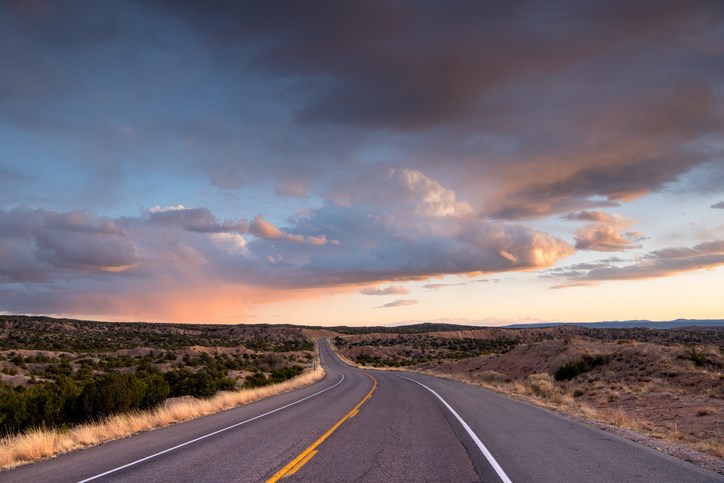 31. NEW MEXICO
El Camino Real National Scenic Byway
If you have even the slightest bit of interest in history, you'll want to drive down El Camino Real National Scenic Byway. El Camino Real came into existence thanks to the 16th century Spanish explorers that used it. And if you're a foodie, you'll also love traveling down this road. You'll pass through some of seriously hot food spots full of tasty eats.
KOAs nearby:
Albuquerque North / Bernalillo KOA Journey
Albuquerque KOA Journey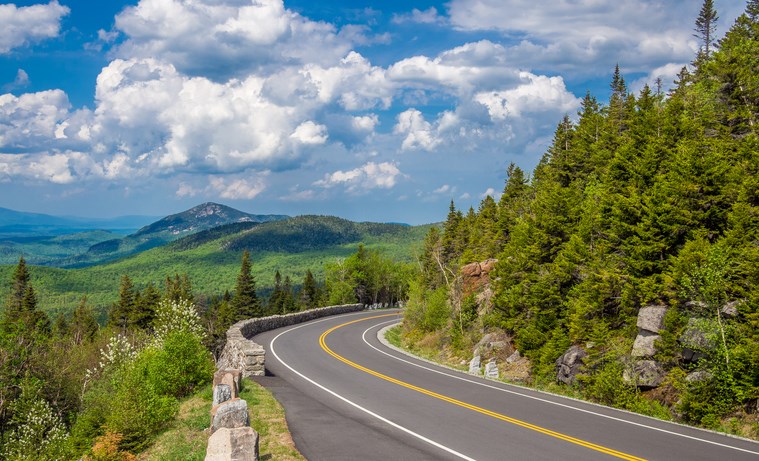 32. NEW YORK
High Peaks Scenic Byway
One drive down this road and you'll quickly see where it got its name. There are 40 peaks to enjoy from the comfort of your car along this 30-mile stretch. On top of that, there are lush forests, beautiful river valleys, and so much more. You can stop along the way and do some hiking, rock climbing, even whitewater rafting if you'd like.
KOAs nearby:
Lake Placid / Whiteface Mountain KOA Holiday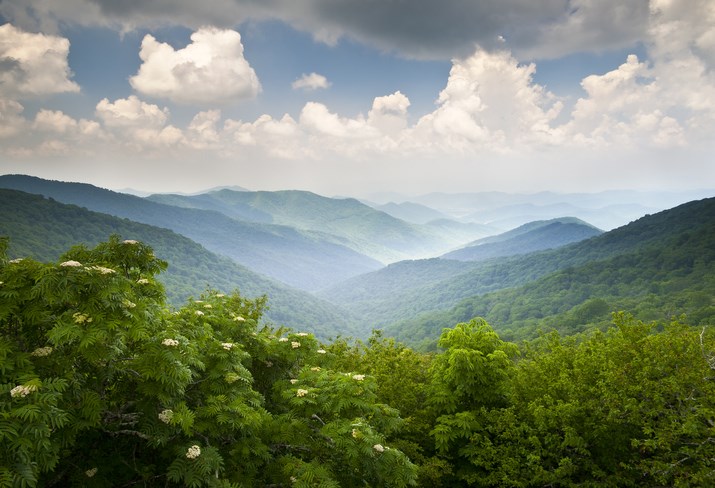 33. NORTH CAROLINA
Blue Ridge Parkway
Even if you've never seen the Blue Ridge Mountains, you've certainly heard of them (at least we hope so!). And there's a reason why. These mountains are some of the most stunning in the country, and this parkway will take you right through them. Not only will the views make you fall in love with this area, but also all the fun there is to have just off the road — things like orchards, shopping, and more.
KOAs nearby:
Cherokee / Great Smokies KOA Holiday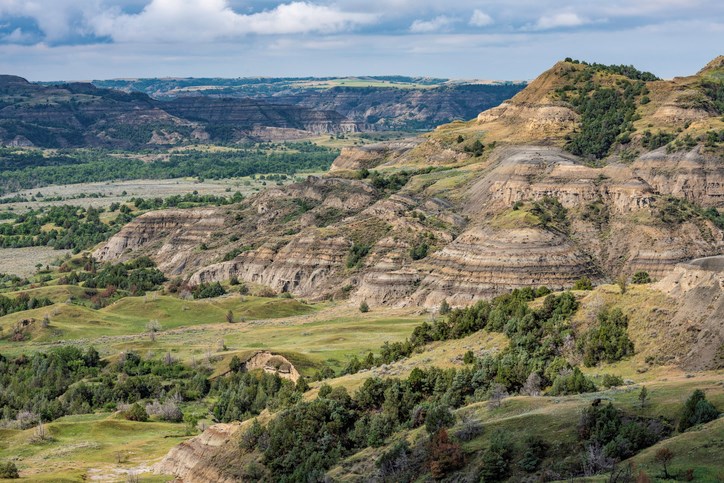 34. NORTH DAKOTA
Theodore Roosevelt National Park North Unit Scenic Byway

While not a long drive, the colorful North Dakota Badlands provide a stunning backdrop for this byway. Theodore Roosevelt National Park memorializes the 26th President for his enduring contributions to the conservation of our natural resources. In the park you will find Badlands, open prairie, hardwood draws, bison, other wildlife, the Little Missouri River and a past history that includes Theodore Roosevelt.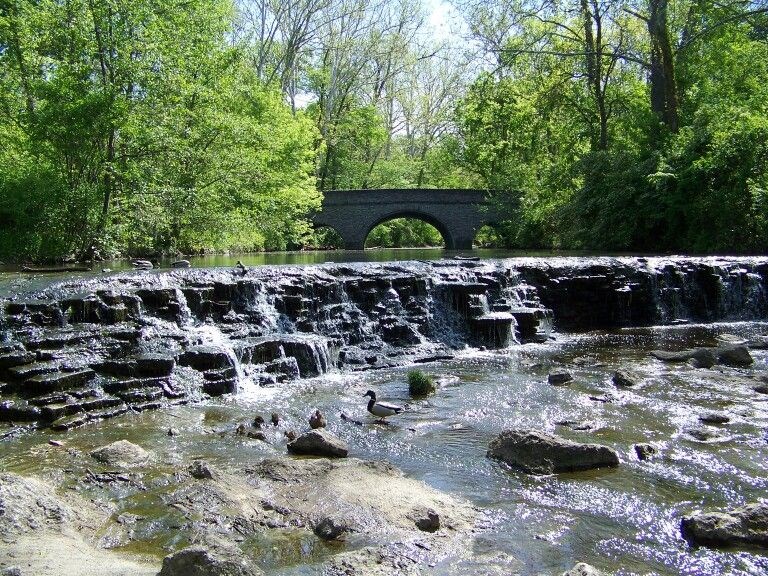 35. OHIO
Buckeye Falls Drive
It wouldn't be Ohio if they didn't have some drive named after the Buckeyes. Thankfully, this road is a great one. In the fall it serves as the ideal place to see fall foliage in its prime, and other times of the year you can stop along the road to enjoy hiking and biking.
KOAs nearby:
Lebanon / Cincinnati NE KOA Holiday
Batesville KOA Journey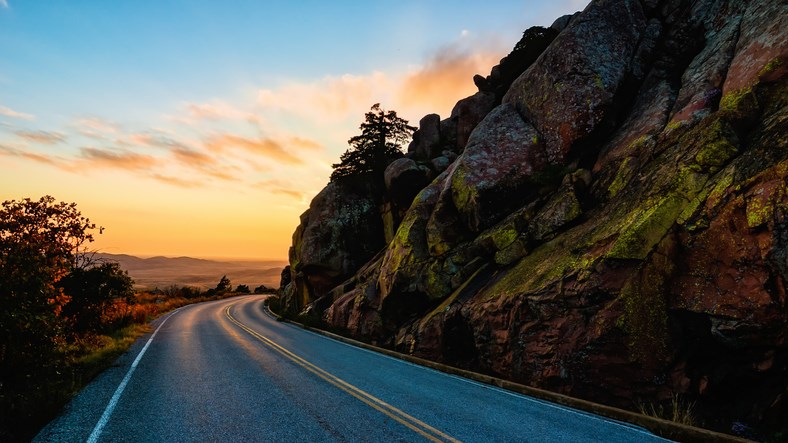 36. OKLAHOMA
Wichita Mountains Scenic Byway
Wind your way around this road that takes you through rolling prairies, massive trees and more. During the fall the colors here will leave you in awe. But our favorite part of this drive is when you go through Wichita Mountains National Wildlife Refuge where buffalo are known to roam freely. So keep your eyes peeled for a chance to see some buffalo, as well as other wildlife.
KOAs nearby:
Burkburnett / Wichita Falls KOA Journey
Elk City / Clinton KOA Journey
El Reno West KOA Journey
Oklahoma City East KOA Holiday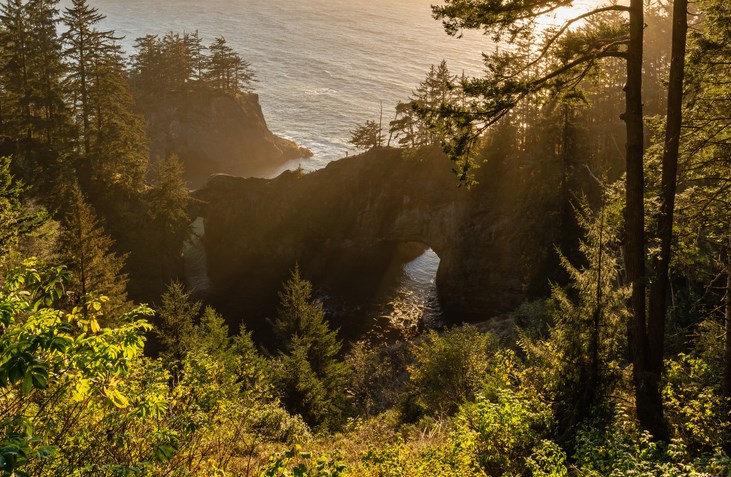 37. OREGON
Pacific Coast Scenic Byway
Similar to the Pacific Coast highway in California, the Pacific Coast Scenic Byway in Oregon is an incredible drive along the coast that cannot be missed. This one spans 363 miles, starting up north in Astoria and heading down to Brookings. In addition to the views of the Pacific Ocean, you'll also enjoy the cute beach downs and lighthouses that are sprinkled all over.
KOAs nearby:
Astoria / Warrenton / Seaside KOA Resort
Lincoln City KOA Journey
Waldport / Newport KOA
Oregon Dunes KOA Holiday
Bandon / Port Orford KOA Journey
Crescent City / Redwoods KOA Holiday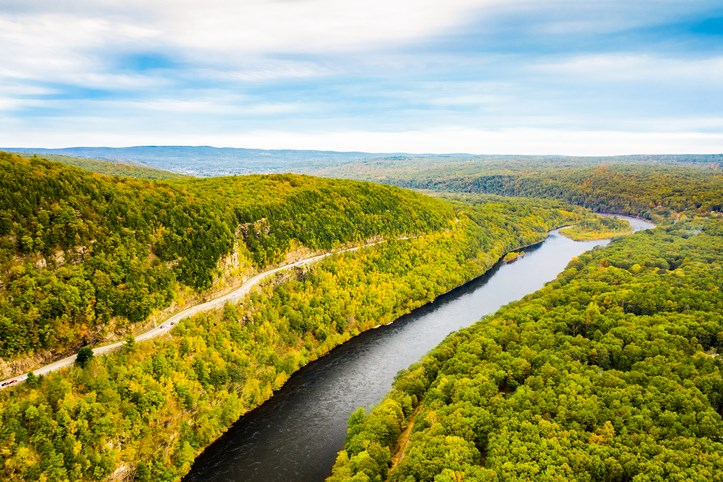 38. PENNSYLVANIA
Delaware River Valley
There is no shortage of scenic drives in Pennsylvania, but this one takes the cake. Delaware River Valley is home to the Delaware River (obviously), which is much more stunning in person than you'd imagine. Enjoy this drive along cliffs and through vast farmland to get a look at the Pennsylvania countryside.
KOAs nearby:
Allentown KOA Journey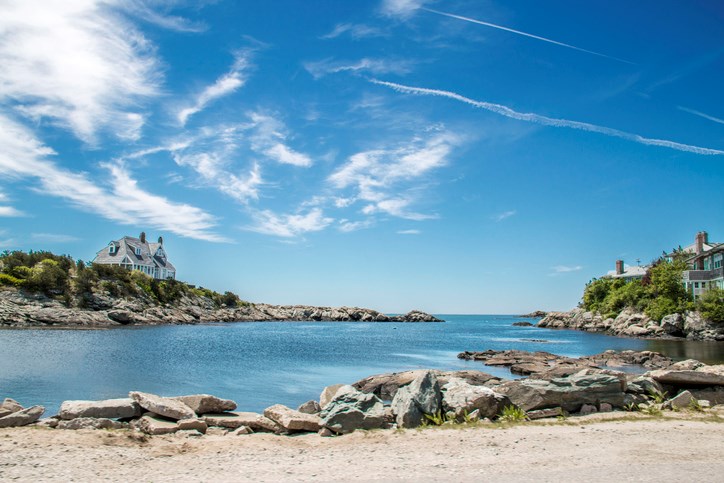 39. RHODE ISLAND
Ten Mile Drive
This drive is a doable one in a short period of time since it measures in at just ten miles. However, in those 10 miles you'll get a peek at some of the most extravagant mansions you've ever seen, accompanied of course by grounds that will make your mouth drop. Oh and did we mention this is all happening along the Atlantic Ocean?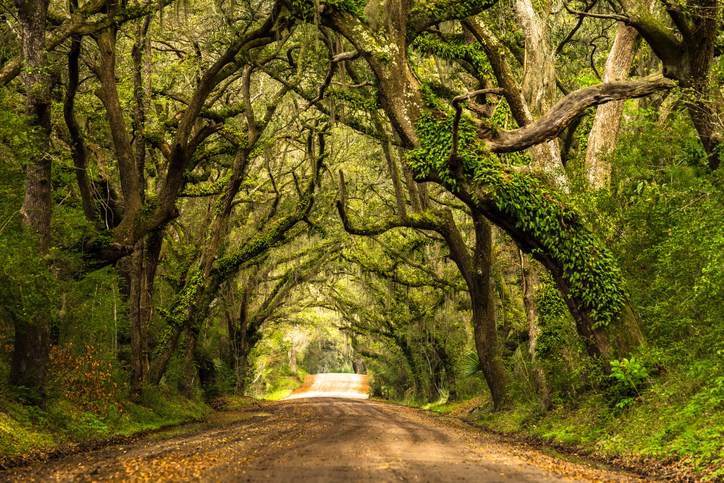 40. SOUTH CAROLINA
Botany Bay Boulevard
If you've been looking for the perfect place to have a photoshoot, this is it. Botany Bay Boulevard is a short drive that packs a lot of punch. On Edisto Island sits this road that is one of the most famous in the south. The way the trees canopy the road will give you butterflies, and a camera roll full of photos.
KOAs nearby:
Mount Pleasant / Charleston KOA Holiday
Point South / I-95 / Yemassee KOA Holiday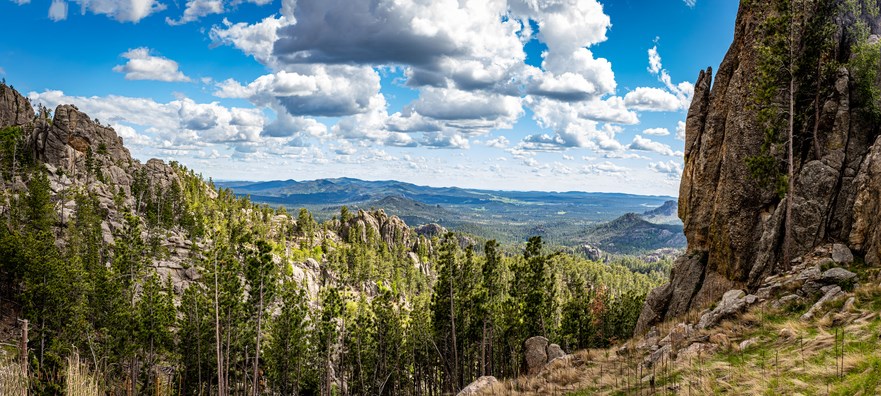 41. SOUTH DAKOTA
Needles Highway
Though the name doesn't make it sound too enticing, this drive is one you won't want to miss. It's called Needles Highway because of the granite rock formations here that look like needles. Though the road is only 14 miles long, it will take you a while to safely traverse the winding road that takes you up through tunnels and to stunning views. Sylvan Lake is a beautiful sight here whose crystal clear waters will make you want to jump right in.
KOAs nearby:
Hot Springs SD / Black Hills KOA Holiday
Custer / Mount Rushmore / Black Hills KOA Holiday
Mount Rushmore KOA Resort at Palmer Gulch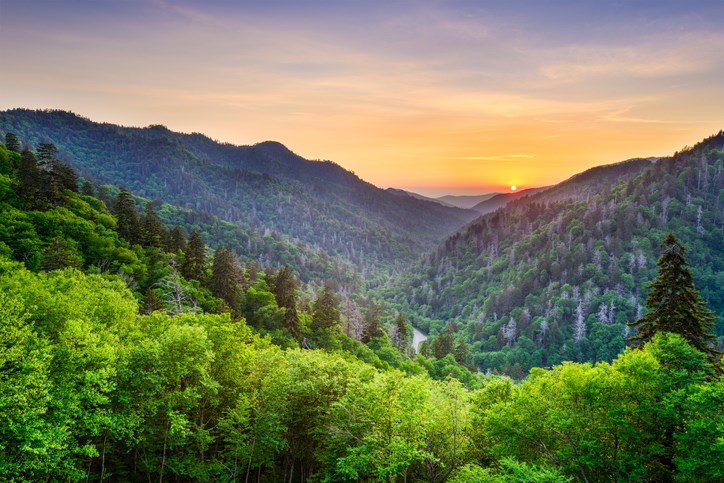 42. TENNESSEE
Great Smoky Mountains
When you imagine a picturesque drive through the mountains, this is what you imagine. The Great Smoky Mountains is a highly visited area of the country, partially because you have to drive in this area to reach some big cities, but also because of its stunning scenery. Cliffs, trees, and all sorts of nature's beauty jumps out everywhere. Get ready for some fun once you hit Tail of the Dragon, and be ready for a very windy road.
KOAs nearby:
Townsend / Great Smokies KOA Holiday
Pigeon Forge / Gatlinburg KOA Holiday
Cherokee / Great Smokies KOA Holiday
Newport / I-40 / Smoky Mountains KOA Journey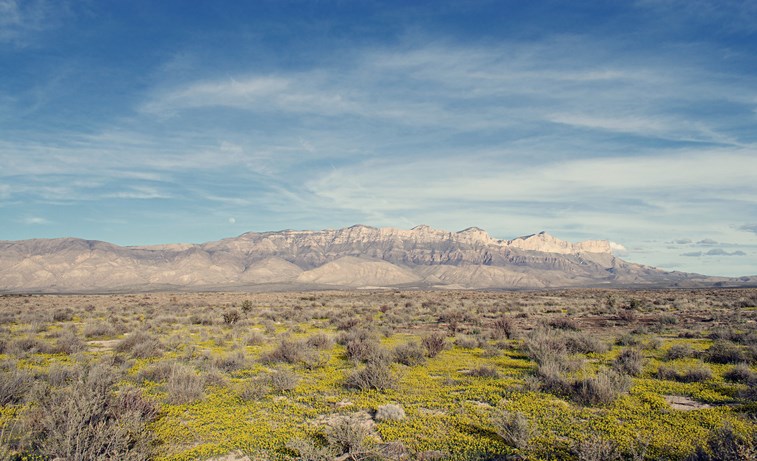 43. TEXAS
Lonesome Highway
If you need some peace and quiet, this highway is for you; it didn't get its name "Lonesome Highway" for nothing. This tranquil drive takes you through the beautiful cliffs of the Guadalupe Mountains. Start this drive with a full tank of gas and enough snacks to get you through, though. There isn't anywhere to stop on thie road.
KOAs nearby:
Las Cruces KOA Journey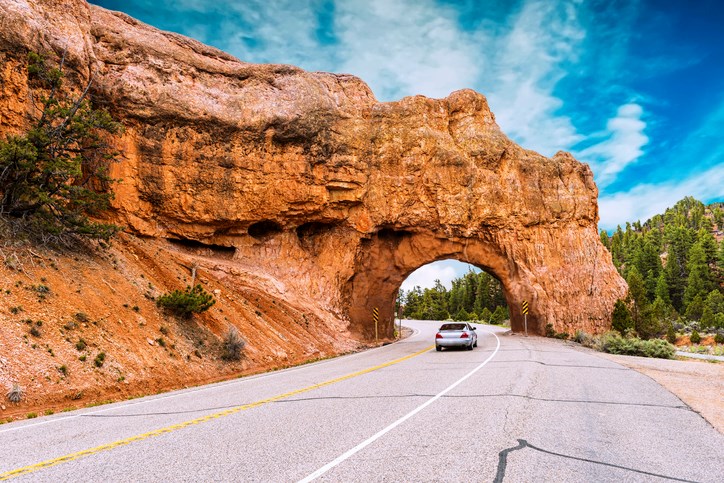 44. UTAH
SR-12
Are you prepared to drive down one of the most beautiful highways you've ever seen? That's exactly what you'll find on this drive that will take you past Bryce Canyon National Park, Capitol Reef National Park, and so much more. Even though it's only 123 miles, there is a lot to see along SR-12. If you're into extreme adventuring, there is opportunity for you to do some cliff driving and some challenging, yet thrilling driving. If slow and easy is more your speed, you'll love the views out the window.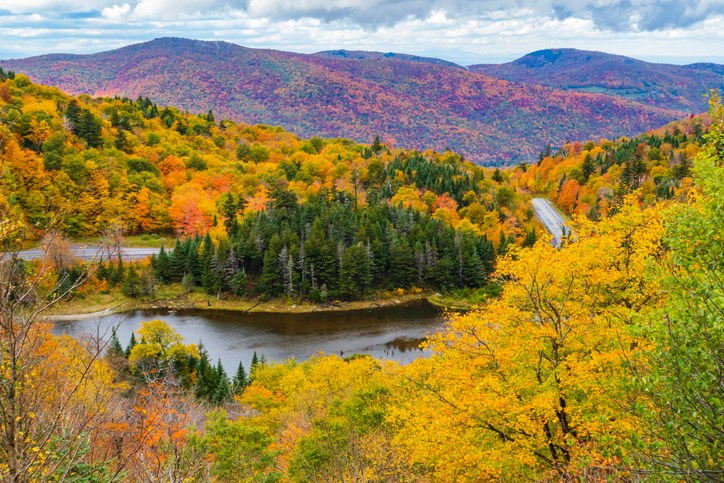 45. VERMONT
Route 100
Do you like fall foliage? If so, then this drive in Vermont is going to bring you a great deal of happiness. For nearly the entire length of Vermont in the fall, you can travel this road to see all the stunning colors that the east is famous for. It is the best place to spot all your favorite fall colors.
KOAs nearby:
Quechee / Pine Valley KOA Holiday
Brattleboro North KOA Journey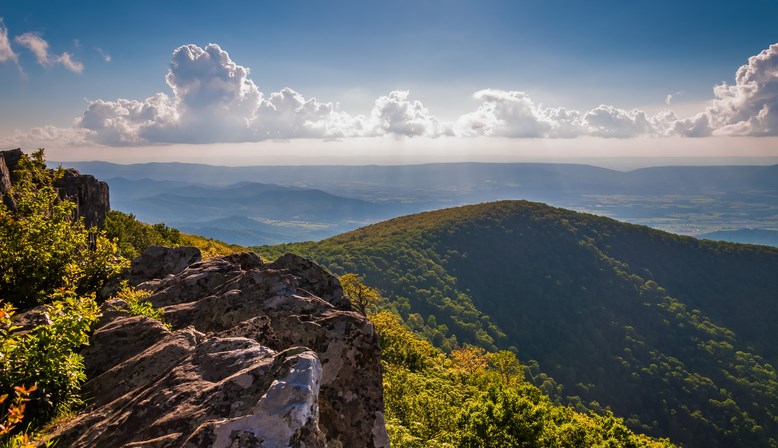 46. VIRGINIA
Skyline Drive
This drive got its name from the fact that this road takes you through the skyline of Virginia's beautiful nature, with epic views the entire way. Boasting 70 outlook spots, you may find yourself stopping at each of them to snap a picture. Included in those views you will find wildlife including black bears and wild turkeys.hr
KOAs nearby:
Harrisonburg / Shenandoah Valley KOA Holiday
Natural Bridge / Lexington KOA Holiday
Lynchburg / Blue Ridge Parkway KOA
Charlottesville KOA Holiday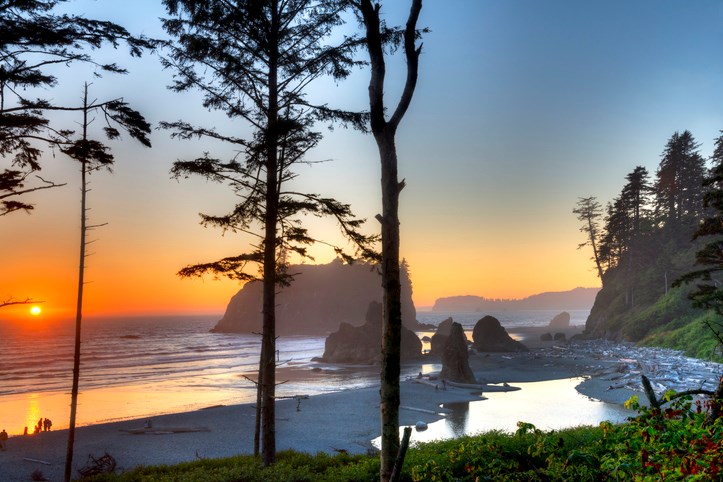 47. WASHINGTON
Olympic Peninsula Loop Drive
This drive will take you from sub-alpine forests to rivers and lakes to the glacier-capped Olympic Mountains to rainforests and more. You see more different types of terrain than possibly any other drive on this list. On this journey, you circle Olympic National Park and Olympic National Forest, which is home to almost one million acres of land. You may want to take a few days to explore this route.
KOAs nearby:
Bay Center / Willapa Bay KOA Journey
Olympic Peninsula / Port Angeles KOA Journey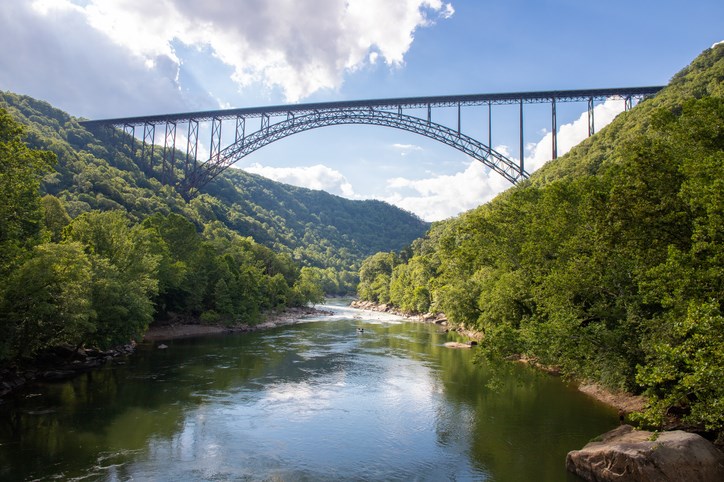 48. WEST VIRGINIA
New River Gorge Bridge
This bridge is a part of the graeter US 19 drive, which is well worth taking for more reasons than just this bridge. However, the bridge is our favorite part. It is a 3,000-foot steel arch bridge that at one point held the record for the world's longest single-span arch bridge. Now it is the third longest, but it is still very impressive and gives you a great spot from which you can take in the beautiful surrounding Appalachain Mountains.
KOAs nearby:
Huntington / Fox Fire KOA Holiday
Flatwoods KOA Journey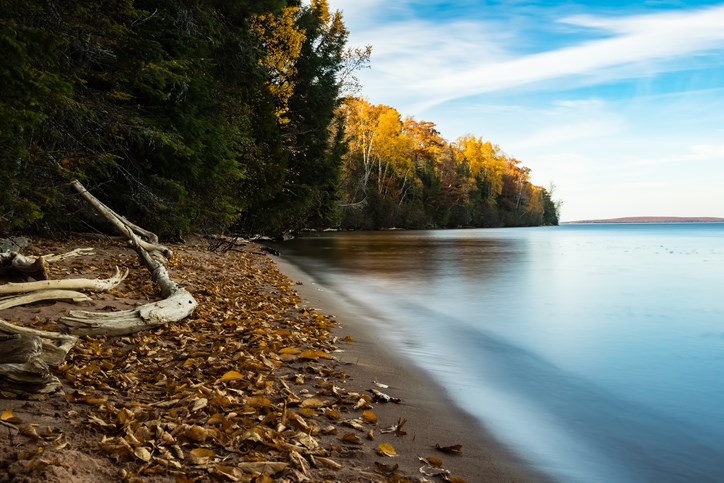 49. WISCONSIN
Wisconsin Lake Superior Byway
This 70-mile route provides you with breathtaking views of everything from forests to beautiful beaches. Oh yeah, and Lake Superior, too. Along the road you'll fall in love with the little harbor towns and fishing villages, as well as the orchard and fruit farms that exist here. There are plenty of opportunities to enjoy hiking, biking, ATVing, and in the winter cross-country skiing and snowmobiling.
KOAs nearby:
Hayward KOA Holiday
Cloquet / Duluth KOA Journey
Munising / Pictured Rocks KOA Journey
Door County KOA Holiday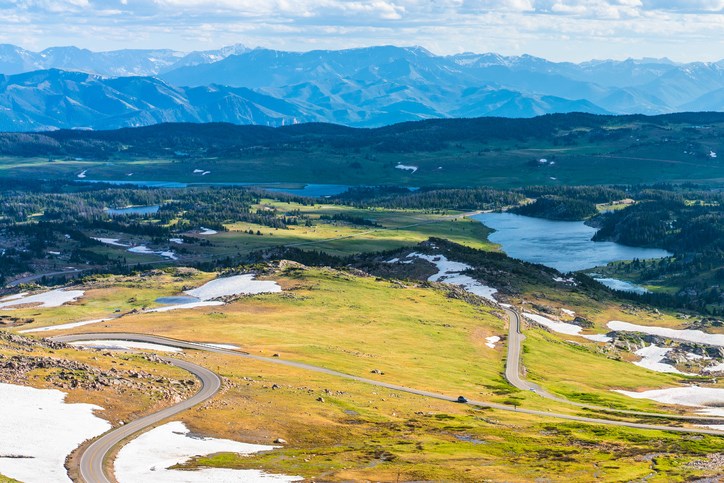 50. WYOMING
Beartooth Highway
Feel on top of the world on the Beartooth Highway, as you soar two miles above. This vantage point provides unparalleled views of Wyoming for 40 miles. Though the road is windy and only open in the summer, it is worth a visit in the summer. You can spot Tibbs Butte from up here and enjoy the famous ice cream at the Top of the World store.
KOAs nearby:
Red Lodge KOA Journey
Cody KOA Holiday
Yellowstone Park / West Gate KOA
Yellowstone Park / Mountainside KOA Journey
---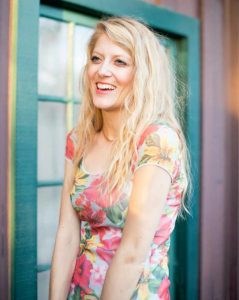 Leslie, a.k.a. Copy Girl, is a copywriter who gets butterflies from telling stories through words.
Her voice comes from a place filled with passion, dreams, and lots of sugar. "Cake over steak" is her go-to motto.
With over 10 years of experience in crafting words, and years of embarking on travels that have taken this Montana girl to some incredible places, Leslie love the adventures of both body and mind her writing takes her on.
Everywhere she goes, she takes this advice with her:
"Hold on to your divine blush, your innate rosy magic, or end up brown." – Tom Robbins, Jitterbug Perfume
To see what Leslie's up to in the writing world, visit her website here.
---