The best places to see fall leaves
When do leaves change color
Which trees have the most vibrant leaves?
We love fall for many reasons — the cool, crisp air, warm beverages, apple picking and cozy sweaters are just a few. But perhaps the most memorable moment of fall is the changing of the leaves as trees suddenly burst with hues of fiery red and orange and warm yellow and gold. Across the country, people marvel at the dazzling colors that seem to emerge overnight and fade just as quickly as the leaves fall and winter arrives.
If you want to catch the brightest fall foliage, you have to know where to travel and when to view the best fall leaves. Here is a list of the best places to see fall leaves and when you can see them at their peak beauty. Whether you want to travel to the Northeast or head down South, here are some of the best places to see leaves change.
The Best Places to Visit to See Fall Leaves
As sweater weather begins, trees throughout the United States showcase stunning hues, perfect for viewing during a weekend getaway. Whether you want to travel far or stay close to home, you can find beautiful fall foliage in any region. While some people prefer to go to remote areas for natural foliage viewing, some of the best leaves can also be found near major cities and towns.
Whether you prefer a scenic drive or a crisp autumn hike, there are many opportunities to view the changing leaves. Below you will find some of the most popular places to view fall foliage in every region of North America so you can start planning your road trip.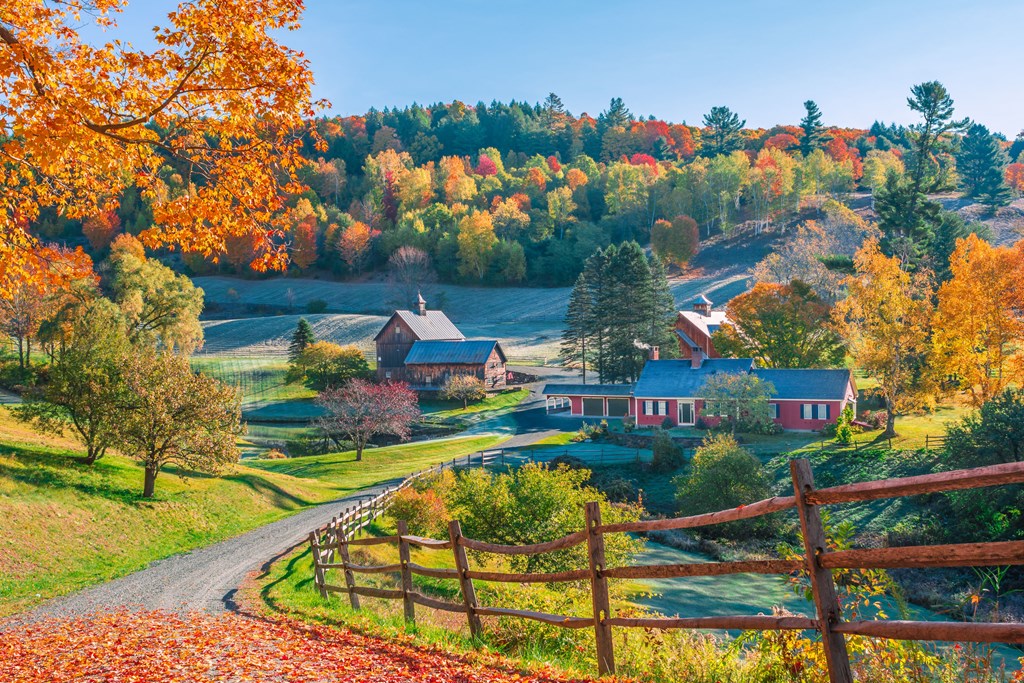 The Best Places for Viewing Fall Foliage in New England
New England is one of the most popular regions for viewing fall foliage, and rightfully so. Its winding scenic roads and abundance of gorgeous mountain peaks make it an ideal location for foliage views, whether you want to drive, hike or simply sit back and watch with a glass of apple cider.
If you are interested in viewing maple trees and other fall foliage in New England, plan early, as you will be joined by thousands of other leaf enthusiasts during the peak weeks. Be prepared for potential traffic as you head to your East Coast fall foliage destination, and book a place to stay in advance.
Here are a few great places to view leaves in New England: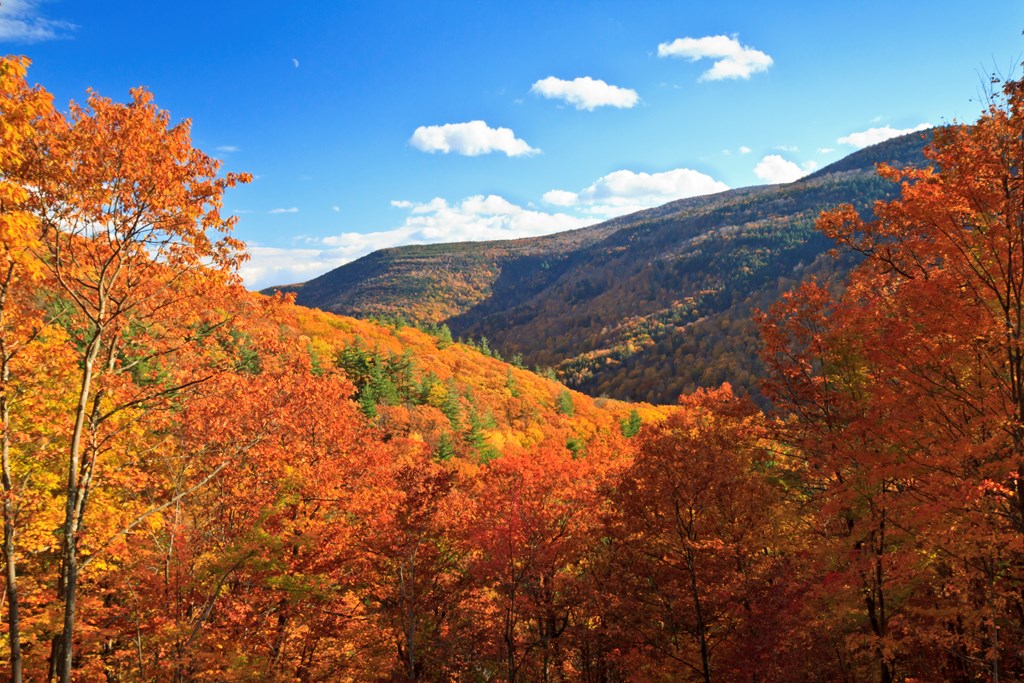 Places to Check Out Fall Foliage in the Mid-Atlantic Region
Travel south to the Mid-Atlantic Region, and you can keep chasing fall colors throughout October. Leaves in this region produce marble hues of crimson, orange, yellow and brown, covering the mountains and cities in color. Experience the red and golden hues by hiking the countryside or taking a scenic drive. Here are some perfect spots to see fall foliage in the Mid-Atlantic: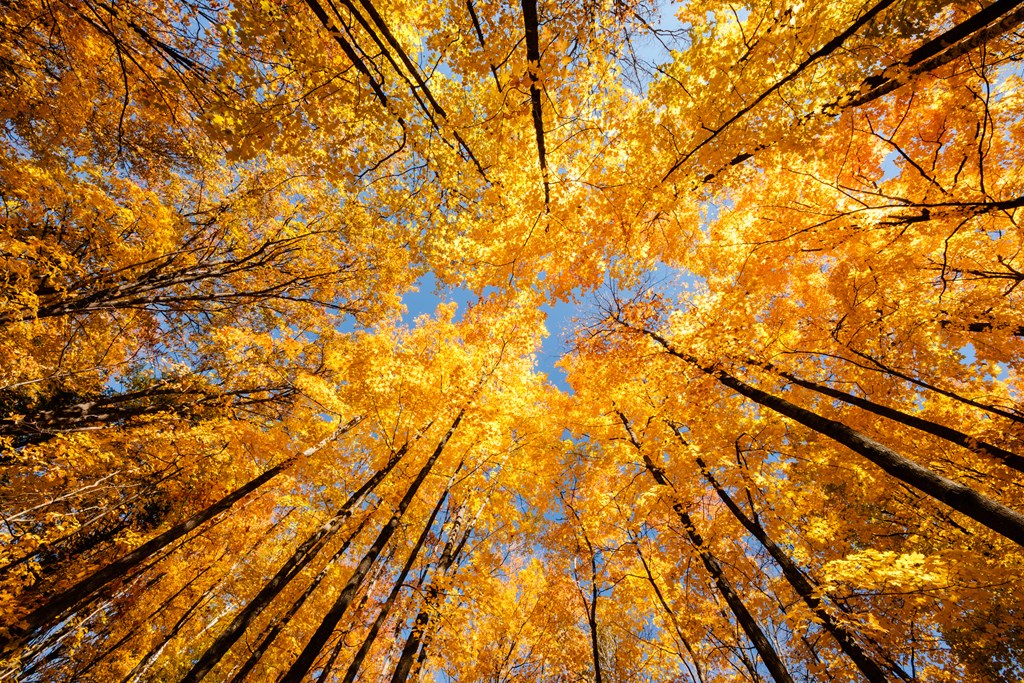 Top Spots for Leaf Peepers in the Midwest
On top of its gorgeous lakes and popular cities, the Midwest is full of beautiful foliage every fall. Enjoy sprawling views of mountains and lake shores covered in deep red, orange and gold at these prime fall foliage destinations: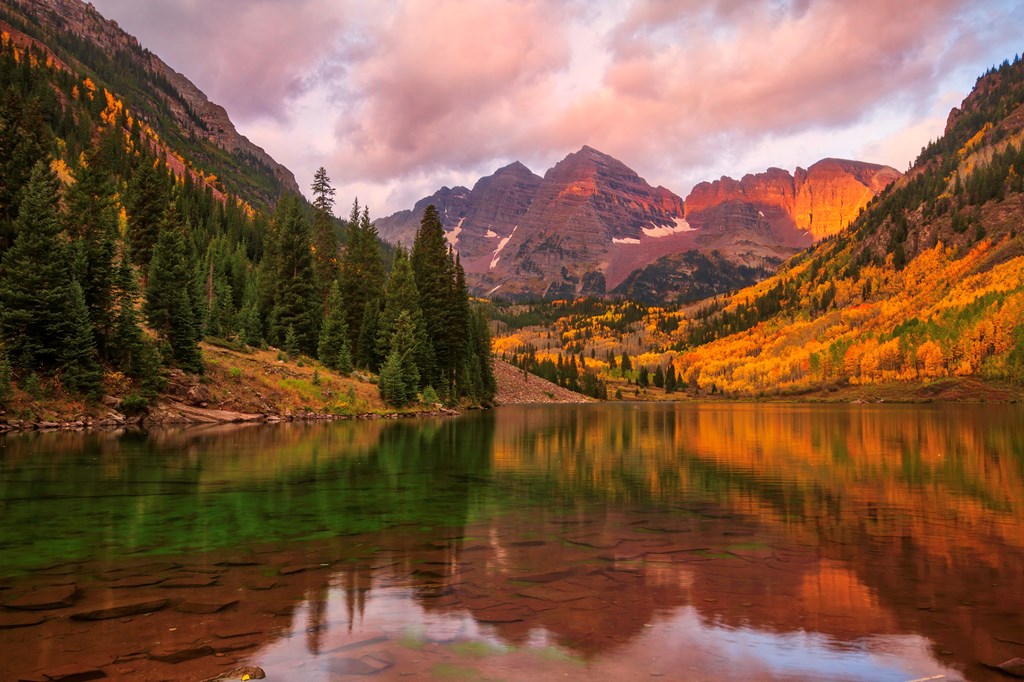 The Best Places Out West to See Colorful Fall Leaves
Travel out West to view a variety of fall foliage stretching up and down the coast. Enjoy bright yellow aspens or colorful maples while hiking some of the best peaks in the country. Here are just a few favorite spots for fall foliage viewing: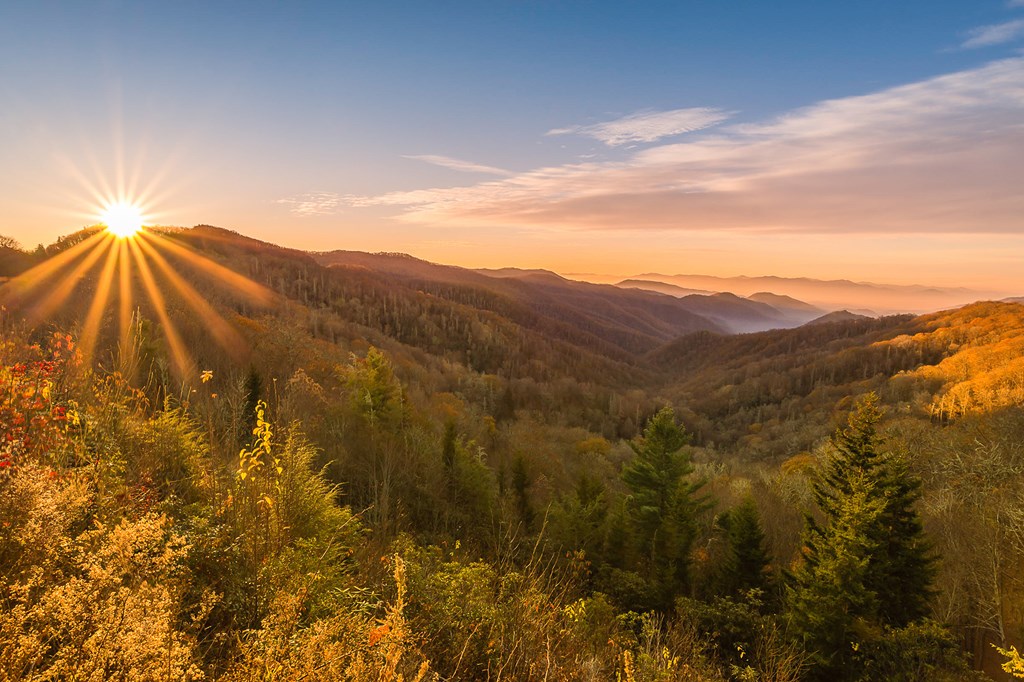 Fall Foliage Destinations Down South
Lastly, the South offers many forests and mountains that come alive each fall with vibrant reds and oranges. Escape the cold weather up north to catch the late peak leaves of these incredible destinations in the South:
Great Smoky Mountains: This mountain range hugs the border between Tennessee and North Carolina, providing peak after peak of gorgeous views. Known for its diversity of animals and plants, the Great Smoky Mountains boast a rainbow of fall colors worth the journey.
Ozark National Forest: Located in northern Arkansas, the Ozark National Forest features over 1.2 million acres of forested scenery. Take a scenic drive or hike, and when you are done, head underground to the breathtaking Blanchard Springs Caverns.
Chattahoochee-Oconee National Forest: This large wilderness area in northern Georgia includes two national forests: the Chattahoochee and the Oconee. The sprawling mountains offer many opportunities for fall foliage viewing, but a favorite spot is Amicalola Falls State Park, located in the southern portion of the Chattahoochee National Forest. Amicalola Falls features the tallest waterfall in Georgia, which can be seen from several different trails along the park.
When Do Leaves Change Color?
The key to the best fall foliage viewing is to catch the leaves at their peak colors but before too many fall. In general, leaves will change earlier in cooler regions, including northern and mountainous areas. They begin to change in Canada, where the weather is colder, then progress south in two major waves:
One linear wave runs along the Rocky Mountain Range — with leaves along the peaks changing first — and then spreads out to the east and west.
On the opposite coast, a broad, swooping wave spreads southward across the Midwest and New England. Trees on the Appalachian Mountain Range also tend to change earlier in the season. The waves cascade down the country, with leaves in the southern states capturing the last lingering fall colors.
Most leaves across the country will peak and fall in October, but this golden time frame will vary in different regions. Weather also impacts the dates when leaves peak in color each year, with dry days and cool nights producing the best and fullest fall foliage.
Peak Foliage Times in the Northeast and Midwest
If you want to head up to the Northeast to view the foliage, plan for peak leaf colors in mid-October. In the most northern regions of New England, leaves may peak in late September or early October.
The Midwest also features peak foliage around mid-October, with northern areas featuring peak leaves early in October. If you are traveling out West, plan to see peak leaves in early or mid-October, with northern regions peaking later in the month.
Peak Foliage Times in the South
Leaves in the South peak last, with the best fall foliage viewing from late October to mid-November. After the leaves peak, they will begin to fall about a week later, so the time frame is brief for the best leaf viewing. While specific dates will vary each year, this fall foliage map is a good gauge of when you can plan to view the best leaf colors.
No matter where you want to travel for fall colors, with the proper planning, you can see the best and brightest leaves this autumn. If you hope to maximize your road trip, call ahead to the park or area you are visiting to ask about the leaf conditions. Many parks will release fall foliage forecasts, so you can plan your trip for exactly when the leaves are predicted to peak in that region.
Planning is a good idea, but you should always strive to be flexible too — if you arrive at your intended destination and the leaves are not yet in peak color, you may be able to head a bit further north or to a higher elevation for better foliage viewing.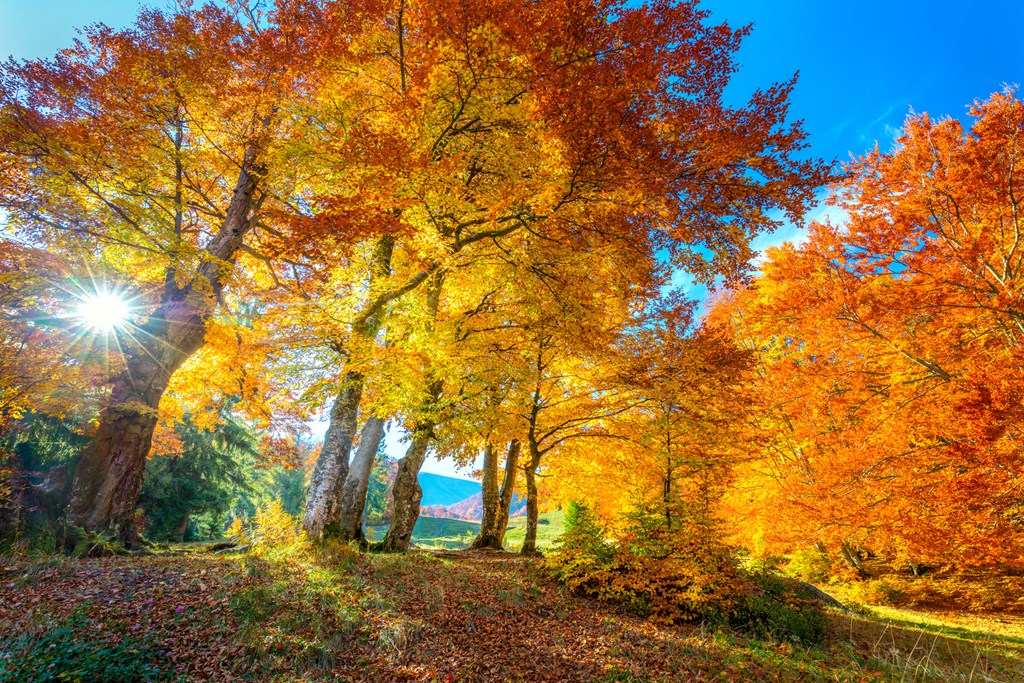 Which Trees Have the Most Vibrant Fall Leaves?
No matter what region you plan to travel to for your fall foliage viewing, you can find gorgeous and colorful trees across the country. In case you need some ideas on where to start or what to look for, here are a few favorite trees that boast bright and beautiful leaves in autumn.
You can find the best regions for these trees by searching for their plant hardiness zone on this helpful interactive map:
Maples: Maples are classic trees for bright fall leaves that continue to change throughout the season and can feature yellow, orange or red hues. Sugar maples are a New England favorite, growing in hardiness zones three to eight, while red maples are popular for viewing across the country in zones three to nine. Japanese maples have a smaller growing range — from zone five to eight — but feature deep red and purple leaves in autumn that are a must-see.
Aspen: If you plan to travel west, you are in luck. Aspens feature bright golden and yellow leaves that pop in contrast to the surrounding deep green pines prevalent in that region. You can see aspens glow in zones one to seven.
Swamp tupelo: Swamp tupelo trees can produce a range of fall colors, including purple and deep red. They also have glossy leaves that make the tree unique. Unlike other trees that tend to cycle through colors, swamp tupelos can feature a wide range of colors at the same time. They shine in the central hardiness zones, from four to nine.
Ginko: With a unique leaf shape and bold yellow hue, ginkos are beautiful autumn trees. Towering up to 80 feet tall, they can be viewed in zones four to nine.
Dogwood: While they are commonly loved for their flowers in spring, dogwoods also boast gorgeous fall colors. They can be seen in zones five to nine.
Sweetgum: Sweetgum trees feature star-shaped, glossy leaves that shine in yellow, red and purple during the fall. View these shimmering beauties in warmer zones five to nine.
Sourwood: A perfect tree for viewing in the South, sourwood features yellow, red and purple leaves. These trees can be found in zones five to nine.
Sassafras: Sassafras trees, found in zones four to nine, feature orange, red, purple and yellow in the fall. Their mitten and three-pronged leaves make them easy to recognize and enjoy.
Bald cypress: As a deciduous conifer, bald cypress trees feature orange and red colors in winter and a distinct triangular shape. You can watch bald cypress glow in zones four to ten.
Sunburst honey locust: The fern-like leaves of the sunburst honey locust turn a lovely yellow with a touch of green in the fall. View sunburst honey locust in zones four to nine.
Make KOA Campgrounds Your Home Base for Fall Foliage This Fall
With over 500 locations across the U.S. and Canada, Kampgrounds of America is your perfect home base for fall foliage viewing. Whether you head north to the White Mountains or west to the Rockies, there is a KOA Campground right around the corner during your road trip.
If you want to reserve your site for the busy leaf-peeping season, the friendly KOA staff will be there to give you a warm welcome. Whether you travel in an RV or bring a tent, KOA Campgrounds can provide a comfortable and enjoyable stay. RV Sites offer convenient hook-ups, and Tent Sites are always level and clean so that you can settle in quickly after a long day of visiting the best places for fall foliage.
You can also relax and recharge in Camping Cabins or Deluxe Cabins. Enjoy beds, electricity and access to all of KOA's amenities. When you book a Deluxe Cabin, you will also enjoy a private bathroom.
KOA Campgrounds bring you close to nature while still allowing you a variety of amenities to make your fall camping trip comfortable and convenient. When you head out on your next trip to take in the beautiful fall leaves, stay at a KOA Campground. Explore locations now and start planning your perfect fall foliage adventure!
---
About the Author: Kampgrounds of America
Kampgrounds of America is the largest system of open-to-the-public campgrounds in the world, with over 500 locations across the United States and Canada. Founded in Billings, MT in 1962, KOA's family of campground brands – KOA Journey, KOA Holiday and KOA Resort – today serve more than a million camping families each year. KOA is dedicated to "connecting people to the outdoors and each other" by providing people with a variety of camping experiences and the information they need to make the most of their camping trip. Read more of their camping and travel resources by visiting KOA.com/blog.