Looking for the best camping food list? Any good food list for camping will include essentials like bread, eggs and milk, as well as crows pleasers such as marshmallows, hot cocoa and pancake mix.
There are few things better than loading up the car or RV, hitting the road and going camping at your favorite campground. The getting ready for your trip? Sometimes not as fun. But don't worry, we've got your trip to the supermarket covered with our printable camping grocery list. It's got all the essentials plus a little extra room to add your own must-have items.
Still forget something? Each KOA has a convenient camp store perfect for picking up the essentials. Ice, firewood and even those s'mores fixings can be found just a few steps from your site. It's just one of the many great amenities you'll find at KOA!
Click the image below to download and print your camping grocery list.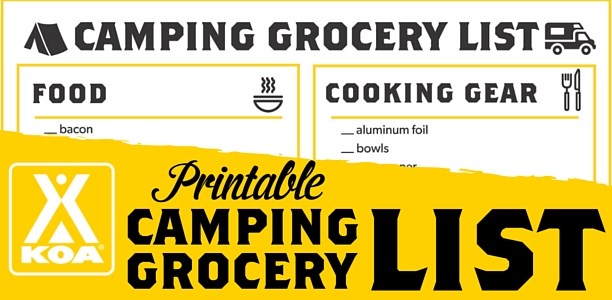 Camping Grocery List
Food
Bacon
Beans
Beef
Beer
Bread
Buns
Cheese
Chili
Chocolate bars
Chips
Coffee
Condiments
Corn
Eggs
Fruit
Graham crackers
Hot cocoa
Hot dogs
Juice
Marshmallows
Oatmenal
Oil/cooking spray
Pancake mix
pasta
Popcorn
Seasonings
Sauces
Soft drinks
Sugar
Tea bags
Trail mix
Vegetables
Cooking Gear
Aluminum foil
Bowls
Can opener
Cups
Dish soap
Paper towels
Plates
Plastic bags
Scrubbers
Silverware
Skewers
Tablecloth
Camping Supplies
Batteries
Flashlight
First aid supplies
Insect repellent
Matches
Sunscreen
Tarp
Trash bags
Want more handy lists to make your next camping trip quick, easy and fun? Check out these great checklists!
---