Ahhh, s'mores. Gooey, toasty marshmallow, melty milk chocolate and crunchy grahams. The classic will never go out of style, but how about adding some new sparkle to a campfire celebration during National Marshmallow Month this August? Pick a few ingredients from the lists below and create a s'mores bar. If it's a grownup celebration, you could even add a s'mores cocktail to the menu.
S'mores Swaps
Instead of honey graham crackers, try: Chocolate grahams, cinnamon grahams, chocolate covered grahams, chocolate wafers, chocolate sandwich cookies, peanut butter sandwich cookies, mint cookies, chocolate chip cookies, oatmeal cookies, peanut butter cookies, shortbread, fudge striped cookies, coconut cookies, gingersnaps, pretzels, pretzel thins, Ritz crackers, toast or waffles.
Instead of (or along with) milk chocolate, try: White chocolate, bittersweet chocolate, peanut butter cups, peppermint patties, Andes mints, coconut chocolate bars, caramel filled chocolate, salted caramel filled chocolate, peanut butter, jam, almond butter, lemon curd, nectarines, peaches, bananas, strawberries, caramel sauce, toasted coconut, pineapple, Nutella, hard-frozen ice cream, sprinkles or Pop Rocks.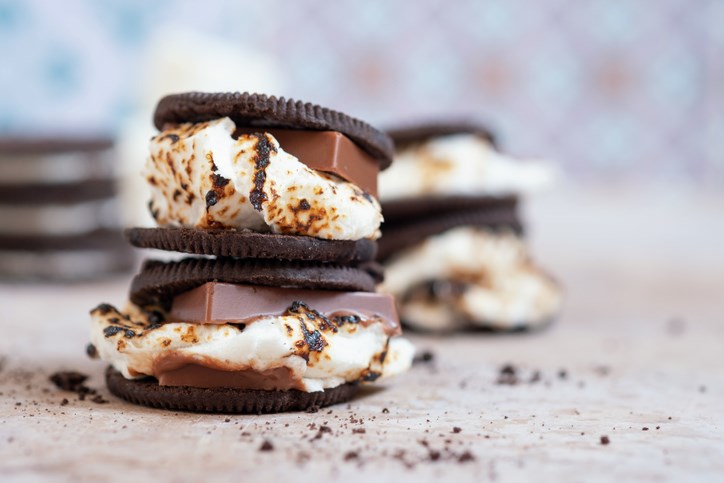 S'mores Recipes
Some of our favorite combos:
The Elvis – Graham crackers, marshmallow, banana, bacon and peanut butter cup.
Grasshopper – Chocolate wafers or grahams, marshmallow, peppermint patty or Andes mints.
Chocolate Covered Strawberry – Chocolate wafers, marshmallow, caramel filled dark chocolate, fresh strawberry slices.
Fluffernutter – Peanut butter cookies, marshmallow, peanut butter.
Lemon Meringue – Shortbread or graham, marshmallow, lemon curd.
S'moreo – Chocolate sandwich cookies, marshmallow, dark chocolate.
Cinnamon Caramel – Cinnamon graham, marshmallow, dulche de leche or caramel sauce, sprinkle of cinnamon and sea salt.
Cookie Monster – Chocolate chip cookies, marshmallow, Cookies n' Cream bar.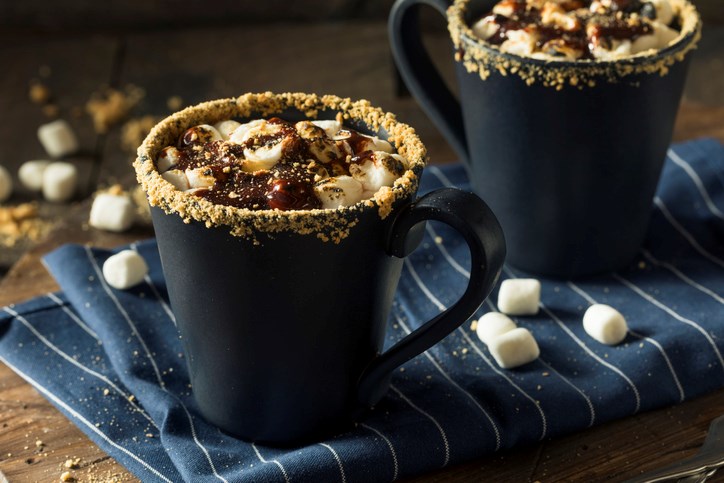 Marshmallow Cocktails
S'mores Martini – Dip the rim of a martini glass in a shallow dish of chocolate syrup, then in a dish of graham cracker crumbs. Combine 1 oz (each) marshmallow vodka, chocolate liqueur and cream in a martini shaker with ice. Pour into glass and garnish with toasted marshmallow.
Marshmallow Sippers – Toast marshmallows. Cool completely. Scoop out center with a melon baller, scooping only halfway down. Fill with Irish Cream Liqueur or Coffee Liqueur.
Marshmallow Dippers – Dip toasted marshmallows in a cup of Irish Cream Liqueur or Coffee Liqueur.
S'mores Hot Cocoa – Prepare hot chocolate. Add 1 oz. marshmallow vodka and 1 ounce hazelnut liqueur. Top with toasted marshmallows.
Now, find a KOA where you can build a fire, gather with friends and enjoy some tasty new takes on a camping classic!
---