One of the most important ingredients of a successful camping vacation is a healthy, hearty meal plan that doesn't take a lot of time to prepare. Who wants to spend hours in the kitchen (even if it's a campfire kitchen) when you can be hiking the trails, swimming in the pool or lake, or lounging in your hammock with a good book? That's where the versatile taco comes in to save the day.
Whether it's the nutty crunch of a corn taco or the soft chew of flour tortillas, tacos can be sweet, savory, and served at any meal. Set up an assembly line of ingredients so everyone can create their own flavor combinations. These crowd-pleasing grab-and-go recipes will minimize the work while maximizing the fun. Quantities listed make 4 servings, but you can adjust them to make sure everyone gets their fill.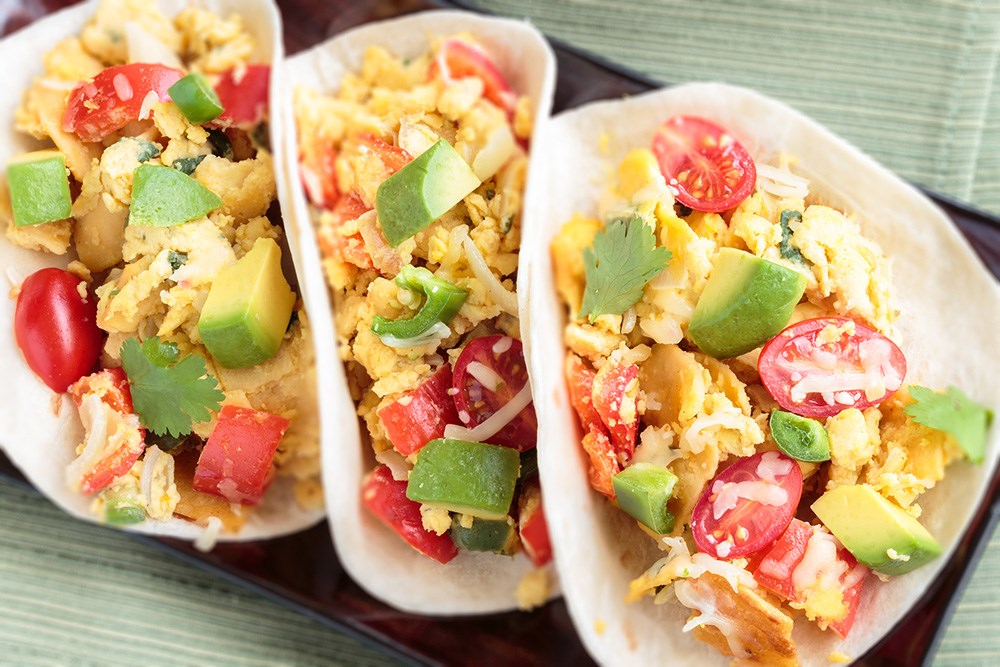 Breakfast Tacos
Saute your proteins in a cast iron skillet over the morning campfire. When that's cooked through, add veggies, season, and cook until veggies are soft. Wrap fillings in foil and lay on the edge of the grill while you lightly toast the tortillas. You can serve both flour and corn tortillas for breakfast but corn will add a satisfying crunch. When the tortillas are warm, remove from heat, wrap them in foil, and call in your campers to add toppings and dig in.
Rise & Shine
Proteins: 4 slices bacon, crumbled & 8 eggs
Veggies: 1 small yellow onion, diced & ¼ cup green pepper, diced
Seasonings: ½ tsp. cumin, ¼ tsp. paprika, salt & pepper to taste
Toppings: ½ cup Monterey jack cheese, sliced avocado, 2 T pico de gallo
Mexican Breakfast
Proteins: 8 oz. chorizo & 8 eggs
Veggies: 2 medium sweet potatoes, diced & 1 cup chopped kale
Seasonings: 2 T chili powder, ⅛ tsp. cayenne pepper, salt & pepper to taste
Toppings: 2 T cilantro, 1 lime, cut into wedges
Veggie
Protein: 8 Eggs & 1 can black beans, drained
Veggies: 1 small yellow onion, diced
Seasonings: 1 T garlic powder, 1 T chili powder, 2 tsp. cumin
Toppings: 1 cup queso fresco or Cojita cheese, 2 T salsa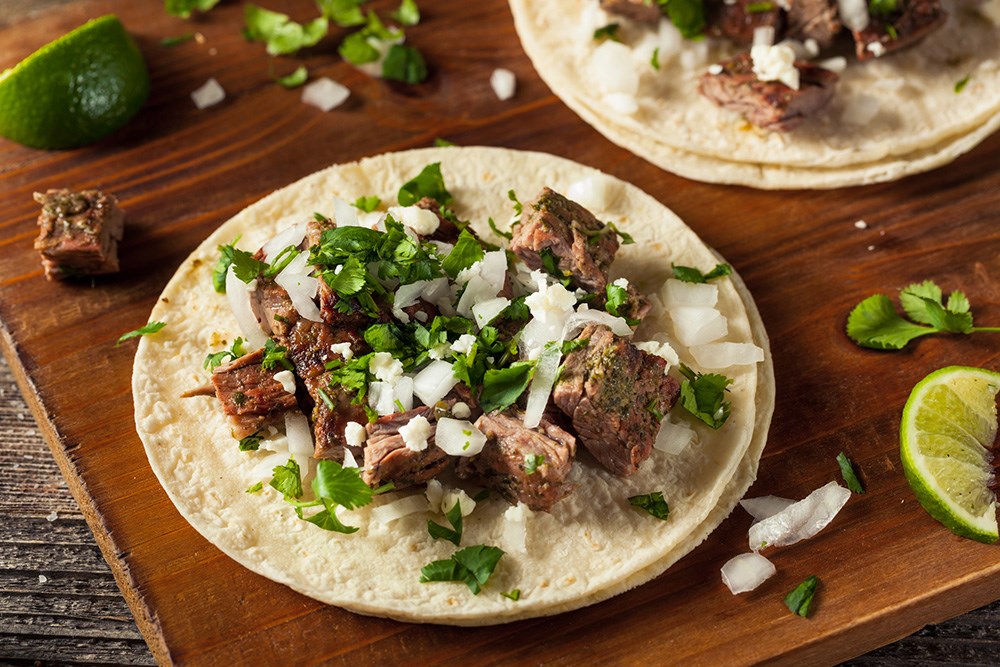 Savory Combinations
These make-ahead recipes let you cook fillings at home in your slow cooker, freeze and store in freezer bags, thaw and reheat in disposable pans or foil pouches in camp to cut down on preparation and clean-up time. All combinations work well with both flour and corn tortillas, but the pliable flour tacos tend to be easier to fill and less messy to eat.
Substitute the sharper taste of Cojita with milder cheeses like Monterey jack, cheddar, and mozzarella for finicky kids. Further reduce prep time by buying prepared sauces like buttermilk dressing and citrus barbecue sauce at the grocery. You'll find prepared Mexican specialties like salsa roja, pico de gallo, and chimichurri in the international section.
Chicken & Avocado
3-4 cups slow-cooked, shredded rotisserie chicken
1 cup Cotija cheese
1 bunch arugula, chopped
2 medium tomatoes, diced
1 medium avocado, sliced
2 T buttermilk dressing
Beef Short Ribs
3 lbs. slow-cooked, shredded beef short ribs
1 cup Cotija cheese
½ cup sliced red onion
¼ cup cilantro
2 T citrus barbecue sauce
Pulled Pork & Slaw
3 lbs. slow-cooked pulled pork
½ cup sliced red onion
1 cup vinegar-based coleslaw
1 cup chopped peanuts
2 T salsa roja
Steak
1-2 lbs. skirt steak, grilled and thinly sliced
1 cup Cotija cheese
2 T pico de gallo
2 T chimichurri
Grilled Fish
1-2 lbs. flaky white fish fillets, like snapper, mahi mahi, grouper, or flounder
½ cup grated red cabbage
½ cup radishes, thinly sliced
¼ cup cilantro
2 T lime crema (3 T sour cream, juice from 1 lime)
Shrimp & Comeback Sauce
2-3 lbs. steamed shrimp
½ cup grated red cabbage
¼ cup cilantro
½ cup radishes, thinly sliced
2 T comeback sauce (½ cup mayo, ¼ cup ketchup, ½ tsp. garlic powder, ½ tsp. Worcestershire)
Veggies for Dinner
3-4 cups squash, zucchini & cremini mushrooms, chopped, sauteed in butter, and drained well
1 cup Cotija cheese
2 small red onions, diced
1 bunch arugula, chopped
2 T chimichurri
Satisfy Your Sweet Tooth
Fill flour tortillas with luscious dessert combinations for a perfect ending to your day in camp. Mix and match recipes or substitute your favorite cookies, candy, or fruit. Your only limit is your imagination.
Nutella and cut up strawberries
Peanut butter and sliced bananas, optional fudge sauce drizzle
Teddy Grahams, roasted marshmallows & milk chocolate chips, optional fudge sauce drizzle
Roasted marshmallows or vanilla frosting (or both!), crushed oreos, and milk chocolate or white chocolate chips
---
If travel and food writer Ann Gibson isn't hiking, backpacking, paddling, biking, running, or skiing, she's most likely in her RV, writing about the sports she loves and the best destinations to enjoy the outdoors. She splits her time between home base in the Carolinas and the life of a digital nomad, traveling, writing, visiting, and volunteering in America's parks with her husband and two Aussies.
---