Are you an adventurer? Can you not get enough of nature? A cooler comes in handy if you want maximum enjoyment and  is always helpful while you're out and about, whether camping, on road trips, or just taking some time off from your routine.
If you have one, learn the proper way to pack it. One small miscalculation can leave you eating questionably refrigerated food. The more prepared you are, the more efficiently you pack your cooler. Here are a few pro tips for simple and effective storage of your stuff.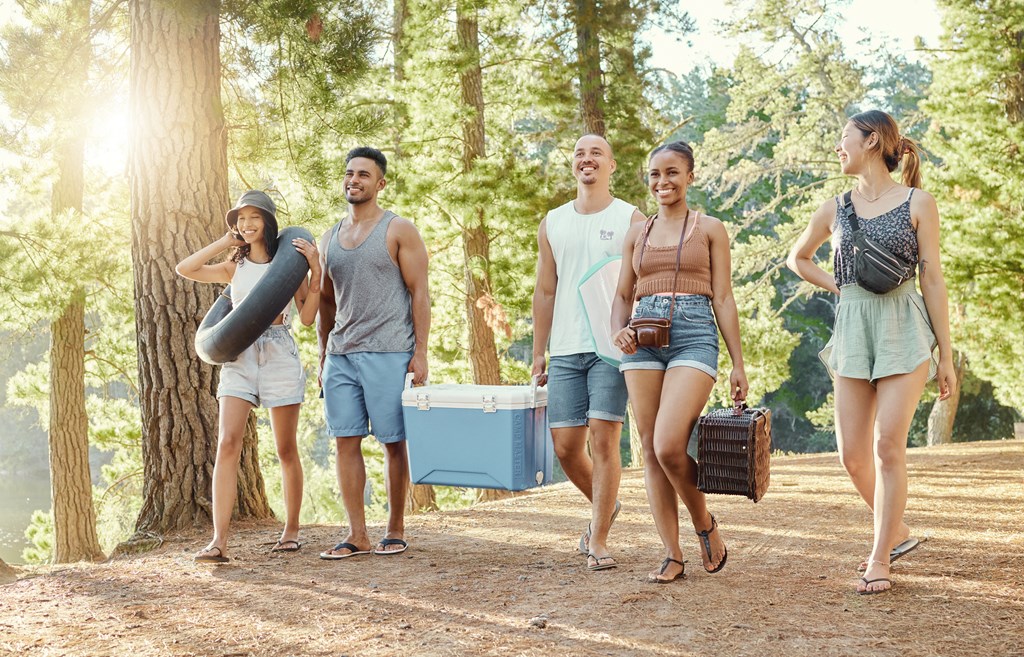 Which Cooler Is the Best One for You?
Wide varieties of coolers are available. How do you figure out what's best for you? A cooler made of hard material, like hard plastic, metal, or Styrofoam, will keep it cold for longer than 24 hours, making it ideal for long car trips. In contrast, a cooler with softer materials like canvas, polyester, vinyl, or cotton would be fine if you only need something cold for a few hours.
Coolers today use one of three primary technologies:
Gas-Compressed Coolers
Here, we have portable refrigerators and freezers. They both require electricity to function, but you may select between those that plug into your car's power socket or those that use their batteries. Portable freezers are better if you need to chill meat or make ice cubes, but they use more electricity and are, therefore, more expensive to run than portable refrigerators.
Thermoelectric Coolers
These refrigerated containers use a Peltier plate module to maintain food's freshness. When you power the Peltier module, the temperature within the case drops. These cool boxes are only ideal for small events like a family barbecue or picnic because of their tiny size, lack of ability to freeze food, and low efficiency.
Thermally Insulated Cool Boxes
Most people prefer a cooler that keeps the heat out. It's as simple as filling the box with ice and food. Styrofoam boxes and coolers made of wood and plastic are prime examples and keep food cold for up to 24 hours.
It's essential to consider the cooler's capacity, mobility, intended use, durability, temperature range, power supply, pricing, and more while shopping for a cooler. If you don't, you'll have to deal with many unneeded difficulties, most notably with the power supply. Moreover, portable ice chests need to be convenient to carry.
Wet Or Dry Ice?
As we have seen, thermally insulated containers are the most common portable coolers. To start packing, you'll need to make a tough choice. With what kind of ice will you be filling it? Choose ice appropriate for the occasion, plus the food you'll be carrying.
When the cooler's time is up, wet ice almost invariably results in a mess. Sometimes it will soak up your meal when it melts. In contrast, dry ice evaporates rather than melts. One caveat, though, is that handling dry ice requires extreme caution. If you have some insulated gloves, that would be ideal. It is also more durable than wet ice.
Wet ice is better if you use the cooler for a few hours. However, avoid placing anything that could melt directly on the ice. On the other hand, dry ice is superior if you must keep perishables cold for an extended time in the cooler.
How Do You Put Ice in the Cooler?
What's the best way to stack ice cubes in a cooler to keep them cool? Heat-resistant containers need more ice. It would be best if you decided whether to place ice packs on the top or bottom depending on the contents of your cooler.
Start by stacking layers of ice packs at the bottom and the top of the case if packing meat. Packing the cooler with ice cubes is the quickest and most efficient way to store beer and soda cans. Never place wet or dry ice packs in the bottom of the chest if you pack perishable items like vegetables, fruits, or other fresh foods.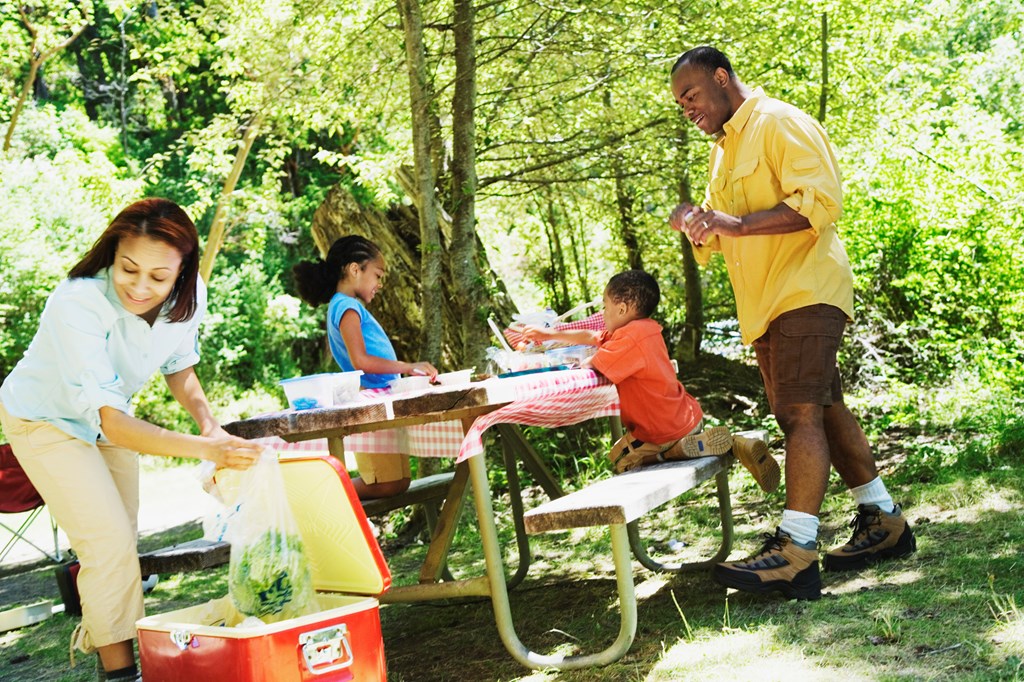 Here's How to Pack Your Cooler Like a Pro
Follow these easy steps; you'll have no trouble keeping your food and drinks cool during your journey.
Sealable Plastic Bags and Plastic Storage Containers
When going on a trip that involves cooking outside, you must take precautions to prevent food from being wet from ice water that has melted. You can do this, for example, by storing food in airtight plastic containers or plastic bags.
These can go straight onto the ice or into the cooler. Because of this, food won't get as mushy and will stay fresh longer. It's also a good idea to separate your drinks from your perishables in a different cooler. Besides, keeping the food cold will also help prevent it from becoming contaminated.
First, Cans and Bottles
Since cold air descends, placing the ice on the bottom of the cooler makes sense before adding the beverages, retaining the cold air near the food and drink, allowing it to maintain its chill for longer.
Smaller ice cubes or crushed ice, which melts more rapidly and uniformly, can improve cooling efficiency. Pre-cooling your cans and bottles in the refrigerator before loading them into the cooler is an excellent idea if you're concerned about keeping everything icy cold.
Keep the Things You Use Most Frequently on Top
Preparing your cooler ahead of time is crucial if you want your food to remain edible. Putting food that will spoil quickly in the cooler's bottom is not a good idea. Keep perishables that you will eat last in the far back of the cooler. Always store the most utilized items at eye level.
Pack meat and dairy products in insulated bags or containers and keep them cold as they spoil quickly. Adding ice packs to the top and bottom of the cooler is another good idea for maintaining perishables chilled.
Packing Food That Will Easily Go Bad
It would be best to keep perishables like meat and milk at the appropriate temperatures to prevent deterioration. Placing these foods on ice aids in preserving the product's quality by limiting the spread of microorganisms.
Besides extending perishables' shelf life, ice prevents them from drying out. It's vital to drain the water from melted ice when necessary, as you can use this water to help keep food cool and preserve ice. Because of the water's insulating properties, the ice in the cooler will melt slower.
Place Your Cooler in the Shade
Having ice melt too rapidly on a hot day is a significant inconvenience. Keeping the cooler in the shade is an easy technique to extend the time that its contents remain cold. When done this way, the ice's expected lifespan increases by 50%.
Use Rock Salt
Fast chill drinks at room temperature by filling your cooler, sprinkling salt on top of the lid, and closing the lid. Salt lowers the freezing point of the water when you add it to melting ice. After a few minutes, your drinks will be wonderfully cold.
Avoid Unnecessary Opening of Your Cooler
Open your cooler to lose all your ice and warm air. Keeping the lid open for too long allows heat in, and this, in turn, melts your ice. Open cooler doors when necessary and slam them shut as soon as possible.
It's best to keep the lid off unless necessary. Because of this, your ice will melt slowly, and your meal will stay colder for longer. You can peek into what's in your cooler but open it only when necessary to keep your stuff cool.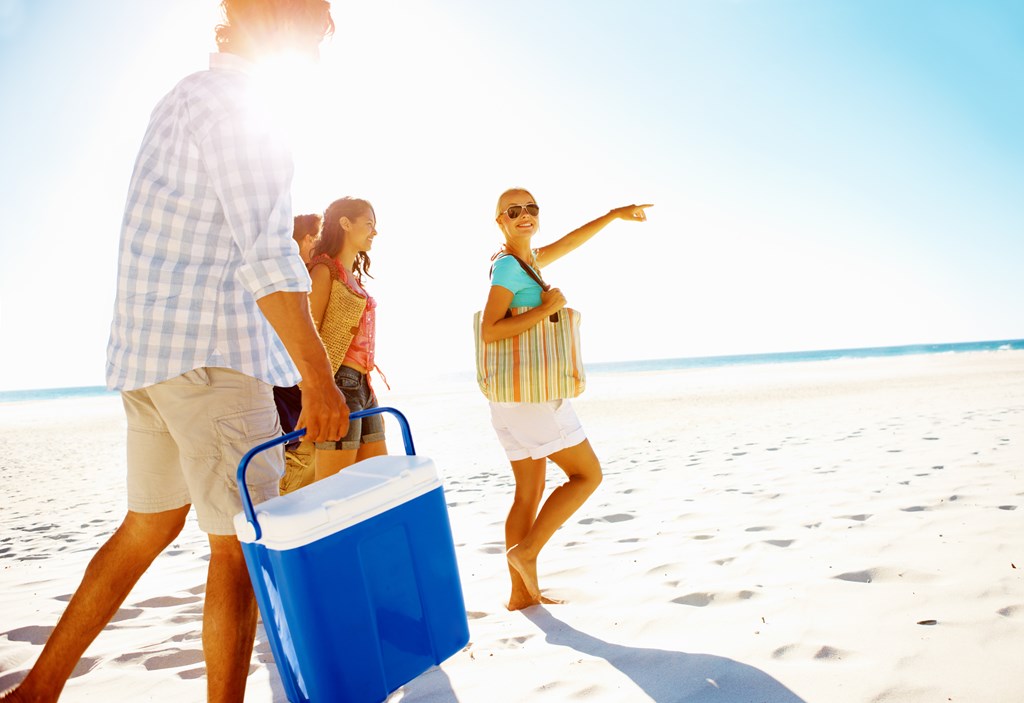 How To Pack a Cooler (& Keep It Cold) Without Ice
Did you know you may use a cooler without ice to store perishables? Ice merely serves to maintain their coolness for a more extended period. While ice is necessary to keep your cooler cold, you should avoid bringing any along if you have a small car, are traveling to a remote place, have a short journey planned, or worry about the extra weight. You can do it in one of these three methods.
1. Cool your food and drinks in advance.
It's a good idea to chill your cooler the day before you leave, and you should also freeze or refrigerate any food you plan to bring and any beverages you intend to bring along. Pre-cooling helps the cooler keep its current cold temperature.
2. Dampen a Towel or Cloth with the Coldest Water Possible
To keep your cooler from developing air pockets, wet and chill a towel between each layer of your food and fill any empty spaces. The goal is to ensure that your food is still edible after traveling and setting up camp.
3. Line Your Cooler with Aluminum Foil
If you line your cooler with aluminum foil, the temperature inside will stay lower without needing ice for a more extended time. This step is essential if you have raw, uncooked meat.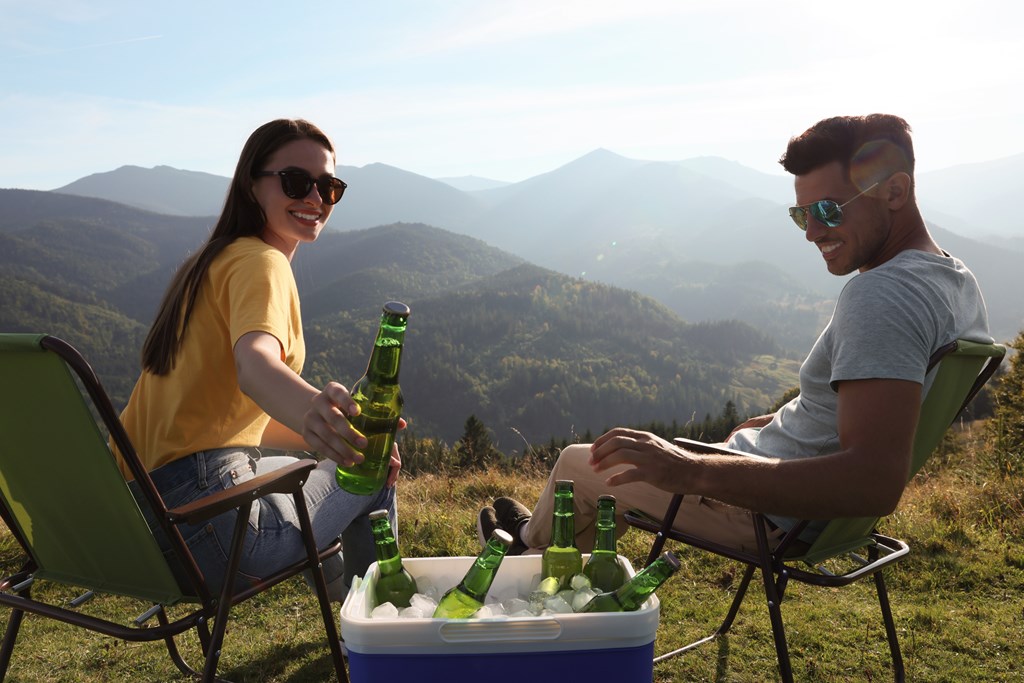 More Interesting Tips For Your Cooler
Use Cooking Racks – To prevent your food from going soggy in the meltwater of any temperature, make a liner by attaching standard frying racks. Then you know your dry food will stay dry on the road.
Use All the Available Space – The rate at which ice in a cooler melts is proportional to the air inside.More room within a cooler allows it to cool its contents more rapidly. Hence, fill the box as much as possible.
Seal It Off – Once you have stacked your food, seal the bag with a foam layer. A little extra insulation won't hurt.
More Ice – The recommended ratio of ice to contents is 2:1, so don't count on your food staying chilly with only a few ice cubes on top. Try to fit as much ice as possible.
Cleaning Your Cooler
Regular cooler cleaning prevents mold and bacteria growth. Following each usage, sponge clean all interior and exterior surfaces with mild soap and water. Use watered-down chlorine bleach to eliminate odors.
Mix baking soda and water to remove stains. Use a paste made from baking soda and water (1 tablespoon per cup) for general cleaning. Rinse the paste from your cooler. Use hot water to clean drain plugs and faucets. Before using, air dry or dry with a clean towel. Regular cooler cleaning keeps food safe.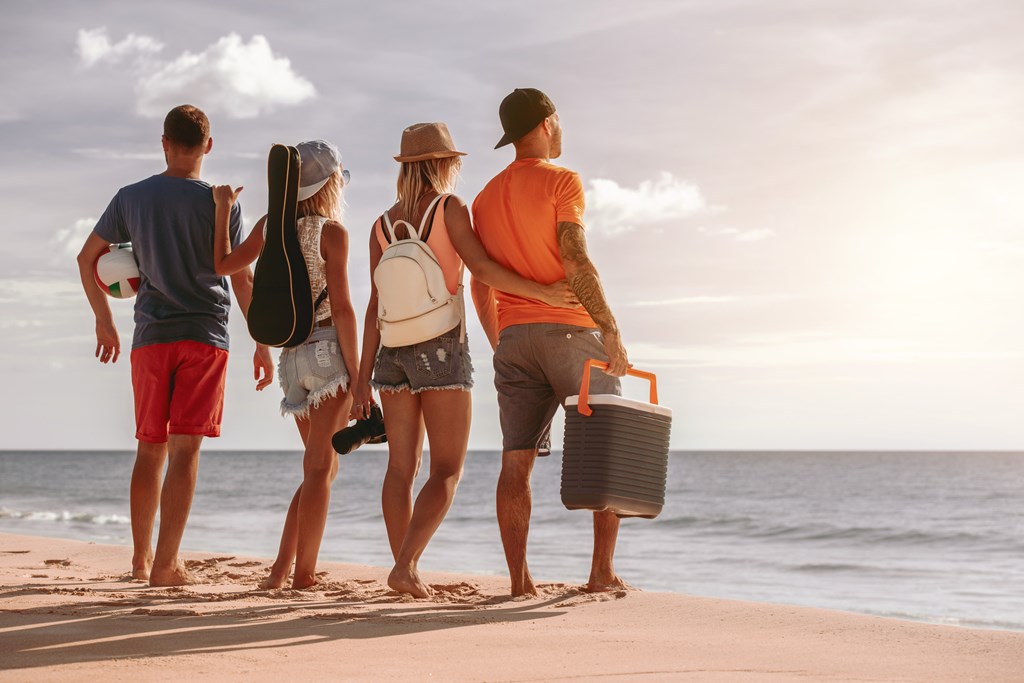 Cooler FAQs
What is the secret to keeping a cooler icy cold for a week?
Remember to include plenty of ice packs to keep drinks cold on a lengthy trip.
How can I extend the life of my food in a cooler?
Wrapping perishable foods in plastic or sealing them in airtight containers is the best way to keep them fresh outside the fridge. The plastic wrap or foil placed over it keeps moisture from accumulating on the surface.
How does one go about making the most of a cooler?
Layer ice packs with food to keep it cool for longer. Load the heavy things first and the lighter ones last. Make sure there is some space between the ice packs. You should wrap the food in freezer bags. Put the bag on the ice, so it is flat to protect it from the air and prevent rapid melting.
Pack Up Your Cooler for a Trip to the Nearest KOA
A cooler preserves the quality, safety, and coldness of the food and drinks you bring along for as long as possible. The effectiveness of your cooler all comes down to how you use it. To make the most out of the cooler, have a firm grasp on how to do it safely by following these tips before diving into the great outdoors.
You may rest assured that the items in your cooler will remain unspoiled if you follow these guidelines. Our patio's fire pit and grills are perfect for creating hearty meals while taking in some of the great outdoors. Visit KOA today and experience a special dining experience in the great outdoors!
---
About the Author: Kampgrounds of America
Kampgrounds of America is the largest system of open-to-the-public campgrounds in the world, with over 500 locations across the United States and Canada. Founded in Billings, MT in 1962, KOA's family of campground brands – KOA Journey, KOA Holiday and KOA Resort – today serve more than a million camping families each year. KOA is dedicated to "connecting people to the outdoors and each other" by providing people with a variety of camping experiences and the information they need to make the most of their camping trip. Read more of their camping and travel resources by visiting KOA.com/blog.