You've got your reasons for not liking s'mores, but you've gotta have a camp-made dessert on your outdoor adventure. So we've selected some lip-smacking alternatives to try the next time you've got a hankering for outdoorsy sweet treats. Oh, and do as much prep for these ahead of time, like slicing, washing, and combining dry ingredients. You'll be glad you did!
Don't Like S'mores? Try These Camping Desserts Instead!

Gourmet No-Bake Caramel Corn
Ingredients
¼ cup popcorn kernels
2 tablespoons cooking oil
1 cup brown sugar
1 stick of unsalted butter
¼ cup corn syrup
½ teaspoon salt
½ teaspoon baking soda
Instructions
Heat cooking oil in a frying pan or skillet on a grate over campfire coals or camp stove. When the oil starts to simmer, toss 2 to 3 popcorn kernels in the oil and cover. Remove the popped corn with tongs, add the ¼ cup of popcorn kernels, cover, and pop. Move the popcorn to a big bowl.
Heat the brown sugar, butter, syrup, and salt on medium-low in a saucepan. Don't stir the contents together, but you can swirl them around in the pan. When the sauce starts to boil, set the timer for 5 minutes. The mixture will be a deep golden brown when it's ready to take off the heat.
Quickly stir in the baking soda and pour over the popped corn. Toss to coat. Let the caramel corn cool for a few minutes before eating.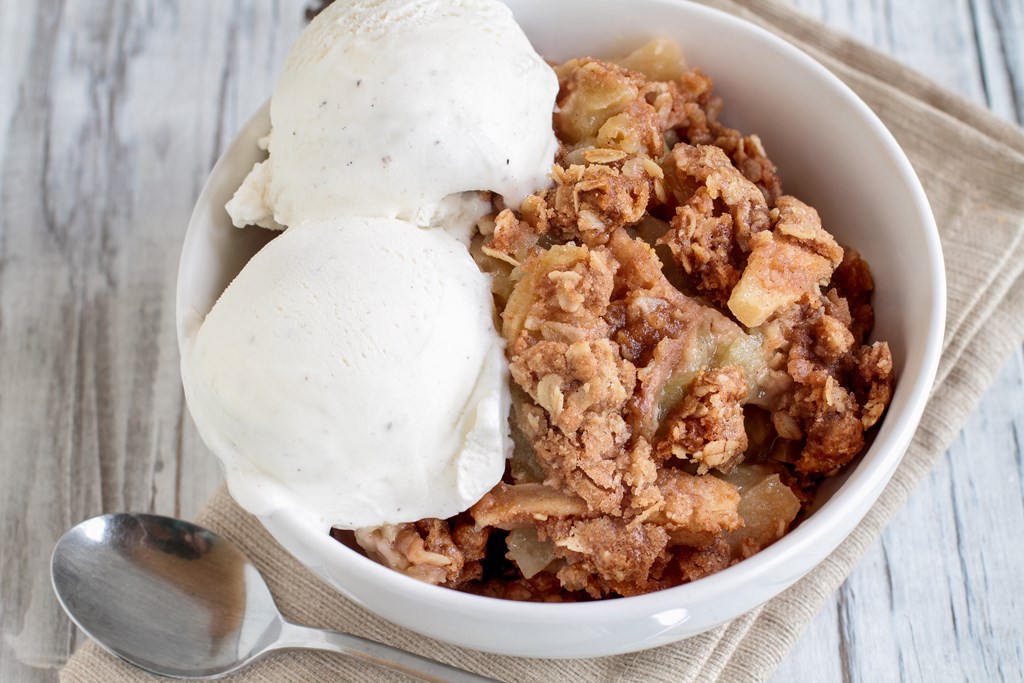 Campfire Apple Crisp Foil Packets
Makes about 4 foil packets
Ingredients for the Apple Filling
2-3 apples of any variety
1 tablespoon light brown sugar
1 tablespoon granulated sugar
¼ teaspoon cinnamon
pinch of nutmeg
Ingredients for the Topping
1/2 cup all-purpose flour
1/4 cup light brown sugar
1/4 cup quick oats
1/2 stick of unsalted butter
¼ teaspoon cinnamon
pinch of nutmeg
Vanilla ice cream (optional)
Instructions
Preheat the outdoor grill to 350 degrees. Or, if you opt for a campfire, prepare 2 to 3 inches of hot coals.
Using a large mixing bowl, toss together the apple, brown sugar, granulated sugar, cinnamon, and nutmeg.
In another bowl, stir together the flour, brown sugar, quick oats, cinnamon, nutmeg, and melted butter.
Tear 4 pieces of aluminum foil to wrap 1 cup of the apple filling and ½ cup of topping. Seal the packet by folding the long sides of the foil together, then fold in the ends to the middle.
Place the packets around the edges of the grill. Or if you're cooking over a campfire, place the packets on the grate over the fire pit. Allow the packets to cook for 20 minutes.
Use oven mitts or tongs to remove the packets and allow them to cool.
Serve the apple crisp with a scoop of vanilla ice cream.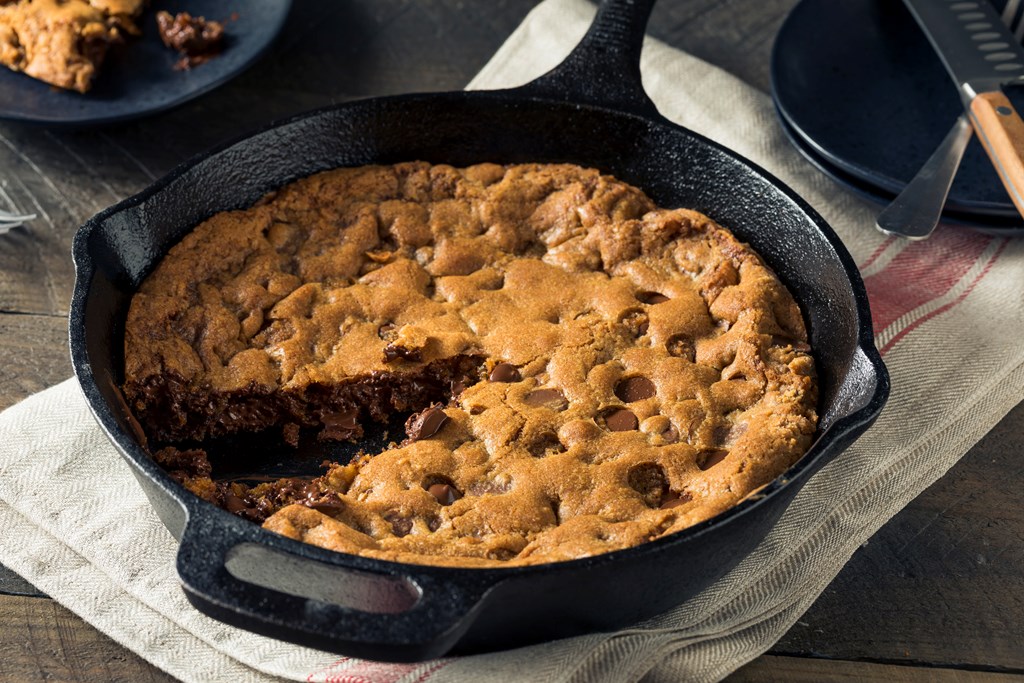 Gigantic Chocolate Chip Skillet Cookie
Ingredients
1 stick unsalted butter, softened
½ cup granulated sugar
¾ cup packed light brown sugar
1 egg
1 teaspoon pure vanilla extract
1 ¾ cup all-purpose flour
¾ teaspoon baking soda
½ teaspoon salt
1 ¼ cup semisweet chocolate chips
Pinch sea salt flakes
Vanilla ice cream (optional)
Directions
In a large mixing bowl, beat softened butter, granulated sugar, and light brown sugar until slick; then add the egg and vanilla. Add the flour, baking soda, and salt to the bowl. Mix until all contents are moist. Add 1 cup of chocolate chips.
Heat a 10-inch skillet and coat it with cooking oil. Handle the skillet with oven mitts.
Spread dough into the skillet in an even layer. Top with remaining 1/4 cup chocolate chips and sprinkle with flaky sea salt.
Baking times will vary depending on how much heat your skillet gets. Expect to cook over the campfire for 15-25 minutes, keeping the skillet over hot coals and away from flames. Be patient while this cookie cooks at low temps to prevent burning. The skillet cookie can be baked in an RV oven or inside a charcoal BBQ grill. Check on your cookie frequently to gauge how much more time it needs.
Bake until the cookie's edges are golden and the top has become crusty, not gooey.
Serve warm with ice cream.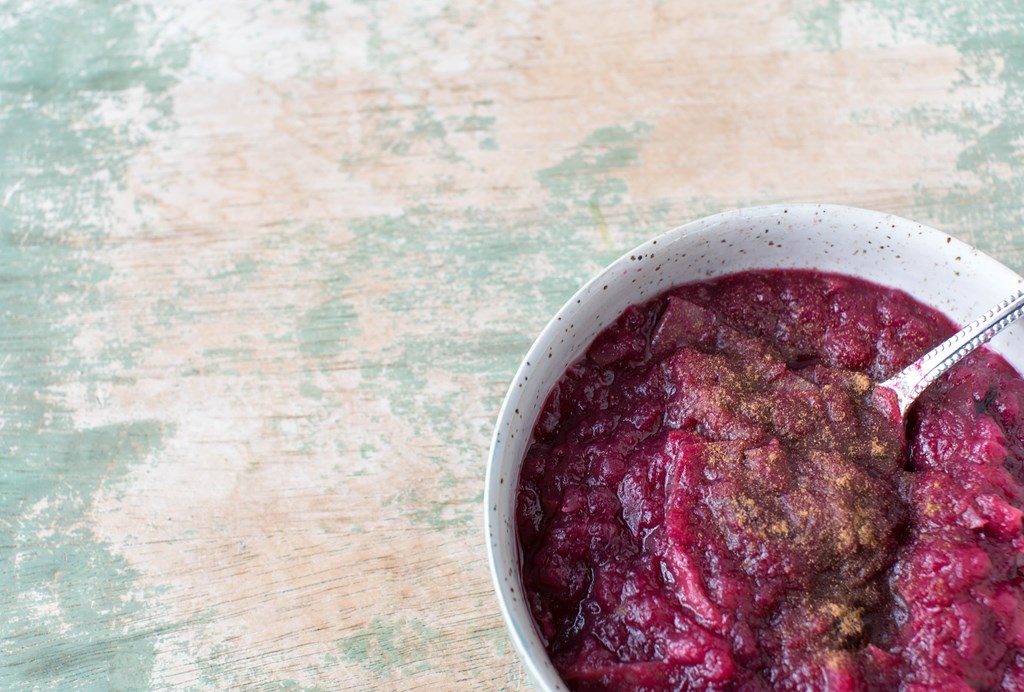 Blackberry Dumplings
Ingredients
1 pound fresh or frozen blackberries
1 cup and 1 tablespoon of granulated sugar
3/4 teaspoon salt
1/2 teaspoon lemon juice
1-1/2 cups all-purpose flour
2 teaspoons baking powder
Pinch of nutmeg
2/3 cup whole milk
Directions
In a skillet, combine the blackberries, 1 cup of sugar, 1/4 teaspoon salt, and lemon juice. Bring to a boil; reduce heat and simmer for 5 minutes.
Mix the flour, baking powder, nutmeg, and remaining sugar and salt in a mixing bowl. Add milk and stir just until mixed.
Divide into 6 mounds and place them inside the hot blackberry mixture. Cover with a lid or aluminum foil and simmer for 15 minutes or until a knife inserted in a dumpling comes out clean.
Spoon into serving dishes. Top with whipped cream.
Related Content
More Delicious Camping Recipes from KOA
5 Easy Desserts for Camping Trips
Camping Dessert and Snack Ideas
---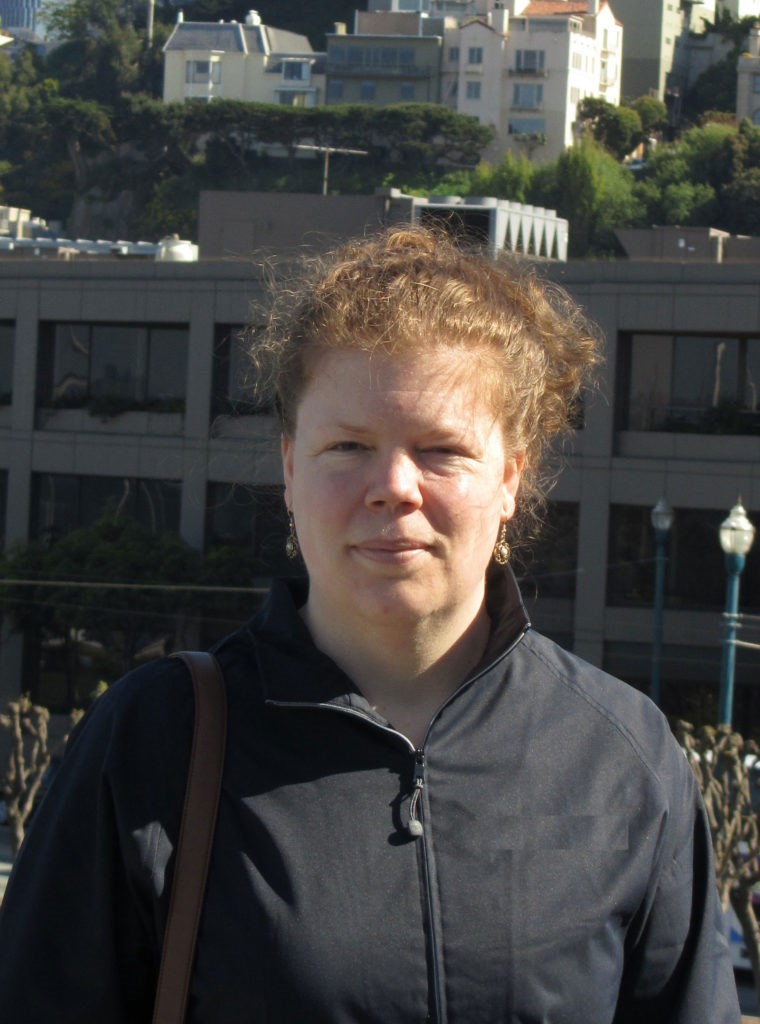 Eva Barrows is an accomplished San Francisco Peninsula freelance writer and book editor. She writes for regional magazines like PUNCH and Edible Silicon Valley and was editor-in-chief of Live&ThriveCA magazine. She founded the online literary journal Imitation Fruit in 2007 and has enjoyed promoting fellow writers and artists ever since. Read more of her travel writing at www.evabarrows.com.