One of the best parts about camping is definitely enjoying fun desserts you wouldn't have at home. And while we all have our favorite standbys, giving a new recipe a try might be just what you need to shake up your camping routine. Check out ten favorite recipes from KOA's extensive library of camping diners, breakfasts, desserts and snacks. You might just find a new go-to camping dessert recipe to try at your favorite campground!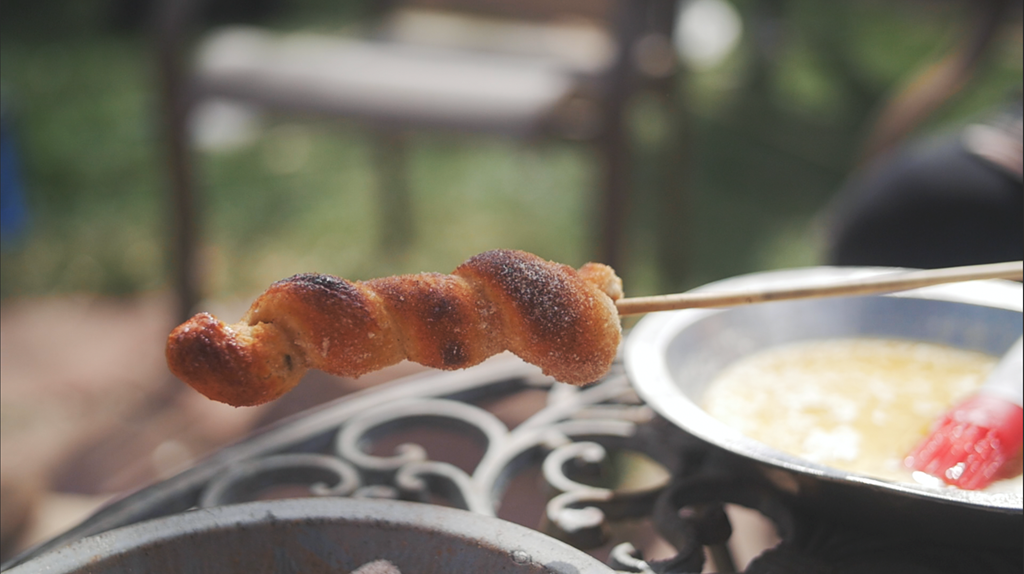 Ingredients
1/2 c sugar
1/2 Tbsp cinnamon
4 Tbsp butter (melted)
1 package bread dough
Preparation
Mix sugar & cinnamon together until well blended. Melt butter in shallow pan, such as a round cake pan.
Take the biscuits and roll in hands to form snake shaped pieces. Wrap the snake-like dough around a stick in a coil fashion.
Cook over a campfire until evenly browned. Roll the cooked dough in the melted butter and then in the cinnamon/sugar mixture. Yum.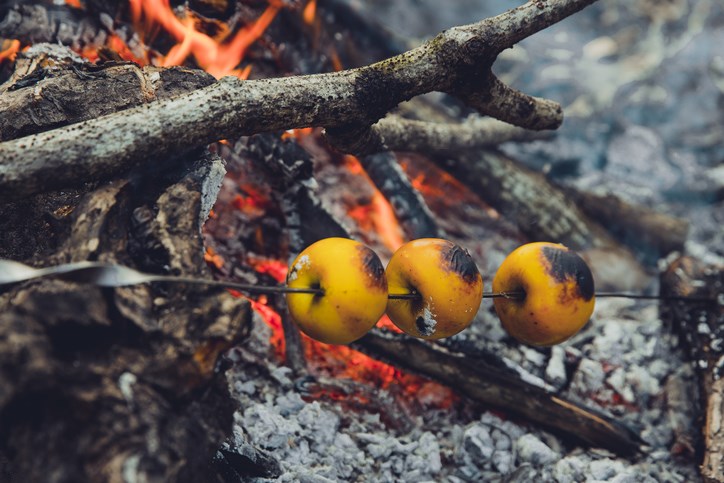 Ingredients
1 c sugar
1 Tbsp cinnamon
4 cooking apples
4 dowel or roasting sticks
Preparation
In a small bowl, mix together sugar and cinnamon and set aside. Push the stick or dowel through the top of the apple to the bottom until the apple is secure.
Roast the apple 2 to 3 inches above the bed of hot coals and turn frequently. (As the apple cooks, the skin starts to brown and the juice dribbles out.) When the skin is loose, remove the apple from the coals but leave it on the stick.
Peel the skin off the apple, being careful not to burn yourself because the apple is very hot.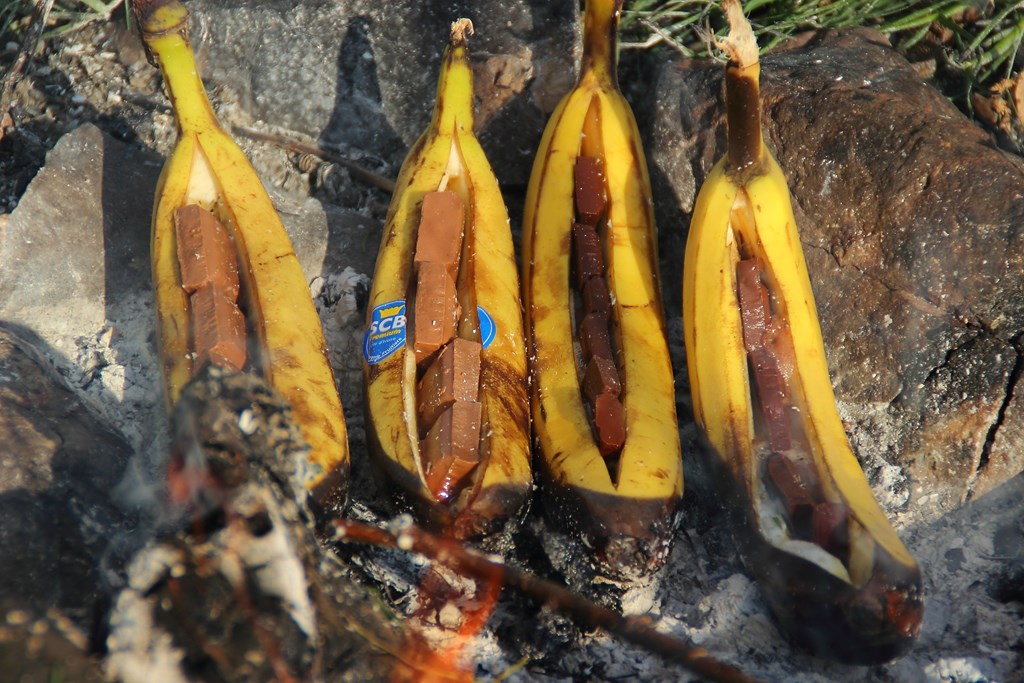 Ingredients
1 banana
1/2 milk chocolate bar
3-5 marshmallows (full size)
Aluminum foil
Preparation
Cut the banana in half, lengthwise. Top the bottom half of the banana with the chocolate and marshmallows, then replace the top half, sandwiching the ingredients between the banana slices.
Wrap in aluminum foil and heat- either over open fire, on a grill, or on the RV stove. Unwrap and enjoy!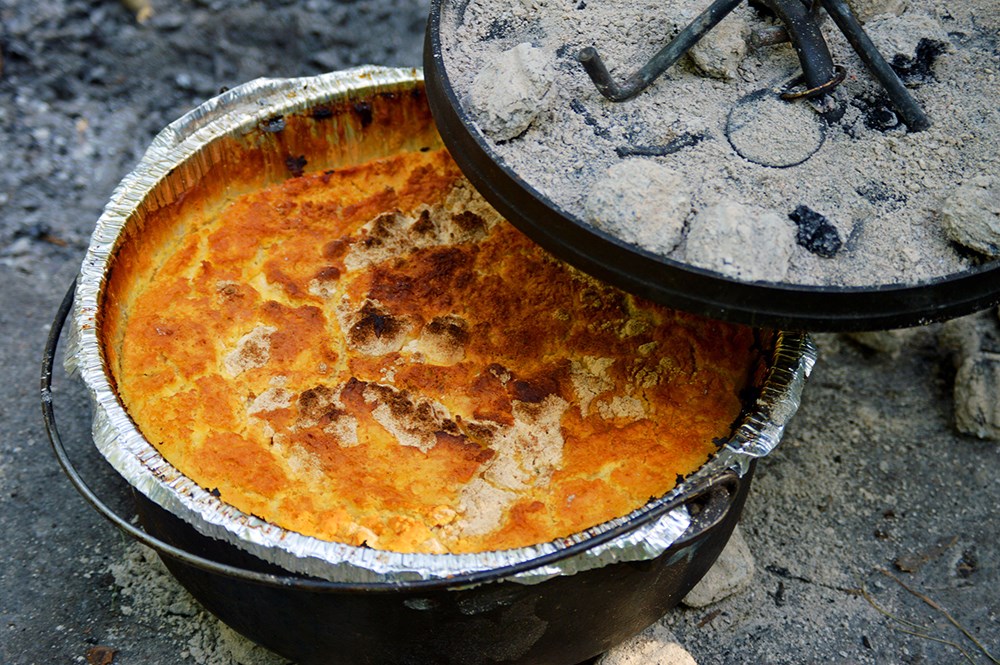 Ingredients
2-4 cans fruit pie filling
1-2 cans refrigerated biscuits or 1 recipe bisquick biscuit dough
1/4-1/3 c brown sugar
1-2 Tbsp cinnamon
Preparation
Burn campfire down to very hot coals. Spray dutch oven with cooking spray. Add fruit pie filling of choice and cover with refrigerated biscuits or biscuit dough before sprinkling with brown sugar and cinnamon.
Cover and place in center of coals with coals coming up around the sides. With your handy shovel, cover lid with coals as well.
Cobbler is done when biscuits are golden brown. Check after 15 minutes and then every 5-7 minutes after that until done.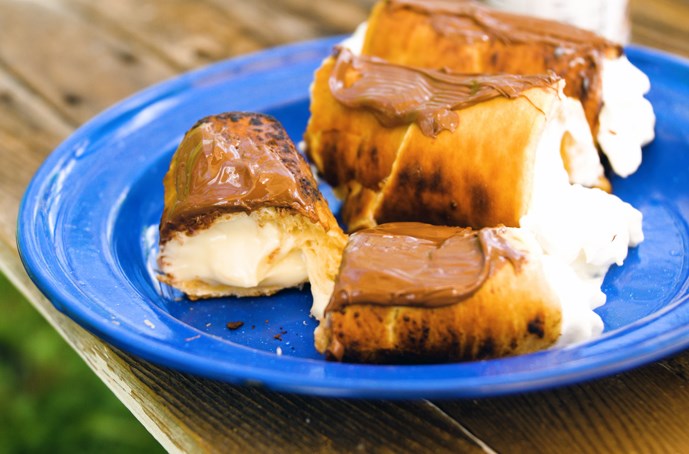 Ingredients
1-inch dowels or broom handles
Heavy duty aluminum foil
Cooking spray
1 can refrigerated crescent rolls
Premade chocolate and vanilla pudding cups
Whipped cream
Chocolate hazelnut spread
Preparation
Wrap dowels with aluminum foil and coat with cooking spray.
Open can of rolls and separate into rectangles, pressing together dough where it is scored into triangles. Wrap each dowel with one rectangle.
Hold over campfire, turning occasionally, until dough has turned golden brown and puffy.
Remove from heat, cool slightly and fill with pudding and whipped cream. Top with chocolate hazelnut spread and dig in!
Ingredients
6 – 8 glazed or cake doughnuts
1 can pineapple rings
12 – 16 pats of butter (two for each doughnut)
Brown sugar
Maraschino cherries
Preparation
Prepare a large square of aluminum foil for each serving.
Place a pat of butter in the center of each foil square and top with a pineapple ring and doughnut.
Fill the hole of each doughnut with a tablespoon of brown sugar before adding another pat of butter and a maraschino cherry.
Close foil over the top of each doughnut and twist to secure.
Place on campfire grill over low heat and cook 5 – 10 minutes until warmed throughout.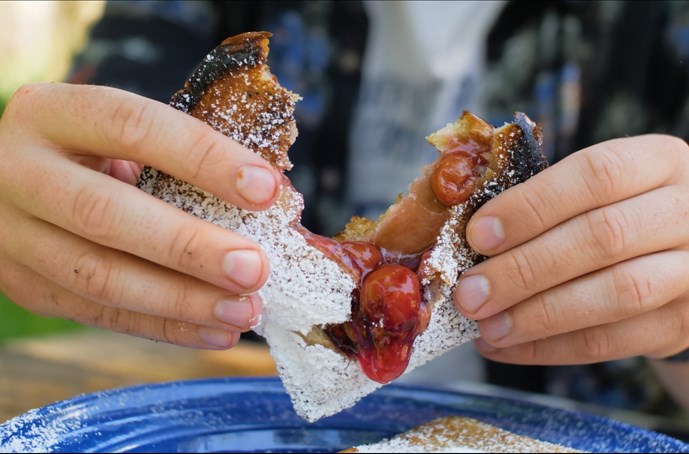 Ingredients
White or whole wheat bread
Butter
Cinnamon sugar
Cherry pie filling
Fresh berries
Chocolate hazelnut spread
Powdered sugar
Cast iron pie iron
Preparation
Spread butter on each slice of bread and sprinkle with cinnamon sugar. Place one slice, butter side down, in each side of the pie iron.
For cherry pie, add 1-2 Tbsp. pie filling to the center of one slice. For fresh berry pie, spread one slice with chocolate hazelnut spread and top with 1-2 Tbsp. fresh berries.
Close pie iron and trim off any excess bread. Place in campfire coals and cook until golden brown, about 3-7 minutes depending on heat of campfire.
Carefully remove from pie iron, cool and sprinkle with powdered sugar.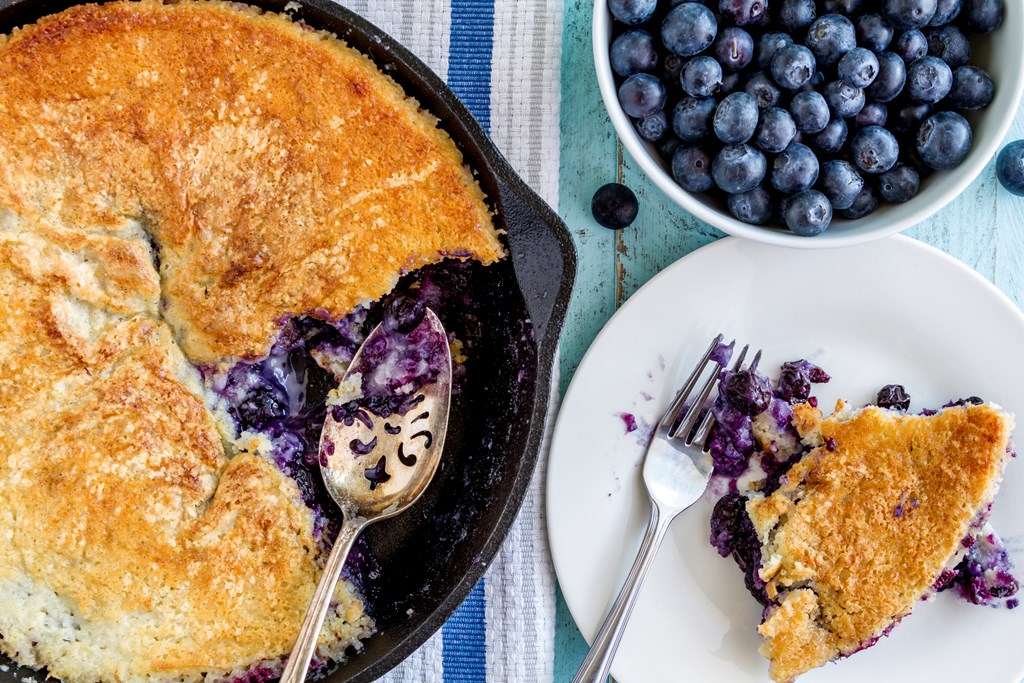 Ingredients
2 tablespoons unsalted butter, softened
4 cups fresh or thawed frozen blueberries, divided
1/2 cup granulated sugar, divided
1 tablespoon all-purpose flour
1 teaspoon finely grated lemon zest
1 tablespoon lemon juice
1/4 teaspoon grated nutmeg
1-1/4 cups all-purpose flour
1/2 cup granulated sugar
1-1/2 teaspoons baking powder
1/4 teaspoon kosher salt
1/2 teaspoon cinnamon
4 tablespoons unsalted butter, melted
1/2 cup whole milk
1 teaspoon pure vanilla extract
Preparation
In a nonstick, ovenproof 10-inch skillet over medium heat, melt the butter. Add 2 cups of the blueberries with 1/4 cup of the sugar, stirring frequently until the mixture has the consistency of jam, about 10 minutes. Remove from the heat. Add the remaining 2 cups of blueberries, the remaining 1/4 cup sugar, the flour, lemon zest, lemon juice, and nutmeg to the cooked berries and stir to combine. Make sure all of the whole berries are evenly coated.
In a large mixing bowl sift the flour, sugar, baking powder, salt, and cinnamon. Combine the melted butter, milk, and vanilla and add to the dry ingredients. Continue to mix until well combined, scraping down the sides once. There may still be some lumps. Drop the batter over the fruit in large spoonfuls starting in the middle and working out to the sides, leaving a 1-inch border of exposed fruit around the outside edge. It will seem like there is a shortage of batter, but it will expand while baking.
Prepare the grill for indirect cooking over medium heat (350° to 450°F).
Brush the cooking grates clean. Cook the cobbler over indirect medium heat, with the lid closed, for 20 minutes. For even cooking, carefully rotate the pan 90 degrees, being careful because the fruit mixture will be bubbling up. Continue to bake, with the lid closed, until a skewer inserted into the center of the crust comes out clean, 25 to 30 minutes. Place the skillet on a wire rack and let stand for 10 minutes. Serve while still warm or at room temperature. Add ice cream on top if desired.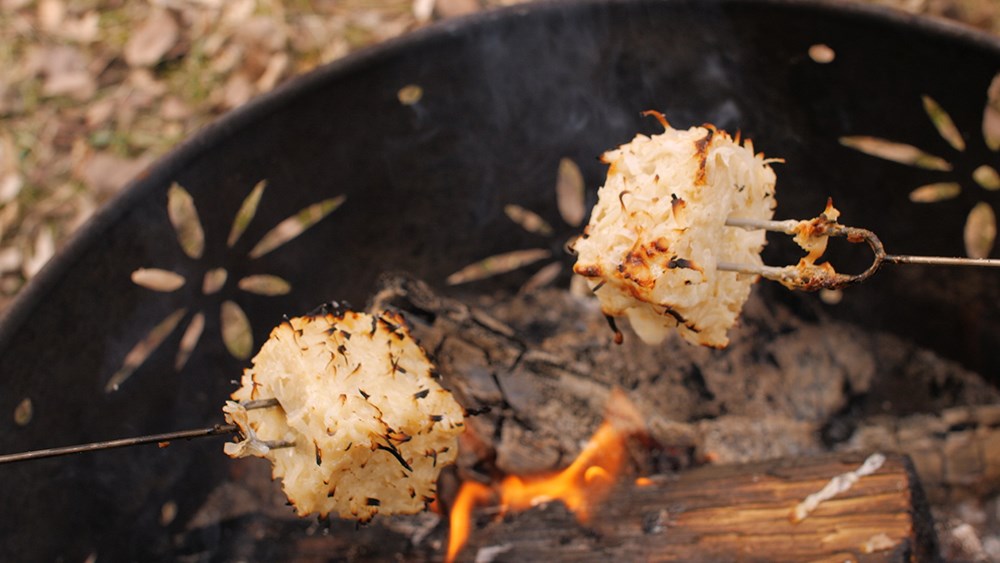 Ingredients
1 (8 ounce) jar cherry, apricot or strawberry jam
1 (1-pound) pound cake, cut into 1-inch cubes
1 cup shredded coconut
1 (8 ounce) jar maraschino cherries
Preparation
Spread the jam on all sides of cake pieces. Roll in coconut. Thread cake bits on a skewer, alternating with maraschino cherries.
Roast over a grill, barbecue or bed of hot coals until coconut is browned.
Ingredients
4 – 6 Tbsp peanut butter
2 9 – 10 inch flour tortillas
1/2 c tiny marshmallows
1/4 c miniature semi-sweet chocolate pieces
2 medium firm, ripe bananas, thinly sliced
Cooking oil
Sugar and ground cinnamon (optional)
Preparation
Spread 2 to 3 tablespoons peanut butter over half of each tortilla. Top each with half of the marshmallows, chocolate pieces and banana slices. Fold tortillas in half, pressing gently to flatten and seal slightly. Brush both sides with a little oil.
Place a 10-inch cast iron skillet over medium-high heat on a camp stove, grill rack or grate over an open fire. Cook tortillas for 2 to 3 minutes per side or until golden and chocolate is melted, turning once halfway through grilling. If desired, sprinkle with sugar and cinnamon. To serve, cut into wedges.
---