Few things scream "America" louder than a hamburger. Hamburgers are part of our identity, and thus we are the ultimate connoisseurs of these beefy delights.
To pick THE BEST burger in the whole United States would be a downright impossible task. Rather there are multiple amazing burgers across the whole country that, in our opinion, are worth a trip just to try for yourself.
If you're looking for the most epic summer road trip ever, why not do a burger tour of the United States? We've done the leg work for you here, sharing the best burger spot in each state.
Whether you're a fan of a good old-fashioned, classic hamburger, or something on the fancy side, we've got you covered with this list.
So get your appetite going, grab a road map, and plan out the best vacation of your entire life: The Ultimate American Burger Adventure.
Where to Go For the Best Burger in Each State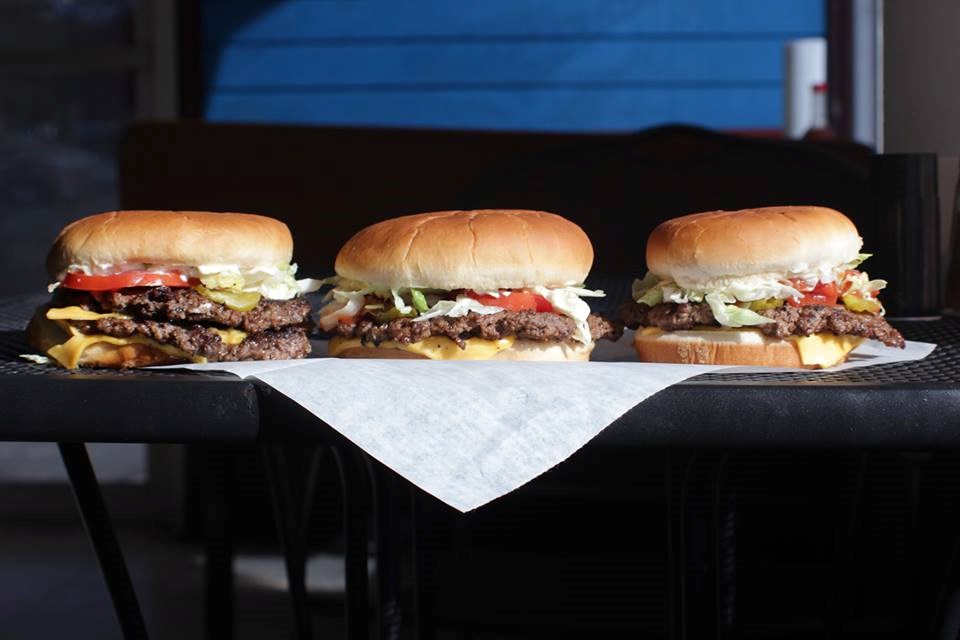 Alabama | Cheeseburger at Vicky's Lunch Van, Montgomery
This was the clear winner for Alabama and with some research, it's no surprise why.
Think a van down by the river. But really, Vicky's Lunch Van started exactly as that — a van. It grew in popularity so much that they had to open a cafe in Montgomery, and there you can go for the most delicious classic hamburger in the whole state.
The beef at this burger joint is ground in-house and then cooked to perfection. Nothing fancy here — just some extra-crispy edges around the burger, some pickles, lettuce, tomato, onion, mayo, cheese, and bacon if you'd like. Classic is the name of the game here, and sometimes that is all you need.
Ensure you plan a lot of time in your schedule for this stop. The lines at Vicky's are anything but short, but well worth the wait.
KOAs nearby:
Ozark / Fort Rucker KOA Journey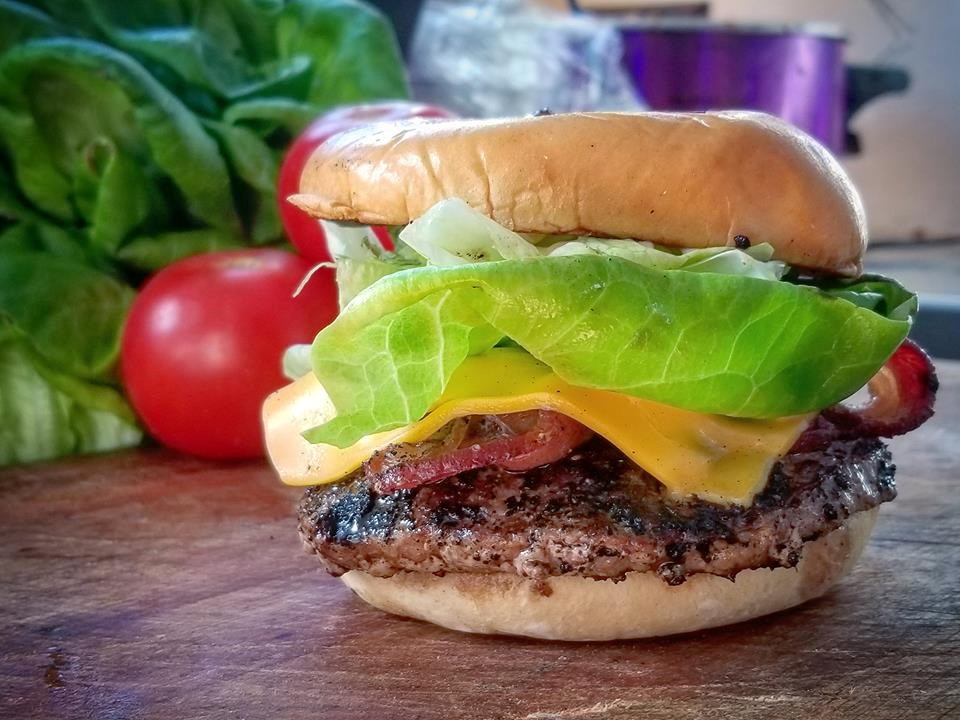 Alaska | Husky Dawson at Pucker Wilson's, Juneau
Another food truck coming in hot, serving up stellar burgers. This spot is a regular favorite in Alaska, but the burger that seems to get the most love and attention is the Husky Dawson. Aptly named, this burger is massive and is covered in a secret sauce.
It comes with all the normal burger accessories, but has some fried onion rings on top as well as some bacon.
This burger is not the easiest one to eat, but we know you'll figure out a way to get it down because there is no wasting of best burgers around here.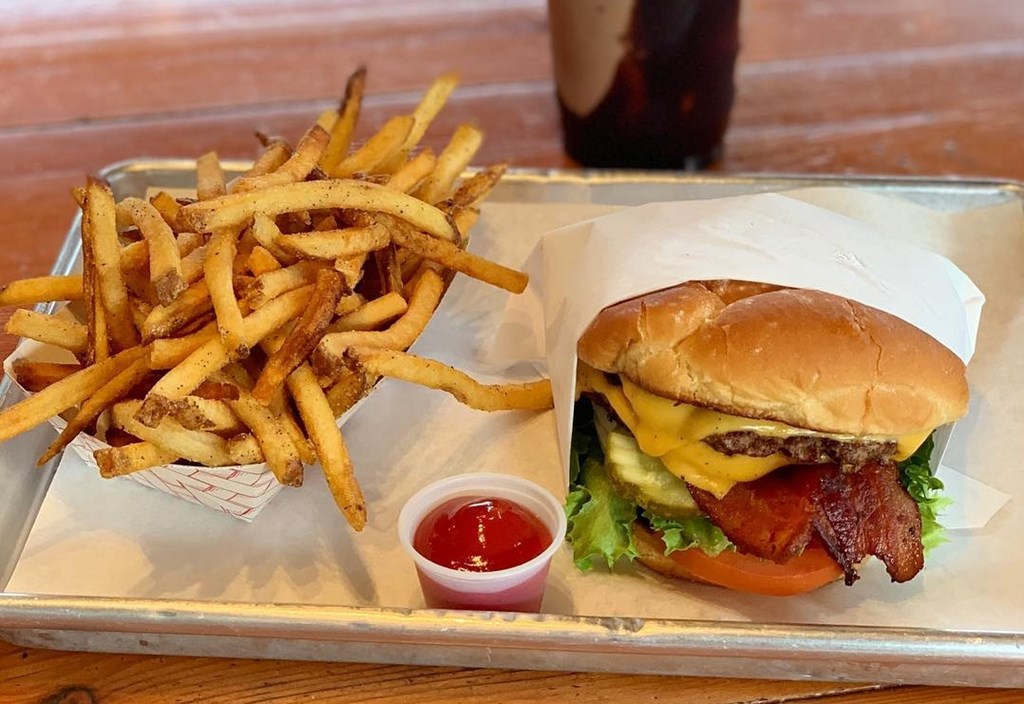 Arizona | Cheeseburger at the Stand, Phoenix
This burger spot is all about clean simplicity, and people are loving it. With just a few items on the menu, you'll be able to spend more of your time enjoying your delicious burger rather than wasting it on perusing through a massive menu.
Stick to the basic cheeseburger here, and you will thank us. You'll also thank us for sending you to a place that won't break the bank. Burgers here are just $5.99 but are worth far more.
Ask for extra burger sauce and get some fries to go along with it — the sauce is possibly the best part.
KOAs nearby:
Mesa / Apache Junction KOA Journey
Gila Bend KOA Journey
Pichaco / Tucson NW KOA Journey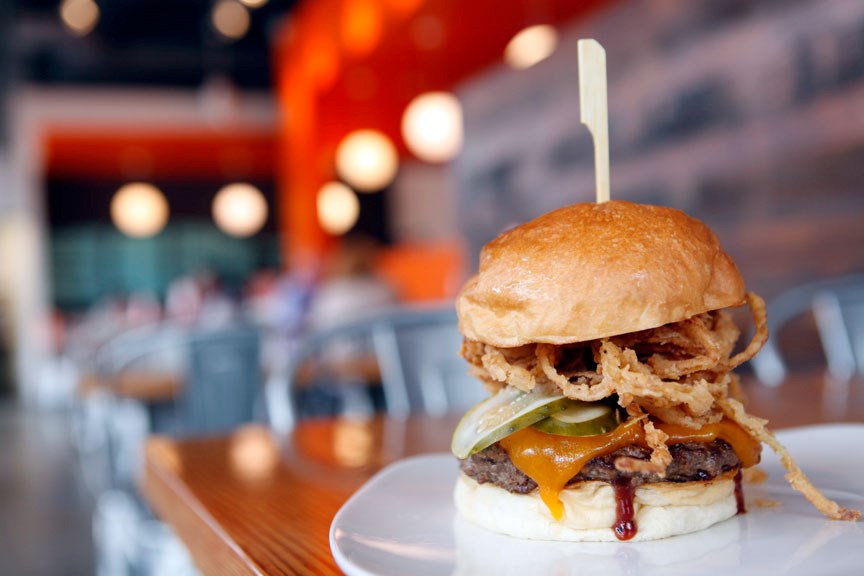 Arkansas | Farmer's Burger at Big Orange Burger, Little Rock
Classics with a gourmet twist is what you'll find at Arkansas' finest burger join, Big Orange. Think add-ons like pimento cheese made in-house, fig jam, white truffle and more. You'll also find a full bar for the perfect drink to accompany your burger.
While there are a lot of fine choices, the top pick for this place is the Farmer's Burger. It comes complete with havarti cheese, local bacon, lettuce, tomato, onion, aioli and a fried egg (that's local, of course).
And definitely don't miss out on the fries.
KOAs nearby:
Little Rock North / Jct I-40 KOA
Hot Springs National Park KOA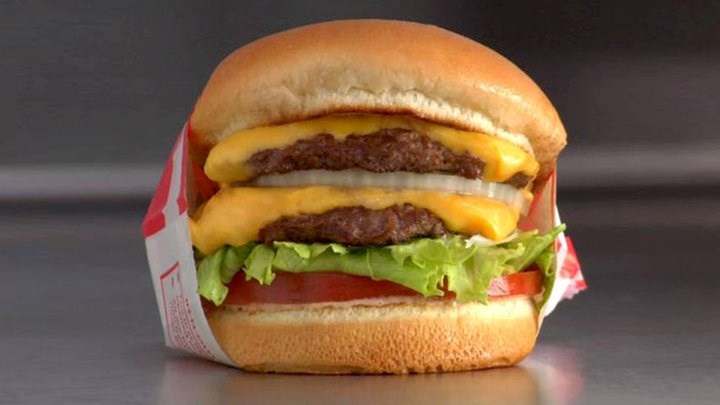 California | Double Double Animal Style at In-N-Out, all over California
Picking the best burger in California was no easy feat. Restaurants serve top-notch burgers all over the state, but no matter where you are in California, there is one burger you can always count on to fulfill all your burger desires.
And that is In-N-Out. People from any other state make this their first stop on trips to California, and it's no surprise why. Even Anthony Bourdain himself was in love with this burger, and there's no doubt that man knew his food.
So, next time you're in sunny CA, order the Double Double Animal Style for a little taste of heaven in the form of grilled onions, cheese, and the burger spot's delicious burger sauce. Don't forget to add some fries and a shake to it to make the meal complete.
KOAs nearby:
All California KOAs
Colorado | Cheeseburger at Bud's Cafe, Sedalia
Fancy isn't always better, and Bud's Cafe in Sedalia, Colorado is the perfect example of this. To put it honestly, this burger could not possibly get more basic.
All you've got is a patty, cheese, and a while bun. That's it. Sounds like it will leave you wanting more, right? Wrong. People swear by these burgers, so there must be something magical in their simplicity.
Go and find out for yourself and grab a beer from the bar's massive beer selection for the perfect road trip pairing.
KOAs nearby:
Denver West / Central City KOA Holiday
Denver East / Strasburg KOA Holiday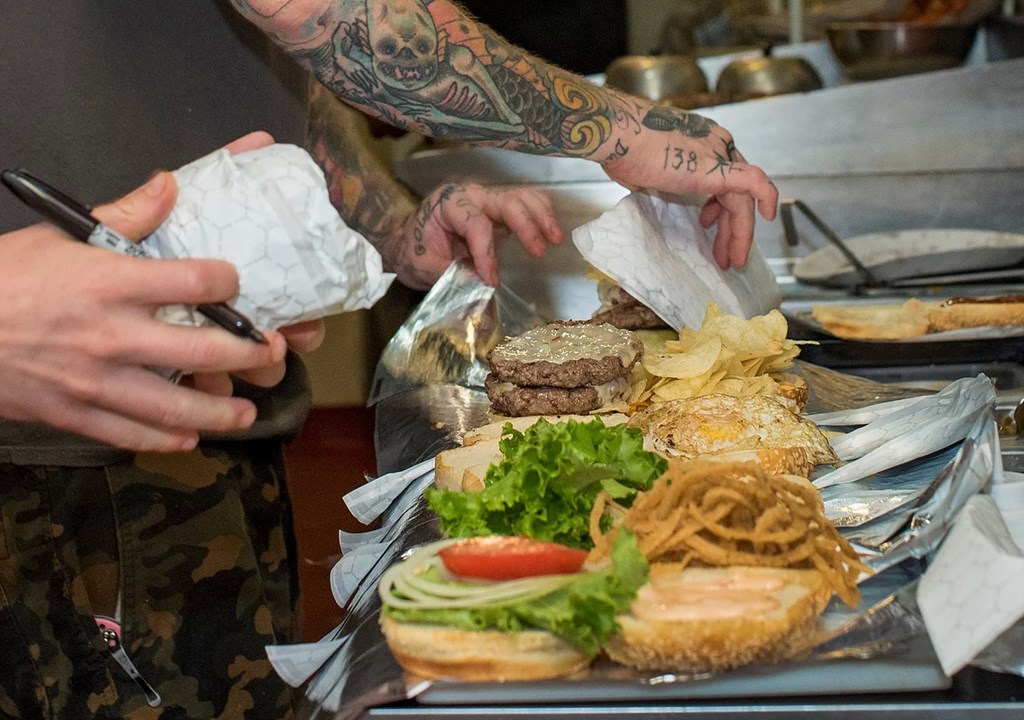 Connecticut | Gold Burger at GoldBurgers, Newington
Stack it high and get ready for a very filling burger. GoldBurger is a favorite craft burger joint without the ego, so you'll find the creme-de-la-creme of burgers here without the attitude.
Expect unusual toppings such as nacho cheese here. And while we support trying some of the weird burgers on the menu, the signature Gold Burger is our favorite. You're looking at two patties, cheese, lettuce, onion, pickle and of course, sauce. But this isn't just any sauce, it's GoldBurger sauce so be prepared to be wowed.
KOAs nearby:
Niantic / I-95 Exit 72 KOA
Northampton / Springfield KOA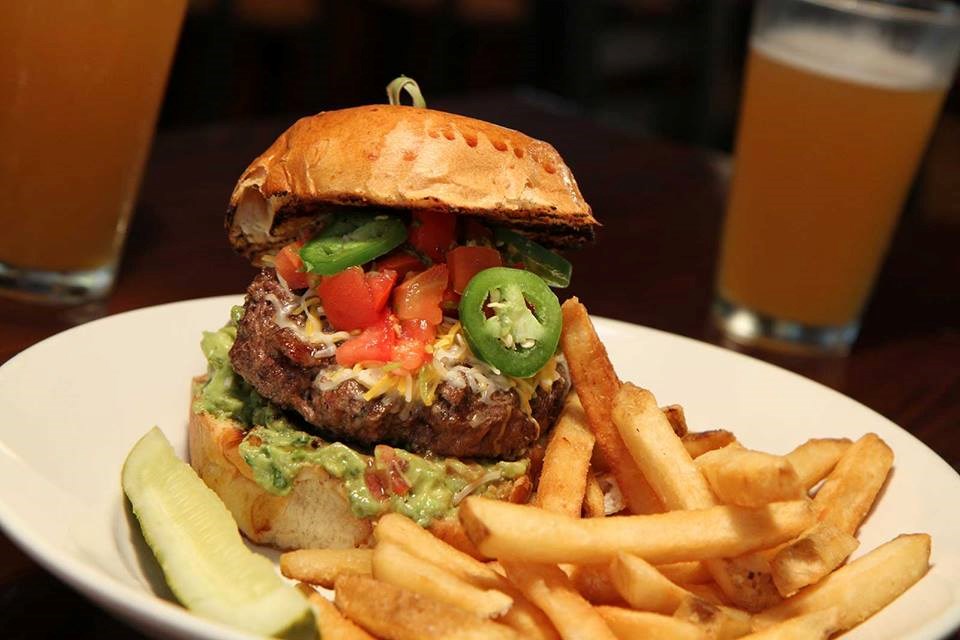 Delaware | Ranchero Burger at Kid Shelleen's, Wilmington
It's not always the case that the thicker the burger the better, but here at Kid Shelleen's, thick wins. The burgers here are massive and cooked with a perfectly smoky flavor. Cheese options are aplenty, as are sauces. From beer cheese sauce to tomato-chili pepper jam, to black mission fig jam, there are options galore for how to sauce your burger.
And if you're a vegetarian, don't fret — they've got something for you here as well. Enter the Beyond Meat burger that can replace a standard beef patty in any burger.
Our favorite to order? The Ranchero burger that gives the ultimate southwest taste via it's pico de gallo, red onion, salva verde, jalapeno jack cheese, avocado, and a fried egg on top.
KOAs nearby:
Philadelphia / West Chester KOA Holiday
Philadelphia South / Clarksboro KOA
Florida | Cuban Frita at El Mago De Las Fritas, Miami
Florida is known for many things, but when it comes to the burger category, they are known for their Cuban Frita. This Cuban version of a burger is to die for, and we've tracked down the best place for you to try it out — El Mago De Las Fritas.
The Cuban Frita is comprised of a beef patty spiced in chorizo, onions, and curly little potato fries on top. Naturally, it is served on a Cuban role, making quite the meal that you'll only find around these parts.
KOAs nearby:
Hollywood KOA
Davie / Ft. Lauderdale KOA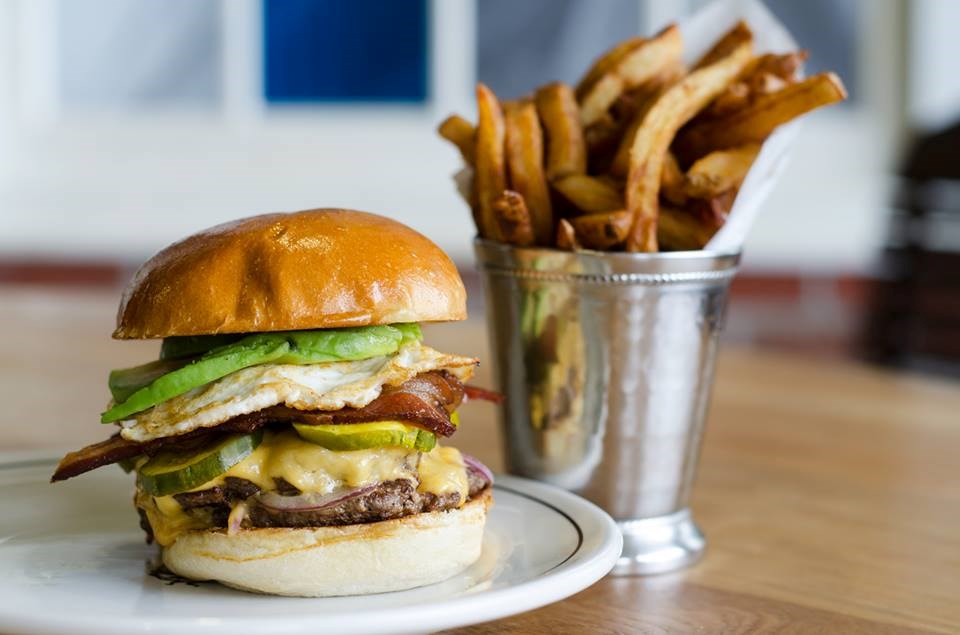 Georgia | Kraft American Cheeseburger at Holeman & Finch Burger, Atlanta
What used to be a spot where you could only get burgers after 10 p.m., and they were limited to just 24 made a night, has now become a hotspot that serves burgers all day long. In fact, this spot got so hot that they opened a burger counter B&F to serve more burgers to more people.
When here, be sure to order the Kraft American Cheeseburger. You'll get a burger with not one but two patties, and these patties aren't just your regular beef ones. Instead, these are made of 50% brisket and 50% grass-fed chuck. This 100% makes the best burger you'll find in Georgia.
KOAs nearby:
Cartersville / Cassville-White KOA Journey
Lake Oconee / Greensboro KOA
Forsyth KOA Journey
Hawaii | Un-Foie Gettable at Burgers and Things, Honolulu
Though it may not look fancy, the burgers that are served here will make your wildest dreams come true. Burgers and Things is known and loved for using local meat that really takes its burgers to the next level — from lamb to wagyu, turkey and beyond, you've got options galore. You've also got options with toppings that include maple jam, apple, honey pesto and more.
We suggest the Un-Foie Gettable burger for a truly memorable experience. Imagine biting into this local grass-fed Kauai beef that's been braised in a foi gras demi glace. Sounds amazing right? Wait until you hear the rest of it. Add on top bacon-apple-maple-jam and truffle mayo.
Wow.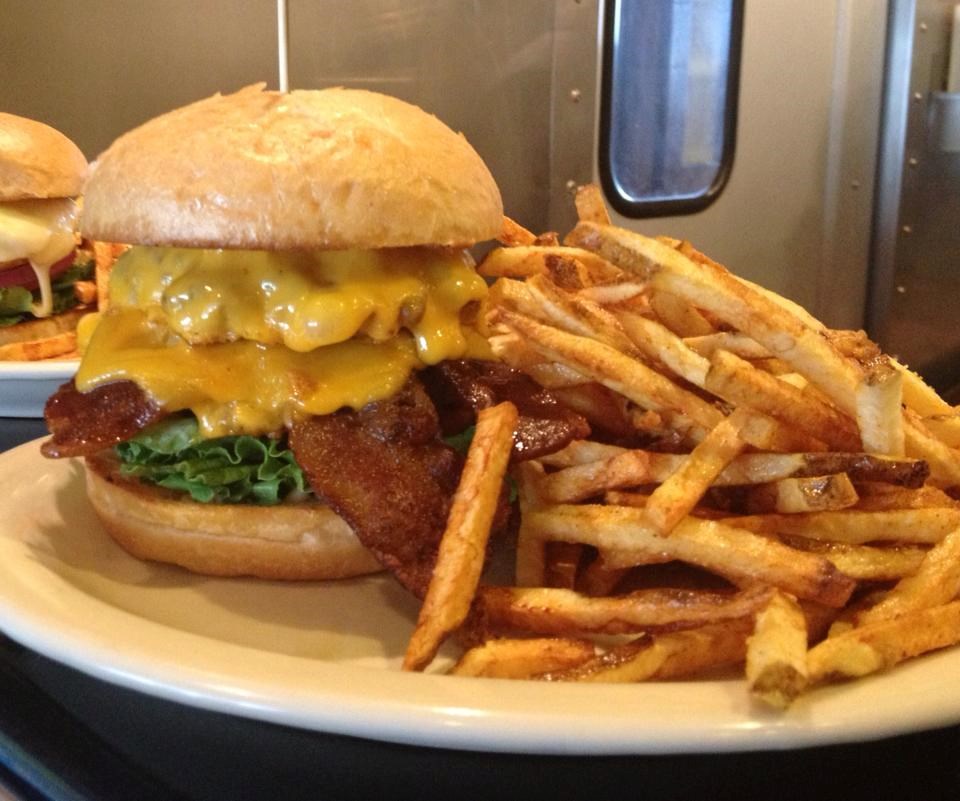 Idaho | Union Pacific Burger at The Brakeman, Victor
For some seriously good small town eats, head to The Brakeman in Victor, Idaho. The meat options here are fabulous: venison, bison, and more, and they are used to create some truly fabulous burgers.
However, just a bit of a twist on the classic cheeseburger will give your tastebuds exactly what they want. Think the perfect thickness of a red onion, tomatoes, the perfect sauce, lettuce, and then add on some tasty crispy bacon and some mounds of blue cheese. And there you have the Union Pacific Burger.
KOAs nearby:
Jackson Hole / Snake River KOA
Dubois / Wind River KOA Holiday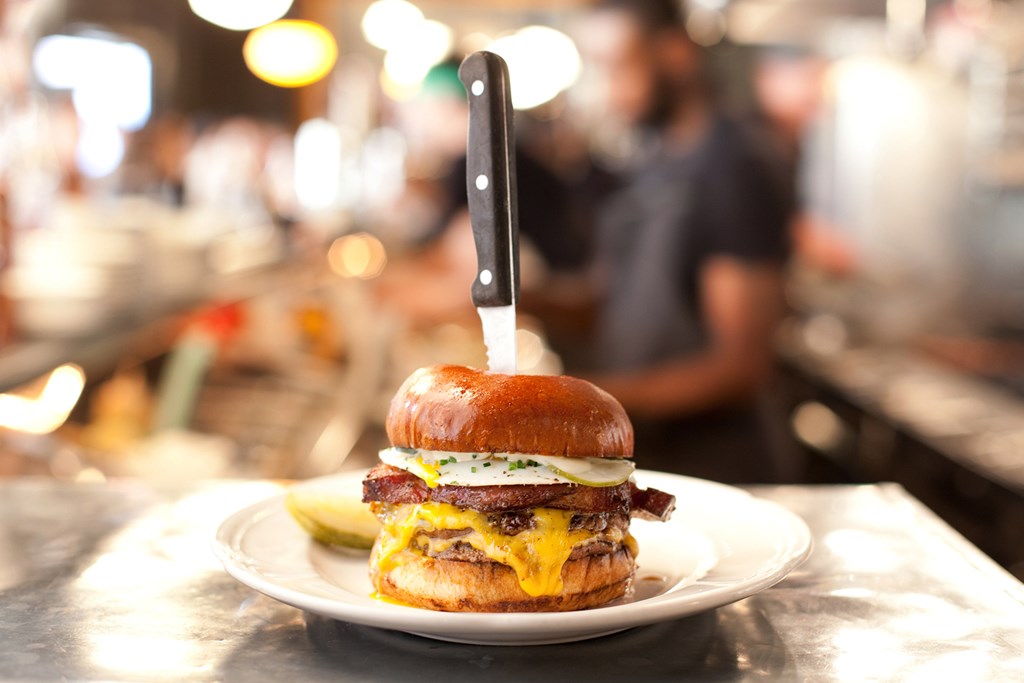 Illinois | Cheeseburger at Au Cheval, Chicago
Some people claim this is the best cheeseburger in the whole United States, so you know you are in for a treat when you head to Au Cheval.
What is it that makes this burger so good? First of all, the atmosphere here is top-notch. Secondly, the bar menu is definitely something to write home about. But, most importantly, the burger is just perfection. Proportions are perfectly measured with this burger made of your choice of two or three patties, perfectly melted cheese, perfectly crispy pickles, and the perfectly creamy Dijonnaise to complete it. Choose to add an egg or bacon on top to take it even closer to heaven.
KOAs nearby:
Chicago Northwest KOA
Kankakee South KOA
Coloma / St. Joseph KOA Holiday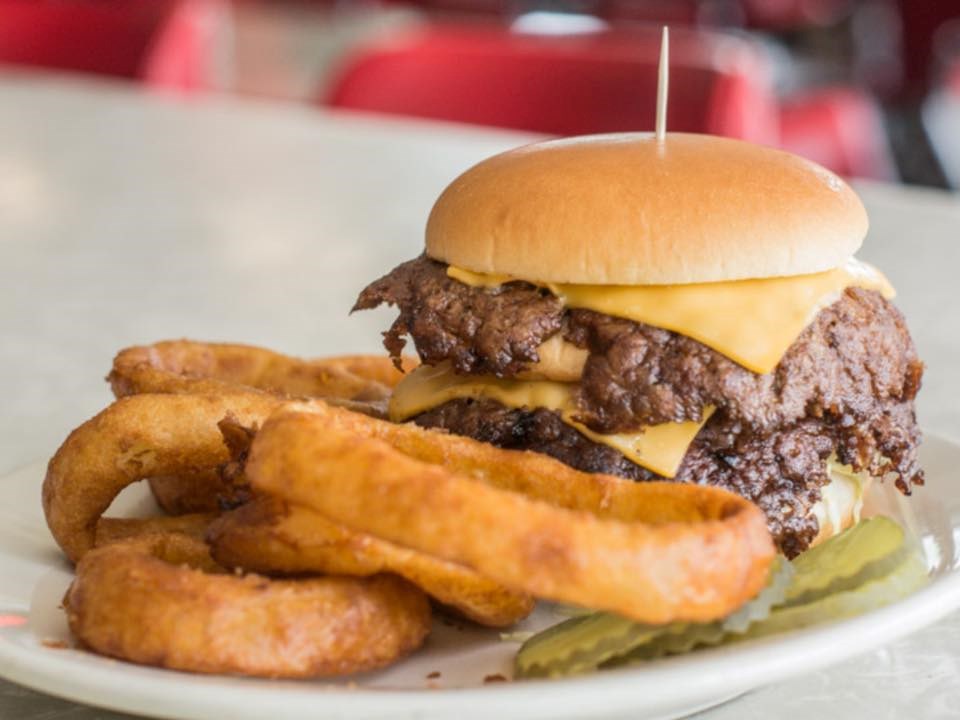 Indiana | Cheeseburger at The Workingman's Friend, Indianapolis
Not a newbie on the scene, The Workingman's Friend has been pumping out delicious food for 100 years. And, of all the delicious food on its menu, the cheeseburger really takes the cake.
Fuss-free and classic, this burger the result of years of practice. Here, they flatten the burger while cooking it to give it an extra crispy texture, but without sacrificing the juicy and soft insides.
Order yourself a double and you'll get a thicker burger like you're used to, add some perfectly melted cheese on top and enjoy the bun in between the two patties to really give you a treat.
Bacon is always an option, but definitely not needed as this burger is fabulous as-is.
KOAs nearby:
Indianapolis KOA Holiday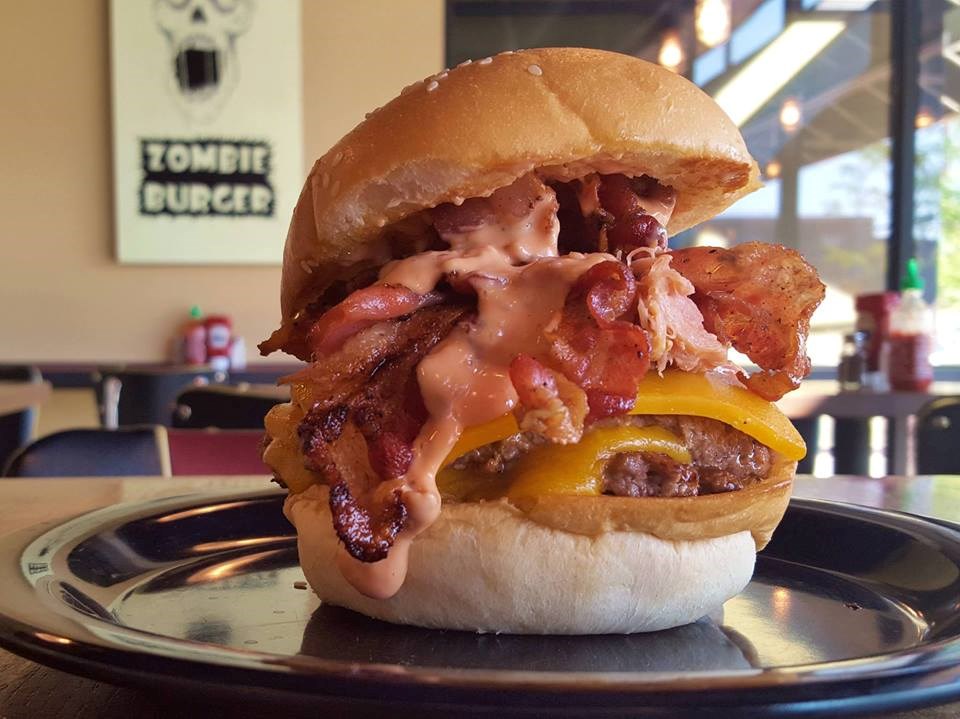 Iowa | Dead Moines at Zombie Burger & Drink Lab, Des Moines
Fun food is the name of the game here, as you were probably able to guess given the name of this burger joint in Des Moines.
Serving up tasty burgers with names such as The Walking Ched, Undead Elvis, and more, these burgers take the concept of creativity and run with it.
Not surprisingly, the theme of this restaurant is horror, but you won't be horrified by the burgers here — you will love them. Especially the Dead Moines. Not only is it the ultimate pun, it is the ultimate burger in Iowa. On this burger you'll find smoked Gouda cheese, ham, prosciutto, only to be topped off with truffle mayonnaise.
We are happy to join the zombies if what they eat tastes like this.
KOAs nearby:
Des Moines West KOA Holiday
Newton / Des Moines East KOA Journey
Kansas | Cozy Burger at Cozy Inn, Salina
What started as a tiny burger spot back in 1922 has transformed into a foodie destination where 1-ounce burgers are the delicacy, better known as sliders.
Fried onions are a staple here, so don't expect to get a slider without some piled on top. You'll also get pickles, mustard, and ketchup on your burger, rounding out the ideal little treat. A bag of burgers will get you six, and for just $10 you'll also get a bag of chips (no fries here).
KOAs nearby:
Salina KOA Holiday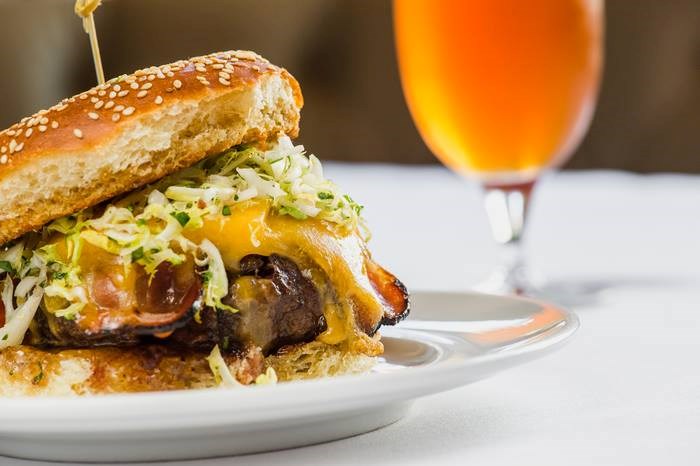 Kentucky | Bison Burger at Proof on Main, Louisville
The local bison really steals the show in this burger. Coming from a herd nearby, you can taste the quality. Especially when Proof on Main cooks it to perfection and adds on top of it lettuce, pickle, smoked bacon, and cheddar cheese from the lovely Tillamook, Oregon.
You'll really notice the difference between bison and beef in this burger, as there isn't much dressing done to it — it's kept simple and tasty, just how we like it — and how we think you'll like it too.
KOAs nearby:
Louisville South KOA Holiday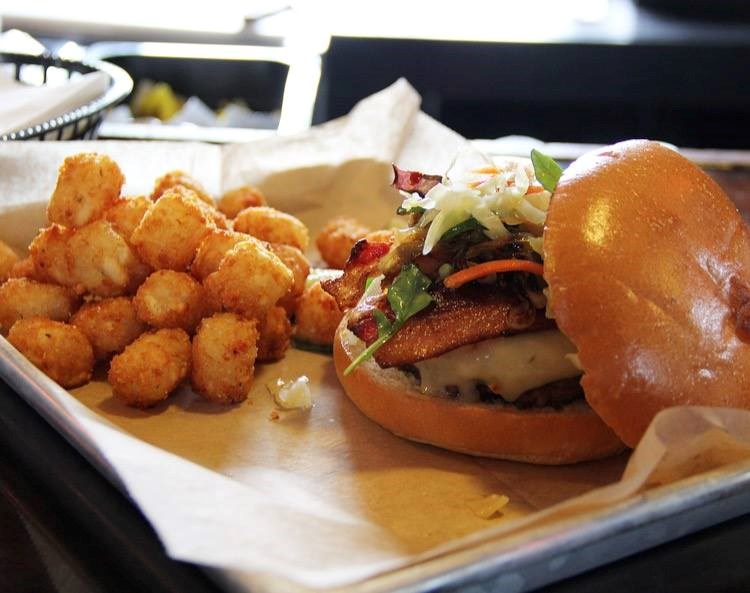 Louisiana | Fharmacy Burger at Fharmacy, New Orleans
New Orleans is a foodie destination, so it was truly difficult to choose the best burger in the state. However, this one at Fharmacy was just too good to not shed some light on.
What looks casual on the outside tastes great on the inside. And on the inside is burger made up of an 8-ounce patty with winning toppings including giardiniera, bacon jam, provolone, and an aioli that will make your mouth water.
Though it's a bit of a trek outside of the tourist zone, it is well worth it.
KOAs nearby:
New Orleans KOA
Maine | Nob Burger at Boone's Fish House & Oyster Room, Portland
Unlike most of the other burgers on our list, this one is not made of beef. Since we are in Maine, it seemed fitting to pick a burger where surf meets turf in a perfect
Thus, us picking Boone's Fish House & Oyster Room as THE place to go to get the best oayster-topped burger money can buy. Taking just the beef and the bun, this burger would be fabulous. But, add on the fried oysters, and wow — you've got a doozie here. Perfectly crunchy, the texture and taste really adds a lot. Throw some bacon and spicy mayo on top, and you'll find yourself coming back here numerous times.
KOAs nearby:
Freeport / Durham KOA
Naples KOA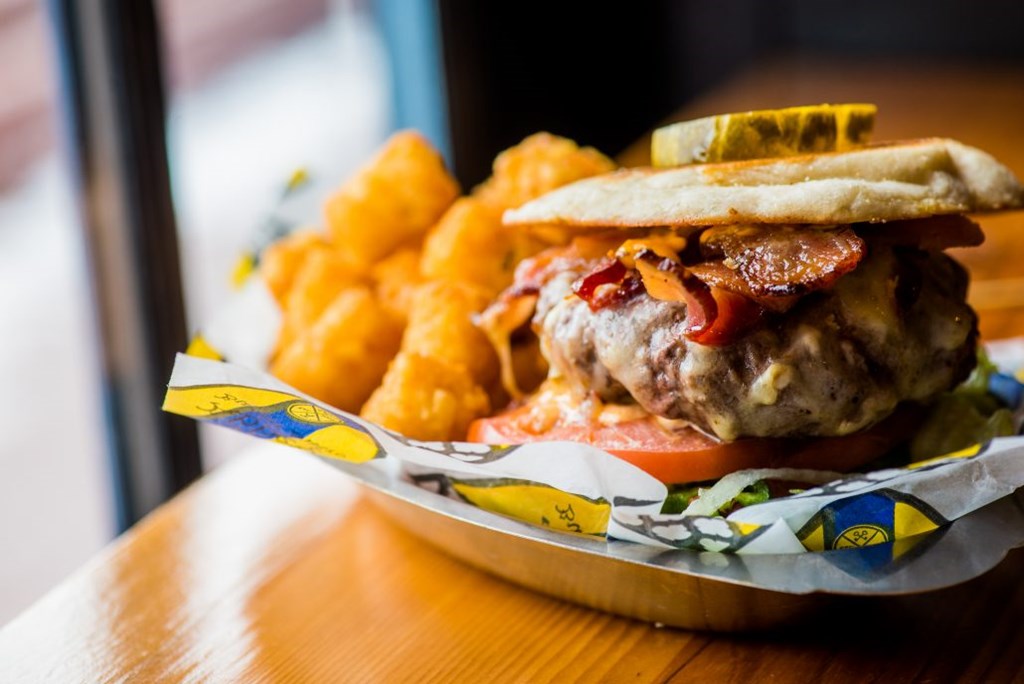 Maryland | Baltimore Burger at Abbey Burger, Baltimore
This place has many options, some of which include a built-your-own burger where you can truly create a masterpiece out of meat. Choose from over 15 cheeses, 40 toppings, and a number of different meats.
However, we suggest going for one of the menu burgers — the Baltimore Burger that is a burger's version of Surf and Turf. Yup, we like to so much we did two in a row!
The Baltimore Burger means Angus beef, topped with crab dip, bacon, and cheddar cheese on a perfectly soft and warm bun. In other words, the perfect mix of land and sea between bread that you can eat with your hands.
KOAs nearby:
Washington DC / Capitol KOA Holiday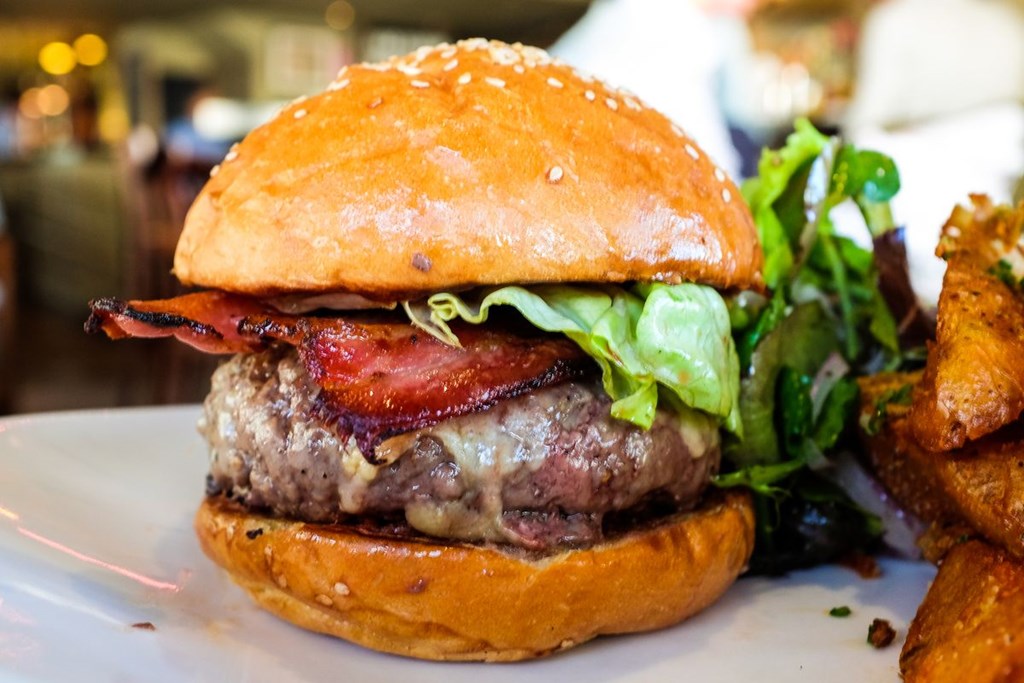 Massachusetts | Cheeseburger at Craigie on Main, Cambridge
What may be the biggest draw about this cheeseburger is the fact that there are a limited number made each day — 18, to be exact. So, keep your fingers crossed that you'll be one of the lucky VIP to try it, because your life will be changed.
The burger's beef is ground in-house, and on top of it is added bone marrow along with dehydrated miso. As if that wasn't enough already, the burger is also flavored with mace ketchup, cheddar cheese and served on perfectly milky buns with pickles and celery root slaw.
We suggest you arrive early so you don't end up being the 19th person and go home empty-handed.
KOAs nearby:
Boston / Cape Cod KOA Holiday
Michigan | Cheeseburger at Schuberg's Bar & Grille, Big Rapids
Just because this place is a dive bar doesn't mean it doesn't serve up the best burgers. Because it does, in fact, serve the best burgers in the state.
Perfectly seasoned and paired with a buttery brioche bun, then topped with pickles, lettuce, onion, tomato and cheese, your mouth will go crazy over this burger.
Ask for your burger with "the works" and you'll also get mustard, mayo and green olives. Yep, green olives. It's an unexpected twist that you are guaranteed to love.
KOAs nearby:
Ludington East / Pere Marquette River KOA
Muskegon KOA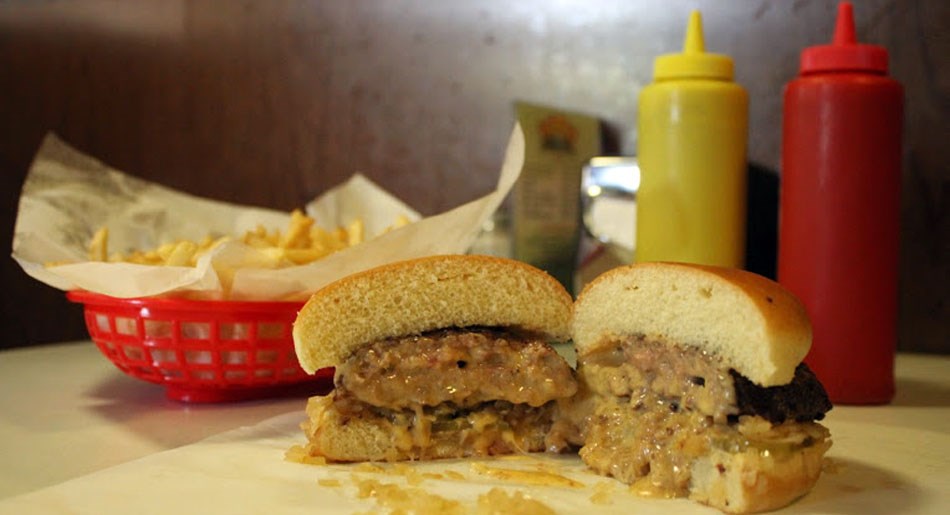 Minnesota | Jucy Lucy at Matt's Bar, Minneapolis
Everything about this burger is classic, except for one thing. You've got your patty, your cheese, your bun — everything seems pretty standard. That is until you bite into the burger and see what's inside.
Unlike other cheeseburgers that have the cheese melted on top, the Jucy Lucy instead has its cheese inside of the patty. Though this may not seem like a big deal, when you bite into this burger you will notice the difference. Also, you have to appreciate the effort as well, because making this burger is much harder than it seems. While this burger is often imitated, Matt's offers the original – making it a must visit burger desitnation.
KOAs nearby:
Minneapolis Southwest KOA Holiday
Minneapolis Northwest KOA Journey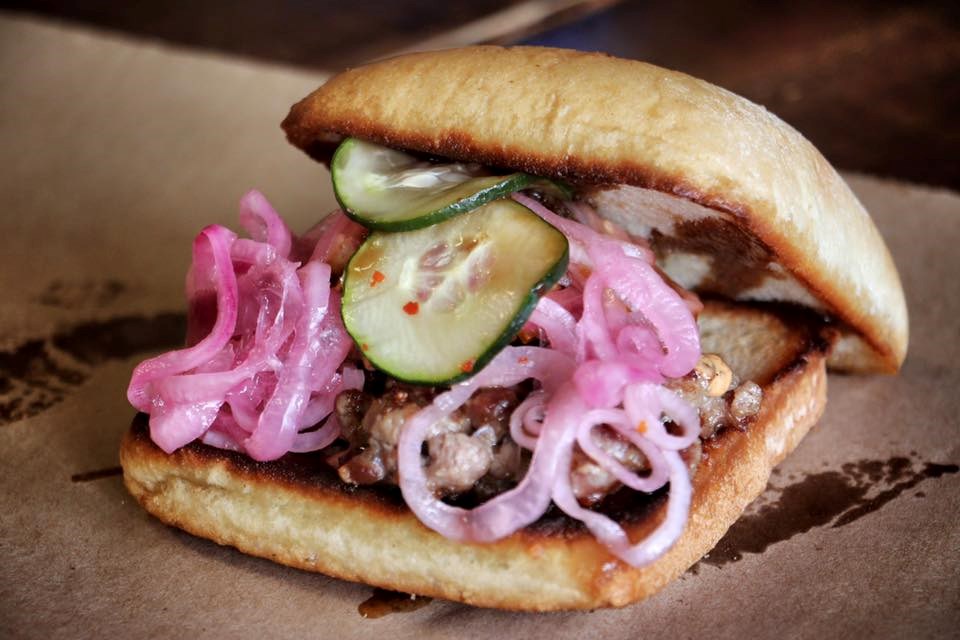 Mississippi | Smashburger at Neon Pig, Oxford
Sometimes you find the best burgers in unexpected places, and in the case of the Smashburger at Neon Pig, you find the best burgers at a Mississippi butcher shop.
The meats here are top-notch, local, sustainable and fresh as can be. But what really steals the spotlight is their small menu that offers up the state's finest burgers.
The heart of this burger, the patty, is made up of a variety of cuts — NY strip, ribeye, sirloin, filet and bacon. Top that with pickled onions and pickles, cheddar cheese, more bacon, and a special sauce that has some hoisin in it. And then there's the bun that keeps it all together — that ciabatta is the perfect finishing piece.
KOAs nearby:
Memphis KOA Journey
Starkville KOA Holiday

Missouri | Double Cheeseburger at Tay's Burger Shack, Kansas City
Everything about this burger is done locally, and that makes a huge difference with the taste. The beef is local, the buns are locally made every day, and the fries are cut by hand on the daily.
Aside from burgers this place also serves hot dogs, but obviously the burgers are the number one thing to try here. Why, you ask?
The double cheeseburger gives you two patties topped with perfectly melted cheese, tomato, pickles and lettuce. Pair that with some amazing fries and you'll find yourself looking for more reasons to go back to Kansas City for more.
KOAs nearby:
Kansas City East / Oak Grove KOA Holiday
Kansas City West / Lawrence KOA
Topeka / Capital City KOA Journey
Montana | I'll Be Your Huckleberry at The Burger Dive, Billings
This hole-in-the-wall is filled with plenty of charm, including the sound of trains passing by as you're biting into your epic burger.
When you're in huckleberry country, you better believe those berries are going to end up on your burger. And with the I'll Be Your Huckleberry, you will happy they did.
This burger will have you eating local beef infused with huckleberry Hitachi chili sauce, topped with goat cheese, arugula and a mayo made from roasted pepper. That's a lot of weird flavors coming together in one, but trust us — you will fall in love. There are so many other great options on this menu, however, that you should aim to visit more than once.
KOAs nearby:
Billings KOA Holiday
Hardin KOA
Big Timber / Greycliff KOA Journey
Red Lodge KOA Journey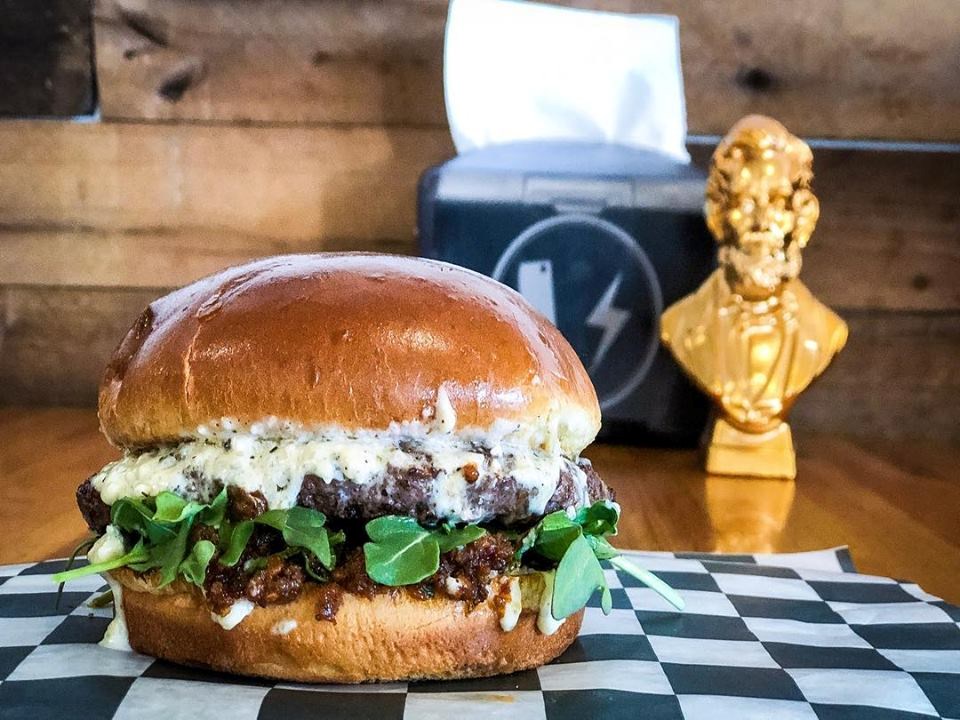 Nebraska | The Greatest Burger Ever at Honest Abe's, Lincoln
Honest Abe's is where classic and creative come to meet. This place certainly has the classic parts of a burger down to a tee, but they are also very creative when it comes to spicing up a burger to make it something unexpected.
Take, for example, the Greatest Burger Ever. With a name like that, you better expect a darn good burger and this one does not disappoint.
Start with the patty that's topped with sweet onion, bacon, cheese, ketchup, and the eatery's signature Awesome sauce. Smash all of that between buttery buns and you've got a mouthful of delight with just the right amount of messy.
KOAs nearby:
West Omaha / NE Lincoln KOA Holiday
Grand Island KOA Journey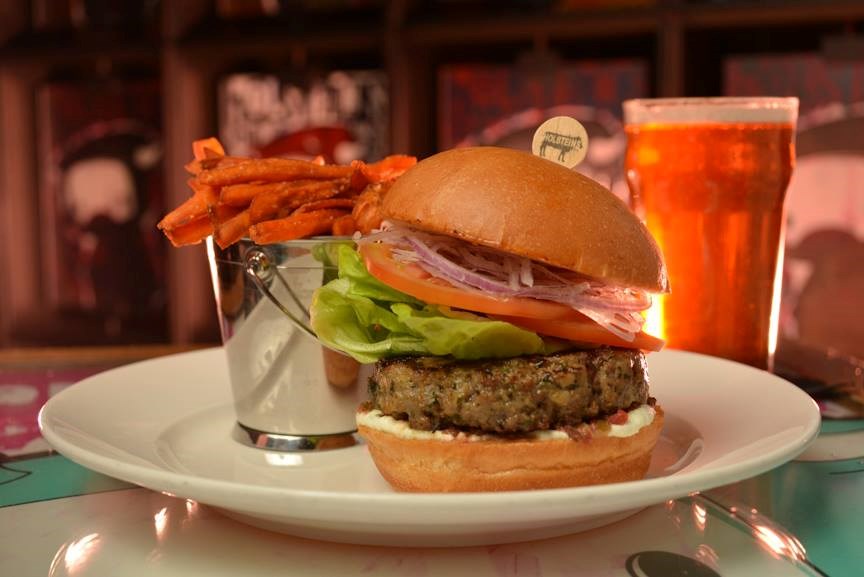 Nevada | Steakhouse Burger at Holsteins Shakes and Buns, Las Vegas
Las Vegas has, in the past few years, really established itself as a foodie destination, so it was quite a challenge to find the place that has the best burger not only in Vegas, but in the entire state.
And what we decided on is a burger that exists inside the Cosmopolitan Hotel. In true Vegas style, this place is quite dolled up, but their eats are classically perfect. However, you can expect some over-the-top options on your burger here, including foie gras.
Our favorite is the Steakhouse Burger that is lathered in a creamy steak sauce and topped with tomato confit, marmalade onions, mushrooms, and Swiss cheese.
In addition to their mouthwatering burgers, the milkshakes here will have you screaming for ice cream. Options for your shakes include donuts, brownies, and so much more.
KOAs nearby:
Las Vegas KOA Journey at Sam's Town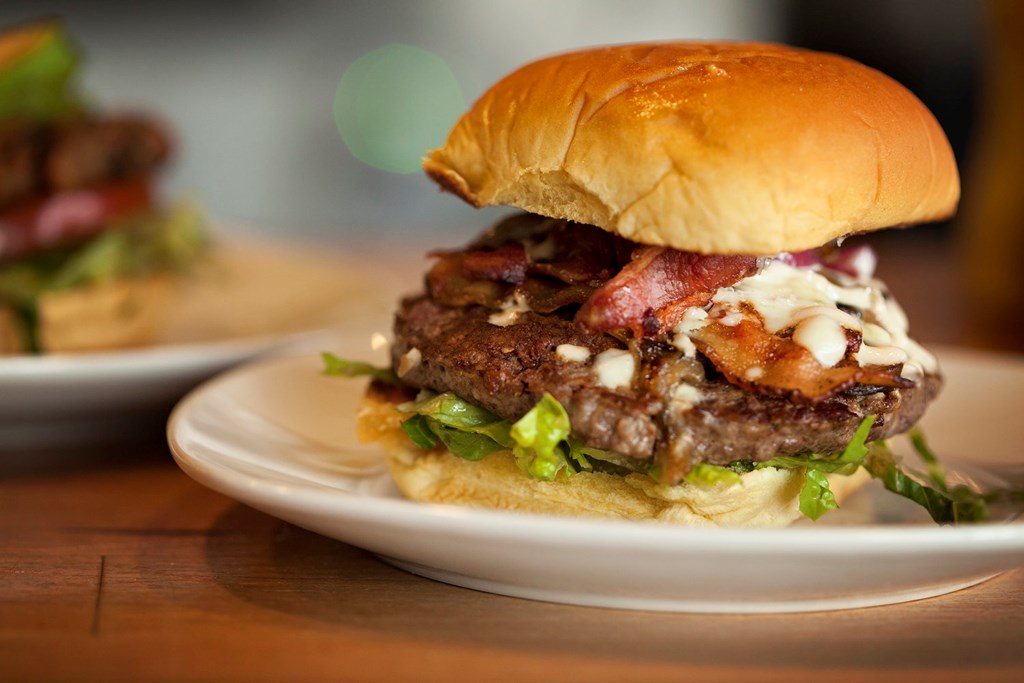 New Hampshire | Put a Ring On It at Lexie's Joint, Portsmouth
This place is so great that there are actually numerous locations across the state. You'll find Lexie's Joint in Portsmouth, Epping, Exeter, and Newbury, Massachusetts.
There's no denying that this burger joint does the American classic right, but there's also no denying that their twists on this classic make it even better.
When it comes to the Put a Ring On It, you'll get a stellar burger loaded with American cheese, chipotle aioli, barbeque sauce, and of course onions (hence its name). Then why not top it off with a fried egg as well?
KOAs nearby:
Strafford / Lake Winnipesaukee South KOA Holiday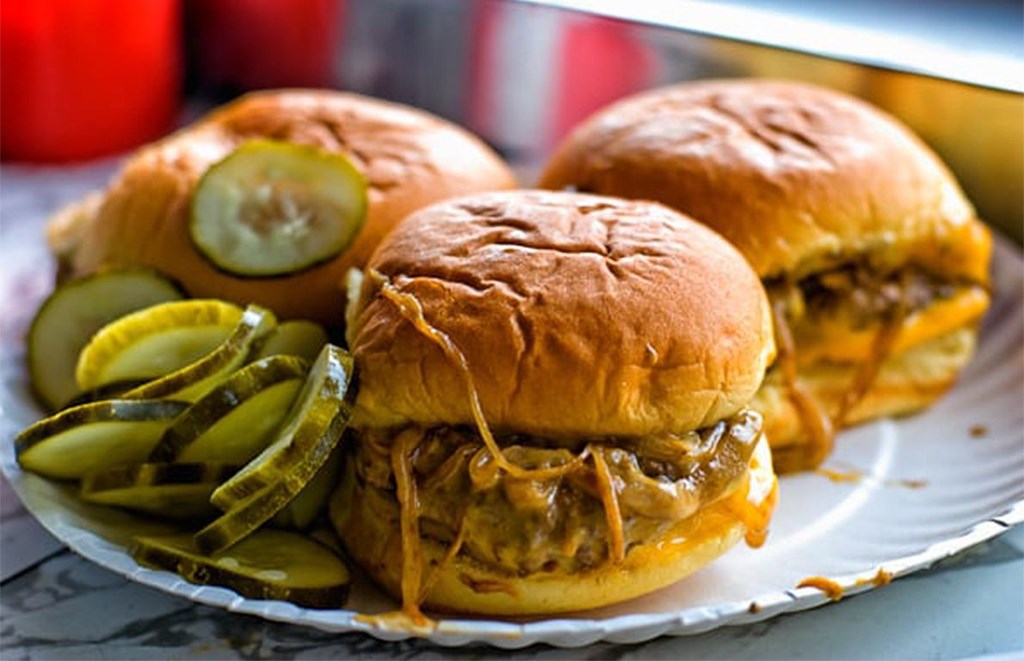 New Jersey | Cheeseburger at White Manna, Hackensack
This little burger stand has been crafting incredible burgers for over 70 years and they plan to continue doing so for many years to come.
Watch the magic happen right before your eyes as the grillman makes your burger and tops it with onions and cheese and shoves it all into a potato roll. Add some crunchy pickles and you've got heaven in a bun.
Just keep your eye out for the white neon lights against the red sign on the I-80, and you'll know you're at White Manna.
KOAs nearby:
Delaware Water Gap / Pocono Mountain KOA Holiday

New Mexico | Green Chile Cheeseburger at Santa Fe Bite, Santa Fe
You can't go to New Mexico on the hunt for the best burger in the state and not eat a cheeseburger filled with green chiles.
To make things easier for you, we've tracked down the b easier for you, we've tracked down the best green chile cheeseburger, and it's at Santa Fe Bite.
We are talking 10-ounce burgers cooked to perfection, topped with green chiles and white American cheese, finished off with a huge soft bun to create the best burger in the state.
KOAs nearby:
Santa Fe KOA Journey
Las Vegas, New Mexico KOA
Albuquerque North / Bernalillo KOA Journey
Albuquerque KOA Journey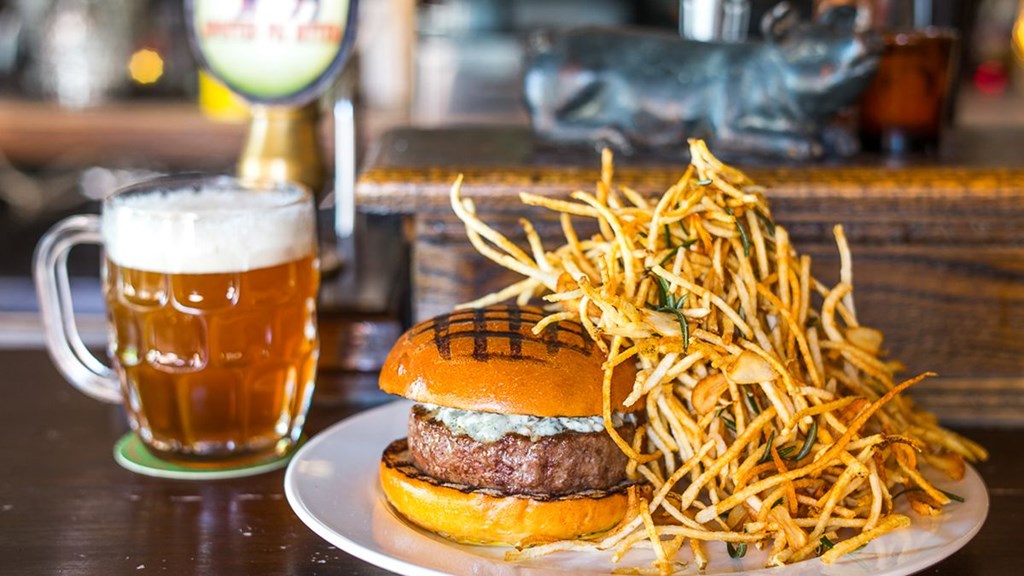 New York | Cheeseburger at The Spotted Pig, New York City
Weighing in at 8-ounces, this burger boasts some of the best grilled beef. Add on unexpected Roquefort cheese, and a brioche bun, and you'll be loving life.
This burger can only get better by adding on a side of rosemary-scented fries — the perfect compliment to the burger.
The Spotted Pig is noted as the trendsetter for the bougie gastropub trend, so fear not — they definitely know how to do food well, especially this burger.
KOAs nearby:
New York City / Newburgh KOA Holiday
Deerpark / New York City NW KOA Holiday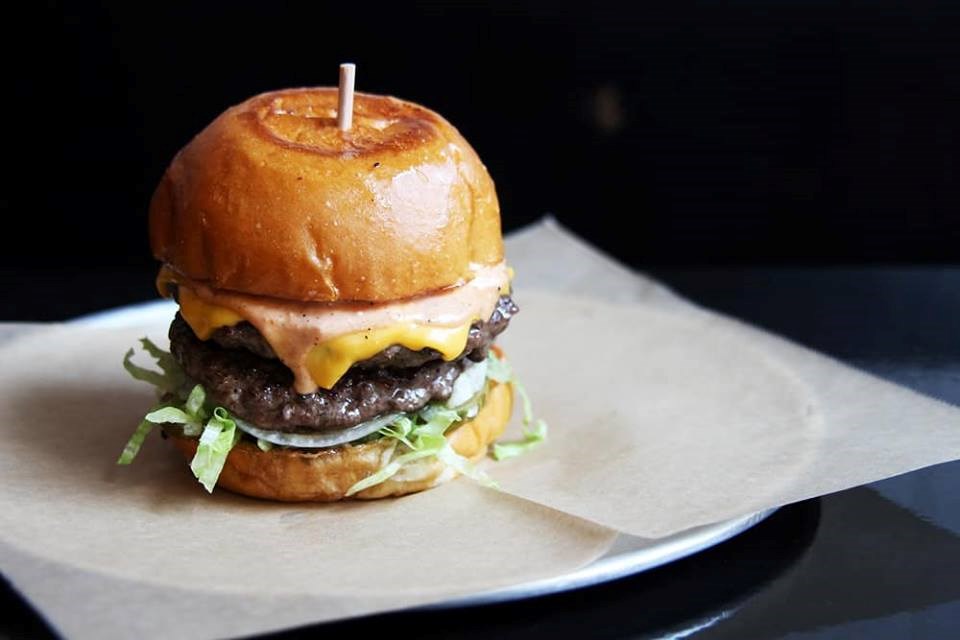 North Carolina | Dirty South Burger at Chuck's, Raleigh
Chef Ashley Christensen won the 2014 James Beard Award for Best Chef of the Southeast, so that's one way to start off knowing you're in for a treat at Chuck's.
The Dirty South Burger is this concoction: a perfectly-seared 100% chuck patty with smoked pork shoulder on top as well as some Anson Mills red peak chili, tobacco onions, a slaw that is made of roasted tomato and malt, cheddar cheese, and mustard.
You may be wondering how that tastes. All we can tell you is that it's amazing, and that you must go try it for yourself.
KOAs nearby:
Greensboro KOA Journey
Enfield / Rocky Mount KOA Journey
North Dakota | JL Burger at JL Beers, Bismarck
A local chain, JL Beers is a favorite amongst locals and tourists alike. There are over 40 beers on tap and you just know you're going to get a good burger when you walk through the door.
Though there are more than 12 different burgers to choose from, we think the signature JL Burger is the best. It's the joint's original Stand Burger (a great patty with pickles and a secret sauce), but added onto it is grilled onions, cheese and an additional patty of meat.
You can also choose from a burger version of a gyro as well as a burger with a more southern Cajun vibe.
KOAs nearby:
Bismarck KOA Journey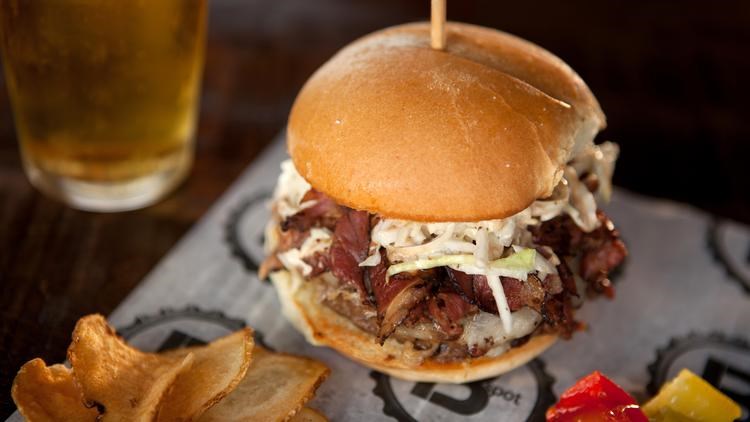 Ohio | The Lola at B Spot Burgers, All Over the State
The chef here at B Spot Burgers is no stranger to burgers — he has won numerous awards for his culinary creations.
And, our favorite, the Lola is the best of his culinary creations.
You've got a burger topped with bacon, cheddar cheese, pickled onions, and lastly, a runny egg. In other words, this burger is not going to be the cleanest one you've ever eaten, but it will be one of the tastiest you've ever eaten.
Expect it to be quite salty too, but we promise you'll love it.
KOAs nearby:
All Ohio KOAs
Oklahoma | Cheeseburger at Nic's Grill, Oklahoma City
The menu is very limited at Nic's Grill — you've got the cheeseburger, the steak sandwich, and chicken-fried steak.
Thankfully, that doesn't matter because you only need one thing when here — the cheeseburger. Griddled perfectly so that its juicy in all the right places, the burger is topped with cheese, mustard, mayonnaise, tomato grilled onions, and pickles.
And we know it's hard to eat a burger without some fries to go along with it, so be sure to get some of Nic's shoestring fries.
KOAs nearby:
Oklahoma City East KOA Holiday
El Reno West KOA Journey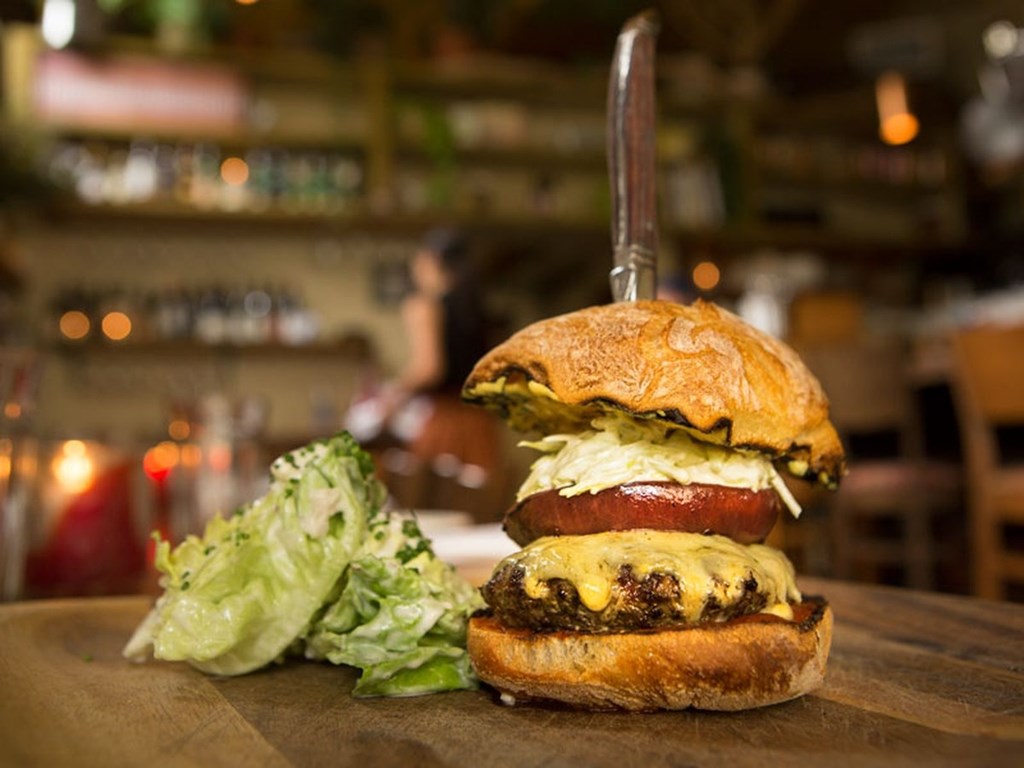 Oregon | Cheeseburger at Le Pigeon, Portland
Back in 2006 when Le Pigeon first opened, only 5 burgers were served a night. FIVE.
Did someone say "exclusive?"
However, finally the restaurant realized that people wanted and needed more, and now serves up the best cheeseburger in the state all the time.
The cheeseburger at Le Pigeon is, in true Portland style, a patty of local beef that is grilled and topped with Tillamook white cheddar cheese from the neighboring Tillamook Cheese Factory, a slaw, mayonnaise, mustard, pickled onions, and homemade ketchup.
The ciabatta bun of this burger really gives it a nice, clean, delicious finish.
KOAs nearby:
Cascade Locks / Portland East KOA Holiday
Longview North / Mount St. Helens KOA
Albany / Corvallis KOA Journey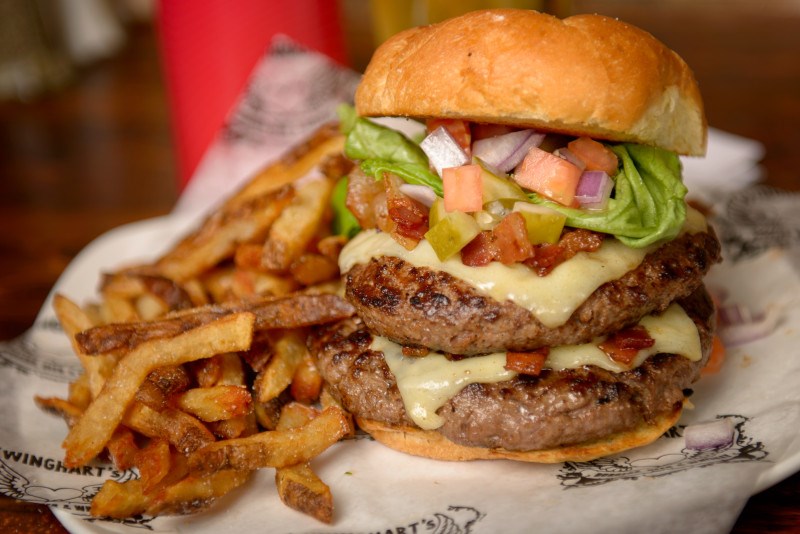 Pennsylvania | Nad Alie at Winghart's Burgers, Pittsburgh
The burger will satisfy all of your burger cravings in one bite.
Not only are the burgers at Winghart's incredibly fresh and grilled to perfection, the buns are too. Options for add-ons here are next-level. Thing local mushrooms, bacon, even a fried pierogi.
But you should really try the Nad Alie. This burger has not one, not two, but three different types of cheese, caramelized onion, a potato pierogi, and burgundy au jus.
Hungry yet?
KOAs nearby:
Washington / Pittsburgh SW KOA
Madison / Pittsburgh SE KOA
Uniontown KOA Holiday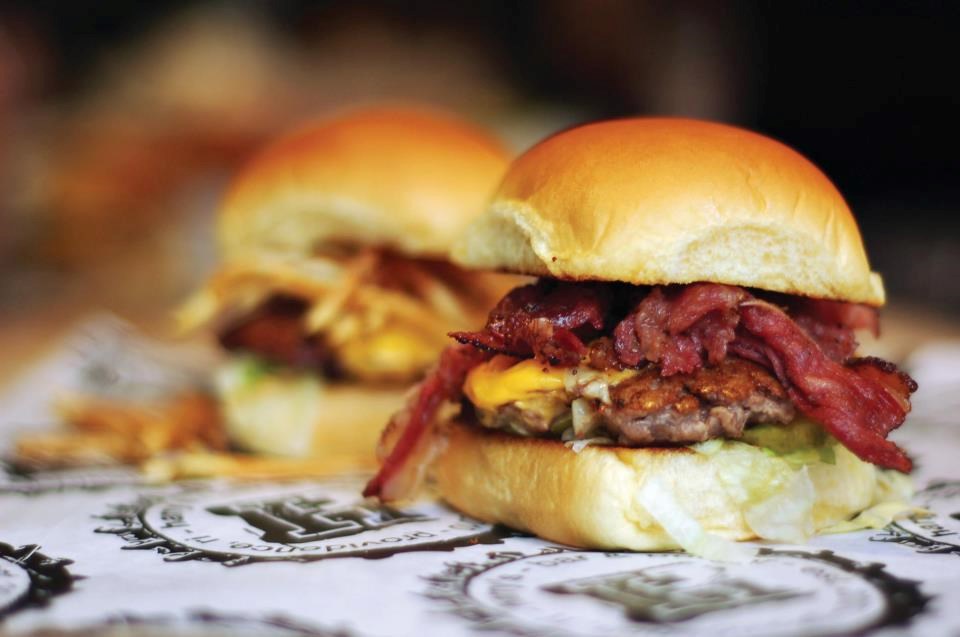 Rhode Island | Mother of All Burgers at Harry's Bar & Burger, Providence
Just because this place is a hit amongst the college students of Providence does not discredit this place at all. Known also for its wings, nachos, and fabulous chili, Harry's also boasts a massive burger menu, all of the items featuring the eatery's secret sauce and served on a potato roll. You can even opt for a slider if you're not on the super hungry side.
However, to get your money's worth and the full experience, order the Mother of All Burgers. This tasty delight comes packed with cheese, bacon, and portobello mushrooms.
KOAs nearby:
Mystic KOA Holiday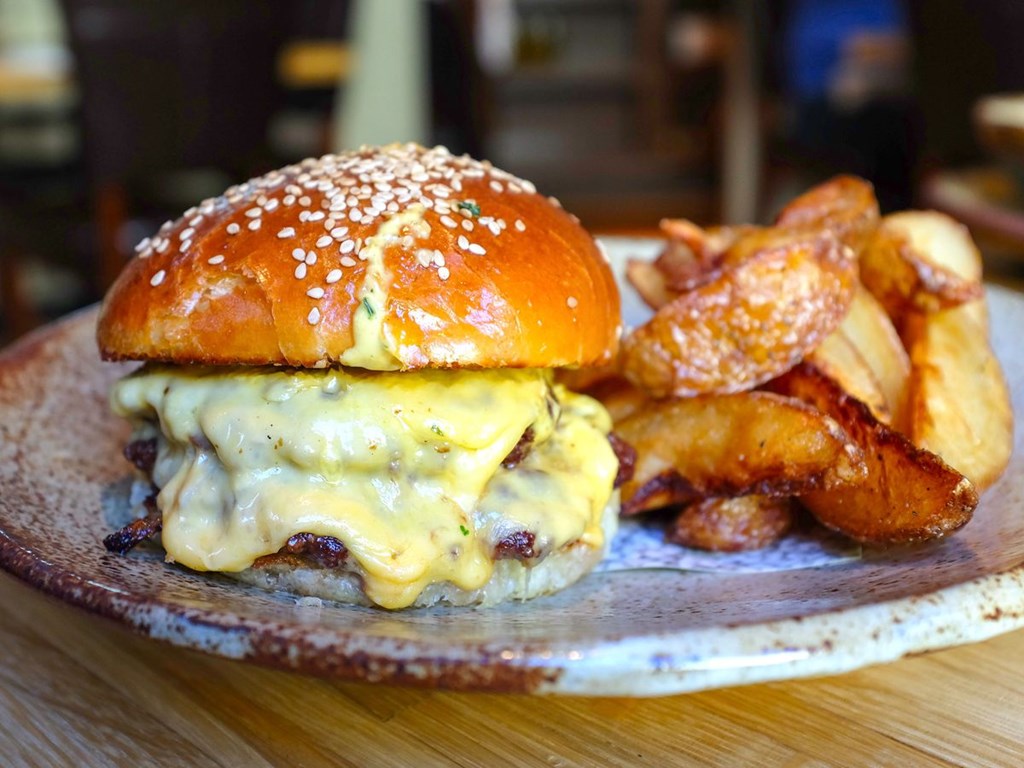 Boston / Cape Cod KOA Holiday
South Carolina | Cheeseburger at Husk, Charleston
This is, hands-down, the best burger in all of South Carolina and no one is afraid to say it. Though the menu at Husk changes often, the cheeseburger is a staple that will never go away.
Why is it so loved? One of the reasons is likely because the patty on this burger has bacon blended into it. Another is that you get not just one, but two patties on each burger as well as American cheese, homemade pickles, a secret sauce, and a homemade buttermilk bun.
KOAs nearby:
Charleston KOA Holiday
Mount Pleasant / Charleston KOA Holiday
South Dakota | Dakotah Burger at Dakotah Steakhouse, Rapid City
Steakhouses are not a rare thing in South Dakota, so the competition for the best burger is a difficult one.
However, Dakotah Steakhouse is the clear winner here, thanks to its meat. The burgers use local beef (or bison if you'd rather) and grill it to perfection, keeping the inside perfectly juicy.
And the best burger for you to try here is the Dakotah Burger though to warn you — it is a bit unusual. Rather than a regular bun, this burger sandwiches everything between two pieces of fry bread. Sounds weird, right? It is, but it's a weird you're going to love.
The burger inbetween is also amazing, with cheddar and Monterey Jack on top giving it that perfectly cheesy taste.
KOAs nearby:
Rapid City / Black Hills KOA Holiday
Mount Rushmore KOA REsort at Palmer Gulch
Custer / Mount Rushmore / Black Hills KOA Holiday
Spearfish / Black Hills KOA Holiday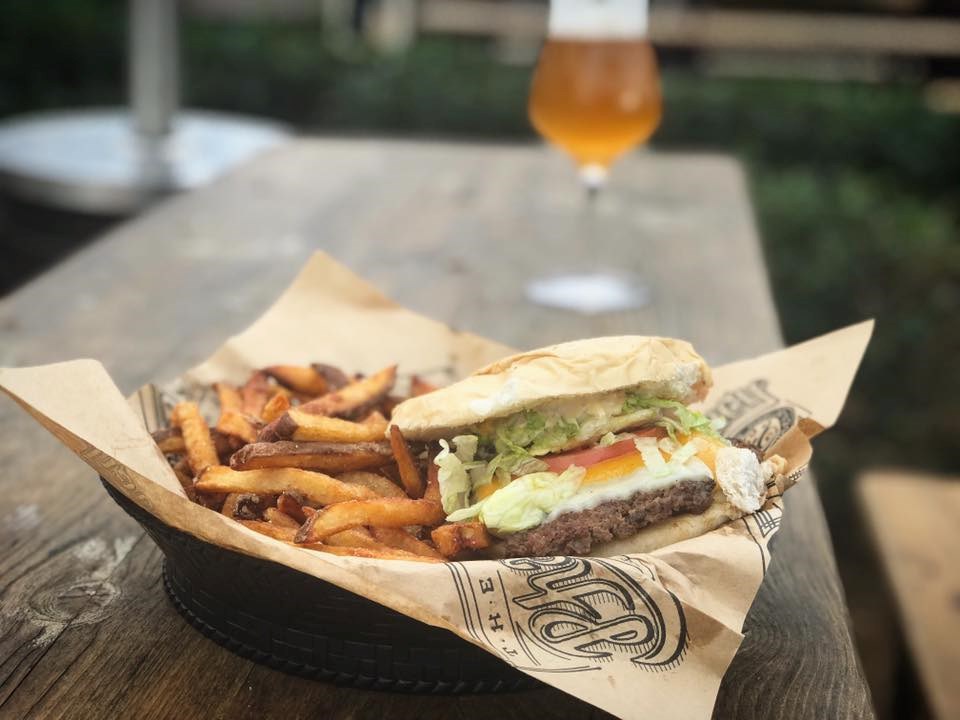 Tennessee | Cheeseburger at The Pharmacy, Nashville
Known primarily for its beer (as it is a beer garden), The Pharmacy offers up some rare European beers as well as some krauty eats.
You may be surprised to learn that this is where you'll get the best burger in the state of Tennessee.
The Pharmacy's cheeseburger starts with a basic (but delicious) patty, and adds on top it cheddar, Swiss and Muenster cheeses as well as some garlic aioli, finished off with a perfectly soft bun.
This is a pharmacy we definitely don't mind going to on a regular basis.
KOAs nearby:
Nashville North KOA
Nashville KOA Resort
Nashville East / Lebanon KOA East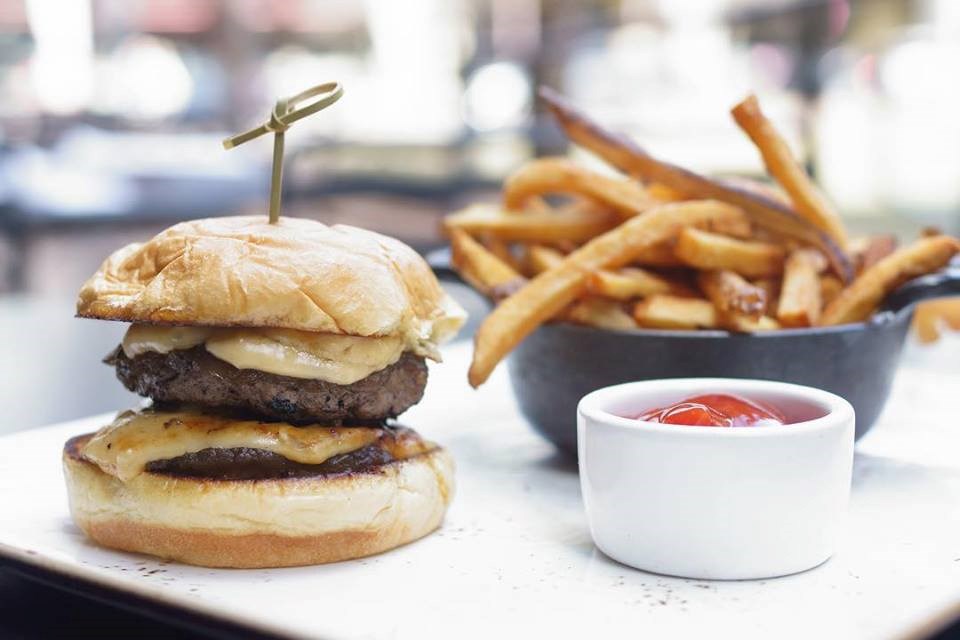 Texas | Blue Ribbon Burger at Cured, San Antonio
Cured serves up some tasty eats, including bison tartare and epic cauliflower. It also serves up some delicious craft cocktails for when you're feeling a bit more fancy.
However, when you're ready to get down with a solid burger, you want to go for the Blue Ribbon Burger here. With this you'll get your choice of one, two, or three bacon and beef patties, covered in cheese and sweet onion jam.
Throw some fries on the side and what you're eating is perfection.
KOAs nearby:
San Antonio / Alamo KOA Holiday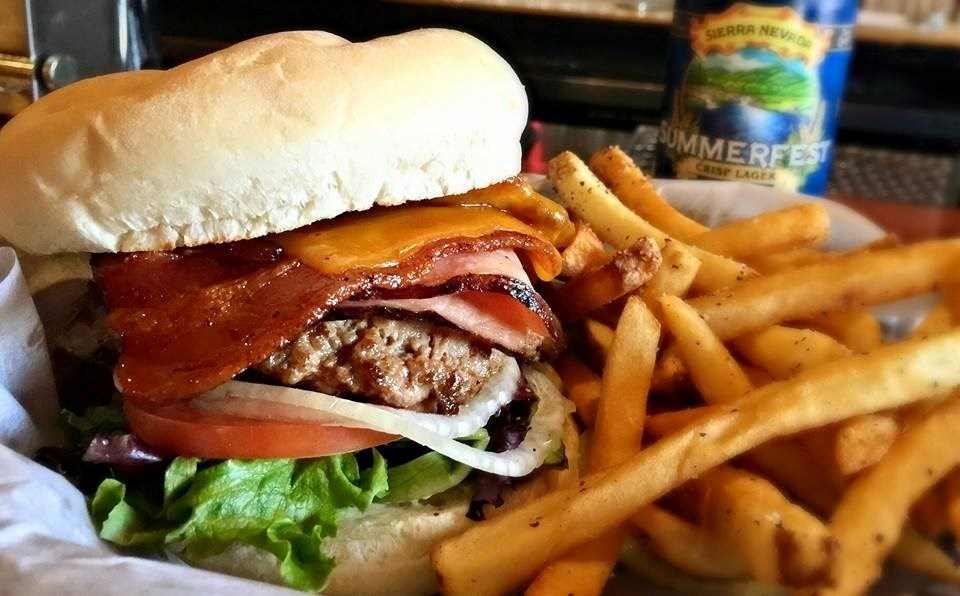 Utah | Cheeseburger at Lucky 13, Salt Lake City
Lucky 13 is your one-stop-shop for all things housemade when it comes to burgers. They bake their own buns, they grind their own meat, and they smoke their own bacon.
Heavily focusing on the use of local ingredients, you can really taste the difference with the cheeseburger here. The bacon alone is enough to send you into a state of ecstasy.
You'll find it difficult to only eat here once — in fact, most people visit here multiple times when passing through town.
KOAs nearby:
Salt Lake City KOA
Brigham City / Perry South KOA Journey
Springville / Provo KOA Journey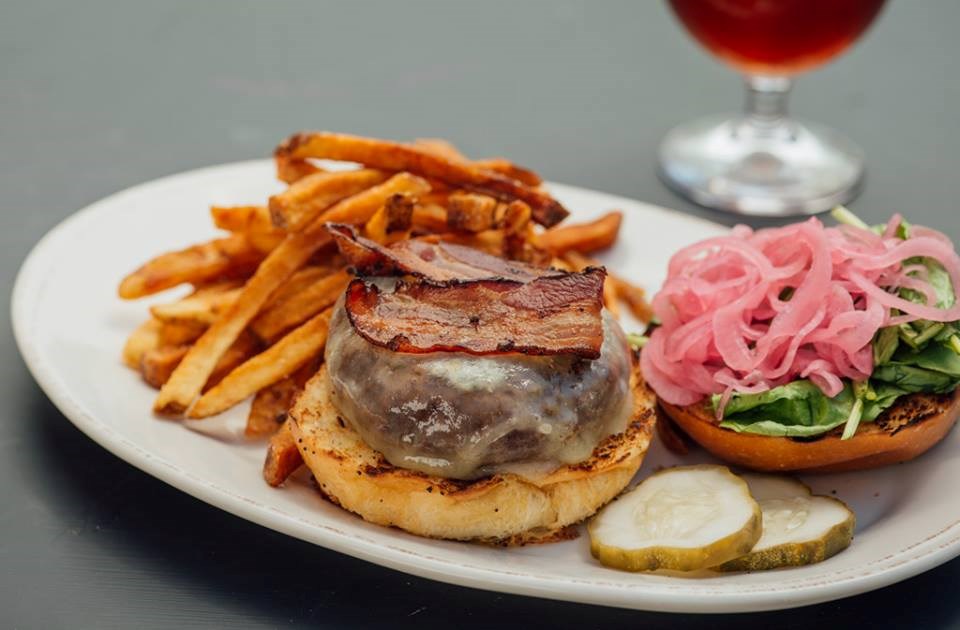 Vermont | LaPlatte River Angus Farm Beef Burger at Farmhouse Tap & Grill, Burlington
This place is loved by locals and tourists first for its wide range of beer and cider options.
But what really takes things home for this grill is its food that comes primarily from local farms, and the spotlight here is on the burgers.
Our favorite is the LaPlatte River Angus Farm burger that is simplicity at its finest. With nothing but cheddar cheese, bacon, and pickled red onions on top, this burger speaks volumes with just a little.
KOAs nearby:
Lake Placid / Whiteface Mtn. KOA Holiday
Lake Bomoseen KOA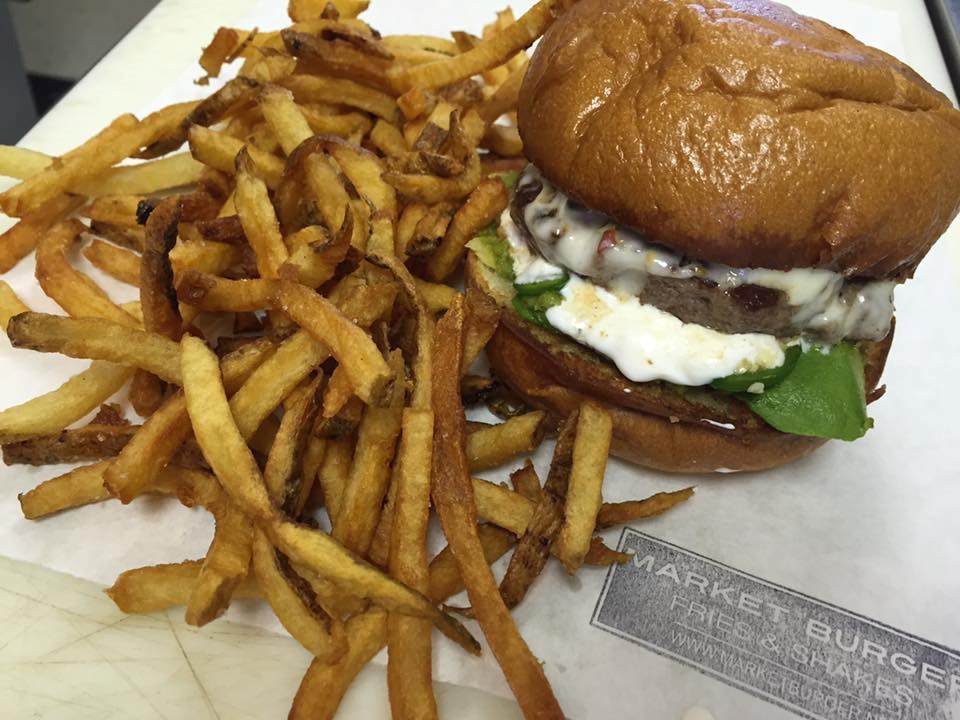 Virginia | Market Burger at Market Burger Fries & Shakes, Purcellville
While there is no shortage of good eats in Virginia, the signature Market Burger at Market Burger Fries & Shakes really gets the gold medal here.
The options for burgers at Market allow you to essentially build your own burger, we mean masterpiece.
You start off with either a single or double patty, and then have options to add the following: housemade pickles, sauteed onions, sauteed mushrooms, curry mayonnaise, American cheese, smoked bacon, fried egg, and so much more.
Oh, and you're going to love the buns here. They have created the perfect brioche that is heavy enough to handle all the toppings, but not too heavy to enjoy.
KOAs nearby:
Harpers Ferry / Civil War Battlefields KOA
Hagerstown / Antietam Battlefield KOA Holiday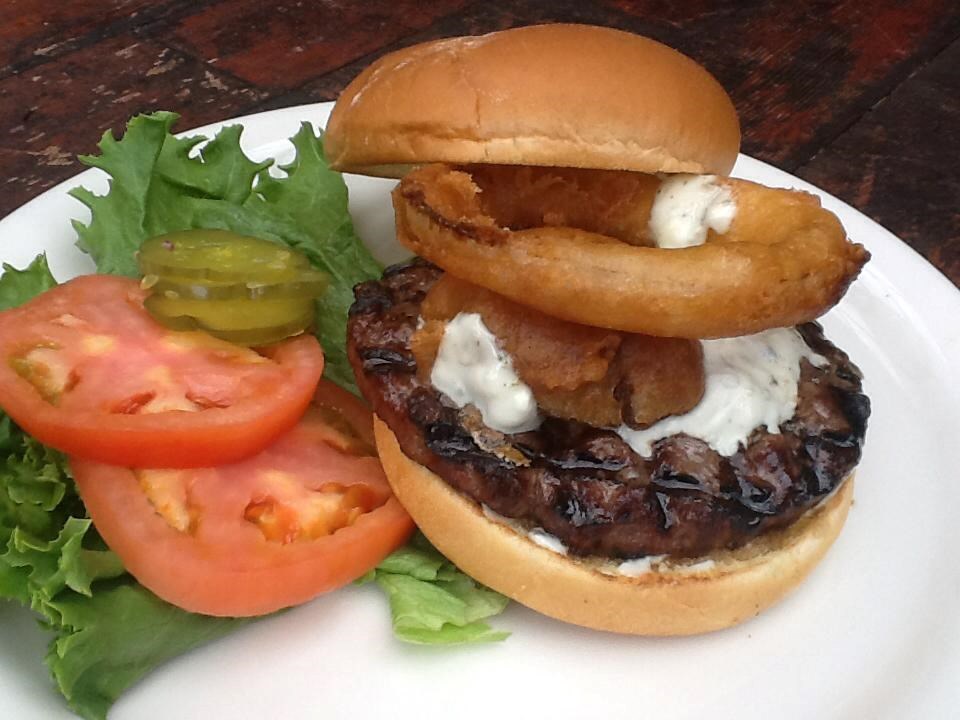 Washington | Tavern Burger at Loretta's Northwesterner, Seattle
Hip as can be, Loretta's Northwesterner is a bar that features a gorgeous Airstream trailer on its back deck.
Come here for great cocktails, beer, and of course burgers. The best burger, in our opinion, is the Tavern Burger. The patty on this is a bit thinner than you may be used to, so we suggest opting for a double. On top of your patty you'll find American cheese, pickles, onion, and a secret sauce.
Just the perfect Seattle burger for you to sink your teeth into.
West Virginia | Eagle Burger at Secret Sandwich Society, Fayetteville
Though the competition is tough here with some killer dive bars, Secret Sandwich Society really knocked our socks off.
The claim to fame here are sauces and unusual toppings. And our favorite burger, the Eagle Burger, is no exception. This one comes with grilled mortadella cheese, a fried egg, pickles, onions, American cheese, and roasted garlic mayonnaise.
An interesting mix that you will quickly fall in love with, guaranteed.
KOAs nearby:
Huntington / Fox Fire KOA Holiday
Ashland / Huntington West KOA Holiday
Flatwoods KOA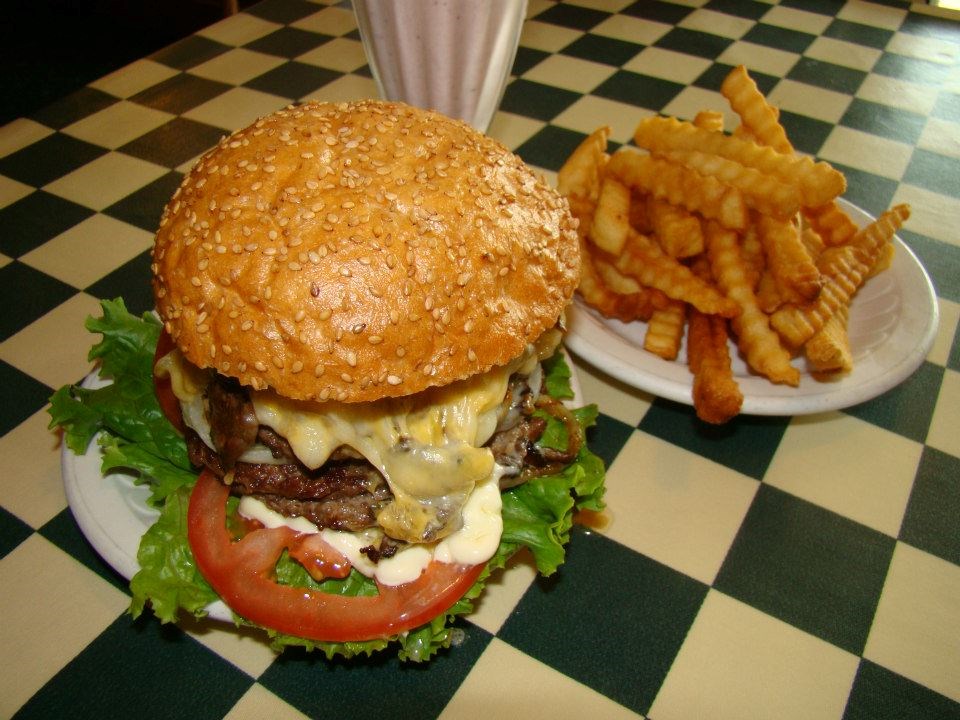 Wisconsin | Original Solly Burger at Solly's Grille, Milwaukee
Rocking it in the family since 1936, Solly's was put on the map for its butter burger and with one trip here, you will understand why.
A local butcher brings local and fresh sirloin here every day, and you better believe that all the burgers here are made with local Wisconsin butter.
The most fun about Solly's is that you can watch your burgers being made right in front of your face. That, and the fact that there are more than 15 different toppings and burger options for you to choose from.
However, the tried and true one is the Original Solly Burger. This perfection is topped with stewed onions and a solid dose of butter. Sounds strange, but the way the butter melts into the bun and the burger will have you crying for more.
KOAs nearby:
Milton KOA
Madison KOA
Wyoming | Kingbird Burger at The Crowbar & Grill, Laramie
If you're looking to add some more adventure into your life, then we have the burger spot for you. The Crowbar & Grill in Laramie is a great small town gastropub that serves up some seriously strange (but delicious) foods.
The most notable (and our favorite) is the Kingbird Burger. Read through to the end, because though the ingredients don't sound like they'd work together, they definitely do. Okay here goes. On this burger you will find: peanut butter, sharp cheddar cheese, bacon, and banana. Yep. Strange but amazing.
For vegetarians they've also got some great options, but we really suggest sticking to their quality local beef here for the full experience.
KOAs nearby:
Laramie KOA Journey
Fort Collins North / Wellington KOA Journey
And there you have it. Fifty different burgers for you to try in fifty different states. That's a whole lot of burger eating, but when you're on a road trip, calories don't count, so don't worry about that.
Make it your goal to visit as many of these burger spots as possible to test out our favorites, and be sure you let us know what you think. Also, let us know if you think you've found something better because we are always open to doing more burger testing.
To plan out your epic American burger road trip this year, be sure to check out KOA sites nearby so you don't have to travel too far once you've eaten your way into a food coma.
---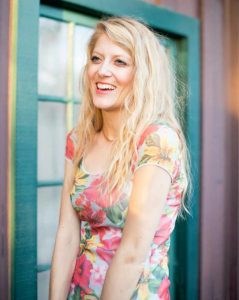 Leslie, a.k.a. Copy Girl, is a copywriter who gets butterflies from telling stories through words.
Her voice comes from a place filled with passion, dreams, and lots of sugar. "Cake over steak" is her go-to motto.
With over 10 years of experience in crafting words, and years of embarking on travels that have taken this Montana girl to some incredible places, Leslie love the adventures of both body and mind her writing takes her on.
Everywhere she goes, she takes this advice with her:
"Hold on to your divine blush, your innate rosy magic, or end up brown." – Tom Robbins, Jitterbug Perfume
To see what Leslie's up to in the writing world, visit her website here.
---