Summer may be ending, but some of the best camping is just getting started. Read this to seamlessly transition to fall camping.
Summer is nearing its end.
Wait, what?!
Per usual, summer zoomed right past us. We hope you were able to schedule in a few fabulous summer camping trips — we know we sure did!
While it's a bit sad that the summer camping season is behind us, we are feeling better knowing that fall camping is here. Though there can be some more equipment involved in fall camping, there's no reason you can't enjoy it just as much (if not more than!) sleeping outdoors in the summer.
If you do fall camping the right way, that is.
And with our help, you'll be able to.
Today we are going to share with you the best ways to transition from summer to fall camping, and get the most of out of this gorgeous season.
Why Fall Camping is So Wonderful
There are a few reasons fall camping may be preferable to summer camping for some.
Here are a few:
1. Cooler Temperatures
In the fall, you don't have to deal with hot and sticky summer nights. It's not winter yet, either, so temperatures aren't going to be arctic.
In our opinion, fall weather is the perfect recipe for camping. Able to please even Goldilocks herself, fall camping is not too hot, and not too cold.
The cooler weather comes in really handy when you're out hiking, biking, kayaking, or enjoying the outdoors in any other way. You won't sweat as much, or tire out as quickly due to the heat.
2. Not As Many Bugs
Oh summer, how we love thee. But oh summer, how we hate your bugs.
Sometimes, camping and hiking during the summer can become quite the challenge when you're fighting off bugs of all kinds. Bugs tend to be few and far between in the fall, and we are loving that.
3. Beautiful Colors
Regardless of where you are camping in the fall, the colors around you will be different from the summer and more often than not, those colors will be more beautiful than in the summer.
If you're lucky enough to be camping somewhere with changing leaves, you'll get the full effect and quickly understand why fall camping is one of our favorite things.
4. Less People
Don't get us wrong — we are all about enjoying camping with our neighbors. However, sometimes it's nice to have a bit more privacy and a bit more space to yourselves.
If that's what you're looking for, then look no further than fall camping. There are far smaller crowds in the fall, which also makes it much easier to get reservations and greatly increases the chances you'll get the exact camping site you want.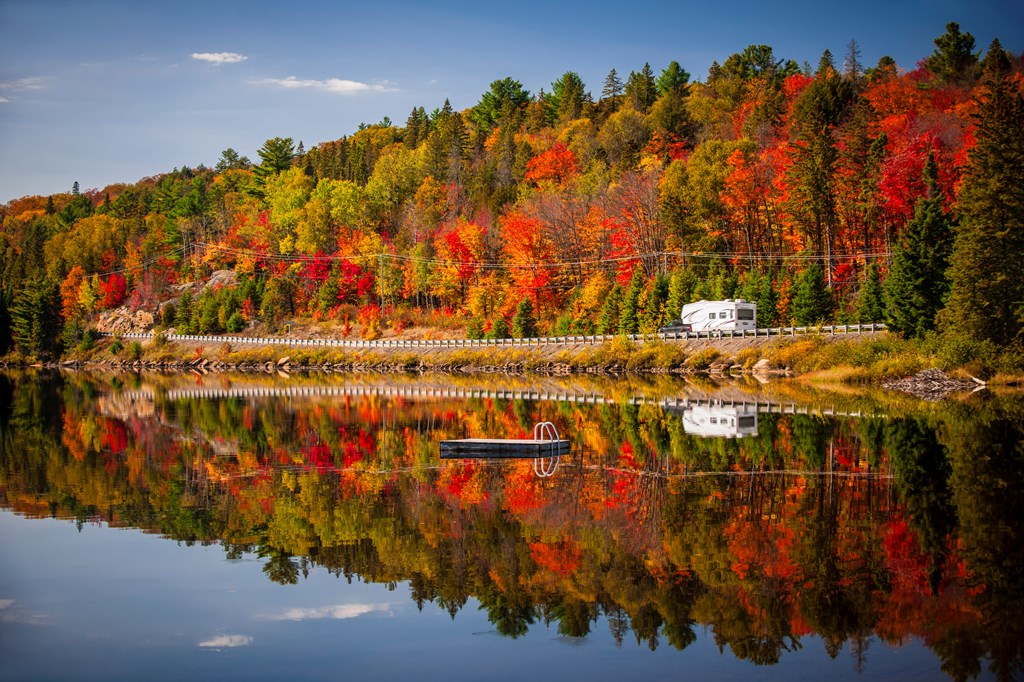 How to Go From Summer Camping to Fall
Now that you see why fall camping is something you're sure to love, let's get on with the best way to transition from summer to fall camping.
Get a warmer sleeping bag
In the summertime, you may not have ever used a sleeping bag while camping. In many places, the nights stay warm enough to allow you to get away with that.
Fall, on the other hand, is a different thing.
You are definitely going to need a warm sleeping bag — probably a 3-season bag that is best for temperatures between 10 and 35 degrees Fahrenheit. Or, if your fall camping adventures take you somewhere cooler, you can opt for a cold weather sleeping bag that is best for temperatures between -10 and 10 degrees Fahrenheit.
Keep an eye out for animals
It is not quite hibernation time for most animals, but they do tend to emerge more in the fall when temperatures cool down.
Know what to do when you run into one of the animals while camping. Do your research, as happening upon different animals while in nature requires different responses.
Be sure to keep all food out of your tent while camping, and hide anything at night that may attract animals to your camping area.
Take advantage of cooler weather and head to warmer climates
Unless you have some superhuman skill that we don't know about, and can withstand the incredibly hot temperatures of the desert during the summer for camping, we think that fall is a much better time to venture south to warmer climates.
Don't forget, though, that the desert temperatures do drop at night, so don't assume you'll just need summer camping gear for fall camping in the desert — be sure to bring the right stuff.
Plan for longer hikes
In the summer we are often left to cut hikes short because of the heat and too much exposure to the draining sun.
In the fall, however, you'll be able to enjoy hours more of hiking without overheating. Take this as the opportunity to go on those longer hikes you craved all summer, but just couldn't endure because of the heat.
Bring extra lights
Because the days are much longer in the summer, you have much more daylight to enjoy various adventures while camping.
Fall means shorter days, which means you're going to need some help with lighting the way.
Pack a few headlights and bring along some lanterns so that you can continue to enjoy your camping once the sun goes down.
Bring along the hot cocoa
This is what we've been waiting for. Summer camping is just too hot for us to warrant bringing along hot cocoa and a bag of marshmallows.
Fall is when we feel it is legitimate to pack in all the hot cocoa we can find, and indulge in a cup whenever possible.
Pack more layers
Summertime camping means you can usually get away with a single layer and maybe one light jacket for the evening.
But that just won't cut it in the fall.
Once the temperatures drop, you're going to want to have more layers on hand just in case things are a bit cooler than you expected. A waterproof jacket is a must during the fall as well — it tends to rain a lot during this season, and you do not want to spend your camping trip soaking wet.
Enjoy different meals
Warmer weather camping typically means eating more food that doesn't require cooking over a campfire.
Because who wants to sit in front of a hot campfire to cook their hot dog when it's 90 degrees outside?
As a result, summer camping food consists of more pre-made meals such as cold pastas and sandwiches that can be enjoyed sans a fire.
Fall camping, however, means the opportunity to eat some of your favorite campfire foods. From hot dogs, to s'mores, and cast iron meals, we love a good warm meal on a cool fall day.
Making the switch from summer to fall camping is very easy. By following the above and properly preparing yourself for camping in cooler weather, we think you'll find that fall camping is your new favorite thing.
---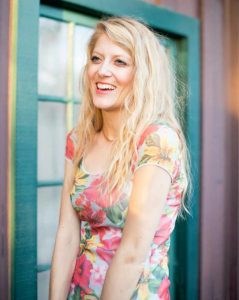 Leslie, a.k.a. Copy Girl, is a copywriter who gets butterflies from telling stories through words.
Her voice comes from a place filled with passion, dreams, and lots of sugar. "Cake over steak" is her go-to motto.
With over 10 years of experience in crafting words, and years of embarking on travels that have taken this Montana girl to some incredible places, Leslie love the adventures of both body and mind her writing takes her on.
Everywhere she goes, she takes this advice with her:
"Hold on to your divine blush, your innate rosy magic, or end up brown." – Tom Robbins, Jitterbug Perfume
To see what Leslie's up to in the writing world, visit her website here.
---
Save