Free Pumpkin Carving Templates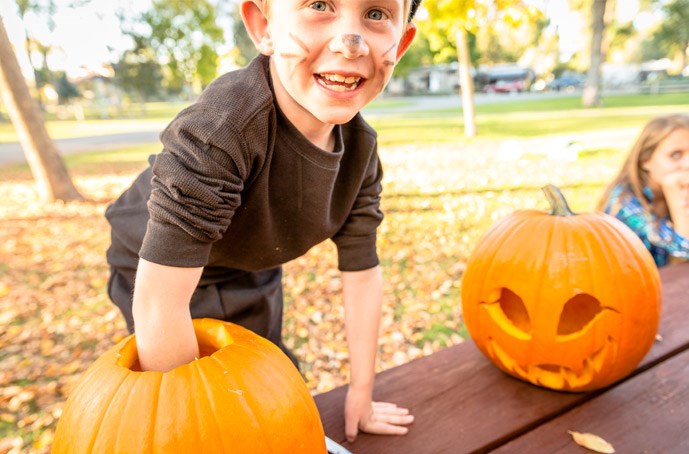 Highlight your love of camping this Halloween with our downloadable carving templates.
Nothing says Halloween quite like the flicker of a jack-o-lantern on a crisp fall evening. While a carved pumpkin might be a holiday tradition, the design you choose can be anything but! Our new camping-themed templates are sure to make your pumpkins neighborhood standouts. Planning to visit a KOA for one of their many fall events? One of these pumpkin designs is a must for the steps of your RV or Deluxe Cabin.
---

Instructions
Click above to access the carving templates.
Cut a lid and hallow your pumpkin – be sure to save the seeds for baking!
Print one or more of the templates.
Tape or pin your chosen pattern onto your pumpkin. Make sure the pumpkin is nice and dry if you're using tape.
Use a poking tool, awl or nail to poke small, shallow holes through the paper and into the skin of the pumpkin following the lines of the pattern. Remove pattern and save for reference when carving.
Carve you pumpkin by carefully sawing each section.
Let it glow!
Extra Carving Tips
Look for the flattest side when deciding where to carve – even if it's a little ugly. Remember when day turns to night all you'll see is the glow!
Having trouble placing the pattern? Before taping, make several tears around the edge of the pattern to accommodate the round shape.
Poke your holes no more than 1/4 inch apart as you follow your partner. For more complicated designs, place your holes closer together.
A small pumpkin saw makes for a better – and safer – carving tool than a kitchen knife.
Hold your saw like you would a pencil and use a 90-degree angle as you cut.
When carving, start with the smallest sections first. Then, move to the center of the pattern and work toward the outer edge.
Having trouble seeing the pattern you poked? Rub some flour on the dots to increase their viability.
Find more camping-themed carving templates – including those used in the video – here!
---