'Tis the season for many wonderful things, but most importantly, all things pumpkin.
Step outside of your pumpkin spice latte zone and get creative with how you bring pumpkin into your life. We are talking about not just having that pumpkin on Thanksgiving or on your ride through the Starbucks drive-thru. We are talking about bringing that favorite pumpkin taste along with you camping.
How do you incorporate pumpkin into your camping meals? We've got some great ideas that will give you even more reason to love this orange icon of fall.
Spice Up Your Life With 12 Tasty Pumpkin Recipes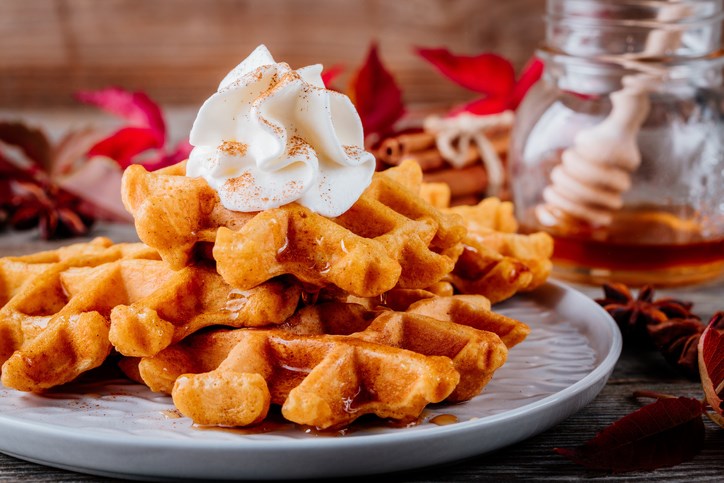 1. Pumpkin Waffles
What better way to start your day than with some pumpkin waffles? And these ones are guilt-free so you can enjoy your sweet breakfast without a worry.
If you don't have a waffle maker, then these waffles easily become pancakes that pack the same punch of flavor.
What you need:
2 ½ cups all purpose flour
4 tsp baking powder
2 tsp ground cinnamon
1 tsp ground allspice
1 tsp ground ginger
½ tsp salt
¼ c packed brown sugar
1 c pumpkin puree
2 c milk
4 eggs, separated
¼ c butter, melted
What to do:
Preheat waffle iron or pan for pancakes
Mix together flour, baking soda, cinnamon, allspice, ginger, salt, and brown sugar
In separate bowl, mix the pumpkin puree, milk, and egg yolks (save the egg whites for the step 5)
Add the wet mixture into the dry a little at a time, making sure to leave the batter a little lumpy
Whip egg whites until soft peaks form
Fold egg whites quickly into batter
Cook the waffles per instructions, or butter a pan to cook pancakes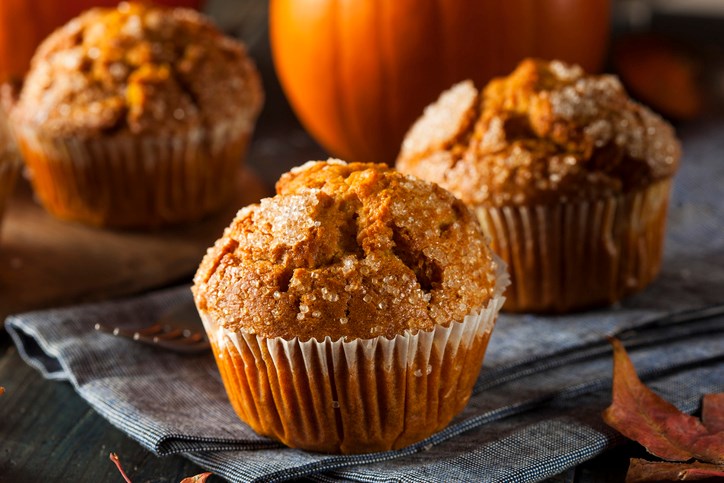 2. Pumpkin Muffins
For a nice quick breakfast on the go, these muffins are great to make ahead of time. You can reheat them quickly and easily for those mornings when you're ready to get out there and adventure and don't want to have to fuss with making breakfast.
What you need:
1 ¾ c all purpose flour
1 c sugar
½ c dark brown sugar
1 tsp baking soda
½ tsp salt
2 tsp cinnamon
¼ tsp ground cloves
¼ tsp nutmeg
2 eggs
1 15-oz can pumpkin puree
½ c coconut oil, melted
1 tsp vanilla extract
What to do:
Preheat oven to 375 and line muffin tin
Mix the flour, sugars, baking soda, salt, and spices in a medium bowl and set aside
In a separate bowl, whisk together eggs, pumpkin puree, coconut oil and vanilla
Pour wet ingredients into dry ingredients and stir just until mixed
Evenly distribute batter into each muffin well
Bake for 20-22 minutes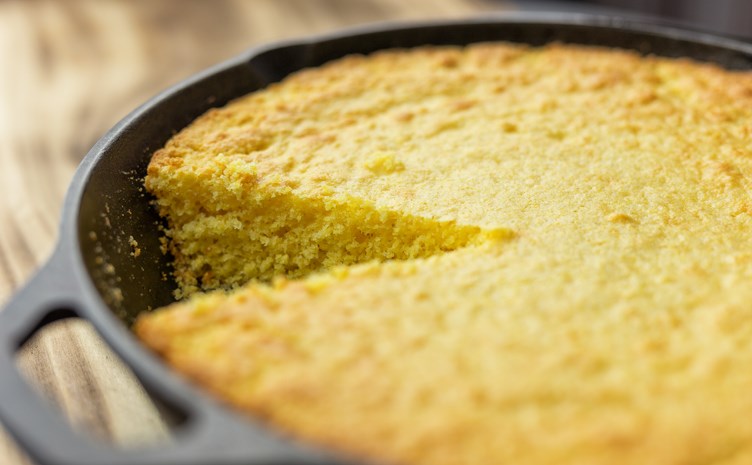 3. Pumpkin Cornbread
This gluten free bread is a great variation of the classic cornbread. You can opt to treat this more as a dessert, or as a great side dish to your meals.
What you need:
1 ½ c corn flour
1 ½ T baking powder
1 ½ tsp salt
¾ tsp ground cinnamon
½ tsp ground nutmeg
1 ½ c cornmeal
3 large eggs
1 ½ c pumpkin puree
1 c brown sugar
½ cup canola oil
1 ½ T molasses
What to do:
Preheat the dutch oven
Sift the flour, baking powder, salt and spices in a large mixing bowl
Whisk in cornmeal
In separate bowl, beat eggs
Whisk in pumpkin, brown sugar, oil, and molasses
Add the pumpkin mixture and blend the batter with just a few strokes
Pour a bit of vegetable oil into the dutch oven
Pour batter on top
Bake with the lid on for 30 minutes
Add about 15 briquettes to the lid of the dutch oven to brown the top of the bread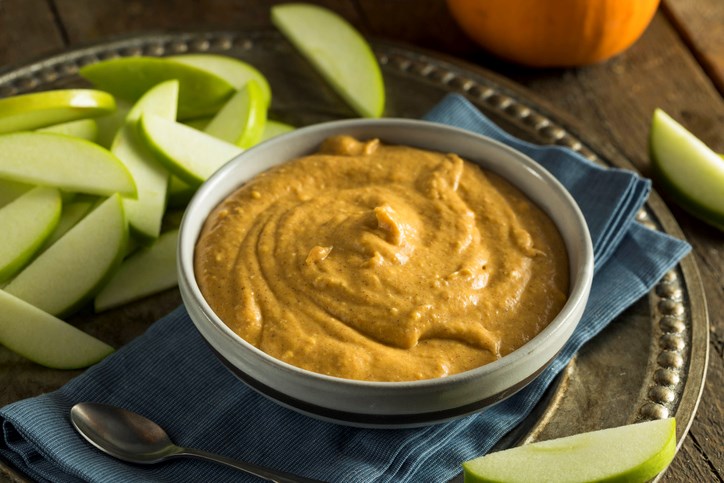 4. Pumpkin Dip
This dip works as a great snack when you need a little boost and can easily be made ahead of time for your camping adventures. We recommend eating with graham crackers for the ultimate flavor.
What you need:
¾ c canned pumpkin
8 oz cream cheese
7 oz marshmallow fluff
1 tsp pumpkin pie spice
Graham crackers or apples for dipping
What to do:
Soften cream cheese
Mix all ingredients together
Refrigerate until ready to serve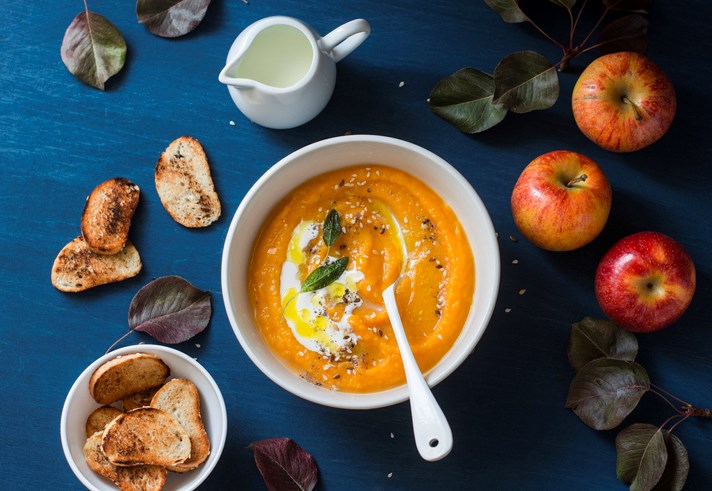 5. Pumpkin and Apple Soup
Few things scream "fall" quite like pumpkin and soup. Put the two together and bam! You've got the ultimate fall food.
What you need:
2 T butter
2 T olive oil
2 medium onions, diced
1 quart chicken stock
1 sprig rosemary
Meat of 1 medium butternut squash, seeded and cut into 1-inch pieces
4 apples, peeled, seed, and cut into 1-inch pieces
Salt and pepper to taste
Sour cream
What to do:
In dutch oven, heat butter and olive oil
Add onions and saute for 5 minutes
Add squash and apples and cook for about 15 minutes
Pour in chicken stock until squash and apples are covered
Stir in rosemary and put lid on the dutch oven
Let simmer for 20 minutes, or until the squash pieces are tender enough to break apart easily
Mash the squash and apple pieces until the soup is as thick as you want
Season to taste
Serve in bowls and add spoonful of sour cream on top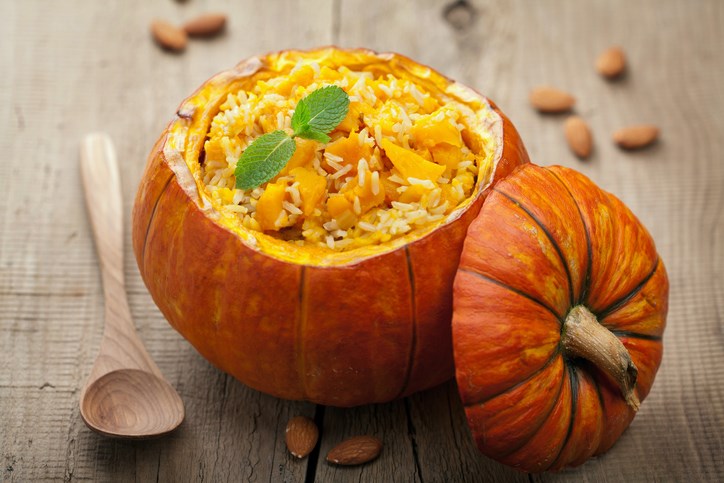 6. Pumpkin Rice
This isn't just any pumpkin rice — this one is roasted over the campfire, really bringing out some unique flavors you won't find elsewhere.
What you need:
9-inch sugar pumpkin
2 cups arborio rice
4 – 4 ½ c vegetable broth
½ tsp salt
2 T butter
½ c dried apricots, chopped
½ c walnuts, chopped
½ c dried barberries or currants soaked in lemon juice
What to do:
Get campfire going
Wash and dry pumpkin
Cut a lid around the stem and set aside
Scrape out the pumpkin
Set the pumpkin in the dutch oven and scoop the rice filling into it, making sure the pumpkin lid can still close
In order to cover the pumpkin and create an "oven," use a 10-inch cast iron skillet as a lid by turning it upside down and placing over the dutch oven
Set dutch oven directly in the fire pit with coals, and place hot coals on top of the lid
Rotate ¼ turn every 15 minutes until pumpkin outside is soft to the touch and the inside is soft
 Remove from campfire and scoop out rice, taking bits of pumpkin with it

7. Roasted Pumpkin and Garlic
This is a great side dish or vegetarian main for those who aren't fans of meat. It's great fun to cook in the dutch oven, too!
What you need:
1 medium-sized pumpkin, skinned, seeded and cut into strips
4 cloves of garlic, chopped
Olive oil
Goat cheese
What to do:
Spread pumpkin strips on a large sheet tray
Sprinkle chopped garlic on top of pumpkin strips
Drizzle olive oil on top
Toss pumpkin strips and chopped garlic until the strips are well coated
Transfer the strips into the dutch oven
Cover the dutch oven and bake with 17 coals on the lid, 7 coals on the bottom for 45 minutes
Add wedge of goat cheese inside the pumpkin strip and serve immediately

8. Cheesy Pumpkin Polenta Fries
Anything with the word "fries" in it gets our attention immediately. And, when you throw pumpkin in the mix, we are 100% sold.
What you need:
2 c low-sodium chicken stock
1 c low fat milk
1 T olive oil
1 tsp salt
1 tsp fresh thyme
1 c yellow cornmeal
1 c fresh pumpkin puree
1 c mozzarella cheese, shredded
What to do:
1. Line 9 x 11 pan with parchment paper or wax and set aside
In medium pot, bring chicken stock and milk to a near boil
Add olive oil, salt, and thyme
Turn heat down and add cornmeal, stirring constantly
Add pumpkin puree and cheese and cook for another 5 minutes, stirring constantly
Pour hot polenta mixture into the lined pan and spread out to evenly distribute
Refrigerate for 4 hours
Take pan out of fridge before leaving for camping trip and cut into fry-like strips
Once at the campground, heat oil in large saucepan until its ready for deep-frying
Deep fry the "fries" until they are golden brown, and plate on plate lined with paper towels to drain extra oil

9. Sausage Pumpkin Pasta
You may not think about putting pumpkin in your pasta but we promise that after you try this, you are going to find yourself making this meal more than you ever imagined.
What you need:
1 lb rotini pasta
1 T olive oil
1 T vegetable oil
1 yellow onion, diced
2 cloves garlic, minced
1 lb sage sausage
4 T flour
2 c whole milk
1 tsp salt
 ½ tsp pepper
⅛ tsp nutmeg
1 15-oz can pumpkin
4 oz cream cheese
Chives for garnish
What to do:
Cook pasta according to package directions
Drain, rinse, and drizzle with 1 T olive oil
Cool and place in storage container to bring to campsite
Once at the campsite, head oil in a large pot over medium heat
Add onion and cook for 2-3 minutes, then add garlic, stirring frequently
Let garlic cook for 1 minute and add sausage
Crumble and brown until fully cooked, about 5-7 minutes
When sausage is cooked, sprinkle with flour and stir constantly for 1-2 minutes until flour browns
Slowly add milk, stirring or whisking until well combined
Bring to a boil, then reduce heat to medium
 Add salt, pepper, nutmeg, pumpkin and cream cheese
Heat until thick and heated through, about 10-15 minutes
Add cooked pasta and stir until combined, then serve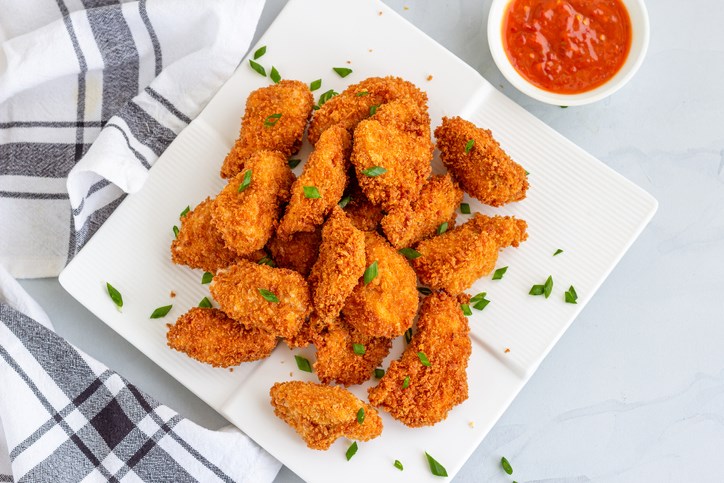 10. Chicken Bites With Pumpkin
Think chicken nuggets with pumpkin flavor. Sounds like a dream come true not only for kids, but also for adults. So get ready for this to be the hit of the camping trip.
What you need:
2 skinless chicken breasts, cut into bite-sized pieces
½ c all-purpose flour
1 tsp poultry seasoning
1 tsp salt
¼ c pumpkin meat, cut into cubes
Water
1 c panko bread crumbs
Canola oil
What to do:
Boil the pumpkin cubes in water until they become soft
Transfer pumpkin pieces into a bowl
Using a fork or potato masher, puree the pumpkin pieces
Stir in some of the water until it becomes like baby food, and set aside
In another bowl, mix the flour, poultry seasoning, and salt, and set aside
Pour panko breadcrumbs into a third bowl
Dip each chicken pieces into the flour mixture, followed by pumpkin puree, and then panko bread crumbs
Heat oil in a shallow skillet and fry the chicken pieces for 5 minutes on each side
Drain excess oil off by placing cooked chicken bites onto a plate lined with paper towels and serve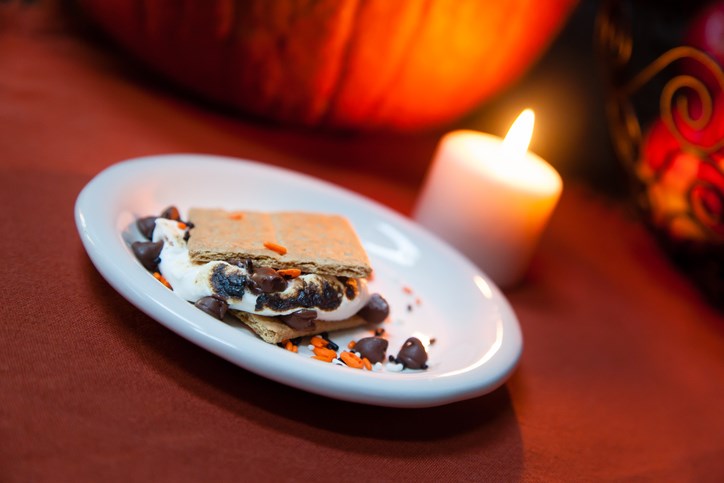 11. Pumpkin Nutella S'more
Now comes our favorite part of any meal: dessert. Pumpkin makes for a great addition to entrees, but it shines brightest as part of dessert. And what better desert to add it to than the classic camping s'more?
What you need:
1 graham cracker sheet, broken in half
1 marshmallow
1 heaping scoop pumpkin butter
1 heaping scoop Nutella
What to do:
Roast marshmallows over campfire
Spread pumpkin butter on one graham cracker and Nutella on the other
Put the marshmallow in the middle, and eat up!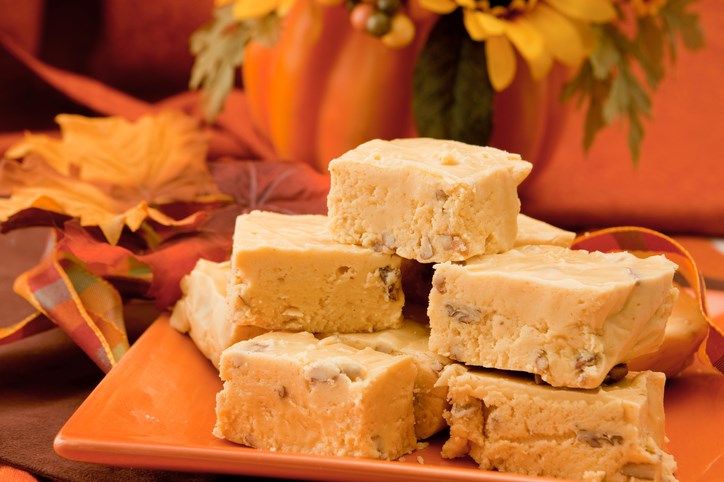 12. Pumpkin Fudge
Oh, fudge do we love any type of fudge. Here's another great way to add some pumpkin into your life while camping.
What you need:
¾ c pecans
1 tsp olive oil
Pinch of salt
3 c brown sugar
⅔ c evaporated milk
½ c pureed pumpkin
2 T corn syrup
1 tsp pumpkin pie spice
1 12-ounce package white chocolate chips
7-ounce jar marshmallow cream
1 tsp vanilla
What to do:
Line 9×9 inch pan with aluminum foil and spray with cooking spray, then set aside
Heat olive oil in a skillet and add the pecans and salt
Toast the pecans until they become darker, then set aside to cool
Melt butter in a large saucepan
Add evaporated milk, pumpkin puree, corn syrup, sugar, and pumpkin pie spice
Remove saucepan from heat and quickly stir in marshmallow cream
Add white chocolate chips, vanilla, and toasted pecans
Stir the mixture until the white chocolate has melted and mixture becomes sticky and lighter in color
Pour mixture into lined pan and spread to distribute evenly
Allow to cool for at least 2 hours, then cut and serve
We don't know about you, but reading through these recipes has us more than ecstatic about pumpkin season. From snacks to dinner, breakfast to dessert, these are some fabulous pumpkin recipes that will taste even better when enjoyed next to a campfire out on your fall camping adventures.
Looking for more fabulous recipes?
Head to KOA's recipe headquarters to get all the ideas you need to make your camping food top-notch.
---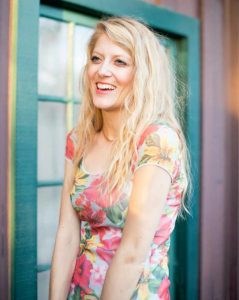 Leslie, a.k.a. Copy Girl, is a copywriter who gets butterflies from telling stories through words.
Her voice comes from a place filled with passion, dreams, and lots of sugar. "Cake over steak" is her go-to motto.
With over 10 years of experience in crafting words, and years of embarking on travels that have taken this Montana girl to some incredible places, Leslie love the adventures of both body and mind her writing takes her on.
Everywhere she goes, she takes this advice with her:
"Hold on to your divine blush, your innate rosy magic, or end up brown." – Tom Robbins, Jitterbug Perfume
To see what Leslie's up to in the writing world, visit her website here.
---