State fairs, apple orchards, and Halloween candy are a few things that typify fall at its most festive. And then there's the singular North American pastime that is the mighty corn maze. All over the U.S. and Canada, corn mazes are an autumnal rite of passage, so popular and prolific that they're found in practically every province and state, in all manner of sizes, themes, and styles. There's even a resident corn maze at the Coshocton KOA Holiday in Ohio! Rest assured, though, no matter where you are or where you're going, you're almost certainly within an easy road trip of an epic corn maze to remember. Here are 10 of the best to visit this fall.
Looking for the Best Corn Mazes in North America? Start with These 10!
1. Cool Patch Pumpkins, California
It's a veritable cornucopia of fun (pun intended) at the colossal Cool Patch Pumpkins farm in Dixon, California, home to one of the largest corn mazes on Earth. In addition to other autumnal fun, like a mini hay maze for the little ones, hay rides, a pumpkin patch, and a "corn bath," aka a giant pool of corn, the mighty maze sports a different intricate theme each year, spread across a whopping 63 acres. This year's theme is to be a dedication to the work of the modern day farmer.
Nearby KOAs:
San Francisco North / Petaluma KOA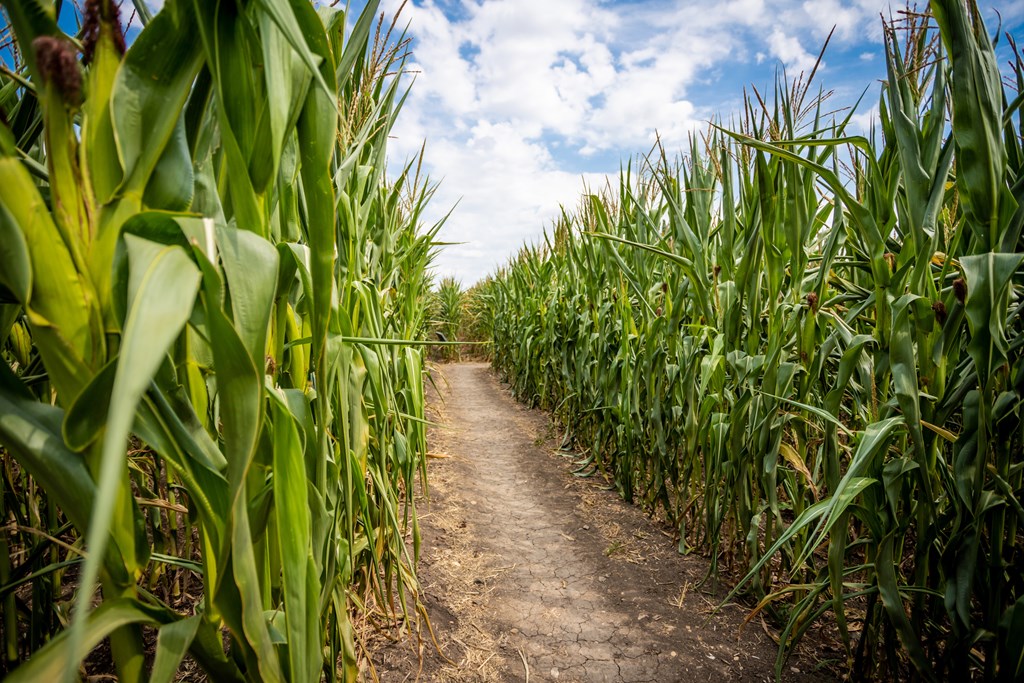 2. Lowe Family Farmstead, Idaho
Known as a particularly tricky maze, the Lowe Family Farmstead corn maze is a good option for those looking for more of a challenge. Each detailed design scheme is spread over 18 acres of dense cornfield in Kuna, Idaho, and split into two main phases. For instance, last year's maze was an over-the-top ode to Bigfoot, including the word "Legendary" carved into the top. Even if you're not looking to get lost for hours in the main maze, the farm also offers an easier min maze, along with unique activities like a candy cannon, gemstone mining, a corn cob "beach," and potato sack slide.
Nearby KOAs:
Boise / Meridian KOA Journey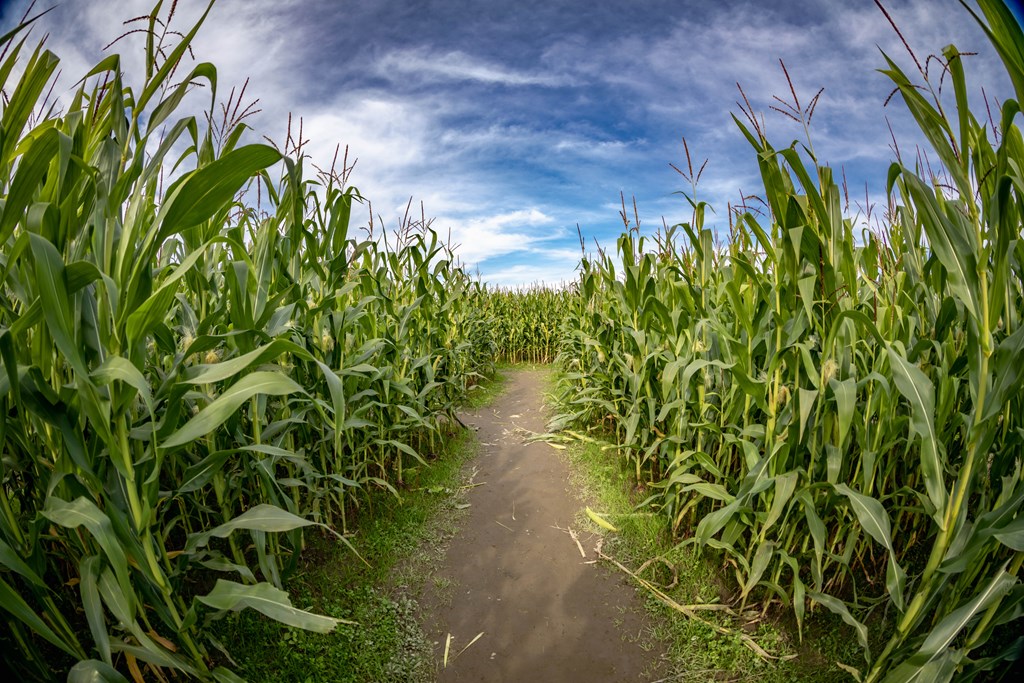 3. Richardson Adventure Farm, Illinois
In Spring Grove, Illinois, you'll find a whole world of autumnal activities to explore at Richardson Adventure Farm. It's all in the details here, where each 28-acre maze — which is technically made up of four interconnecting smaller mazes — sports upwards of 10 miles worth of zigzagging paths. Several checkpoints throughout the overall maze help visitors to orient themselves, as do three wooden bridges that ascend over the field. Last year's maze, for example, celebrated 60 years of James Bond with pathways illustrating the faces of 007 actors like Daniel Craig, Pierce Brosnan, and Sean Connery.
Nearby KOAs:
Chicago Northwest KOA Holiday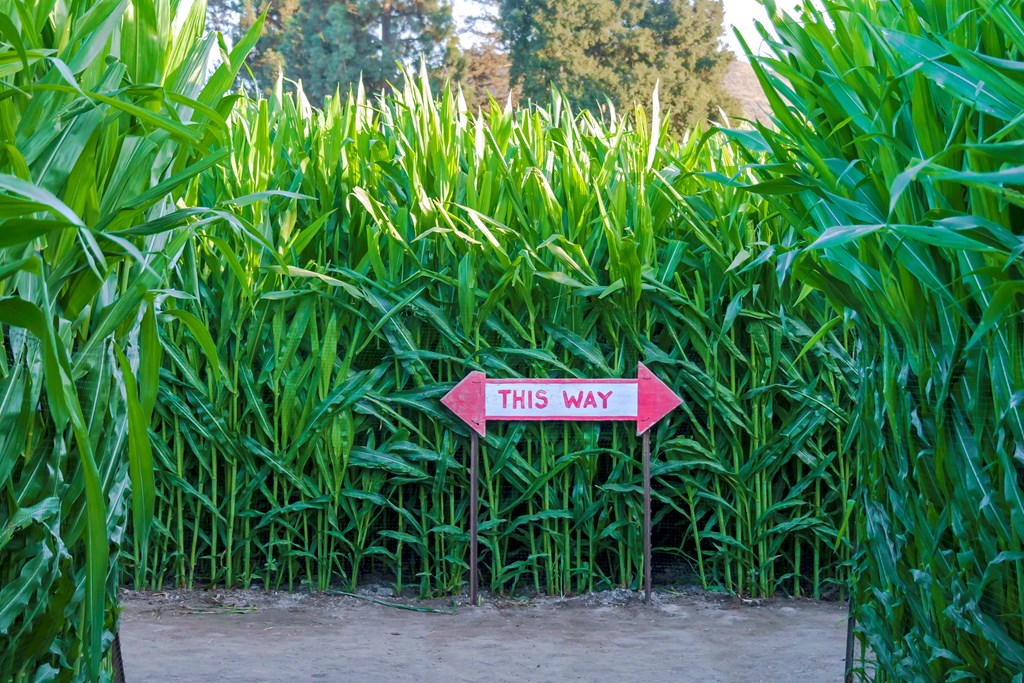 4. Davis Mega Maze, Massachusetts
With a name like "mega maze," you'd be right to have lofty expectations for the cornfield fanfare in Sterling. Indeed, the Davis Mega Maze lives up to its moniker with the self-described "greatest corn maze ever," consisting of eight acres and three miles of meandering passageways, and seven different intensity levels in which to approach the maze. Additionally, there are maze games that add another layer to the hoopla, like basketball toss, I-Spy, and a slide. Beyond the cornfield, Davis Mega Maze features a bevy of other seasonal options and eats, including turkey legs and apple cider donuts, live outdoor music, and a Halloween costume party.
Nearby KOAs:
Brattleboro North KOA Journey
Northampton / Springfield KOA Holiday
5. Great Vermont Corn Maze, Vermont
Elsewhere in New England, an even more mega maze awaits in Danville, Vermont. The largest of its kind in the Northeast, the Great Vermont Corn Maze consists of 24 acres with some exciting fixtures like bridges and underground tunnels. The aptly dubbed Big Maze is the most challenging component, typically taking about 2-3 hours to complete, thanks to its highly detailed paths carving out elaborate themes like octopi and jellyfish. The Scenic Maze is a good option for those who want the corn maze vibe, minus the hours of challenging effort. Other activities here include barnyard golf, an indoor "Hidenseek" blacklight maze, and a play area for kids.
Nearby KOAs:
Littleton / Franconia Notch KOA Holiday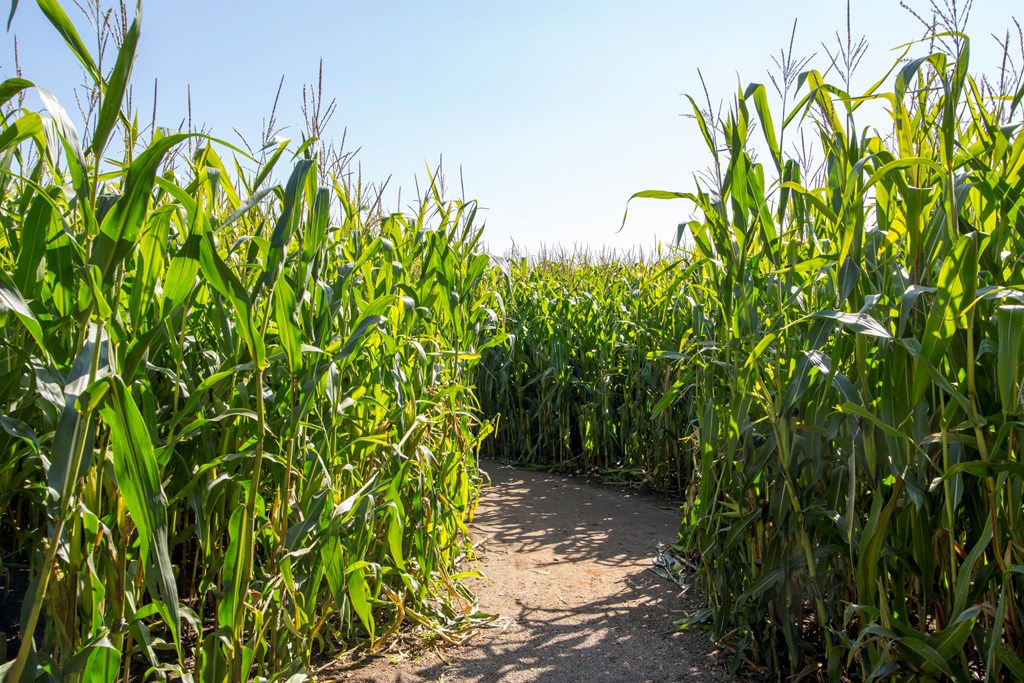 6. Denver Downs Farm, South Carolina
South Carolina may not seem the most obvious state for fall fun, but Denver Downs Farm in Anderson is the type of place that looks more like New England than Lowcountry. The main draw in the fall is the 12-acre corn maze, dotted with farm trivia at each checkpoint and surrounded by other family-friendly entertainment, like barnyard bonfires and a petting zoo. Unique to this maze, there's a nighttime flashlight maze that really amps up the stakes, wherein visitors are able to use glow sticks and flashlights for an extra challenge. And fear not: this isn't a haunted maze, it's just designed to add a little extra difficulty to the family fun.
Nearby KOAs:
Anderson / Lake Hartwell KOA Holiday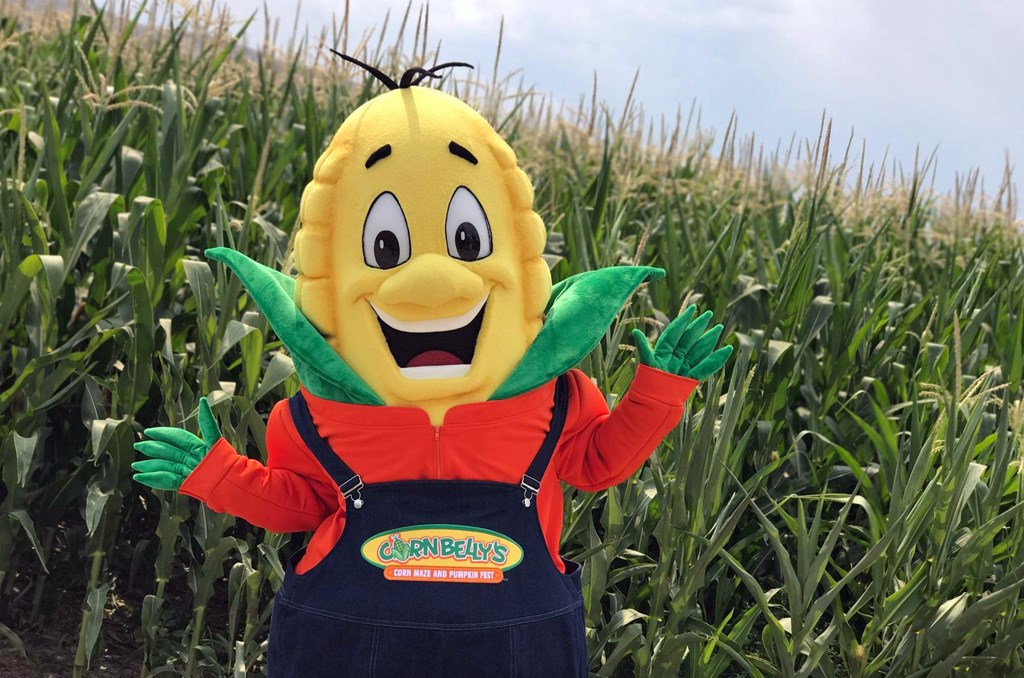 7. Cornbelly's, Utah
Infamous for its challenging, detailed corn mazes, Cornbelly's has two locations this year in both Spanish Fork and Lehi, Utah. Each location is loaded with a huge array of activities and amenities, with a gigantic corn maze at the center of each one. Filled with twists and turns, the mazes are simple yet deceptively challenging. But if getting confused in a field of corn isn't your style, you have tons of other options to choose from too, like apple blasters, gemstone mining, paintball, mechanical bulls, mini golf, campfires, a ropes course, and playgrounds.
Nearby KOAs:
Springville / Provo KOA Holiday
8. Devine's Corn Maze, Kentucky
Come fall, Harrodsburg, Kentucky, turns into a mecca of autumnal fun for the whole family. A 10-acre corn maze is the main attraction at Devine's Corn Maze, designed with different farm-themed paths each year, along with a pumpkin patch, wagon rides, tube swings, a hay maze for kids, bonfires, petting zoo, giant swings, and much more. Be sure to swing by the Corn Cafe for a snack.
Nearby KOAs:
Renfro Valley KOA Holiday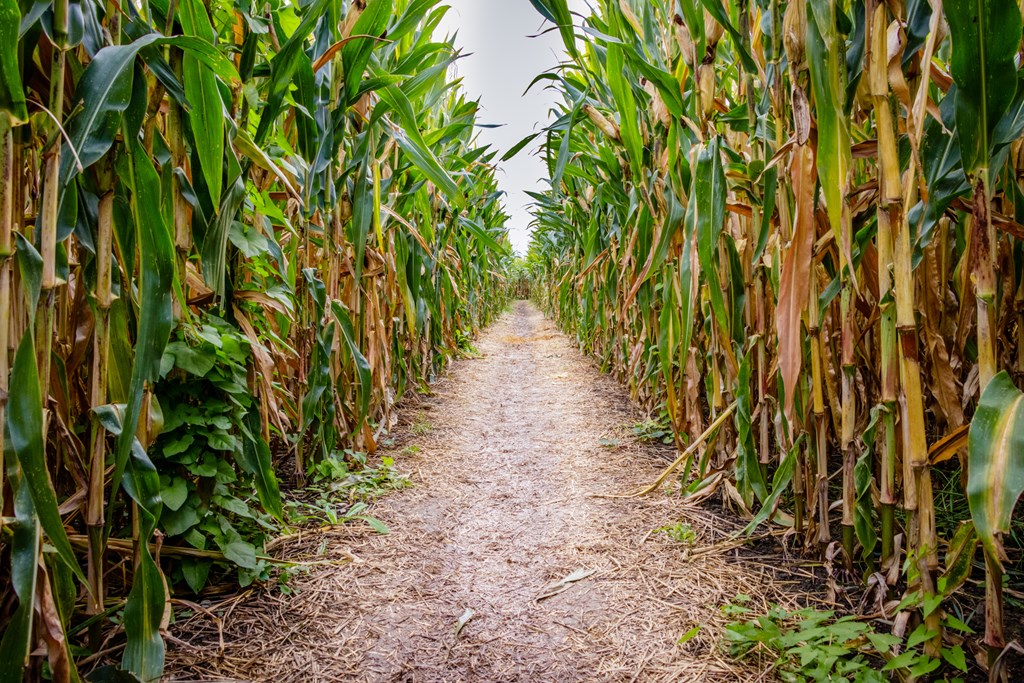 9.  Hanes Corn Maze, Ontario
The largest corn maze in Canada can be found in Dundas, Ontario, where the Hanes Corn Maze has solidified itself as a decades-old institution. Not for the faint of heart, each annual maze is made up of 20 acres of exceedingly tall 12-foot corn stalks, which adds an extra level of difficulty to the pursuit. Look for checkpoints and puzzles along the way, as you rove your way through the crops. When you're done, reward your efforts with a stop at the Tiny Shop Bakery, where you'll find everything from donuts and scones to pies and muffins. Note: this corn maze opens much earlier than most, with an extended season that starts August 1.
Nearby KOAs:
Niagara Falls KOA Holiday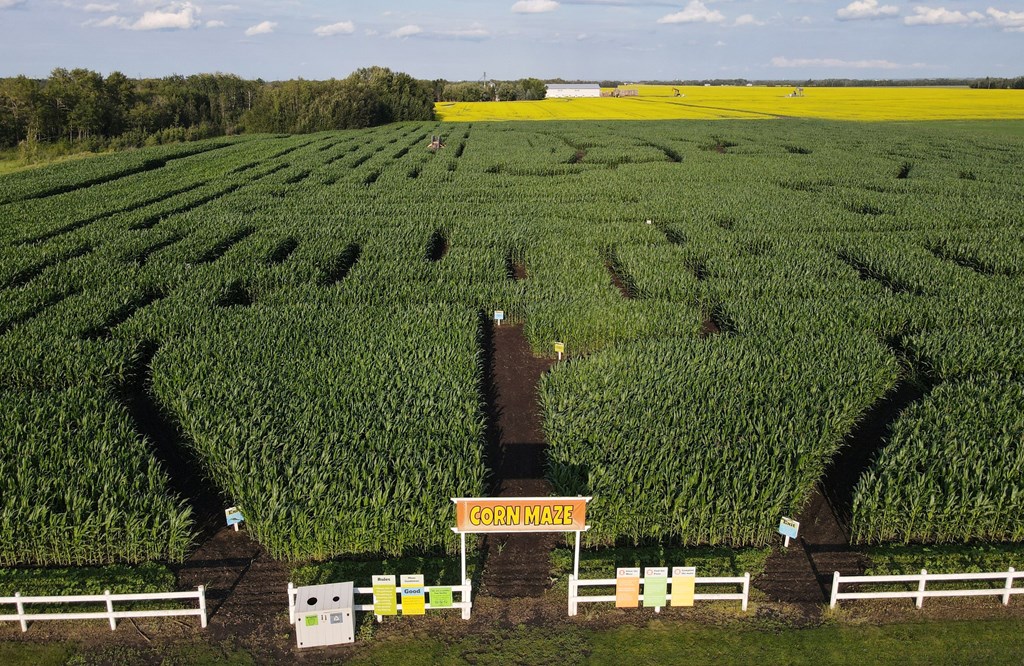 10. Edmonton Corn Maze, Alberta
A corn maze attraction since 2001, the mammoth Edmonton Corn Maze has seen a different elaborate maze scheme every fall for the past 2+ decades. And year after year, they continue to impress with their theming and intricacy. This year's homage is to the Royal Canadian Mounted Police (RCMP), in honor of their 150th anniversary. In honor of the occasion, the Edmonton Corn Maze features a vast cornfield carved with the RCMP logo and a saluting Mountie, along with fun facts about the organization throughout the pathways.
---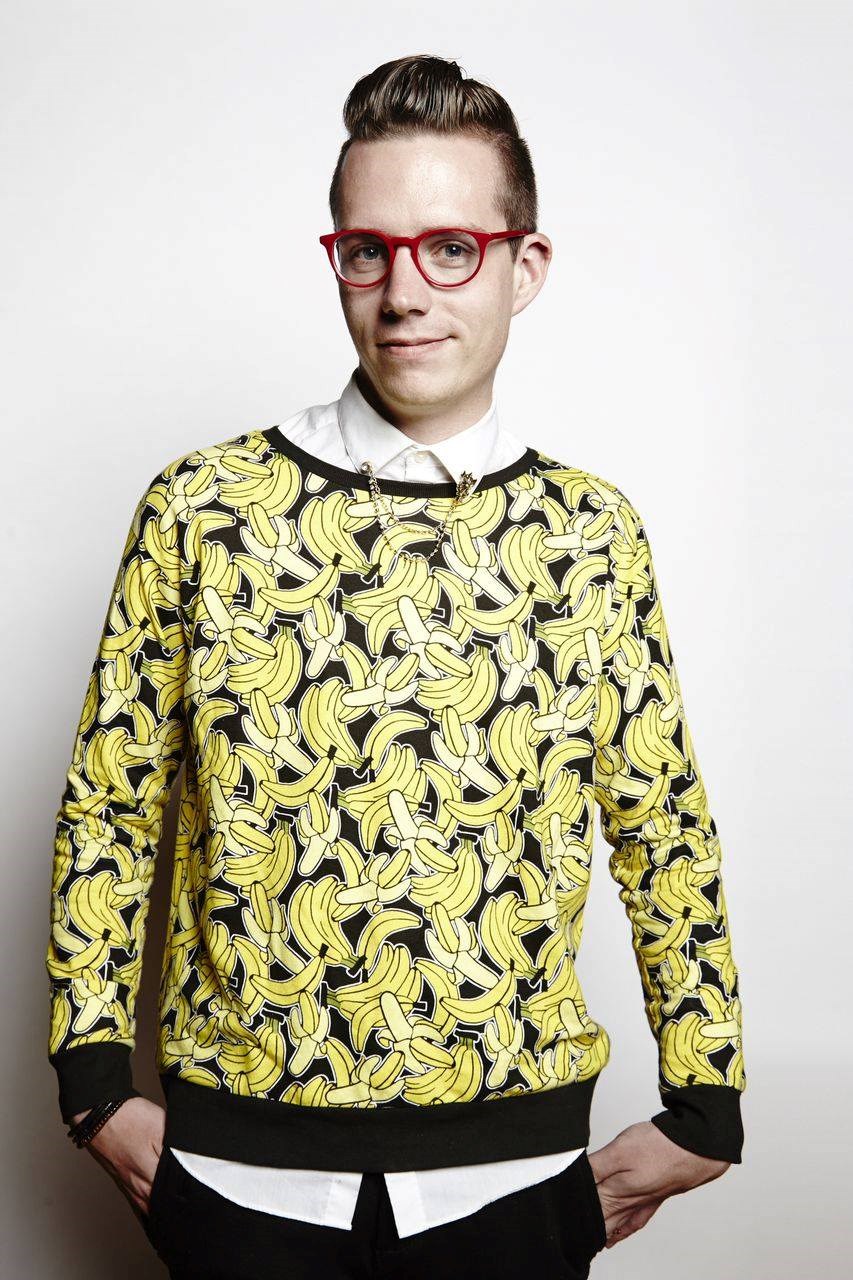 Born and raised in New Hampshire, Matt Kirouac grew up with a love for camping and the outdoors. Though he's lived in Chicago since 2006, he's always on the lookout for new adventures. He writes about travel and food for outlets like TripExpert, Money Inc, Upventur, DiningOut, Food Fanatics magazine, Plate Magazine and Zagat, and he currently serves as Chicago editor for What Should We Do?! He's the author of The Hunt Guides: Chicago (2016) and Unique Eats & Eateries of Chicago (2017).