Best Fall Road Trips
Take advantage of cool temperatures and vibrant foliage by planning a fall road trip. Whether you hope to view the colorful leaves among breathtaking mountain landscapes or want to experience the warmer side of fall by heading south to the Gulf Coast, you are sure to find the perfect fall getaway.
Here are some of the best fall road trips to take in the changing leaves, breathe in the crisp fall air and see the country in a new way.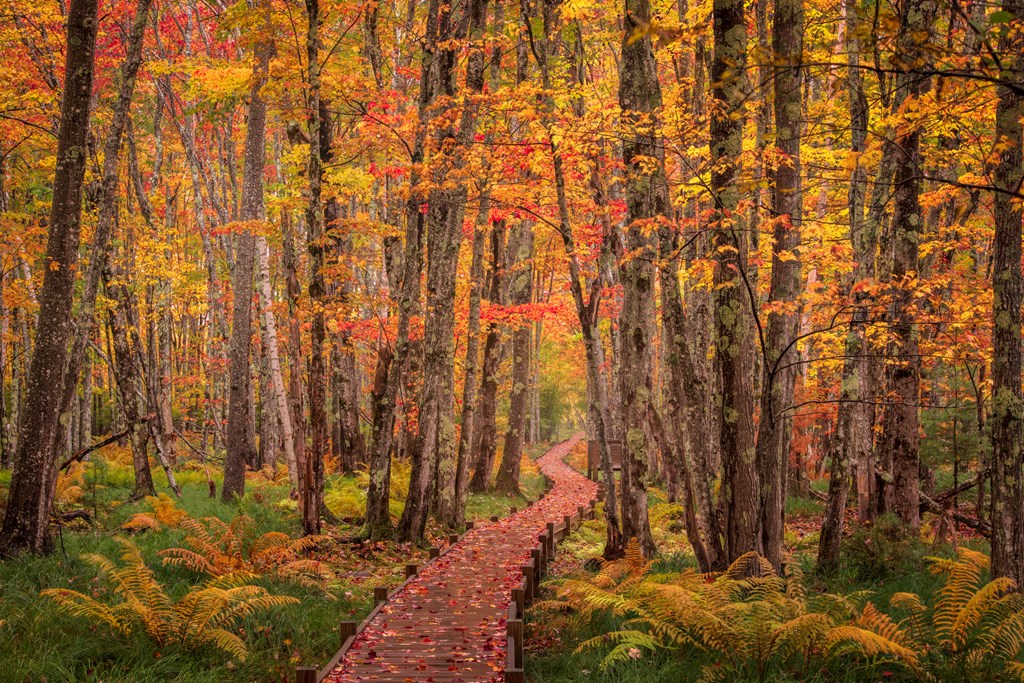 Northeast
Autumn is when the Northeast shines the brightest, with rich oranges, reds and yellows stretching as far as the eye can see. Fall is a season of apple orchards, corn mazes and cider doughnuts. As you travel along the roads of the Northeast, you may frequently stop to take in the natural beauty surrounding you.
Park Loop Road, Acadia National Park, Maine: Before starting your drive, stop at the 187-acre Jordan Pond, which offers a spectacular view of the mountain and tree line.
Small towns of Vermont: This 25-mile drive starts in Bennington, Vermont, and ends in Manchester, Vermont, winding through many small towns with the foliage of the Green Mountains as a beautiful backdrop.
Mohawk Trail Massachusetts: The 63-mile Mohawk Trail provides stunning views of the Berkshire Mountains and ends in the Hoosac Range for even more picture-perfect autumn views.
Kancamagus Highway, New Hampshire: With 56 miles of country roads that wind through ponds, hiking trails and scenic overlooks, it is clear why this highway provides some of the best road trips in October.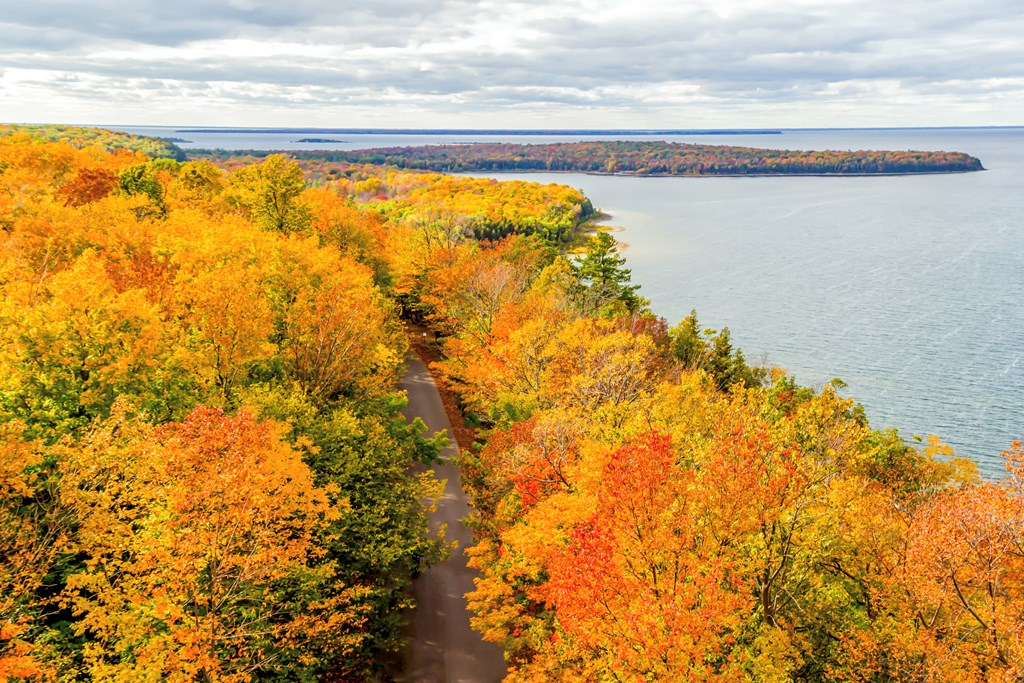 Midwest
Leaf peepers and pumpkin spice lovers alike will enjoy the technicolor foliage that decorates the Midwest. With plentiful forests and waterfront views of Green Bay and Lake Superior, your fall foliage road trip through the Midwest is sure to be a peaceful and picturesque experience. As you drive, take some time to stop at coffee shops, diners and more for the complete Midwest experience.
Door County, Wisconsin: Door County is a small peninsula that juts into Lake Michigan. Start your fall foliage trip in Sturgeon Bay and pass scenic coves, orchards, lighthouses, wineries and more as you head toward Newport State Park.
Historic Upper Peninsula, Michigan: If you want some history with your fall foliage trip, this 160-mile drive through Michigan is perfect for you. Start your journey in St. Ignace before heading east toward Drummond Island and historic Sault Ste. Marie.
North Shore Scenic Drive, Minnesota: Also known as Highway 61, this 154-mile route begins in Duluth and winds along the shoreline of Lake Superior for a few miles before ending in Grand Portage. With so many waterfalls, lighthouses and ranges of fall foliage to see, you may have to take some detours to stop and admire the many photo opportunities along the way.

South
As temperatures drop, the leaves across the southern U.S. transform from lush, vibrant green to eye-catching shades of scarlet, amber and gold. As you take your scenic autumn road trip along jaw-dropping skylines, you may travel with the windows down to enjoy the crisp, clean air the cooler weather brings.
Cherohala Skyway, North Carolina to Tennessee: The Cherohala Skyway features picturesque mountain views and is the kind of road you may expect to find in a movie scene. As you drive along the 43-mile route, you will cross the Cherokee and Nantahala National Forests and enjoy many scenic vistas.
Blue Ridge Parkway, Virginia, to North Carolina: Blue Ridge Parkway is one of America's many iconic highways, and it is spectacularly vivid in the fall. Give yourself plenty of time to cruise a popular segment of this highway stretching from Charlottesville, Virginia, to Asheville, North Carolina.
Hill Country, Texas: Start your path in Austin or San Antonio and see limestone and granite hills as you travel across the state. As you cruise by on your autumn road trip, stop at a few of the many wineries available for a chance to try some seasonal favorites.
Atlanta to Savannah to Charleston: Experience autumn in the city and along the coast when you travel from Atlanta to Savannah to Charleston, Georgia. Try local cuisine as you roam the city, and then take in the vibrant autumn leaves and crisp air as you make your way to the coast.
West
From soaring mountain views to tree-lined vistas, there is something magical about experiencing fall in the West. As you wind your way westward on your autumn road trip, make sure you stop at the many national parks and other attractions for an unforgettable experience.
Los Caminos Antiguos, Colorado: Los Caminos is one of 26 byways in Colorado and offers an exclusive look at the state's long and unique history. Take in the fall scenery as you make your way by the Great Sand Dunes National park and Preserve to the Colorado-New Mexico border.
Enchanted Circle, New Mexico: This breathtaking drive takes you to Wheeler Peak, the highest mountain in New Mexico. The rugged terrain on your journey will give you a taste of the Old West as you enjoy cooler temperatures and stunning fall foliage.
Beartooth Highway, Wyoming and Montana: Beartooth Highway is one of the most jaw-dropping ways to approach Yellowstone. As you wind through three national forests, you will have plenty of opportunities to get the perfect fall foliage shot. Be aware the main highway can close early due to autumn snow, but the nearby Chief Joseph Highway is another great option to see this stunning fall scene.
Olympic Peninsula Loop Drive, Washington: Experience a brisk autumn day as you visit the Olympic peninsula. As you drive, you may take a few breaks to hike to waterfalls and immerse yourself in colorful maples and mushrooms.
Highway 1 in Mendocino County, California: See Highway 1 in a different light on your fall foliage road trip as you start in San Francisco and wind through towns such as Gualala to Fort Bragg. Take in breathtaking autumn views as you stop for redwoods, lighthouses and maybe a wine tasting or two.
Find the Perfect Place to Stay Along the Way With KOA
Whether you plan on taking a short road trip or want to spend a week exploring autumn views across the country, you need a cozy place where you can rest your head at night. With over 500 campgrounds across the United States, you do not have to go far to find a KOA nearby. Boasting family-friendly activities and many unique amenities, a KOA location is the perfect place to rest and unwind on your journey. Find a KOA near you to book your stay today!
---
About the Author: Kampgrounds of America
Kampgrounds of America is the largest system of open-to-the-public campgrounds in the world, with over 500 locations across the United States and Canada. Founded in Billings, MT in 1962, KOA's family of campground brands – KOA Journey, KOA Holiday and KOA Resort – today serve more than a million camping families each year. KOA is dedicated to "connecting people to the outdoors and each other" by providing people with a variety of camping experiences and the information they need to make the most of their camping trip. Read more of their camping and travel resources by visiting KOA.com/blog.
---