9 National Parks to Visit in Fall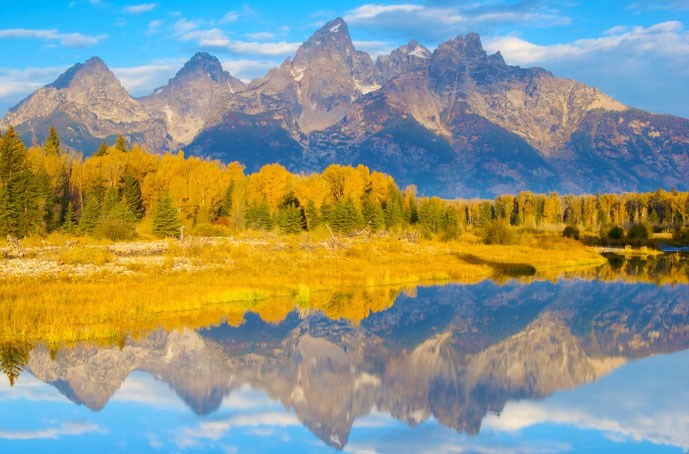 Visit these National Parks in the fall to experience a whole new season of adventure.
The change from summer to fall is often marked by cooler temperatures, but fall primarily makes its presence known by the changing colors of nature. Autumn is a wonderful time to visit our country's national parks to see the transformation of their flora and fauna to hues not seen during the rest of the year.
Below are nine of our top choices for fall park visits. Even if you've seen these parks during the summer, we highly recommend an autumnal visit. The below parks are completely different in the fall, donning their stunning seasonal colors and boasting much smaller crowds.  We've included nearby KOAs with a variety of amenities as well to make your fall national park visits even more enjoyable.

Crater Lake National Park
When Mount Mazama's collapsed volcano created Crater Lake, it also created the perfect place for adventurers to welcome in the wonderful season of fall. Known for its rampant wildlife, Crater Lake National Park is filled to the brim with creatures preparing for the winter ahead. Be ready to see grizzly bears, black bears, bighorn sheep and plenty more wandering this Gem of the Cascades. You too have plenty of wandering to do in the park's vast landscape. With 21 square miles of lake, towering cliffs, and numerous additional hiking areas, Crater Lake National Park is certainly worth a multi-day stay.
KOAs nearby:
---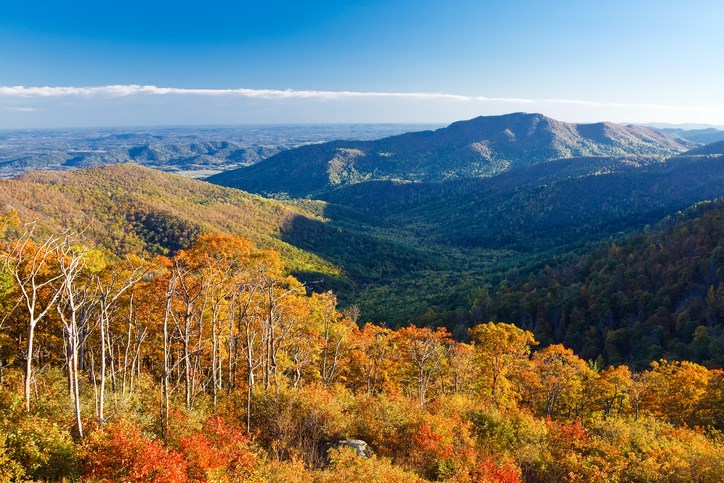 Shenandoah National Park
The Blue Ridge Mountains stand as the perfect backdrop for the foliage that brings visitors from all over to this part of Virginia in the fall. Shenandoah National Park takes the idea of beautiful fall colors and runs with it. The shades of red, orange and yellow in the gorgeous trees are so vibrant that they seem too impressive to be real. With over 500 miles of trails, and just a short 75 miles from Washington, D.C., Shenandoah is an unexpected escape from the busyness of life that is sure to make your mouth drop. October proves to be the month when Shenandoah breaks out the big guns and really gives quite the fall show, so aim to plan a trip around then.
KOAs nearby:
---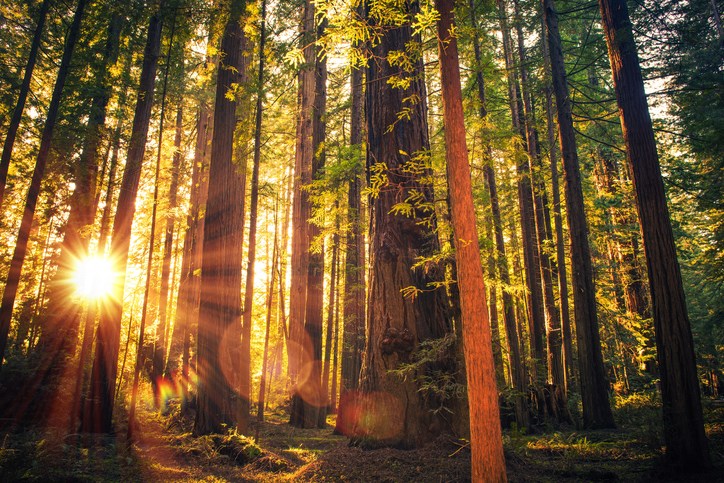 Redwood National Park
Just because the famous Redwood trees of this park don't change color in the fall doesn't mean you will be disappointed with a post-summer visit to Redwood National Park. A very popular park full of people in the summer, Redwood National Park's fewer fall visitors means more room for you to explore. In addition, a more deserted park brings along with it opportunities to sight the Redwood's abundant animal life—from black bears, to mountain lions and many more forest dwellers in between. Fall is also a great time to spot the Pacific gray whales that pass along the redwood coast this time of year.
KOAs nearby:
---

Acadia National Park
Wanting its visitors to be able to fully escape the loudness of our modern world, Acadia National Park does not allow any motorized vehicles on its unpaved carriage roads. Bikes are a wonderful alternative that give visitors the opportunity to take in more of the 120 miles of trails within the park. Acadia National Park's poplar, birch, and maple trees together create an absolutely stunning way to see fall that you are sure to remember forever. If bikes and hikes aren't your thing, Acadia also has a scenic loop that is equally as stunning and more weather-friendly in the sometimes-rainy fall.
KOAs nearby:
---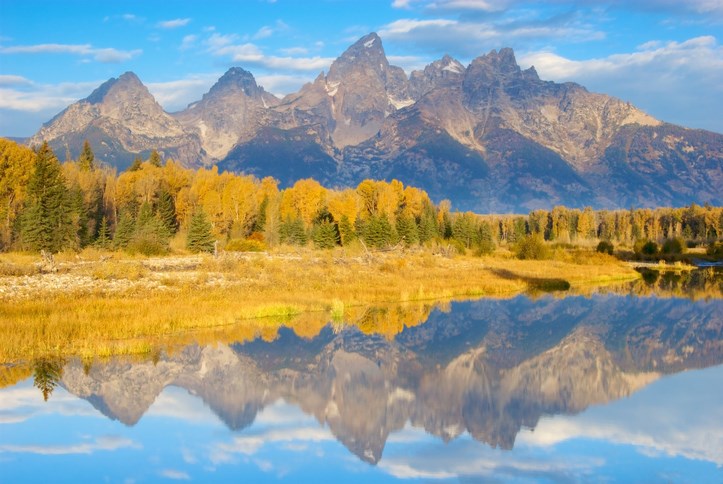 Grand Teton National Park
Home to a wonderful variety of deciduous trees whose peak foliage season lasts through mid-October, Grand Teton National Park is an idyllic under-the-radar place for fall hikers and campers. Grand Teton National Park's hiking trails are typically jam-packed in the summer time, but fall brings cooler weather, and thus less visitors. The awesome orange Cottonwoods along the Snake River can be enjoyed peacefully and quietly, making them even more awe-inspiring. The park—filled to the brim with elk in the fall—opens up its doors to elk hunters that help manage the population. So be sure to wear bright colors if you venture out onto the park's 200-plus miles of hiking trails.
KOAs nearby:
---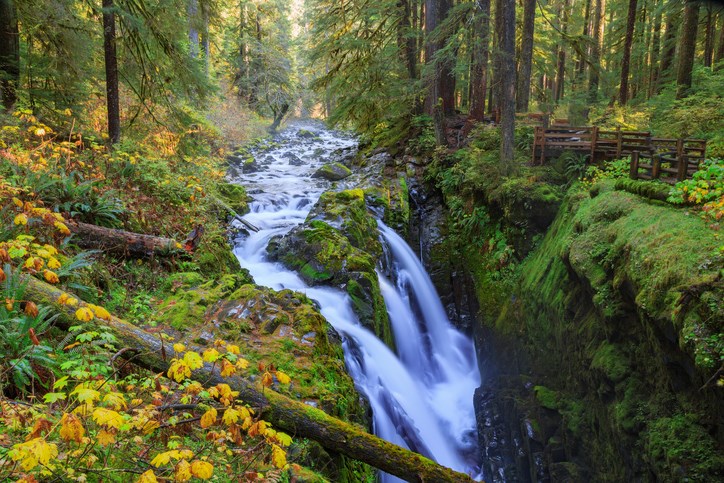 Olympic National Park
Leaving the vibrant colors of fall to other parks, Olympic National Park's autumnal draw is its salmon spawning. It is this time of the year in which salmon's reproduction is at its peak and the gorgeous fish can be seen leaping up the rivers of Olympic National Park. Also enjoyable in the fall are Sol Duc River's geothermal mineral pools free of the busy season's crowds. Take a dip while you take in the incredible vistas of Olympic National Park. From rolling meadows, to snowy peaks, to sandy beaches, this park has an wide variety of views to offer visitors that many other parks do not have.
KOAs nearby:
---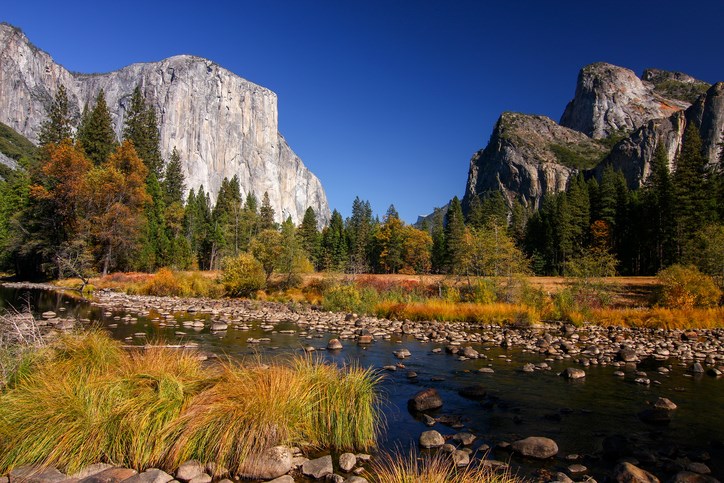 Yosemite National Park
Filled with evergreen trees, Yosemite National Park doesn't see the changing colors of leaves in the fall that other parks do. However, that should not stop visitors from spending a few days in this glorious park. Summertime brings thousands of visitors from all over to frolic among the park's waterfalls, granite cliffs and famous enormous sequoia trees. Visiting Yosemite National Park in the fall means you will have all of this and more nearly to yourself. Enjoy a more quiet, peaceful and serene Yosemite experience that will outweigh a trip to this park any other time of the year.
KOAs nearby:
---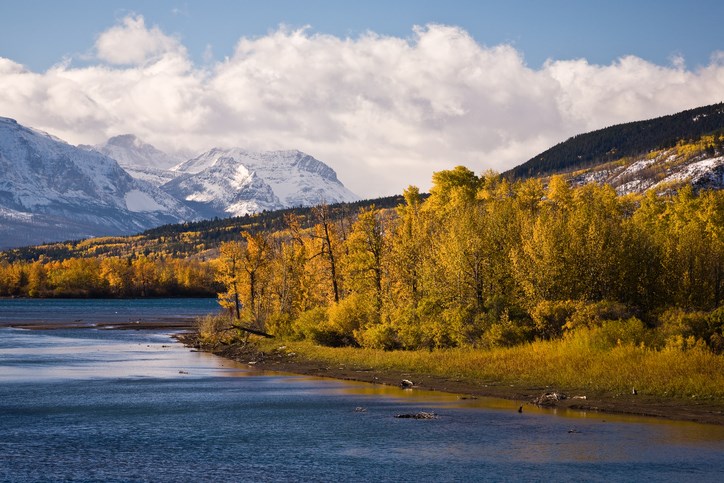 Glacier National Park
Fall in the Crown of the Continent is quite a sight. The crisp white glaciers, vibrant blues skies, and stunning fall foliage colors of Glacier National Park are sure to wow you. With the changing weather and drop in the visitor population, fall in Glacier National Park brings with it more freely roaming wildlife. The park's cooler temperatures make for ideal bike riding weather up the park's famous Going-to-the-Sun Road that winds through breathtaking scenery. The park's 1,000,000-plus acres have unlimited options for visitors at any time of the year, but plan your visit for fall to have an unforgettable experience.
KOAs nearby:
---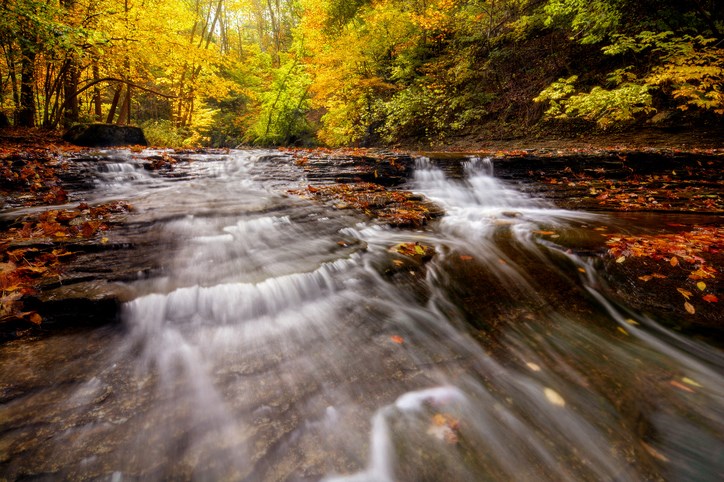 Cuyahoga Valley National Park
Ohio's secret known mostly to locals, Cuyahoga Valley National Park is a spectacular under-the-radar place to soak up the fall colors. The Cuyahoga Valley Scenic Railroad featuring coaches from the 1940s is the ideal way to see the park's fall offerings. If you'd rather hit the trails, there are over 125 miles of hiking trails to wander about. Boasting 70 waterfalls and 33,000 acres of land, Cuyahoga sets the scene for the perfect fall trip. With the majority of the park covered in trees and water, the colors of the trees are so vivid and vibrant that you will see the perfect photograph nearly everywhere.
KOAs nearby:
---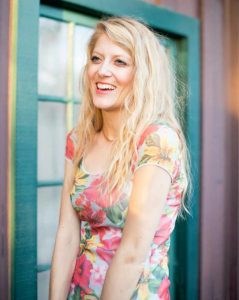 Leslie, a.k.a. Copy Girl, is a copywriter who gets butterflies from telling stories through words.
Her voice comes from a place filled with passion, dreams, and lots of sugar. "Cake over steak" is her go-to motto.
With over 10 years of experience in crafting words, and years of embarking on travels that have taken this Montana girl to some incredible places, Leslie love the adventures of both body and mind her writing takes her on.
Everywhere she goes, she takes this advice with her:
"Hold on to your divine blush, your innate rosy magic, or end up brown." – Tom Robbins, Jitterbug Perfume
To see what Leslie's up to in the writing world, visit her website here.
---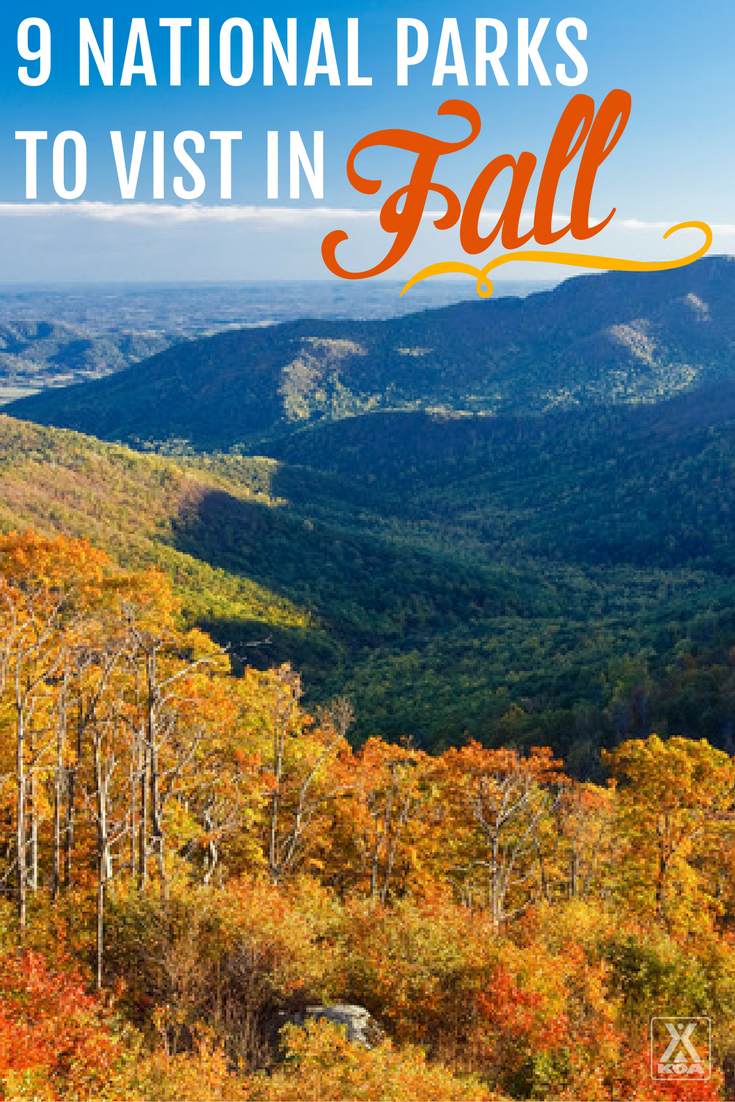 Save
Save