Southwest Weekend Camping Trips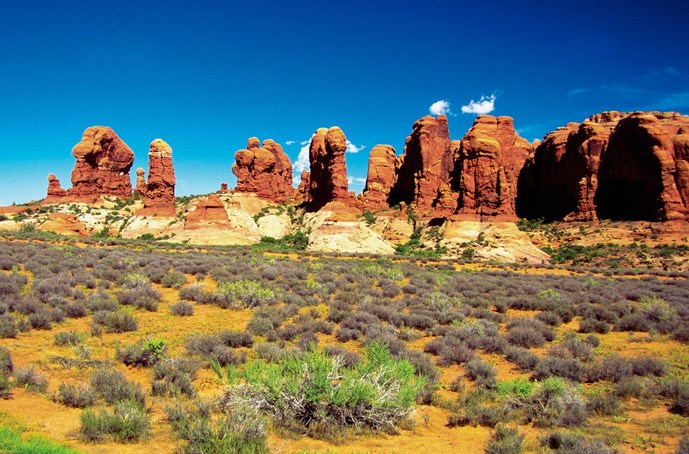 Is your schedule cramped? Check out these weekend warrior trips to the Southwest perfect for any time of year.
With its rich Native American and Hispanic culture, jaw-dropping rock formations, and awesome outdoor adventure opportunities, the American Southwest is not to be taken lightly when it comes to weekend camping trips. While there's certainly a lot to see, you can still take in a lot of the best sites in your 2.5 days of freedom from the work week. Give one of this trips a try and become a seasoned Southwest sightseer.
---

Moab
Friday: Pitch your tent, park your rig, or find your Deluxe Cabin at your home-away-from-home, at the Moab KOA. We know you're itching to explore, but take it easy tonight by playing a game of mini-golf or horseshoes or just enjoying the red rock views over a campsite dinner.
Saturday: Independent travelers can make the trip themselves to nearby Arches National Park, or ask your KOA hosts to arrange for a tour guide to pick you up right at the campground. There, you can hike miles of trails that lead to over 2,000 rock arches, cruise around on a mountain bike, or tour the sights by horse. Experienced adventurers can also take advantage of stellar climbing.
Sunday: Take a laid back rafting trip down the Colorado River or a Jeep tour of Moab. Or hit up Hole N' The Rock, a Canyonlands home and gift shop carved out of a huge rock, which is home to art, collectibles, and an exotic zoo featuring zebras and bison, and camels…oh my.
---

Grand Canyon
Friday: Arrive at  Grand Canyon / Williams KOA Journey for a comfortable night before a weekend of exploring. With a variety of ways to stay, a pool, coffee bar, seasonal cafe and a 2,000 square foot gift store, this campground is the place to stay on the south side of the the Grand Canyon.
Saturday: Hike the South Rim of Grand Canyon, take a mule ride, or see waterfalls and rock formation up close and personal with a rafting tour. The truly dedicated (read: outdoor overachievers) can aim for all three, or sign up for a Canyon River Adventure where you'll take a scenic flight overlooking the canyon, tour Antelope Canyon, and float down the Colorado River before returning by bus.
Sunday: If you did Saturday right, you'll welcome today's down time. Explore Grand Canyon Village by perusing the authentic Native American crafts at Hope House or the books and photography at Lookout Studio.
---

Santa Fe
Friday: Set up camp at Santa Fe KOA Journey where you can spend the evening watching hummingbirds or shooting pool in the game room. For dinner, grab a bit to-go and head to the Santa Fe Brewing Company where you can bring your own dinner and taste fresh brews.
Saturday: If you haven't already noticed, we dedicated the best day of the week to adrenaline-pumping adventures, and in Santa Fe it's no different. Make your way to Santa Fe Climbing Center where you can find a guide to show you the ropes at Diablo Canyon, the filming locations for 3:10 to Yuma and Cowboys and Aliens and home to some of New Mexico's best multi-pitch climbing. Then reward yourself with a dip in the Spence Hot Springs, two natural pools that overlook the Santa Fe National Forest.
Sunday:  You never know what you'll find at Santa Fe Plaza, which is why we recommend ending your trip here. You could catch traditional Indian or Spanish markets or tunes at the Santa Fe Bandstand. But either way you'll have the chance to shop Hispanic and Native American crafts, jewelry, and clothes.
---

Amanda McConnon is a writer for the nation's fastest-growing web and mobile travel planning platform, Roadtrippers. In addition to writing for Kampgrounds of America, Amanda enjoys writing and reading poetry. A self-professed "scenic route enthusiast," this Jersey girl is an ideal road trip companion.
Brought to you by KOA and our partners at:

---