Top 26 Stops on Route 66 by State
For many, taking a road trip along Route 66 — over 2,000 miles of open road and one-of-a-kind attractions — is at the top of the travel bucket list. The historic route was originally commissioned to provide a more accessible and direct trucking route in the Southwest. Its popularity grew when businesses and travelers realized it was one of the most direct ways to reach the Pacific coast, and it was nicknamed Main Street of America. Now a symbol of American freedom and an embodiment of the carefree, road-tripping spirit, Route 66 has been immortalized in songs, television and famous works of fiction. Along the way, Route 66 earned another name: The Mother Road.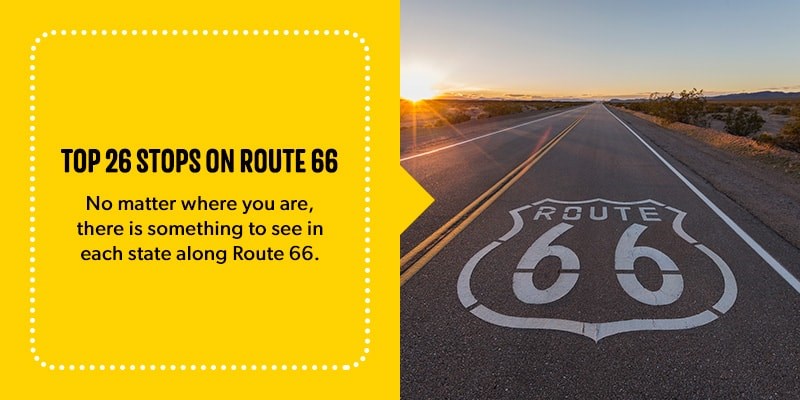 No matter where you are, there is something to see in each state along Route 66.
Route 66 Stops in Illinois
If you are journeying westward, Illinois is the traditional starting point for an authentic Route 66 adventure. Before you hit the road, stop by the entry of Grant Park in Downtown Chicago to snap an obligatory picture next to the official "Route 66 beginning and ending" sign to commemorate the occasion.
1. Visit the Route 66 Hall of Fame and Museum
About two hours into your journey, you will arrive in Pontiac, Illinois, home of the Route 66 Hall of Fame and Museum. The Route 66 Association of Illinois runs the museum, which features thousands of unique pieces of Route 66 history. Here you will find memorabilia, artwork, travel guides and information and have a photo opportunity in front of the famous — and nation's largest — painted Route 66 shield.
2. Taste the Original Hot Dog on a Stick at the Cozy Dog Drive-In
According to the founder of Cozy Dog Drive-In, they are the original founders of the "hot dog on a stick," which is similar to what is known now as the corndog. Hear the tale of its creation and taste the Cozy Dog for yourself when you drive through Springfield, Illinois. The best part? The restaurant still uses the same batter recipe as its founder did when he first developed the Cozy Dog in 1946.
3. Henry's Rabbit Ranch
Bunny lovers, auto enthusiasts and fans of quirky roadside attractions will all find something to enjoy at Henry's Rabbit Ranch in Staunton, Illinois. In addition to the actual rabbit ranch — where you can meet a rabbit named Guy, the official ranch greeter — Henry's houses a collection of vintage Volkswagen Rabbits and historic trucking memorabilia.
Route 66 Stops in Missouri
After Illinois, Route 66 takes you through Missouri. Along the way, there are plenty of fun attractions and photo opportunities you will not find anywhere else.
4. See the Meramec Caverns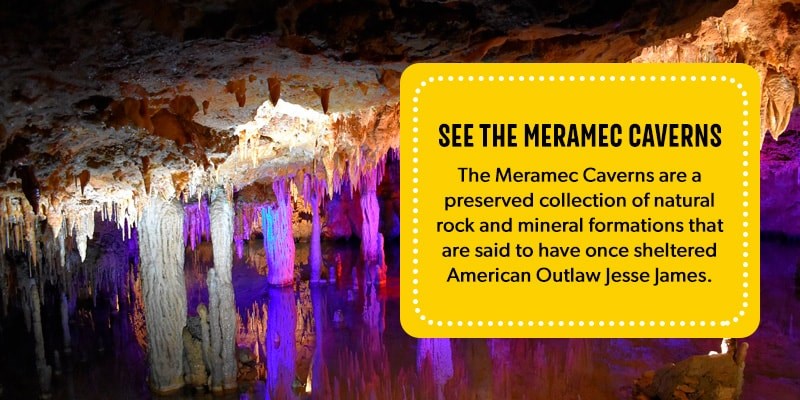 Your first stop is Stanton, Missouri to tour the Meramec Caverns. The Meramec Caverns are a preserved collection of natural rock and mineral formations that are said to have once sheltered American Outlaw Jesse James. Tour the caverns to see vivid colors and learn more about natural mineral formations, including the Wine Table, the world's rarest cave structure, which was formed entirely underwater. While you are there, you can also learn more about James and his connection to the caves. Whether you visit for the beauty or history, you cannot afford to miss Meramec Caverns.
5. See the World's Second Largest Rocking Chair
Although it debuted on April Fool's Day in 2008, this next attraction is no joke. When Fanning businessman Danny Sanazaro wanted to attract more attention to his archery and feed store, he did what anyone would do — erected a 42-foot high rocking chair out front. Each rocker is almost 32 feet long, and each one weighs one ton. To meet certification requirements for the Guinness World Records, the chair was originally designed to rock back and forth. However, Sanazaro was afraid that the chair would tip over and endanger people's lives, so he had it welded into place shortly after. Although the world's largest rocking chair was dethroned in 2015, it remains one of the best Missouri Route 66 attractions.
6. Pose for Pictures at Route 66 Mural Park
The city of Joplin commissioned two artists to paint large Route 66-inspired murals along Main Street as a tribute to all of the traffic and tourism The Mother Road has brought them over the years. It is the perfect place to stop for some mid-journey pictures — they even have a mock model of a red 1964 Corvette near the murals for visitors to pose with.
Route 66 Stops in Kansas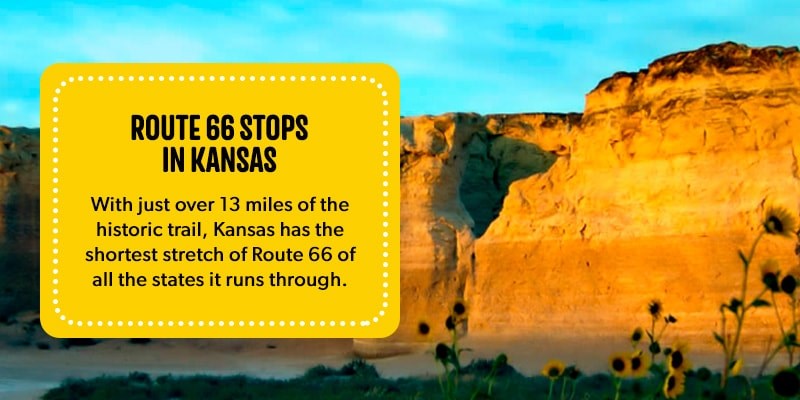 With just over 13 miles of the historic trail, Kansas has the shortest stretch of Route 66 of all the states it runs through. However, just because the drive is short does not mean there is not plenty to stop and see on your way through the Sunflower State.
7. Take the Kids to "Cars on the Route"
If you are traveling with kids, you do not want to miss "Cars on the Route" in Galena. Previously a Kan-O-Tex Service Station, "Cars on the Route" is now a Route 66 destination and tribute to the 2006 Pixar film, Cars. Outside, you can see the 1951 International Boom truck that served as inspiration for the character "Tow Mater." Inside, you can browse through a selection of Cars and Route 66 souvenirs or have a quick bite to eat at the snack bar.
8. Visit the Galena Mining and Historical Museum
Learn more about Galena's past and the lead and zinc mining industry that helped build it at the Galena Mining and Historical Museum. History buffs will love browsing the museum's exhibits, which feature old mining tools and equipment, photographs of the town's early days and ore samples. Admission to the museum is free.
9. Grab a Bite to Eat at The Old Riverton Store
The Eisler Brothers Old Riverton Store — formerly known as The William's Store — in Riverton, Kansas has been in operation since before Route 66 was established. Since it has opened, The Old Riverton Store has been a one-stop destination for Route 66 travelers. Visitors can enjoy a deli sandwich, ask for directions or stock up on road supplies and Route 66 souvenirs before continuing on their journey. Today, the building still has the original glass-enclosed porch, wooden shelving and pressed-tin roof. It is also listed on the National Register of Historic Places.
Route 66 Stops in Oklahoma
Oklahoma's Route 66 attractions are some of the most unique — including a giant totem pole and a chance to snap a picture with a blue whale — and definitely worth the visit.
10. See Ed Galloway's Totem Pole and Fiddle Collection
Ed Galloway, a U.S. Army veteran and Oklahoma woodcarver, spent much of his life developing a park in Chelsea — which has since been listed on the National Register of Historic Places — to act as a tribute to Native American culture. The eye-catching centerpiece of the park is, of course, the 90-foot tall carved totem pole that Galloway spent years crafting from wood. Ed Galloway's Totem Pole is ornately decorated with more than 200 images, most depicting Native American culture in some way. The park also houses the Fiddle House, where visitors can see hundreds of Galloway's hand-carved fiddles on display.
11. Marvel at The Blue Whale
Catoosa is more than likely the only place you can get your picture taken with a blue whale in Oklahoma — a cement whale, that is. The Blue Whale was built by Hugh Davis, a zoologist, who wanted to create a place his grandchildren could play. After making several sketches, his friend helped him build the metal framework and pour the cement for The Blue Whale. When it was finished in 1972, it was 20 feet tall and 80 feet long. Kids will love exploring the nooks and crannies of the Blue Whale — including a secret compartment located in its head — and tourists of all kinds will love seeing this unique attraction in person.
12. Enjoy a Drink at Pops 66 Soda Ranch
Whether you call it pop or soda, fans of the carbonated fizzy drink cannot leave Oklahoma without a stop at Pops 66 Soda Ranch in Arcadia. Pops is nearly impossible to miss, thanks to the glowing 66-foot pop bottle that sits out front. In addition to a full menu of diner food, Pops features more than 700 different kinds of soda pop, including fruit, chocolate coffee and traditionally inspired flavor blends.
Route 66 Stops in Texas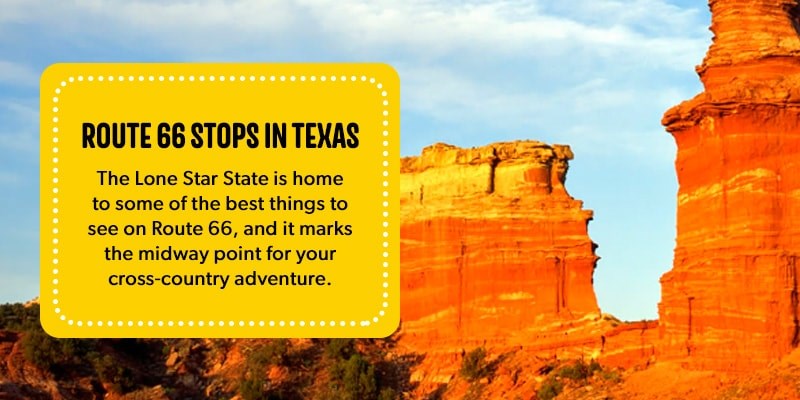 The Lone Star State is home to some of the best things to see on Route 66, and it marks the midway point for your cross-country adventure.
13. Explore Palo Duro Canyon State Park
Palo Duro Canyon is nearly 120 miles long, 20 miles wide and reaches 800 feet deep at its lowest point. Palo Duro Canyon State Park has more than 30 miles of hiking, horse trails, bike paths, geocaching and plenty of native Texas wildlife to see, like lizards, deer, mules, longhorn cattle and birds. If you do not have time to thoroughly explore the park, make sure you carve enough time into your road trip schedule to at least see Palo Duro Canyon — after all, it is the second-largest canyon in the country.
14. Visit the Famous Cadillac Ranch
Just off of Route 66, west of Amarillo, stop to visit Cadillac Ranch, an art installation consisting of several spray-painted, now-bare Cadillacs that are partially buried in the ground. Since its 1974 installation by a group of San Franciso artists, Cadillac Ranch has become an iconic part of Texas and The Mother Road. To commemorate your road trip, bring along a can of spray paint and practice your best graffiti on any of the buried car frames — not only is it a tradition, but it helps keep the spirit of the art piece alive and evolving.
15. Celebrate the Halfway Mark at Midpoint Cafe
If you have made it to Adrian, congratulations! You have officially traveled half of Route 66. Adrian is a very small town — with a population of less than 200 — but it is exactly halfway between Chicago and Los Angeles. It is also home to the Midpoint Cafe, the official midpoint-celebration for all Mother Road travelers. The cafe and gift shop embraces their position along Route 66 and offers midpoint souvenirs, gifts and, of course, lots of homemade pie. Before you leave, make sure you get your picture taken by the midpoint sign, located opposite the cafe.
Route 66 Stops in New Mexico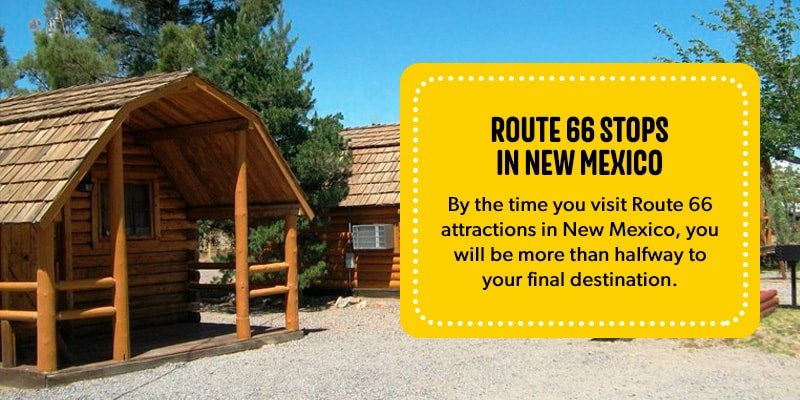 By the time you visit Route 66 attractions in New Mexico, you will be more than halfway to your final destination. New Mexico is known as the Land of Enchantment for a reason — prepare for some of the most beautiful sightseeing of your trip, as well as a singing road and a retro diner.
16. Have a Picnic at The Blue Hole
The Blue Hole is a deep, crystal blue swimming hole beautifully contrasted by the surrounding red mesas. On a good day, there is 100 feet of clear water visibility, since the water naturally refreshes itself every six hours. Plan to spend the day swimming, diving or just relaxing with a waterside picnic as you take in the sights and escape the dry heat of the New Mexico desert. The Blue Hole is also a great place to meet friends on your journey, as it is a gathering place for many travelers and New Mexico residents.
17. Take a Ride on The Singing Highway
Have you ever been serenaded by a highway? Well, now is your chance. The Musical Highway is located in Tijeras, New Mexico, which is eastbound on Route 333 — part of the original Route 66 trail — between mile markers four and five, near exit 170. It is called The Singing Highway because when you slow down to 45 miles per hour between these two-mile markers, carefully placed rumble strips will sing "America the Beautiful." If you miss the signs or drive the wrong speed, safely double back and listen again, because this is one Route 66 stop you do not want to miss.
18. Enjoy a Retro Experience at 66 Diner
Classic American diners are as iconic as Route 66 itself — and, luckily, your next stop is the 1950s-style 66 Diner in Albuquerque. In 1987, a gas and service station was renovated into what is now the 66 Diner, and since then, it has become a staple Route 66 attraction in New Mexico. The diner serves classic fare, including burgers, handmade malts and milkshakes and old-fashioned soda. The 1950s setting is complete with a jukebox, old metal signs and Betty Boop decor.
Route 66 Stops in Arizona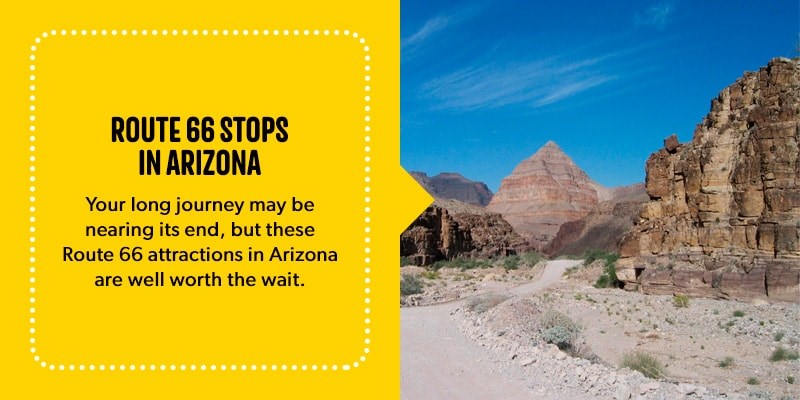 Your long journey may be nearing its end, but these Route 66 attractions in Arizona are well worth the wait. There is so much to see in The Grand Canyon State — the best way to make sure you do not miss anything is to find a nearby Kampgrounds of America location and stay for a few days.
19. Tour Petrified Forest National Park
The Petrified Forest National Park in Arizona is aptly named for its large cluster of preserved, naturally petrified trees and more than a dozen different types of petrified wood. These tree deposits are millions of years old, and the national park is one of the largest concentrated areas of preserved trees in the world. From March through October, visitors can also see beautiful blooming wildflowers among the petrified wood. Before you leave, visit the on-site bookstore for some fun petrified wood souvenirs and activity books to keep your kids entertained until you reach your next stop.
20. Visit the Meteor Crater
Approximately 50,000 years ago, a meteor crashed into what is now known as Winslow, Arizona. Today, it is the world's best-preserved meteor impact site. The enormous crater is 550 feet deep and nearly two and a half miles in circumference. The Meteor Crater is not only one of the most famous Route 66 stops, but it is a tourist destination for travelers from around the globe. Visitors can see the meteor rain or shine, as the site is equipped with an indoor viewing center and a fun Discovery Center where you and your family can learn more about the history of the crater, watch a film about the impact that created it and relax at the on-site gift shop and cafe.
21. See the Sky at Lowell Observatory
It has been said that the desert is the best place to get a clear view of the starry sky, and that has never been truer than at this next destination. After the Meteor Crater, you can continue learning more about outer space at Lowell Observatory in Flagstaff, Arizona. Here, you can experience the night sky in a way you never have before, through the use of modern telescope technology and educational museum exhibits. Lowell Observatory is named after Percival Lowell, who first discovered Pluto, and it continues to play a significant role in the study of the dwarf planet.
22. Drive Through Bearizona
Just thirty minutes west of Flagstaff in Williams, Arizona, take a small detour and drive, bus or walk through Bearizona. Bearizona is 130 acres of Ponderosa Pine Forest, where you can see a variety of Arizona wildlife, including bears, wolves, free-flying birds and much more. The park is open daily from 9 a.m. until 4 p.m. and holds several instructional shows and demonstrations throughout the day.
23. Tour Grand Canyon National Park
A trip to Arizona would not be incomplete without taking in the sights, sounds and grandeur of Grand Canyon National Park. The national park is one of the most visited parks in the world thanks to its immense size and abundance of wildlife, rivers and beautiful natural rock and cavern formations. Spend a day hiking one of the park's many trails, take a ride on a mule or participate in a guided river tour to learn more about one of America's favorite landmarks.
24. See Arizona's Wild Burros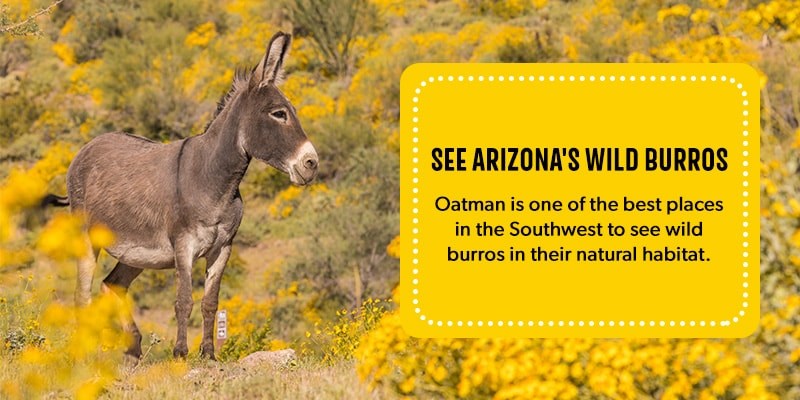 As you leave the Arizona portion of your Route 66 tour, make sure you drive through Oatman, Arizona. Oatman is one of the best places in the Southwest to see wild burros in their natural habitat. You can spot them in the morning and early afternoon alongside the road or roaming through the town. These burros love greeting tourists and are typically very friendly creatures — just be sure to keep a safe distance and avoid harassing or feeding them. Just before sunset, the burros will head back to their homes and sleep for the night, so try to make it to Oatman before the sun goes down.
Route 66 Stops in California
You have made it to California — congratulations! You have successfully completed one of the world's most iconic road trip adventures. But do not head home just yet — there are still some great things to see and do on Route 66.
25. Visit Mojave National Preserve
Visit Mojave National Preserve in Kelso, California for a closer look at prickly pears, agave blooms and the tribes and cultures of the Mojave desert. Stop by the Kelso Depot Visitor Center to freshen up and learn the history of the Kelso Depot and the role the Union Pacific Railroad played in the region's early history.
26. Celebrate Your Journey at Santa Monica Pier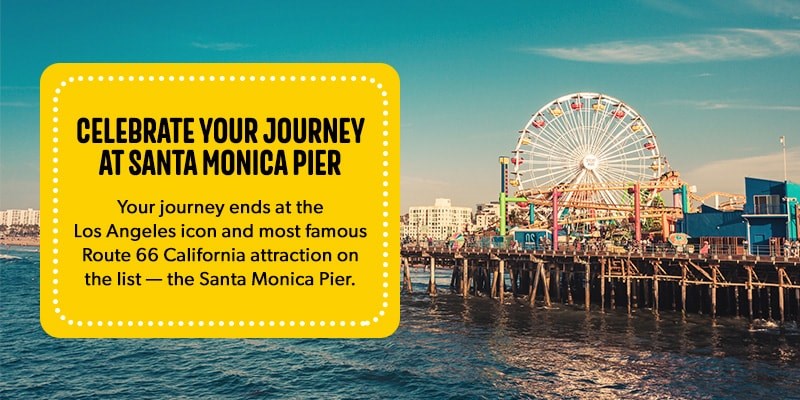 Your journey ends at the Los Angeles icon and most famous Route 66 California attraction on the list — the Santa Monica Pier. Celebrate the completion of your road trip with a ride on the famous Ferris wheel or historic carousel, try your hand at the boardwalk games, indulge in delicious festival food, play in the arcade and end the evening watching the sunset over the waves of the Pacific. There is no better way to celebrate your Route 66 road trip — or the incredible experiences you had along the way.
KOA Is Your Homebase for Route 66 Adventure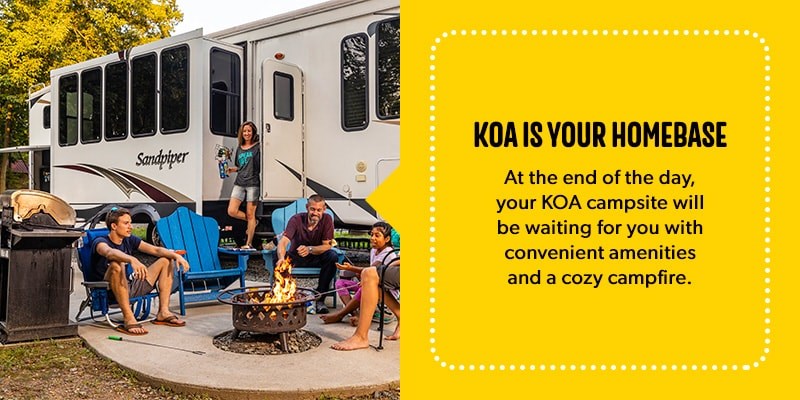 As you have seen, Route 66 is full of exciting things to do, interesting areas to explore and unforgettable sights to see. The best way to take in everything The Mother Road has to offer is to camp at KOA along the way, so you can spend as much time in each state as you want. With nearly 500 locations across North America, there is a KOA wherever your adventure takes you. So, what are you waiting for? Pack your bags, hit the road and see what there is to discover along Route 66 — at the end of the day, your KOA campsite will be waiting for you with convenient amenities and a cozy campfire.
---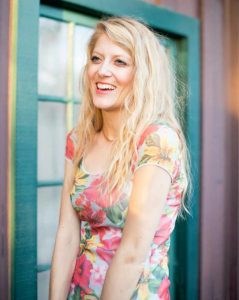 Leslie, a.k.a. Copy Girl, is a copywriter who gets butterflies from telling stories through words.
Her voice comes from a place filled with passion, dreams, and lots of sugar. "Cake over steak" is her go-to motto.
With over 10 years of experience in crafting words, and years of embarking on travels that have taken this Montana girl to some incredible places, Leslie love the adventures of both body and mind her writing takes her on.
Everywhere she goes, she takes this advice with her:
"Hold on to your divine blush, your innate rosy magic, or end up brown." – Tom Robbins, Jitterbug Perfume
To see what Leslie's up to in the writing world, visit her website here.
---