Stay camping all year long with these northern and southern camping destinations.
As much as we love camping in the summer, camping in the winter can oftentimes be even more fun.
Without the steady stream of bugs, the oftentimes relentless heat, and the hoards of people, you can really get rid of all the distractions and focus on truly enjoying the beauty of winter camping.
But where can I camp in the winter?
You may be surprised to learn that there are a number of fabulous places to camp in the winter.
Whether you're looking for a destination down South that is still warm and with hours of sun, or a colder Northern camping experience, KOA has something for everyone.
Spread all across the United States and Canada, KOA has campgrounds open 365 days a year that provide a wide variety of fabulous camping adventures.
So grab your notebook and get ready to do some further research on your own as we introduce to you our favorite spots to camp this winter.
Though there are hundreds of campgrounds you can enjoy during the winter, we have scoured the list to pick a few choice destinations. And to help simplify things, we've divided it into Northern and Southern spots.
NORTHERN CAMPING DESTINATIONS

Mt. Baker-Snoqualmie National Forest | Seattle, Washington
If you're looking to stay in one of our favorite cities in the U.S., and have access to one of the best national forests, then we've got the place for you.
Mt. Baker-Snoqualmie National Forest is among the most visited forests in the entire country. Boasting some truly stunning mountains and old-growth forests, there is no shortage of views, or things to explore when here.
And visiting in the winter means you'll have an entirely different experience than summer visitors.
SKIING
Proudly home to four ski resorts (yes, within the park's boundaries), this place is every skier's dream. You've got access to:
The Summit at Snoqualmie
Baker Ski Area
Crystal Mountain Ski Resort
Stevens Pass Ski Resort
And if downhill skiing isn't your thing, there are also over 120 miles of cross-country ski trails.
SNOWMOBILING
If you're looking for some serious speed in the park, then you'll love that the forest offers over 170 miles of snowmobile trails. However, note that most of the trails are not maintained and that snowmobiles are not allowed in Wilderness areas.
WILDLIFE
Mt. Baker-Snoqualmie National Forest is home to bald eagles, and winter is a great time to learn about them and have the opportunity to see them as well. Volunteers of the forest have designated areas where spotting scopes and binoculars will be waiting for you to use.
---

Bend, Oregon
This little mountain town of 90,000 people is a top place to camp in the winter.
With all the activities you could ever want right outside your door, you'll love traveling to Bend this winter.
SKIING
Mt. Bachelor Ski Resort is a skiing destination for skiers from all over, so having access to that will prove to be worth the trip itself.
You can also enjoy the nearly 50 miles of cross-country ski trails nearby as well. Talk about a workout!
OTHER SNOW ADVENTURES
From sled dog rides, to snowmobiling, and more, all winter outdoor activity bases have been covered in Bend.
And how about snowshoeing? Guided tours are available that offer experiences such as Moonlight & Starlight Snowshoe Tours as well as Shoes, Brews & Views.
HIKING
Nearby Smith Rock State Park and Pilot Butte are fabulous places to get your hiking boots in on some action, and on Oregon Desert Trail you'll find some great snow-free trails.
CAVING
You can even take your adventures underground to the caves and lava tubes of the area.
WHERE TO STAY
Redmond / Central Oregon KOA is the perfect spot to call home during your Bend adventures. And the views of the Cascade Mountains from here aren't too shabby.
---

Montrose/Telluride, Colorado
Boasting some of the tallest peaks in the state of Colorado, the Montrose/Telluride area is a must-visit this winter.
With all the winter activities to partake in here, along with the nothing-short-of-stunning views, this may quickly become your new favorite place to spend those cold wintery days.
SKIING
Not one, not twice, but three times Conde Nast Traveler has dubbed Telluride the top Ski Resort in all of North America.
Interested yet?
This area has incredible snow conditions, and regularly measures in at getting over 300 inches of snow per year.
What's even better is that there aren't nearly as many people as you'd find in Aspen. We aren't quite sure why, but are loving the fact that Telluride is much less crowded
Because who likes to spend their ski day in lift lines?
And for non-downhill skiers, there is (of course), Nordic skiing available here.
OTHER SNOW ADVENTURES
The snowshoe trails that lead from both Telluride and Mountain Village provide some great calorie-burning opportunities, and there are also guided snowshoe hikes that show off some truly beautiful areas.
Telluride Town Park and Mountain Village's Hotel Madeline both have ice-skating rinks that provide some great evening fun (best enjoyed with hot chocolate), and sledding is not to be missed here.
Sleigh rides and snowmobiling are two other top activities here in Telluride/Montrose, and don't even get us started on the food options.
WHERE TO STAY
Don't let the winter adventures end once your ski day is over — continue them at Montrose / Black Canyon National Park KOA. The views here of the state's famous 14-ers will truly take your breath away.
---
SOUTHERN CAMPING DESTINATIONS
If cold weather isn't really your thing, then these camping spots in the warm South will be right up your alley.

Joshua Tree National Park | Joshua Tree, California
Joshua Tree is among the most photographed parks in the United States. Between its rugged mountains, its vast deserts, strange trees, and ruins from gold mine days long gone, Joshua Tree is something you've got to put on your list to visit at some point.
However, choosing to visit Joshua Tree National Park in the winter means much fewer people, and entirely different views.
You may even be lucky enough to witness a rare snowfall here!
HIKING
Explore the short hiking loops of Joshua Tree that take you through this stunning desert landscape.
BOULDERING
The surge in popularity of bouldering here has made this park a bit more busy in the winter than it used to be. Boasting over 8,000 climbing routes spread across 400 granite formations, this place is a dream for climbers.
And you don't have to be a pro to love it. There are routes for all skill levels, making this place the ultimate adult "jungle gym."
HORSEBACK RIDING
With over 250 miles of equestrian trails, you and your horse can go on some truly fabulous adventures here.
THE VIEWS
You may find that your favorite part of visiting Joshua Tree National Park is simply walking or driving around and taking in the incredible views of nature.
The Cholla Garden is a great place to see the jumping cholla cacti, and a trip to Barker Dam may allow you to see some of the desert's animals getting a drink or two of water.
The park's namesake, the Joshua trees, provide life to many of the desert dwellers, so stay nearby those and you'll likely see some wildlife.
The trees themselves are quite an anomaly — they only grow one inch per year, and can reach heights of up to 40 feet.
WHERE TO STAY
A short and very scenic drive from Joshua Tree National Park, the Palm Springs / Joshua Tree KOA is the perfect launching point for all the area's adventures.
---
Hot Springs National Park | Hot Springs, Arkansas
Though the smallest national park in America, Hot Springs National Park packs a lot of punch.
The natural baths here have, for over 200 years, provided healing and relaxation to travelers from all over.
However, some of the springs in the park run at an average temperature of 143 degrees Fahrenheit, so we don't recommend jumping into them.
Instead, you'll want to head into the heart of downtown Hot Springs where bathhouses were constructed back in the mid-19th century to allow visitors to enjoy the benefits of this world-famous spring water in a cooler and safer way.
BATHHOUSES
The two most popular bathhouses in Hot Springs are Buckstaff Baths, which has been in operation for over 100 years.
If you're looking for more of a spa-level experience, you'll want to head to Quapaw Bathhouse where luxury reigns. Indoor and outdoor spring water pools are available here for the dipping, and there's no doubt you'll be in heaven here.
HIKING
Though the hot springs steal the spotlight of this area, there is some fabulous hiking around in Hot Springs National Park. Over 26 miles of hiking trails provide for some great day-hikes that offer varying levels of difficulty.
WHERE TO STAY
Just minutes from downtown Hot Springs where relaxation awaits, the Hot Springs National Park KOA is a little slice of heaven. Not to mention that this KOA boasts "the best breakfast in the area." You better check it out for yourself!
---

Grand Canyon National Park | Grand Canyon, Arizona
With a whopping 5 million annual visitors, Grand Canyon National Park is no secret — everyone knows it is a must-see for travelers hailing from all over the world.
Though most travelers find themselves adventuring here during the spring and summer, we've come to love a visit to Grand Canyon National Park in the winter.
Why?
First of all, there are way fewer people during this time. In fact, less than 10% of the annual visitors come here during the winter months.
SCENIC DRIVES
The drives around this wondrous place will be much more enjoyable without the crowds, and you'll be able to see a whole lot more of the park.
The light dusting of snow on the canyon will provide you with some of the most fabulous photos you've ever taken.
WILDLIFE
With the smaller crowds, you may see more wildlife emerge in the park. Mule deer and bald eagles are the two animals you'll most likely spot, though other ones include elk, ravens, squirrels, and condors.
HIKING
There are seemingly endless trails for hiking here, but do not take hiking in the Grand Canyon in the winter (or summer, for that matter) lightly — it can be very dangerous, so be sure you're prepared. You can start preparing by reading the National Park Service's Hiking Tips page, and paying attention to trail conditions.
WHERE TO STAY
Whether you bring along your RV, opt for a Cabin Camping adventure, or a good old fashioned tent camp, Grand Canyon / Williams KOA Journey is the place to stay for all your Grand Canyon National Park adventures.
---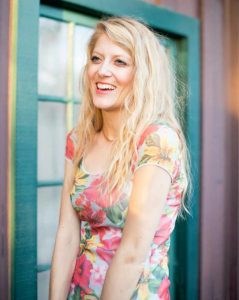 Leslie, a.k.a. Copy Girl, is a copywriter who gets butterflies from telling stories through words.
Her voice comes from a place filled with passion, dreams, and lots of sugar. "Cake over steak" is her go-to motto.
With over 10 years of experience in crafting words, and years of embarking on travels that have taken this Montana girl to some incredible places, Leslie love the adventures of both body and mind her writing takes her on.
Everywhere she goes, she takes this advice with her:
"Hold on to your divine blush, your innate rosy magic, or end up brown." – Tom Robbins, Jitterbug Perfume
To see what Leslie's up to in the writing world, visit her website here.
---