Snowbird Travel Guide
As the leaves begin to change, there are many people from Canada and the northern states who head south for a sunny retreat, and they set up camp there until spring. These snowbirds seek the warm weather, ocean beaches and outdoor recreation that are hard to come by in colder, snowier states. RV parks and campgrounds are among the most popular ways to enjoy a snowbird winter because of the freedom and flexibility they provide.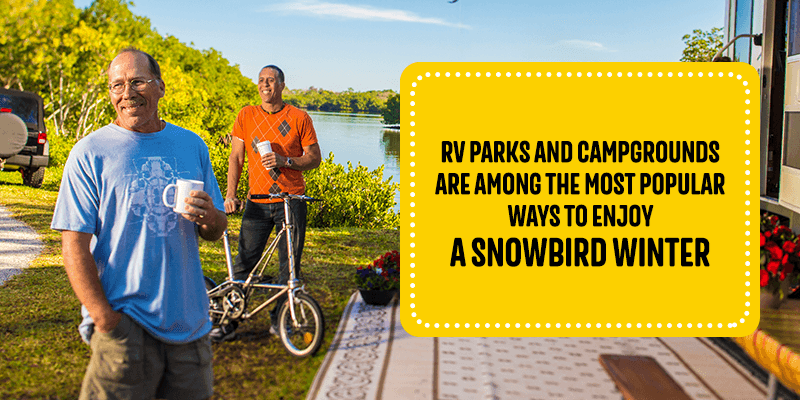 Learn more about which southern states make the perfect snowbird destination, and what you need to know about winter-long travel.
Benefits of Taking an RV Trip Down South in the Winter
Being a snowbird has many benefits. You enjoy warm weather, of course, but all that extra sunshine is also good for you. You get to meet new people, explore new places and learn new things along the way. The southern snowbird lifestyle is especially rewarding because southern states are full of rich history, year-round entertainment, various wildlife, beautiful landscapes and warm beaches.
1. Avoid Harsh Winters
Many snowbirds head south to escape harsh northern winters and instead spend the season basking in the warm sun. Since hurricane season is over by the time winter rolls around, many southern and coastal destinations are just the right fit. Snowbirds seek warm weather for various reasons, like medical conditions or to avoid slipping or driving in icy conditions. Studies show that warm weather and sunshine can also positively affect your mood and mental well-being, making it an excellent decision for people who feel the wintertime blues.
2. Meet New Friends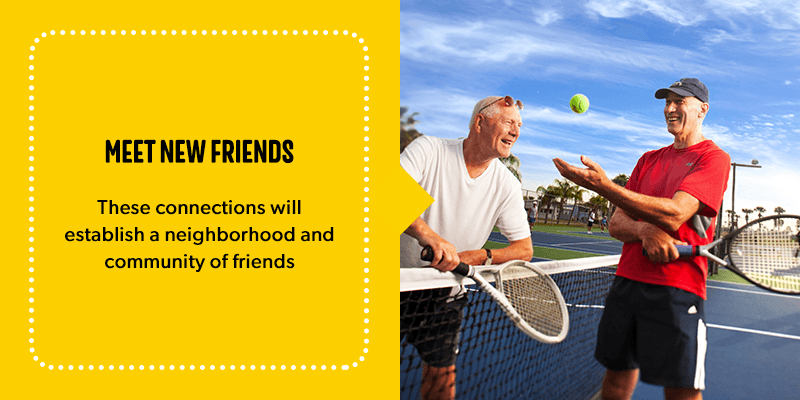 Some of the best experiences you will have as a snowbird will be with the other travelers and locals you meet along the way. Since many campgrounds welcome snowbirds each year, you will likely lodge near the same people year after year. These connections will establish a neighborhood and community of friends, even though you are away from home. It also gives you someone to invite over for a barbecue or lawn games.
3. Explore New Places
A winter trip down south is just what you need to get the one-of-a-kind experiences you cannot find back home. You can try new things, take educational tours and even learn new skills that you can take with you long after winter has ended. For example, it is the perfect opportunity to:
Learn how to cook a new regional recipe.
Identify birds, plants or wildlife.
Learn how to use a sailboat or canoe.
Take equestrian lessons.
Take surfing or scuba diving lessons.
How to Select a Snowbird Destination
With so many exciting and unique places to explore, you might find it challenging to narrow it down to the perfect snowbird spot. Here are a few things to consider to make the decision a little easier:
Consider your lifestyle: While a large part of being a snowbird is spending your winter living a vacation-esque lifestyle in the sun, everyone's idea of a winter getaway is different. Consider the lifestyle you lead during the year — what makes you feel comfortable and relaxed? What do you do for fun? What time do you usually wind down for the night? Some destinations are full of energy and fast-paced, while others are calmer and laid back. A coastal city will have a different atmosphere than a small, rural inland town.
Look for activities you enjoy: Make a list of the things you want to do — such as touring museums, seeing shows at the theater, boating and swimming — and find a spot that checks as many of your items off your wishlist as possible.
Ask other snowbirds: Having trouble choosing between a few promising places? Ask other snowbirds! Reach out to other snowbird travelers in person or online and ask them what it was like to live in a certain place for months at a time. They might also have some great restaurants and recreational recommendations.
Find a balance: If you are traveling with someone else who may want a different winter experience than you, look for places that offer a good balance of everything, like a mid-size town within an easy drive of cities, beaches and parks.
If you are still not sure where to go RVing in the winter, pick a destination that is a short drive from the other places on your list, so you can visit many destinations in a single season.
Kampgrounds of America Locations in Each Snowbird State
South Carolina, Florida, Texas, Louisiana, Georgia, Arizona, Mississippi, New Mexico and California are great places to spend the winter, and each one has something special in store for snowbirds. Every KOA Campground promises a safe, clean space to spend your winter, with access to restrooms, showers with hot water and laundry facilities. Select campgrounds feature amenities like swimming pools, kayak and bicycle rentals, on-site fishing and pet-friendly campsites. Contact your campground for specific information and availability.
South Carolina
South Carolina is a beautiful wintertime destination, whether you are sunbathing on an East Coast beach, taking a tour of historic Charleston or dining on authentic seafood in one of the many small port towns. The Palmetto State is the place to go for a quintessential Southern experience, complete with homestyle cooking and Spanish moss.
Grab your sun hat, your sweet tea and park your RV at one of our South Carolina RV parks.
Florida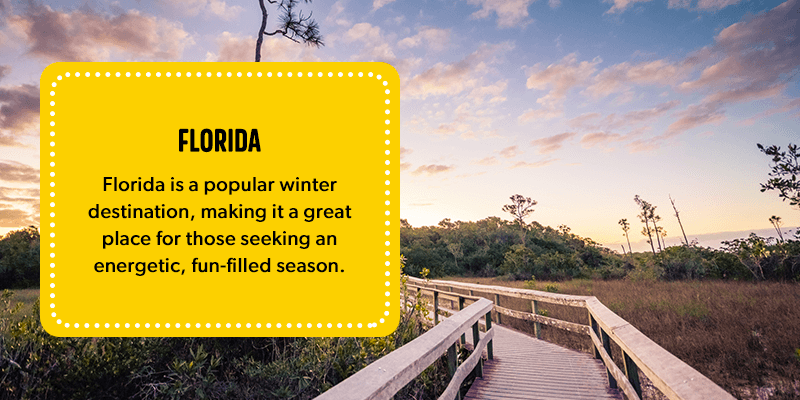 With ocean waves, wetland preserves and some of the country's top theme parks, winter camping in Florida is about as snowbird-friendly as you can get. Florida is a popular winter destination, making it a great place for those seeking an energetic, fun-filled season. Florida is home to several attractions worth seeing, including Disney World, Everglades National Park, the Florida Keys and Universal Orlando.
Swap sweaters and chilly breezes for swimsuits and sunshine at a snowbird RV park in Florida.
Texas
How about spending the season in a state with Gulf beaches, deep canyons, fascinating history, vibrant cities and delicious food? That is what you get when you stay in Texas. Tour the site of the Alamo, hike Big Bend National Park, bike your way around downtown San Antonio or immerse yourself in the history of the Fort Worth Stockyards.
Get in touch with your inner cowboy at a snowbird campground in Texas.
Louisiana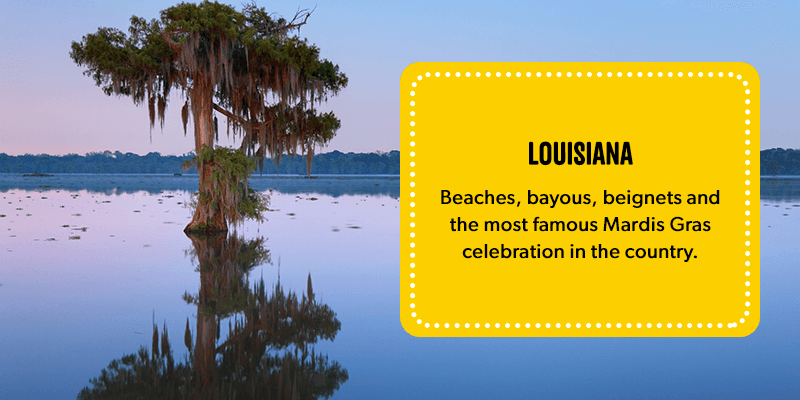 Beaches, bayous, beignets and the most famous Mardis Gras celebration in the country — Louisiana is a snowbird's dream. While New Orleans offers endless history and entertainment, Louisiana also has the riverfront city of Shreveport and the historic capital city of Baton Rouge.
Spend winter at any of a snowbird RV park in Louisiana, and you will be close enough to everything the state has to offer.
Georgia
Georgia offers snowbirds an ideal balance of countryside, cities and outdoor recreation. Stroll along historic Savannah streets, hike Chattahoochee-Oconee National Forest or play a round at one of the state's many golf courses when you camp here for the winter.
Reserve a stay at a Georgia RV park for snowbirds, and you will be sipping peach tea before you know it.
Arizona
What if you could spend your winter exploring the Grand Canyon, or taking in the sights of the red rocks of Sedona? That is what you can expect when you choose Arizona for your snowbird destination. In addition to the sights and sounds of the desert, the Grand Canyon State offers plenty of top restaurants, museums and charming small towns. When considering RV parks in Arizona for snowbirds, look for one that provides the sweeping views of the canyons and endless sky that the state is known for.
Mississippi
Fish the Mississippi River, tour Vicksburg National Military Park or see where Elvis was born in Mississippi. When you stay in Mississippi, you can also visit sparkling Gulf waters, golf courses, casinos and parks. You will have plenty of restaurants and shopping opportunities as well in places like Jackson and Starkville.
New Mexico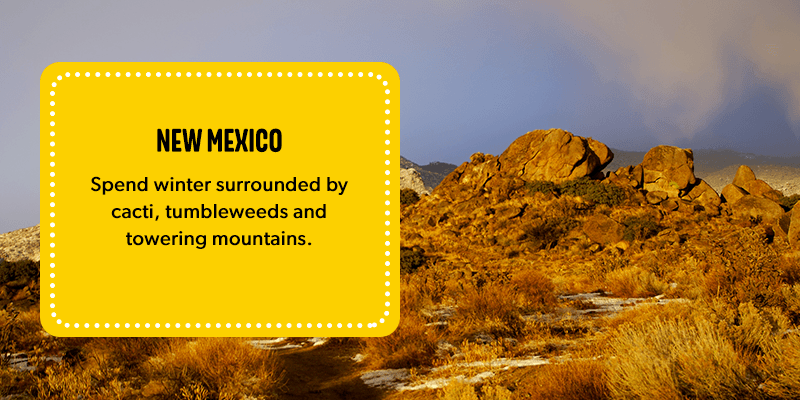 Spend winter surrounded by cacti, tumbleweeds and towering mountains. You will love exploring underground caverns, national monuments, historic sites and deep canyons when you are not visiting the cities of Albuquerque, Santa Fe or Roswell.
Check out RV parks in New Mexico to find the perfect spot for you.
California
California is a large state, and depending on which part you visit, you will experience slightly different winters. Mountainous regions see snowfall and slightly cooler temperatures, making it the perfect getaway if you want to avoid harsh winter weather without sacrificing ski trips and other snowy recreation. SoCal is warm and sunny, with enough beaches and boardwalks to entertain you all season long. Finding the perfect California campground for you will be easy with so many options.
Tips for Snowbird Campers
Camping is one of the best ways to spend your snowbird winter because you get to be closer to the nature and sunshine you signed up for. Here are some easy ways to make your trip planning process simple and stress-free.
1. Plan and Reserve Early
Many snowbird RV parks fill quickly for the season, especially in popular tourist destinations. Once you know which city and state you want to spend the winter in, reserve your spot as soon as you can. While you are at it, reserve a car rental, if necessary, and see if there are any special events you can pre-purchase tickets for, like shows or festivals.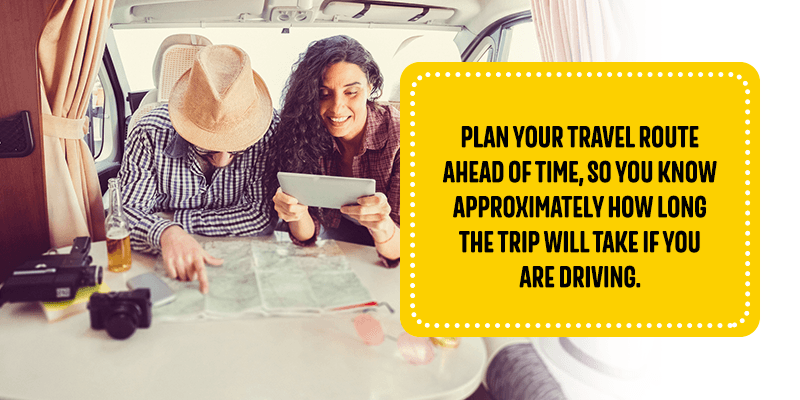 Plan your travel route ahead of time, so you know approximately how long the trip will take if you are driving, as well as how much money to set aside for fuel, toll booths and road food. Mark any places you plan to park for the night, and any unique attractions or roadside stops you want to make along the way.
2. Use Trip Planning Tools
Trip planners, camping apps and route planning tools can help you get a visual idea of what your trip down south is going to look like. The right apps let you map your travel route, find and reserve your lodging, find restaurants and attractions near you and send you emergency alerts about weather, road closures and other things that may impact your trip:
3. Prepare Your RV
A month or so before you head down south, prepare your RV for the trip by doing the following: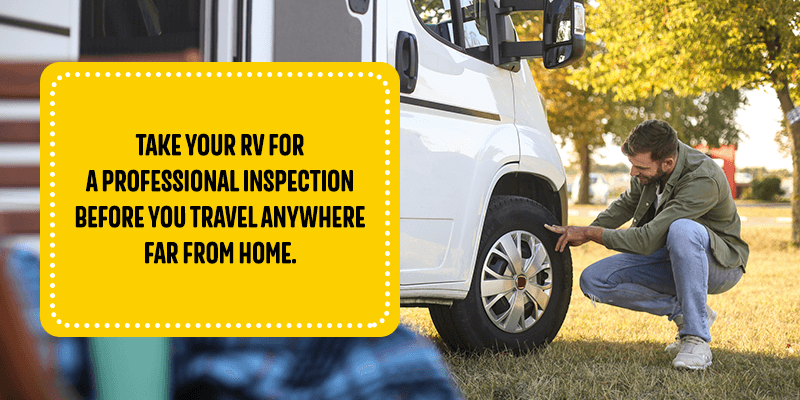 Get an inspection: Take your RV for a professional inspection before you travel anywhere far from home. Have the wiring checked for frays and disconnections and make sure all tanks are clean. Replace any worn or damaged tires, if necessary. Take a look at every light, latch and lock inside, including your heating or air conditioning system.
Clean it up: Give your RV a good scrub inside and out, especially if it has been in storage since your last trip. Remember to clean the windows, bathroom, refrigerator and awning. If possible, open up the windows and let some fresh air in before you begin packing.
Stock it with essentials: Stock your RV with all the items you will need for your winter away, including your luggage, kitchen utensils, food, drinks, linens, pet supplies and entertainment. Save room for recreational gear, like fishing poles and bikes, as well as outdoor essentials, like coolers, patio furniture, doormats and rain tarps. Keep a copy of all important RV information and a paper map in the glove department.
4. Winterize Your Home Before You Leave
If you are renting your home to someone else while you are away, make sure you secure a tenant and have some sort of property management in place to address repairs or problems while you are gone. If your house will be vacant, winterize it by:
Setting the temperature: By setting your thermostat to a cooler temperature while you are gone, you save energy and keep costs low. Just make sure your home is warm enough to keep your pipes from freezing.
Preparing the inside: Prepare the inside of your house by cleaning out the fridge, turning lights off, locking doors and windows and turning off or unplugging electronics.
Cleaning up the outside: Secure outdoor furniture, trash cans and loose debris so they will not fly away or blow over during a storm. Winterize any gardens or outdoor plants, and clean up any clutter in your yard or on the porch.
Putting security measures in place: Consider installing a home security system if you do not already have one, so you can keep an eye on your house while you are gone. Look for indoor lights that operate on automatic timers to make it look like you are home. Secure vulnerable areas, like your basement and garage doors.
If you are leaving behind a pet or houseplants — or just want additional security for your home — consider hiring a sitter through an agency or ask a trusted friend, family member or neighbor. At the very minimum, make sure there is someone to stop by and collect newspapers, mail and packages if you're not forwarding them, so your home does not look vacant. Inform the local neighborhood watch or authorities that your house will be empty and give them your contact information to reach you if necessary.
5. Consider Insurance
One of the most important snowbird tips is to make sure you have the correct insurance coverage for yourself, your vehicles and your home. Even if you already have insurance, some policies have limited coverage based on location, so it is always good to give your provider a call and confirm the details before leaving:
Homeowners: Speak with your homeowner's insurance agent about your coverage options for your house, since you will be leaving it vacant for several months.
RV: RV insurance is critical if you plan to live in it all winter long. An RV insurance policy can cover roadside assistance, theft, accidents and liability.
Travel: Travel insurance can cover lost baggage if you are flying, nonrefundable tickets, weather or sickness related cancellations and more, depending on your specific policy.
Health: Before you go, find a doctor in your area and check with your insurance company that your coverage extends out-of-state. If traveling with a pet, consider pet insurance as well.
Car: If you are taking your vehicle, find out if you need to switch your registration to match your new state or extend your car insurance coverage.
6. Remember to Relax
While some parts of being a snowbird certainly feel like being on a 24/7 vacation, try not to overextend yourself. Save plenty of time in your daily activities for relaxation and staying at the RV to clean, call family back home or just relax with the TV and your favorite snacks, so you do not return home in the spring feeling exhausted. There is plenty of time to do everything else, so recharge and rest as needed.
7. Bring Important Documents
While you may go all winter without needing any important documents or paperwork, it is better to have them on hand, so they are easily accessible if necessary. Store them somewhere dry and secure, preferably in your RV or vehicle.
Remember to bring the following important documents on all winter motorhome trips:
Your driver's license or legally-issued ID
Your passport, if traveling from Canada
A list of relevant health information
An emergency contact phone number
Any prescriptions
Vehicle registration for your car and RV
Insurance information for your RV, car, pet and health
Tax documents
Pet vaccination records, if applicable
Reservation confirmation for your campground, rental car and special events
Your banking information
A list of local doctors, pharmacies and veterinarians near your lodging
8. Make It Feel Like Home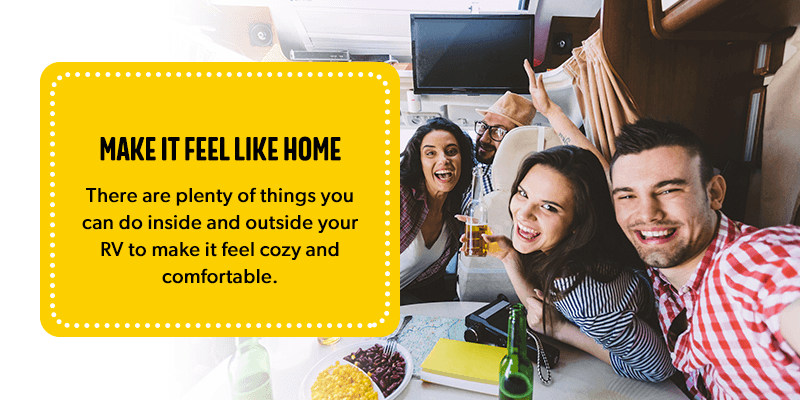 Depending on how long your trip is, you might be staying in your snowbird destination for as long as five or six months — make sure it feels like home! There are plenty of things you can do inside and outside your RV to make it feel cozy and comfortable.
For example, you can:
Decorate your RV in a specific theme or color palette.
Hang welcome signs or lay a welcome mat outside.
Choose fun outside lighting.
Upgrade your RV appliances, curtains and fixtures.
Get a mattress pad for your RV bed.
Use crates, baskets and jars to keep shelves and drawers organized.
Add a rug and throw pillows.
Display framed photos of loved ones back home.
Use a wax warmer or another RV-safe scent booster.
Bring your favorite items from home, like your robe, books or a potted plant.
Remember the coffee maker or teapot and your favorite mug.
Make KOA Your Snowbird Destination
When you stay at KOA, you have your choice between Back-In or Pull-Thru RV Sites that offer full hookups with 30- or 50-amp service. Every campsite is clean, spacious and level enough for all your outdoor entertaining. Enjoy a private fire ring and easy access to nearby restrooms and laundry facilities. Upgrade your stay by choosing an RV Site with a KOA Patio™ or staying at a campground with fun, on-site amenities and planned activities. Visit KOA online to learn why snowbirds love staying at KOA.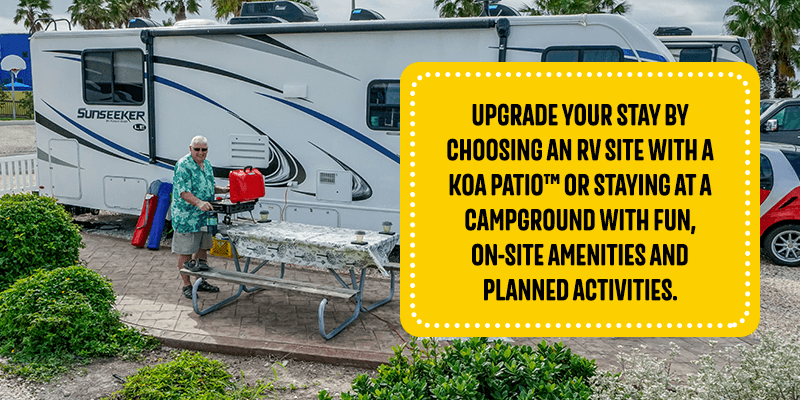 Winter will be here before you know it, so reserve your extended stay RV site today!
---