8 Hot National Parks to Visit When the Weather Gets Cold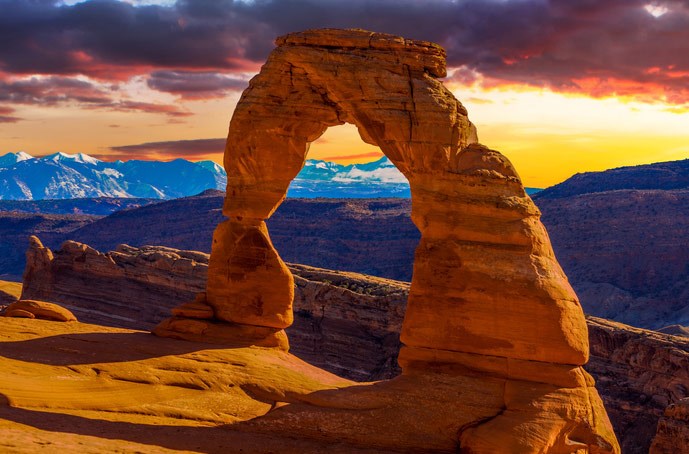 Head to these national parks this fall to experience a new season of adventure.
Summer tends to steal all the glory of national parks. People from all over the world travel during this warm season to mark off their bucket list seeing some of the most beautiful places in existence.
And, we can't really blame them.
These national parks are absolutely stunning, and are guaranteed to make for some unforgettable memories.
However, what we can blame people for is thinking that summer is the only time national parks are worthy of a visit. In fact, there are a number of national parks that are even better in the cooler months than in the summer.
And no, we aren't just talking about the fact that they're better because less people will be crowding in through the gates.
These parks have things about them that you'll only experience once the leaves start turning, and we promise you won't want to miss them.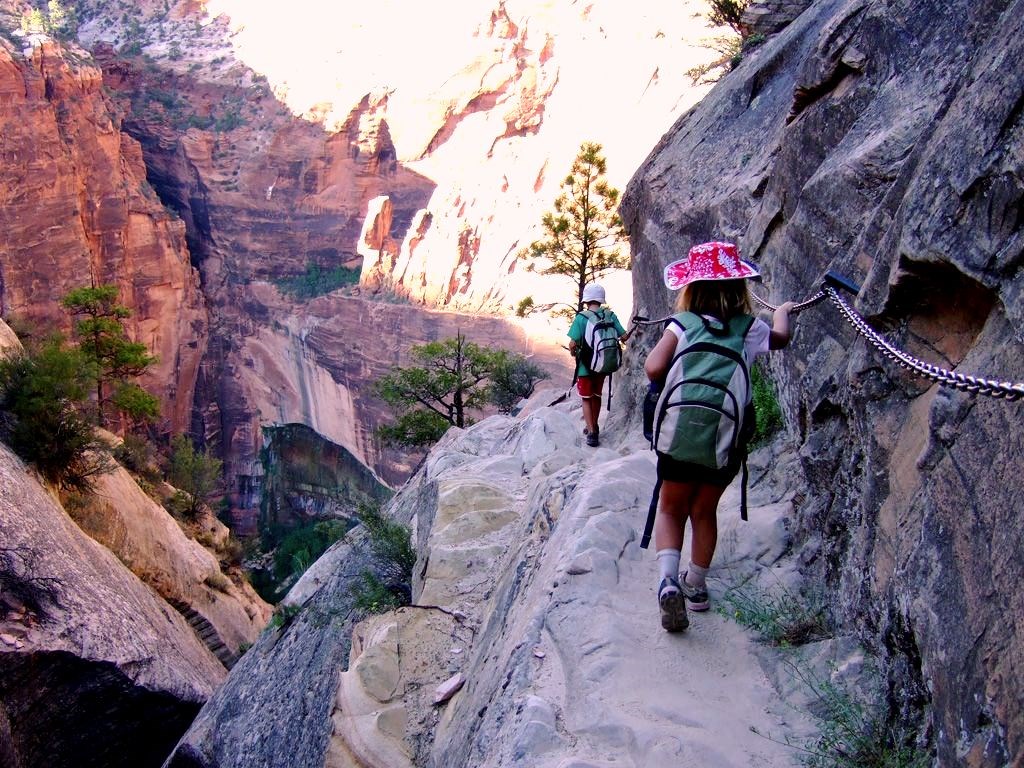 1. ZION NATIONAL PARK | Utah
With less traffic in the park, wildlife feels safe to step out from hiding more often in the fall than during the summer. Autumn in Zion National Park will bring many sightings of deer, and you'll also love the cooler temperatures that keep the massive crowds out.
Because this park is one with a variety of elevation (the highest point is Horse Mountain, which stands tall at 8,726 feet, and the lowest is 3,900 feet), you'll have a wider range of time to see the beautiful fall leaves than other national parks. Colors will start changing up top, and then creep down the mountain to lower areas.
From September to November, autumn falls upon Zion National Park and the colors are nothing short of stunning. The iconic red rocks of this park are even more beautiful when the trees are colored to match.
KOAs nearby: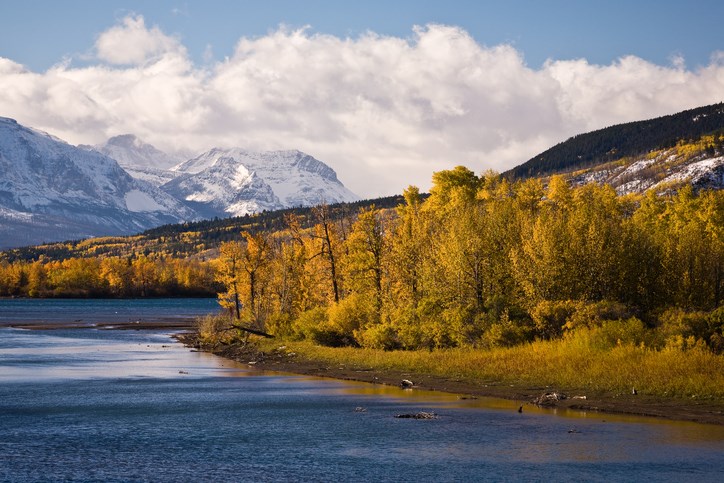 2. GLACIER NATIONAL PARK | Montana
The summer traffic of this park alone is enough to make someone consider visiting in fall. But the smaller crowds certainly isn't at the top our list of reasons to visit in the fall.
Visiting Glacier National Park in autumn brings moderate temperatures, as well as some of the most beautiful blue skies you've ever seen. They don't call it Big Sky Country for nothing.
Your jaw will drop at the sight of the glaciers and giant mountains juxtaposed with the reds, browns, and yellows of the park's arboreal life.
This time of the year also means more frequent wildlife sightings, and you might be lucky enough to spot some of the more rare creatures in the park such as mountain lions, bears, and bighorn sheep.
KOAs nearby:
St. Mary / East Glacier KOA Holiday
Whitefish / Kalispell North KO Holiday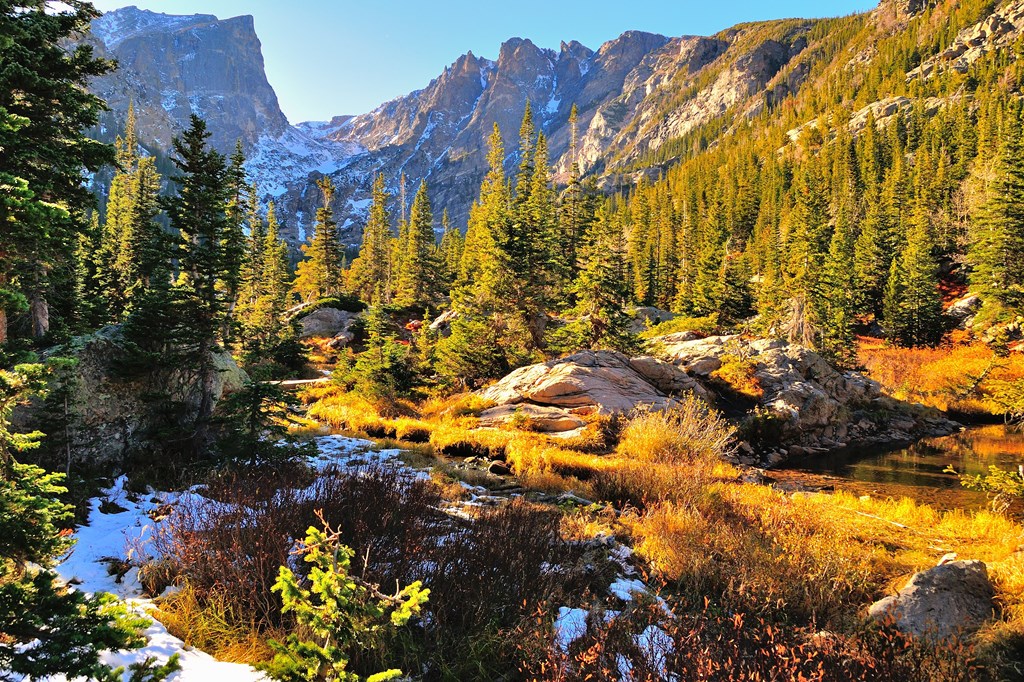 3. ROCKY MOUNTAIN NATIONAL PARK | Colorado
The leaf changing in this incredible park begins mid-September and continues to morph into even more gorgeous glory through October
The contrast of the white aspen trees and the colors of the sun you'll find in the park's leaves are enough to feed your soul for quite some time.
Enjoy these artistic colors by hiking some of the park's 355 miles of trails. Along the way, you'll see the variety of colors and types of trees that bring this park to life as the weather turns.
Fall is also an optimal time to see elk prancing through the peaks of Rocky Mountain National Park, so be sure to bring along some binoculars.
KOAs nearby: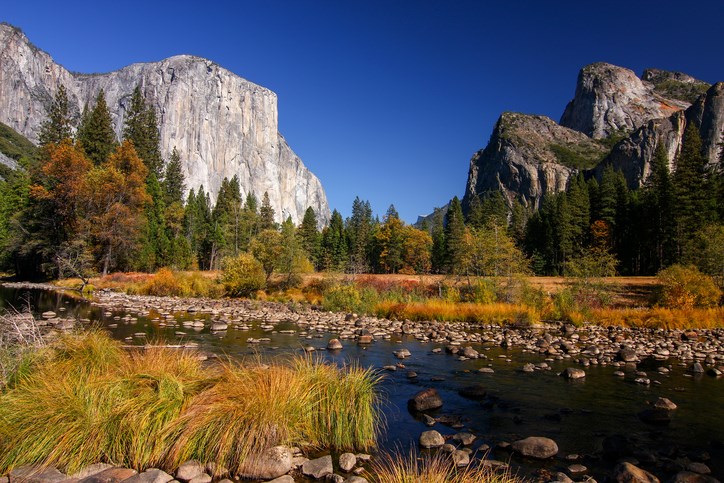 4. YOSEMITE NATIONAL PARK | California
If you're on the hunt for a park whose fall leaves bloom a bit later than the rest, then head on over to Yosemite National Park around mid-October.
Though the red, orange, and yellow tones of Yosemite National Park's changing leaves aren't quite as impressive as other parks in the United States, seeing the park with fewer people in it makes things all the more beautiful.
You will get little specks of color here and there, but there are other reasons to visit Yosemite National Park in the fall. And one of the biggest reasons is the fish. Fall (September through December here) is the peak season for trout fishing, so come ready to catch some serious trout.
Wildlife roaming on land is also something that will lure you into the park. The opportunity to see a black bear, a bobcat, or a coyote may present itself to you, so be prepared.
KOAs nearby: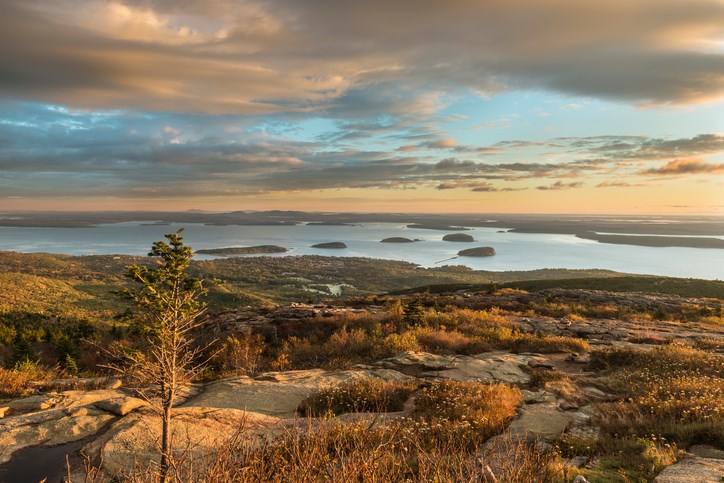 5. ACADIA NATIONAL PARK | Maine
Temperatures tend to drop in this part of the country fairly quickly once fall rolls around, which certainly means fewer people. It also means the changing of the leaves, and here you'll see colors of the rainbow in these trees.
From red, to gold, to purple, you won't be disappointed by the fall foliage in this park.
A couple of warnings, however. Fall is the busy season for cruise ships to make a stop in Bar Harbor for travelers to wander, so you still may have to deal with crowds a bit.
Then, the town quickly shuts down as winter gets nearer. The chances of many of the shops in town being closed towards the end of fall is good, so time your visit accordingly.
Plus, you don't want to be stuck wandering about when the cold hits this area — winters here are quite brutal.
KOAs nearby: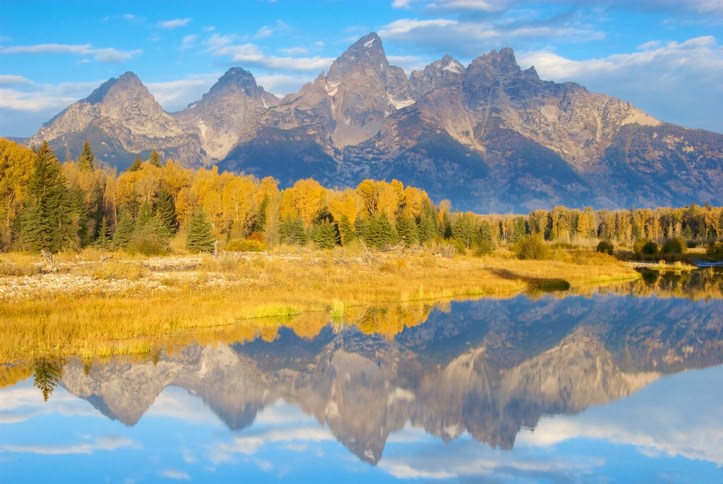 6. GRAND TETON NATIONAL PARK | Wyoming
Few trees change color as magnificently as the aspen. As fall approaches, the leaves of these white-barked trees will turn an incredible yellow that feels brighter than the sun.
You'll find these yellow aspens, as well as many other colorific sights in Grand Teton National Park. Though the exact time the leaves change isn't always consistent, it's safe to say that September is typically the peak time for the aspens.
If you're into seeing the other colors of the park's trees, you may have to wait a little bit longer.
Fall in Grand Teton National Park is important for reasons other than the wow factor of autumn colors. Fall here is the season for the park's deer to show off their mating skills, and begin breeding.
If you're lucky, you may spot a couple male elk engaging in a sparring match, where the grand prize is a new female mate.
KOAs nearby:
Jackson Hole / Snake River KOA
Dubois / Wind River KOA Holiday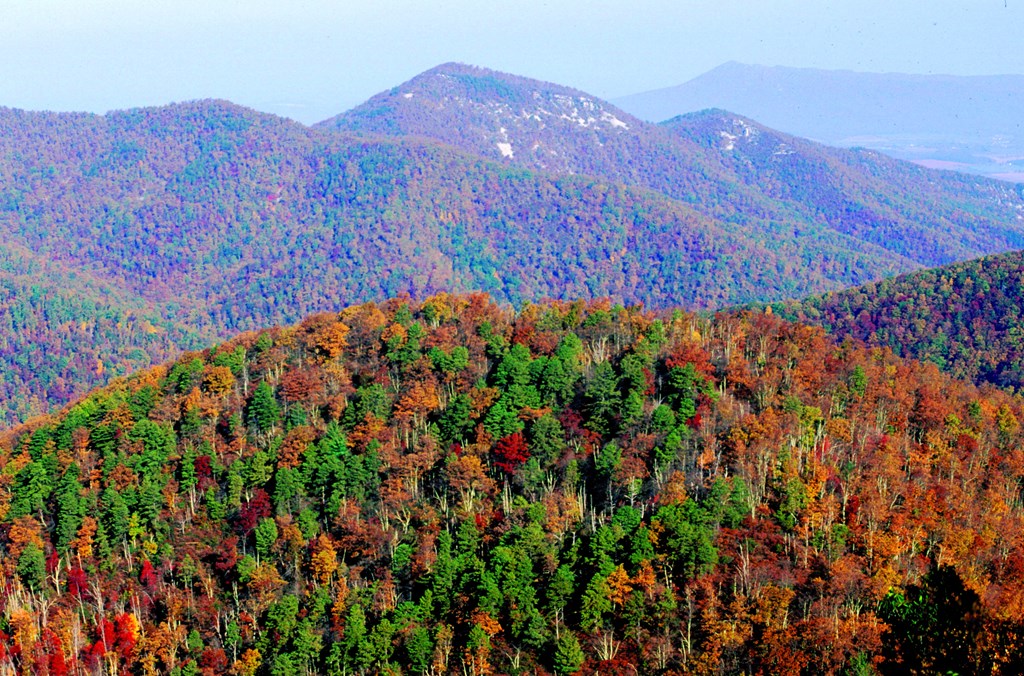 7. SHENANDOAH NATIONAL PARK | Virginia
Peak fall colors in Shenandoah National Park hit the trees towards the end of October. You'll see some of the most beautiful bright golds and reds here, no matter where in the park you are.
Due to the variety of elevation in this park, different species of trees exist whose leaves change at different times. And one of the greatest things about fall in Shenandoah National Park is that it stretches a lot longer than nearly any other national park. You'll get months worth of beautiful colors here — enough for multiple trips' worth.
Aside from red, golds, and oranges, you'll also be amazed by the yellows and purples that can be found in the heart of Appalachia.
Fall in Shenandoah National Park is loved so much that the Fall Foliage Bike Festival was created to bring the beauty to more people. Cyclists of all ages and skill levels can partake in this journey through some of the most stunning places to view the park's fall foliage.
KOAs nearby:
Harrisonburg / Shenandoah Valley KOA Holiday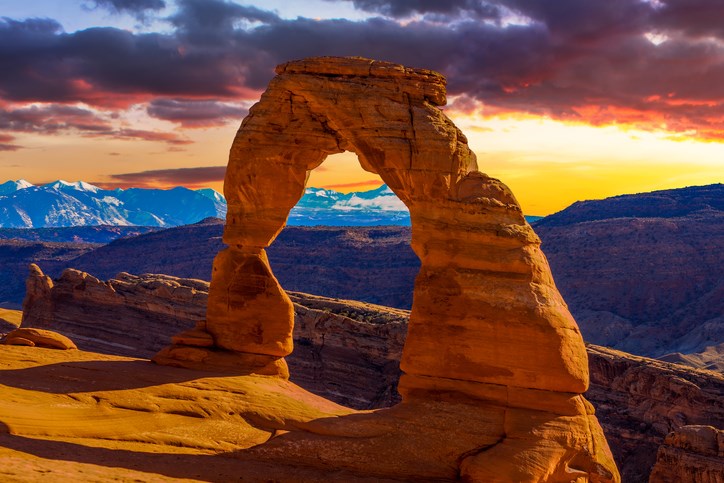 8. ARCHES NATIONAL PARK | Utah
Though you won't spot many leaves changing color here, fall is a fabulous time to head to this national park whose summer temperatures usually prohibit a number of activities.
In the fall, your chances of seeing more of Arches National Park's over 2,000 natural stone arches greatly increase, thanks to the dip in temperatures.
You'll also love being able to hike and camp here during the fall without running the risk of heat stroke.
Sunrise and sunset at Arches National Park in the fall is a sight unlike any other. Pack along your camera to capture some unparalleled views and experiences.
KOAs nearby:
Note: Take time to explore the closing dates of the campgrounds near the parks you'd like to visit. While some are open all year, others have closing dates throughout the fall season.
---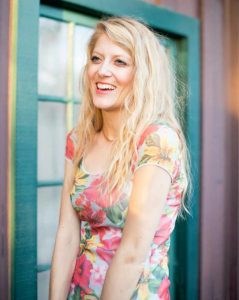 Leslie, a.k.a. Copy Girl, is a copywriter who gets butterflies from telling stories through words.
Her voice comes from a place filled with passion, dreams, and lots of sugar. "Cake over steak" is her go-to motto.
With over 10 years of experience in crafting words, and years of embarking on travels that have taken this Montana girl to some incredible places, Leslie love the adventures of both body and mind her writing takes her on.
Everywhere she goes, she takes this advice with her:
"Hold on to your divine blush, your innate rosy magic, or end up brown." – Tom Robbins, Jitterbug Perfume
To see what Leslie's up to in the writing world, visit her website here.
---