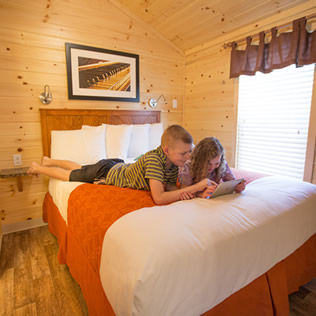 Our Deluxe Cabins take cabin camping to the next level with even more conveniences of home. Rest your head on our comfortable beds after a day of outdoor adventures and exploring. Our Deluxe Cabin camping lets you enjoy the great outdoors with the comfort of home at your disposal.
Deluxe Cabins are perfect for new and experienced campers. Ease your family into camping without having all the gear and setup tenting or RVing bring with it. Leave your RV at home for a change of pace. Pack up quickly for a spontaneous weekend away, or hop on the motorcycle and head to KOA. There are plenty of reasons to choose a KOA Deluxe Cabin vacation rental for your next getaway!

KOA Facilities
When you follow the Yellow Sign to a KOA location, you get so much more than a place to sleep at night. KOA sets high standards when it comes to the facilities and the customer service you experience, making it way more than just another campground. Just look for a yellow shirt and prepare to be blown away by the friendliness and knowledge of our staff.
When you reserve a Cabin at a KOA location, you can expect certain standard features across out KOA Campgrounds, including:
Knowledgeable, Friendly Staff
Quality Camping Sites
KOA Convenience Stores
Clean Bathroom & Shower Facilities
Self-Service Laundry Facilities
Playgrounds
Designated Pet Parks
Some of the unique features include:
Swimming Pools
Game Rooms
Sports Courts & Play Areas
Bike Rentals
Water Sports
Mini Golf
Special Events
Seasonal Activities & Themed Events
Hiking Trails
Fishing
Food Service
Deluxe Cabin Amenities
On top of the amazing campground amenities, your Deluxe Cabin rental offers even more reasons to get excited about your stay. Deluxe Cabins typically feature:
Private bathrooms
Kitchenettes
Comfortable beds ranging from bunk beds to queen-size beds
Various floor plans to fit your needs
TVs, including some with cable TV access
Gas Grills
Fire Pits
Picnic Tables
Patios
Deluxe Cabin Floor Plans