Acadia National Park is unlike any other park in the country. Originally a popular vacation destination for the very wealthy in the early 20th century, it was thanks to these rich benefactors that the park was protected. It's not hard to see why so many people chose to summer here, though; eating fresh lobster and blueberries on the beach– while enjoying ocean breezes and watching the waves crash against the dramatic rocky shoreline– sounds like a nice way to vacation! Here's our beginner's guide to what you you need to see to truly experience the park to the fullest.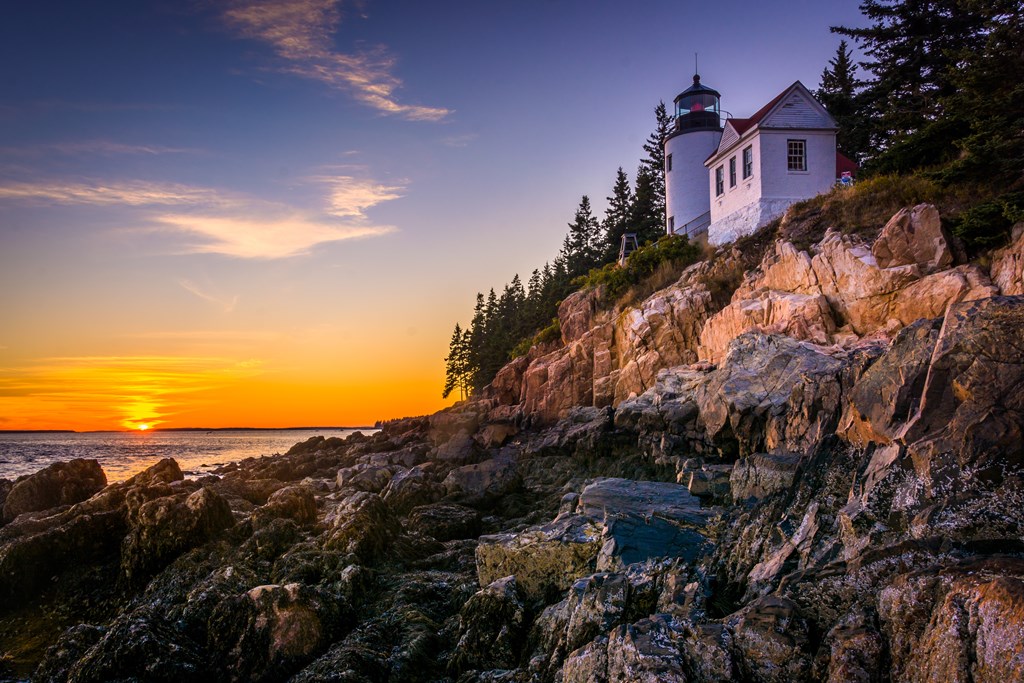 Acadia National Park
Maine's rugged coast and stunning waters attract plenty of tourists to Acadia National Park every year, providing them with a beautiful sunrise each morning, and a good time discovering the endless experiences that the park has to offer. The park comes filled with history, including the story of its original inhabits, the Wabanaki people, and the tale of an almost-month-long fire back in 1947, which burned over 10,000 acres. As a whole, Acadia spans 49,052 acres, over half of which consists of Mount Desert Island. Activities of all kinds are found within the park, and spectacular views are a given. So grab some comfortable shoes and your camera and have fun doing as much within the park as possible!
Bar Harbor Historical Society
The history of the culture in the area is preserved for all to experience at the Bar Harbor Historical Society, located in the adorable resort town adjacent to the park. This quaint former convent was built in 1916, and houses exhibits of designers, architects, milk bottle collections and more. It also tells the story of the great fire of 1947 that swept through the town, wiping out acre upon acre both in and outside of the park. History buffs will love this place! The museum is free, so there's no reason not to make a quick stop.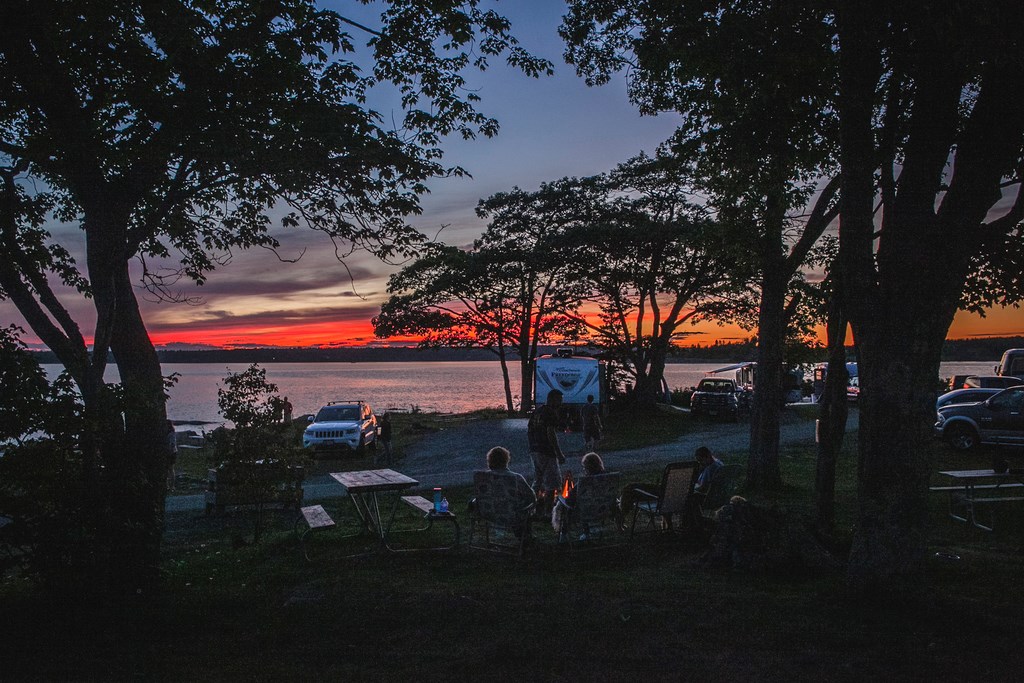 Bar Harbor / Oceanside KOA Holiday
Located close to the National Park entrance, the Bar Harbor KOA is the only campground on the western side of the island, perfect for watching the sun set over the water! And, it gets even better: This KOA offers an Airstream camping experience! The gorgeous retro RV sleeps up to four and provides a unique, comfy, and extra charming camping experience only an Airstream can give. A stay in the comfort of one of these nostalgic and stylish trailers might just make your trip! Ocean view cabins and tent camping spots are also available, as well as RV sites.
Cadillac Mountain
While in Acadia, this is the spot you want to make sure you see! Cadillac Mountain is the highest point on the East Coast, at 1,530 feet. The mountain attracts tourists from around the globe, with a killer panoramic view that's worth the drive (or hike) up. There are trails all around and atop the mountain for those wanting to stretch their legs and explore the grounds. During certain months, Cadillac Mountain is the first place in the United States to see the sun rise–a pretty cool thing to cross off the bucket list, if you ask me!
Jordan's Restaurant
Featuring Maine's wild blueberries in their popular breakfasts and desserts, Jordan's Restaurant is open April through November and serves up fresh, local, and insanely tasty breakfast favorites. Jordan's is known for its blueberry pancakes, slathered in house-made blueberry syrup, but they also serve up omelets, club sandwiches, and burgers, among other diner staples. This affordable local treasure is a surefire hit. Come hungry, and you won't leave disappointed.
Lulu Lobster Boat Ride
A two-hour tour through Bar Harbor will leave you feeling one with the waters of Maine. Experience the hauling of lobster traps, learn about the lobsters themselves, sightsee a spectacular lighthouse and its surroundings, and get close to some adorable seals! The ride is easily enjoyed by those of any age, because it's not every day you get to ride on an authentic lobster boat and see how the magic happens with your own eyes. Be sure to check the times that tours are offered during your visit, along with the weather to ensure a good trip! Lulu's captain is extremely knowledgeable and passionate about lobsters, which provides for an entertaining and educational experience you're sure to remember.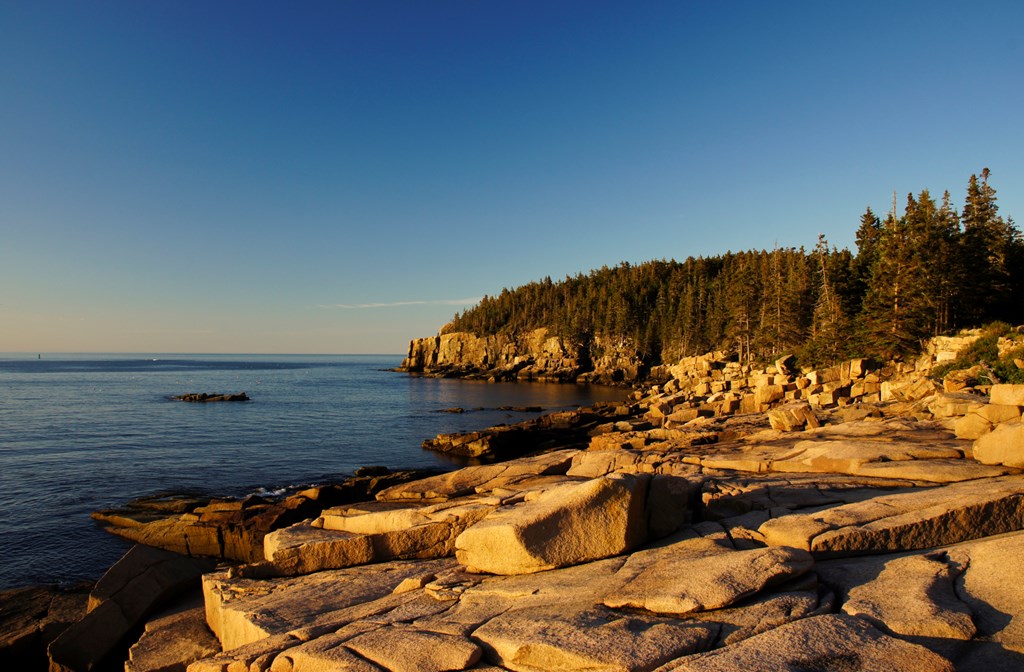 Stewman's Lobster Pound
Authentic, oceanfront lobster is served daily at Stewman's Lobster Pound, a favorite stop among visitors of Bar Harbor. Aside from the "Lobster Experience Meals", (which is what Stewman's is known for and is popular for restaurant goers with large appetites), fresh lobster Cobb salads, lobster stew, and clam chowder are a few other favorites. And don't forget blueberry pie for dessert! Savor a full meal, or just enjoy a cocktail, taking in the friendly atmosphere. There is even deck seating for some more of those striking Maine views you can't get enough of, while eating some of the best that Maine has to offer!
Schooner Head Overlook & Anemone Cave
Accessed off Park Loop Road right in Acadia, Schooner Head Overlook is the picture-perfect spot for a romantic sunrise or some cave exploring at the base during the day. If you do choose to explore Anemone Cave, be aware of the various wildlife, which includes sea anemones, which the cave is properly named after! For those willing to tackle the slippery rocks for that endless view of the water, this stop in Acadia adds something a little different to your average national park trip.
Sand Beach
Right after Schooner Head Overlook, head to beautiful Sand Beach, on the park's Mount Desert Island. There are some hiking trails nearby that offer unique views otherwise not seen on the beach, for those who want to keep moving. On the flip side, the beach is perfect for relaxing and enjoying the ocean for a much-deserved picnic or rest, especially after climbing the overlook or exploring other parts of the park. Who doesn't love that beautiful contrast of ocean and mountain?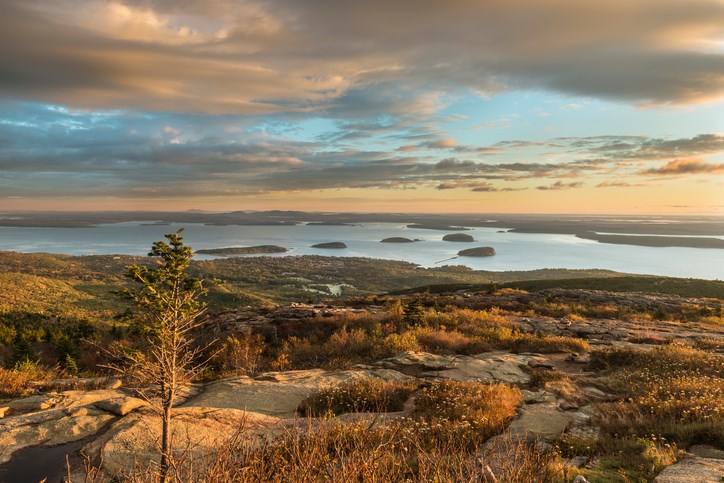 Thunder Hole
Experience just how incredible nature can really be by popping over to Thunder Hole. Waves crash against rock with all their might in this little inlet, and a giant boom of thunder rings out as the waves smash into the end, hence the name "Thunder Hole." On a good day, water will spout up to 40 feet, getting anyone in its path wet. This is a perfect afternoon stop for anyone wanting to experience both the natural beauty and power of the ocean! Pay attention to the weather and check online for tide times to visit it at the ideal time.
Jordan Pond
Spanning 187 acres, Jordan Pond is another favorite location within the park. A walking trail loops around the shore, perfect for a scenic stroll, especially after dining at Jordan Pond House restaurant during tea time. The only restaurant in the park, Jordan Pond House serves lunch and dinner and offers the unique experience of having afternoon tea with delicious popovers. They're best enjoyed in the fresh air of late afternoon, embracing a classic 1800s tradition while letting you take in that gorgeous view of the pond.
Fresh food, great water activities, and mountainous ocean views; your Maine road trip will surely be one for the books after completing even just a few of these amazing experiences that make Acadia so legendary. Let that constant, relaxing ocean breeze guide you along this trip through the highlights of the park and surrounding areas.
---