"O beautiful for spacious skies, for amber waves of grain. For purple mountain majesties above the fruited plain!"
America, the beautiful. What a wonderful place to call home. There are more stunning sights spread across this vast country than you could ever visit in a lifetime.
However, there are some stand-out places that we have deemed our favorites, and we think they'll quickly become your favorites too.
From A to Z, here are our must-see national parks and national monuments, all offering something unique and memorable, and serving as a reminder of how this country we call home is a truly magical place. Looking for more fun near national parks and monuments? Check our list of campgrounds near national parks!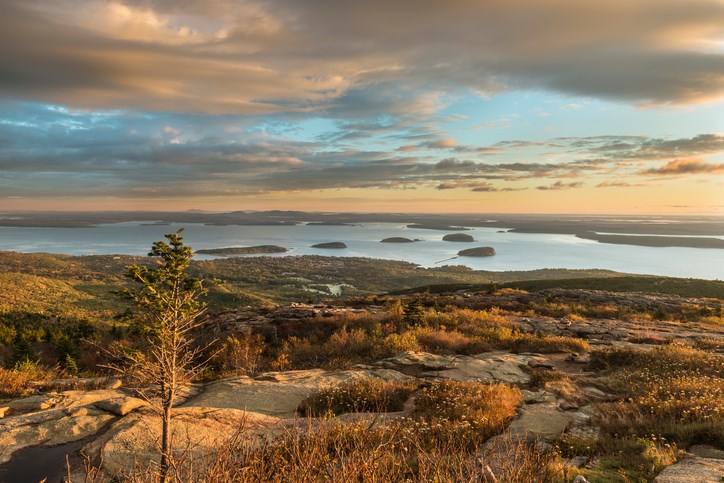 A is for Acadia National Park
We begin our journey in the easternmost part of the United States: Maine, home to Acadia National Park. Boasting killer hiking trails, a unique but well-loved beach, Sand Beach, and some of the most picturesque spots such as Otter Cliff and Thunder Hole, no matter what time of year you visit Acadia National Park, you will fall in love.
KOA nearby:
Bar Harbor / Woodlands KOA
Bar Harbor / Oceanside KOA

B is for Bryce Canyon National Park
With the Grand Canyon nearby, Bryce Canyon National Park is sometimes passed up for its more flashy neighbor. However, people that skip this park and go straight to the Grand Canyon are missing out on what Bryce has to offer. Head to the park's natural amphitheatre for some killer views, but be sure you head on on some of Bryce's less-traveled hiking trails as well to take in the quiet and beautiful scenery.
C is for Craters of the Moon National Monument
This national monument tucked away in the Great Rift of Idaho is one of the continental U.S.' best preserved flood basalt areas. The unique geological finds here are sure to wow. From lava flows, to cinder cones, lava tubes, to lava caves, there is a lot to see at Craters of the Moon. You truly will feel like you're on the moon here, so be sure to bring your camera along to snap some out-of-this-world photos.
KOAs nearby:
Craters of the Moon / Arco KOA Journey
D is for Denali National Park
The sheer size of this Alaskan National Park is enough to knock you right off your feet. Denali covers 6 million acres of land, and has just one thin road going through the middle of it. There are definitely parts of this park that human life has never touched. Denali National Park is home to North America's tallest peak, Denali, that measures in at a whopping 20,310 feet. If that sounds like a bit too much for you, there are plenty of other gorgeous trails to hike here.

E is for Everglades National Park
This Florida National Park holds the title of the largest subtropical wilderness in the entire United States — a wilderness that protects endangered species such as the manatee, the American crocodile, and the Florida panther. Wildlife isn't all there is to see here, though. Be sure to try your hand at slough slogging — off-trail wetland hiking for a truly unique and memorable experience.
KOAs nearby:
Hollywood KOA
F is for Florissant Fossil Beds National Monument
Though you likely haven't heard of this national monument in Colorado, it is definitely worth a visit. The massive petrified redwoods here are eerily beautiful, and the fossils that have been preserved show what Colorado was like during the Eocene age, nearly 35 million years ago.
KOAs nearby:
Cripple Creek KOA
Colorado Springs KOA Holiday

G is for Glacier National Park
Deemed the "Crown of the Continent," Glacier National Park serves as the headwaters for streams that flow all the way to the Gulf of Mexico, the Pacific Ocean, and Hudson's Bay. There are more hiking trails then you'll know what to do with, some open year-round, but be sure to not miss the drive up the Going to the Sun road for a postcard-worthy view.
KOAs nearby:
St. Mary / East Glacier KOA Holiday
West Glacier KOA Resort
Whitefish / Kalispell North KOA Holiday

H is for Hot Springs National Park
Though there are certainly other places in the country to see wonderful hot springs, Hot Springs National Park is the the place to see them. It is the oldest federal reserve in the United States, even older than Yellowstone National Park. Here you'll love soaking up the suds in a bathhouse that's been in non-stop operation since its opening in 1912. Don't miss out on the other great parts about Hot Springs National Park: wonderful hiking, and a fabulous micro-brewery to end the day.
KOAs nearby:
Hot Springs National Park KOA
I is for Isle Royale National Park
Accessible only by boat or seaplane, Isle Royale National Park is certainly secluded, but worth the adventure. Your journey into the park will be exciting in itself, but once you arrive, there is much to do. Over 165 miles of hiking trails provide for plenty of exploration, and you'll likely spot some of the park's wildlife while out and about that includes: moose, gray wolves, mink, and a variety of migratory birds. You can even SCUBA dive in Lake Superior via a guided diving trip within the park's borders.
KOAs nearby:
Thunder Bay KOA Holiday
J is for Jewel Cave National Monument
When you think of South Dakota, the first thing that comes to mind probably isn't a massive cave system. Well, prepare to be surprised because that's exactly what you'll find at Jewel Cave National Monument. In fact, Jewel Cave is the not just a massive cave system — it is the third-longest cave system in the entire world. Imagine all the spelunking you'll be able to do here! Opt for a guided tour so you don't get lost in the maze of caves here.
KOAs nearby:
Custer / Mount Rushmore / Black Hills KOA Holiday
Mount Rushmore KOA Resort at Palmer Gulch
Rapid City / Black Hills KOA
Deadwood / Black Hills KOA
K is for Kobuk Valley National Park
Head up to Alaska for the chance to see a truly beautiful and unique sight — 500,000 caribou migrating through absolutely stunning sand dunes. Kobuk River of Kobuk Valley National Park has been a path of migration for humans and wildlife for many, many years — 8,000 years, in fact. If you miss the caribou, don't worry — you'll still be in awe at the Great Kobuk Sand Dunes, the largest active sand dunes in all of the Arctic. Visit in the summer for some wonderful boating, backpacking, fishing, and more.

L is for Lava Beds National Monument
By its name, you can guess what is boiling underneath the surface of this monument: lava. The Medicine Lake shield volcano here has erupted many times over the last 500,000 years and, as a result, has created quite a unique landscape. Today, Lava Beds National Monument boasts over 700 caves, sites of historic battles, and much more. Hike around and take a journey through this area's rich past.
KOAs nearby:
Klamath Falls KOA Journey
M is for Mount Rainier National Park
Home to the 14,410-foot tall Mount Rainier, a volcano still active today, visiting this national park is worth just seeing the famous volcano in all its glory. If you're feeling up to it, attempt a difficult climb up the mountain, or enjoy walking around some of the lower areas. If hiking isn't your thing, be sure you drive up to Sunrise — the highest point you can reach by car on the mountain. Head to the park in the winter for some great skiing and snowshoeing.
KOAs nearby:
Ellensburg KOA Journey
N is for National Mall and and Memorial Parks National Monument
Few things say "America" quite like the National Mall and surrounding Memorial Parks. From the Lincoln Memorial to the Washington Monument, and much more, this area is full of our country's rich history. Walk around all the sites, opt for a guided tour, or hop on a Segway to experience this incredible area for yourself. We guarantee you'll leave feeling quite patriotic.
KOAs nearby:
Washington D.C. / Capitol KOA Holiday
Fredericksburg VA / Washington D.C. S. KOA Holiday
O is for Oregon National Historic Trail
Are you lucky enough to have played the famous computer game, The Oregon Trail in your younger years? If so, then the terrain you were very slowly guiding your team of oxen through on your Commodore was along the Oregon National Historic Trail. This trail spans six states and over 2,000 miles, and represents the journey of Americans settling in the West. Ride horseback through part of the trail, or bike your way to get a feel of what our ancestors endured, and don't miss the interpretive sites along the way that give great insight into the trail's history.
KOAs nearby:
Cascade Locks / Portland East KOA
Pendleton KOA Journey
Boise / Meridian KOA Journey
Twin Falls / Jerome KOA Holiday
Pocatello KOA Journey
Lava Hot Springs KOA Holiday
Lava Hot Springs / City Center KOA
Montpelier Creek KOA Journey
Bear Lake / Trail Side KOA Journey
Lyman KOA Journey
Flaming Gorge / Manila KOA Journey
Rock Springs / Green River KOA Journey
Rawlins KOA Journey
Laramie KOA Journey
Fort Collins North / Wellington KOA
Grand Island KOA Journey
West Omaha / NE Lincoln KOA Holiday
Topeka / Capital City KOA Journey
Kansas City West / Lawrence KOA
Kansas City East / Oak Grove KOA Holiday

P is for Petrified Forest National Park
When you think of a forest, you think of acres of giant trees standing tall and beautiful. Well, you can go ahead and toss that vision aside because that is not at all what you will find at the Petrified Forest National Park. Instead, here lay remnants of trees that once were, but you won't be disappointed — these remnants are strangely beautiful, almost as if from another planet. The area's backcountry hikes are not to be missed, especially the ones recently opened including Red Basin and Martha's Butte. Whatever you do, don't take a piece of the forest with you — you will be faced with a hefty fine!
KOAs nearby:
Holbrook / Petrified Forest KOA Journey

R is for Redwood National Park
How could the land of the tallest trees on earth not make it onto our list of favorite national parks? You really must see with your own eyes the Redwoods to believe these towering giants really exist. Be sure to check our Fern Canyon — you'll recognize it from The Lost World: Jurassic Park. This park is beautiful to drive through, walk through, or if you're up for an adventure, take a gondola ride through part of.
KOAs nearby:
Crescent City / Redwoods KOA Holiday

S is for Shenandoah National Park
These 200,000 acres of protected lands just 75 miles outside Washington, D.C. will take you to a peaceful and stunningly beautiful place. With waterfalls, hiking trails for days, and rare wildlife to spot, you will be amazed that a major city is so nearby. Whether you decide to bike it or drive, a trip down Skyline Drive is an absolute must, though be sure you check the weather ahead of time, as the road does close when conditions turn south.
KOAs nearby:
Harrisonburg / Shenandoah Valley KOA Holiday
T is for Tuzigoot National Monument
Too-zi-goot. What a name. And what a history. This area preserves a pueblo ruin that was built by the Sinagua people somewhere between 1125 and 1400. The three-story pueblo that once stood tall here remains in pieces, and is quite a sight to see. The word "tuzigoot" means "crooked water," and this spot served as shelter for a great number of Sinagua people — enough to fill the pueblo's 110 rooms. Nearby towns of Prescott and Sedona offer some great hikes and other wonderful sightseeing.
KOAs nearby:
Williams / Exit 167 / Circle Pines KOA Holiday
Flagstaff KOA
U is for Upper Missouri River Breaks National Monument
These badlands of Montana stretch along the 149-mile long Upper Missouri National Wild and Scenic River. Home to stunning rock formations, steep bluffs, and miles of plains, over 60 species of mammals call this area their home. Locals refer to it as "The Breaks." Be sure to keep your eye out for birds as well — there are hundreds of species of them flying around the area.
KOAs nearby:
Great Falls KOA
V is for Vermilion Cliffs National Monument
This under-the-radar national monument may be considered by some as even more awe-inspiring than its neighbor, the Grand Canyon. Just around 2,000 people a year visit Vermilion Cliffs National Monument, as it does bring some challenges in the form of rattlesnakes, deadly heat, and miles of open desert. But pushing through the challenges to get here is well worth it. Just be sure you plan your trip months in advance — only 20 people a day are allowed on the trail.
KOAs nearby:
Monument Valley KOA
Cannonville / Bryce Valley KOA Holiday

W is for White Sands National Monument
The world's largest gypsum dunefield, White Sands National Monument is made up of nearly 300 miles of vast white sand. In fact, it could be said that this is the only white gypsum sand dunes area in the world, as the only other contender is a tiny 3 square-mile one in Texas. The expansive beauty of the white sand will take your breath away, and you'll swear you're on another planet. Because the sand here is made of gypsum crystals, even when the weather is boiling, the sand stays cool on your feet.
KOAs nearby:
Alamogordo / White Sands KOA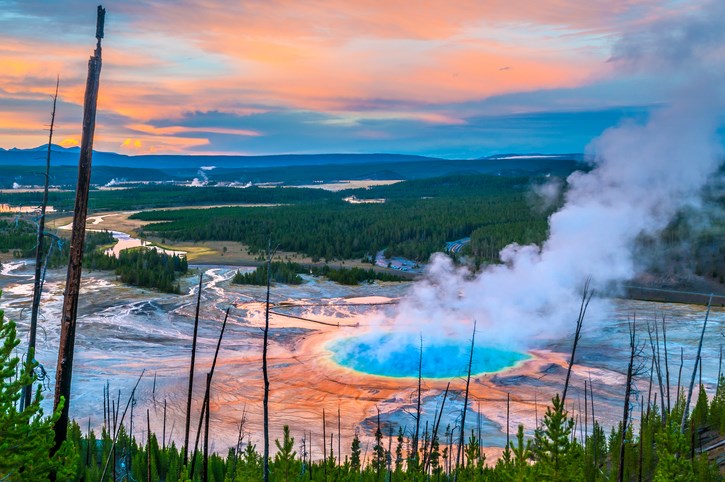 Y is for Yellowstone National Park
Though Yosemite National Park made for a tough rival for the winner of the letter "Y," we had to go with Yellowstone National Park — the world's first national park. And what a glorious park it is! Known for its geysers, especially Old Faithful, Yellowstone has some wild sights to see. Experience the bursting of geysers, hot springs, mudpots, and other unusual life that's boiling just beneath the surface. Here you'll also experience life above the surface with the park's wildlife. Spend the day driving around the park, making stops along the way, or if, you have the time and the gear, spend a few days camping.
KOAs nearby:
Yellowstone Park / West Gate KOA
Yellowstone Park / Mountainside KOA Journey

Z is for Zion National Park
Here at Zion National Park you'll find some of Utah's greatest wonders. The red and white cliffs of this area are beyond picturesque, but this park offers far more than that. Hike to the lesser-known areas to spot small grottoes, beautiful wildflowers, hanging gardens, and so much more. From atop a horse is a wonderful way to see this park, but even driving through in your car will be enough to take your breath away.
KOAs nearby:
St. George / Hurricane KOA
---
How's that for a bucket list?
We hope you are able to make it to as many places as you can on this list to experience for yourself the wide variety of beauty, and the wild adventures that exist right in your backyard.
Though remember, this only scratches the surface of what exists in the world of national parks and national monuments, so be sure you never stop exploring.
---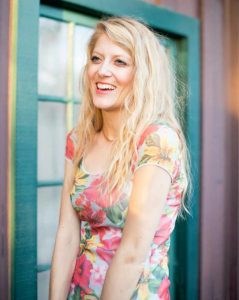 Leslie, a.k.a. Copy Girl, is a copywriter who gets butterflies from telling stories through words.
Her voice comes from a place filled with passion, dreams, and lots of sugar. "Cake over steak" is her go-to motto.
With over 10 years of experience in crafting words, and years of embarking on travels that have taken this Montana girl to some incredible places, Leslie love the adventures of both body and mind her writing takes her on.
Everywhere she goes, she takes this advice with her:
"Hold on to your divine blush, your innate rosy magic, or end up brown." – Tom Robbins, Jitterbug Perfume
To see what Leslie's up to in the writing world, visit her website here.
---