Interesting, odd, quirky and fun, America is full of roadside attractions you  need to see to believe. Our list of American roadside attractions includes 50 gotta see sights – one for each state! Check out these quirky finds in all 50 states.
Road trips are arguably the most iconic experience in America.
Driving across this vast country from one end to the other and experiencing the wildly different towns, terrains, and types of people is something that travelers from all over the world come to get a piece of.
When thinking of road trips, most people imagine snacking to your heart's delight, listening to epic playlists, and stopping at some seriously great roadside restaurants.
Oh yeah, and seeing truly unforgettable sights along the way.
From prairies that seem to go on for eternity, to highways that twist through the densest of forests; from the sun reflecting off the ocean, to the snow that caps the highest mountains, this land we called America is truly beautiful.
However, there are some parts of this country that, while they may not be deemed "beautiful," are certainly parts you don't want to miss.
These are the oddities — the things that give America its personality; the things that pack no glam, but rather a whole lot of glory.
Read on to see the roadside attractions that are as quirky as they come, and that will truly make your road trip one to remember.
---
ALABAMA | UNCLAIMED BAGGAGE CENTER
You know all those bags at the airport that go unclaimed? Whose owners never seem to find them? Many of them end up here in Scottsboro, Alabama at the Unclaimed Baggage Center. Spanning more than an entire city block, this "store" allows visitors to buy up anything that found its way into these suitcases. As the only shop of its type in the entire United States, the Unclaimed Baggage Center gets some serious traffic — more than a million annual visitors.
KOAs nearby:
Lookout Mountain / Chattanooga West KOA Holiday®
---
ALASKA | WORLD'S LARGEST SANTA
Though North Pole, Alaska unfortunately doesn't serve as the home of Santa's workshop, that doesn't mean that the people of this town don't have some serious Christmas spirit — the biggest Christmas spirit, some might say. What allows them to make this claim? The 900-pound statue of Santa Claus that serves as the mascot for the Santa Claus House. It's the biggest Santa Claus in the entire world, and put this tiny town of 2,000 people on the map.
---
ARIZONA | THE THING
As if the name itself wasn't enough to pique your interest, the fact that there are over 200 billboards advertising this unknown sight will surely pull you in. And you won't be disappointed, or you might, depending on what you're expecting to find once you arrive. After paying a small fee of $1 to gain entrance, you'll embark on a journey through some sheds of many things in the hopes of uncovering the mystery of what The Thing actually is. We won't ruin the mystique that this attraction has created, so you'll just have to check it out for yourself.
KOAs nearby:
Benson KOA
Willcox / Cochise, AZ KOA Holiday®
---
ARKANSAS | SNAKE WORLD
What better way to overcome your fear of one of the most commonly feared creatures in the world than a trip to Berryville, Arkansas' Snake World? Here you'll get to experience all varieties of this cold-blooded species and learn a great deal about these terrifying reptiles. If you're feeling adventurous, you can give snake-handling a try, though you won't find us picking up snakes anytime soon.
KOAs nearby:
Eureka Springs KOA
Branson KOA Holiday®
---
CALIFORNIA | SALVATION MOUNTAIN
This 50 foot-tall hill in the middle-of-nowhere deserts of California has had over 100,000 gallons of paint dumped on it. Well, we shouldn't say "dumped." Rather, the paint has been artfully dispersed in the form of biblical messages by artist Leonard Knight. Salvation Mountain was a 30-year passion project of Knight's that has since become a wildly popular road trip stop.
KOAs nearby:
Palm Springs / Joshua Tree KOA
Banning / Stagecoach KOA
---
My Rocky Mountain Park
COLORADO | UFO WATCHTOWER
The southwestern region of the United States is notorious for alien-related sights, but even the UFO Watchtower in Colorado feels a little bit strange in that realm. Ranch owner Judy Messoline believes she lives in the center of some serious alien activity, and thus built a UFO watchtower which travelers can visit. She even created a campground for visitors to spend the night at, and possibly experience some out-of-this-world encounters of their own.
KOAs nearby:
Alamosa KOA Journey®
---
Yale Alumni Magazine
CONNECTICUT | CUSHING BRAIN COLLECTION
It's not every day that you have a chance to check out a bunch of diseased brains. But, when you're traveling through New Haven, Connecticut, and can make your way to Yale's Medical School Library, that is exactly what you'll find. Tumors and diseases have wreaked havoc on all these brains, but the interest in studying them further is what landed them here at this collection.
KOAs nearby:
Niantic / I-95 Exit 72 KOA
Mystic KOA Holiday®
---
DELAWARE | MILES THE MONSTER
Dover International Speedway is known to be a racetrack that offers up some pretty challenging conditions to its drivers, hence its nickname "The Monster Mile." A name like that couldn't possibly come without a mascot attached to it, which is where Miles the Monster comes in. Towering above all just outside the track, Miles has a tight grasp on a racecar that looks like it is about to be smashed to the ground.
KOAs nearby:
Cape May KOA
---

FLORIDA | AIRSTREAM RANCH
In an attempt to resemble Stonehenge, this is the American version of the iconic formation, and it requires quite a bit of imagination. Eight Airstream trailers have been stuck into the ground somewhere along I-4 between Tampa and Florida as what we think may be an attempt at an artistic statement. Rather, Airstream Ranch appears to be more like art gone wrong, but beauty is in the eye of the beholder.
KOAs nearby:
Clearwater / Lake Tarpon KOA
St. Petersburg / Madeira Beach KOA Holiday®
---
BBC
GEORGIA | GEORGIA GUIDESTONES
This monument is comprised of numerous granite stones that share post-apocalyptic messages with travelers, written in eight different languages. Meant by the artist to "be guidestones to an Age of Reason," the words on these stones include things such as "Rule passion — faith — tradition — and all things with tempered reason." It is not clear who built them, other than a sign that notes the sponsors as "A Small Group of Americans Who Seek the Age of Reason."
KOAs nearby:
Lake Oconee / Greensboro KOA
Anderson / Lake Hartwell KOA Holiday®
---
Travel and Leisure
HAWAII | WORLD'S LONGEST PLANT MAZE
Spanning over three acres, this labyrinth at the Dole Plantation in Wahiawa, Hawaii takes the record for being the longest plant maze in the entire world. With over two miles of paths to wind your way around and some beautiful local fauna and flora, the journey through this maze is quite a sight. If you're able to make your way to the end, you get to pen your name in the record book.
---
IDAHO | WORLD'S BIGGEST BEAGLE
If you're looking to see the world's biggest real, living and breathing beagle, then you're in for a big disappointment. However, if you're not, then you're in for a treat when you come upon this sight in Cottonwood, Idaho. The Dog Bark Park Inn is a 27-foot tall beagle that doubles as a place to sleep for the night. The beagle's belly offers a single room for a lucky traveler, and is connected to a park teeming with weird dog "art" created by a chainsaw artist.
KOAs nearby:
Kamiah / Clearwater River KOA
---
Belleville News-Democrat
ILLINOIS | WORLD'S LARGEST CATSUP BOTTLE
Yes, in this part of the world it's called "catsup," not "ketchup." And head to Collinsville, Illinois to see the largest catsup bottle in the whole world. This 70-foot bottle has the ability to hold up to 640,000 standard-sized bottles of catsup, but instead holds 100,000 gallons of water. If you time your visit right, you'll also be able to experience the World's Largest Catsup Bottle Festival. Here you can enjoy a hula hoop contest, a car show, live music, and of course, lots of catsup.
KOAs nearby:
St. Louis N.E. / I-270 / Granite City KOA Journey®
St. Louis West / Historic Route 66 KOA Holiday®
---
The Telegraph
INDIANA | WORLD'S LARGEST BALL OF PAINT
Over 40 years ago, a father let his son paint a baseball and then, over the years, decided to keep adding to the paint job. Next thing you know, the baseball has thousands of coats of paint, and holds the record for the largest ball of paint in the world. If you find yourself near Alexandria, Indiana, stop by not only to see this strange sight, but also to add to the art and paint a layer of your own on top.
KOAs nearby:
Indianapolis KOA Holiday®
Bluffton / Fort Wayne South KOA
---
IOWA | THE HOBO MUSEUM
Open to the public for nearly 40 years, the Hobo Museum is a trip back in time to the days of hobos and their train hopping. Though a small community of them still exist today, this museum preserves the heyday of these people. Once a movie theatre, the Hobo Museum today is packed full of artifacts ranging from hobo crafts, to videos, to doll collections, and much more. This place truly preserves the legacy of the famous hobo culture, and in a way that some will find quite intriguing.
KOAs nearby:
Albert Lea / Austin KOA Holiday®
---
Travel and Leisure
KANSAS | THE WORLD'S LARGEST COLLECTION OF SMALLEST VERSIONS OF LARGEST THINGS
Take a moment to wrap your head around that. Creator of this roadside attraction Erika Nelson has a knack for finding things that hold the title of "World' Largest" and creating a tiny replica of them. By doing so, she has created her own "World's Largest" of the smallest things. And she's got everything you could think of. So, if you want to pack seeing a bunch of "World's Largest" things into your road trip, simply pass through Kansas and stop at Nelson's place to see them all. You can fake the size in pictures and we promise we won't spill your secret.
KOAs nearby:
Salina KOA
Wakeeney KOA Journey®
---
KENTUCKY | DINOSAUR WORLD
Admittedly a far cry from anything that even somewhat resembles Jurassic Park, that doesn't mean that Kentucky's Dinosaur World isn't worth a visit. These dinos don't walk or talk, but that means they also won't be attempting to eat you. Instead, wander through Dinosaur World to see life-sized dinosaur replicas mid-stroll. Here you can also dig for fossils and pan for minerals. There is something for almost every dino-loving person at Dinosaur World.
KOAs nearby:
Horse Cave KOA
Bowling Green KOA Holiday®
---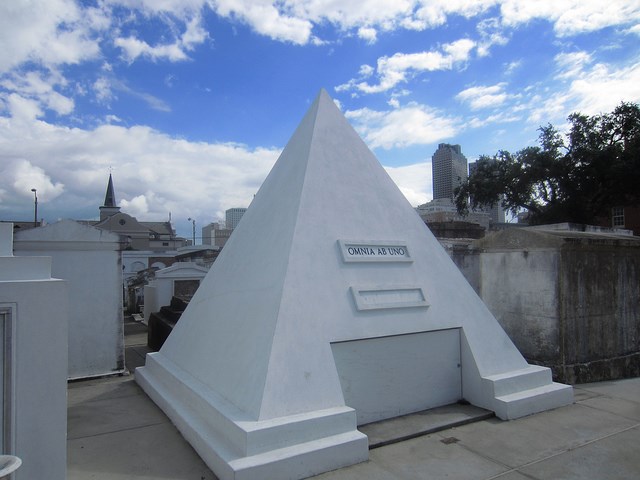 LOUISIANA | NICHOLAS CAGE'S TOMB
Though seemingly a long way away from his death, Nicholas Cage does not want to be unprepared for that fateful day. Thus, he has already picked out his burial plot. If that isn't strange enough in itself, he has not picked out just any ol' burial plot, but rather something that looks like it's straight out of one of his National Treasure movies. Cage's 10-foot tall pyramid tomb is inscribed with the phrase "Omnia Ab Uno," which means "Everything From One."
KOAs nearby:
New Orleans KOA
---
Gallivant
MAINE | INTERNATIONAL CRYPTOZOOLOGY MUSEUM
If you're a fan of Yeti, Bigfoot, Nessie and any other creatures deemed "cryptids," then you are in for a treat when you stop by the International Cryptozoology Museum. Here you'll find artifacts from these creatures of the great unknown, collected by cryptozoologist Loren Coleman. And when we say "artifacts" we mean cryptid hair samples, fecal matter, footprint casts, and more. According to Coleman, the concern is not whether you believe in creatures such Sasquatch, but rather whether you're able to consider the unknown with an open mind.
KOAs nearby:
Freeport / Durham KOA
---
Destination America
MARYLAND | OUIJA BOARD HEADSTONE
Your favorite spooky game gets even spookier when it serves as the headstone for the man who first patented the Ouija Board, Elijah Bond. Though the man's family didn't erect it, a die-hard fan took the time to track down Bond's unmarked grave, and give him the recognition he deserves. In fact, it took the fan fifteen years to find the correct grave, upon which he created quite an epic way to honor Bond's work. Volunteers and donations came together to bring this headstone to life. This site is definitely worth a visit, if for no other reason than to appreciate the effort this fan put forth into commemorating the life and work of Bond.
KOAs nearby:
Washington D.C. / Capitol KOA Holiday®
---
MASSACHUSETTS| THE WITCH HOUSE OF SALEM
You'll be thankful you listened in history class when you end up in Salem, Massachusetts and head to the only structure still standing in Salem that has direct ties to the Salem witch trials of 1692. Home to Judge Jonathan Corwin during the trials, this house is now a museum that pays homage to the 17th century — certainly a strange time in American history. For an extra spooky experience, plan your visit during Samhain (Halloween), but be prepared to fight some crowds. Salem is quite the hot spot for this scary holiday.
KOAs nearby:
Boston / Cape Cod KOA Holiday®
---
Only In Your State
MICHIGAN| FAIRY DOORS OF ANN ARBOR
When you find yourself wandering around Ann Arbor, keep your eyes out for tiny little doors, the perfect size for fairies, spread all over the city. The idea for these little doors got their start in the home of Jonathan Wright when he decided to, during a renovation, install tiny doors for his kids. Seeing how much his kids loved this, he decided to install some doors around the city, and over the next 15 years, more and more have been popping up. When you come across a door, make sure you open it — some of them have surprises inside.
KOAs nearby:
Monroe Co. / Toledo North KOA Holiday®
Toledo East / Stony Ridge KOA Journey®
---
Only In Iowa
MINNESOTA | SPAM MUSEUM
Whether you like SPAM or not, you'll surely appreciate the SPAM Museum in Austin, Minnesota. This stop offers numerous interactive exhibits that take you back to the first days of SPAM and how it has evolved over its period of existence. Possibly the most fun part about the museum is what the employees are called: SPAMbassadors. We guarantee you'll walk out with a can of SPAM in hand — maybe not to eat, but at least for a souvenir.
KOAs nearby:
Albert Lea / Austin KOA Holiday®
Rochester / Marion KOA Journey®
---
MISSISSIPPI | BIRTHPLACE OF KERMIT THE FROG
We are not trying to pretend that Kermit is a real, live frog, but the idea of him did to come life in Leland, Mississippi. This part of the country is where Jim Henson grew up, and it was from the local swamps that Henson gathered his inspiration for everyone's favorite talking frog. The museum here houses everything you could ever want and need to learn about Kermit's heritage, as well as his fellow Muppet friends. Even if you're not a Muppet fan, you'll surely leave here with a greater appreciation of this iconic frog.
KOAs nearby:
Starkville KOA Holiday®
Meridian East / Toomsuba KOA Journey®
---
STL News
MISSOURI | NUCLEAR WASTE ADVENTURE TRAIL
What do you do with the leftovers from the largest explosives factory in America? Well, you turn them into a mountain that people can come and visit — an entire trail, actually. The Nuclear Waste Adventure Trail spans 54-acres and 1.48 million cubic yards and underneath its surface sits remnants of mercury, asbestos, TNT, radium, radioactive uranium, and much more. Once the uranium ore processing plant here closed in 1966, the remains sat untouched for over 20 years until this mountain was built, and a new roadside attraction was made.
KOAs nearby:
St. Louis N.E. / I-270 / Granite City KOA Journey®
St Louis West / Historic Route 66 KOA Holiday®
---
Montana Standard
MONTANA | THE BERKELEY PIT
While we are on the subject of nuclear waste, you'll want to check out the biggest Superfund site in the entire U.S. — the Berkeley Pit in Butte, America. What was once a copper mine is now a giant pit that is a teeming cesspool of mining waste. Everything from copper, to zinc, to arsenic and more sit in this highly toxic water. While most living things are poisoned by the water, there are, strangely, some bacteria that have adapted to living in this toxic pit. Stop by to snap a pic — just make sure you don't fall in.
KOAs nearby:
Butte KOA Journey®
Deer Lodge KOA
---
NEBRASKA | WORLD'S LARGEST BALL OF STAMPS
You think your grandfather has a great stamp collection? We guarantee he has nothing on this collection — the largest in the entire world right here in Nebraska. Nearly 5 million stamps cover this ball that weighs in at 600 pounds and measures 32 inches across. We're not sure what you can do once you arrive to the ball, other than appreciate the work at hand and marvel at the idea of who got stuck licking all those stamps.
KOAs nearby:
West Omaha / NE Lincoln KOA Holiday®
Onawa / Blue Lake KOA
---
NEVADA | SEVEN MAGIC MOUNTAINS
When you've had enough of the Las Vegas strip lights, head a bit south to Seven Magic Mountains — a strange yet beautiful art installation in the desert. By painting rocks fluorescent colors and stacking them on top of each other, the artist has created a wildly popular Instagram photo spot. The contrast between the bright colors of the rocks and the dry, dull colors of the desert is certainly worth stopping to see. Plus, they definitely look like Fruity Pebbles, and who doesn't love that?
KOAs nearby:
Las Vegas KOA Journey® at Sam's Town
---
TripAdvisor
NEW HAMPSHIRE | AMERICA'S STONEHENGE
A modern mystery, America's Stonehenge in Salem, New Hampshire is a collection of stones that have been formed into almost a house-like structure. This Stonehenge features some underground rooms that one can only guess the reasoning behind. Even more of a mystery is who actually built this roadside attraction. Really the only similarity between this and actual Stonehenge is the fact that they're both built out of stone. Other than that, it's quite a stretch, but a stretch worth checking out.
KOAs nearby:
Strafford / Lake Winnipesaukee South KOA Holiday®
---
Expedia
NEW JERSEY | LUCY THE ELEPHANT
"Why would I go all the way to New Jersey to see an elephant?" is a question you may be asking yourself. Well, this isn't just any old elephant (though in our opinion, seeing an elephant is always exciting). However, Lucy the Elephant is particularly special because she's not a real elephant. Rather, she's the world's largest fake elephant — made of tin and wood. Over 130 years old, weighing in at 90 tons and reaching a size of 65-feet, Lucy is quite a sight. The strangest part? You can actually go inside Lucy. Yep — a spiral staircase takes you into the elephant where you'll find a museum.
KOAs nearby:
Cape May KOA
---
Roadtrippers
NEW MEXICO | THE MUSICAL HIGHWAY
Just when you thought a road trip across the United States couldn't get any more America, you come across the Musical Highway. If you didn't know any better, you'd pass through this stretch of highway just like any other part of the road. However, if you're in on the secret, this specific area of highway in New Mexico offers something truly fabulous to travelers: the song "America the Beautiful." How does it do that? Drive over the rumble strips here (near Tijeras), and your car will "sing" America's favorite song. In order to make it work, you've got to be driving exactly the speed limit — we like to keep things safe.
KOAs nearby:
Albuquerque KOA Journey®
Albuquerque North / Bernalillo KOA
---

NEW YORK | THE JELL-O GALLERY AND MUSEUM
"JELL-O. It's alive!" Well, in New York it is, at least. LeRoy, New York is where JELL-O was born back in 1897, and you can travel here to pay homage to your favorite childhood treat. The gallery here has on display a wide variety of art including 20 original JELL-O oil paintings dating back to the 1920s. In addition, you'll learn a great deal of facts about JELL-O including why the inventor of this jiggling dessert sold the rights for just $450, and what the most popular flavor is.
KOAs nearby:
Canandaigua / Rochester KOA Holiday®
Medina / Wildwood Lake KOA Holiday®
---
NORTH CAROLINA | WORLD'S LARGEST CHEST OF DRAWERS
Just in case you didn't know it, High Point, North Carolina is the Furniture Capital of the World. In case you did know that, but happened to forget it, or in case that knowledge is new to you, don't worry — you're covered because the town's 36-foot tall dresser is here to inform you. This it not just any old giant chest of drawers — it is the largest in the entire world. You'll even find two giant socks dangling out of the drawer.
KOAs nearby:
Greensboro KOA Journey®
---
Weather.com
NORTH DAKOTA | ENCHANTED HIGHWAY
Just when you feel you couldn't get more in the middle of nowhere than a completely desolate stretch of North Dakota highway, you happen upon Enchanted Highway — a collection of massive and strange metal sculptures. From prancing deer, to geese frozen mid-flight, to jumping grasshoppers and much more, artist Gary Greff wanted to spice up this monotonous drive towards Regent, North Dakota. If nothing else, you'll certainly be enchanted by the effort that Greff has put into making this drive something to remember.
KOAs nearby:
Bismarck KOA
---
This is Cleveland
OHIO | A CHRISTMAS STORY HOUSE
"You'll shoot your eye out!" No one wanted to hear that phrase less than little Ralphie of A Christmas Story. This iconic holiday movie was filmed in Cleveland, Ohio and you'll certainly want to stop here when in the area. The house where Ralphie learned to be sure to always drink his Ovaltine, where Randy couldn't ever put his arms down with all his winter clothes, and many more memories took place is a spot you can actually visit. Head inside to see the famous leg lamp in the window, Ralphie's Red Ryder BB gun, and lots of other memorable pieces from the show's rich history.
KOAs nearby:
Streetsboro / Cleveland SE KOA
Thompson / Grand River Valley KOA Holiday®
---
Tulsa Kids
OKLAHOMA | TOTEM POLE PARK
Eighty years ago, Oklahoma artist Ed Galloway constructed the first totem pole that would make its way into Totem Pole Park in Oklahoma. Ten additional totem poles later, and this place has become a hotspot for travelers from all over. One of the totem poles here hold the record for the world's largest concrete totem pole, and stands at a massive 90 feet. This public folk art garden and park covers 14 acres and offers an entirely new way to appreciate art.
KOAs nearby:
Tulsa NE / Will Rogers Downs KOA Journey®
---
OREGON | WORLD'S SMALLEST PARK
Leave it to Portland to put great effort into creating something weird. In true Portlandia style, Portland, Oregon has turned a tiny little patch of soil in the middle of the road into the world's smallest park. And yes, it has officially been listed as a park with the city. What started as a joke about spotting leprechauns here has turned into the creation of a Mills End Park, an official park. We don't recommend trying to take your dog for a walk here, though. The traffic is a bit tough to navigate and Fido will be sorely disappointed at the lack of space to run free.
KOAs nearby:
Cascade Locks / Portland East KOA Holiday®
Albany / Corvallis KOA Journey®
---
It's Not that Far
PENNSYLVANIA | RINGING ROCKS PARK
Channel your inner Fraggle Rock fan when passing through Upper Black Eddy, Pennsylvania. Here sits Ringing Rocks Park where what appears to be ordinary rocks are more than meets the eye: they are musical instruments. When struck, the boulders here chime like a bell. There are a couple of catches, though. First of all, you have to remember to bring your own hammer. And, secondly, only some of the rocks here actually make music, so it will be a bit of a trial-and-error game to determine which ones will ring that beautiful rock sound.
KOAs nearby:
Allentown KOA
Delaware Water Gap / Pocono Mountain KOA Holiday®
---
RHODE ISLAND | FIGHTING SEABEE STATUE
It's not every day that you see a giant seabee. In fact, if you ever see any seabee, be sure to let us know. However, when passing through North Kingstown, Rhode Island, you're guaranteed to spot one in the wild. This giant seabee statue serves as the mascot of the U.S. Navy Construction Battalion due to the division's abbreviated name (CB). Watch out, though — this bee is packing heat — a machine gun, in fact. And he certainly does not have too friendly of a look on his face, either.
KOAs nearby:
Mystic KOA Holiday®
Boston / Cape Cod KOA Holiday®
---
Post And Courier
SOUTH CAROLINA | PEACHOID
A matter of a few years ago, this 135 foot-tall peach-shaped water tower was just another strange roadside attraction. Resembling a giant behind, many travelers stopped to take a photo in front of this real-life giant peach emoji. However, following the introduction of House of Cards into the world, the Peachoid gained an even bigger following. This water tower served as the subject of a legal battle in-the-works between legendary Frank Underwood and one of his constituents in the show. Its 15 minutes of fame on Netflix has made it quite the road trip stop.
KOAs nearby:
Travelers Rest / N Greenville KOA Holiday®
Charlotte / Fort Mill KOA Journey®
---
Mental Floss
SOUTH DAKOTA | WALL DRUG
Some may consider this the most famous roadside attraction in all of America. Whether or not you agree, you'll definitely want to stop by this one-of-a-kind drugstore. While part of it is a traditional pharmacy, the other two parts of the drugstore are a shopping mall and a taxidermist. Just in case you needed to pick up a prescription and a stuffed jackalope in one trip. And don't worry — you can also pick up some fine Western wear while here. Whatever your interest, we promise you won't leave Wall Drug empty-handed.
KOAs nearby:
Badlands / White River KOA Holiday®
Belvidere East / Exit 170 KOA Journey®
Rapid City / Black Hills KOA Holiday®
---
The Municipal
TENNESSEE | SALT AND PEPPER SHAKER MUSEUM
Thought your grandma was the only one who collected salt and pepper shakers? Wrong. Your grandma knew what she was talking about when she decided to stock up on these odd table fixtures. However, her collection only scratches the surface of what's at Gatlinburg, Tennessee's Salt and Pepper Shaker Museum. Here, you can check out over 20,000 S&P sets that come in all shapes and sizes. You likely won't be surprised to learn that this is the only salt and pepper shaker museum in the United States.
KOAs nearby:
Pigeon Forge / Gatlinburg KOA Holiday®
Townsend / Great Smokies KOA Holiday®
Gatlinburg East / Smoky Mountain KOA Holiday®
Cherokee / Great Smokies KOA Holiday®
Newport / I-40 / Smoky Mountains KOA Journey®
---
TEXAS | PRADA MARFA STORE
You expect to find a Prada store on Rodeo Drive, or along the Champs-Elysees, but you certainly don't expect to happen upon one in the Middle-of-Nowhere, Texas. Well, actually it's in Valentine, Texas, and certainly is not your typical Prada store. Berlin artists Elmgreen and Dragset created this art installation back in 2005 with the idea that it would eventually decay and return to its roots in the ground. The merchandise here isn't something you'll want to spend big bucks on — all the shoes are right-footed and the bags are all bottomless to keep people from stealing them.
KOAs nearby:
El Paso West / Anthony KOA Journey®
---
UTAH | HOLE N THE ROCK
With a name like that, you can create in your mind hundreds of different things this site could possibly house. And, when you make your way to this spot in Moab, Utah, you'll discover that it is 14-room cave-house and gift shop that's been carved into a massive rock. For over 70 years, Hole N The Rock has welcomed travelers along this beautiful part of the country to see what it has to offer. You'll also find a small zoo here, along with some fabulous Native American pottery and the largest collection of metal sculptures created by famed artist Lyle Nichols.
KOAs nearby:
Moab KOA
---
I Explore
VERMONT | BEN AND JERRY'S FLAVOR GRAVEYARD
Ever wondered where all the great ideas for Ben and Jerry's flavors that never came to be went? You'll be happy to know that they didn't go to waste. In fact, they are being honored in quite a respectful fashion — at a graveyard in Waterbury, Vermont. The Ben and Jerry's Flavor Graveyard includes flavors such as Makin' Whoopie Pie, Holy Cannoli, and other seemingly genius flavors that never made it to the shelf. Be sure to bring a pint of Ben and Jerry's here with you to pay homage to those that have passed.
KOAs nearby:
Littleton / Franconia Notch KOA
---
VIRGINIA | FOAMHENGE
It seems that a lot of the United States is fascinated by the original Stonehenge, and wants to bring that epic structure to life in their own ways here in America. In Centreville, Virginia, you'll find another take on Stonehenge, this one made entirely of Styrofoam. As close to a replica of England's Stonehenge as we've seen, you can certainly fool some friends by snapping photos here. It's hard to tell via camera that these are not actually stones, but foam. Be sure you check out when viewing is available — we hear it's only seasonal.
KOAs nearby:
Washington DC / Capitol KOA Holiday®
Harpers Ferry / Civil War Battlefields KOA
Fredericksburg Va / Washington DC S. KOA Holiday®
---
WASHINGTON | SEATTLE GUM WALL
The subject of many-a-Instagram photo, this gum wall in Seattle is considered by some to be a work of art. Really, it's a massive collection of some seriously ABC (already been chewed) gum, but an interesting one at that. Visit here to snap a picture, but whatever you do, don't touch the wall. In addition to this being a wall of gum, it also a wall of saliva and germs. So, if you want to add to the collection, we recommend finding a way to do so that doesn't require you touching the wall with your hands.
---
Mare Cromwell
WEST VIRGINIA | LAND OF GIANTS
If you think your neighbor's lawn decor is a bit over the top, you've got nothing on the neighbors of Pam and George Franham in Unger, West Virginia. Frustrated that city apartments didn't have enough space for them to properly display their giant action figure collection, the Franhams moved here and immediately took to decorating their lawn with a variety of massive statues. And getting the statues here was no easy or cheap feat. In fact, the Muffler Man in their yard cost three times more to ship than it did to actually purchase. That's some serious love for these massive figures.
KOAs nearby:
Hagerstown / Antietam Battlefield KOA Holiday®
Harpers Ferry / Civil War Battlefields KOA
---
WAXX Radio
WISCONSIN | WORLD'S LARGEST TALKING COW
If you're envisioning a flesh-and-blood giant talking cow, you're going to be severely disappointed when you visit Chatty Belle in Neillsville, Wisconsin. However, if you're not envisioning anything in particular, chances are good you'll enjoy this massive talking cow. Originally built for the World's Fair in Neillsville, Chatty Belle has since become an icon of the town. Though she used to spout fun facts about Wisconsin's famous dairy industry, she has in recent years lost her voice and now is just a giant cow statue — but one worth checking out, nonetheless.
KOAs nearby:
Hixton / Alma Center KOA
Oakdale KOA Journey®
---
WYOMING | FOSSIL CABIN
"Believe it or not" reads the giant sign out front of this Wyoming cabin just outside of Medicine Bow. Dating back to 1932, this isn't just any old Western cabin — this one was built from real dinosaur bones found at Como Bluff. In fact, this is the only building in the United States to be constructed from fossilized dino bones. Boasting nearly 6,000 bones and weighing in at over 102,000 pounds, Fossil Cabin was no easy structure to create. Though not made entirely of dinosaur bones, they certainly make up a great deal of this house and make it a spot worth stopping for.
KOAs nearby:
Rawlins KOA Journey®
Laramie KOA Journey®
Just in case you thought there were parts of the country that had nothing worth seeing, this list of America's roadside attractions gives you something to see no matter where you go.
Though not necessarily bucklist-worthy stops, these quirky finds will add to your epic American road trip, and will certainly give you some unforgettable memories.
---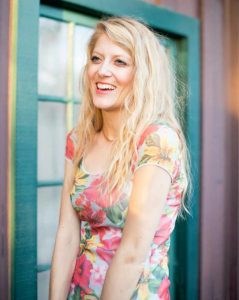 Leslie, a.k.a. Copy Girl, is a copywriter who gets butterflies from telling stories through words.
Her voice comes from a place filled with passion, dreams, and lots of sugar. "Cake over steak" is her go-to motto.
With over 10 years of experience in crafting words, and years of embarking on travels that have taken this Montana girl to some incredible places, Leslie love the adventures of both body and mind her writing takes her on.
Everywhere she goes, she takes this advice with her:
"Hold on to your divine blush, your innate rosy magic, or end up brown." – Tom Robbins, Jitterbug Perfume
To see what Leslie's up to in the writing world, visit her website here.
---
Related Content
Search KOA Campgrounds by State
Use the KOA Trip Planner to Plan Your Road Trip
How to Plan a Successful Road Trip
Check Out KOA Journey Campgrounds