Winter Glamping Ideas and Tips
Just because the weather has turned a bit nippy doesn't mean you need to put off your camping plans. Winter camping can be just as fun as any other season, even if you prefer a glamping experience.
Glamping is glamorous camping that allows you to enjoy getting out into nature without giving up the modern luxuries that make life a little more comfortable. Glamping gives you an opportunity to experience unique and gorgeous locations while maintaining creature comforts. For those who find the idea of roughing it distasteful, glamping offers an alternative camping experience anyone can enjoy.
The best part is that you can enjoy glamping no matter the season — even in the wintertime.
Ways to Go Glamping in the Winter
Glamping is anything but rustic, and glamping in the winter means a warm, cozy place to sleep — even if the snow is falling. When you choose to go glamping in the winter, you avoid huge crowds of avid warm-weather campers. After all, spring, summer and fall are usually the times that campsites get booked up more quickly. Plus, you can still enjoy the great outdoors.
Imagine this — you spend your day hiking and enjoying nature in the cool, crisp air. Then, as the sun sets, instead of going back to your tent, you have a warm and comfy bed to come back to.
Although not all campgrounds remain open in the winter, Kampgrounds of America has quite a few locations that welcome guests all year round and cater to those looking for a wintery adventure. Plus, KOA campgrounds include a variety of lodging options that are perfect for a winter glamping trip, including:
Camping Cabins: KOA Camping Cabins are log-style cabins that perfectly blend rustic with a few comforts added in. If you do not want to go full on glamping, this is the perfect option. Camping Cabins come equipped with electricity, so you can keep your phone charged, connecting you with the wider world. They also have beds, so you can cuddle up under your blanket after spending your day out in the great outdoors. If you want to take in the view from your cabin's porch, bundle up and head out to the charming porch swing.
Deluxe Cabins: With the Deluxe Cabin, KOA takes the comforts of the Camping Cabin to the next level. You won't have to leave your cabin to use the restroom, as each Deluxe Cabin come equipped with your own private bathroom and shower. Many Deluxe Cabins even feature stocked kitchenettes, offer bed linens or include a TV. When night falls, you can gather around the fire pit, play games inside or simply enjoy the company of friends or loved ones.
Glamping Tents: KOA is proud to provide unique lodging you won't find elsewhere. These selections will make your glamping adventure completely out of the ordinary and something that everyone will remember for years to come. Two types of Glamping Tents available at many KOA campgrounds include yurts and walled tents, also called a "safari tent." Both provide a novel experience and come equipped with comfortable amenities. Both will keep you snug and warm through a long winter night. Also, both will ensure your stay is one you'll never forget.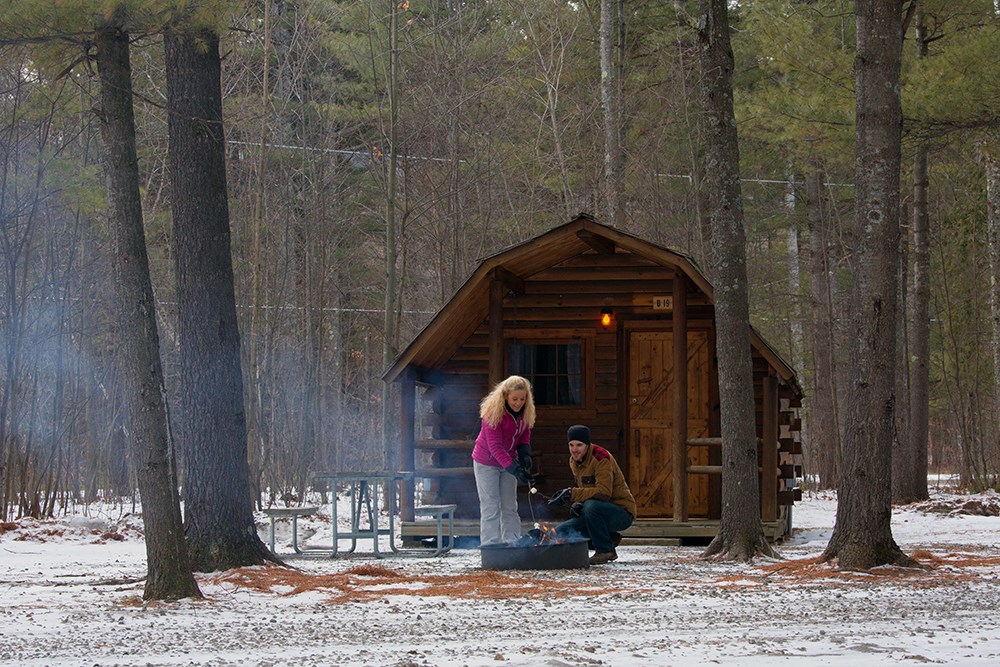 Tips For Winter Glamping
As the glamping craze continues to grow, glamping enthusiasts continue to come up with ways to make the experience more posh, more glamorous and even more comfortable. Camping in the winter may sound like a harsh and cold endeavor. However, glamping in the winter is just the opposite. The goal is to ensure you're snug and warm with the necessities you need to make your wintery vacation extraordinary.
With that in mind, you can ensure your winter glamping holiday is relaxing, cozy and oh so much fun by planning for it. Be sure to pack along a few glamping essentials when you hit the road this winter, including:
Lighting: Lighting is an essential component to glamping. Although most KOA campsites come with a place to build a campfire or a fire pit, you may want to bring along some additional mood lighting to ensure you have the perfect glamping atmosphere. Candles are a great option — LED candles will do the trick if you're not able to have an open flame. Lanterns or stringed lights are other great options that cast a subtle glow over your abode as the sun sets each evening.
Food: No camping trip is complete without camping food, but your glamping trip should reach a bit higher than just s'mores. Winter calls for hot beverages, so be sure to bring along the makings for hot apple cider or gourmet hot chocolate. The kitchenette in many KOA Deluxe Cabins allows you to prepare a few things that might be more difficult to cook over a campfire. Assemble some meats and cheeses into an indulgent charcuterie board or try your hand at another epicurean delight.
Comfy Items: When you go camping, you might have to leave behind items that you don't want to get dirty. Glamping, however, lets you pull out all the stops. So, for your winter getaway, bring items that provide a cozy feel. Fuzzy socks, heated blankets, cushy throw pillows — anything that will make the winter night a little bit warmer and more relaxing.
Fun Activities: Vacations allow you to do those things you never have time for at home. Whether you're with friends and family or are all alone on your winter glamping trip, plan some fun activities — even if you've never tried them before. Think board games and charades, singing around the fire pit or cracking open that novel you've had by your bedside for years.
Book Your Winter Glamping Trip With KOA Today
Winter glamping offers many advantages. You can enjoy activities that may be less comfortable under the summer sun. Plus, smaller crowds mean you will usually get your pick of the best campsites KOA has to offer. Many KOA campgrounds are open year-round and offer amenities you won't find anywhere else, including:
Clean and comfortable campsites and lodging options
Friendly staff providing impeccable customer service
KOA store for last minute items you might have forgotten at home
Playgrounds and fun activities for the kids
Laundry facilities
And so much more
Even if you're planning a winter glamping trip, don't wait to book your campsite. Make your reservation online today or contact a campground directly for more information. A cozy and unique winter getaway await you at KOA.
---