How to Experience Glamping in a Tent
Consider glamping in a tent when you want to sleep under the stars but still have the comforts of home. Glamping, or glamorous camping, provides a camping experience that is more refined and comfortable than traditional camping. While glamping might sound like a costly activity, it does not have to be. You can go glamping in the tent you already own or find a campground that provides luxurious tents for camping.
Learn how to enjoy luxury tent camping and turn your tent into an unforgettable glamping experience.
Where Can You Go Glamping?
As far as where to go glamping, you really can set up your tent anywhere, but some ideal options include your backyard or a campground, like Kampgrounds of America.
Backyard
Turn your backyard into a luxurious glamping paradise whenever you want to create an unforgettable date night, weekend staycation or the ultimate kid's sleepover. Backyard glamping is also a great way to familiarize yourself and your family with the glamping process without leaving home. Whether you have small glamping tents or more upscale camping tents, learning to set them up before you go to a campground can help you look like a pro.
If you are planning to go glamping for the first time, having a trial run one weekend in your backyard is the perfect way to gauge your family's reactions and responses to the activity. You can also determine everything you want to make sure you have for your glamping adventure.
Campground
While glamping at home is a fun and quick way to experience camping, there is nothing like setting up tents at a campground and being surrounded by nature. Campground glamping provides the perfect balance between enjoying outdoor activities and nature and being in close proximity to local attractions and on-site amenities. Some campgrounds like KOA also have designated lodging options for glamping if you do not want to bring a tent.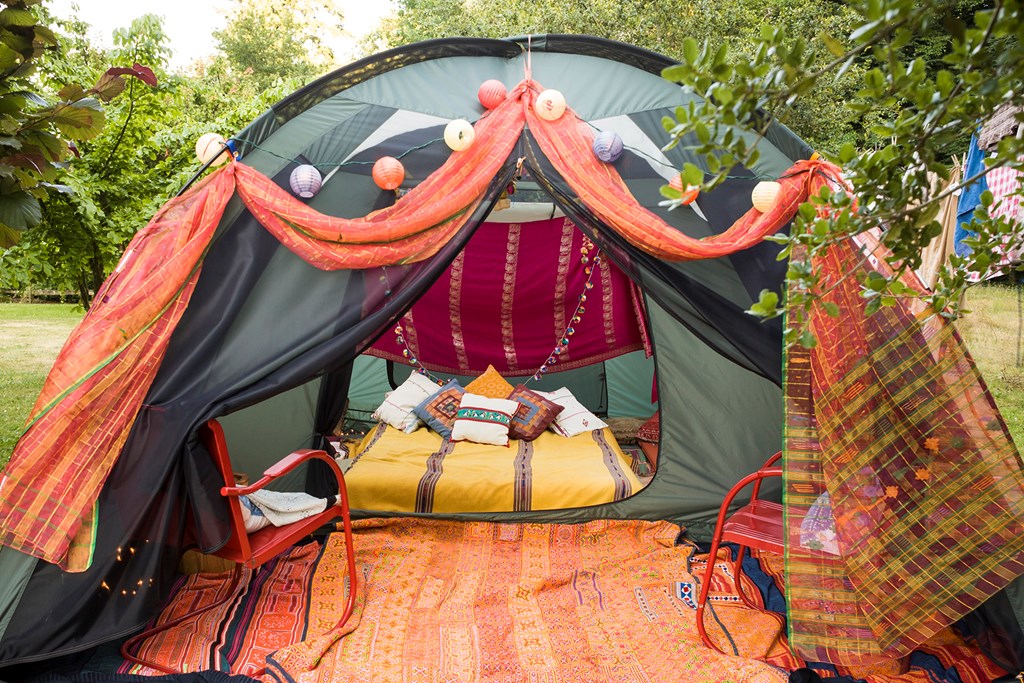 7 Tips to Make Your Tent Into a Glamping Tent
Glamping is a great way to enjoy camping without leaving the luxuries of home behind. While having a large glamping-specific tent is fun, fancy tents for camping are not required. You can experience glamping with the tent you already own. Here are seven tips you can follow to turn your tent into a glamping tent:
1. Invest in Better Bedding
Elevate your sleeping arrangements for glamping. Instead of sleeping on the ground in a sleeping bag, bring air mattresses, cots and multiple camping quilts or duvets to sleep comfortably while glamping. Having the luxuries of home, like comfortable bedding, can make the glamping experience more fun and save you from back pain.
You can also get a good night's sleep by adding a mattress topper, high-thread cotton or silk sheets, plush pillows and multiple blankets.
2. Transform Your Dining Area
Many tent campsites have a picnic table area for campers to use during their trip. You can transform your dining area by setting up different stations for meal prepping, cooking and making drinks. You could also add a pop of color to your campsite by adding a colored or patterned table cloth to your picnic table, which can help make your table more sanitary and easy to clean after each meal, too.
If you like to have a table centerpiece, bring along a jar and fake flowers or collect a few flowers from around your campsite — as long as it is okay.
3. Make Gourmet Meals
Glamping is the best time to make meals beyond the typical camping menu. While grilling hot dogs is a quick and simple way to feed everybody, the food does not reflect the essence of glamping. Take your glamping menu to the next level by planning more upscale meals you would cook at home or try something new. While planning your trip, consider bringing a cooler full of your favorite sauces, seasonings, vegetables, fruit and meats. You could also get some wine, beer or mixed drinks for the adults on the trip.
Whether you make juicy skewers or a refreshing fruit salad, eating gourmet meals can improve your glamping experience.
4. Create a Comfortable Environment
In addition to transforming your dining area, you can create a comfortable space inside and outside your tent where everyone can lounge and hang out comfortably. Inside your tent, consider putting soft and colorful rugs on your tent floor to make walking around and spending time in your tent more comfortable. If you are staying at a campground in a warm climate, you could also set up small, portable fans to create a nice airflow inside your glamping tent. Just making small adjustments to your tent helps create a cozier environment.
You can also create a comfortable living space outside your tent. Hang hammocks and set up inflatable furniture, regular folding chairs and tables for an outdoor living room where everyone can relax. If your campsite has a fire ring, setting the furnishings around it can help you close the night with a bonfire.
5. Plan Entertainment
Glamping is not your ordinary camping trip. It is all about enjoying the things you love while relaxing or hanging out at your campsite. When you are not busy exploring the local attractions, you can supplement your time with fun activities like:
Lawn games: While many campgrounds have amenities and games available, bringing your favorite lawn games from home, like Twister, ladder ball and lawn Jenga, can help you have fun right at your campsite.
Card games: If your family likes card games better, you could bring a few decks and a card table to play tournament-style card games like poker, blackjack, war, rummy or speed.
Music: If you or your companions are musically inclined, bring your favorite musical instruments and gather around the campfire to sing and listen to your favorite songs.
6. Establish Ambiance With Lighting
To further elevate your glamping trip, you can bring string lights and candles to change the ambiance of your tent and campsite. String lights and candles can make the atmosphere feel more whimsical and romantic. You can bring battery-powered lights if your tent site has no electric hookups. Battery-powered candles are also excellent alternatives to regular candles if you don't want to have an open flame outside of the fire ring.
7. Pack Familiar Essentials
You will likely stay at a campground with bathhouses not too far from your campsite when glamping. If you like to use specific self-care or cosmetic toiletries, bring them with you to continue your regular morning and night routine. Glamping is all about comfort, so you should pack items that help you feel comfortable and refreshed. You can save room while packing by bringing travel-size versions of your products or transferring some of them into smaller containers.
Packing everyday essentials also relate to other items, like your blankets and water bottles. If you have kids on your trip, bring one or two of their favorite toys and stuffed animals so they can have something from home while camping.
Plan Your KOA Tent Glamping Trip Today
Are you ready to experience glamping? There are over 500 KOA Campgrounds in North America to choose from for your next glamping trip. Contact your campground of choice to see what amenities and activities they have available.
Learn more about your tent glamping options at KOA and find a KOA Campground near your destination today!
---
About the Author: Kampgrounds of America
Kampgrounds of America is the largest system of open-to-the-public campgrounds in the world, with over 500 locations across the United States and Canada. Founded in Billings, MT in 1962, KOA's family of campground brands – KOA Journey, KOA Holiday and KOA Resort – today serve more than a million camping families each year. KOA is dedicated to "connecting people to the outdoors and each other" by providing people with a variety of camping experiences and the information they need to make the most of their camping trip. Read more of their camping and travel resources by visiting KOA.com/blog.
---