How to Transform your Tent into a KOA Glamping Experience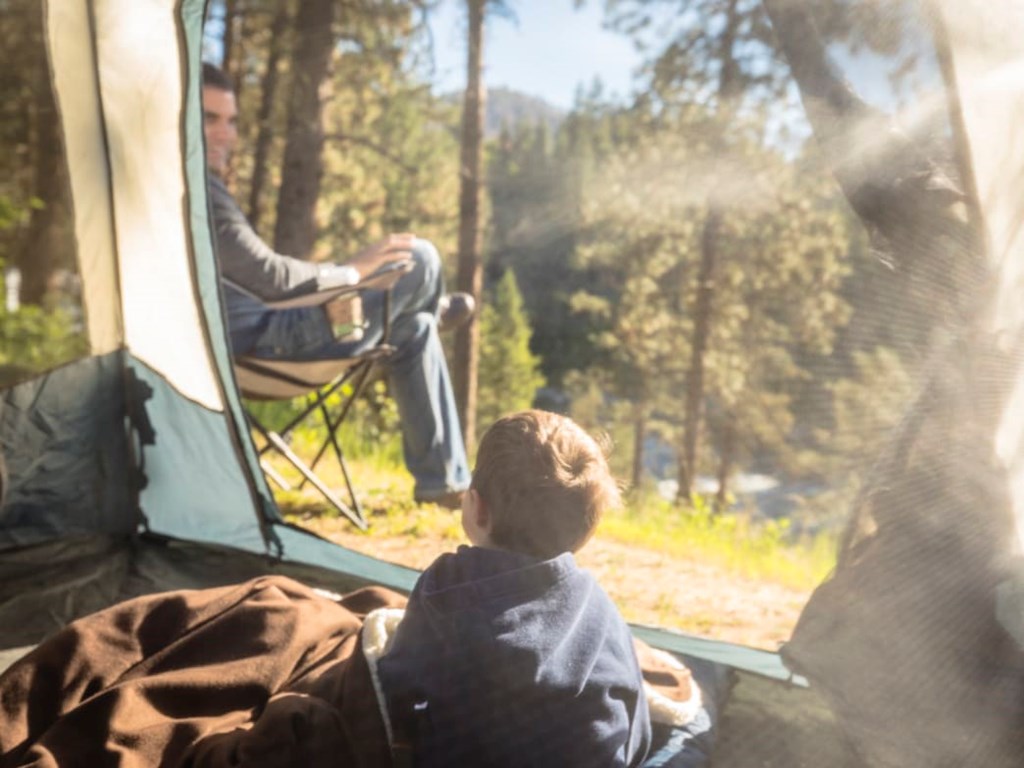 Glamping, basically luxurious camping, is big these days, and for a good reason—this style of experiencing the outdoors takes tent life to the next level. Glamping brings the comforts of home to a brand new location, while still enjoying nights in the great outdoors. While glamping might seem like a surefire way to break the bank, it doesn't have to be. You don't need a fancy wall tent, a brand new RV, or even a luxurious cabin. Adding glamping touches to your own tent is affordable and easy—it just takes a little thought.
When staying at a KOA, you'll have lots to do beyond your campsite. You can focus on making your campsite a welcoming place to eat and sleep. Be sure to pack a tent you and your group will be comfortable in for the duration of your excursion. Choose an adequately sized tent, in which everyone can sleep comfortably, get changed, and feel like there's enough room to avoid feeling claustrophobic. Tents with two entrances are a good bet. This means less crawling over each other for midnight bathroom visits, and multiple entrances make gear sorting less confusing. Look for models with two vestibules for stashing shoes, and a high peak height to sit (or stand) comfortably.
Ready to give it a try? Here are five tips to turn your tent into a glamping experience during your next KOA getaway.
1. Hang String Lights
Patio lights aren't just for decorating your home. Stringing lights around the outside of the tent site and inside your tent will add a warm glow—and be useful for finding your way around the site at night. Use a small string of battery-powered lights looped around the interior tent poles, then opt for solar-powered lights around the exterior of the site. Be aware of nearby tent sites and turn off the lights once the resort quiets down.
2. Spruce Up Your Dining Area
You have a few options here. Create a comfortable sitting area outside the tent. Camping chairs that fold into a bag have gotten quite cheap, and car camping is the opportunity to use them. Or you can spring for specialty reclining camp chairs that are designed for stargazing after dinner. Many KOA sites come set up with picnic tables, so you also have the option of decking out the dining area with a tablecloth, place settings, and real serving platters. Make your dining area a fun place to hang out.
3. Use Mats to Keep Things Cleaner
Welcome mats placed outside tent entrances will pull double duty as a place to organize footwear as well as adding a touch of home to your temporary outdoor house. Foam snap-together mats are a lighter-weight option that will work just as well. If your tent has a large vestibule, leaving the mats inside the vestibule will protect the shoes from rain or other precipitation.
4. Go Gourmet with Your Outdoor Cooking
Rehydrated beef chili and soggy tortillas aren't the first things that come to mind when you think of glamping, so don't limit yourself to the typical tent-side meals when planning your food. Plan what you're going to eat ahead and pack the most reliable cooler you can find to keep the ice frozen and prevent soggy ingredients. Check out tips for gourmet campsite cooking here, and a fun fajitas-and-margaritas meal here. Cooking over a campfire? We've got you covered on that front too.
5. Get Cozy with Your Sleep System
There's nothing wrong with sleeping on the ground, but if you have the option of taking a cot or blow-up mattress, you should. A twin-size cot for each person will provide support for your back and feel similar to how you'd be sleeping at home. Be sure to bring a sleeping pad if the nights will be cooler, as airflow under the cot can make you colder than you expect. If you have two cots, bring a small folding table to put between them for convenience and easy access to small items. Want something even more lux? A blow-up mattress will be nearly as comfortable as your mattress at home, and you won't be rolling off the side of a narrow backpacking pad. Choose a thick mattress to keep you off the ground or find a frame for your traditional blow-up mattress. Many of these high-end models come with a built-in air pump.
6. Make it Feel Like Home
The idea is to be comfortable, right? Take advantage of that blow-up mattress and bring along sheets and quilts that make you feel at home. Decorate with fresh flowers in a vase, and bring along colorful rugs to make the campsite your own.
Written by Matcha for Kampgrounds of America.
---