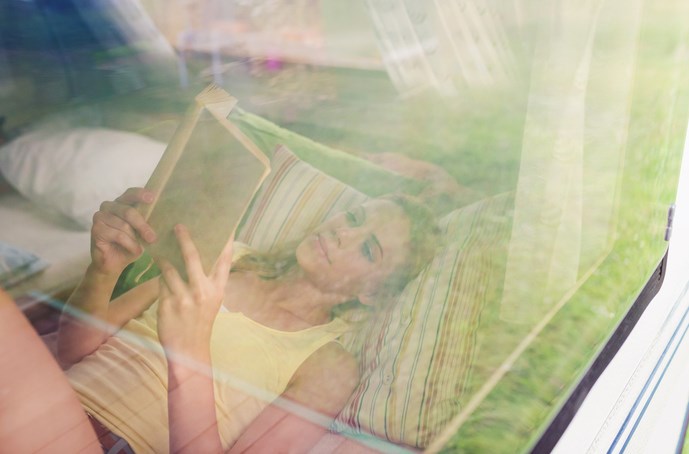 Add these reads to your list of must-check-out books before hitting the road.
Sometimes the most fun and fulfilling travel companions are the characters we consume in books. Whether the words are seen in a well-worn USED paperback or on a sleek new e-reader, they have the ability to transport us to times and places we can only otherwise attempt to imagine. If you're planning on hitting the road and heading to a near or far KOA campground this year, here are a handful of books to consider packing.
---
For the Dog-Owner
It's not often your narrator is a dog. But in A Dog's Purpose, that perspective is what makes the story so enlightening and refreshing. If you're still not sold on reading a story about a golden retriever, Bailey, who reincarnates multiple times in order to discover his meaning in life, look at the novel's accolades. It's ranked #5 on Barnes & Noble's Top 100 Bestsellers of 2016 and at 52 weeks on the New York Times best-selling list, it boasts the highest reader ranking of any bestselling series. That's right, A Dog's Purpose is part one in a series by W. Bruce Cameron. It's also now a major motion picture set to be on screen in theaters on January 27.
---
For the Star Wars Fan
On December 27, 2016 Carrie Fisher made headlines for her tragic, unexpected death. A month earlier, the beloved star of the original Star Wars was in the news for her tell-all, The Princess Diarist. In fact, the memoir, released on November 22, was #2 on Barnes & Noble's Top 100 Bestsellers of 2016. With uncanny clarity, Fisher recounts what happened on and off the set of one of the most iconic films of all time, including her off-screen affair with co-star Harrison Ford. Amazon calls The Princess Diarist "laugh-out loud hilarious" and "endlessly quotable." Many of the excerpts come from the handwritten journal of the then 19-year-old Princess Leia herself.
---
Where Camping Meets Culinary 
Whether or not you sit behind the wheel of a VW camper you'll want to test out these recipes compiled by Lennart Hannu and Steve and Susanne Rooker. The Original VW Camper Cookbook covers everything from appetizers to entrees and desserts featuring popular camping dishes like pancakes, sandwiches and BBQ, albeit elevated to please even the most discerning palates. Internationally-inspired dishes include a Swedish toast, fast wok noodles and Tuscany bean soup. Opposite the recipes are pages featuring beautiful imagery of the camping cult-classic VW camper in the most scenic settings.
---
For the Soul Searcher
When it comes to travel writing, you have the jet-setting likes of Anthony Bourdain juxtaposed with the slower, often painstaking style of Peter Jenkins. In Jenkins' coming-of-age memoir, A Walk Across America, he chronicles the highs and lows of the six years he spent walking from New York to Oregon. Along the way, his cherished canine companion is killed, he accepts Christianity and he meets the woman who would become his wife. This story of self-discovery was first published, with help from National Geographic, in 1979. Today, it sits at #2 on Barnes & Noble's list of bestselling travel books.
---
America's Finest Assets
Speaking of National Geographic, another must-have in a mobile library is the National Geographic Complete National Parks of the United States, 2nd Edition. At 544 pages, it's a thorough resource covering all of the major National Parks and many national park units including battlefields, monuments, seashores and trails. Sectioned by geographic location, the book recommends what to see and do as well as provides important logistics for visiting each site. It also offers enough background information to paint a portrait of American history. The best part; however, may be the breathtaking National Geographic-worthy photos featuring the likes of desserts, lighthouses, mountains, sunsets and wildlife.
---
Take Note, With Help
In the age of social media, it's easy to rely on Facebook and Instagram to capture vacation memories. Still, there's something therapeutic to be said about the ancient art of journaling. If the thought of sorting your thoughts and writing them down by hand sounds cumbersome, check out Camping, The Camper's Journal. This spiral-bound hard-cover notebook is cleverly designed to document what's most important to a camping enthusiast. Prompted sections include space to record your camp site number, ideal site number for if/when you return, who you met along the way, places you visited and most memorable occurrences. It's an investment piece: the gift you give yourself that keeps on giving, back to you.
---
For the RVing Novice
There are a handful of good beginner level RV books out there, but among the most updated is September's RV: RV Living and RV Boondocking Guide for Beginners. This concise book by Alex Freeman answers every question that would be on an RVer's list of FAQ including how to select your RV, how to adjust to the transient lifestyle and perhaps most importantly, how to make your house on wheels feel like home. The tips, tricks and "hacks" provided are basic, so don't consider this book to be the RVer's bible. However, if you're new to RVing, it's an easy-to-digest tool to have on hand for reference.
---
A Rainy Day Read
In its July 2016 review of Heroes of the Frontier, The New York Times calls the novel "On the Road crossed with Henderson the Rain King with some nods to National Lampoon's Vacation along the way." In other words, it's a road trip told in a series of often unfortunate events that a Midwestern family who trades their home for an RV finds themselves in. The setting is the wilds of Alaska and the adventures of main character Josie, a single mom going through a midlife crisis, are both tragic and humorous. The author, Dave Eggers, should be praised for his ability to portray the age-old mother-child relationship and how it manifests itself in uncharted territory.
---
Words of Wisdom
What do you get when you combine advice from the Dalai Lama with guidance from Archbishop Desmond Tutu? The Book of Joy: Lasting Happiness in a Changing World. This book, whose eye-catching cover features both men grinning at each other, was practically on the New York Times bestselling list from day one. Released in September 2016, it depicts what happened over the course of five days in 2015 when Tutu visited the Dalai Lama in India for his 80th While reflecting on their pasts—marked by indelible hardships and unheard of accomplishments—the two men attempt to answer the question of how to discover joy in a world filled with suffering.
---
Mark Your Calendar
Circle May 2 in a bright red pen. That's the day the latest from Paula Hawkins, author of the best-selling page-turner turned blockbuster, The Girl on a Train, debuts. Into the Water is far from a feel-good read. Still, if you liked The Girl on the Train, you'll want to devour this suspenseful thriller in one sitting. Without revealing spoiler alerts, it tells the story of two unrelated women who are found dead in a river whose past may not be as picturesque as it seems. According to Amazon, where the book is available for pre-order, the captivating plot "hinges on the deceptiveness of emotion and memory."
---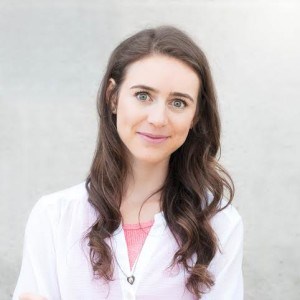 Katie Jackson is a writer and media specialist based in Montana's Big Sky Country. Living and working everywhere from New York to Nicaragua, Katie is no stranger to adventure. When she's not traveling the world (or writing about it!) she's busy chasing after a Leonberger named Zeus. Follow Katie's travels on Instagram @KJACK0526.

---