While there is no shortage of things to do while camping, sometimes you may find yourself stuck in a rainstorm or just feeling like a relaxing day at camp.
A great way to spend days like this is by bringing out some board games and digging into a different form of family fun.
Not only will you have fun getting competitive, you will also help your kids to build their brain power. Board games help kids strengthen their logic skills, as well as critical thinking and reasoning, so there are many more benefits than just a way to kill time when you bring board games into the mix.
Next time you head out on a camping trip, bring some of the below games with you for a good time and for learning opportunities for you and your kiddos. The best part? These games are fun at home too – it's a win-win!
Best Family Board Games For Your Next Camping Trip
1. The Appalachian Trail Game
If you're an outdoor lover, then you will love this game modeled after the Appalachian Trail. The goal of the game is to make it from Georgia to Maine, with many adventures along the way. You will find yourself making friends, testing your skills, and doing a whole lot of exploring in this game. Three types of cards: Challenge, Chance, and Gear is what will take you on your journey and through the roadblocks. While traveling the Appalachian Trail, you will gain information about the history of the trail, as well as what wildlife thrive here.
If you're playing with younger ones, there are ways to modify the game to make it a bit easier. But if you've got older kids or adults playing, we suggest going all out and playing this game at its most challenging level.
This Backpacking Edition is made specifically for camping, so we love how easy it is to use on the go, but there are other options as well.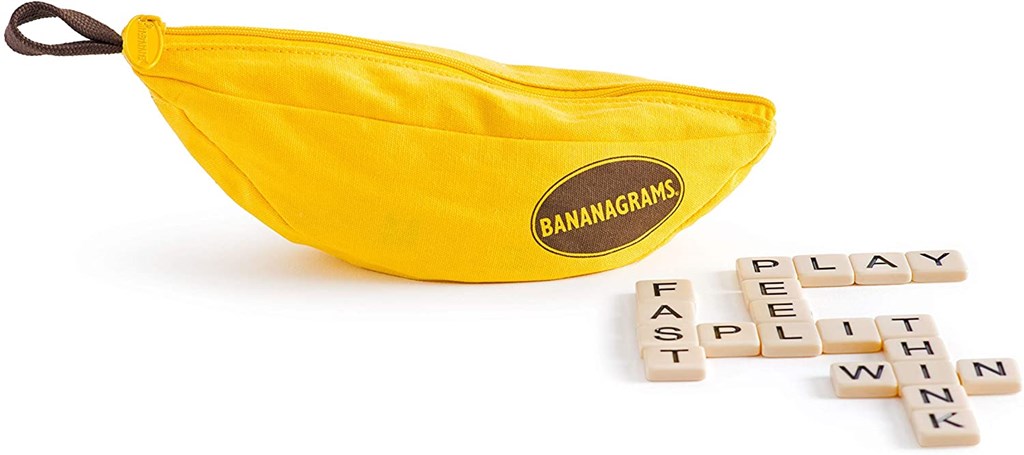 2. Bananagrams
Like Scrabble? Then you're going to love Bananagrams. It's the same concept of Scrabble, just a more portable version that comes in a banana, of course. We love that this game can be as challenging as you'd like it to be. If you're playing with some wordsmiths, things can get serious and competitive really fast. And if you're playing with kids, you can opt for easier words that will give them a chance to make some moves. Bananagrams is a great way to help your kids build their vocabulary, and your own too!
We love how small and compact this game is. It takes up almost no space and is easy to throw in with your camping gear for a fun night of entertainment.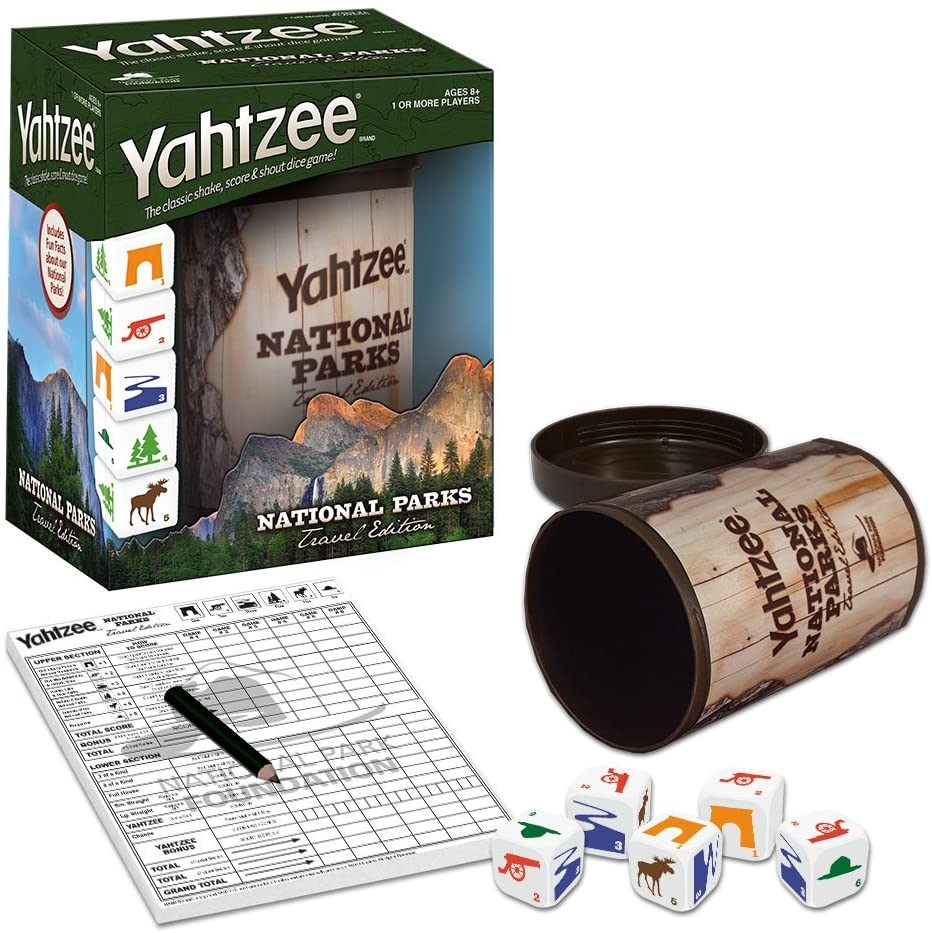 3. Yahtzee National Parks Edition
Yahtzee is a classic game that's been around for years and is loved by people of all ages. This version takes everyone's favorite dice game to a new level with it's national parks theme. Rather than numbers of the dice, these dice have a deer, tent, hiker, pine trees, canoe, and binoculars. Roll the dice and you'll adventure through America's favorite national parks including the original national park, Yellowstone.
You'll feel good getting this game because proceeds from the National Parks Edition benefit the National Park Foundation, a cause we can all get behind.
Younger ones may need some help learning this game, but will quickly get the hang, especially the rolling-the-dice part.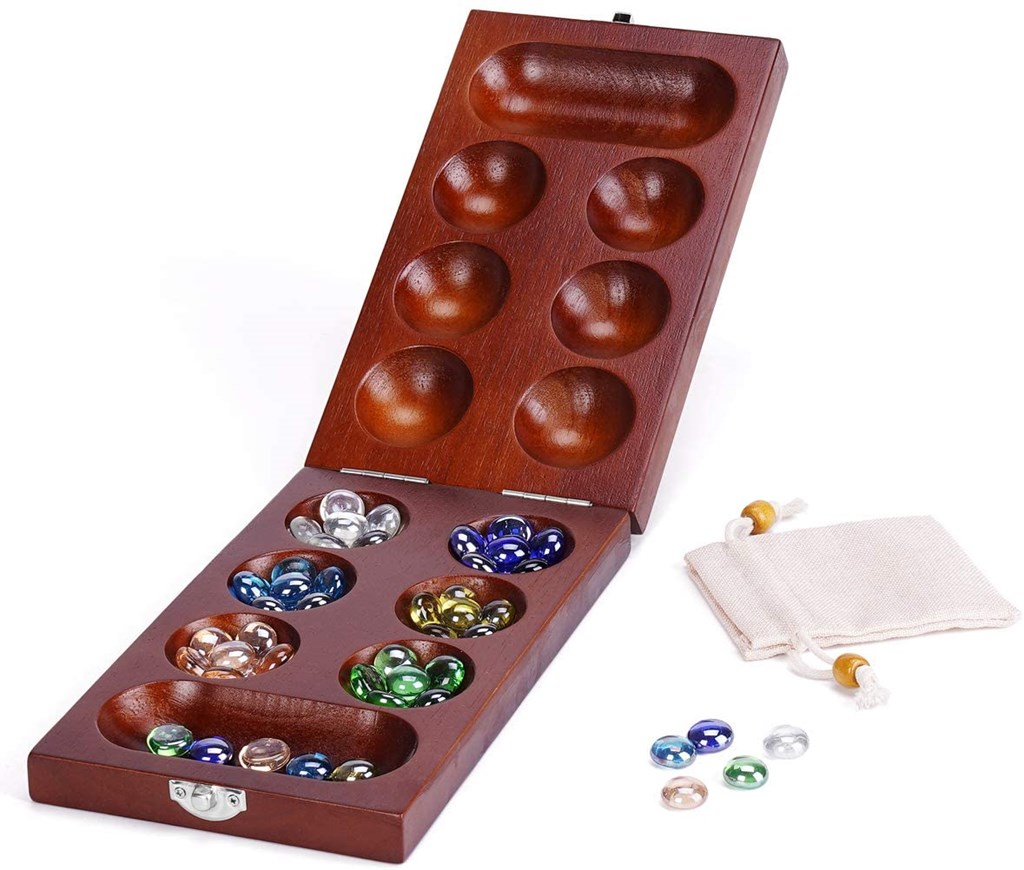 4. Mancala
Mancala is one of the oldest strategy games in the world and is still played and enjoyed by people all over the world, of all ages. This marble game challenges strategic thinking and will have you working on your math skills as well. Put your logic to the test with a round of Mancala and try to get all of your opponent's marbles.
Mancala is a great game to take camping, as it only requires the board and the marbles, and is easy to put in with your other camping gear. If you choose to leave the marbles at home for fear you'll lose them, you can swap them out for any other small item you find in nature such as stones or seeds.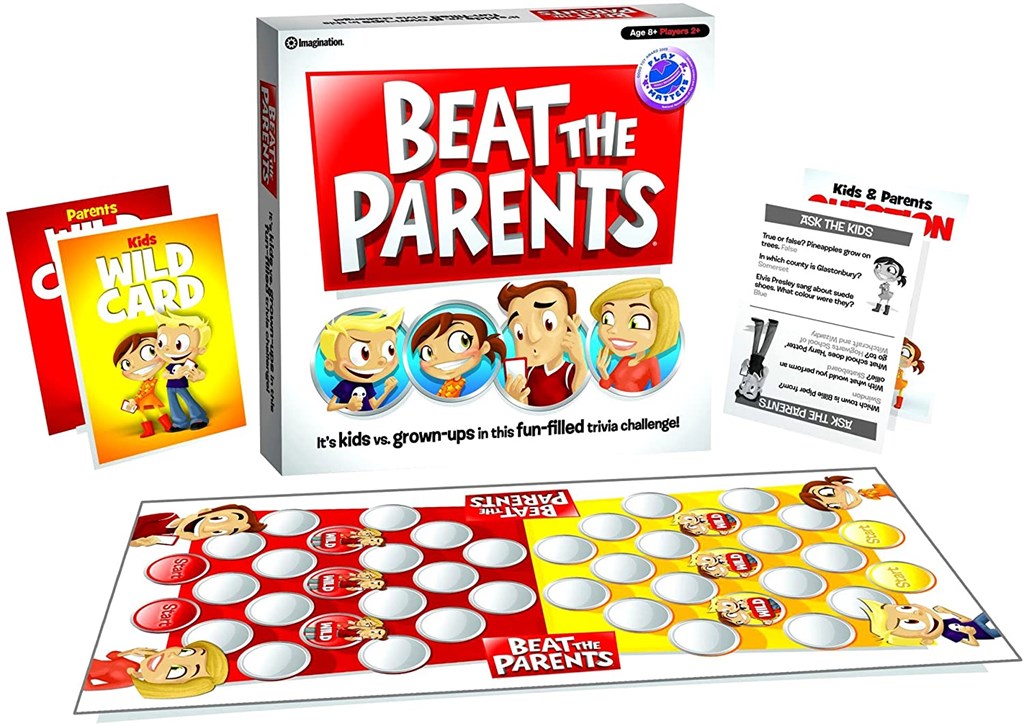 5. Beat the Parents
Your kids will be sold on this game with the name alone, but once they get playing they will love it even more. This game splits up the teams between kids and adults and uses trivia questions to determine a winner.
Parents are asked questions that the kids will likely know the answers to, but the adults may have forgotten. And the kids are asked questions that may not have even crossed their minds before. Whoever answers more questions right is the group that runs the house.

6. Guess Who?
This game was a huge hit when it came out in the 80s, and has stayed a strong staple in many homes since then. This is a great game for kids to play that challenges their logic skills to use the process of elimination. By asking one question at a time, you work to figure out who the opponent's mystery character is.
Adults will love this game just as much as kids, so bring it camping for some quick and easy family-friendly fun.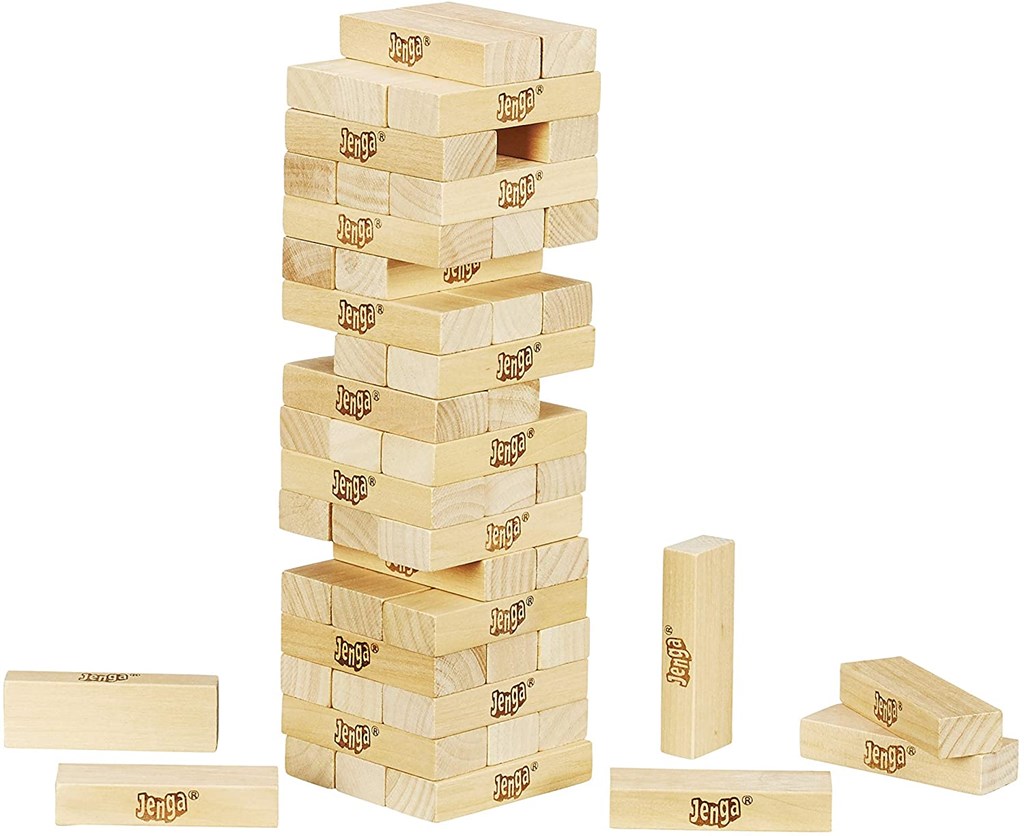 7. Jenga
This classic game of skill is a great one for the whole family to play. By pulling out one block at a time, you try to keep the tower from crashing to the ground. Not only does this game take skill, it also takes strategy and definitely some luck. The last person to take a block out with sending the Jenga tower crashing down is the winner.
Jenga is a great one to take camping as it can be set up almost anywhere and only requires the wood blocks to play.
It is not as easy as it looks, so take a turn yourself to see how much skill this simple-looking game takes.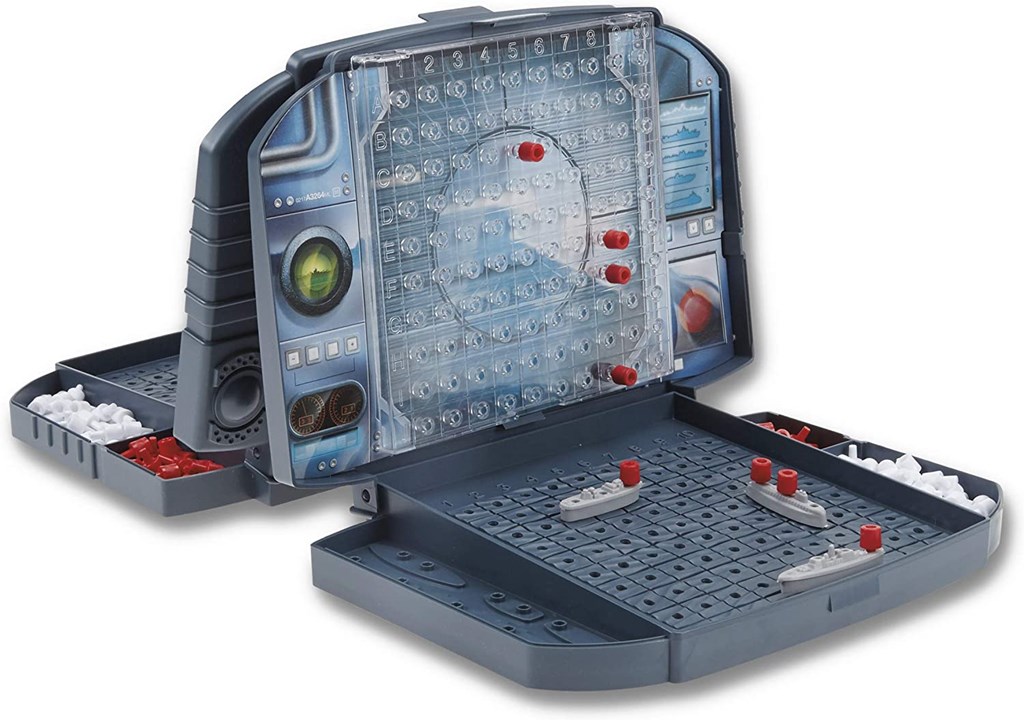 8. Battleship
An oldie but a goodie, Battleship is a two-player game that kids will love. Who doesn't love the idea of sinking their opponent's battleships? Kids can enjoy this game at face-value, and adults can enjoy putting their strategy to the test to beat out their opponent.
Battleship is great for camping as it is all made of plastic and is easy to transport. Just keep all the little pegs in one place, as those can get lost quite easily. This is made easy with the case the game comes in. You simply have to close it up when you're done and you're all done.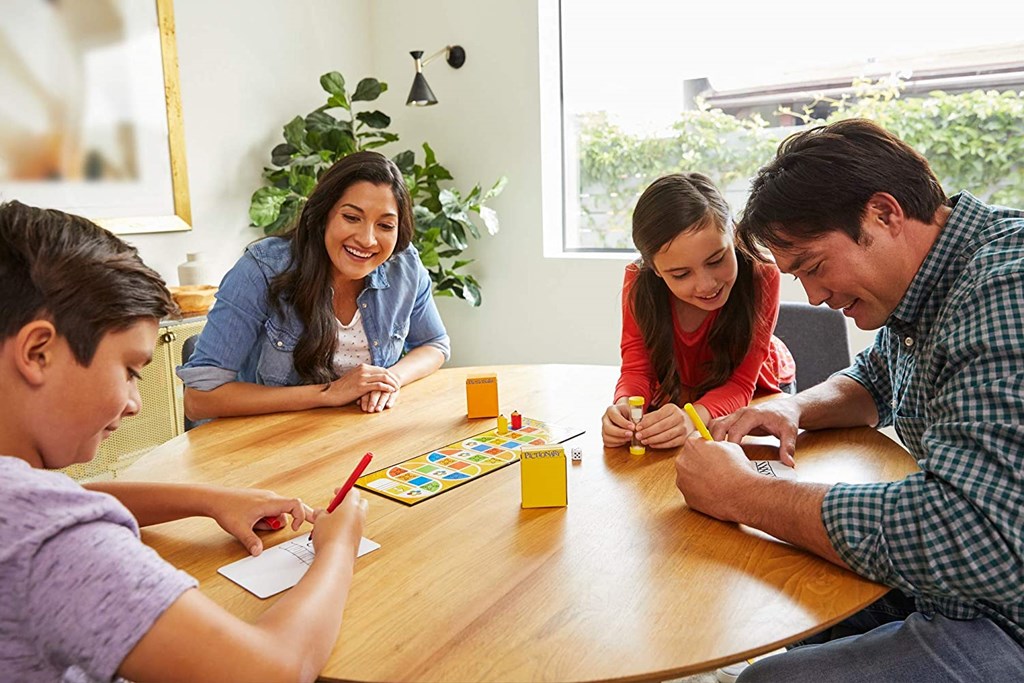 9. Pictionary
To play this game your kiddos need only be old enough to read. If they're good in the reading arena, then they are ready to rock and roll with some Pictionary.
This game is something that will liven up a room and have everyone jumping around trying to guess. Whether you've got just 4 people or you've got a big group of 20, this game is a great way to have some fun together. Simply draw out the word you're trying to get your teammate(s) to guess. And that's it.
Pictionary doesn't require much to play — all you really need is the board, the cards, and something to draw your clues on. And a whole lot of creativity.
10. Catch Phrase
A great game to play around the campfire, Catch Phrase is something that will have your whole family laughing. All you need to play this game is some batteries, which makes taking it camping with you a piece of cake.
In this game, players work to get their team members to guess the word that shows up on the screen without actually saying it. It's akin to charades. The difference with this one is the timer means you keep passing this thing around the circle, alternating between teams and whoever ends up with it in their hands when the buzzer goes off loses points.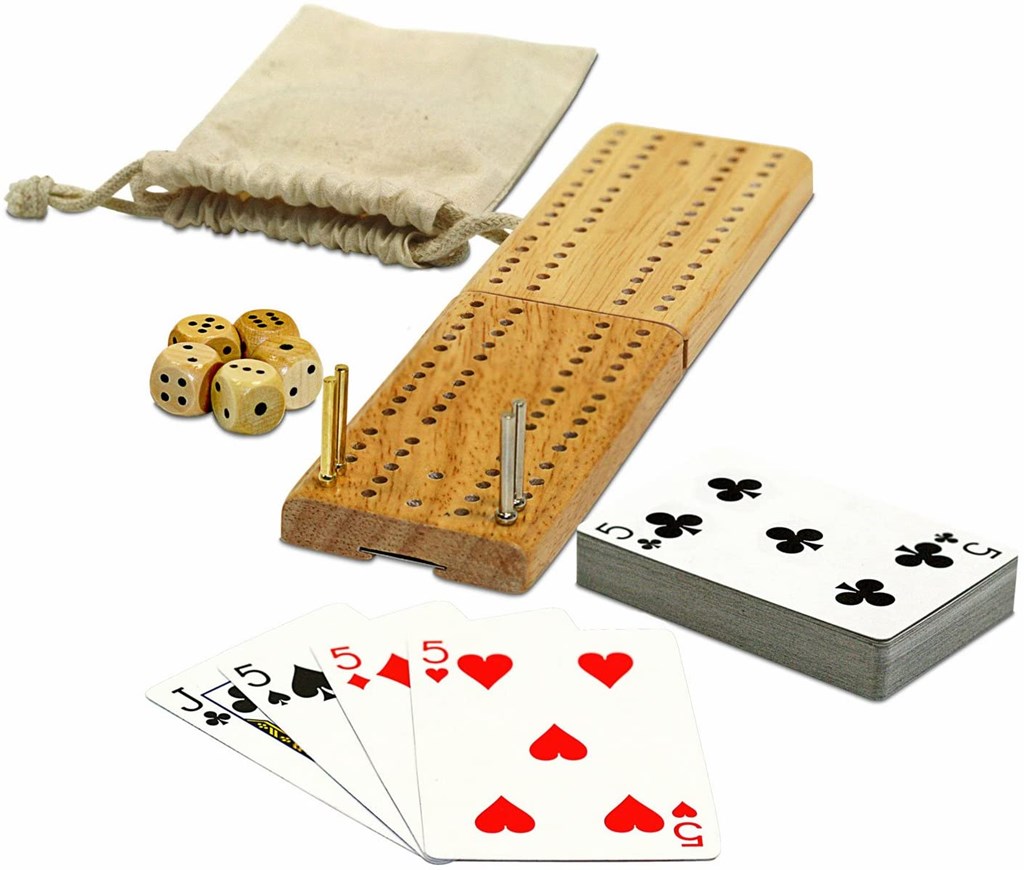 11. Cribbage
Not quite as thrilling as the other games, but still a great game to play, Cribbage is something kids and adults alike can play. It dates back to the 1600s, so you know it's a good one if it's still being played today.
All you need to play Cribbage is the board with the pegs and a deck of cards. This game puts your math skills to the test, and thus serves as a great way for kids to practice their counting in a fun way (and helps us adults brush up on ours).
The game can be folded up and easily transported to the camp and back home, making it an ideal one to take on your next camping trip.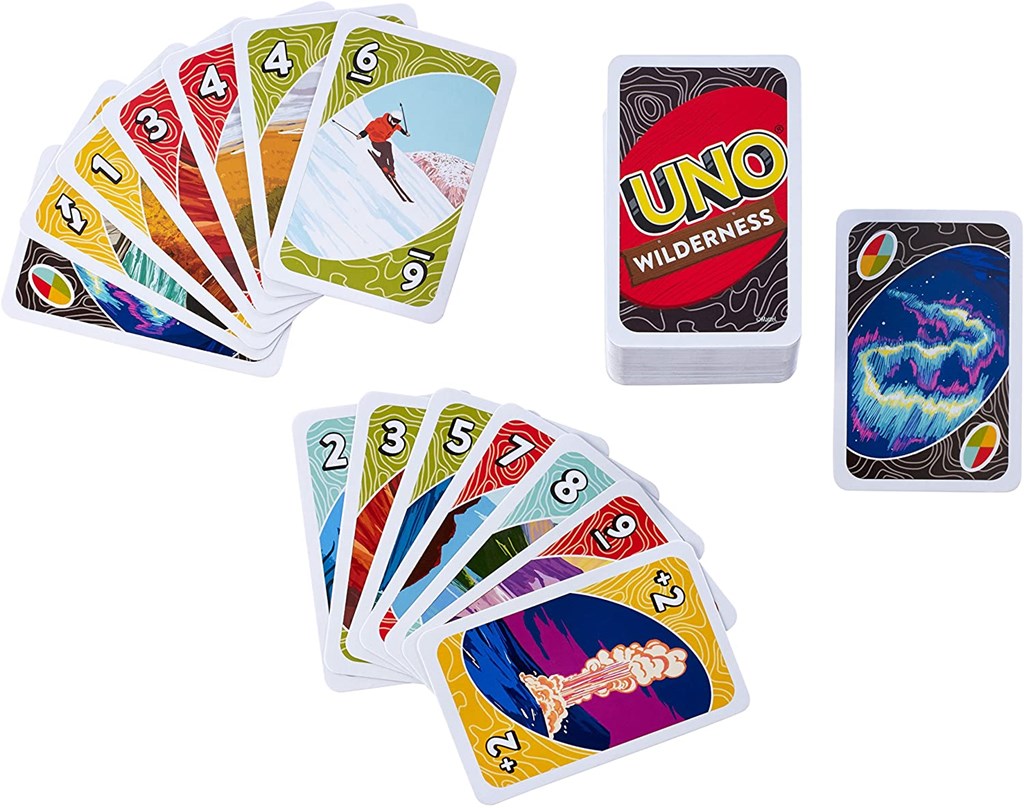 12. UNO Wilderness Edition
UNO is a classic card game that doesn't take too much skill to play, so is a great one for kiddos. Since all you need to play this game is the deck of cards, it makes it ideal to take camping.
To play this game, each player simply takes turns placing a card from their hand on the pile that's of the same color or number as the last card played. This simple concept is what makes it fun for kids too. Just remember to yell "UNO" when you're down to one card!
The Wilderness Edition doesn't change up any rules of the game, you simply get to enjoy some cool outdoor scenery instead of the standard colors and numbers.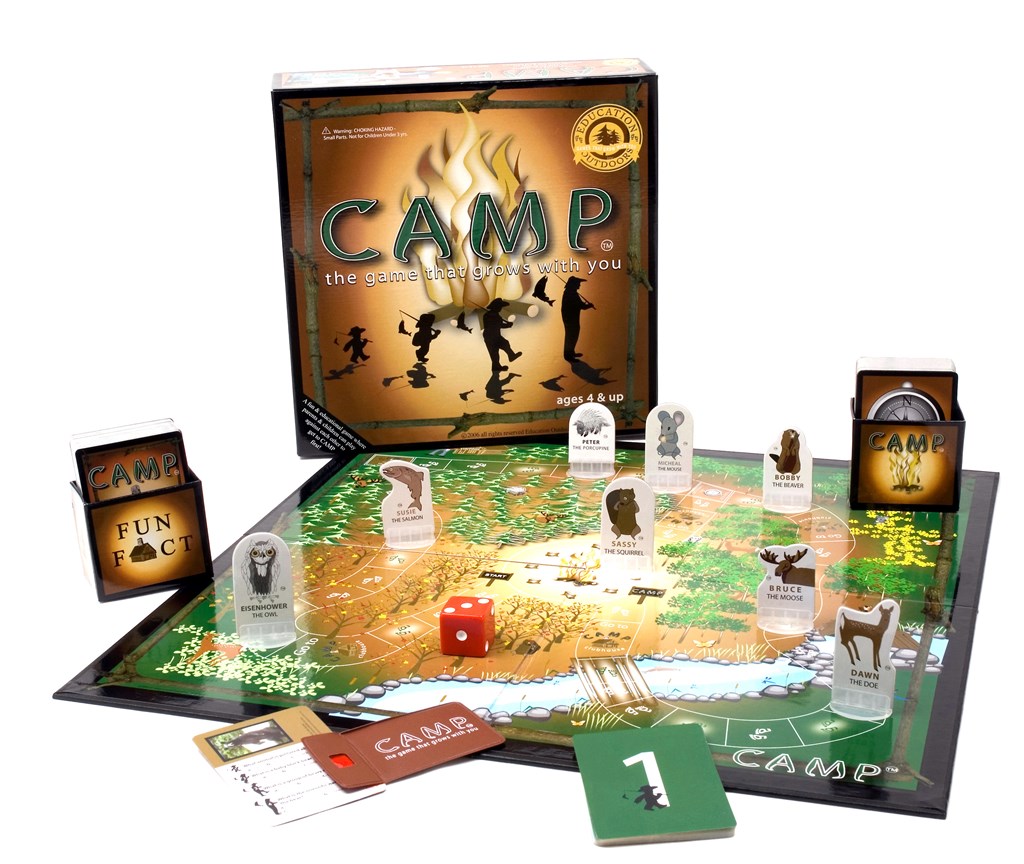 13. Camp
Since it's safe to assume you love camping and the outdoors, we are going to assume that you'll love the board game Camp. You may not have heard of it, but we think you'll wish you had sooner once you give it a try.
Camp is a great game for kids and adults, as it starts with lower-level questions such as identifying animals, and gets more difficult as you answer more questions correctly. This game tests your knowledge of everything outdoors-related, so you and your kids will love learning more about the place where you love to spend your free time.
This one does have a few more pieces to it than other games on the list, so be careful when packing it up to take camping that you bring all the pieces back with you.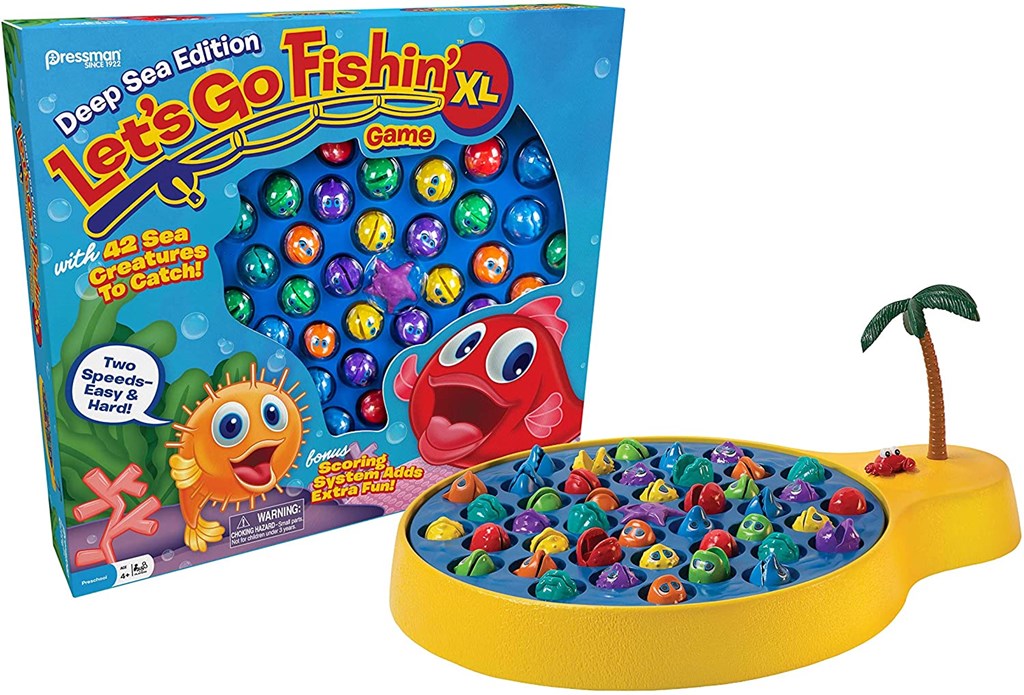 14. Let's Go Fishin
If you've got little ones in your family, then this is a great game to bring out for them to play (and you too!). Let's Go Fishin' is made up of a rotating board with fish on the inside and players use the little plastic fishing poles to catch as many fish as possible.
This one has quite a few moving pieces so we suggest keeping them in a Ziploc bag for transportation.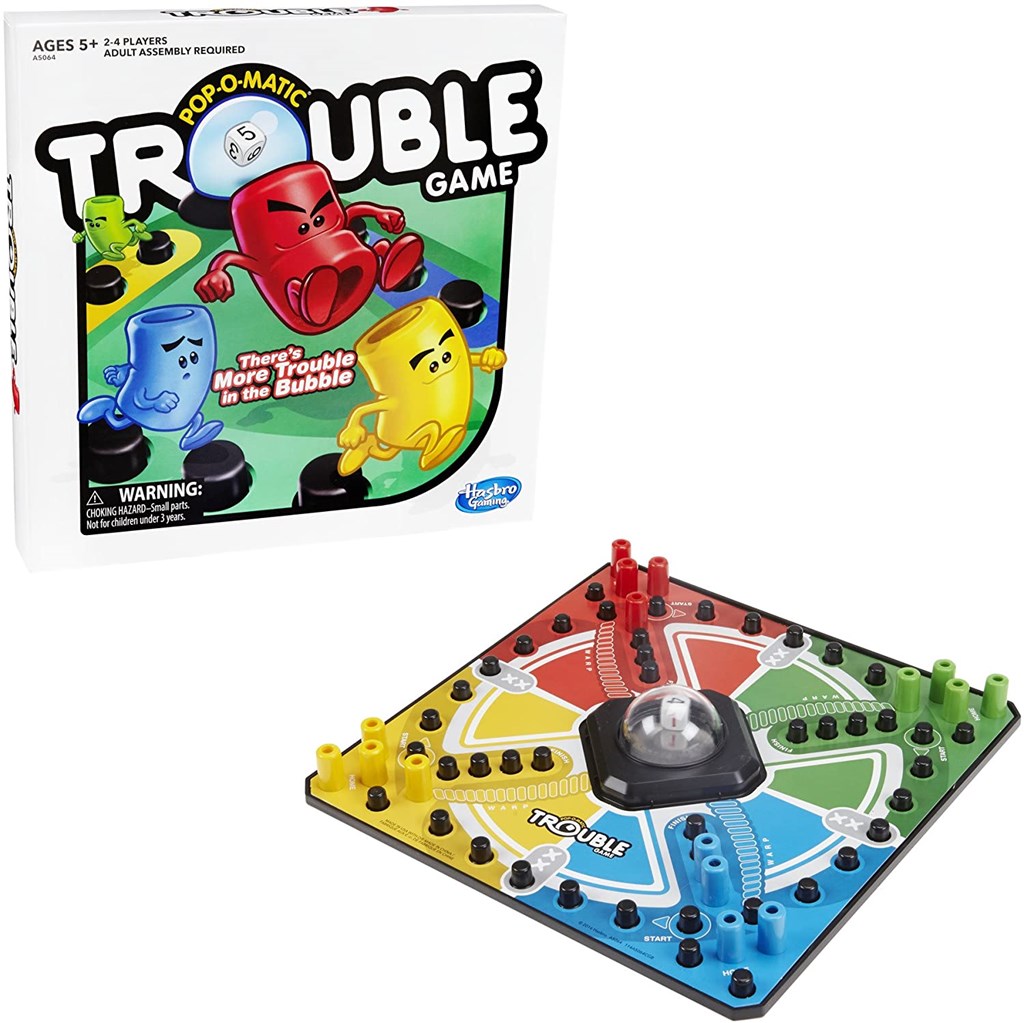 15. Trouble
Every kid likes to make trouble, so give them permission to do so when playing this game. And trouble is even more fun when you get to push someone's bubble (literally). When a player presses the Pop-O-Matic bubble in the middle of the board to roll the die, the game begins. The point is to get all your game pieces around the board without getting bumped or sent back to the beginning by an opponent.
Though this game does have peg pieces that may be easy to get lost, you can still bring this camping with you as long as you keep the pegs in a Ziploc bag for extra protection.
While there is no shortage of activities to enjoy in the outdoors, sometimes you feel like relaxing and enjoying some board games, and we are here to support that.
So when you're looking for the next game to make your family's favorite, refer to the above list and we guarantee you'll find something for the whole family to enjoy.
---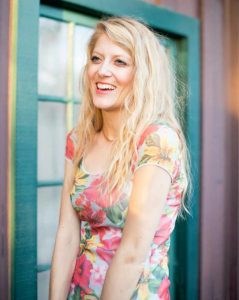 Leslie, a.k.a. Copy Girl, is a copywriter who gets butterflies from telling stories through words.
Her voice comes from a place filled with passion, dreams, and lots of sugar. "Cake over steak" is her go-to motto.
With over 10 years of experience in crafting words, and years of embarking on travels that have taken this Montana girl to some incredible places, Leslie love the adventures of both body and mind her writing takes her on.
Everywhere she goes, she takes this advice with her:
"Hold on to your divine blush, your innate rosy magic, or end up brown." – Tom Robbins, Jitterbug Perfume
To see what Leslie's up to in the writing world, visit her website here.
---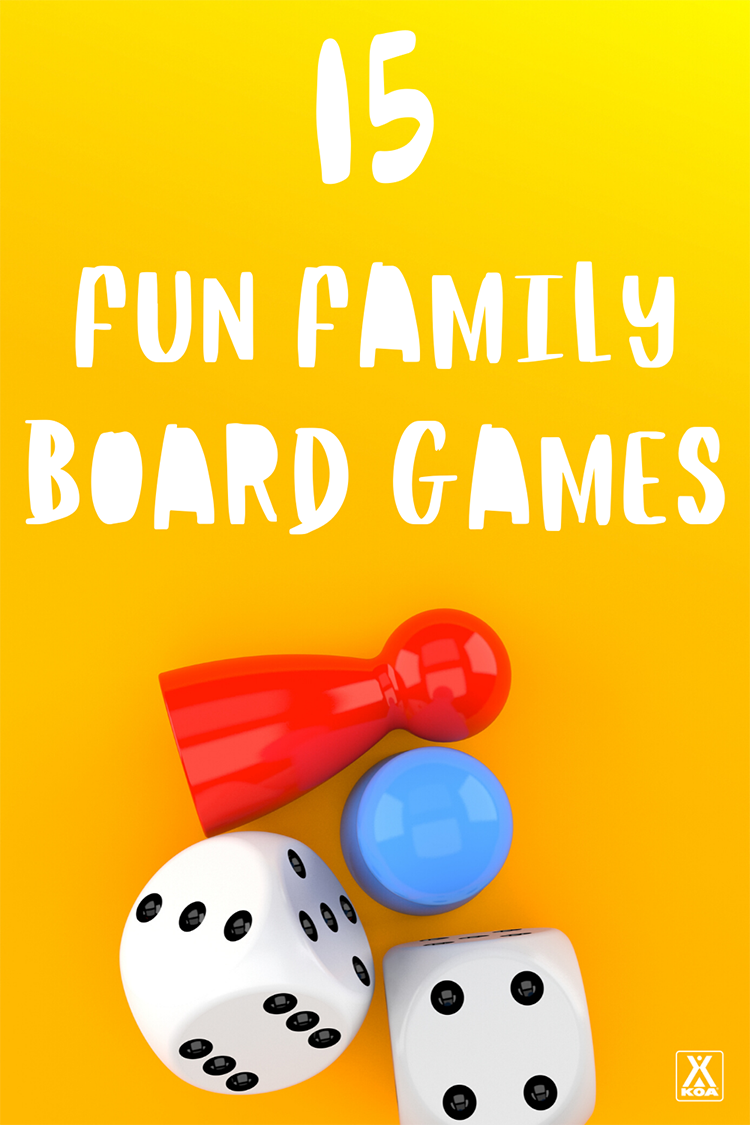 Kampgrounds of America, Inc is a participant in the Amazon Services LLC Associates Program, and affiliate advertising program. Some links may be affiliate links and Kampgrounds of America, Inc may get paid if you buy something or take an action after clicking one of these links.
Prices are accurate at time of publishing. Note that are subject to change at the discretion of Amazon or their marketplace sellers.