Camping by tent or RV is an excellent way to spend time away from the grind, enjoy the beautiful outdoors, and reconnect. There's so much to see and do, and an added benefit of camping is that it doesn't have to cost much money at all!
Depending on where you go and how often you venture out, a week's camping trip can be far more cost-effective than a vacation requiring flights and a hotel stay. That said, even camp costs can add up if you're not careful. Fortunately, there are lots of ways savvy campers can save some money while enjoying their time off outside.
Want to save money camping? Try these tips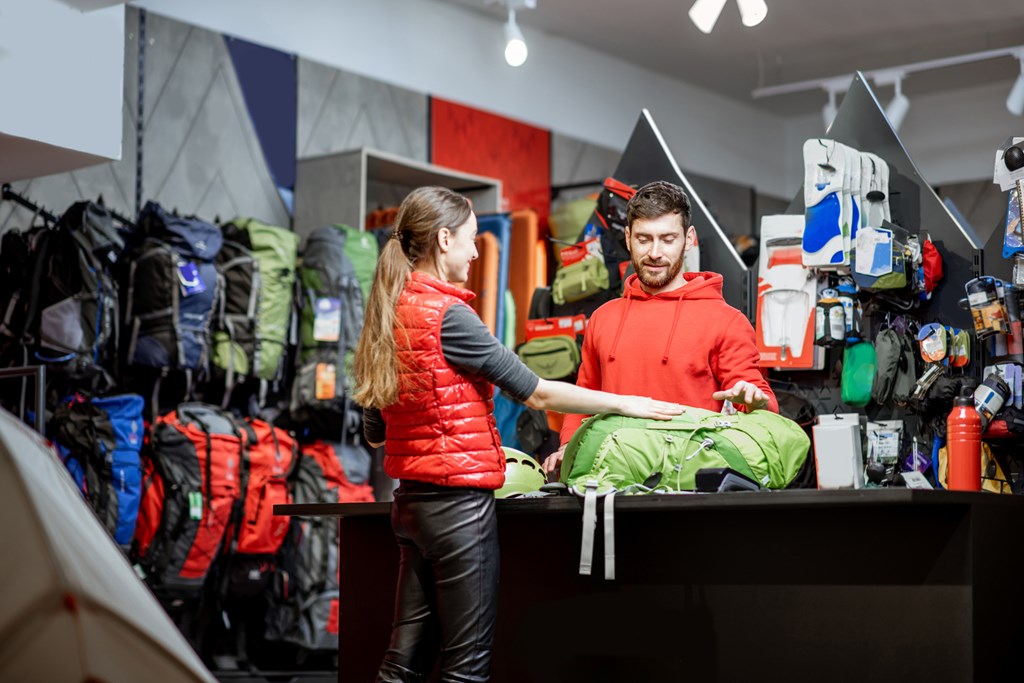 1. Shop, rent, and borrow used gear
There's lots of cool camping gear available these days, and people who love gadgets and specialty goods no doubt enjoy finding "the perfect camp chair" or their ideal weather-rated sleeping bag. While it's fun to see what's out there, it's also reassuring to know that the essentials of a successful camping trip are few, especially when you consider that many camping goods can be found, borrowed, or purchased as you go.
If you're new to camping — either in a tent or an RV — consider that you might not have to purchase much at all, particularly if your first few trips are close to home and in moderate temperatures.
You can keep trips simple the first few times and zero in on:
How you like to camp
What items would be useful
What would be a 'nice-to-have'
In the meantime, work on building a list of essentials, like a good tent, sturdy hiking shoes, proper clothing, cookware, and utility gear like lanterns, multitools, rope, etc.
Camping gear is also ideal for borrowing and bartering — especially if you're on the fence about something and want to try it out. If you have friends or colleagues who camp, they might be more than happy to let you take out their popup camper for a weekend or try out their cots. After all, the stuff would just be sitting in the garage! Just be sure to return everything in the same or better condition than you received it.
Yard sales and army surplus stores are often great places to find gently used camping items. Another option is to mine digital avenues like Facebook Marketplace and buy nothing groups for things like fishing gear, sleeping bags, cookware, and boots.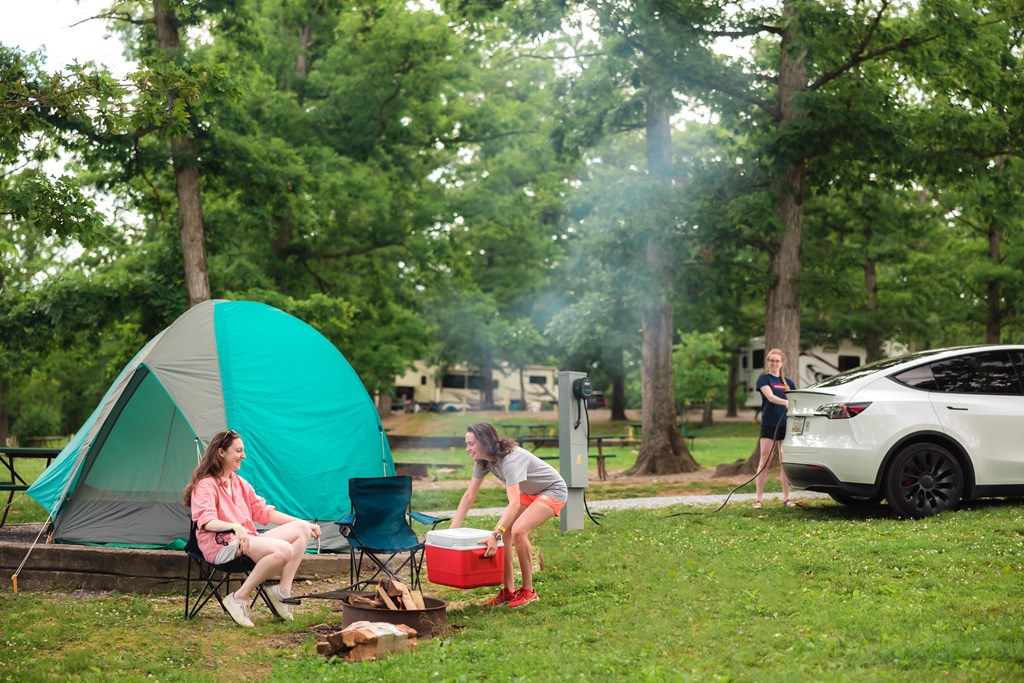 2. Choose your campground wisely
Campgrounds can vary wildly in price. While it would be a blast to hit up a luxury RV park, camp Yellowstone, and book a ski weekend all in one year, consider the impact on your budget if you were to simply swap one higher-ticket excursion for a beautiful state or county park weekend with the same group of people … at least for this year.
Site costs depend on several factors, including time of year, amenities offered (water and electric hookups, swimming pools, playground, general store, shared firepit, etc.), and even statewide cost of living and location. The average cost for an RV site at a mid-range campground was $30 to $50 per night in 2022. Meanwhile, a spot at an RV luxury site could set you back $60 to $100 per night, or even more. What constitutes a "luxury" RV site? Often it's extras like a pickleball court, pools, hot tubs, and fire pits.
KOA has all different kinds of campsites, from the basics to the luxurious and every budget in between, and there are over 500 to choose from! Take a look at the different KOAs across the United States and Canada to find which ones are best for you.
When looking for your next campsite, you may also want to think about "when" versus "where." Reservations skyrocket on major holidays like the Fourth of July and the price of everything goes right up with it. Generally the warmer the weather in a given area, the higher the prices … sometimes at twice the rate from April to September! If you love winter camping, you can often stay at a tent or RV site for next to nothing (just be sure you have the right clothing, sleeping, and fire-making gear).
A few ways to save on a campsite are by exploring mother nature in the off-season, planning an inexpensive route to save on fuel, and using a vehicle that requires minimal electric and water hookups.
Remember though: being cost-conscious doesn't mean you have to commit to the cheapest everything. Rather, think about how you might balance out the costs for an optimal experience. For example, maybe you're saving gas money at a close-to-home campground with a ton of family-friendly amenities to enjoy like a swimming pool and pickleball court. That's smart budgeting.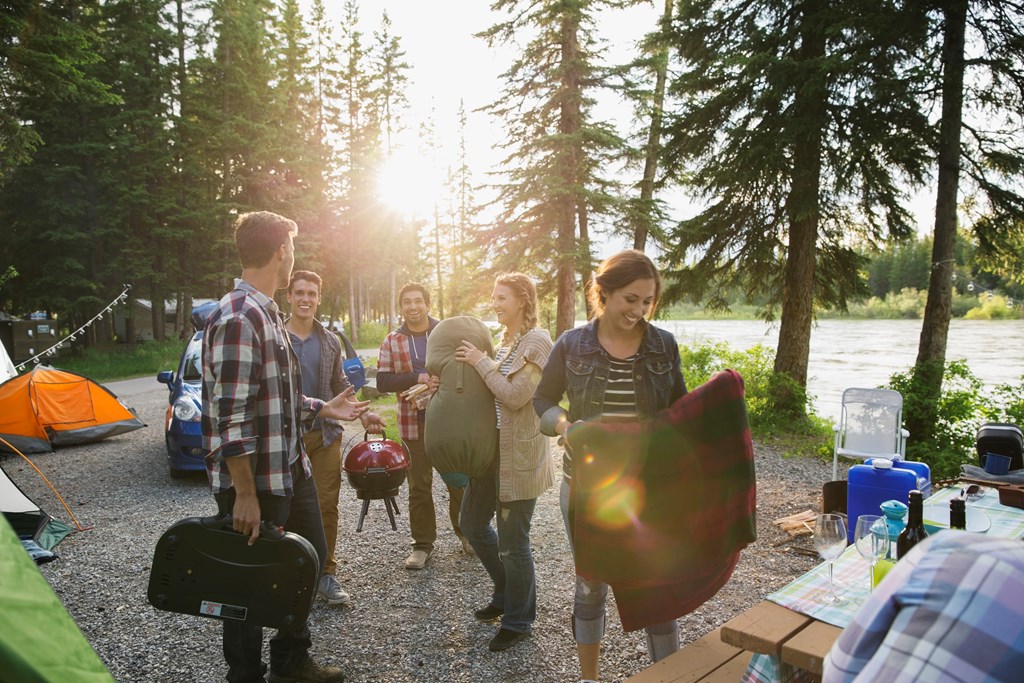 3. Pack light
As stated above, there's lots of cool camping gear out there and a million ways to gussy up your RV. If you're looking to keep to a budget, though (as most are), stock that 'favorites' list all you want, but then don't forget to check in with your actual needs and wants. Now that you're in the habit of searching beyond retail for gear, take a moment and ask yourself: "Do I really need X at all?" There's nothing like the buyer's remorse that comes with lugging around heavy, expensive, seldom-used camping gear.
Packing light not only cuts costs but saves time and effort, too. When you think about all the different ways to reduce the gear you need to lug around on your trip, it almost becomes a game. Resolve to pack fewer clothes than usual in a lightweight, packable backpack. Focus on lightweight, quick-drying, dark clothing and towels, and wear the same clothes for bed each night (maybe bring a spare or two for the kids). Take advantage of multi-use items whenever possible. Trim down the toiletries to the basics and include a compact first aid kit.
Forego tablets and gadgets for just a phone and charger. When packing light don't think about it as what you're leaving behind, rather consider it freeing, and a good way to simplify the trip and life in general. In an RV, packing light can even save some change in fuel! Plus it means fewer things to keep track of and fewer things to potentially lose in the wild.
Continually rethink what you need and what you don't. Printable camping checklists are great tools for helping to remember seasonal staples like bug spray, sunscreen, and swimwear for the beach. But keep in mind that checklists do not need to be followed to the letter. Revisit the list with each camping trip and destination, and make it your own.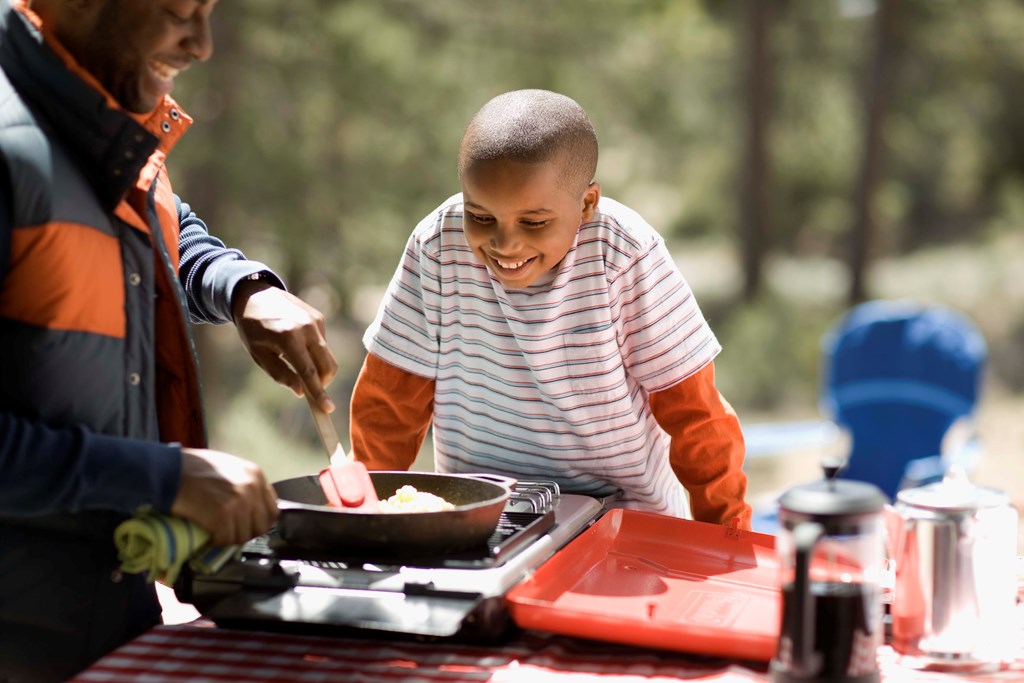 4. Plan and prepare your own meals
When you're on the open road in an RV, it can be tempting to hit up every local restaurant, diner, and dive bar in your path. Sure, tasting the local food is indeed a special treat on the road, but it's easy to overdo it. While one greasy cheeseburger stop may be just what the doctor ordered, three more of the same gets boring, and pricey to boot. A picnic on the other hand is classic, cost-effective, and won't weigh you down as takeout would.
Be sure to pack and prepare some of your go-to tasty treats to save money and have more time for relaxing and exploring. Cook simply. Prepare homemade trail mix and hard-boiled eggs for a quick protein fix to power up your activities. Bring some heat-and-eat foods (hot dogs, marshmallows, soups) for your "fast food" options.
Planning meals ahead of time makes mealtimes at the campsite easier and more enjoyable. Running out to grab 'just one thing' can be a frustrating and costly errand. Not only does it eat up vacation time, but you're often forced to get whatever cheese is on the shelf, or the kids are with you and find five other items that they deem necessary.
With a little planning, you can rest easy knowing you don't have to rely on restaurants and convenience foods. You've got what you need on hand, you're staying within budget, and one or two food stops can stay a real treat.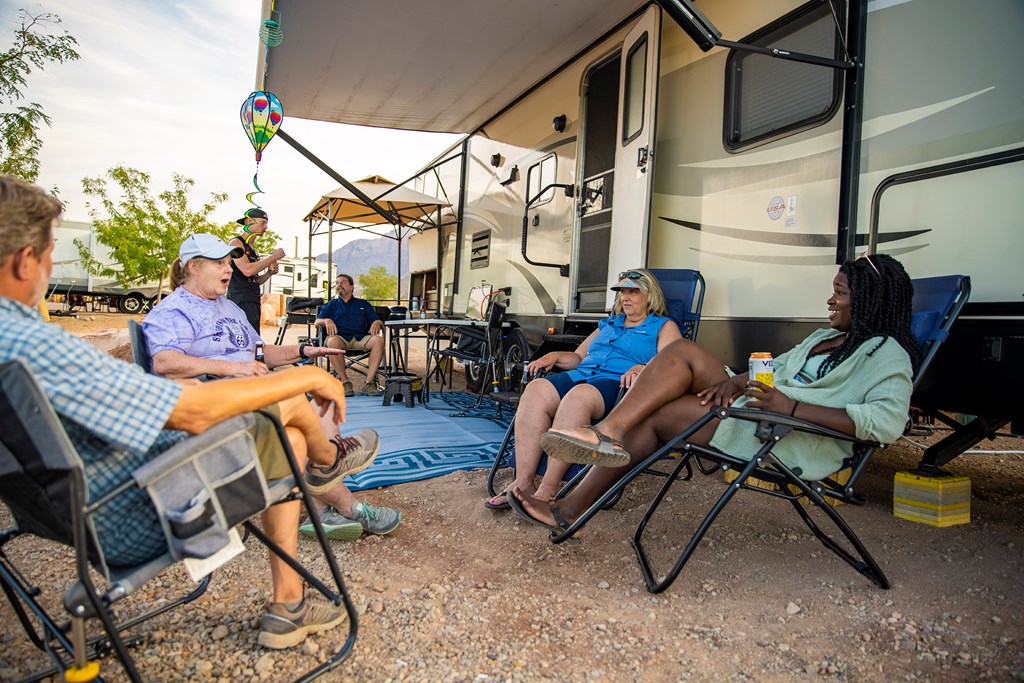 4. Join the club…
The RV club, that is. There are many RV clubs and meetups out there that offer discounts and deals on campsite lodging and help campers save money in other ways. Look into our KOA Rewards camping loyalty program that offers 10% off daily registration rates, not matter how you camp, all year long as well as the following benefits:
Rewards points that accumulate for cash off future stays
Free night of camping during KOA Rewards Weekend
Exclusive offers and special discounts from our partners
A $36 annual fee brings you all these bonuses and more.
Come for the discounts, and stay for the community. Not only can RV clubs like KOA Rewards help cut costs, but they are a great way to meet like-minded RV enthusiasts. This is especially true for those new to RV life. And, you don't actually have to own an RV to be in the club; any enthusiast can join, score deals, meet new people, kick the tires on various rigs, and talk travel.
If you're new to RV life, or even if you're not, check out local RV events and compare the culture and benefits of different RV clubs to figure out which may be a good fit for you. Maybe two or three will fit your travel style, lifestyle, and personality.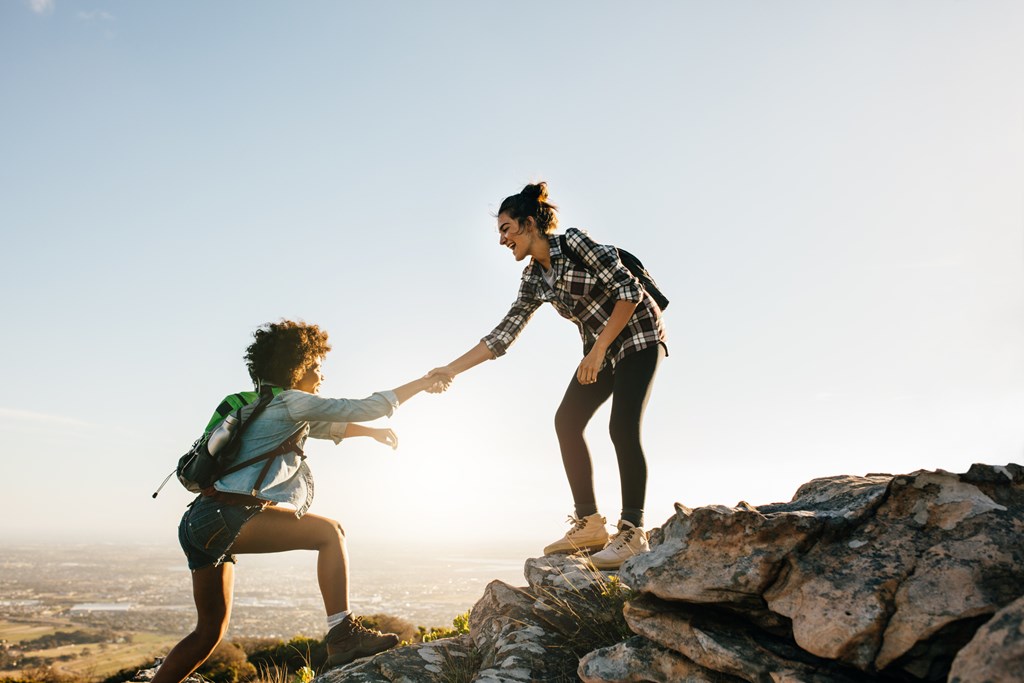 5. Explore low-cost activities
It's great to splurge on things like horseback rides and jetski rentals here and there, but the bulk of your activity can be low-cost — even free — and still be a ton of fun. Do a little soul-searching and be on the lookout for things you've never tried. OR, do what you love in different locations!
Remember the tip about borrowing/swapping gear? Perhaps your outdoor friends have snowshoes to lend or cross-country skis that are collecting dust. Take advantage of any opportunity to try a new hobby on for size!
Other minimal-cost activities include hiking (you can up the fun factor by turning your hike into a geocaching mission), disc golfing, fishing, bird watching, fossil hunting, foraging, swimming, or practicing sketching/painting/photography. And always check to see whether your campsite hosts any free activities — many do! Depending on the time of year a campground might host stargazing sessions or guided hikes.
For families with little ones (or adults who are young at heart), keep the fun going back at the site with games like I Spy, Hide and Seek, Scavenger Hunts, and 20 Questions.
The main thing is to think outside of the box: most activities you do indoors for fun or to unwind can be done outdoors. Bring your knitting, your puzzles, and your books. On a rainy night, a movie and popcorn session in the RV makes for a cozy respite from a busy day. Simplicity can be beautiful.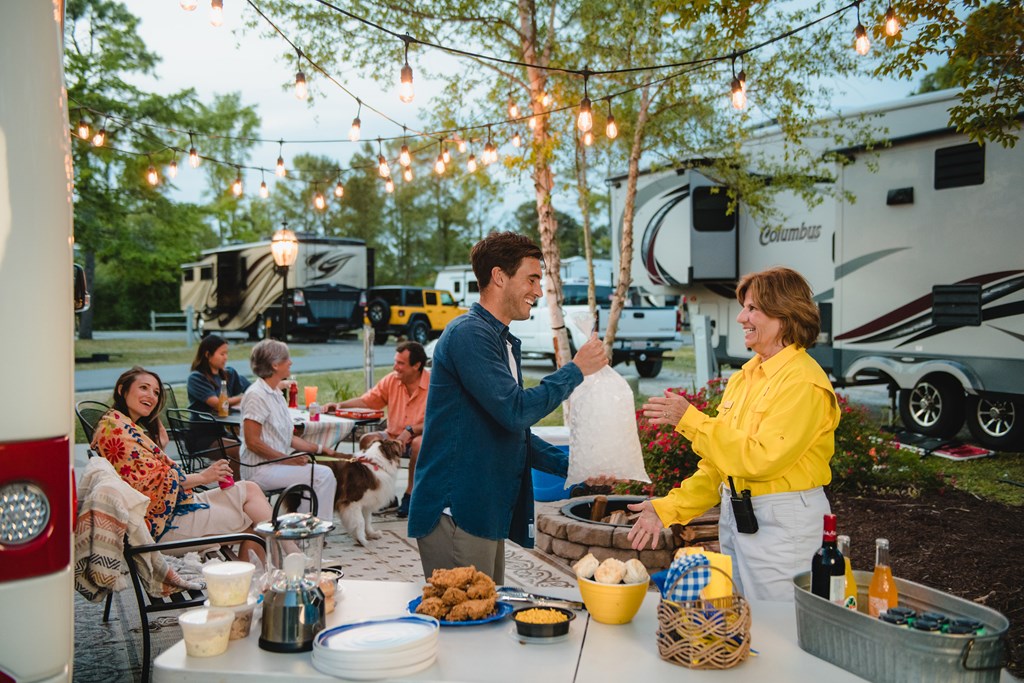 6. Turn your hobby into a jobby
One final way campers can save (and even earn) some money, is to get a job at or near the campground or RV resort. This is often referred to as "work camping", and it has become a popular way for young people, part-timers, career-changers, and retirees to combine work and play in a booming gig economy.
Examples of popular workamping jobs include activity director, camp host, off-season caretaker, interpreter, river guide, or maintenance supervisor. Many of these positions afford workers a combination of rent-free camping, free utilities, and additional wages. When searching or reviewing workamper opportunities, ask questions and read carefully to find out whether it's the right opportunity for you.
KOA's Work at KOA program allows you to earn a paycheck while exploring the great outdoors. As a camping enthusiast, what could be better than that?!
Another option to consider is becoming a KOA campground owner. KOA owners host nearly 8 million camping nights each year, so these places see a lot of action. And you don't have to worry about feeling like you're thrown into it with no support. KOA has all the tools and support you need to convert, build, or buy a KOA campground.
Other RVers and campers have earned income by renting out their RV as a sort of tiny home on Airbnb and similar sites, turning their RV into a food stand or small shop in the off-season, or blogging about their travels. You may choose to park your RV in a national forest or state park and help guests, collect payments, and keep the place clean (including the bathrooms). You might also help to manage amenities like boat ramps and canoe rentals.
There's definitely money to be saved in the camping and RV life. And the best part is, finding ways to save and trying new things on for size can lead to a whole batch of new adventures.
---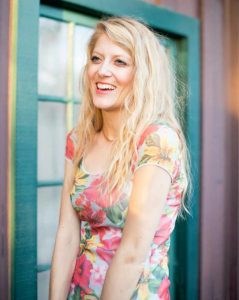 Leslie is a freelance travel and health/wellness writer who gets butterflies from telling stories and sharing information with readers across the globe. Her voice comes from a place filled with passion and dreams.
With over 10 years of experience in crafting words and years of embarking on travels that have taken this Montana girl to some incredible places, Leslie loves the adventures of both body and mind her writing takes her on.
To see what Leslie's up to in the writing and design world, visit her website here.