A Beginner's Guide to Camping
Camping is the perfect getaway from your daily life, and with some planning, you can feel confident and in control of your trip's activities. Whether you want to relax during a getaway or go on an exciting recreational escape with the family, you can find what you're looking for in the great outdoors.
If you're new to camping, the best way to learn is to jump right in and try. You may encounter a few bumps along the road, but it is important to remember that your camping trip will rarely go as planned. Get familiar with camping basics, and start making memories of experiences that will help you become better at camping.
Prepare for your trip with some helpful first-time camping tips to get you on track for a successful outing.
How to Start Camping
A good camping shelter is simple to use and able to keep you dry, warm and safe. How to camp comfortably and safely depends on how you choose to stay — in a tent or an alternative lodging option. Tents are a popular beginner-friendly option because they are portable and adaptable.
You can find tents in various shapes and sizes, with varying degrees of weather protection and insulation. Some are designed with solo travelers in mind, while others have multiple rooms for the whole family. Before choosing a tent for your first camping trip, consider the following:
Your needs: Tents are beginner-friendly for most campers but not suitable for everyone. Older adults or those who may struggle sleeping on the ground should seek out more comfortable alternatives. Additionally, some tents may not be ideal for young children or rambunctious pets.
The weather: Tents do not have air conditioning or heating. For hot weather camping, you can pitch your tent in the shade or bring along a battery-operated fan — but some prefer to skip tent camping in the heat altogether. Frigid temperatures can also pose as a deterrent. While tent heaters are available, they require strict attention to safety guidelines and may not be ideal for all environments.
Your experience: If you are unsure how to get into camping, one of the best places to start is by learning how to pitch a tent and create your own campsite. That said, some tents are more complicated than others and may require assistance or previous training. Always read your tent user manual and watch some how-to videos before you hit the road.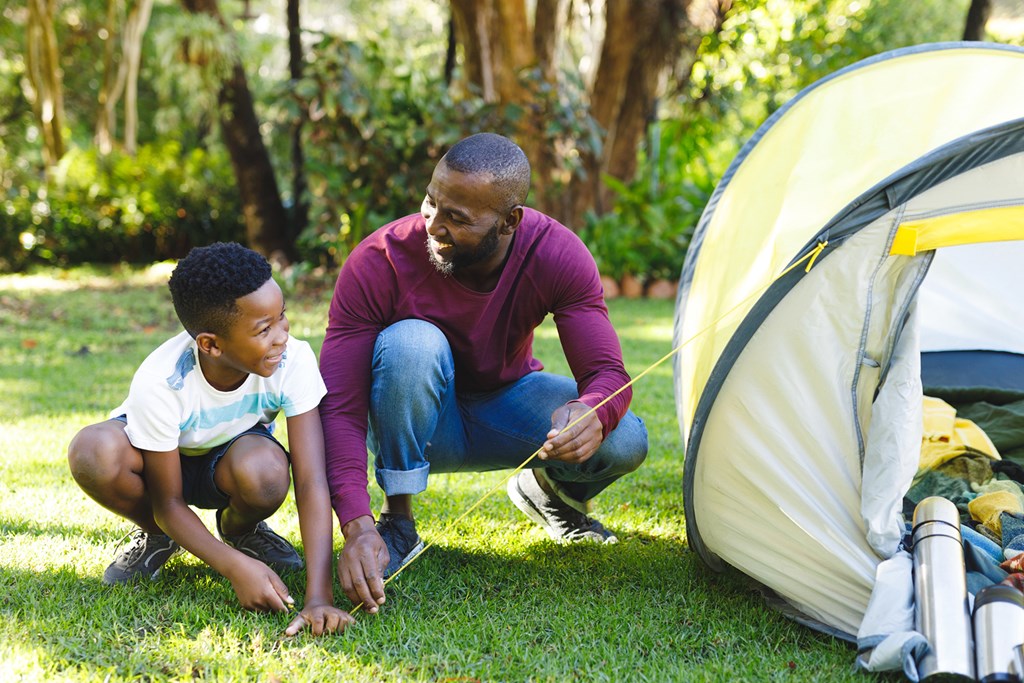 Tips for Pitching a Tent
Tent assembly depends on which type of tent you own, where you are assembling it and what kinds of add-ons and accessories you are using with it.
If you are a beginner camper, here are some tips for setting up your tent:
Know your tent: To assemble your tent correctly, you need to know which type of unit you own. Common tents include dome, A-frame, popup and ridge tents, though other variations are available. Check with your tent owner's manual for specific instructions.
Choose a level spot: The place you pitch your tent must be on flat ground, preferably near shade, away from fire pits and mud, rocks or tree roots. Avoid pitching in areas where rainwater might gather and seep inside. Fortunately, every Tent Site at KOA is level and spacious, making it easier than ever to set up camp.
Be mindful of tent stakes: If using stakes to secure your tent or tarp, pack extra if possible. Be sure to stick stakes deep into the ground and always practice caution when walking near them — they are notorious tripping hazards.
Always use a tarp: Even when you know rain is not in the forecast, you want to avoid being surprised by a late night drizzle. A tarp helps insulate your tent from the elements. It's also good for summer camping and will keep your tent from overheating.
Make it more comfortable: To make your tent more comfortable, consider choosing a unit with a window for airflow and natural light. Bring along a battery-operated fan or tent-safe heater to create your ideal sleeping environment. If possible, sleep off the ground by using a cot, inflatable mattress or sleeping pad — this will help keep you warmer, drier and less likely to wake up with any muscle soreness. Look for water-resistant tents when shopping and hang a tarp over the roof of your tent for additional rain protection.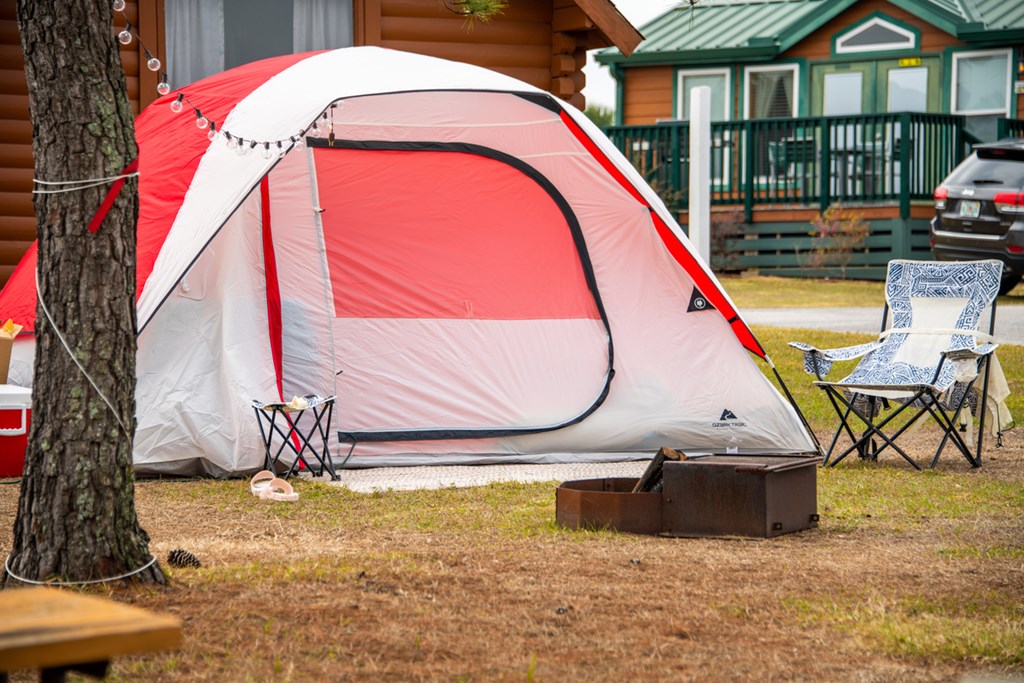 Tent Camping vs. Lodging Options
Curious about how tent camping compares to other lodging choices? Tents and lodging each have their advantages — here is what you need to know:
Cabins: Cabins — like those at Kampgrounds of America — are fully enclosed shelters with furnishings. The type and level of furnishing depend on which kind of cabin you are renting for your stay. For example, KOA Camping Cabins have electricity and beds, while KOA Deluxe Cabins also offer features like private bathrooms. Depending on location and availability, you may even get TVs or kitchenettes. Camping Cabins and Deluxe Cabins are an ideal lodging option for groups of family or friends just learning how to go camping and are not quite ready to take the plunge into tent camping. They are also great ways to stay if you are celebrating a special event or just want to leave the tent gear at home.
Glamping: Glamping is a special type of camping that has grown in popularity. In the 2019 KOA North American Camping Report, 45% of surveyed campers said they want to try glamping sometime in the future. What makes glamping so appealing for beginners is how easy and unique it is. Instead of assembling your own campsite, Glamping Tents are already set up, with comfortable furnishings and decorations inside. You can also go glamping in other unique lodging options, like renovated cabooses, yurts and tree houses. Contact a KOA to learn more about available glamping options.
RVs: RVing is a popular tent alternative because you still get a lot of the same flexibility as a tent but without the need to assemble your own. RVs are also more suitable for all-weather use, and you can even use them as transportation. RV Sites at KOA are either Back-In or Pull-Thru, with full hookups and amp connections available. They are a great match for families who travel often. Unlike tents, RVs require some prior experience setting them up and troubleshooting plumbing, electric and automotive concerns. They also require ongoing servicing and maintenance. If you want to try RVing before purchasing one, you can rent an RV for a camping trip as a test drive.
Always practice good camping etiquette. If you are camping near others, this means maintaining an appropriate volume at night and early in the morning and never shining flashlights toward other people's campsites. You should also practice Leave No Trace principles by cleaning up after yourself and leaving your campsite better than you found it.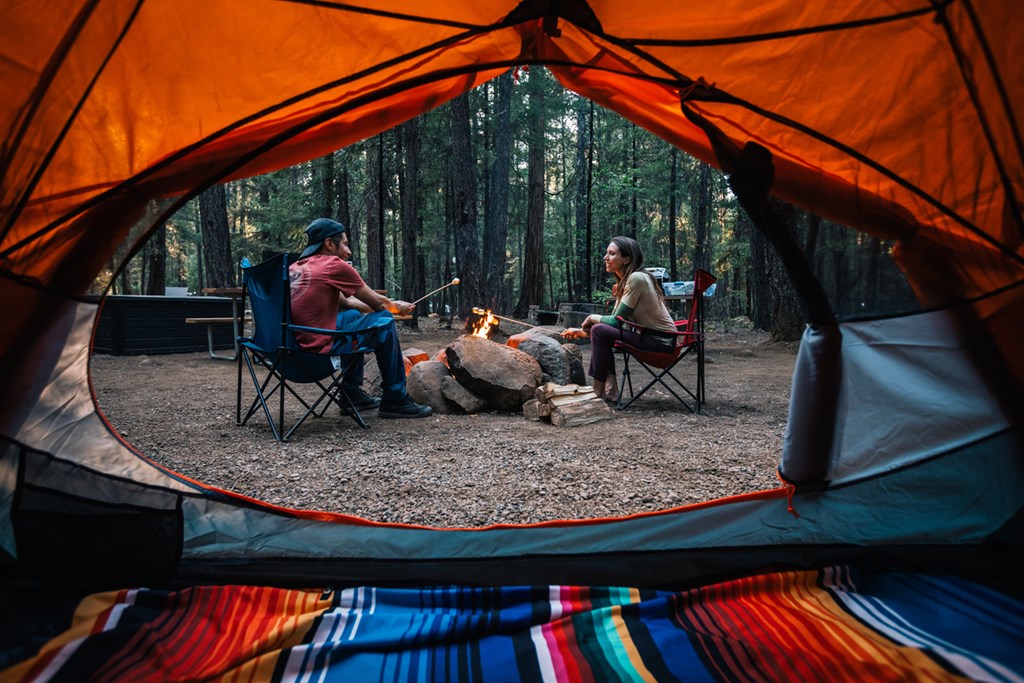 Choosing a Location for Your First Camping Trip
One of the most critical first-time camping tips to remember is how to choose the right location. As someone who is still learning the basics of camping, it is a good idea to camp somewhere like KOA, where you are never too far from clean restrooms and laundry facilities.
Always consider the following when choosing a camping location:
Your goals: Ask yourself why you are going on this camping trip. Is it to see new places or visit historic sites? To immerse yourself in the outdoors, or spend quality time with loved ones around the fire? Your camping goals will help you choose the best location.
The season: Choose the best location to suit the season, accounting for possible rainfall, temperatures and which sites offer the most scenic seasonal views in addition to your level of comfort with different climates.
Campsite accessibility: If you are traveling with young children, some camping locations — like those that require backpacking excursions or mountain treks — may be a bit too challenging for beginners. Choose a place that is accessible to each member of your group.
Before reserving your stay at a campsite, you need to choose whether you want your journey to take you away from home, or if you would rather stay close.
Advantages of Staying Close to Home
More than half of surveyed campers travel less than 100 miles away from their homes. Many people prefer the easy-going commute and less planning that close-to-home trips allow.
Benefits of camping closer to home include:
In some cases, you can return home if you have forgotten anything important, like a cooking tool or sleeping bag.
Shorter travel distances are ideal for those seeking easy, beginner-friendly trips to start.
Locations close to home require less planning and travel arrangements, allowing scheduling flexibility.
You get the chance to explore the area around you and find new favorite destinations you can easily return to.
If there is an emergency situation, it is more likely that someone you know can help out if needed.
Advantages of Exploring a New Place
The most apparent benefit of camping far away from your home is getting to see and experience new places. Popular destinations include state and national parks or forests, tourist hotspots, cities with thriving cultural scenes and family-friendly festivals.
Additional benefits of exploring faraway places on your camping trip include:
New places mean new experiences, including different cultural attractions, regional fare and types of wildlife.
Long road trips or airplane flights let you enjoy different views along the way.
You can meet new people from other regions of the country.
Traveling farther distances means you can easily justify taking an extended vacation.
If you are considering moving to a new city or state in the future, going there to explore the local scenery is a great way to decide if the place is definitely for you.
With more than 500 North American locations, you can count on KOA meeting you wherever you choose to travel.

Camping Essentials for Beginners
A successful camping trip starts with knowing what to bring and how to use those items. A printable packing list of first-time camping essentials is an excellent way to keep your belongings organized and make sure you have not forgotten anything essential.
What to Bring
Some essential camping gear for beginners includes:
Sleeping Gear
Bring along everything you need for a good night's sleep, including quilts, sleeping bags, sleeping pads, blankets, an inflatable mattress or a cot. Because your body will be adjusting to new sleeping arrangements, this is not the ideal time to try out new pillows, so bring along your favorites from home to help your body adjust easily. Some new campers also find eye masks or white noise machines helpful for falling asleep more quickly.
The appropriate type of sleeping bag depends on wet or dry weather and the maximum low temperature. Thin sleeping bags are generally only good for summer conditions, while others are designed for various levels of frigid temperatures. If you're staying out in the ice and snow, you definitely want to have the right kind of sleeping bag, so check the labels before you buy them. For winter camping, it's also a good idea to bring more blankets than you might need.
Campsite Needs
Headlamps, flashlights, lanterns and outdoor lighting like torches or LED tube lights will keep your campsite well-lit. You will also need a few bundles of approved firewood, a cooler and ice, a water dispenser and matches, a lighter and fire starter.
For your belongings that require batteries, bring some extras in case your lamp or flashlight stops working. A portable charger or power bank for your phone or other devices is also good to have on hand. If reception is going to be poor in your area, you might also want to invest in a Wi-Fi extender or similar device to stay connected.
Furniture and Decorations
Add style and comfort to your campsite with camping chairs, plastic tablecloths and tablecloth clips for the picnic table, insect-repellant candles, small tables, shade structures and portable rain pavilions. An outdoor rug will help catch dirt and grass before you go inside your tent, RV or cabin.
Necessary Items
Bring hygiene items and toiletries, including towels, washcloths, soap, shampoo, shower shoes, your toothbrush and toothpaste and your contact lens case and solution, if applicable. You might also enjoy the comfort of a soft robe and slippers.
Cleaning Supplies
Do not forget to clean up your campsite after each meal and before you leave. Bring trash bags, paper towels, a cleaning sponge and wipes, if necessary.
Personal Belongings
Personal belongings include your wallet, spare cash, keys, lip balm and any licenses or permits you need to camp or hike. You should also pack event tickets or parking passes you plan to use during your stay.
Safety Equipment
Stay safe with insect repellant, a water bottle, sunscreen, first-aid kit and portable fire extinguisher. A local field guide may also be useful if you plan to explore a new area.
Kitchen Supplies
Bring kitchen essentials, like pans, tongs, spatulas, a grill grate for cooking over the fire if desired, roasting forks, a coffee percolator, dishes and utensils. Make sure all pots and pans you bring are rated for campground use and can withstand cooking over an open flame or however you plan to prepare your meals.
Pet or Children's Supplies
If you are camping with your pet or child, you will also need to bring their items. For pets, this means a leash and harness, food and water bowls, toys, a pet first-aid kit, ID tags, bedding and vaccination records. For children, you might need a stroller, portable crib or play area depending on their age, toys, special first-aid supplies and child-friendly food.
What to Wear
Much of your clothing decisions depend on where you are going, the season and weather conditions and what activities you plan to participate in:
Rain gear, including boots, a water-resistant coat and umbrella.
Light layering pieces, including long-sleeve shirts, lightweight tops, underclothes and jackets.
Extra socks and underwear.
A swimsuit or swim trunks with sandals or flip flops.
A sunhat, visor or beanie, weather depending.
Shoes for all activities, including hiking boots and comfortable walking sneakers for sightseeing and tours.
Winter clothing, if applicable, including thermal layers, gloves, a scarf, an insulated coat, thick socks and long pants.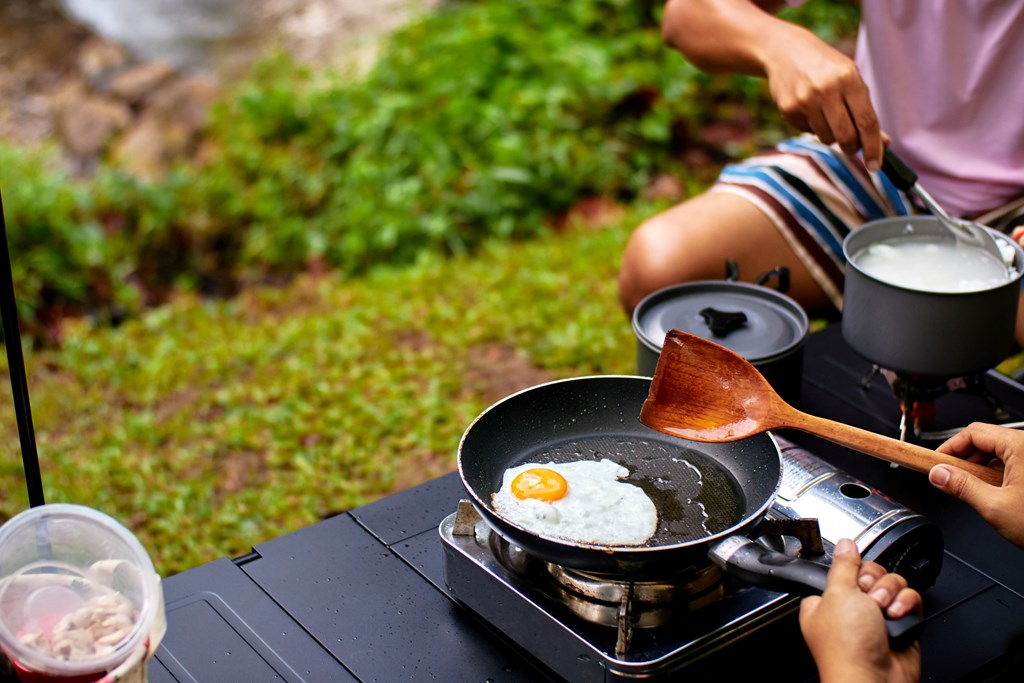 Meal Planning for Camping
The easiest way to save time and make camp cooking a breeze is to plan your meals before you go. This will help you stick to a budget and prepare items ahead of time. As you meal plan, consider on-site dining options or local restaurants you want to try while you are out exploring.
Camp Cooking Must-Haves
Regardless of which recipes you choose to cook, there are some camp cooking must-haves that all campers should have on-hand:
Cooking essentials: Pantry staples like seasoning blends, spices, dried herbs, cooking oils, salt and pepper, condiments and sauces will give your food flavor. Choose your essentials based on your meal plan. For example, if you plan to barbecue or grill meats, you may want to bring along barbecue rubs or sauce.
Snack items: Choose non-perishable snacks that travel well, like kettle corn or popcorn, jerky, trail mix, chips, pretzels, cereal, granola or s'mores ingredients.
Meal staples: Proteins, starches and carbs will help keep you full and energized. Popular camping meals usually involve potatoes, eggs, grilling meats, breakfast meats, fresh produce, sandwiches, canned beans and soups, and bottled water, juice and soft drinks.
Tips for Planning Your Meals
For easy meal planning, use these tips:
Consider dietary preferences: If you are camping with a group, consider everyone's individual preferences and include vegetarian, pescatarian, vegan, dairy-free or gluten-free options if necessary.
Prep before you go: To save space and time at the campsite, prep what you can at home. Cut, core and de-seed fresh produce and mix up some omelet ingredients for an easy pour-and-cook breakfast.
Use storage containers: Plastic food storage containers and zip bags are great for storing pre-prepped meals and keeping them secure inside your cooler.
Choose multi-use ingredients: Choose recipes that utilize similar ingredients — like potatoes, a specific sauce or fresh veggies — to keep preparation simple and take up less space in your cooler or food storage container.
Include extras and snacks: You will likely be more active than usual, especially if you engage in any outdoor recreation. Plan for high-energy snacks and extra meals to keep you energized.
Find meal inspiration on the KOA camping recipe database, where you will find ideas for cooks of all experience levels and dietary preferences.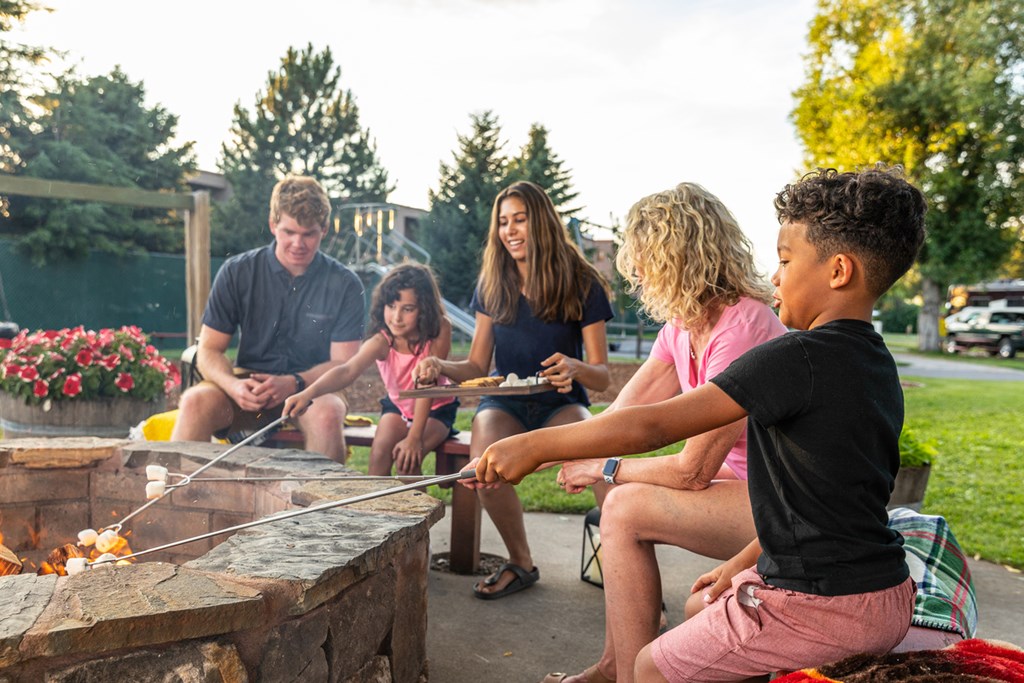 Tips for First-Time Campers
With a little pre-planning, your first camping trip is sure to be an exciting time for all. Use these camping beginner tips to help you make the most of it.
1. Test New Gear at Home
Whether you are a beginner or an experienced camper, you should always test new gear at home first. Assemble your tent in your yard for practice and to make sure everything is included and works correctly. The practice will also make it easier to assemble when you get to the campsite.
Make sure your sleeping bag is comfortable and that all flashlights, headlamps and lanterns work, too. Pack extra batteries, just in case. If you plan to use a portable cooking stove or grill, give it a test run. Also, ensure all hiking backpacks or day packs fit securely on your back and make adjustments if necessary.
2. Celebrate a Milestone Event
Camping is the perfect way to spend any vacation or weekend trip, but it is also a memorable way to celebrate milestone events, such as:
Birthday parties.
Anniversaries and romantic getaways.
Bachelor and bachelorette parties.
Bridal and baby showers.
Family or friend reunions.
Check with your campground to learn more about group lodging options, policies and on-site facilities.
3. Go Camping Year-Round
When you camp in the summer
Summer: Though you probably imagine warm summer days when you think of camping, do not be afraid to try camping during the other seasons. While the summer sun is ideal for swimming and watersports, spring, autumn and winter have unique advantages:
Spring: The cool temperatures and fresh blooming flowers of spring camping trips offer sightseers scenic views and comfortable touring temperatures.
Autumn: Autumn foliage and cozy campfires — is there any better way to spend a crisp fall day? Autumn camping is also ideal weather for long hiking trips.
Winter: Winter camping is an exciting way to see new wildlife and enjoy breathtaking scenery. All-season tents or warm Camping Cabins can keep you comfortable after a fun-filled day of snow sports, like snowboarding, skiing and snowmobiling.
4. Bring Games and Recreational Gear
Do not leave behind the gear and equipment you need to participate in outdoor or indoor fun. If it is your first time camping, finding the right recreational activities for you will likely take some experimentation. Stay somewhere that lets you try as many new things as possible.
Many campers enjoy the following outdoor activities:
Hiking
Fishing
Sightseeing
Biking
Bird watching
Canoeing, kayaking and boating
Backpacking
Trail running
Watersports
Horseback riding
Rock climbing
Have fun at your campsite with lawn games, including ladder ball, cornhole, horseshoes, croquet and yard bowling. You should also pack rainy day activities, like cards, board games and books.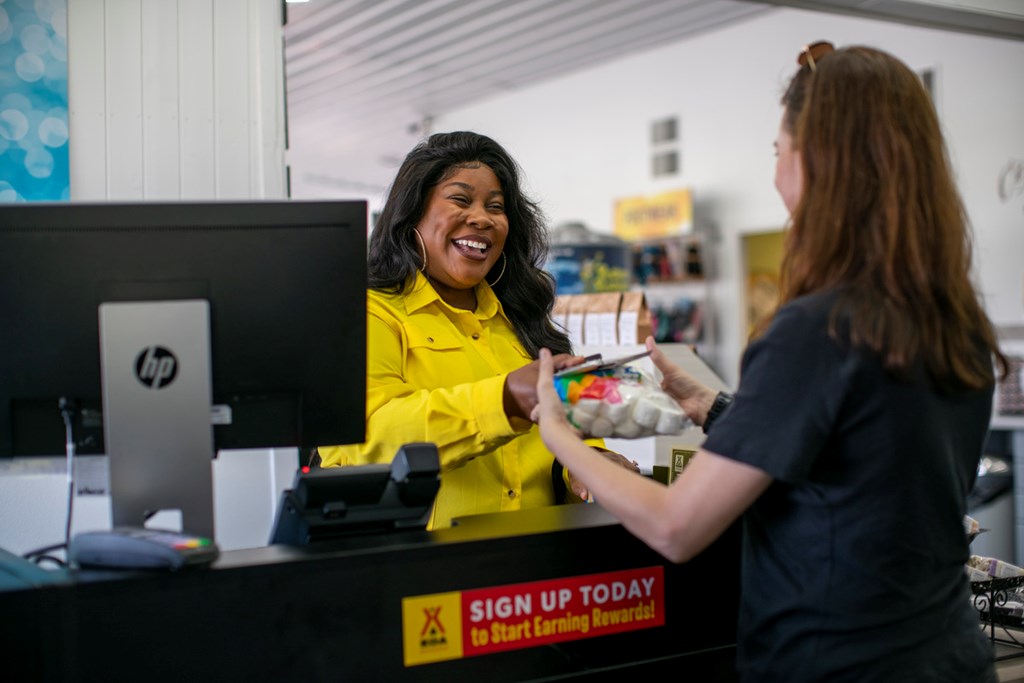 5. Check Campground Guidelines
Always follow all campground rules and guidelines, which are in place for your safety, as well as that of others. Most campgrounds have standards for things like:
On-site parking and number of vehicles.
Unregistered visitors.
Pet type and behavior.
Excessive noise during quiet hours.
Keep your campsite and all public areas clean.
Staff members are happy to provide a list of applicable rules to follow, or you can call the campground before placing a reservation to confirm the necessary details.
6. Try New Things and Learn New Skills
As you research how to start camping and assemble your packing list and local guidebooks, it can be easy to over-plan or try to schedule each activity. Camping is best enjoyed when you leave some of it up to adventure and spontaneity. While it is essential to have the gear you need to stay safe and comfortable, lean into those moments that present themselves to you — like an unexpected hiking path, sharing a meal with new friends or learning a new skill or hobby while traveling.
7. Go Camping With the Kids
You've probably come across sad statistics like these about kids losing recess time at school and spending inordinate hours in front of a screen:
What if you haven't been camping? Like most busy parents who weren't raised in "camping homes," you might like to get your kids outdoors. Camping can be a great way to do it. You might daydream about climbing on rocks and splashing in streams, then singing songs by the campfire. There would be fireflies to chase, marshmallows to roast and owls to serenade you to sleep.
When you start your camping trip, you might quickly realize that you KOA is here. With Camping Cabins, Deluxe Cabins and unique accommodations like train cabooses, teepees, yurts, and wall tents you might not even have to buy a sleeping bag to get a taste for the great outdoors. This downloadable guide to "Camping for Beginners" will help you decide what to pack and how to pack it.
KOA Can Make Your Camping Trip a Success
KOA is here to help your first camping trip be as fun and rewarding as possible, with helpful staff ready to answer your questions and guide you through the process. You may also have access to some on-site amenities, like playgrounds, games and special events. Many features vary between KOA locations. Confirm campground details before placing your reservation.
Find a KOA Campground near you to start planning your camping trip today!
---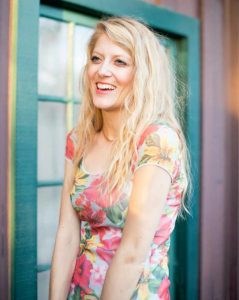 Leslie, a.k.a. Copy Girl, is a copywriter who gets butterflies from telling stories through words.
Her voice comes from a place filled with passion, dreams, and lots of sugar. "Cake over steak" is her go-to motto.
With over 10 years of experience in crafting words, and years of embarking on travels that have taken this Montana girl to some incredible places, Leslie love the adventures of both body and mind her writing takes her on.
Everywhere she goes, she takes this advice with her:
"Hold on to your divine blush, your innate rosy magic, or end up brown." – Tom Robbins, Jitterbug Perfume
To see what Leslie's up to in the writing world, visit her website here.
---