How to Road Trip on a Budget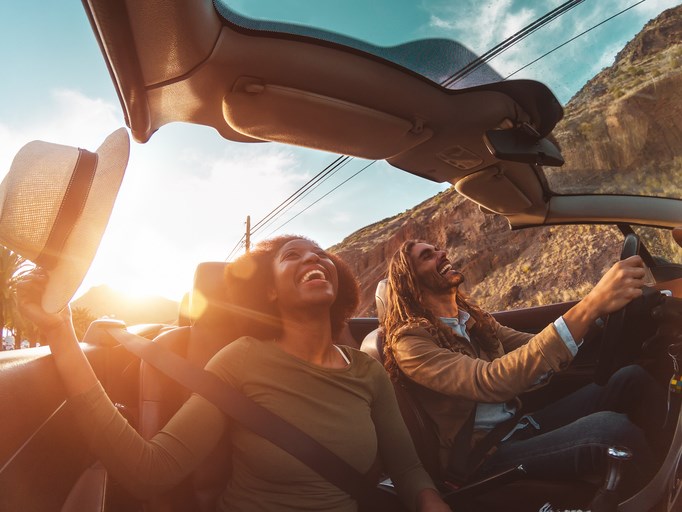 How to Go on an Affordable Road Trip: Your Guide to Traveling on a Budget
What could be more fun than a road trip vacation? An affordable RV road trip, or a road trip by car is usually far less expensive than air travel options, but even on a road trip, some of the expenses can add up. If you want to take a road trip you can afford, we have the tips for you. This short guide is full of ideas for saving money on your next road trip, while still having lots of fun. Get ready to explore and have the time of your life on your next road trip!
What Factors Determine the Cost of a Road Trip?
When you are looking to save money on a road trip, you will want to plan ahead and understand the potential costs. Knowing the top factors that can affect the overall budget of your trip can help you to prepare and know what to expect. Before you head out on the road, these are some of the things to keep in mind that will determine the cost of your trip:
The number of travelers: Take into account who is coming with you on this trip. A road trip by yourself will have far fewer additional costs than a large group vacation. For each person included on your trip, you will need to account for food costs as well as admission to any attractions and activities. Larger groups may also need larger or additional lodging options.
Location: Prices for just about everything can vary according to location. Think about where you will be road tripping and how prices generally trend in that region.
Length of the trip: Planning on just a few nearby stops, or a road trip across the whole country? Consider the amount of gas you will need, as well as the number of nights out on the road.
Lodging options: How will you plan to spend your nights while on your trip — hotels, RV sites, cabins, tent camping or something else? All of these options come with different price tags.
Road trip style: This is a matter of personal preference for how you like to travel. While some people plan on lots of restaurant dining, spendier amusement park fees and other activities and admissions, others will prefer to make many of their own meals and find free or low-cost activities along the way. Your style can determine a large portion of the overall budget.
How to Save Money on Your Next Road Trip
No matter your style or budget, you can find ways to save money on your road trip and still have a great time. Try these affordable road trip ideas on your next vacation:
Set a budget: Before you set off, you should plan out your spending budget for the trip. Plan out some of the basics like lodging, gas, food and entertainment, and know how much you want to spend on the trip in total. Be sure to leave plenty of room in the budget for extras like unplanned stops, souvenirs and any emergencies that may arise. Monitor your budget as you travel to help stay on track. This can help prevent unnecessary spending and running out of funds before you get back home.
Avoid holidays, if you can: If you are traveling to see family for a particular event or are set on some holiday travel, this tip may not apply. However, if your travel dates are flexible, you can save some money by traveling during lower-traffic times of the year and avoid some of the crowds. During the holidays, certain attractions and options may have increased pricing that you can avoid by traveling at another time.
Pack everything you need: If you can plan ahead and be ready for the activities you want to do on your road trip, you will be less likely to need to buy or rent expensive gear along the way. Make sure everyone in your group has clothing that is appropriate for the weather, season and your plans. You will also want to ensure you have the necessary gear for your trip and that everything is in good condition. If you do need to buy anything, you are more likely to score better deals from home well in advance of the trip than last-minute when your options are more limited.
Plan out your meals: Food can be a huge expense for your travel budget, but you can save if you plan ahead. If you plan on restaurant stops, be sure to work that into your budget and stick to it. You can save a lot of money by eating more of your meals at your campsite, or from your RV or vehicle. For on-the-road meals, bring a cooler full of sandwiches and other grab-and-go snacks and have picnics along the way. With a little planning and some groceries, you can make some amazing meals right at your campground as well. Stock up on affordable grocery staples before your trip if you can.
Get a national parks pass: If you plan on visiting several parks on your trip, or have more than one road trip in mind this year, consider a national parks annual pass. Those entrance fees can add up, and an annual pass is a great tip for affordable travel. Annual passes are often available for state parks, too.
Enjoy free activities: The most affordable road trips make use of free activities. Enjoy the views from scenic overlooks along the way and spend time in free local parks. You can still see much of the beauty of the U.S. and Canada without all the expensive admission fees.
Make the most of loyalty programs: Look into joining rewards programs for some of your favorite restaurants, stores, gas stations, hotels and campgrounds. This way, you will be in the know about special deals, and you may be able to snag special perks, rewards and road trip discounts. Consider also using a credit card with rewards, like cash back, air miles, gas rewards or something else you can use on your next vacation, to cover your trip expenses.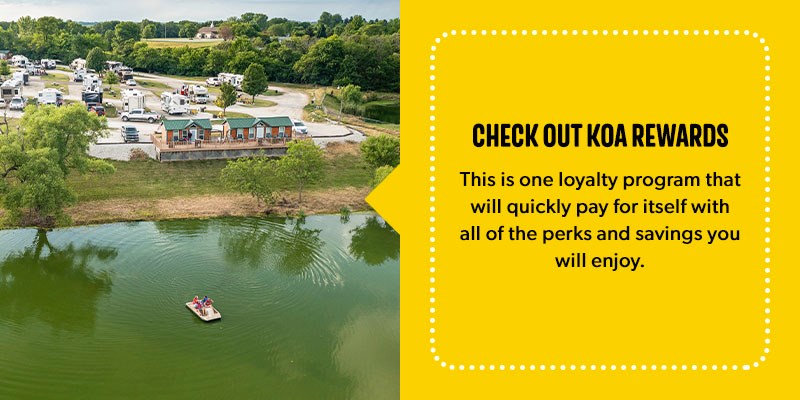 Check out KOA Rewards
If you want to know how to road trip affordably, camping at Kampgrounds of America and joining the KOA Rewards program is the way to go. With KOA Rewards, you will receive discounts on your daily registration rates, rewards points that you can save up for your next visit and other special perks, like a free night of camping during our KOA Rewards Weekend. This is one loyalty program that will quickly pay for itself with all of the perks and savings you will enjoy. Additionally, with over 500 locations across North America, there is a KOA near your destination, and along the way, too.
---
About the Author: Kampgrounds of America
Kampgrounds of America is the largest system of open-to-the-public campgrounds in the world, with over 500 locations across the United States and Canada. Founded in Billings, MT in 1962, KOA's family of campground brands – KOA Journey, KOA Holiday and KOA Resort – today serve more than a million camping families each year. KOA is dedicated to "connecting people to the outdoors and each other" by providing people with a variety of camping experiences and the information they need to make the most of their camping trip. Read more of their camping and travel resources by visiting KOA.com/blog.
---