The Best Weekend Getaways in Texas
Weekend trips are the perfect way to take a break, try something new and disconnect from your responsibilities for a while. According to experts, weekend getaways can be just as beneficial as longer vacations and leave you relaxed and energized to take on the workweek when you return home. By implementing several smaller vacations throughout the year, you regularly have something to look forward to, and rest is always around the corner.
Ideas for a Weekend Getaway in Texas
One way to structure your weekend getaway is to concentrate your activities around a specific activity or place, like visiting a new city you have always wanted to explore or going on a hiking retreat with your best friend. Texas is large and encompasses a range of things to do and places to see. Here are some of the best Texas weekend getaway spots to try on your next mini-vacation.
1. Outdoor Hiking and Exploration
Texas is full of outdoor adventures just waiting for you to explore them. Hiking, birding, stargazing, kayaking, horseback riding — you can do all this and more at one of the state's many state or national parks:

2. Shop Till You Drop
Texas is an enormous state, filled with thousands of stores and shops that offer everything from designer goods to handcrafted art. While the big cities are excellent destinations for endless shopping opportunities, do not forget about the state's many smaller cities and towns with one-of-a-kind items and family-owned businesses.
Grab a pair of comfortable walking shoes and some reusable bags and shop your way through the Lone Star State at places such as:
North Park Center Shopping Mall in Dallas
The Galleria in Houston
The Shops at La Cantera in San Antonio
Barton Creek Square in Austin
Bryan Square Shopping Center in Bryan
Grapevine Mills in Grapevine
Though the places listed above are some of the most popular shopping destinations in the state, there are numerous antique stores, mom-and-pop shops, specialty grocers and vintage boutiques in every region. While you are out, do not forget to stock up on handmade crafts and authentic Texas goods, like locally sourced foods, artisan decor and carved furniture pieces.
3. Go on a Fishing Excursion
No matter what season your weekend trip falls in, you will not have any trouble finding the perfect spot for a fishing getaway. Texas has two types of fishing — saltwater and freshwater.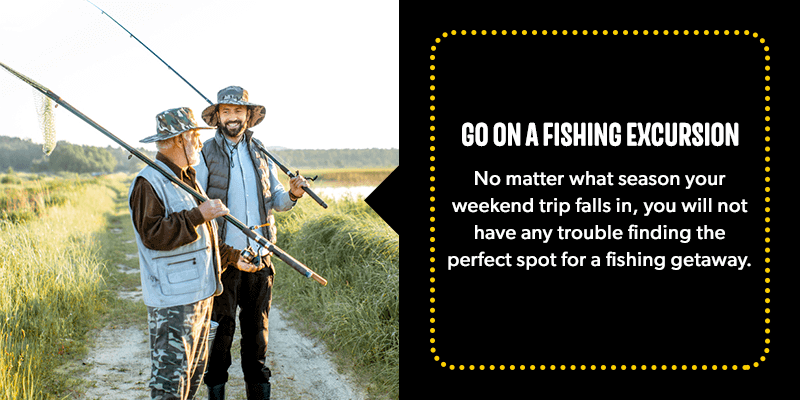 Popular catches here include:
Freshwater fishing: Locals and tourists flock to lakes and other freshwater sources to reel in bass, catfish, bullhead, crappie, sunfish, carp, minnow, gar, suckers, rainbow trout, walleye and bowfin.
Saltwater fishing: Many saltwater species live in the warm waters off the coast, but some of the most popular include redfish, flounder, king mackerel and black drum.
Wherever you go, make sure you have the appropriate fishing license for your destination and length of stay. Always follow all fishing regulations and laws regarding the fish you choose to keep.
4. Indulge in a Culinary Tour
No trip to Texas is complete without sampling some of the region's iconic cuisine, but why not turn your weekend into the ultimate foodie vacation? Indulge in Texas barbecue, chili, Tex-Mex cuisine, kolaches, queso and Southern fare. Popular Blue Bell ice cream also got its start in Benham, Texas, so pick up a pint — or a gallon — if you are in the area.
There are also hundreds of cannot-miss eateries across the state, including these favorites:
Gristmill River Restaurant and Bar: Gristmill River Restaurant and Bar in New Braunfels is a Texas-cuisine restaurant that serves fresh, made-from-scratch food in the ruins of an old cotton gin overlooking the Guadalupe River.
Blue Bonnet Cafe: Enjoy an award-winning breakfast at Blue Bonnet Cafe in Marble Falls, a well-loved restaurant that serves made-from-scratch pies and soups.
Cattleman's Steakhouse: Feast like a cowboy at Cattleman's Steakhouse at Indian Cliffs Ranch, where you will find giant steaks, barbecue and seafood in an atmosphere that simulates a working ranch.
The Salt Lick BBQ: The Salt Lick BBQ restaurant in Driftwood is so popular that they bottle and sell their own sauce for you to recreate the experience at home. Enjoy authentic Texas barbecue with Texas-sized desserts.
H&H Car Wash and Coffee House: H&H Car Wash and Coffee House is a quirky space in El Paso where you can get Tex-Mex cuisine, breakfast food, lunchtime staples — and a car wash.
5. Attend Festivals and Events
Texas is home to all types of festivals and events that attract attendees from all over the world. Plan your weekend trip around one or more of them and return home full of stories to tell and memories to cherish:
Music festivals: No matter your genre preferences, there is a music festival in Texas to celebrate it, including SXSW, the Austin City Limits Music Festival and the Kerrville Folk Festival.
Rodeos: You will find rodeos all over the state, but some of the most famous are the Houston Livestock Show and Rodeo, the Antonio Stock Show and Rodeo and the WRCA World Championship Rodeo in Amarillo.
Holiday celebrations: Celebrate the holidays at any of the state's Mardis Gras, New Year's Eve, Valentine's Day, Christmas and Independence Day celebrations.
Carnivals and fairs: Two of the most famous fairs are the Texas State Fair in Dallas and the Texas Renaissance Festival in Todd Mission.
Food festivals: Celebrate your love of food at somewhere like the Poteet Strawberry Festival, the Chilifest Music Festival in Snook, Wurstfest in New Braunfels or the Texas Crab Festival at Crystal Beach.
Be sure to check for recent updates to event and festival schedules prior to your trip.
6. Tour Historic Attractions
Battlegrounds, historic homes, picturesque lighthouses — there is always somewhere new to explore and stories to hear in Texas. For one of the best weekend trips in Texas, pay a visit to:
The Alamo: Head to San Antonio to tour the site of the Alamo, where Texas' war for independence was fought in 1836.
San Jacinto Battleground State Historic Site: Continue the story of Texas' independence at the San Jacinto Battleground State Historic Site in La Porte, where you can tour the museum and see the San Jacinto monument.
The Stockyards National Historic District: The Fort Worth Stockyards is a historic district where you can visit saloons, watch the Fort Worth Cattle Herd meander through the streets, watch a rodeo, find cowboy apparel and indulge in rancher-friendly Texas fare.
The San Antonio Mission: Learn more about early Texans, including the way they lived, their cultural practices and religious beliefs at the San Antonio Mission, a park that preserves the history of the region.
The Texas Capitol: The Texas State Capitol building in Austin is a landmark and one of the country's most famous state capitals. Tour the interior of the building and see the exhibits, art collections and architecture for yourself.
The Port Isabel Lighthouse: The Port Isabel Lighthouse is a postcard-perfect fixture and historic site. Today, you can tour the museum, relax with a picnic and see the view that guided sea captains for years.
7. Take in the Arts and Culture

When you spend your weekend taking in artwork and cultural events, you leave feeling educated and refreshed — maybe even inspired to work on your own creative projects. Fortunately, Texas has dozens of the country's top museums, theaters and cultural centers, including:
The Modern Art Museum of Fort Worth
The Paramount Theatre in Austin
The Russian Cultural Center in Houston
The Museum of Fine Arts in Houston
The Majestic Theater in San Antonio
The Mexican American Cultural Center in Austin
The Latino Cultural Center in Dallas
The Grand 1894 Opera House in Galveston
The Bath House Cultural Center in Dallas
The Art Car Museum of Houston
8. Relax on a Beach Trip
Are you craving a relaxing beach getaway with your girlfriends? How about a non-stop, action-packed coastal nightlife destination with your significant other? Texas has beaches for every kind of traveler, including these favorite Texas weekend getaway spots: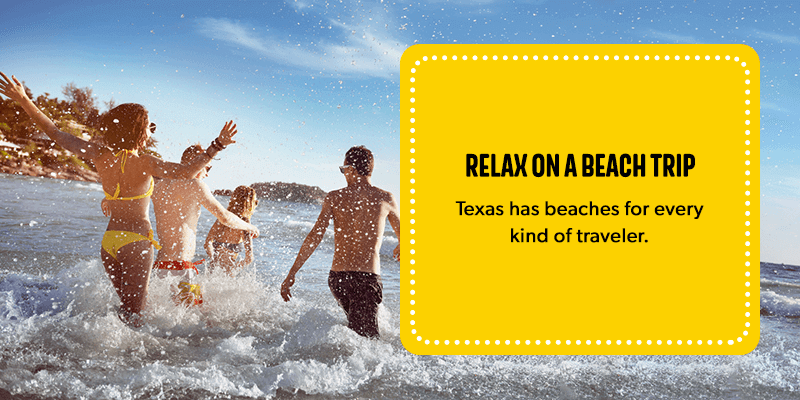 Galveston Island
Surfside Beach
Boca Chica
San Jose Island
North Beach at Corpus Christi
Mustang Island
Rockport Beach
Padre Island
Matagorda Beach
In addition to the dozens of saltwater beaches along the Gulf Coast, you can also find many smaller freshwater beaches at the lakes and rivers throughout the state.
9. Tour and Sample at a Winery
Though there are hundreds of vineyards and wineries all over the state, Texas Wine Country is especially concentrated around Fredericksburg and surrounding cities. There are numerous wine trails you can participate in, offering an inside look at how a vineyard operates, how they produce unique wine blends and most offer samples and full dine-in menus to round out the experience. A wine-themed vacation is one of the most fun weekend getaways in Texas for bachelorette parties, birthday celebrations and romantic escapes.
Best Weekend Getaway Destinations in Texas
Whether you seek an affordable weekend getaway in Texas or want an all-out extravaganza, there is a place for you in one of the following cities or towns.
1. Dallas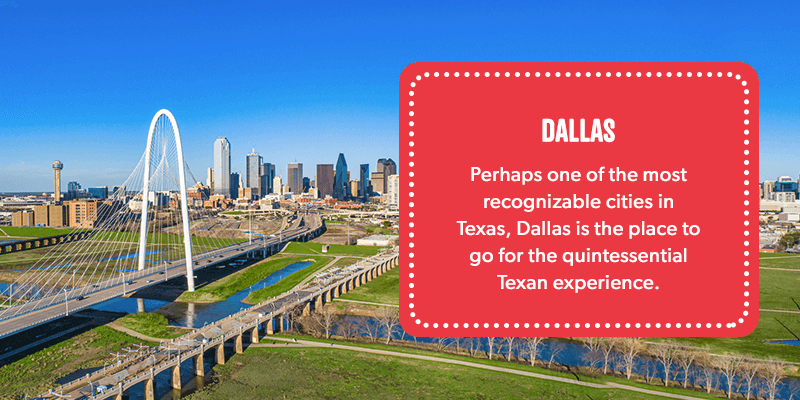 Perhaps one of the most recognizable cities in Texas, Dallas is the place to go for the quintessential Texan experience. Begin your weekend with a trip to the top of Reunion Tower, where you can see the city's expanse from the observation deck. Listen to the Dallas Symphony Orchestra at Meyerson Symphony Center or visit one of the city's numerous art museums for a culturally-inspired outing. Connect with nature at the Dallas Arboretum and Botanical Garden or the Dallas World Aquarium, or take a stroll through Arbor Hills Nature Preserve. Attend an event or shop at the weekends-only outdoor Traders Village flea market in nearby Grand Prairie.
2. Tyler
If you are looking for a stress-free getaway with your significant other, Tyler is one of the most romantic weekend getaways in Texas. It is known as the Rose Capital of America because it houses the Tyler Municipal Rose Garden — the country's largest — spanning 14 acres and containing more than 38,000 rose bushes. Scattered among the roses are fountains, reflection pools and intimate walking paths, guaranteeing a romantic experience and jaw-dropping backdrop no matter the time of year. While you are there, check out the museum and gift shop before heading out to a winery or distillery for a tasting.
3. Austin
As the capital city of Texas, Austin is a destination always worth exploring. Here, you can:
Take a swim in the natural outdoor Barton Springs Pool
Hike and swim at McKinney Falls State Park and the Barton Creek Greenbelt
Visit the Lady Bird Johnson Wildflower Center
Snap a photo of the Cathedral of Junk
Attend the city's annual all-ages Eeyore Birthday party, an outdoor festival at Pease Park
Dine and play at Austin's Park N Pizza amusement center
Tour the O. Henry Museum
Eat at the world-famous Franklin Barbecue restaurant
Learn more about the state at Bullock Texas State History Museum
Hang out and listen to live music at South Congress Avenue
4. Fort Worth
You probably already know about the Fort Worth Stockyards, but this Texas city is also where you can take in a game at the AT&T Stadium, see wildlife at the Fort Worth Zoo, tour the Fort Worth Botanic Gardens and relax the afternoon away at Twin Points Park lake beach. Wake up the next morning for a tour of the Fort Worth Water Gardens — do not forget to take plenty of pictures! Finally, end your weekend trip with a visit to the city's Log Cabin Village, a living history installation.
5. San Antonio
In a place like San Antonio, you might find yourself planning another weekend trip as soon as you embark on your first one so you can experience everything the city has to offer. Grab your closest friends and spend your mini-vacation doing the following:
Order a 3-pound cinnamon roll from Lulu's Bakery and Cafe on North Main Avenue
Shop at stores and outdoor markets in Historic Market Square
Explore the cave systems of Natural Bridge Caverns
Take a trip to the top of the Tower of the Americas and celebrate the journey with a meal at the revolving on-site restaurant
Visit the Buckhorn Saloon and Museum, a western-themed destination and cafe
See the artwork at La Villita Historic Arts Village
Visit the site of the Alamo
Walk the famous San Antonio Riverwalk
6. Fredericksburg
Fredericksburg is a Texas town with a strong German heritage and some of the state's finest wineries. Tour the area's beautiful historic churches and galleries, or learn more about the region's history at Pioneer Museum or Vereins Kirche Museum. You can also visit a restored U.S. Army outpost at Fort Martin Scott before heading to Wildseed Farms for a beautiful sunlit tour of the country's largest working wildflower farm.
7. Houston
The city of Houston is an ideal weekend getaway. Shop and dine in the Historic District and Market Square Park and make time to visit the Beer Can House on Malone Street for a fun photo. Then, learn more about the U.S. space program at the Space Center Houston before continuing your educational journey at some of the city's fine arts museums, natural science museums or the Downtown Aquarium. Finally, end your weekend with a stop at Kemah Boardwalk, where you can dine, shop and enjoy rides and shows.
8. Galveston
Though Galveston has some of the best beaches in the state, it is more than a beach destination. This charming spot also offers things like: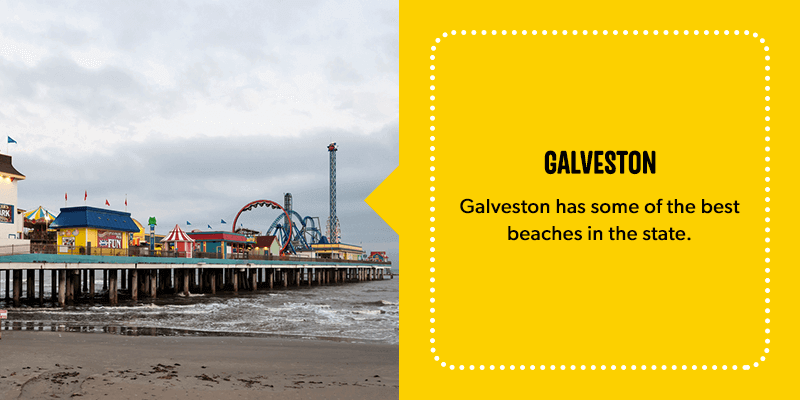 The Galveston Island Historic Pleasure Pier, a pier lined with roller coasters, rides, games and shops
The Moody Mansion and Moody Gardens, an awe-inspiring historic site
The lush and diverse Galveston Island State Park
1892 Bishop's Palace, a highly decorative Victorian-style mansion in the historic district
Seawolf Park, a great place for a casual stroll and tour of the USS Seawolf submarine used during World War II
9. Amarillo
Amarillo is one of the most popular spots in Texas because it offers something for everyone. See the unique art installation at Cadillac Ranch, visit amusement parks and museums, tour the colorful Amarillo Botanical Gardens or hike the breathtaking canyons at Palo Duro Canyon State Park. Amarillo is also where you will find the Texas Air and Space Museum, as well as Big Texan Steak Ranch and Brewery, home of the world-famous 72-ounce steak-eating challenge.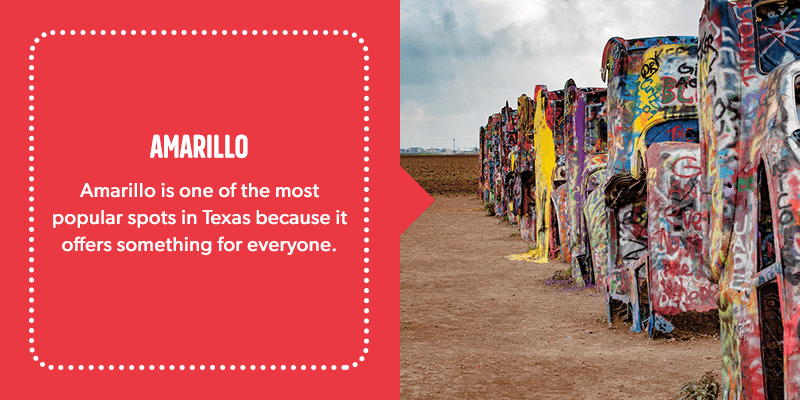 10. Paris
Since Paris, France, is not a feasible place for a weekend trip, why not head to Paris, Texas, instead? This Texas city — known as the second-largest Paris in the world — wears its title with pride. While you are there, visit the historic Sam Bell Maxey House, relax at Lake Crook and even snap a picture of the Lone Star State's version of the Eiffel Tower, complete with a cowboy hat on top!
12. El Paso
There is no shortage of fun things to do in El Paso. In addition to amusement parks, museums, casinos and the El Paso Zoo, you can:
Take a tram ride over mountain and rock formations
Hike, bike and rock climb at Franklin Mountains State Park
See a show at the performance theater located in Chamizal National Park
Tour the 1875 adobe Magoffin Home State Historic Site to get a glimpse into early American life
13. Marfa
The next entry on your Texas bucket list is Marfa, a tiny desert city near the state's southwest Mexican border. While Marfa might seem like an ordinary small town from the outside, it is one cannot-miss destination to see on your weekend adventure. The place is open, spacious and bursting at its seams with culture, fine art and fascinating architectural design. While you are there, you cannot leave without stopping in front of the famous Prada store, which sits alone in the middle of a desert expanse. Then, see the exhibits and displays at The Chinati Foundation, a contemporary art museum.
14. Lubbock
Fans of Buddy Holly will love Lubbock's Buddy Holly Center, which features a statue, exhibitions and displays about both the performer and local artists. You can also learn more about Texas' ranching history at the National Ranching Heritage Center, or take a drive to the American Windmill Museum. Prairie Dog Town, located inside Mackenzie Park, is a space that protects prairie dog colonies and allows visitors to watch as they dig burrows in the dirt.
15. Waco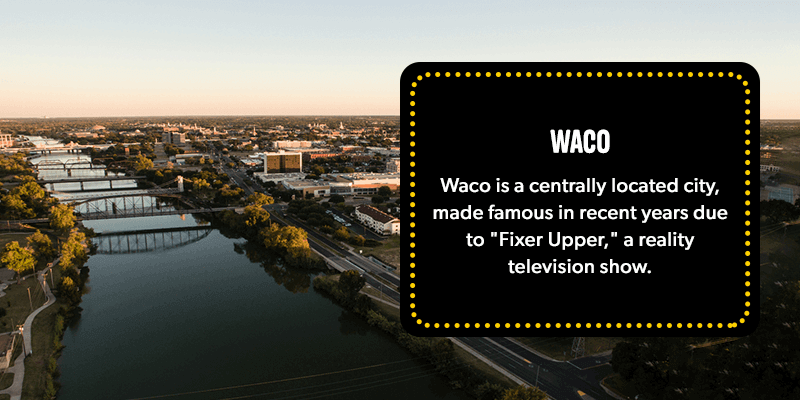 Waco is a centrally located city, made famous in recent years due to "Fixer Upper," a reality television show about home improvement and renovation formerly airing on HGTV. Since the show's debut, tourists visit Waco to shop at the Magnolia Market at the Silos and often participating in self-guided tours of the area homes featured. But Waco is more than its television legacy — you can also visit the Mammoth National Monument or the Texas Ranger Hall of Fame and Museum before spending the rest of the day relaxing at Lake Waco or exploring Cottonland Castle.
Kampgrounds of America Campgrounds in Texas
No matter what part of the state you are escaping to, there is a Texas KOA campground near you. Check out any of these family-friendly facilities:
Best Ways to Camp in Texas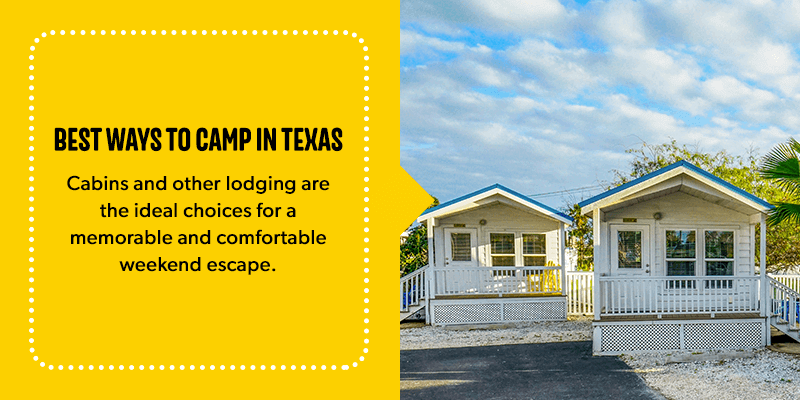 While tent and RV camping are excellent choices for many visitors, cabins and other lodging are the ideal choices for a memorable and comfortable weekend escape because they require minimal packing or pre-planning. At KOA, you can opt for a Camping Cabin or Deluxe Cabin, each with electricity, beds and some furnishings. Select cabins also have private bathrooms and kitchenettes, perfect for a girl's getaway or last-minute anniversary celebration. Some KOA locations also allow you to stay somewhere a little different, like a renovated caboose, yurt or tepee.
No matter where you go or how you stay, every KOA Campground is clean, spacious and safe for the whole family, with various on-site amenities and helpful staff nearby to answer questions or make suggestions for your weekend itinerary.
Plan Your Texas Getaway at KOA
With so many unique places to explore, you are only one reservation away from these fun weekend trips in Texas! Learn more about the KOA experience and reserve your stay today.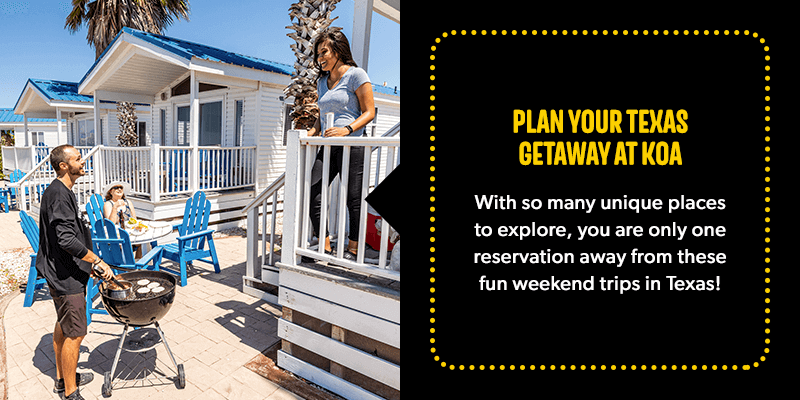 ---