When you think of vacationing in the Lone Star State, you might imagine the bold flavors of Texas barbecue, touring the historic Alamo or exploring bustling urban centers, like Houston or Dallas. But did you know that Texas has beaches too? Some of the best beaches in Texas include Galveston Island, Surfside Beach, Boca Chica and so much more. Check them out below!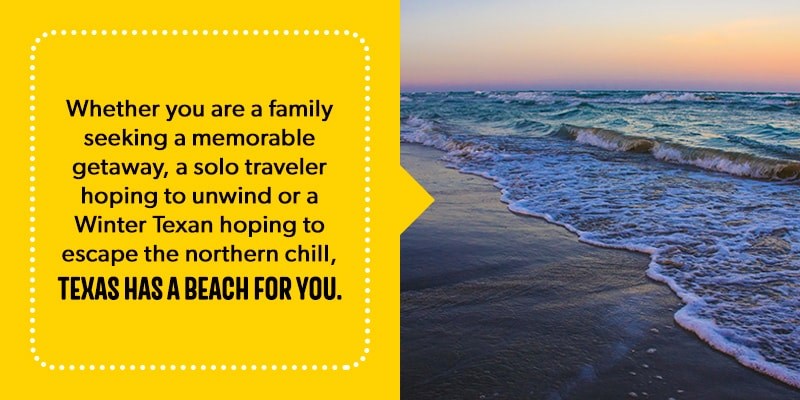 Whether you are a family seeking a memorable getaway, a solo traveler hoping to unwind or a Winter Texan hoping to escape the northern chill, Texas has a beach for you. For a truly unforgettable adventure, grab a map of Texas beaches and try to hit as many as you can!
10 Best Beaches in Texas
The best time to visit Texas beaches depends on what you are looking for when you get there. Of course, if your only goal is to see beautiful wildlife and experience the wonders of the Texas coastline, then every season offers something new and exciting. However, if you are visiting for a specific reason, you might want to be more mindful when planning your trip:
Fun in the sun: Is there anything better than a day at the beach? If you want a traditional beach experience — including swimming, surfing, sunbathing, Jet Skiing, sailing and other warm-weather activities — then summer is the best time to visit.
Sportfishing: If you are heading to Texas to do some sportfishing, always base your travel time and beach destination around the type of fish you are hoping to catch.
Peace and quiet: Texas and its beaches can get very busy during the peak travel season of the summer months. If you are looking for a quiet birdwatching or sightseeing excursion, you may want to plan your trip for a weekend in the fall or early winter.
Map of Texas Beaches
With those tips in mind, these are the 10 best beaches in Texas. Pick a spot on the map and hit the road!

Click the image to enlarge and save or print.
1. Galveston Island
Galveston Island is located about an hour south of Houston, off the southern coast of Texas. Although there is certainly plenty of summer fun to be had here, the island is one of the best Texas beaches in winter and is often a go-to destination for visiting Winter Texans.
The island town is full of year-round events, including festivals and cultural activities, but the best part of Galveston is the natural access to some of the state's best beach land:
After you have had your fill of the sun and surf, visit Galveston Island State Park before leaving the island. Here you can learn more about Galveston Island, go bird watching, kayaking, geocaching and participate in fishing clinics.
2. Surfside Beach
Just a short trip from Galveston is Surfside Beach, considered to be a hidden gem of Texas beaches. During the summer, Surfside Beach is one of the best beaches in Texas to swim, as well as kayak and soak up the sun. There is also a splash pad and a playground for the kids at nearby Jetty Park. If it is too cold to swim, gather your friends, bring the marshmallows and build a campfire on the beach. You can also go horseback riding from November 1st through March 31st.
Interested in crabbing? Across the road from Stalhman Park at 2211 Bluewater Highway is the crabbing pier, popular among both amateur and experienced crabbers.
3. Boca Chica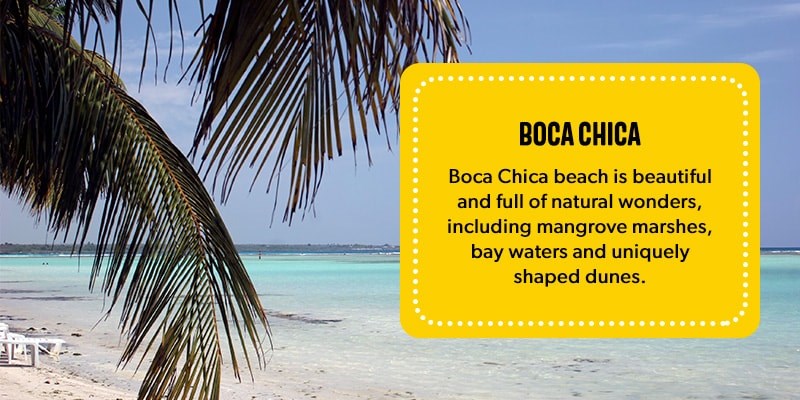 At the southernmost tip of Texas is Boca Chica, part of the Lower Rio Grande Valley National Wildlife Refuge.
The Lower Rio Grande Valley National Wildlife Refuge is home to hundreds of different plant species, butterflies, birds and other animals. One of the most important parts of the refuge is the Boca Chica tract, which is known as the Lower Rio Grande Valley "Wildlife Corridor" because its 10,680 acres connect Gulf Coast habitats to the Rio Grande and provides safe passage for wildlife.
Boca Chica beach is beautiful and full of natural wonders, including mangrove marshes, bay waters and uniquely shaped dunes. It is a great place to go fishing, swimming, surfing and birdwatching. Because it is such an important wildlife refuge, however, please do not feed the animals or collect anything from the shores. You should also take care not to leave any trash or otherwise disturb the area around you.
Aside from outdoor recreation, you can also tour the nearby Palmito Hill Battlefield, which is the site of the last land battle fought during the Civil War.
4. Padre Island National Seashore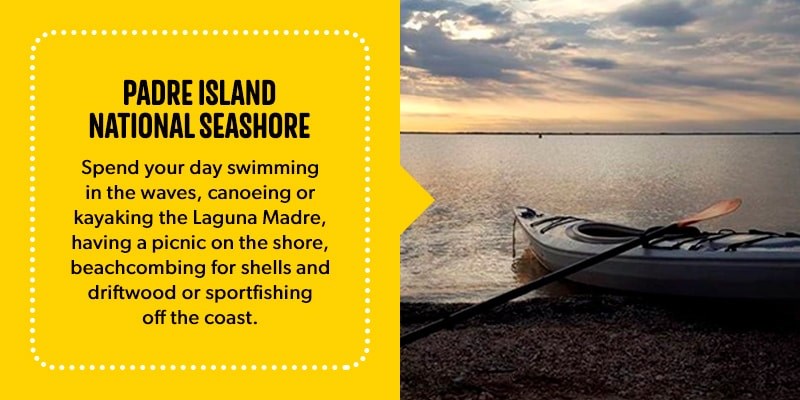 They say an ocean breeze puts the mind at ease, and that is certainly true at this Texas favorite. Every year, thousands of nature lovers and outdoor enthusiasts flock to Padre Island National Seashore for a look into the untouched beauty of the Texas coastline. Padre Island National Seashore is the longest stretch of undeveloped barrier island on the planet, and as a result, it offers unparalleled views and experiences. The protected seashore is 70 miles long and shelters dunes, prairies and an abundance of different animal species.
Spend your day swimming in the waves, canoeing or kayaking the Laguna Madre, having a picnic on the shore, beachcombing for shells and driftwood or sportfishing off the coast. Whatever you choose to do, you are guaranteed to spot some incredible sights along the way.
5. South Padre Island
Just off Padre Island National Seashore is South Padre Island, which tops many of the best Texas beaches maps. The island is a popular vacation destination in Texas because it has something for every type of traveler and beachgoer:
Adrenaline-fueled fun for thrillseekers: Are you feeling daring? Participate in on-the-water adrenaline activities, like Jet Skiing, wakeboarding, paddleboarding and snorkeling. On the shore, try cycling, parasailing or windsurfing. You can even find fun on rainy days at Schlitterbahn Waterpark.
Dolphin tours and bird watching: If you have always wanted to see a dolphin or catch rare birds in their natural habitat, South Padre Island is brimming with sightseeing opportunities.
Arts and culture events: Whether you are looking for spring break entertainment or family-friendly fun, there is always something happening on South Padre Island, including concerts, festivals and educational demonstrations.
Educational opportunities: If you are looking to learn a new skill on your vacation, enroll your family in sandcastle building lessons so you can create jaw-dropping works of art in the sand, even after your vacation has ended. You can also visit any of the island's museums or education centers or visit the nearby SpaceX South Texas Launch Site.
6. San Jose Island
San Jose Island is privately owned, so you can only visit the public land portion, which is the beach area below the vegetation line. Many locals refer to this popular Texas beach as "St. Jo." To get to St. Jo, you have to board a ferry called the Jetty Boat, which you can find at the Fisherman's Wharf in Port Aransas. Please note, San Jose Island has no shops, restaurants or restrooms, and vehicles are prohibited — it is a truly undeveloped stretch of natural beach. If traveling with family, please plan accordingly.
If your favorite part of a beach vacation is collecting as many unique seashells as possible, this is the destination for you — just do not forget a bucket!
On San Jose Island, you can find several treasures, including:
Lightning whelks
Shark eyes
Sand dollars
Starfish
Angel wings
If fishing is more your style, the waters off San Jose Island are home to more than 600 different types of fish, including tarpon, redfish, black drum, trout and more.
7. North Beach at Corpus Christi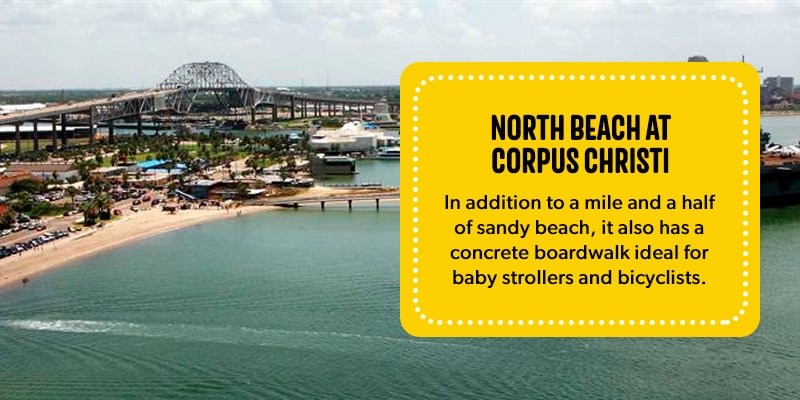 One of the best beaches in Texas for families is North Beach at Corpus Christi because, in addition to a mile and a half of sandy beach, it also has a concrete boardwalk ideal for baby strollers and bicyclists. It is also close to some of Corpus Christi's top family-friendly attractions, including:
8. Mustang Island
Just a short drive north of Padre Island and across the bay from North Beach and Corpus Christi are Mustang Island and Mustang Island State Park. The beach is popular for swimmers and sunbathers, but also stargazers seeking unparalleled views of the night sky over the sea.
Two of the most popular things to do on Mustang Island are birding and paddling:
Mustang Island birding: Mustang Island is a haven for bird watchers because it is home to hundreds of different bird species, including ducks, herons, sparrows, warblers, hawks, thrashers, flycatchers, hummingbirds, owls, gulls, sandpipers, falcons, egrets, geese and more.
The Mustang Island Paddling Trail: Those kayaking for shallow-water fishing or unique sightseeing should not miss the opportunity to explore the Mustang Island Paddling Trail. The Mustang Island Paddling Trail consists of three paddling routes: the eight-and-a-half mile North Trail, five-and-a-quarter mile Shamrock Loop Trail and Ashum Trail, which is just under seven miles long. Each trail takes you through coastal water, inlets and marshland.
9. Rockport Beach
Rockport Beach was recently named the second-best coastal small town in the United States by USA Today's Reader's Choice. Locals and tourists alike love Rockport for being the state's first Blue Wave certified beach. A Blue Wave beach is one that holds a particularly high standard for cleanliness, responsible management and preservation of human and environmental health. The waters of Rockport Beach are tested twice daily for bacteria, making it one of the safest stretches of coastal water in Texas. In addition to pristine waters and litter-free sand, Rockport Beach also has:
65 individual picnic sites equipped with BBQ pits
Cabanas and umbrellas
Clean restrooms and showers
A saltwater pool
A fish cleaning station
A boat ramp
Several playgrounds and swingset sites
Volleyball nets
A bird viewing platform
An 800-foot fishing pier at the North end of the beach
Multiple walking and biking trails
A pedestrian-friendly downtown with shops and restaurants
A thriving local arts scene
Throughout the year, Rockport Beach also hosts several festivals and concerts, including a Fourth of July festival, the Rockport-Fulton Annual Seafair and multiple fishing tournaments. With so much to do, Rockport Beach is the ultimate family beach destination.
10. Matagorda Beach
Matagorda Beach is located on Matagorda Bay just a couple of hours southwest of Houston. At 422 square miles and just over six-and-a-half feet deep, Matagorda Bay is the third-largest estuarine system in Texas. The area where the mouth of the Colorado River flows into the bay is swampy wetland and full of tidal marshes, making it a haven for spotting unique wildlife like horned lizards, white-tailed hawks, wild hogs and alligators. It is also an angler's dream and is considered some of the best fishing along the Texas coast, thanks to nutrient-rich waters. In the bay, you can catch striped bass, catfish, black drum, southern flounder, skipjack herring, ladyfish, pigfish, smooth puffer, seatrout, gray snapper and much more. The nearby Mad Island Wildlife Management Area is also a popular birdwatching spot.
The Matagorda sandbars near the mouth of the river offer some of the best surfing and paddling along the Gulf Coast. Visitors can also boat to Matagorda Island, where you will find miles of sandy shores and dunes. In addition to fishing, picnicking and horseback riding, beachgoers spend hours combing the coastline for shells, driftwood and old bottles. If you are lucky, you might even spot an ancient Spanish coin.
Tips for a Successful Texas Beach Outing
Texas is home to a lot of things — good food, beautiful sights and sparkling coastal waters. However, with those things also comes potentially hazardous heat, hurricane seasons and the importance of preserving the land around you. Before you visit a Texas beach, you need to know how to protect yourself and others:
Understand Texas weather: "Texas heat," is more than a phrase — it is an important fact to consider when planning your beach trip. In the summer, Texas is often hot and humid. To stay safe and have the most enjoyable experience, apply a waterproof, high SPF sunscreen at regular intervals and bring plenty of water for you and your family to drink throughout the day. Should the heat start to make anyone feel sick, retreat to a shaded or air-conditioned area until symptoms wear off.
Beware of hurricanes: Coastal beaches are at risk for hurricanes and storm surges. In Texas, hurricane season begins in June and lasts through November, with peak activity often occurring in August and September. Always check the weather forecast before planning your trip and the morning before heading to the beach. Enable weather alerts on your phone, as conditions can change rapidly. If a hurricane threat exists or a severe weather threat is present, always listen to official instructions.
Do not disturb sand dunes: Many beaches have sand dunes, which are pretty to look at, but also easily damaged. Dunes are an essential part of the ecosystem and act as a natural barrier between the water and nearby grass or wildlife. Avoid walking on or through sand dunes — once damaged, it takes a long time for them to reform, leaving the area vulnerable. Most beaches do not permit guests to access the dunes and have the areas marked, but you should avoid them even when there is no visible signage.
Obey posted signs: Always obey posted rules and danger signs at the beach. Warning signs are there for a reason — to either protect you, others or the environment, or to keep beach-goers away from private property.
Clean up after yourself: Nobody wants to see trash at the beach. It looks and smells bad and can be harmful to wildlife. Protect the coast and keep the beach enjoyable for all by bringing along your own trash receptacle or using publically provided bins to dispose of all waste.
Research parking: Many Texas beaches are popular attractions for tourists and locals, so parking tends to fill up quickly. Always research your chosen beach ahead of time to see where the parking locations are, and if there are any parking fees you need to pay once you get there. If you pay for parking, remember to keep track of how long you are at the beach, so your permit does not expire.
Check water conditions: Consult the local weather or ask a lifeguard about water conditions before swimming at the beach. Avoid swimming when rip currents are strong or storms are near because it can create a dangerous situation. Whenever possible, choose a beach with a lifeguard on staff in case anything goes wrong.
Read the rules: Be aware that the Texas beach you plan to visit might have restrictions against pets, glass bottles, floaties, outside umbrellas, shade tents or music. Every beach has its own rules, so be sure to read any posted signs or regulations listed on the beach's website.
Make Kampgrounds of America the Homebase for Your Texas Beach Trip
The fun does not have to end when the sun goes down. After a day filled with beach adventures, you and your family can continue making memories at KOA. Each KOA campsite includes a fire feature, access to restrooms with hot water and a variety of other convenient amenities. The friendly staff members at KOA are also available to answer any questions you have and help you make the most out of your Texas vacation.
Choose from comfortable Camping Cabins, spacious Tent Sites or RV Sites — and with more than 25 KOA locations across the Lone Star State, you will have no issue finding a campground near your Texas beach destination.
---