The time is now to plan a weekend in the great outdoors with your girls and get camping! Read these reasons why we think you need to book a girls' cabin weekend.
You know those weeks where you just feel like you can't possibly handle any more of life's responsibilities? The ones where you need to do some serious venting, and rely on your girlfriends to boost you back up?
Yeah, we've all been there.
And what better way to turn that frown upside-down then to book a girl's weekend getaway?
To make sure that your precious time with the girls is the most fun possible, you're going to want to book that getaway somewhere you can unplug from the stress and drama of life, and reconnect with your girls and nature.
We've got the perfect place for you to do all of the above, and return to society feeling refreshed and ready to take on anything that comes your way: a KOA cabin.
Why a cabin, you ask? We're here to share with you why a weekend stay at a cabin is going to be a lifesaver for you and your girlfriends.
Why a Cabin Weekend is the Perfect Girls Getaway Idea

1. You Can Truly Unplug
How can you expect to get away from the stress of your life if you're still carrying your phone around with you everywhere?
You can say you'll ignore all the incoming emails, phone calls, and text messages, but can you really do it when out of the corner of your eye, you're watching your phone light up with notifications?
The only way to ensure that you unplug from life back home and really relax is to go out into nature.
Preferably you'll opt for a place that does not have cell service, so the temptation to check in on things back in the "real world" does not exist.
All you'll need your phone for during your girl's cabin weekend is to take pictures, and document the fun you have.
Everything else can wait until you get back home.
2. You Can Reconnect With Nature
A girl's weekend in a cabin is a great way to reconnect with nature.
Why is reconnecting with nature so important?
Many studies have been done on the positive effects that time in nature has on people suffering from stress, depression, illness, and much more.
Nature has the power to boost your mental and physical energy, and provides you with a way to step out of your life, and think about things from a different perspective, or, not think at all.
Dr. Berman, assistant professor of psychology at the University of Chicago, said that in nature, you have the choice of whether you want to think, and this choice gives your brain a chance to rest.
It is much harder to rest your brain when you still have to pay attention to stop lights and traffic, among other things. In nature, you don't have to pay attention to anything, really — you can simply sit and relax.
And this is crucial to you getting that break from life that you need.
Plus, the quiet of nature, the fresh air, and the slow pace of things will put you in a state of zen you didn't know existed.
Not to mention the fact that studies show that time in nature means lower blood pressure and longer lifespans.
The benefits are almost never ending.

3. You Can Reconnect With Your Friends
As women get older, it becomes harder and harder to connect with each other. Jobs, families, vacations, and just general daily life really gets in the way of the girl time that used to be so easy to come by.
Most women are at a point where spending time with the girls is seriously difficult, and something that doesn't happen very often, but is definitely worth putting forth the effort.
Thus, booking a weekend getaway at a cabin with your girls will provide you the perfect opportunity to reconnect, and rekindle that sisterly love for one another.
Because few things are greater than the love of good friends.
How you choose to spend your time in the cabin is totally up to you. It could mean drinking wine all night, dancing until you can't feel your legs, braiding each other's hair to look like Elsa, consuming enough chocolate to set a record, and so much more.
You have the freedom to connect with your girls however feels best.
4. You Can Get In Some Exercise
Yes, this weekend cabin getaway is all about relaxing, but a great way to relax your mind, and to boost your mood is to get outside and do some exercise.
When you're with your girls in the woods, there are some really fun ways that you can get in some physical activity.
Here are a few suggestions (some depend on location and time of year):
Hiking
Biking
Swimming
Running
Yoga
Fishing
Water skiing
Cross country skiing
There are a seemingly infinite amount of ways you can get in some physical activity with your girls. You may want to take a poll ahead of time to decide what activities you want to do, so you all know what gear to bring with you.

5. You Can Vent Your Frustrations
No, time with your girls should not be focused on complaining about the problems in your lives, but it is inevitable that at some point, discussions about life are going to get real, and you know you'll have your girls there to back you up.
Letting loose of some of the weight you're bearing in terms of stress with your life (whether it be job, kids, family, significant other, etc.), can be an amazing feeling. And, knowing that you can trust your girls with your secrets is even better.
Plus, when you're venting in a cabin in the woods, no one is going to overhear you, so feel free to really let those feelings flow out.
6. You Can Be As Goofy As You'd Like
Many women work jobs where they have to be on their A-game all the time, and ready for whatever their boss or client decides to throw at them. And then, some of them go home to a messy house, with hungry kids and a dog that needs to be walked.
In other words, letting loose is something that doesn't always happen on the daily for women.
However, with a girl's cabin weekend, you can let loose all of the confinements of life back home, and be as silly and carefree as you'd like.
Walking around in your pajamas, with a bottle of wine in hand, blaring Justin Bieber and singing at the top of your lungs is 100% acceptable during your girl's cabin getaway.
That in itself is reason enough to take this trip.

7. You Can Enjoy the Rustic Outdoors, But Comfortably
You may not be willing to pack up all the gear you'd need to enjoy the outdoors in a tent, but when staying at one of KOA's Camping Cabins, packing is a breeze.
You'll need some basics for your cabin trip including:
Bedding. Though the cabins do come furnished with beds, you will need to bring your own linens. Or, you can simply bring a sleeping bag to roll out atop the mattresses.
Cooler. Some cabins have mini fridges, but not all. Be sure to check with your specific site to see. Either way, you'll want to bring a cooler to fit your perishable foods, as well as any drinks you want to keep cold.
Cooking equipment. Some camping cabins come with barbeques, or you can bring along your own camping grill, if not.
Towels. Clean showers will be just steps away from your cabin, but be sure to bring your own towels.
Personal items. This includes clothes, toiletries, and whatever else you think you'll need.
Gear. Bring along with you any gear you'll need for your outdoor adventures, as well as some headlamps and lanterns.
KOA offers two different cabin options: the Camping Cabin, and the Deluxe Cabin – in case you want a few more amenities.
All KOA cabins offer:
Electricity
Room for 4-6 people
Bed and bunks
Patio or porch
Fire pit
Pet-friendly accommodations – please call to inquire
Deluxe Cabins offer all that Camping Cabins do, plus:
Private bathroom
TV
Kitchenette
So, you can decide whether having those above things is important to you girls, or whether a standard Camping Cabin is all you need.
When camping in a KOA cabin, you'll be right there in nature to enjoy it, but have some comforts of home to make your stay truly relaxing and enjoyable.
It's kind of like nature without the hassle.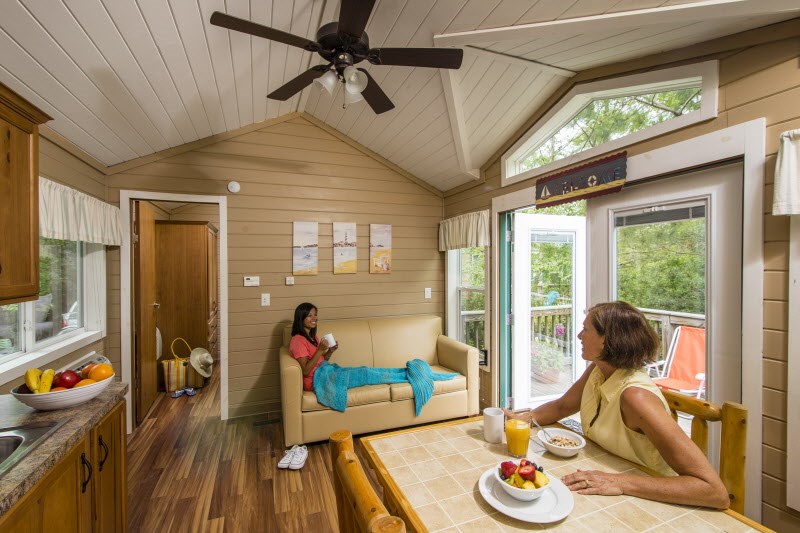 So, how is a girl's getaway in a KOA cabin sounding? Pretty good? We think so too.
With minimal effort and just a bit of planning, you're guaranteed to have maximum amounts of fun and get that break from reality that is well-deserved.
To book your girl's cabin weekend getaway today, visit KOA.com and check out all the great locations and amenities we have to offer.
---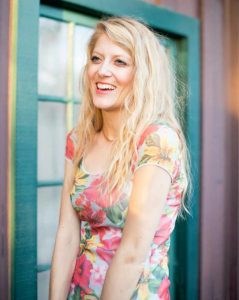 Leslie, a.k.a. Copy Girl, is a copywriter who gets butterflies from telling stories through words.
Her voice comes from a place filled with passion, dreams, and lots of sugar. "Cake over steak" is her go-to motto.
With over 10 years of experience in crafting words, and years of embarking on travels that have taken this Montana girl to some incredible places, Leslie love the adventures of both body and mind her writing takes her on.
Everywhere she goes, she takes this advice with her:
"Hold on to your divine blush, your innate rosy magic, or end up brown." – Tom Robbins, Jitterbug Perfume
To see what Leslie's up to in the writing world, visit her website here.
---