With 58 national parks in the United States, there is certainly no shortage of adventures to be had in the beautiful lands of our country.
And the adventures you can have in these national parks are vastly different — from hiking in deserts, to observing glaciers from a seaplane.
With all the possible adventures out there, it's hard to pick where to begin. We are making life a bit easier for you by rounding up the national parks that we think are best for adventuring, and why we think you'll have the time of your life at each of them.
Here's all you need to know about national park adventures.
Don't Miss Adventuring in These 12 National Parks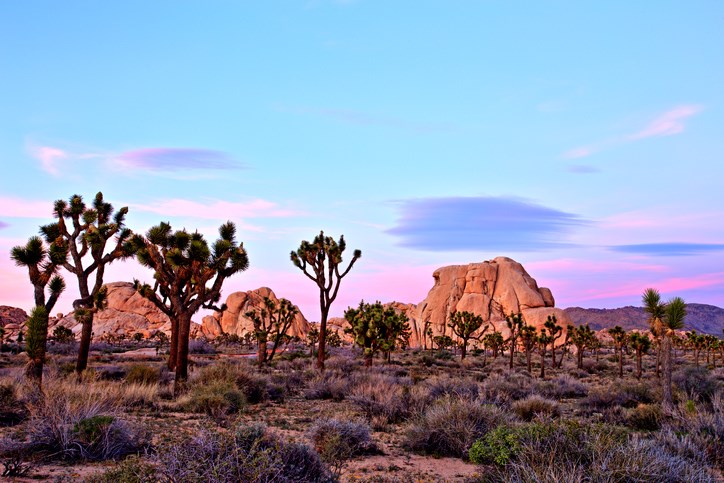 1. Joshua Tree
This park is no secret — Joshua Tree sees over 1 million visitors come through its gates every year to marvel at its strange trees and photograph the eerie desert life that lurks here. From day to night, this park feels like two entirely different worlds, and both are equally as magical.
This park is home to two deserts — one, the Mojave, lies to the west end of the park and is higher in elevation, and thus, much cooler. The eastern end of the park is inhabited by a drier desert, the Colorado, that has the cactus and dwellers people typically think of when they hear the word "desert."
Catching the sunset anywhere in this park will blow your mind away, and those Joshua Trees (which are, in fact, a type of yucca), make for some memorable photo opportunities.
However, one of our favorite adventures to embark on in the park is making your way to the Cottonwood Spring Oasis. Known by some to be "the best kept secret in the park," this oasis not only holds a lot of current beauty, but a rich past as well. During the gold rush of California, this oasis served as a resting point for miners headed up north.
KOAs nearby:
Palm Springs / Joshua Tree KOA
Banning / Stagecoach KOA
Needles KOA
Salome KOA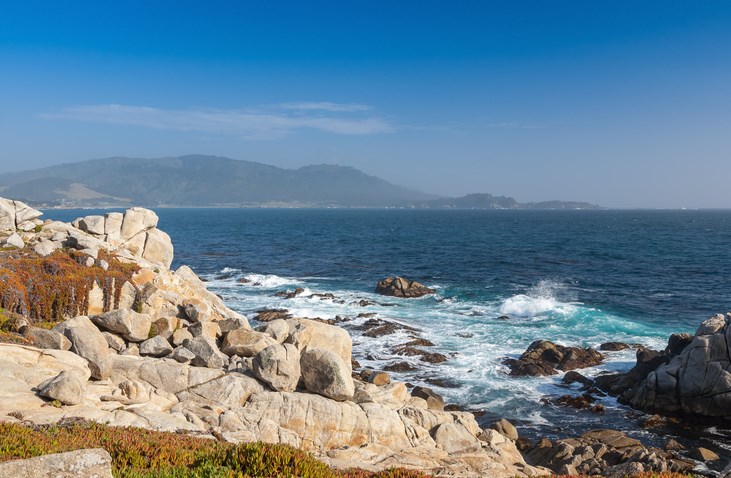 2. Channel Islands National Park
Now this park is certainly not on everyone's radar — primarily for the reason that it is not exactly what one would call easily accessible. In fact, the only way that you can access Channel Islands National Park in California is by walking, kayaking, or via a helicopter. Now if that isn't exclusive, I don't know what is.
The ruggedness of this park keeps many people out, but if you are looking for an adventure and are prepared for one, then this park will not let you down.
Your only option for here is old-fashioned campgrounds, so be ready to do some tent camping that does not have any amenities. In fact, there is nowhere to buy food or water, so you've really got to make sure you've got all the supplies you need before you head out.
However, sacrificing some of the luxurious of life will certainly be worth it when you get to experience this archipelago full of truly stunning and magnificent marine life. With little human tampering, this is a great way to experience sea life in its untouched state.
KOAs nearby: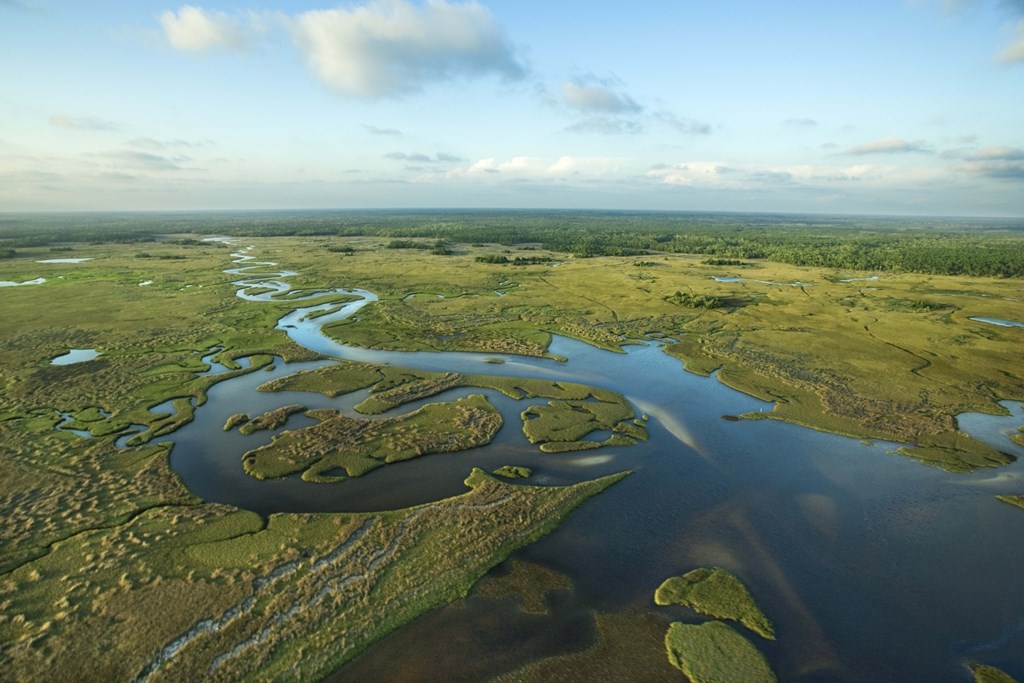 3. The Everglades
As the third largest national park in the United States (coming in behind Yellowstone and Death Valley), the Everglades is home to some truly strange and scary animals that are certainly worth coming with the hopes of seeing.
Within this park's 1.5 million acres, you'll have ample opportunity to spot wildlife such as wading birds, crocodiles, panthers and more.
Known primarily for its marshlands where the crocodiles roam, there is actually a lot more to do in the Everglades. One of the top adventures here is biking along the Long Pine Key Nature Trail — a 7-mile excursion through even more wildlife and swampy scenery (it's more beautiful than it sounds).
If you're really in the mood for an adventure, we suggest testing out the Wilderness Waterway. Spanning a whopping 99 miles, this excursion through the park is done most often via kayaks, canoes, and powerboats. But be warned — if you're going for an option that involves paddling, it will take you over a week to make it down the whole waterway. In our opinion, that makes for plenty of time for adventures along the way!
KOAs nearby:
Hollywood KOA
Davie / Ft. Lauderdale KOA
Naples / Marco Island KOA Holiday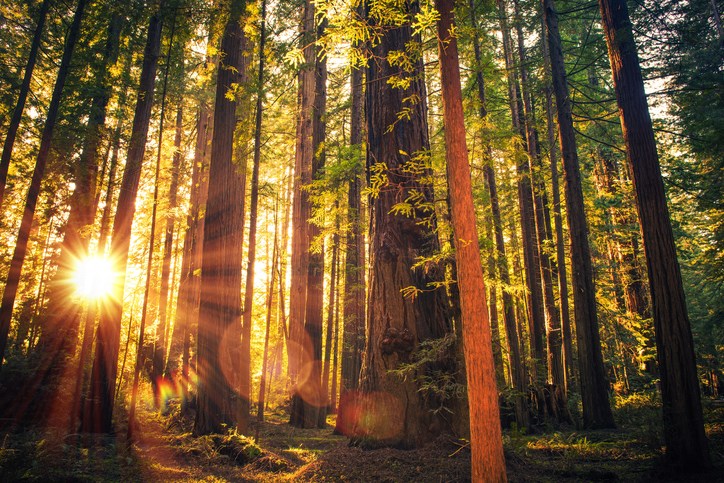 4. Redwood National Park
Northern California is home to possibly the most iconic tree in America — the Redwood. These arboreal giants can live for up to 1,800 years and can reach heights of over 200 feet. The tallest Redwood tree, in fact, measures in at nearly 400 feet tall.
In short, these monstrous trees are worth paying a visit to in their natural habitat, if for nothing more than simply a picnic under their beautiful canopy.
However, Redwood National Forests offers some fabulous adventures, primarily in the form of 200+ miles of mountain biking trails. Just picture yourself speeding through the forest of these mystical trees in one of the only national parks in the country that allows you to partake in backcountry biking. You may even spot some fairies along the way.
In addition to the biking trails, you'll also enjoy the nearly 50 miles of California coastline that remains untouched and, as we all know, that is quite a rare gem in the state of CA.
KOAs nearby:
Redwoods / Crescent City KOA Holiday
5. Denali National Park
This park in Alaska's beautiful lands is worth a visit for a number of reasons, but we have to say the top reason to put this park on your list is for the hopes that you will be able to experience the Northern Lights here. Because we believe that nothing will blow your mind quite like spotting the night sky at its finest here at Denali National Park.
The timing of your trip is important to increase your chances of seeing aurora borealis, so aim for February or March to optimize your viewing potential. These are the times when the skies reach a certain level of darkness and the amount of daylight is just right for idea Northern Light sightings.
Denali National Park is also a great place to get in some quality cross-country skiing and snowshoeing excursions, so get your gear set for some adventure through the snowy lands of Alaska.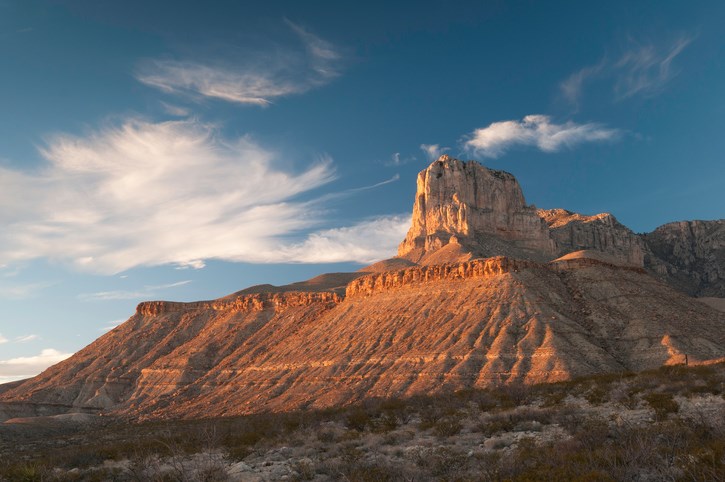 6. Guadalupe Mountains National Park
Chances are good this is a national park whose name you haven't heard much, if even at all.
However, it is a park that you don't want to miss, especially if you are into some star watching. This national park in Texas is home to Guadalupe Peak, a nearly 9,000-foot tall mountain that provides some unparalleled views.
From atop Guadalupe Peak, you can see all the way to Mexico, which lies 100 miles to the south. And you can also look way up to the north to spot over 10,000 stars and some great views of the Milky Way.
Just a four-mile hike, making your way up Guadalupe Peak is best done at sunset, to ensure you get even more epic views. Why stop at just the stars?
Be sure you bring a headlamp with you — stumbling down the peak in the dark is not something we recommend.
KOAs nearby:
Carlsbad KOA Holiday
El Paso West / Anthony KOA Journey
Alamogordo / White Sands KOA

7. Glacier National Park
Montana is home to this hiker's heaven that offers up up over 700 miles of trails that give you opportunity to spot the park's 130 lakes, as well as its famous wildlife. The majority of the people who visit Glacier come here for the hiking, and the hopes that they'll catch a glimpse of the area's moose, grizzly bears, lynx, and more.
However, if hiking isn't really your forte, the driving in this park makes a great way to experience it as well, especially its Going-to-the-Sun Road. Aptly named, this road starts at the bottom and goes all the way to one of the park's highest points, winding along the way through views that will have you constantly taking photos. Be warned that the trek up the road is a slow one, as this park is guaranteed to be packed during the few months of the year when the Going-to-the-Sun Road opens for driving. See it as additional time to take in all the scenery and be wowed by nature.
A trail favorite in Glacier National Park is Grinnell Glacier Trail. The 11 miles of this trek are only open during the summer, but trust us — it's worth the wait. You'll pass by two great lakes — Swiftcurrent and Josephine — during your hike, and the climb up to the Grinnell Glacier is one you'll never forget.
KOAs nearby:
West Glacier KOA Resort
Whitefish / Kalispell North KOA Holiday
St. Mary / East Glacier KOA Holiday

8. Big Bend National Park
Another park that's been flying under the radar, Texas' Big Bend National Park is one not to be missed.
Home to over 800,000 acres of nature's beauty, this park is the biggest one in Texas and goes along the Rio Grande River that separates Mexico and the U.S.
Visitors come here for the hiking and backpacking, but not many visitors. In fact, Big Bend is one of the country's least visited national parks, which, in all honesty, may be part of its beauty.
But, the main draw of this national park is its stargazing. The International Dark-Sky Association named it one of the 10 best places on the planet to stargaze. Now, that's quite an honor, in our opinion. Due to its location, this park has some of the darkest skies in the United States, which breeds for perfect stargazing opportunities.
KOAs nearby: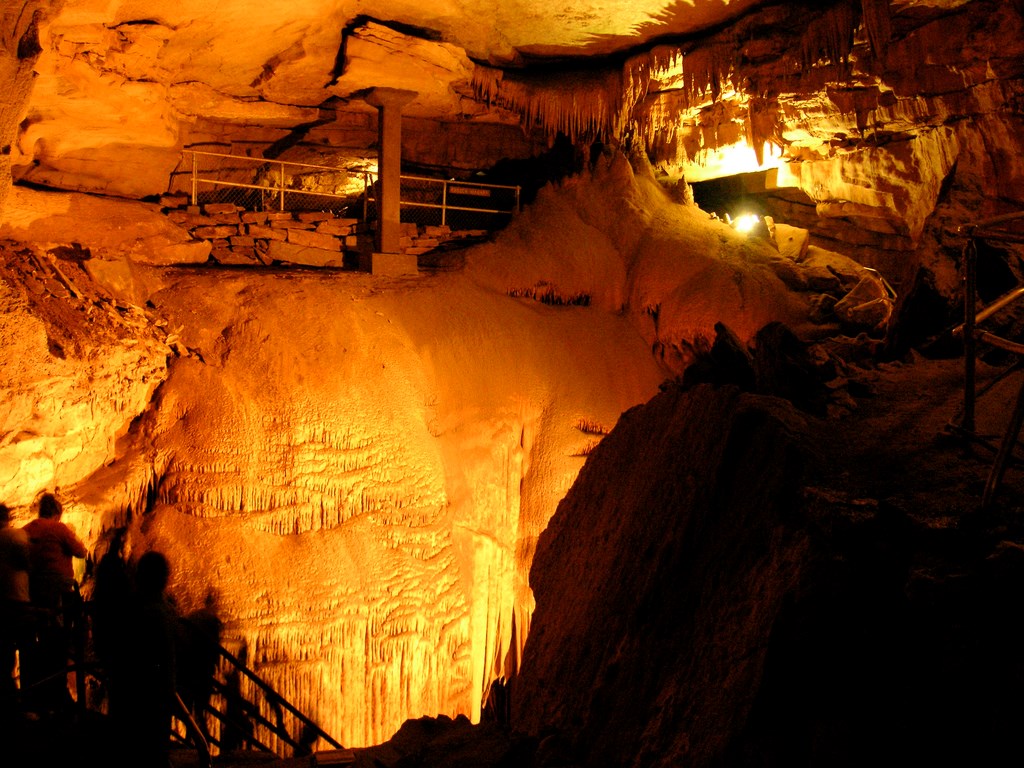 9. Mammoth Cave National Park
If you're claustrophobic, maybe this park is not the right one for you. If not, then be sure to put Mammoth Cave National Park on your list of adventurous parks to visit as soon as possible.
This park is home to the world's longest known cave system — covering over 400 miles of Kentucky's lands. However, currently, only 10 miles of the caves are open to the public. It is quite a project to make them safe to visitors, but one that is worth waiting for (and visiting the 10 miles in the meantime).
There is only one entrance and exit in the currently-open cave system, and tours are led by park rangers. You have an option of tours to choose from, but we recommend the Wild Cave Tour. This one is a four-hour adventure that takes you climbing up, and crawling around some tiny entrances, so make sure you're ready for that.
Keep your eye on this park in the coming years too — more and more miles of the cave will be opening up, and there will be more exploring to be had.
KOAs nearby:
Horse Cave KOA
Bowling Green KOA Holiday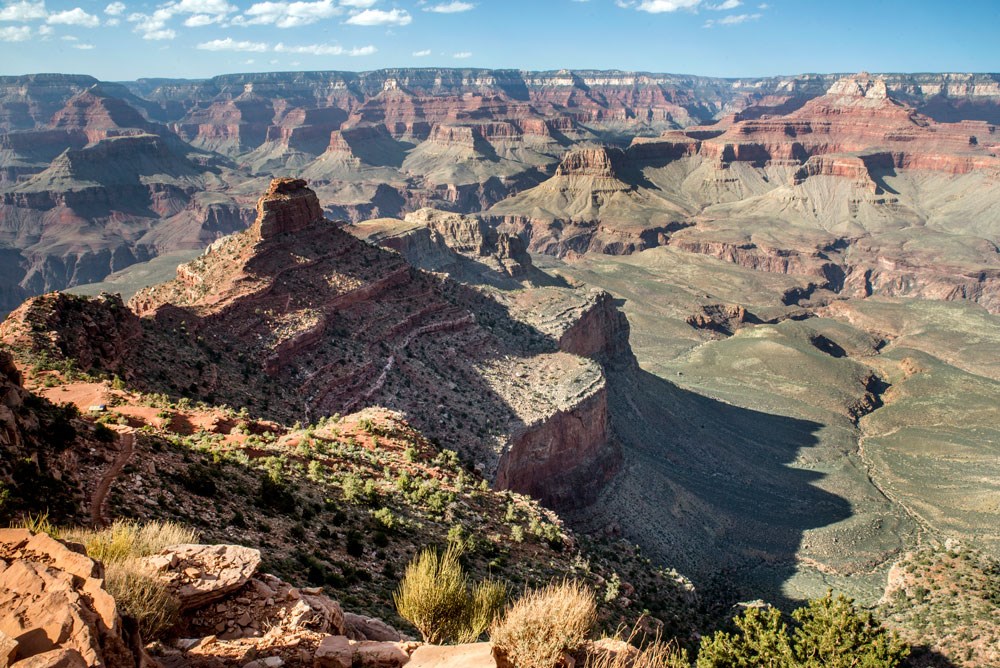 10. Grand Canyon National Park
This park is no hidden gem — it's one that's been out in the open for quite some time. The over 6 million annual visitors that make their way to this park come here primarily to snap some photos and take in the views — the sheer size of the Grand Canyon is something you can truly only gather from physically being there.
However, if you're open to stepping outside of the normal comfort zone of the South Rim, head over the North Rim to a place called Tuweep. Here you will find the heart-racing activities that thrill-seekers seek such as whitewater rafting. Make your way to Lava Falls, where the biggest and toughest rapids in the Grand Canyon exist. You will likely find yourself being humbled while here, but in the best possible way.
KOAs nearby:
Grand Canyon / Williams KOA Journey
Flagstaff KOA
Williams / Exit 167 / Circle Pines KOA Holiday
Seligman / Route 66 KOA Journey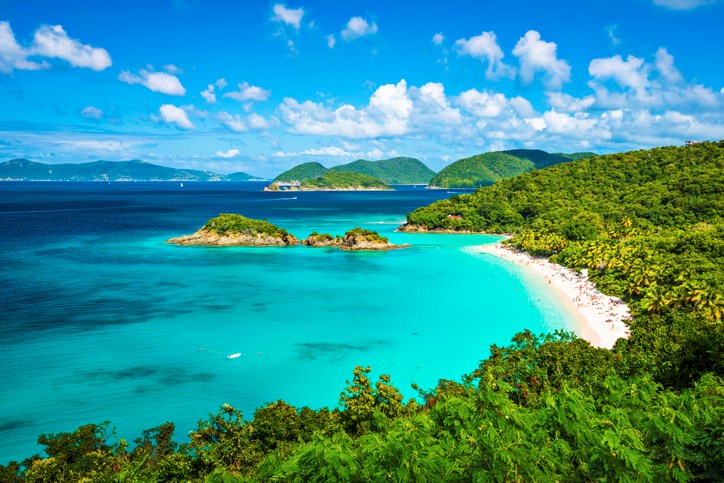 11. Virgin Islands National Park
Though the Virgin Islands are likely on your radar of places to visit, we are going to bet that you didn't know a Virgin Islands National Park existed. Well, it's a fairly new one compared to the other national parks — the islands were bought during WWI, and following that, Laurence Rockefeller donated 5,000 acres of his land in St. John to the National Park Service to protect the area.
Today, the Virgin Islands National Park spans nearly 20 miles and is home to over 800 subtropical plant species. In other words, you've got plenty of adventuring with just the plants themselves, let alone everything else.
However, what really takes the cake of this national park is Trunk Bay. Known as one of the most beautiful beaches in the world, this area provides park visitors the opportunity to experience its 225-yard-long underwater snorkeling trail. In addition to that, Virgin Islands National Park also offers up the perfect place to do some windsurfing, scuba diving, sailing, and much more on its pristine waters.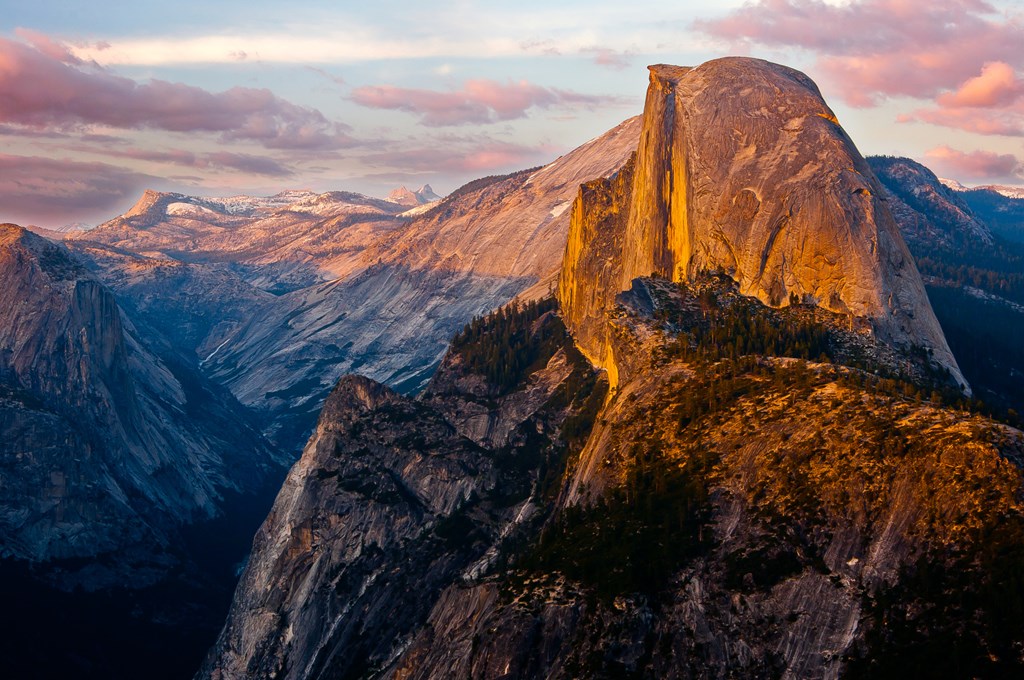 12. Yosemite National Park
There's climbing, and then there is climbing in Yosemite National Park. Known as one of the best places in the world to do some epic climbing, this park is home to two of the most beloved climbing spots — El Capital and Half Dome. Yosemite's Mountaineering School brings thousands
of visitors into the park every year to guide people through its magnificent climbs, and experience the views in real life.
Half-Dome gets particularly difficult the last few hundred feet, hence the addition of the metal cables to guide climbers through to the end. It is no easy climb, but is certainly worth the effort and physical struggle.
KOAs nearby:
Coleville / Walker KOA
Placerville KOA
Los Banos West / I-5 KOA Journey
Looks like you've got a lot of adventuring on your plate for this upcoming year, no? These are the top places to start with, but this is certainly not an all-inclusive list of the adventure to be had in our country's fabulous national parks.
---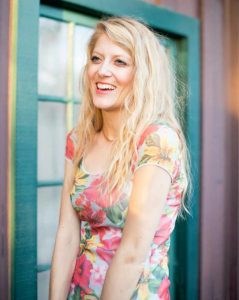 Leslie, a.k.a. Copy Girl, is a copywriter who gets butterflies from telling stories through words.
Her voice comes from a place filled with passion, dreams, and lots of sugar. "Cake over steak" is her go-to motto.
With over 10 years of experience in crafting words, and years of embarking on travels that have taken this Montana girl to some incredible places, Leslie love the adventures of both body and mind her writing takes her on.
Everywhere she goes, she takes this advice with her:
"Hold on to your divine blush, your innate rosy magic, or end up brown." – Tom Robbins, Jitterbug Perfume
To see what Leslie's up to in the writing world, visit her website here.
---