You can see them from the interstate or peeking above the city skyline—natural and artificial landmarks lead the way. Work a famous, quirky, or historic landmark into your next road trip route. Landmarks add something special to travel, whether it's the highlight of the day or a fun way to know you're going the right way.

1. The Hollywood Sign, Los Angeles, California
Synonymous with California's movie-making magic, the iconic Hollywood Sign sets atop Griffith Park's Mount Lee. The 450-foot-long sign made of 45-foot-tall white sheet metal letters identifies this corner of Los Angeles, California's claim to fame—the major movie studios north of the hill and bustling Hollywood Boulevard's Walk of Fame to the south. Glimpse the sign from the star-studded streets of Hollywood and Highland, or take a hillside hiking trail to get close up. If you don't want to walk far, stop at a vista point like the Griffith Observatory to view the hundred-year-old sign and glittering city below.
Nearby KOAs:
Ventura Ranch KOA Holiday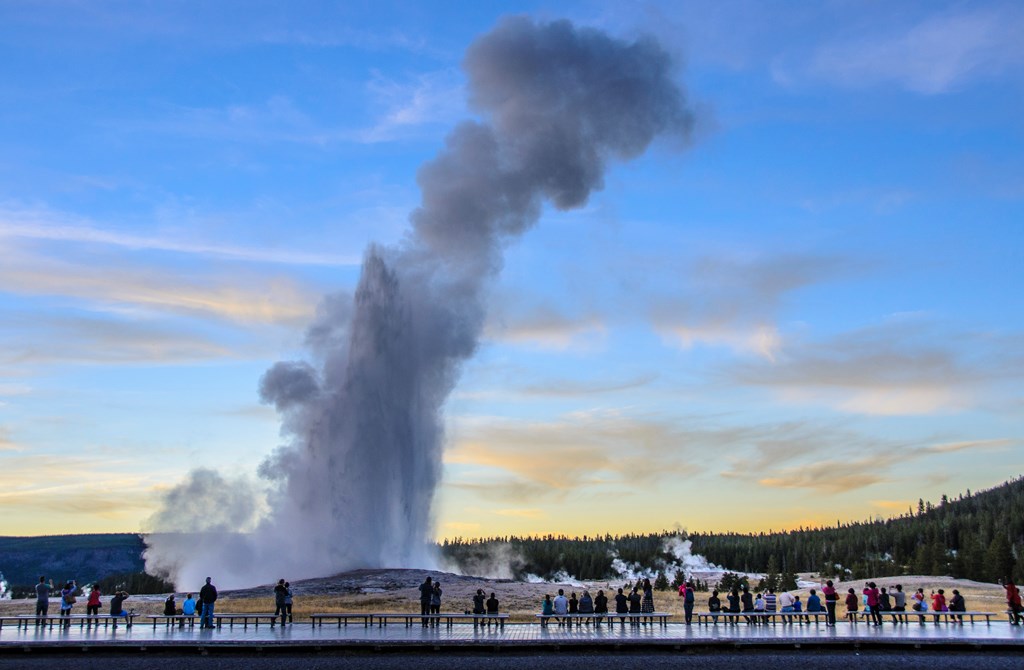 2. Old Faithful Geyser, Yellowstone
When scalding water spouts 130 feet in the air accompanied by huge steam clouds every hour or so, Old Faithful Geyser is a landmark that builds anticipation. Visitors patiently wait to witness this natural wonder at Yellowstone National Park. The Upper Geyser Basin is full of dramatic hydrothermal action in the Wyoming portion of the park. Yellowstone is home to over five hundred geysers. Hundreds of vents let off steam, and geysers ease pressure through periodic eruptions. Get close to Old Faithful action walking boardwalk trails through the basin, or pick a viewing spot to witness the famous geyser go off.
Nearby KOAs:
Livingston / Paradise Valley KOA Holiday
Red Lodge KOA Journey
Cody KOA Holiday
Dubois / White River KOA Holiday
Yellowstone Park / Mountainside KOA Journey
Yellowstone Park / West Gate KOA
3. World's Largest Buffalo, Jamestown, North Dakota
Be on alert for when the World's Largest Buffalo rears his head along Interstate 94, through Jamestown, North Dakota. Dakota Thunder is an enormous buffalo monument rising 26 feet made from 60 tons of concrete. If you stop to get a closer look at the giant roadside attraction, you'll drive through Frontier Village, an open-air museum commemorating frontier prairie life. And there's the National Buffalo Museum, where you can learn about the United States' national mammal. Watch the museum's two majestic buffalo herds roam and graze the surrounding prairie.
Nearby KOAs:
Bismarck KOA Journey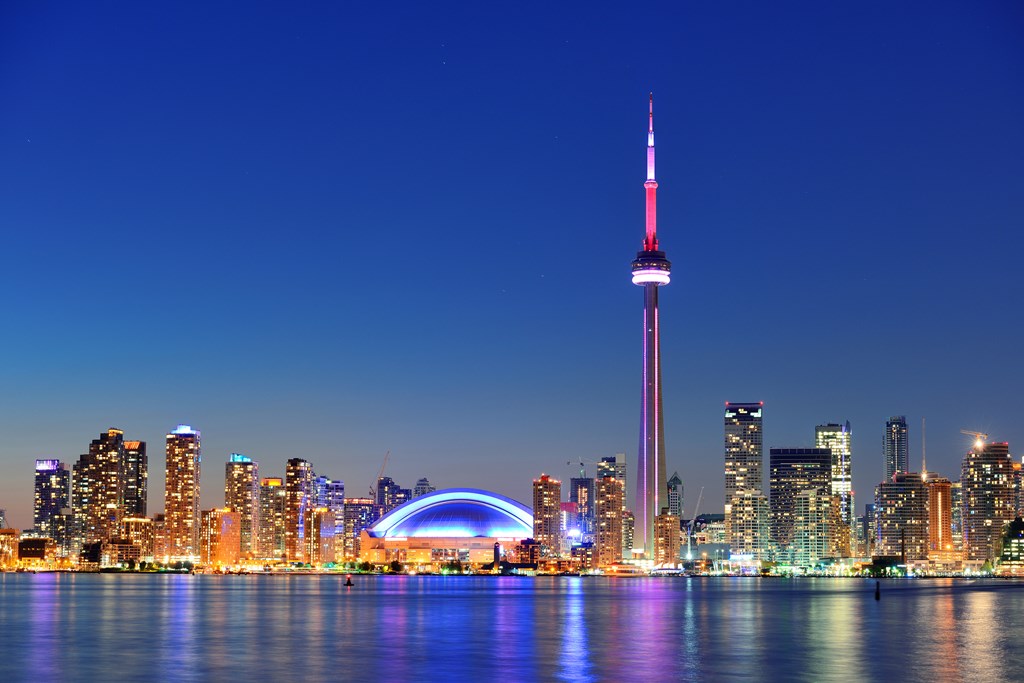 4. CN Tower, Toronto
Clocking in at 1,815 feet tall (that's about 100 feet taller than the spire atop the famed Willis Tower), Toronto's CN Tower is the ultimate skyscraper for daredevils and architecture junkies. The striking structure, mainly used as a communications building for television and radio, has become a major tourist destination for its observatory, sky-high restaurant, and most notably/terrifying, a thrill experience called "Edgewalk," wherein fearless visitors can walk along an outdoor platform while connected via harness to a railing. If this doesn't trigger an immediate meltdown, it's sure to cement itself as a lifelong memory, with some seriously unparalleled views.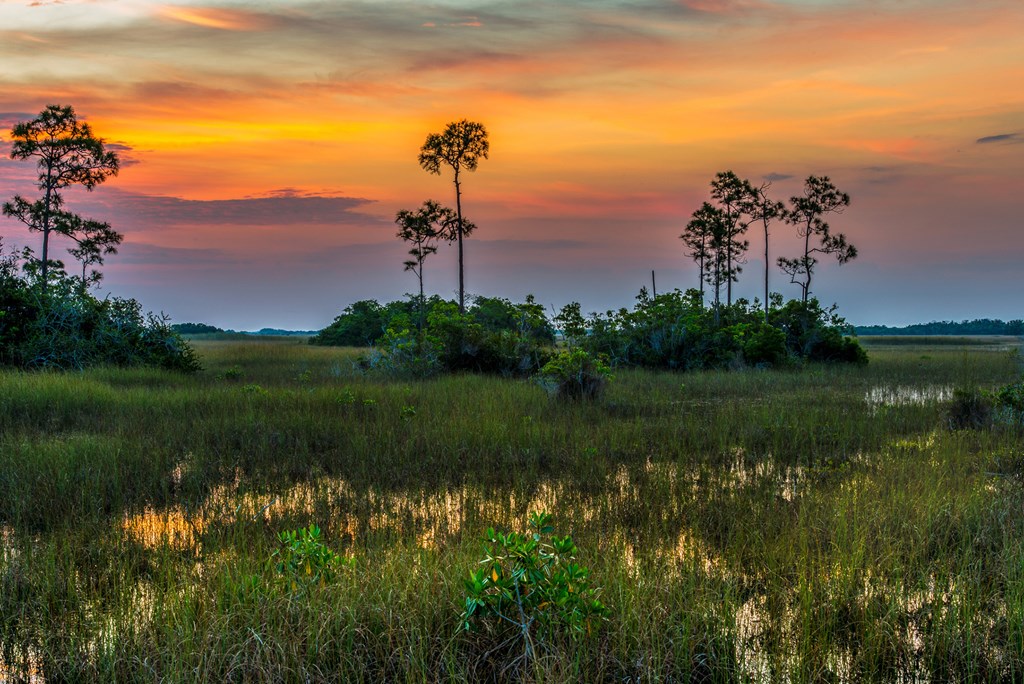 5. Everglades National Park, Florida
It would be all too easy to fill up a landmark list with nothing but national parks, considering the natural splendor of must-visit places like Banff, Yosemite, Yellowstone, Jasper, and so many others. But one national park that deserves to be celebrated, it's the Everglades. A shining example of nature's perseverance against human development and hurricanes, this is a landscape like no other, with wildlife and terrain unseen anywhere else on Earth. Essentially a vast slow-moving river of grass, adjoined by myriad lakes, shores, pine forests and mangrove trees (the largest continuous mangrove shoreline on the planet), the Everglades are as exotic and other-worldly as you're likely to get. And considering its 1.5-million acre size, making it the third largest national park in the contiguous U.S., you could spend weeks or months here and still have much to discover. Another fun (and maybe freaky) fact: this is the only place in the world where alligators and crocodiles co-exist.
Nearby KOAs:
Davie / Ft. Lauderdale KOA
Naples / Marco Island KOA Holiday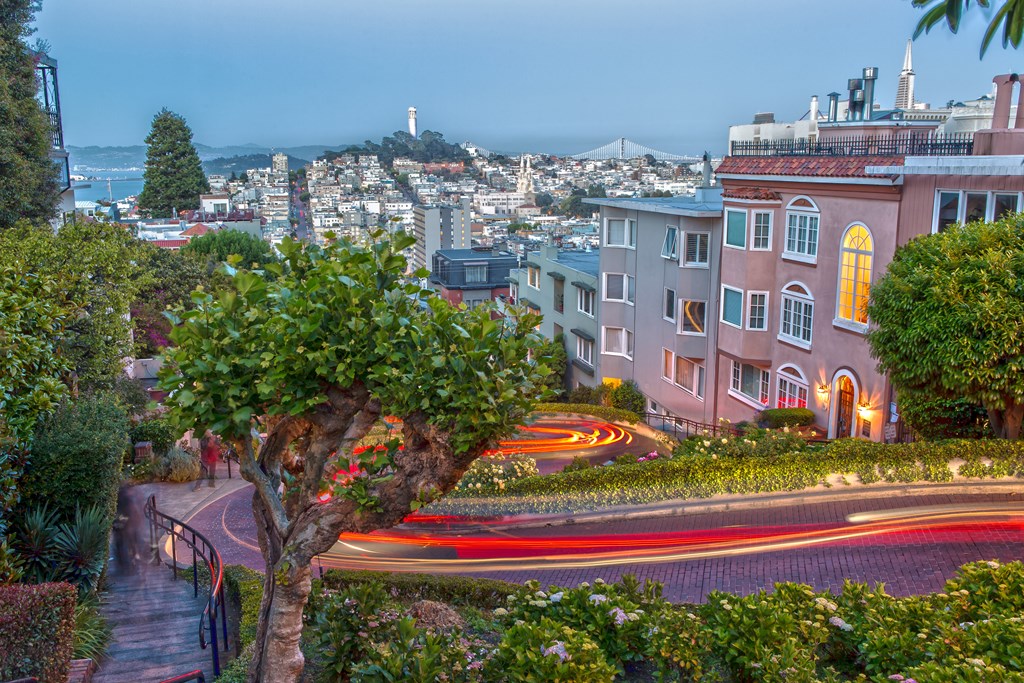 6. Lombard Street, San Francisco
From the Golden Gate Bridge and Alcatraz Island to the pastel-hued Victorian homes known as the Painted Ladies, San Francisco is filled with history and iconic sights. Compared to big names like these, Lombard Street might seem like small potatoes, but you won't find a better stroll in the entire city. Unlike any other street in the country, Lombard is an intense zig-zag of eight hairpin turns along a steep one-block stretch in Russian Hill. Nicknamed "the crookedest street in the world," it's an engineering and architectural feat to witness, for how the city not only maneuvered its notoriously steep hills, but beautified them and made them apart of the cultural identity. Whether you're looking up this crooked thoroughfare, or out over the bay, it's breathtaking and totally unique.
Nearby KOAs:
San Francisco North / Petaluma KOA
Santa Cruz North / Costanoa KOA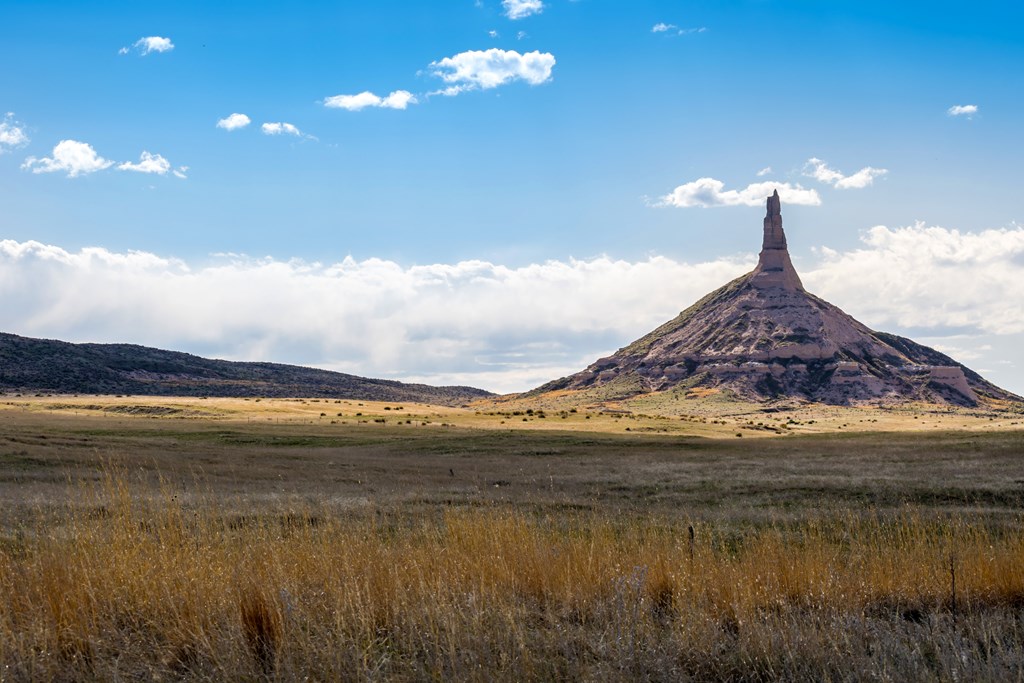 7. Chimney Rock, Bayard, Nebraska
Towering three hundred feet over the Oregon Trail and other routes that brought emigrants west across the country, Chimney Rock is an awe-inspiring natural landmark. Visible for miles across the grassy prairie, the pyramid-shaped rock's pointed spire is striking and can be spotted along Nebraska Highway 92. Stop at the Chimney Rock Museum to learn about the travelers who used the rock for directions, often their first experience of the American West's terrain. And walk the Chimney Rock Trail to get an up-close view of the natural geological formation.
Nearby KOAs:
Ogallala / Tri Trails KOA
Ogallala / I-80 KOA Journey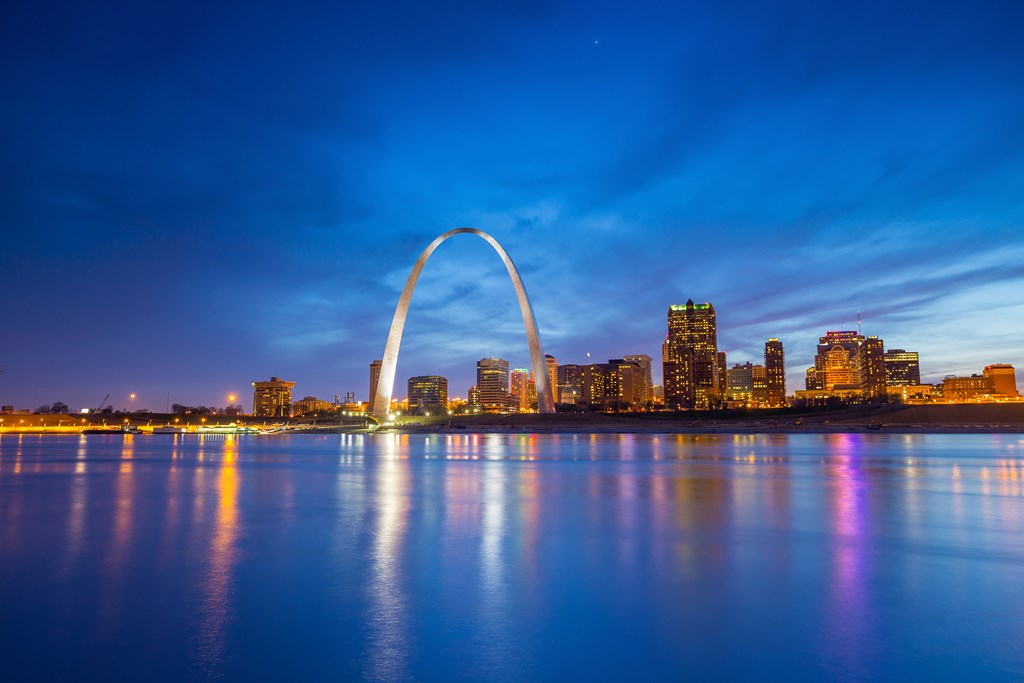 8. Gateway Arch, St. Louis, Missouri
The Gateway Arch's silvery gleam frames downtown St. Louis, Missouri and parts of Illinois across the great Mississippi River. Gateway Arch National Park's riverfront parkland offers a respite from the city with a network of recreational trails, grassy lawns, and reflecting pools. The stainless steel 630-foot tall man-made landmark commemorates St. Louis' part in the United States' western expansion. When visiting "The Gateway to the West," reserve tickets for a guided tour tram ride to the top of the monument. On a clear day, you can see thirty miles in all directions.
Nearby KOAs:
St. Louis N.E. / I-270 / Granite City KOA Journey
St. Louis West / Historic Route 66 KOA Holiday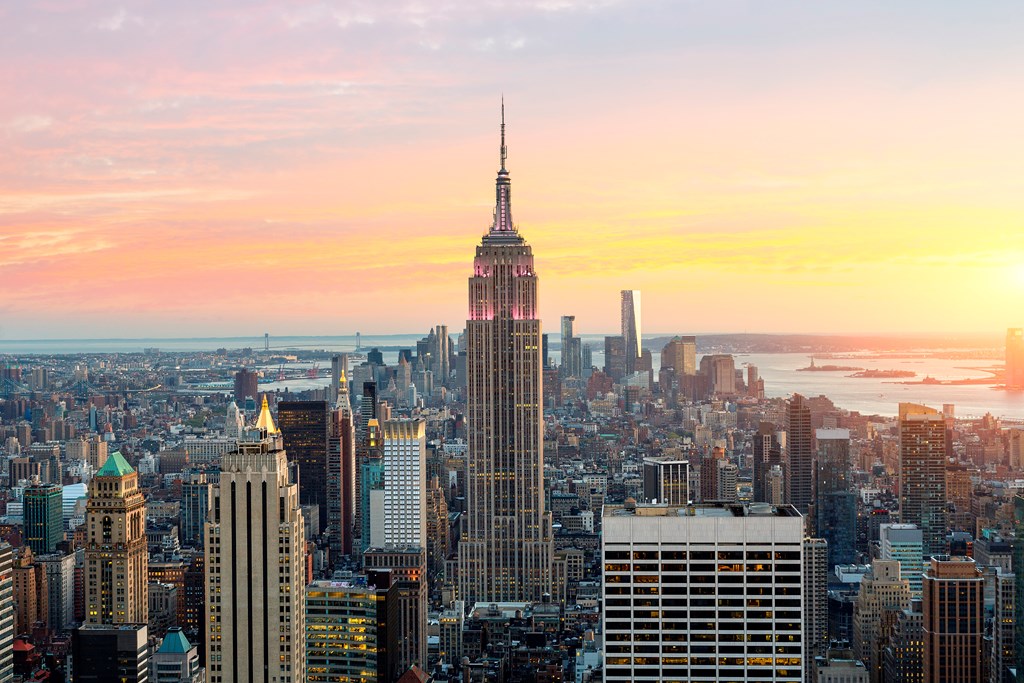 9. Empire State Building, New York, New York
Towering 1,454 feet over Manhattan's Fifth Avenue, the Empire State Building is a directional marker through city streets. The art deco National Historic Landmark's open-air 86th-floor and window-encased 102nd-top-floor observation decks look out onto thrilling views of New York City. See the City's other icons, Times Square and Central Park, below and over the waters of New York Harbor to the Statue of Liberty. Learn about the building's 1920s construction, its art deco architectural design and interior, and its place in pop culture—with King Kong action—at exhibit halls on the 2nd and 80th floors. Don't forget to look up when entering the lobby for the dreamy gold flake-adorned celestial sky mural overhead.
Nearby KOAs:
Delaware Water Gap / Pocono Mountain KOA Holiday
New York City North / Newburgh KOA Holiday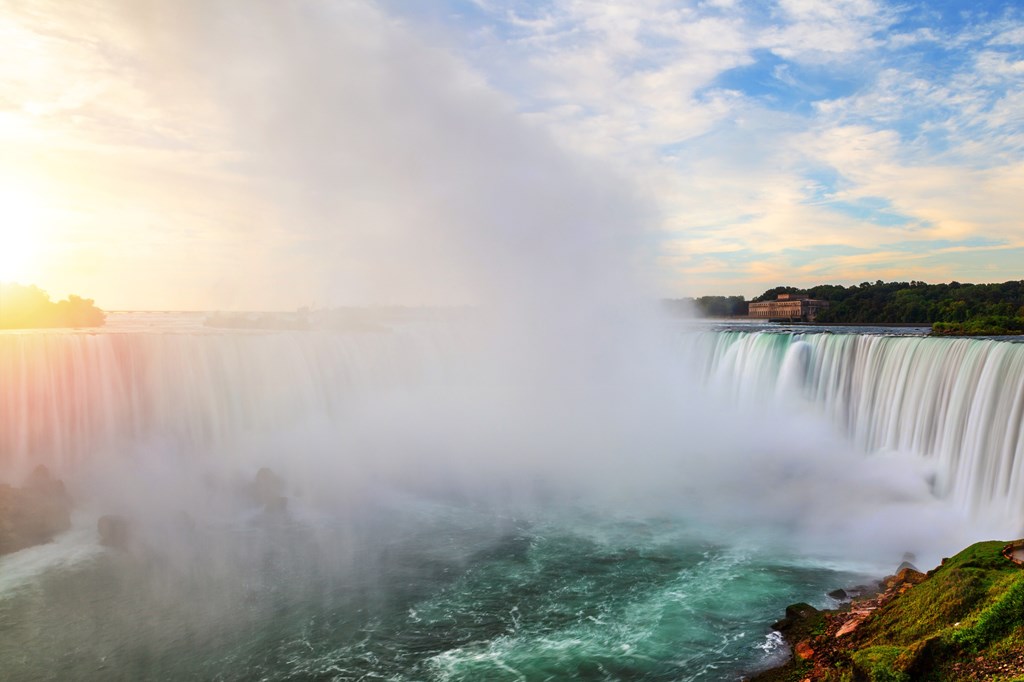 10. Niagara Falls, New York and Ontario
In terms of North America's natural marvels, Niagara Falls is a bucket list landmark right up there with the Grand Canyon. And rightfully so, considering this trifecta of waterfalls comprises the highest flow rate of any waterfall in the continent, with more than 6 million cubic feet of water going over the crest every minute. Straddling the U.S. and Canada border, the falls are both in New York and Ontario, representing the point where Lake Erie drains (or rather, thunders) into Lake Ontario, and the mighty sight can be enjoyed equally from both countries. To get an even closer look, board the Maid of the Mist ferry (departures from both countries), don a rain jacket, and prepare to get soaked.
Nearby KOAs:
Niagara Falls / Grand Island KOA Holiday
Niagara Falls KOA Holiday
Niagara Falls North / Lewiston KOA Journey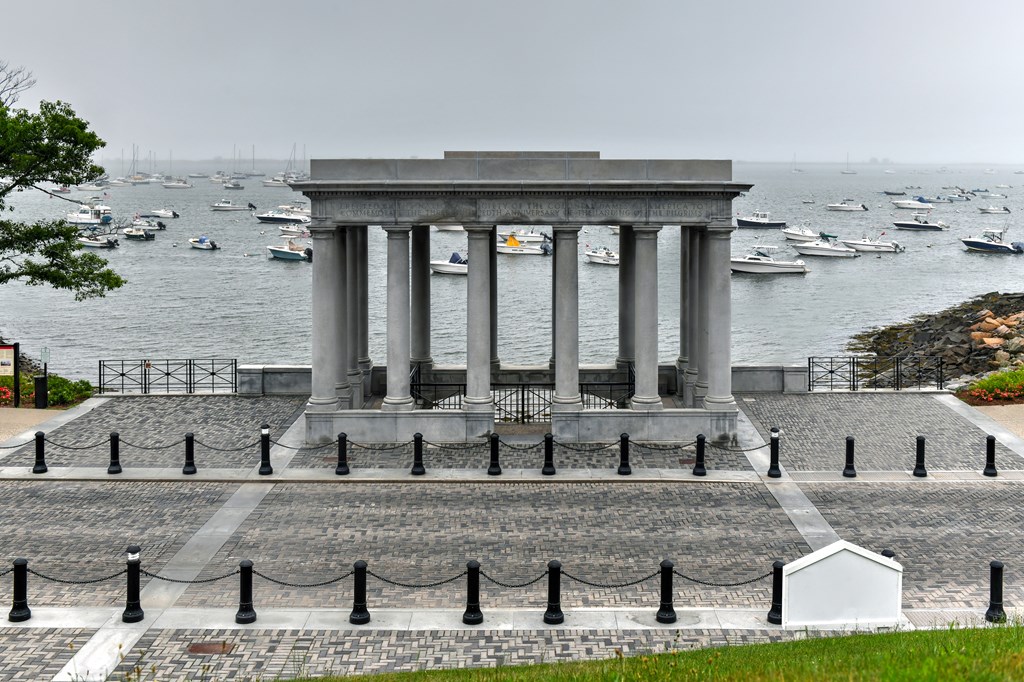 11. Plymouth Rock, Plymouth, Massachusetts
A simple gray boulder with the year 1620 engraved on it marks the site of the Pilgrims' landing in the new world and has become a world-famous symbol of freedom. Plymouth Rock lies on the sandy shore of Massachusetts' Plymouth Harbor, protected under the shelter of a pillared portico. Visitors reflect on the perilous journey English Pilgrims took aboard the Mayflower ship in search of a better life across the ocean. Plymouth Rock is located in the Pilgrim Memorial State Park, where the floating museum Mayflower II, a full-scale replica of the famous ship, is docked.
Nearby KOA:
Boston / Cape Cod KOA Holiday
---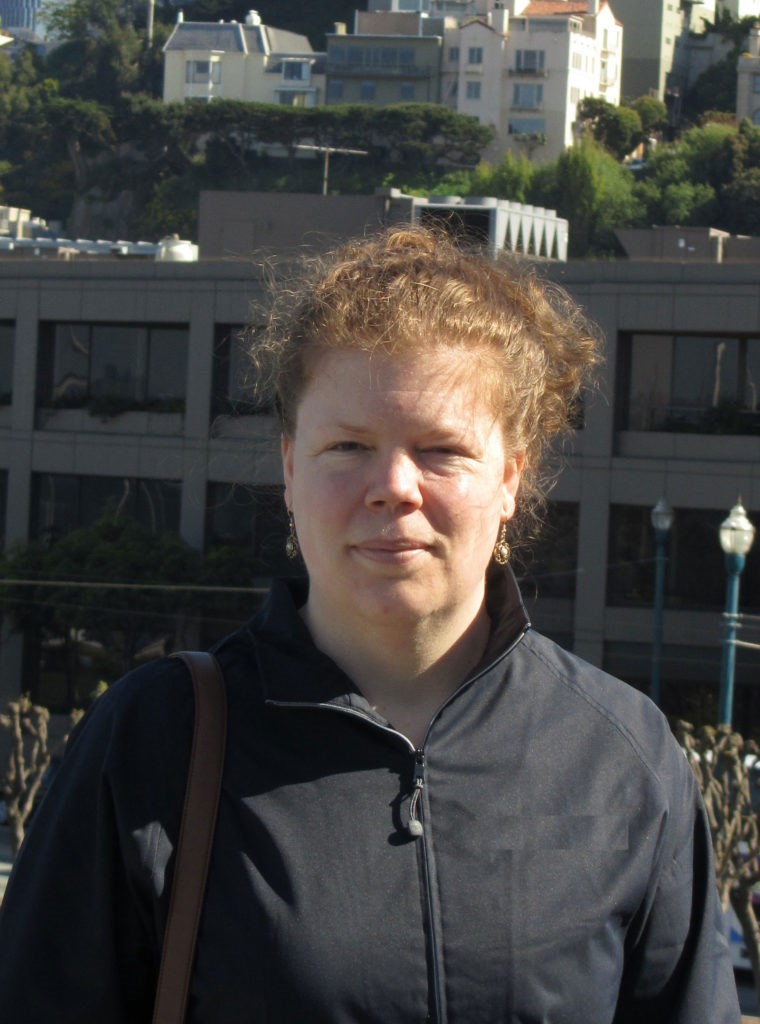 Eva Barrows is an accomplished San Francisco Peninsula freelance writer and book editor. She writes for regional magazines like PUNCH and Edible Silicon Valley and was editor-in-chief of Live&ThriveCA magazine. She founded the online literary journal Imitation Fruit in 2007 and has enjoyed promoting fellow writers and artists ever since. Read more of her travel writing at www.evabarrows.com.