At KOA, we are huge fans of national parks. In fact, we deem that to be quite an understatement. We are obsessed with national parks. Each of the United States' 63 national parks is unique and has its own personality with its own long list of beautiful things to see and experience. No two national parks are the same and no two will give you the same way to look at the world. From different hikes to different terrain to different adventures right at your feet, the national parks in the United States bring joy to millions of people every year.
In 2021, national parks across the country saw a record number of visitors. Some national parks such as Glacier National Park and Yosemite National Park pull in millions of visitors every year, while others such as Capitol Reef are not at the top of so many peoples' lists, but that doesn't mean it and other less-popular ones aren't gems in their own ways.
Sometimes it's the lesser-known national parks that make for the best trips. This is becoming even more true as the popular national parks are getting almost too popular. Ones such as Glacier National Park have to limit the number of people that can drive up its famous Going-to-the-Sun Road to ensure traffic doesn't get too out of hand.
Whichever national park you opt to go to, we are willing to bet you'll have a great time and create memories that will become some of your favorites.
If you've got an RV and are ready to roll your way into some national parks this spring and summer, but aren't sure which ones are the best for a vehicle of your size, don't worry – we've got you covered. We've researched which national parks are the most friendly for RVs, so read on to learn more.
The Best National Parks to Visit in an RV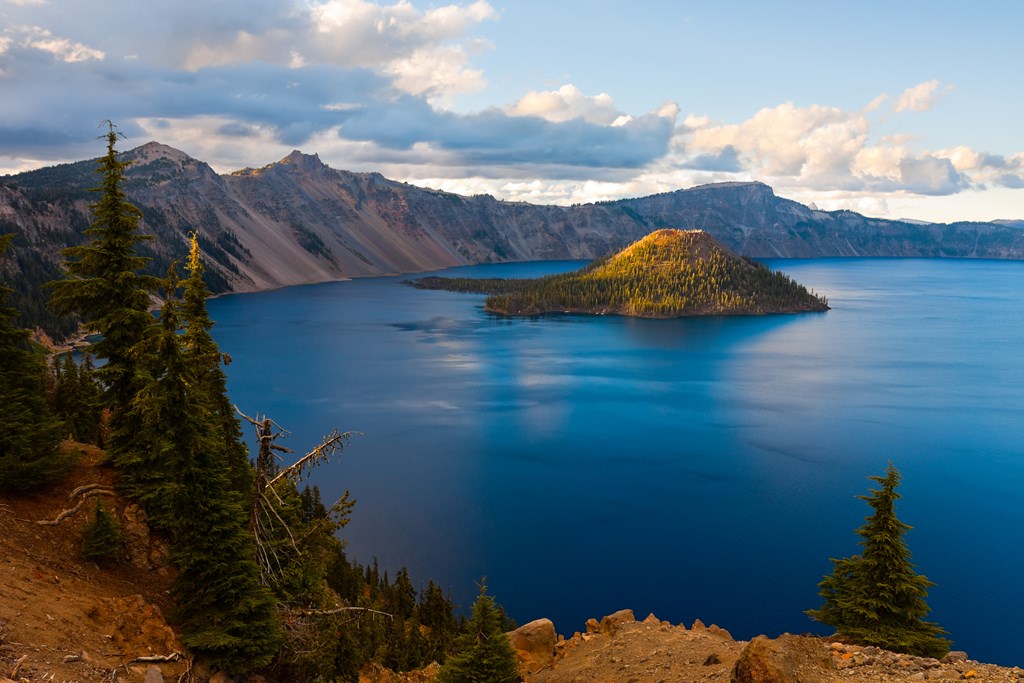 1. Crater Lake National Park | Oregon
We are still amazed that the entire stunning state of Oregon only has one national park. That's one of the reasons we couldn't imagine a list of RV-friendly national parks without putting this one on it. It is the main attraction for the whole state in our eyes.
Speaking of main attractions, Crater Lake itself is obviously what draws people here. The depths of this lake reach nearly 2,000 feet, making it the deepest lake in the United States and the second deepest lake in the United States. If that's not enough to wow you, how about we add in the fact that this lake is fed exclusively by rainwater and melted snow, which makes it one of the clearest and the cleanest bodies of water in the entire world. Now that's impressive.
Though Crater Lake itself gets the most attention at this national park (and rightfully so), there is much more to see here. One thing that we love is driving along the 33-mile Rim Drive that takes you on a loop around the entire lake. It is part of the Volcanic Legacy Scenic Byway and has countless points of interest and overlooks that will have you snapping picture after picture.
Are you intrigued by the idea of seeing a volcano inside another volcano? If your answer is "yes," then you don't want to miss making your way out to the Magical Wizard Island on the lake. Though it looks fairly normal from land, it is actually a cinder cone emerging from the bottom of the lake.
The hikes at Crater Lake National Park are not to be missed either – there are over 90 miles of trails here. Plaikni Falls is one of the best that isn't too difficult and takes you through an old-growth forest into a world of beautiful wildflowers.
We recommend staying at Crater Lake National Park for at least two days, but longer if time allows. You'll need at least two days to see the highlights and more time to dive deeper into all this place has to offer. Speaking of diving, the water here is cold year-round so while you may want to hop in for a quick dip, it's not a place you're going to want to swim in for long.
KOAs nearby: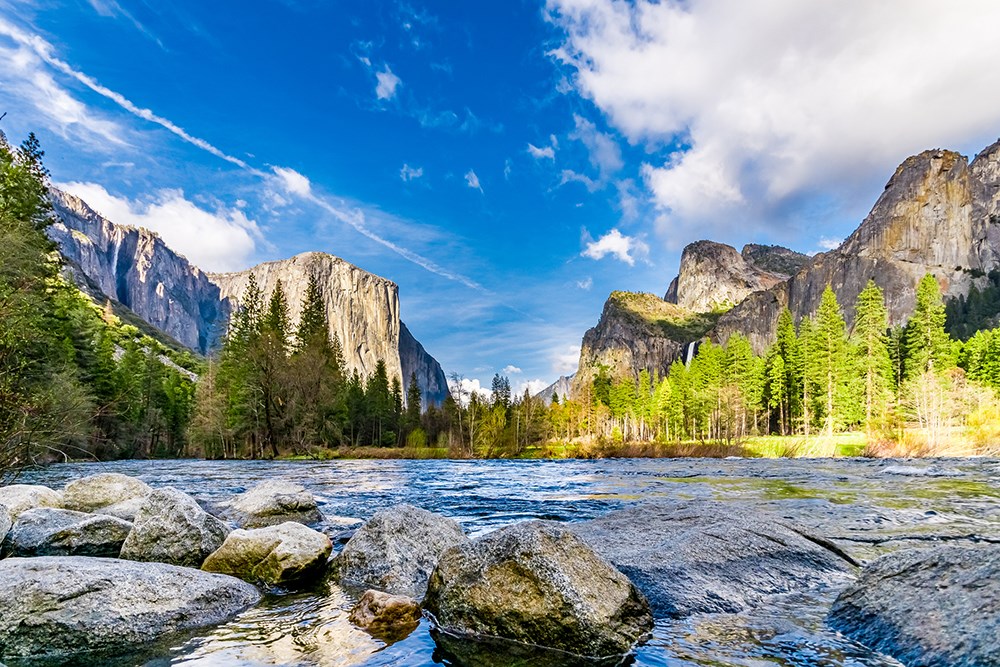 2. Yosemite National Park
As one of the hottest national parks in the country, it feels like we would be doing you a disservice if we didn't include this on our list of the best national parks for RVers.
Yosemite is one of the first wilderness parks in the United States and has many claims to fame, all encompassed in its nearly 1,200 square miles of beauty. With everything from sequoia trees that are thousands of years old (if trees could talk . . .) to towering cliff faces and more, Yosemite is home to some of the most awe-inspiring rock formations in the entire country.
Don't be overwhelmed by the thought that you have to figure out how to trek through 1,200 square miles of this park, though. Most of the tourist attractions exist within an eight-square-mile area, which is one of the reasons why it's a great park to take your RV.
Yosemite is home to the famous Half Dome and El Capitan, which are both every rock climber's dream. Half Dome stands nearly 9,000 feet tall and El Capitan is the largest single granite rock on earth. Because these climbs are so intense, they aren't for everyone (plus you have to apply for a lottery for Half Dome). But don't worry – there are plenty of other adventures for less-experienced visitors.
Don't miss Yosemite Falls, which are the highest falls on the entire North American continent, measuring in at nearly 2,500 feet tall. Be sure also to make your way to Mariposa Grove, home to over 500 giant sequoia trees. You can hike your way through some of the most beautiful parts of the park and also opt to go rafting on the Merced River.
The one challenge with Yosemite National Park is the crowds. About 4 million people visit this park every year and when you think about packing that many people into an eight-square-mile area, things can get complicated. That's where timing becomes really important. Time your trip to Yosemite for when the crowds aren't as full and get up and moving earlier in the day to beat the crowds. Trust us when we say you don't want to miss the beauty of Mother Nature at this national park.
KOAs nearby: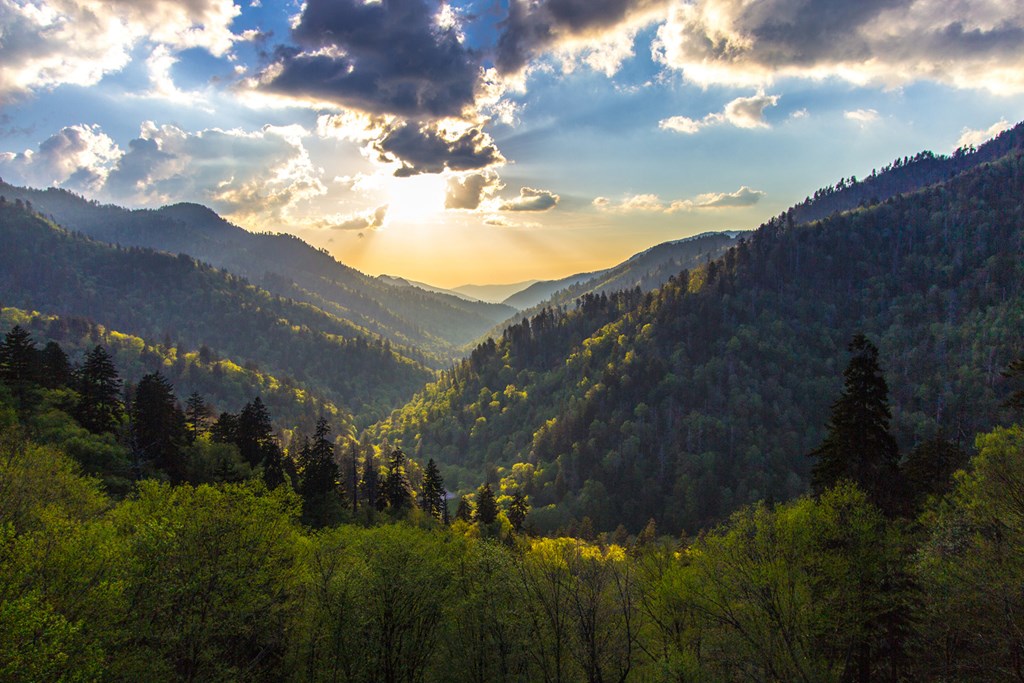 3. Great Smoky Mountains National Park | Tennessee
As the most visited national park in the United States, you bet your bottom dollar that we are gonna put this one on our list of must-sees via an RV. According to the U.S. National Park Service, 12.1 million people visited this park in 2020.
Great Smoky Mountains National Park crosses North Carolina and Tennesse and is known for its wildlife and its ancient mountains. The mountains make up one of the oldest ranges in America, so you can only imagine the history that this place has lived through.
So how about you create some history of your own by embarking on a journey through this park's wonders. Wherever you go and whatever you do in this park, you are bound to experience the wildlife that makes this place so popular. Over 17,000 different species of animals have been recorded at Great Smoky Mountains National Park, and more are discovered every year. The park is home to one of the world's few International Biosphere Reserves, so you know you're in for a show.
The scenic drives in this park are to die for, and no matter what entrance to the park you take, your adventures will begin on the Newfound Gap Road. We suggest packing a picnic and enjoying the stops along the way.
When you get the itch to get out of the RV and experience the park on foot, you'll have over 150 different trails covering over 800 miles of backcountry. We suggest taking the four-mile hike up to Ramsey Cascades, the tallest waterfalls in the Great Smoky Mountains.
And if you're a fisherman, you will love the over 700 miles of fishable streams in the park where you can catch some brook, brown, and rainbow trout.
As you can see below, Great Smoky Mountain National Park is a hotspot for KOA campgrounds. You have a variety of different campgrounds to enjoy in the area, so we know you'll find at least one that is exactly what you hoped for this epic adventure.
KOAs nearby: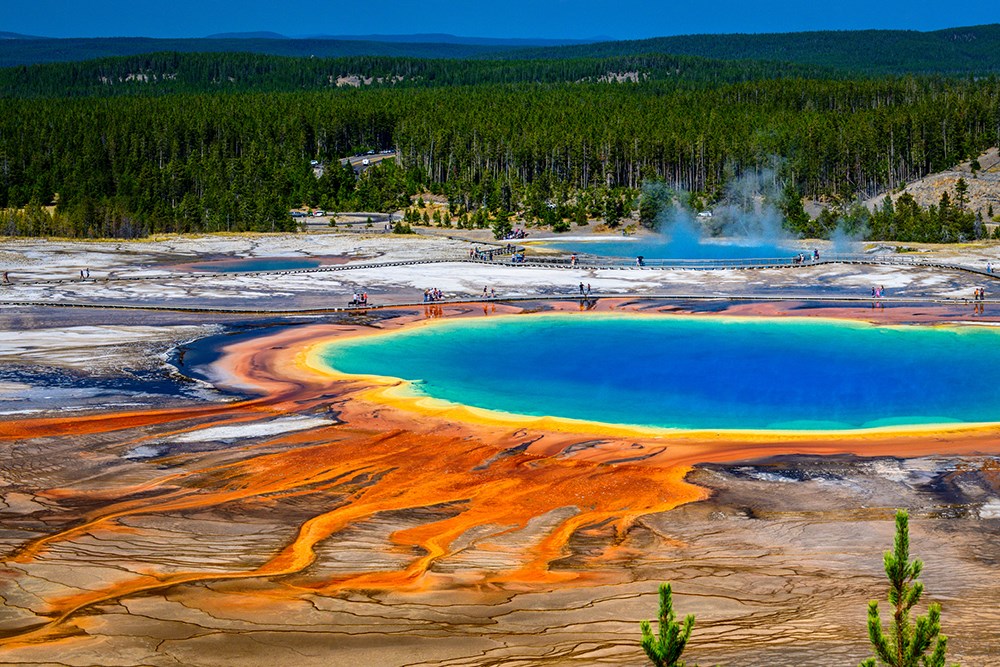 4. Yellowstone National Park | Montana, Idaho, and Wyoming
Yellowstone holds a special place in our hearts not only because it is near the place where KOA was born, but also because it was America's first national park.
This world-famous national park sits on top of a dormant volcano and is filled with all kinds of delights. There is something for everyone here in the park's nearly 3,500 miles. The wildlife here is what you dream of when you think of wild animals roaming around Montana: America's biggest buffalo herd, grizzly bear, wolves, elk, and more. In short: animals you want to get good pictures of from far away. Speaking of pictures, photographers come from all over the world to shoot the wildlife here (which, again, they should all do from a safe distance – that's what zoom lenses were made for).
Yellowstone National Park features more geysers and hot springs than any other place on the entire planet. In fact, about 50% of the world's hydrothermal features sit in this park. Together, they create an effect that makes it appear like the ground is up in flames.
The biggest attraction at this national park is Old Faithful, a geyser that is one of the most recognized natural wonders in America. This geyser erupts about 20 times a day, with each eruption lasting anywhere between 90 seconds and five minutes. Thar she blows! And when she does, she shoots water up anywhere between 100 to 180 feet up in the air. No matter how many pictures and videos you see of this place, nothing can do Old Geyser justice. It's something you must experience in person.
This park has 2 million acres to explore via hiking, horseback riding, fishing, tours, and more. And one of the best places to head in your RV is along the Grand Loop Road, a 142-mile journey that takes you through the main attractions of the park. This road is nicknamed "Figure Eight" because of the shape that it makes, connecting all five entrances to Yellowstone.
You won't want to miss walking the boulevards over Mammoth Hot Springs for a unique experience. Some other great hikes to embark on include the Bunson Peak Trailhead that provides sweeping views over Swan Lake Flats. If you've got kids in tow, then opt for a hike to see Old Faithful and head on to Biscuit Basin, followed by the Mystic Falls Trailhead for views of a beautiful 70-foot waterfall.
KOAs nearby: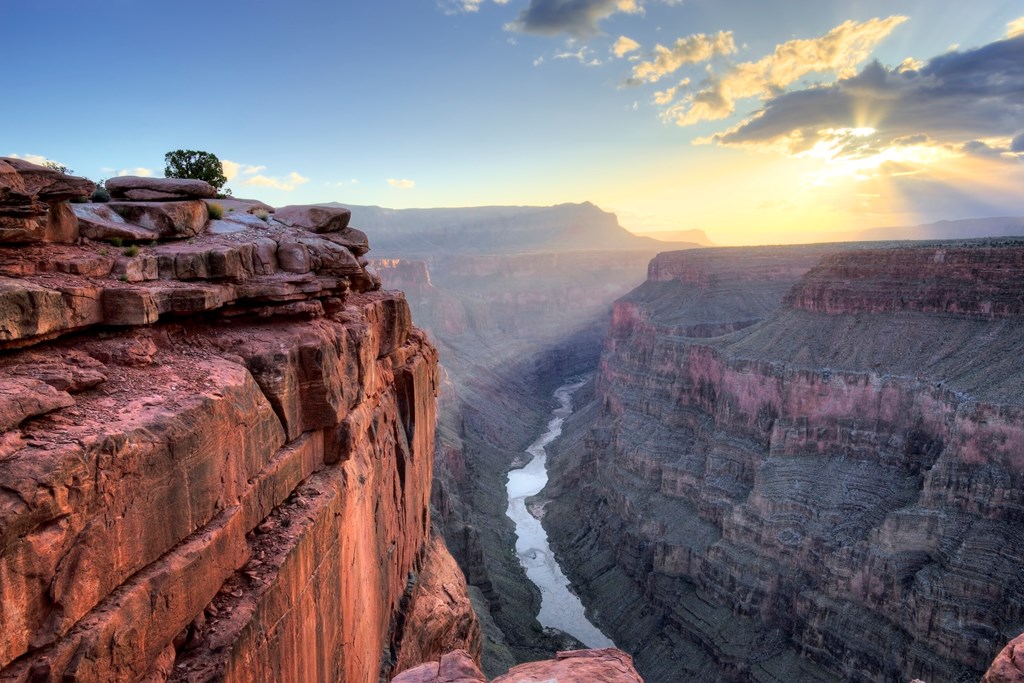 5. Grand Canyon National Park | Arizona, Nevada, Utah, and Colorado
This iconic national park touches four states, but the part of the Grand Canyon that most people see is the part that resides in Arizona, the famous South Rim. Over 6 million people make their way to this epic site every year.
There are three different rims in Grand Canyon National Park. You've got the South Rim, which gives you all the things you think of when you imagine visiting a national park: ranger talks, shuttles, and more.
The West Rim is overseen by the local Hualapai Tribe. You can get to the West Rim via a shuttle and you also have the opportunity to experience the Grand Canyon Skywalk, a horseshoe-shaped bridge that takes you over the edge of a side canyon and to the place where you look down and 2,000 feet below you you'll see the bottom of the Grand Canyon.
The North Rim is the most remote part of Grand Canyon National Park, but those extra adventurous hikers, backpackers, and explorers consider this their favorite part. That's likely because it's the least busy due to its difficult access. It's also important to note that this part of the park is closed from October to May due to weather.
One of the top things to do in the park is to make your way down the iconic Colorado River. You can opt to do this in several ways, but a raft seems to be the favorite. There are dories as well that provide a completely different experience of the river.
If you're a hiker, you can be one of the less than 5% of people that visit this park and actually leave the top. But when you do, you will be amazed at the views you'll get as you hike down the canyon and experience the changes in the land.
We highly recommend sticking around to watch the stars once the sun goes down. Grand Canyon National Park was officially designated as an International Dark Sky Park in 2019. If you head here in June, you can experience one of the park's star parties that feature telescopes for you to use and astronomer talks too.
KOAs nearby: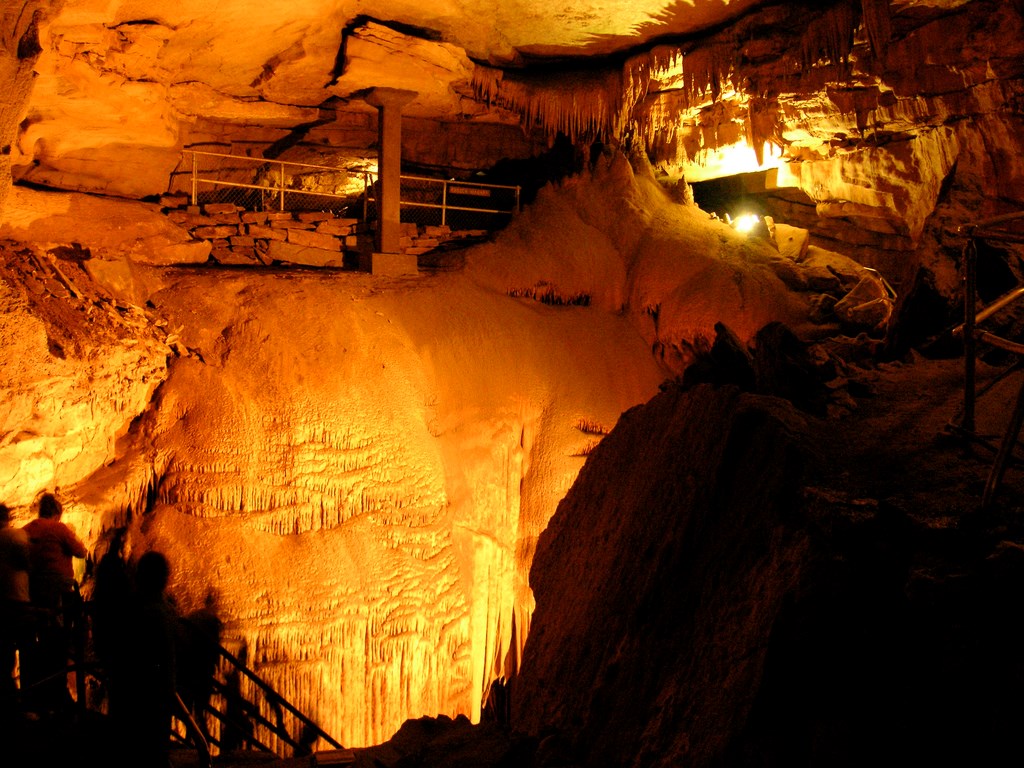 6. Mammoth Cave National Park | Kentucky
Chances are good this is a national park that isn't on your radar, but we are about to change that.
Mammoth Cave National Park is the world's longest-known cave system in the entire world with over 400 miles that have been explored and mapped. If that's not enough to spark your interest to go into the maze of the underground, then we aren't sure what is.
Thousands of years of human history sit in this park, waiting for you to explore. It is both a UNESCO World Heritage Site and an International Biosphere Reserve, so there is clearly lots to see here.
It's no surprise that the most popular thing to do here is to experience some epic cave tours that take you through this mystical world beneath the surface. The feeling of being in complete and utter darkness and silence that you'll experience on a cave tour will truly blow your mind.
However, there's much more to do in this park than spelunking.
Mammoth Cave National Park is full of great hiking and trails to experience via horseback and bikes. If water is more your thing, then you'll find great canoeing and fishing. And, you RVers are really going to love this – Mammoth Cave National Park is known not only for its caves but also for its stunning drives. This is what makes it a favorite spot for RVers to enjoy from behind the wheel, with plenty of opportunities to jump and explore on foot.
KOAs nearby:
With a KOA campground nearby, you have the perfect place to call home after a full day of exploring these national parks. We pride ourselves on creating campgrounds that provide RVers with what they need to get the most out of their adventures. This includes offering top-notch amenities including cable TV, Wi-Fi, firewood, propane, and more. When you stay at a KOA campground in your RV, you have everything you need to make your experience a fun and unforgettable one.
---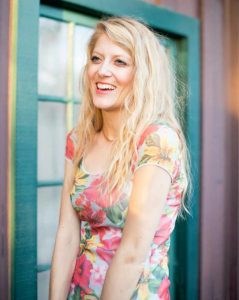 Leslie is a travel writer, copywriter, and web designer who gets butterflies from telling stories through words and visuals.
Her voice comes from a place filled with passion, dreams, and lots of sugar. "Cake over steak" is her go-to motto.
With over 10 years of experience in crafting words, and years of embarking on travels that have taken this Montana girl to some incredible places, Leslie loves the adventures of both body and mind her writing takes her on.
To see what Leslie's up to in the writing and design world, visit her website here.
---