Dream Vacation: Camping the Pacific Northwest Coast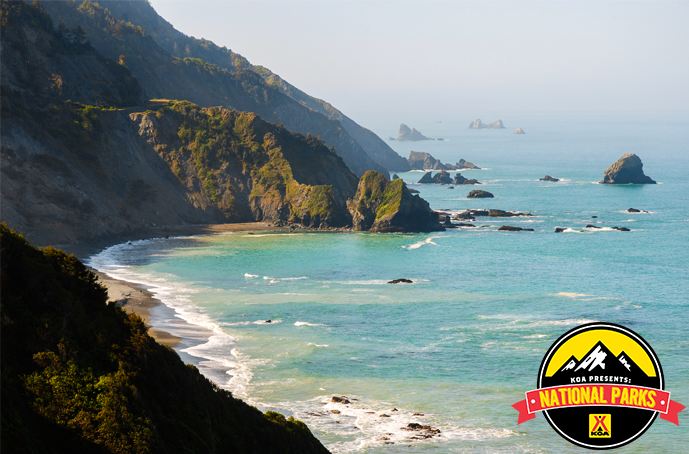 A trip down the coast of the Pacific Northwest—from Washington through Oregon to northernmost California—should start with a view from the top. At the revolving SkyCity restaurant, 500 feet up the 605-foot-tall Seattle Space Needle, you can watch the wonders of Puget Sound appear in a slow-motion panorama, whether it's seaplanes landing on Lake Union or cruise ships docking in Elliott Bay. The mountains of the Cascade Range rise to the east, the Olympic Mountains to the west. And, after returning to your base camp at Seattle / Tacoma KOA, Olympic National Park can be your next stop.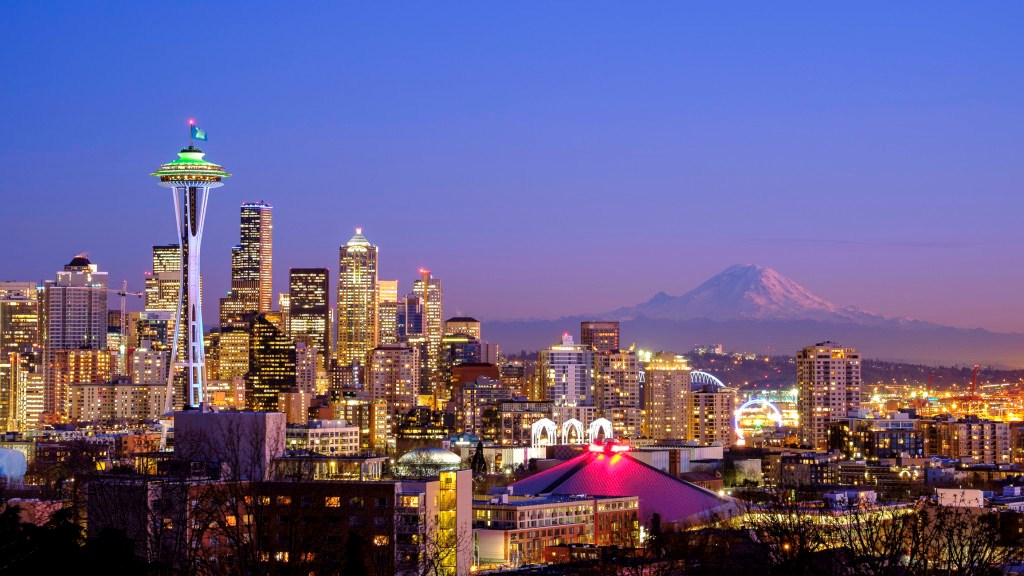 Olympic's nearly one million acres offer an enchanting array of ecosystems—from snow-clad peaks to wave-drenched coastline to old-growth forests. From Olympic Peninsula / Port Angeles KOA, drive 30 minutes to glacially-carved Lake Crescent or 45-minutes to Hurricane Ridge, where you might catch a glimpse of the Strait of Juan de Fuca. Follow Highway 101 around to Rialto Beach, where crashing waves and bald eagles might battle for your attention, then continue further to the lush, green wonderland of Hoh Rain Forest.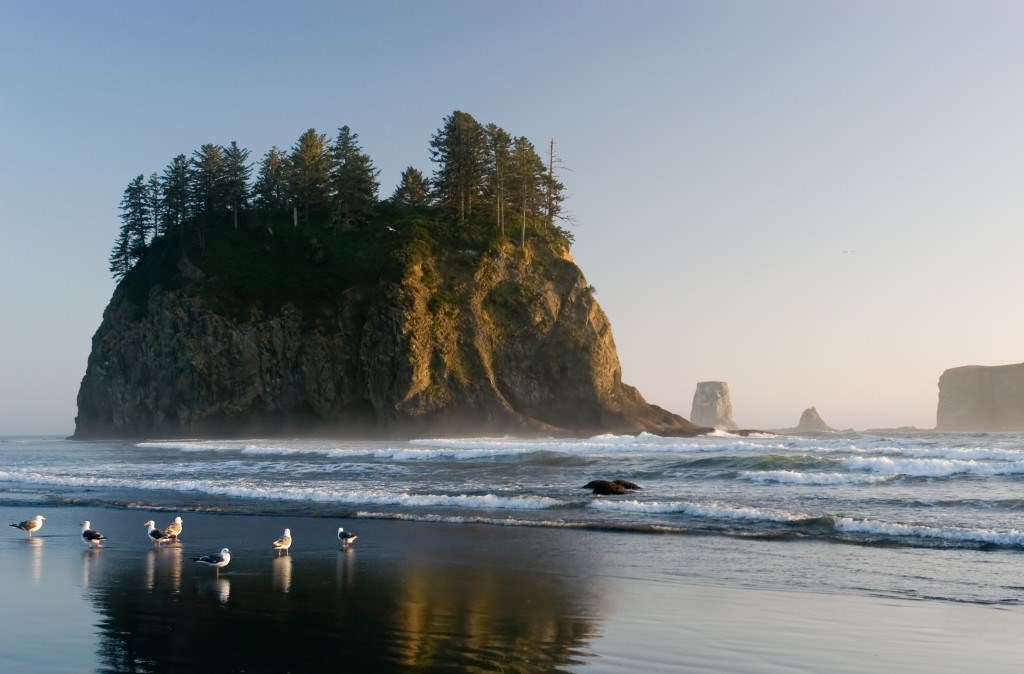 For the rest of this epic journey, Highway 101 will take you along the continent's edge. Some four hours south of the rainforest, Bay Center / Willapa Bay KOA Journey allows for exploration of the state's southwestern corner. Stroll a scenic nature trail that leads to Willapa Bay. From Ilwaco Harbor, you can go deep-sea fishing in the Pacific. On the Long Beach Peninsula, the International Kite Festival decorates the sky every August. And if you cross the Columbia River, you're in Astoria, Oregon, an eclectic place where "fishermen are poets" and "loggers drink espresso."  The Astoria / Warrenton / Seaside KOA Resort is only a few miles from the Corps of Discovery's 1805-06 winter encampment. You'll want to spend time in the area, too, and you can tour a replica at Fort Clatsop National Memorial.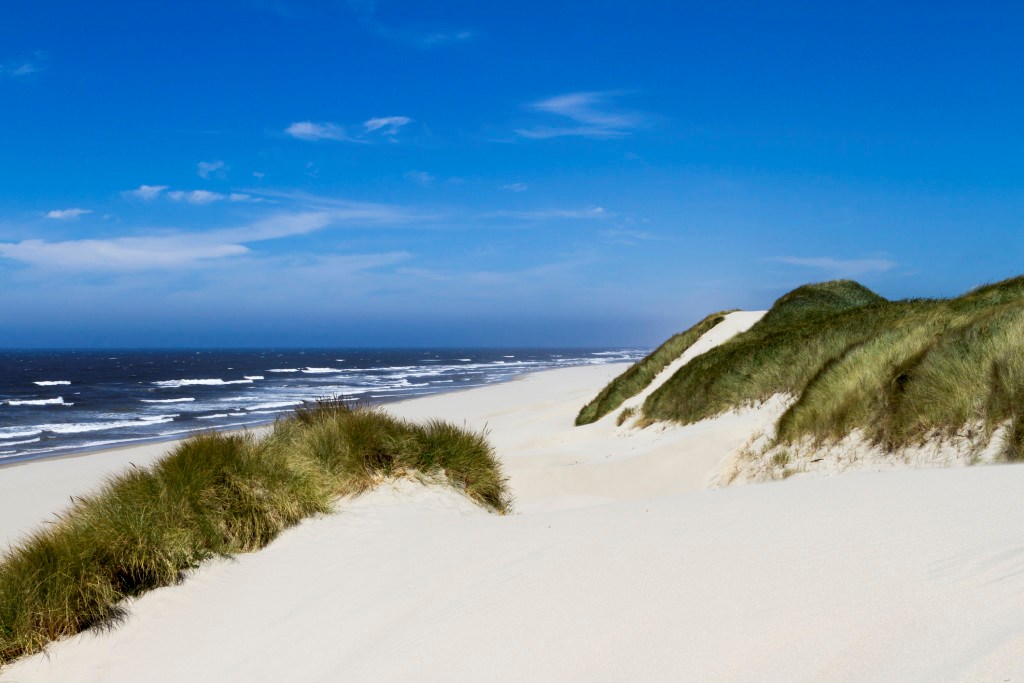 Your journey down the Oregon Coast can be segmented by simply cruising from campground to campground. Travel 102 miles to Lincoln City KOA Journey, and search for the thousands of handmade, multicolored "glass floats" that the locals hide along the 7 ½ miles of public beach in Lincoln City, a promotion that runs from mid-October to Memorial Day. Forty-three miles more, past the Oregon Coast Aquarium, and Waldport / Newport KOA offers amazing views of Alsea Bay. Drive 74 miles from there, and you'll reach Oregon Dunes KOA Holiday, which offers ATV access to Oregon Dunes National Recreation Area—a sand-in-your-teeth trek through two miles of dunes to flat beaches.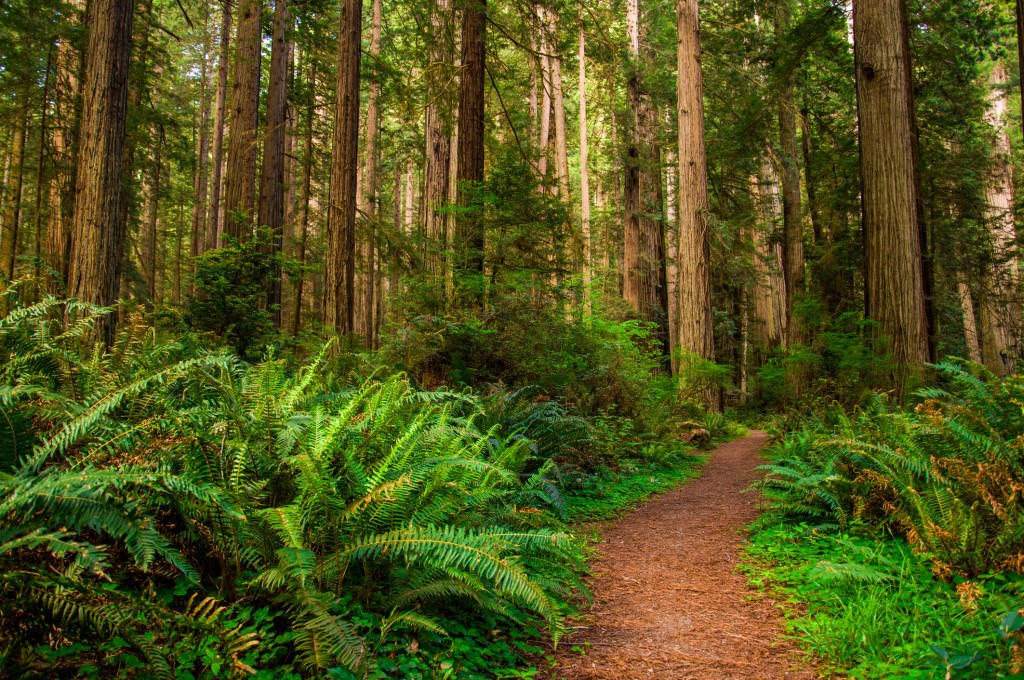 Bandon / Port Orford KOA Journey, 50 miles south and set amid an eight-acre forest, is just a short drive from Prehistoric Gardens, where you can take a self-guided tour through a rainforest—and 23 life-sized dinosaurs along the way, a taste of ferocity amid the ferns. And speaking of the ancient and enormous, you can cross into California and conclude your coastal voyage with a stay at Crescent City / Redwoods KOA Holiday. It's less than two miles from the entrance to Redwood National Park, where you'll find magical hiking trails beneath some of the largest livings things on the planet. So after starting your Northwest Coast tour looking down, you'll find yourself peering way up.
OWNER'S TIP: "Willapa Bay is famous for its oysters, which have been described as being lightly salted and sweetly cucumber in flavor. From our campground, you can walk only half a mile to Ekone Oyster Company and pick up a bag of the bay's famous bounty—in-shell, fresh-shucked, or smoked."—Iris Shupe, Bay Center/Willapa Bay KOA Journey
ALONG THE WAY… Don't miss the EMP Museum in downtown Seattle. Dedicated to contemporary popular culture, it features exhibits about everything from rock and roll to independent video games to the classics of science fiction, fantasy and horror. Jimi Hendrix's passport? Luke Skywalker's lightsaber? The Wicked Witch of the West's Hat? The axe from The Shining? They're all there.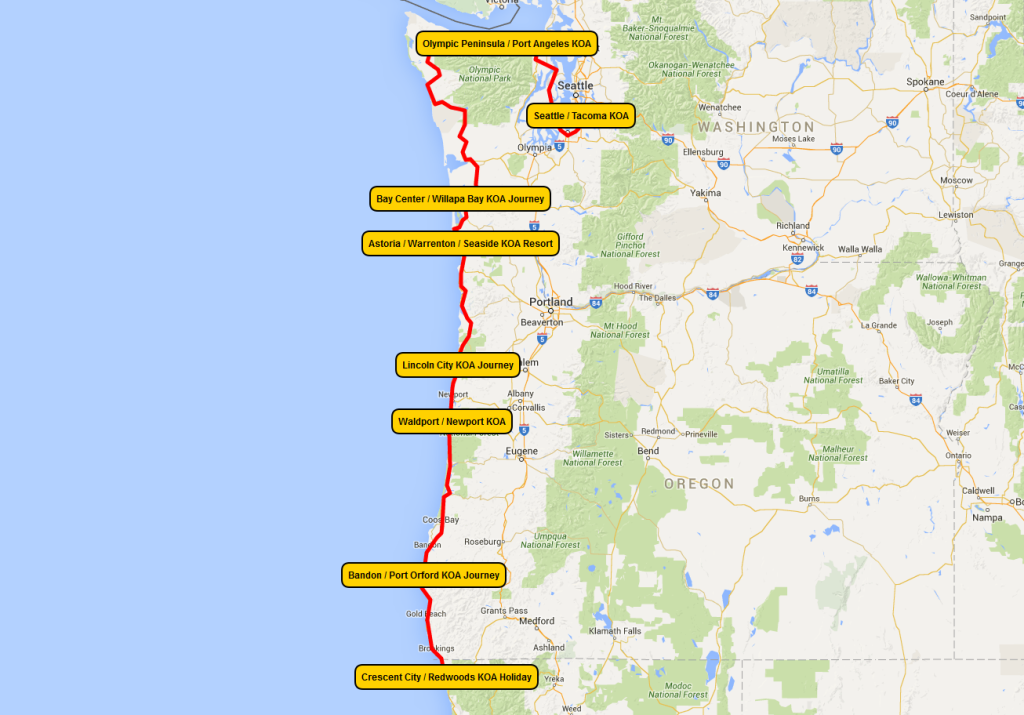 Click to Enlarge Map
EDITOR'S NOTE: 2016 was the 100th Anniversary of the National Parks Service, the agency that oversees more than 400 National Parks, Monuments and Seashores across the U.S. This story was part of a special series featuring great trips you can take to some of America's wonders.

Inspired? If you are headed toward any of our National Parks or Monuments, check out this list of KOA campgrounds near National Parks and Monuments.
Don't forget! If you're ready to plan that dream trip you can save big on stays at all your favorite KOA campgrounds with Value Card Rewards. You'll earn reward points, enjoy members' only offers – including our new Value Card Reward Savings which could save you big with over 500,000 coupon offers – and save 10% off any site at any KOA.
---
ABOUT THE AUTHOR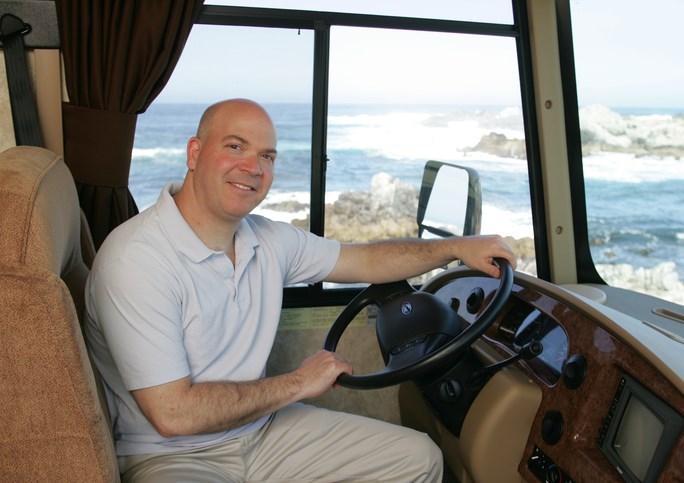 Author Brad Herzog (BradHerzog.com) has written more than 30 books, including three acclaimed memoirs in which he examines big-picture concepts while passing through some of the tiniest dots on the U.S. map. The American Book Review has described his travelogue trilogy as "the new classics of American travel writing." Herzog lives on California's Monterey Peninsula with his wife Amy and their two sons.
Save