Early Spring Camping Tips and Packing Checklist
With the holidays in the rear-view mirror and winter inching further along, spring is slowly starting to come into focus — and with it comes the increasing urge to get back outside and into a campground. During a time of seasonal flux, there are some tricks and tips to keep in mind when camping, though. Sure, the scenery can be lush, and the trails tend to be far less crowded than summer and fall, but springtime weather can be erratic (to put it mildly), and thorough preparation is paramount.
With a little extra planning and the right spring camping checklist, you'll be all set for a successful spring camping trip!
9 Pro Early Spring Camping Tips
If you have never embarked on an early-season camping trip, you may need some spring camping tips and tricks to ensure a fun and successful adventure. Follow these pointers, and you'll be good to go.
1. Go for a Practice Run
More so than any other season, spring is the time when people are most likely to have new camping gear. Before diving in headfirst with an inaugural camping trip, however, it's a good idea to make sure that it all works, it fits your needs and you know how to set it up, lest you wind up fumbling around with a faulty tent in the spring rain.
Take some time to use your gear in a yard or state park close to home for a night, and get comfortable with it before embarking on your trip. Even if it's not new gear, it's likely equipment that's been in storage for at least a few months, and could benefit from a test run to make sure it's still up to snuff.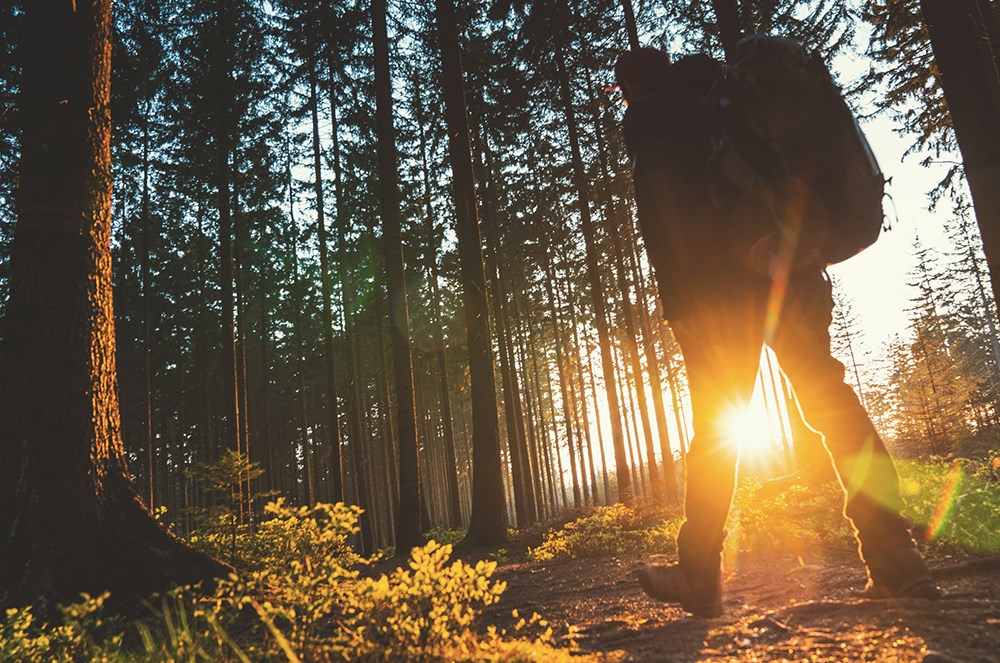 2. Think and Plan Ahead
Before decamping for the campground, be prepared. It's fine to pack up some stuff days in advance, but make sure and triple-check the forecast as close to your departure as possible so that weather conditions are as accurate as they're going to be. Use more than one weather app or website, and consider ringing up the campground to see what conditions are like at your destination.
Regardless, play it safe by packing more layers and dry equipment then you assume you may need. Not sure what to pack? Check out our spring camping packing list below.
3. Dress for Inclement Weather
You may be thinking spring, but winter has a knack for hanging on. Even if it's sunny and warm where you live, this is the most fickle time of year, weather-wise, and things can get blustery quick. Depending on where you're heading (and what the elevation is), there's also a good chance of snow and ice. Thus, augment your spring camping packing list with wintry items just in case — like water-proof coats, thermal wear, plenty of socks, gloves or mittens, hats and hiking boots that have sufficient traction for potentially slick trails.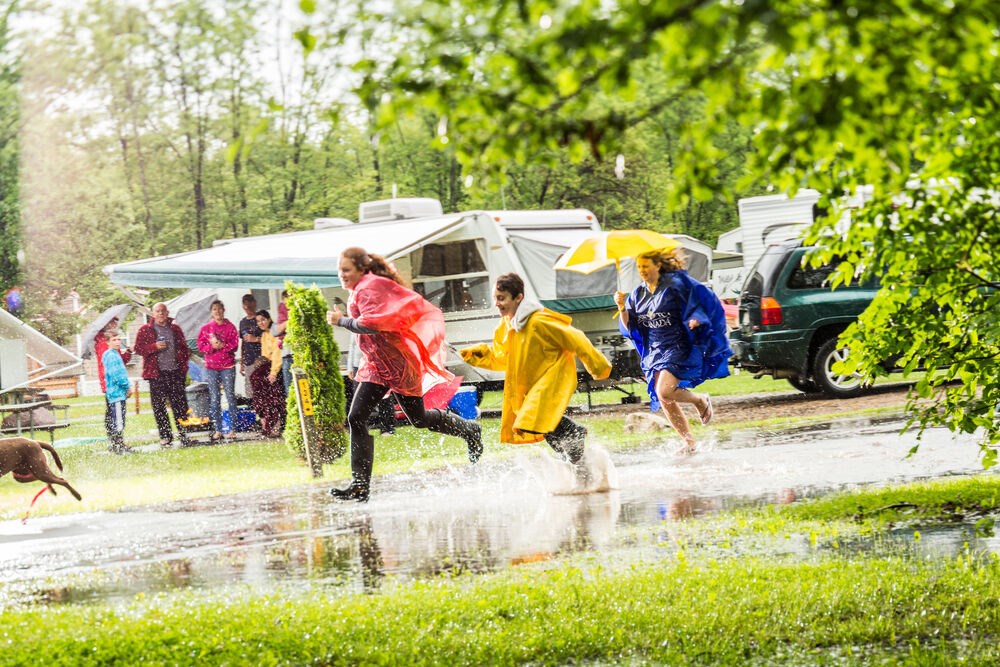 4. Stay Dry
Most people would be surprised to learn that hypothermia is more dangerous in the spring than winter. That's because the season is so much wetter, thanks to both rain and snow, and temperatures fluctuate so drastically that it can be deceiving to properly contend with. No matter how sunny things may seem, be sure and stay dry by stocking up on water-proof everything and leaving the cotton at home. This means clothes, tent gear, bags and any items you may use for hiking.
5. Don't Let the Bugs Bug You
Unfortunately, flowers aren't the only things coming back to life this time of year. Mosquitos and flies are also starting to return post-winter, and as things warm up, they're especially drawn to all the water that spring brings forth.
Since early spring isn't nearly as hot or humid as summer, many campers tend to overlook the bug spray and screens, thinking they're safe from pests. Even if temperatures are still cold, play it safe by bringing repellent and Citronella. After you've gone hiking, also look for ticks.
6. Get Ready for Mud
All that rain and melting snow means trails and roads are highly likely to get muddy. This means it's important to bring shoes and boots that are durable in the sense that they won't slip and slide through soft ground, and also that they're easy to wash and clean. Another good idea is to take a hiking stick along for added traction and balance. Back at camp, have plenty of towels and rags for cleaning mud and keeping the inside of the tent from getting dirty.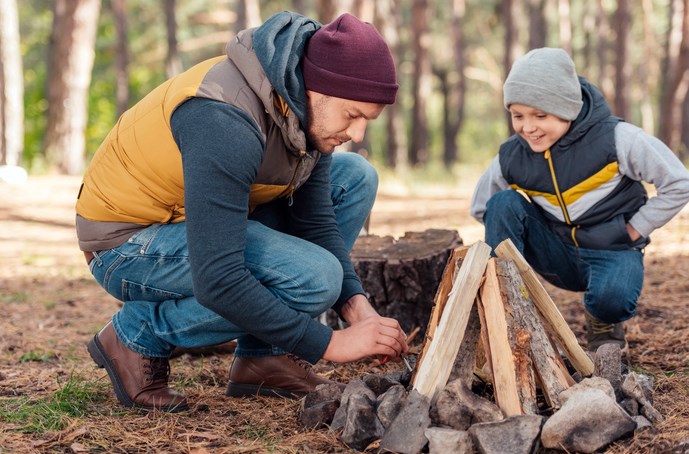 7. Travel With the Right Equipment
No matter how chilly things might get, camping in cool and/or wet weather is still totally doable — with the proper equipment, of course. Similar to your wardrobe, this means ensuring your tent is durable and warm, more suited for winter than summer. Double-layer doors are ideal, especially if they are water-proof.
Spring rain is no joke, so look for a tent that's shaped to deflect as much water and wind as possible, and bring a tarp to tie up over top. You don't want to be woken in the middle of the night with rain dripping through the ceiling. Lastly, look for a spot or a campsite where you can add a little more protection from the elements, whether there's an awning or some tree cover. Every little bit of layered protection helps.
8. Keep Gadgets Dry
Let's face it. This day and age, we'd be lost without our electronics. That's why keeping your phones and such safe and dry is equally as important as your tent and attire. At night (or whenever they're not with you in your pockets), keep electronics safely stowed in sleeping bags or dry pockets, off the ground and away from the side of the tent. Make sure they are not exposed to cold air, either, as this can kill a battery.
When you're out and about, keep phones snug in base-layer pockets under any coats or jackets you may be wearing. This will shield them from any rain, snow or mist that might seep into exterior pockets.
9. Feel Free to Indulge
While spring won't get as cold as winter, chilly weather means your body will be working overtime to regulate inner temps. You'll need more calories, carbs and fat to keep your energy levels up, so bring plenty of food and don't shy away from the hearty stuff. Stews, oatmeal, sandwiches, chili and other warming, filling items are good bets, along with snacks to munch on throughout the day.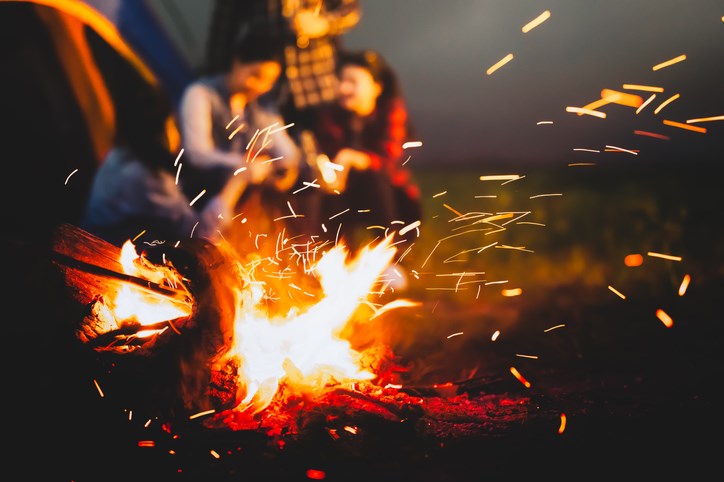 Your Essential Spring Camping Checklist
Spring camping can be great. With new greenery bursting forth and animals getting more lively after their long winter lull, you are bound to have a fun venture into nature. However, don't just throw a bunch of stuff in the car and hope for the best. Early season camping requires a little more forethought, especially if you are traveling with little ones.
While the above camping tips give you a good idea of how to prepare, knowing what to pack is also an important consideration. Yes, it's important to pack light, but you also need to be sure to bring all the essentials you need to stay warm, dry and comfortable. Even if you do encounter a rainstorm or two, this partial gear checklist will ensure some puddles and mud don't get in the way of a great experience.
Along with your favorite camp equipment, here are a few key items that make for a successful springtime camping trip. With these things packed safely among your belongings, you'll be prepared for anything:
Waterproof or all-weather tent: Showers and springtime are basically synonymous. Be prepared with a tent designed to keep out as much water and wind as possible. You'll also want to bring a tarp or pop-up shelter for extra protection against rain dripping through the ceiling.
Winter sleeping bags: Choose a sleeping bag that's geared toward colder weather with a temperature rating as low as 40 degrees to ensure you stay cozy and warm during those chilly spring nights.
Foam pads: Placing a pad under your sleeping bag provides an extra layer between your body's warmth and the cold ground.
Base, middle and outer layers of clothing: Temperatures change a lot during the spring, and there's no telling when your warm, sunny day will turn into a cold, rainy night. Be prepared with several layers of clothing that can be added or removed as temperatures fluctuate. Plus, make sure all your clothes are waterproof or water-resistant and leave the absorbent cotton at home.
Raincoat: It may be self-evident, but be sure to grab your rain shell before heading out.
Extra wool socks: Wool socks are a lifesaver when it comes to hiking through muddy, wet environments. Not only do they keep your feet drier, but they also dry out quicker than other sock materials like cotton.
Starter log: If you want to get a roaring fire going, you may have to deal with wet logs — not a great start for this campsite essential. A starter log helps get your fire up to snuff so that you can dry off and warm up no matter what the weather is like.
Ready to start planning your spring camping adventure? KOA has over 500 locations in North America, so whether you're looking to stay close to home or you want to explore somewhere new, KOA has something for everyone! Make your reservation today.
---