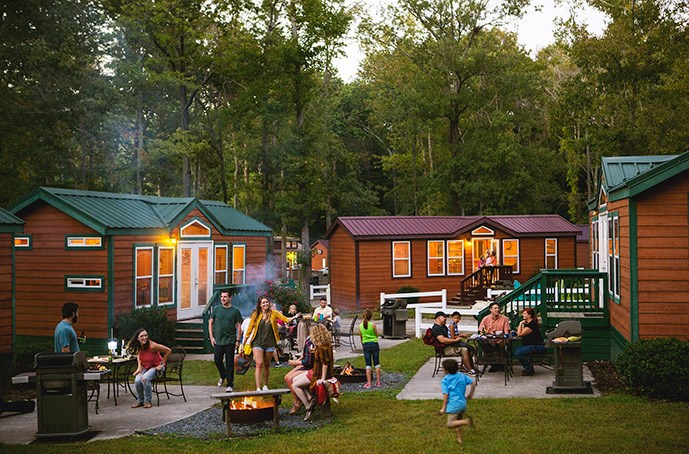 Wondering how to try glamping for your next vacation? Check out our top tips for glamping as well as some unique accommodations to try out for your next trip.
Camping is a fantastic way to enjoy the great outdoors, but sometimes you want a more glamorous way to experience the great outdoors and enjoy quality time with family and friends. That's where glamping comes in — a word that combines glamorous and camping.

What Is Glamping?
Glamping is when you take traditional, rustic camping and upgrade it to a unique lodging experience. Skip the sleeping bag and the tent in favor of comfortable cabins and other types of accommodations that offer comfort and convenience but keep the wilderness within arm's reach.
How to Go Glamping
Glamping might sound exclusive and expensive, but it's actually an affordable way for everyone to experience the outdoors.
The first thing you need to do is figure out where you want to go — geographically speaking. Are you planning on staying local, taking a short road trip or going somewhere far from home? Once you've figured out your destination, it's easy to search for glamping-friendly locations. There are a number of campgrounds across the US and Canada that provide glamping accommodations at prices comparable, or better than, an average hotel room.
Why Should You Try Glamping?
Why should you try glamping for your next trip with friends or family? Comfort, stress relief and improved health are all benefits of camping. In fact, 45 percent of campers report that their experiences help reduce their overall stress levels and 39 percent feel an overall improvement in their health when they go camping.
Glamping offers the same benefits as traditional camping with the added bonus of a unique and relaxing camping experience. If you like to get outdoors but just can't stand the idea of sleeping on the ground, glamping is a great option.
How to Try Glamping
When is the perfect time to try glamping? Anytime!
Glamping trips make an awesome destination for everything from family reunions and birthdays to graduation celebrations and family vacations. Even if you don't have a special occasion coming up, you can still plan a glamping trip. Maybe it's just Saturday and you want to get away, but you don't want to have to go through the hassle of setting up a tent site. The solution — a glamping trip!
Here are some glamping tips to help you make the most of your trip:
Stock up on luxury toiletries and bring them along
Invest in a heated blanket
Bring lanterns, candles and other cozy lighting sources to improve the ambiance of your campsite
Make fancy cocktails — or mocktails if desired — after a hike or at the end of the day
Plan special meals using gourmet ingredients you bring along or pick up some fresh local ingredients
Bring some gourmet s'more making supplies for a special dessert
Look for things like clean bathrooms, pet-friendly options, electricity or electric hookups, and linens at your glamping destination. Recreation opportunities, either provided by your glamping campsite or available nearby, are also nice options.
Glamping is a great way to get outdoors, no matter what the occasion. It offers the perfect way to spend time outdoors with family and friends, all while enjoying a comfortable and unique camping experience.