Take Your Family On a Glamping Trip | How to Go Glamping & Tips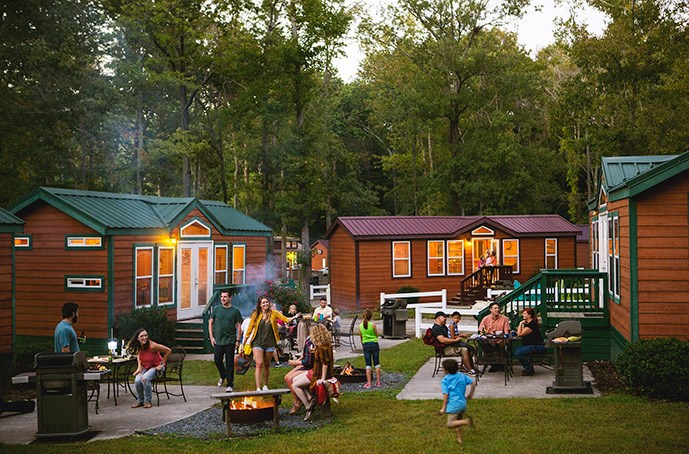 The concept of getting into nature and cutting yourself off from the fast pace of day-to-day life is appealing. You imagine a relaxing camping trip that involves communing with the outdoors and returning home completely refreshed.
Camping gives you the opportunity to get outside and unplugged from your daily routine. That is why people love to plan camping vacations. These natural excursions are the perfect getaway from the hustle and bustle of the everyday.
Imagine doing all this and still enjoying many of the luxuries of everyday life. Maybe you want to have an air mattress rather than sleeping in your sleeping bag on the ground. Or perhaps you prefer to have ambient lighting when you go camping or a portable gourmet kitchen to cook with.
If only there were a way to combine the comforts we enjoy at home and communing with nature. Fortunately, there is. Welcome to the world of glamping.

What Does It Mean to Go Glamping?
Glamping combines traditional, rustic camping with some of the luxuries you do not want to do without. The name mashes up two terms that you may not have thought of as going together previously — glamorous and camping.
They make for an experience becoming popular the world over. For people who like to rough it, a tent and sleeping bag are like heaven. They relish the idea of spending the weekend enjoy the rustic experience of traditional tent camping. Others enjoy their plush beds, soft pillows, a warm shower and climate-controlled surroundings. That is why the concept of glamping came into being.
Glamping takes the traditional camping experience and upgrades it. Gone are many of the challenges often associated with camping. What is left is a an elevated camping experience where you get away from your urban existence without sacrificing comfort.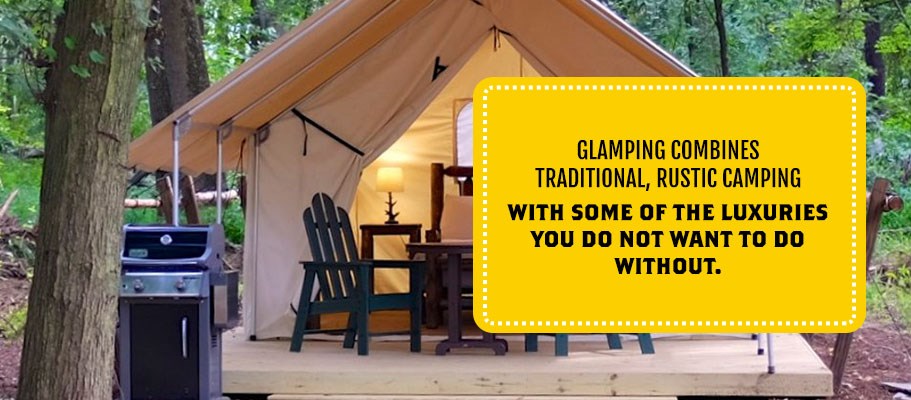 Glamping varies from person to person. For some, a warm bed raised off the ground is luxury enough. For others, glamping includes gourmet meals, Wi-Fi or even a flat-screen TV. Glamping can include as many luxuries as you wish. Also, the setting can vary greatly. It could be a Glamping Tent, Deluxe Cabin, RV or another unique lodging option like a teepee or yurt.
The Evolution of Glamping
Luxurious Glamping Tents have been in use for centuries by many different cultures. From traveling royalty in Asia and Europe to Plains Native Americans. More recently, there were turn-of-the-century European travelers to Africa demanding all the luxuries of home while on safari. Their tents were complete with feather mattresses and ornate furniture.
Modern-day glamping seems to have originated in the early 2000s in Great Britain, where the British coined the term. From there the glamping movement spread quickly to the U.S. It started primarily on the West Coast, in states like California. Now glamping accommodations can be found across the U.S. Savvy landowners, campgrounds and even vineyards have capitalized on the movement by creating luxurious glampsites with incredible amenities. With so many options available to glampers, the days of roughing it may be reserved for a very select few.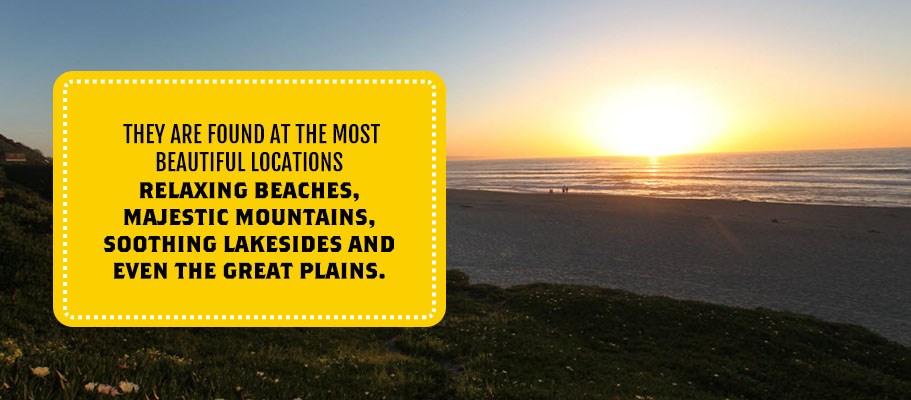 Glamping vs. Vacation Homes
If you are considering a glamping vacation, it is probably because you are looking for a way to get close to nature. There are campgrounds where you can go glamping all over the United States. They are found at the most beautiful locations — relaxing beaches, majestic mountains, soothing lakesides and even the Great Plains.
Vacation homes may seem to be more similar to the house that you are used to, but they just do not connect you with the natural surroundings of a place the way that glamping does. Plus, most vacation homes are extremely pricey, especially during peak seasons.
Here are some reasons you should choose glamping over a vacation rental:
Direct access to the natural surroundings
The best aspects of camping, including s'mores and campfires
Time to spend with family and friends
No special survival skills or outdoor training required
Plenty of fresh air
Glamping experiences can fit any budget
How to Get Started Glamping
So, you have made the decision. Glamping is for you, and you are ready to start planning your trip. What now? Well, first things first. You have to choose where and when you want to go glamping. There is no right or wrong answer. Maybe there is a place you have always wanted to see. Now is your chance to see it in style.
How to Choose a Place to Go Glamping
First-timers may wonder where the best places are to go glamping. The great thing about this form of camping is that you can glamp just about anywhere. Experience the bayou of Louisiana or the Rockies in Colorado. Head northeast to watch the maple leaves change color in fall. Or enjoy the rains and mists of the Pacific Northwest from the warmth of your glamping accommodations. It is completely up to you.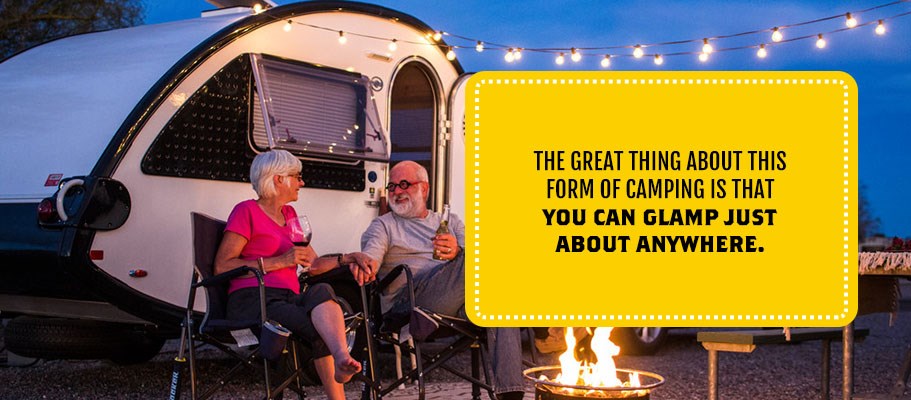 Just consider the surroundings and think about the activities you would like to participate in. If you want to see some waterfalls, there is plenty of campgrounds near scenic waterfalls. Or maybe you are ready to soak in some sun at the beach. Many glamping campsites are available within walking distance of some beautiful shorelines and other natural beauties.
You will also want to consider what time of year is right for you. Winter is probably the toughest time of year to glamp, although a cozy cabin warmed by a fireplace does have its appeal. No one says a skiing trip cannot become a glamping trip. Spring and fall offer beautiful, natural appeal, like flowers blooming or leaves changing. Plus, the temperate weather makes them ideal for those who want to avoid extreme temperatures. Summer offers warm weather in many parts of the country and in the winter a glamping trip may be just what you need to fight that cabin fever.
What to Pack When You Go Glamping
You do not have to be selective or choosy about what you bring when you go glamping. A rustic camping trip may entail having to carry all your equipment in a backpack or lug tents and other items to and from your vehicle. Glamping venues are often more accessible. It is just a matter of packing your car or RV with the things you do not want to do without and driving to your destination.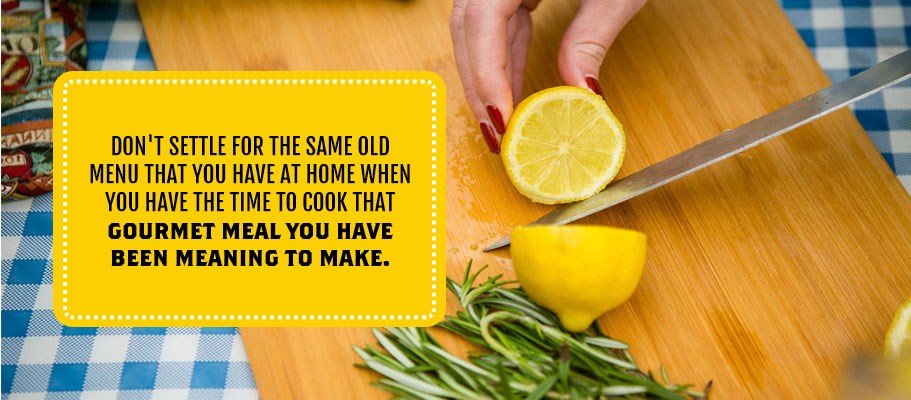 Here is a list of what to bring glamping items, both essential and luxury, to ensure that your experience is one of pure enjoyment:
Food: Some glamping accommodations include a kitchen area. Don't settle for the same old menu that you have at home when you have the time to cook that gourmet meal you have been meaning to make. Do not forget about beverages. Stock up on teas for a nice warm break in the middle of your day. Make sure to bring plenty of water, too.
Kitchen Essentials: Depending on where you go, you may need to bring your own dishes, silverware and even cookware. Decide on whether you would like quick disposable options or if you would prefer to bring your own kitchen items. If you are taking real dishes, do not forget to pack some dish soap to wash up.
Clothing: Find out ahead of time if your glamping venue has a laundry facility. This will help you decide how much to pack. The great thing about glamping is you can bring a large suitcase of clothes if you want to. No need to pick and choose your clothes. Just consider the time of year and where you are going, as that will determine whether you need a swimsuit or a parka. Do not forget a warm pair of indoor/outdoor slippers for those cool morning hours.
Bedding: If you are staying in a Camping Cabin or even some other types of lodging, your lodgings may come with a bed and linens. You can always improve these with a mattress topper and an extra-fluffy comforter or blanket. If you are staying somewhere without a bed and want a more luxurious sleeping experience, be sure to bring an air mattress with a built-in pump, so you are not sleeping on the hard ground. You can also bring as many pillows as you want.
Cleaning Supplies: Most people do not want to think about cleaning on their vacation. If you wish to keep your lodgings extra tidy, you may want to consider bringing a broom, some disinfecting wipes and any other supplies that will help you feel more comfortable.
Mood Lighting: Depending on your preferences, you may want to bring some additional mood lighting. A campfire is a cozy start. You can also bring candles, LED votives, a string of outdoor lights or fairy lights and any other device that will help give your campsite a pleasant glow.
Sleep Mask and Earplugs: If you are sensitive to light, a sleep mask will ensure you rest in total darkness. You may not be used to the sounds produced by nature outside your door or tent. Earplugs will ensure a serene night's sleep.
Bathroom Essentials: From using plush towels to your daily toiletries, you can enjoy your bath or shower time while glamping. Do not skimp out on your supplies. Indulge so you get the most out of this special camping experience.
Choosing Your Glamping Lodging
Glamping accommodations range from quaintly comfortable to high-style experiences. Although some are a little more rustic, it is up to you to determine how luxurious you prefer your surroundings. Here are some of the options available to glampers.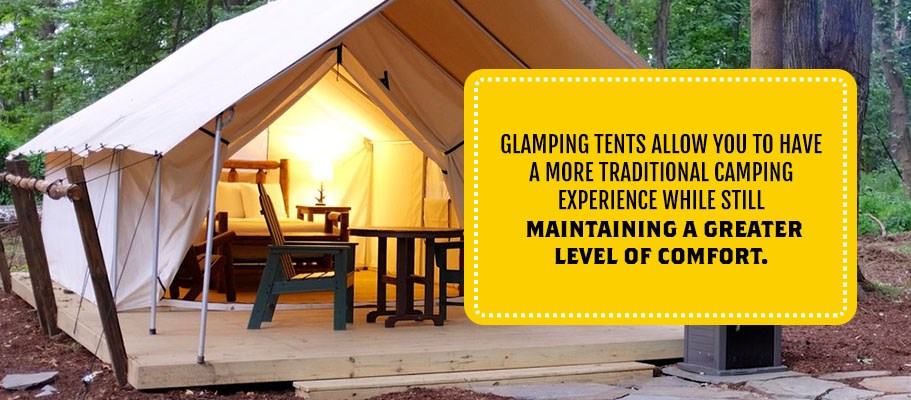 Tents
Tent camping can turn into a glamping experience with a little extra planning. Some tent options for glamping include:
Bring Your Own Tent: You may want to purchase your own tent. There are many high-end options on the market today. Plus, there are services available that will pitch your tent for you while you relax and maybe have a cool glass of lemonade.
Glamping Tents: Glamping Tents are often elevated from the ground on platforms. They can even be outfitted with modern amenities, like fire pits or electricity. Glamping Tents allow you to have a more traditional camping experience while still maintaining a greater level of comfort.
Camping Cabins and Deluxe Cabins
Camping Cabins are an excellent option for those who need an outdoor getaway but would prefer something a little homier. They are the perfect solution when traveling with kids, as they offer beds and ample space for everyone. Camping Cabins also offer electricity and a fire pit or grill for your enjoyment.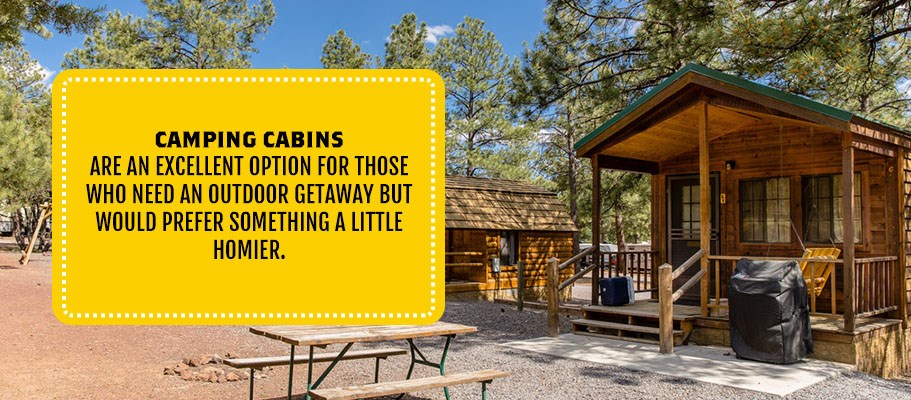 Deluxe Cabins provide extra amenities that every glamper dreams of, including a private bathroom. Many also offer stocked kitchenettes, linens, TVs and more.
For an even more elevated camping experience, look for Camping Cabins and Deluxe Cabins with KOA Patios™.
RV Sites
There is nothing quite like traveling and camping in an RV. These allow you to bring everything you would ever want or need along for the adventure. Many are equipped with small kitchen areas and bathrooms complete with showers.
RV Sites at KOA campgrounds offer plenty of space with Pull-Thru and Back-In RV Sites available, so you do not have to worry about squeezing in and out. Most sites are equipped with full hookups, complete with 30- or 50-Amp service. You can also find campgrounds that offer extras like KOA Patios™ and Kamp K9 for your furry friend.
If you do not have your own RV, you are not out of luck. There are a couple of options that give you the RV experience without having to purchase one:
Airstreams: Many call the Airstream the original RV. These iconic trailers first hit the scene in 1929. At many KOA campgrounds, you can reserve the American Classics for your camping trip.
Outdoorsy: Outdoorsy connects RV owners with enthusiasts who want to try RV camping. This RV sharing program allows you to peruse and select from a variety of RVs, which you then rent directly from the owner.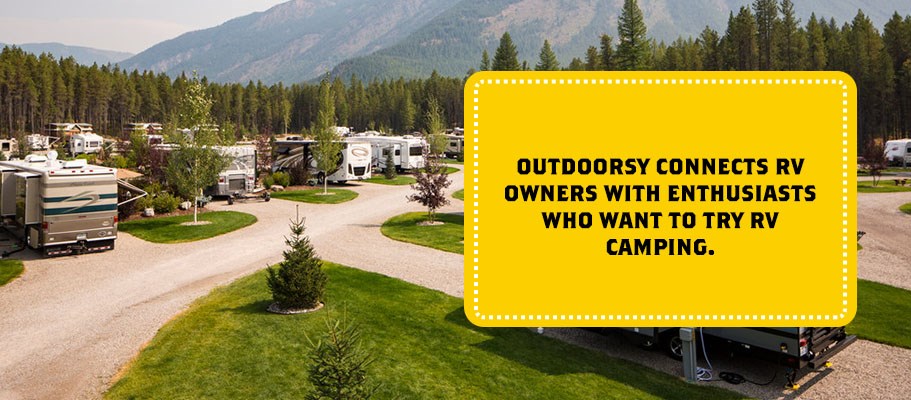 Other Unique Glamping Lodging Options
If you are looking for something more adventurous, there are many creative options out there for you to choose from. The great thing about these is that they do not skimp on glamping luxuries we know and love. Depending on what you select, you may have a private bathroom, a small kitchen area and more while still enjoying nature from the door of your lodging. Some unique options include:
Teepees: These temporary structures were originally constructed by the Plains Native Americans. They are reliable and strong, plus surprisingly spacious within.
Yurts: These round structures originating in Central Asia have enjoyed a recent surge in popularity. They are cozy and comfortable and offer a unique change from traditional options.
Glamping Tips and Ideas for Making the Most of Your Adventure
If you are taking time off work and investing in a glamping adventure, then you will want to make it the best experience possible. Preparation is key. The better prepared you are for your glamping trip, the less you will have to worry about once you get to your destination. Here are some tips and ideas that will make glamping all the more fun: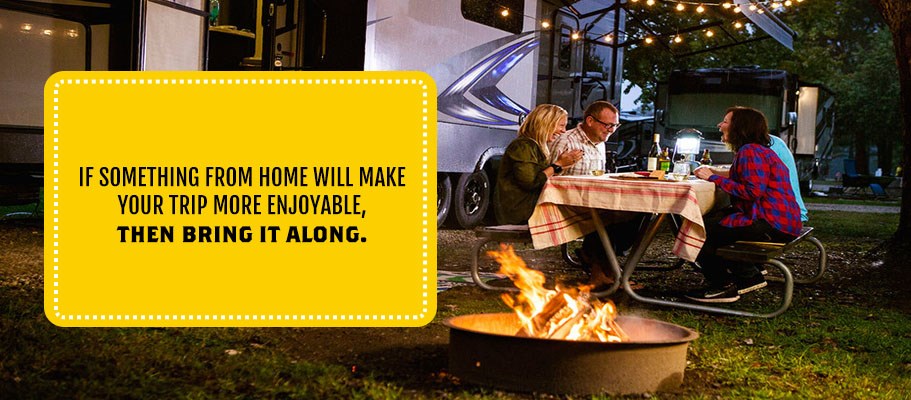 Location, Location, Location: As we said before, it is up to you where you want to go. Be sure you know what you are getting into. Check the weather forecast, so you know what to pack. You will also want to see what local adventures this area has to offer. Whether your surroundings include a historical monument, an amazing restaurant or a great vista you cannot miss, get acquainted with the happenings of the place you are visiting.
A To-Bring List: Now that you have decided to go glamping, it would be a shame to forget something. Before hitting the road, make a list of everything you want to bring. As you pack it into your vehicle, check it off. That way you will be sure to have everything you need.
Make a Loose Itinerary: There is a fine balance between being overprepared and underprepared. Overprepared means that you have planned your vacation down to the last minute, leaving no room for relaxation or exciting surprises that may await you. Underprepared leaves you at a loss as to what to do. Once you feel familiar with the area you visit, you will recognize some of the activities you would like to include on your loose itinerary.
Bring the Small Comforts You Love: Glamping is not traditional camping. If something from home will make your trip more enjoyable, then bring it along. Maybe it is your favorite blanket or a throw pillow that brings you joy. Just bring it.
Ensure Your Glamping Venue is Pet-Friendly: If your glamping experience is not complete without your four-legged friend, then do your research. Call before you reserve your site to ensure the campground and lodging that you are considering allows pets. You will also need to know any rules or regulations they have so you arrive fully prepared.
Do Not Worry About the Weather: So, you have planned your trip, and the week before you set out you hear a huge storm is rolling in at the same time as your trip. The great thing about most glamping lodgings is that they stand up to the weather. Use the downtime to relax, and enjoy hearing the rain pitter patter on the roof of your lodging.
Have Fun With Nature: The reason you chose glamping was to get into the fresh air and commune with nature. Even if your campsite is equipped with a flat-screen TV or Wi-Fi, that does not mean you should stay glued to a screen the entire trip. Plan a hike, take a swim, or find some amazing point of interest locals are raving about. Whatever you do, get out and explore.
Let Your Creativity Loose: Vacations are an opportunity to do things you would not usually do. Glamping gives you the freedom to try new things. It could be an activity offered near your campsite, like archery or horseback riding. It could even be that novel you have meant to read or that puzzle you have had in the closet for years. It is your trip, and you are only as limited as your imagination.
Get Back to the Simple Things: The modern world is so consumed with busyness. Everyone is constantly on the go, and often we forget to take the time to enjoy the simple things. During your glamping trip, be sure to get back to basics. Smell the flowers, lay back and cloud watch, or bring a hammock and enjoy lazy afternoon naps.
Take the Time to Learn Something New: Glamping venues are located in some of the most interesting and historically fascinating places in the country. Whether you meet new people or visit the local museum, take the time to learn something about the location you chose. It may help you to appreciate your vacation all the more.
Don't Forget the S'mores: It would not be camping without s'mores. These classic treats are the perfect way to cap the end of your day.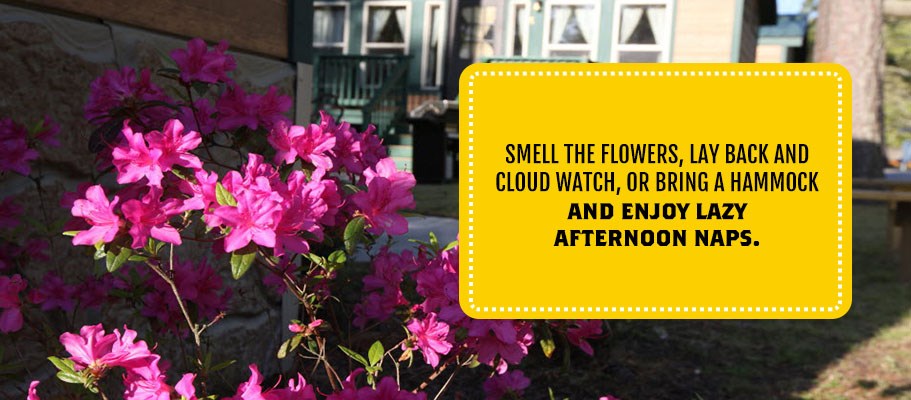 Go Glamping at KOA
Now you know how to turn camping into glamping, it's time to start planning your next trip! KOA offers something for every type of camper. Our facilities are found all over the country, giving you access to the most exciting locations and beautiful vistas. Plus, you will not have to leave comfort behind.
Camping is not just for those who love to rough it. It is a shared experience for those who enjoy nature and also want an elevated experience. KOA offers many different types of lodigng options depending on which location you choose, including Tent Sites, RV Sites, Camping Cabins, Deluxe Cabins, Glamping Tents and more!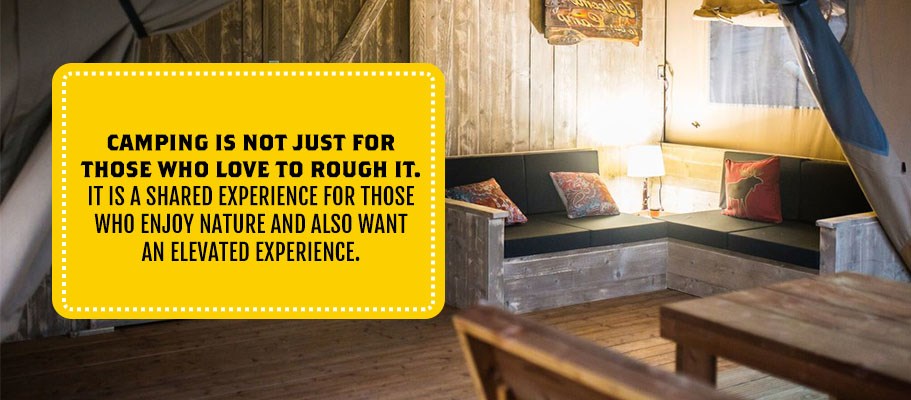 Besides the convenient amenities, you and your family will love the assortment of activities available at many KOA campgrounds. Take a dip in the pool on a hot day or participate in staff-led activities. KOA takes the stress out of planning so you can just sit back and enjoy your glamping trip.
So, grab your gear and prepare for a glamping adventure you will not forget. Make your reservation today!