Do you want to spend time in nature but don't want to give up the comforts of home? Glamping is an excellent activity you can participate in any time of year. Whether you go with family or friends, glamping lets you relax, unplug, feel refreshed and have some fun.
Learn how to glamp and create amazing memories to last a lifetime.

What Is Glamping?
At its core, glamping is the combination of "glamourous" and "camping." It is when you upgrade traditional, rustic camping to create a more unique and comfortable experience. Many glamping trips involve staying in luxurious lodgings and sleeping on comfy beds. While glamping is different for everyone, it gives people multiple options to enjoy camping at their pace and comfort levels.
Why Try Glamping?
Glamping is a unique spin on the traditional camping experience. Instead of sleeping on the ground in sleeping bags, you can find comfort in a bed after a long day of exploring. According to the annual Kampgrounds of America North American Camping Report, interest in glamping is growing, with 50% of campers seeking to go glamping in 2022.
Camping and spending time surrounded by nature improves people's well-being, even if they end up working during the trip. Glampers can experience the same health benefits as traditional campers, such as reduced stress and improved overall health. However, glamping provides the advantage of staying in a comfortable and nontraditional camping structure.
Going on a glamping trip at least once in your life is a must.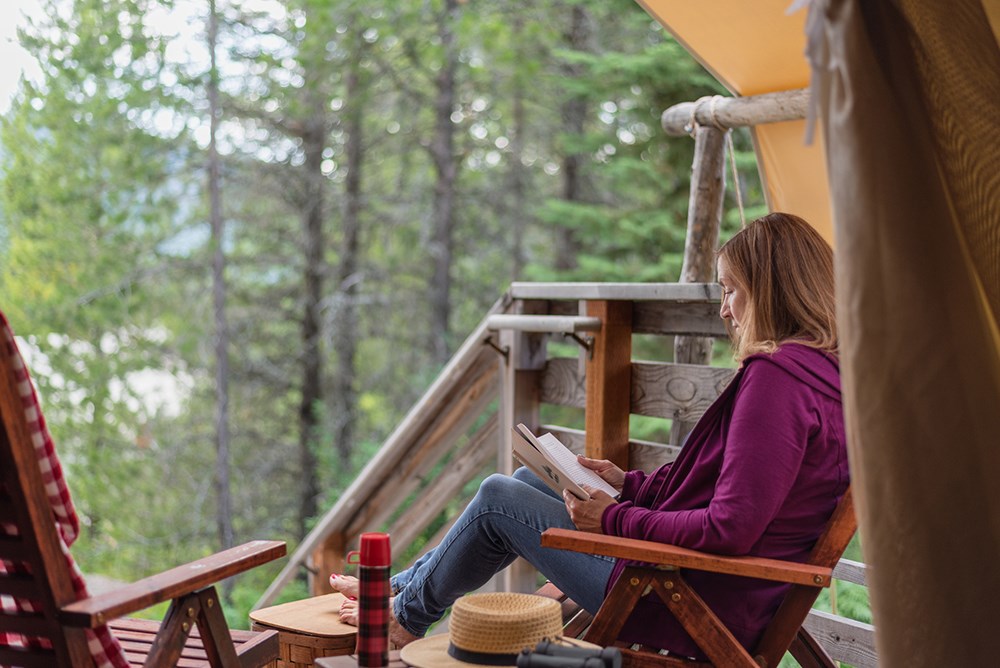 How to Choose Where to Go Glamping
Whether you are researching for your next glamping trip or you are a first-time glamper, finding a place to go glamping can be challenging. There are so many places in North America where you can go glamping. Escape the snow during the winter by glamping on an island in the South or head to one of the New England states during the fall to watch the leaves change color. You could also experience rainy days in the Pacific Northwest or go hiking in Yellowstone while glamping.
Consider the climate and activities you want to do during your trip as you are planning where to stay. You can plan your glamping travel around your trip necessities. Many campgrounds are near beaches, national parks, amusement parks and more. With over 500 KOA Campgrounds across North America, you can enjoy glamping with friends and family in many different regions and near a variety of exciting destinations.
Types of Glamping Sites
Glamping lodgings vary based on the campground you stay at and the type of experience you are looking for. Many KOA Campgrounds provide different campsites for glamping, such as: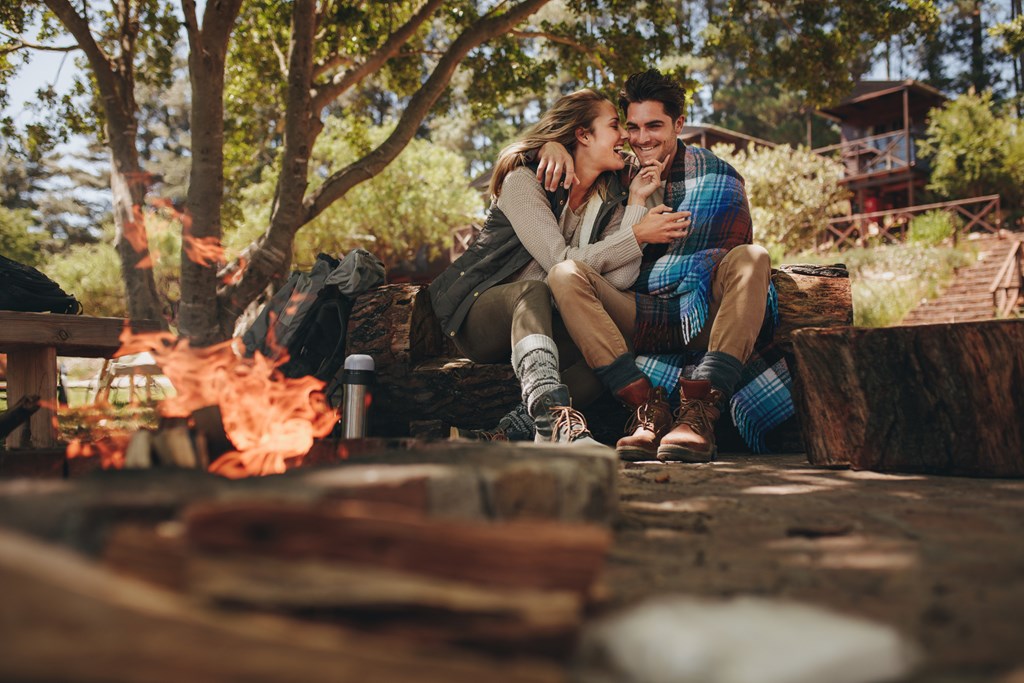 How to Elevate Your Campsite for Glamping
You can always enhance your campsite to create the glamping experience you desire. Here are five ways to do it.
1. Add the Comforts of Home
Glamping values comfort and ensures you have access to an easy way of living while camping in the great outdoors. You can bring items from home to remind you of it while you are away. If you find comfort in table decorations or want to add color to your campsite, include table cloths or runners, flowers, rugs and other decorations on your packing list.
You can also pack some of your favorite blankets, pillows and bedding to sleep with during your trip.
2. Create Ambiance With Lights
Another way to elevate your campsite is by hanging string lights or lighting candles to establish a tranquil and calming ambiance. String lights and candles can also make your lodging look beautiful, especially at night, while providing more light for you to move around easily. You can bring battery-powered candles and lights if your campsite has no electricity hookups or you feel more comfortable not having open flames.
3. Cook Gourmet Meals
While the typical chips, hot dogs and canned beans meal is delicious while camping, it does not reflect glamping. Create gourmet meals to help elevate your glamping experience. Bring a cooler full of ingredients to make big meals, from smoked salmon and artisanal salads to huge burgers with multiple toppings and fries. Glamping is the time to try out some gourmet food options.
Don't forget to indulge with your drinks, too. Bring tea, coffee, water, wine and other alcohol if you enjoy having an alcoholic beverage or two at night. You could even make s'mores fancy by using different chocolate types and gourmet cookies instead of the standard milk chocolate and graham crackers.
4. Bring Next-Level Entertainment
Although you might have a packed itinerary exploring the local attractions, your time on the campground can be just as fun and relaxing. If you are planning to leave a couple of days open for lounging on the campground, pack some lawn and board games, books or craft supplies for everyone to do. Your campground may offer activities, but having your own entertainment items can help you have fun at your campsite if you want to stick with your travel group.
5. Pack Your Favorite Essentials
Whether you have a bathroom and kitchen at your lodging or a bathhouse a short distance away, you can make your glamping trip better by bringing your favorite essentials. Bring the items you need to maintain your self-care routine every night. If your kids have some favorite stuffed animals, bring them along, too.
Experience Glamping at KOA
Now that you know how to go glamping, you can start planning your next trip! KOA Campgrounds provide the perfect glamping vacations for families and friends. You can find our campgrounds all over the U.S. and Canada, giving you access to the most beautiful vistas and exciting locations. Explore our site to find your next glamping location today!
---
About the Author: Kampgrounds of America
Kampgrounds of America is the largest system of open-to-the-public campgrounds in the world, with over 500 locations across the United States and Canada. Founded in Billings, MT in 1962, KOA's family of campground brands – KOA Journey, KOA Holiday and KOA Resort – today serve more than a million camping families each year. KOA is dedicated to "connecting people to the outdoors and each other" by providing people with a variety of camping experiences and the information they need to make the most of their camping trip. Read more of their camping and travel resources by visiting KOA.com/blog.
---