Most of us thinking about hiking as a way to have a good time, get some exercise, be social, and enjoy the outdoors. However, responsible hikers are also concerned with protecting the outdoors. That's where Leave No Trace comes in.
The Leave No Trace Center for Outdoor Ethics created the following seven principles to help guide you in protecting the environment while you're out enjoying the outdoors:
Plan ahead and prepare
Travel and camp on durable surfaces
Dispose of waste properly
Leave what you find
Minimize campfire impacts
Respect wildlife
Be considerate of other visitors
With a little dedication, you can put these principles into practice the next time you go out for a hike and inspire others to do the same. It will be good for the well-being of both you and the environment and will help ensure that the environment can be enjoyed fully by others for future generations.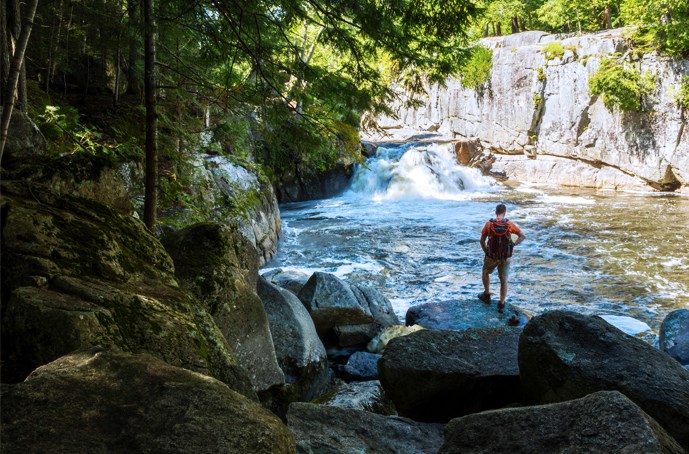 Reduce Your Impact
You may have heard the phrase, "pack it in, pack it out." This phrase covers elements of several Leave No Trace principles, and therefore it's a very important one to follow.
You have likely been on a hike, walk, or camping trip when you saw trash and debris along the trail or in the campsites. Nothing takes you out of the feeling of being in nature quite like seeing an empty chip bag or a crumpled beer can among the leaves and trees.
It's very important to pack out all of your trash, food scraps, and other belongings and not leave anything behind on the trail. It's not difficult to pack a small trash bag in your backpack in which to dispose of your own trash along the way and to even pick up stray waste you may find along the trail.
Packing out everything you bring in is an extremely important and very easy way to reduce your impact on nature. You should also be sure to leave behind things (except trash) that you find along your hike. Remember that you are a visitor in the woods and on the trail. As tempting as it may be to pull a cool piece of bark from a tree or uproot a nice looking rock to bring home, it's best practice to leave these things where they are.
Respect Others
Respecting others goes for wildlife, plants, and other visitors. Do you best to tread lightly and not disturb animals, plants, and other trail users. You don't want to be the person who's blasting loud music on a remote trail and ruining the peace and quiet for other hikers. Following trail etiquette and doing your best to share the trail with all other users is a great place to start.
In terms of wild animals, don't feed them, temper with their shelters, or otherwise interfere – no matter how tempting it may be. You can respect plants by sticking to the designated trails and not creating your own path off of the main trail.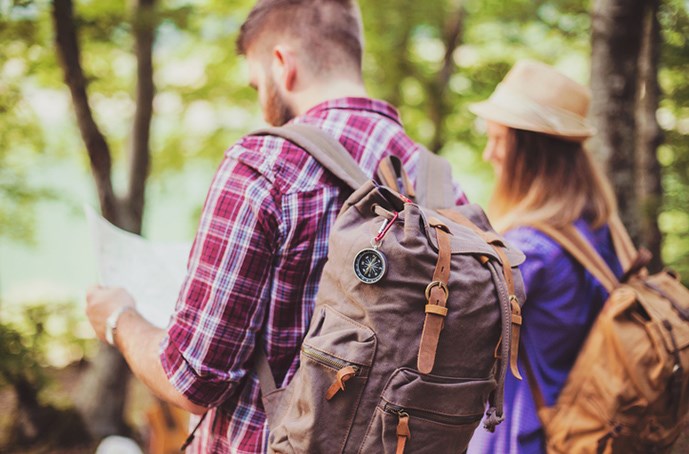 Be Aware of Conditions & Your Surroundings
Being aware of your surroundings as well as trail and weather conditions help you camp responsibly and forces you to plan ahead and prepare. Both of these are important concepts when your goal is to Leave No Trace.
Planning ahead involves looking at the weather and packing appropriate gear, carrying plenty of water and food, knowing your route, telling a friend or family member where you're going, gathering any necessary permits, and carrying a first aid kit. Being thoroughly prepared and planned for your trip can help you enjoy it more and be worry-free on the trail.
When you do decide to take a rest and set up your camp, you can continue your Leave No Trace practices. When you build a campfire, for example, you can reduce your impact by keeping your campfire within existing fire rings, only building a campfire if the risk of wildfire is nonexistent, using locally sourced firewood, and cleaning up after yourself.
Leaving No Trace while hiking is simple when you break it down to easy-to-follow concepts. If you aim to reduce your impact, respect others, and remain aware of your surroundings at all times, you will be well on your way to being a master at Leaving No Trace while hiking.
---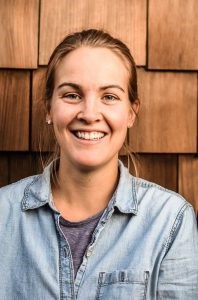 Lettie Stratton is a writer and urban farmer in Boise, ID. A Vermont native, she is a lover of travel, tea, bicycles, plants, cooperative board games, women's basketball, and the outdoors. She's still waiting for a letter from Hogwarts.
---